Ja Morant is a prominent American basketball player who has been part of the NBA's Memphis Grizzlies since 2019. But apart from his exceptional playing style, the athlete has made a place of his own as a fashion icon thanks to his ever-changing hairstyles.
His hairstyles are super versatile and feature a unique blend of tradition and modernity. He's always spotted wearing his fluffy afro curls with pride alongside fades, dreads, and classic twists, making him a true inspiration for guys all over the world.
Get ready to view some of the best hairstyles of Ja Morant over the years!
Top Ja Morant Hairstyles
The curly-haired African-American celebrity has a rich selection of hairstyles. So, here are some of the most iconic haircuts sported by the NBA star.
1. Medium Length Dreads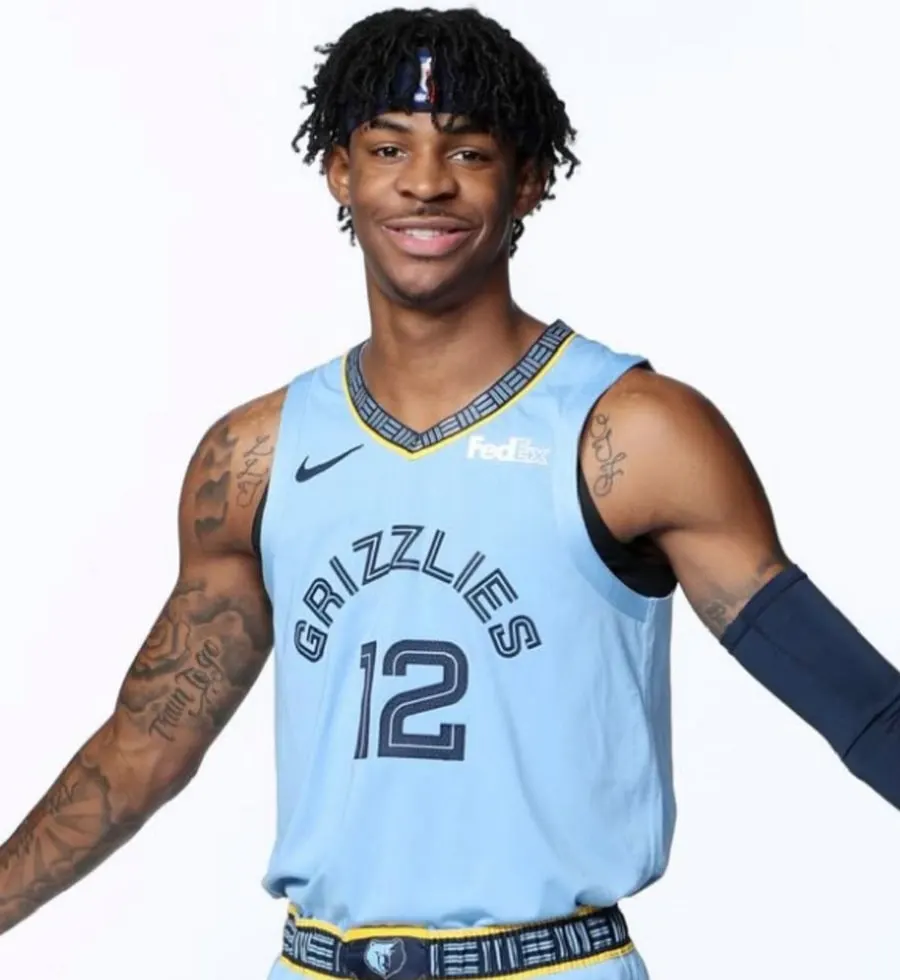 Ja Morant wore the medium-length dread hairstyle during his rookie seasons. In this style, you'll need to wrap your hair strands into multiple layers of coils. The black celebrity's dread hairstyle is perfect for people growing their hair out.
The good thing about these dreads is, it saves you from going through the awkward stages of growing your hair.
You can also incorporate finger coils to add volume and uniqueness to your hair. This method will make your strands manageable and will enhance the strand cuticles.
2. Middle Part Duo Tone Dreads
The middle part duo tone dreads is a fun twist to the classic dreads. The unique aspect of this hair design is the unique look it brings to the table, which Ja Morant wore perfectly!
The look features hair separated in the middle part. You then twist sections of the hair until you get layers of coils, boasting your locks' depth, texture, and volume.
In Ja Morant's case, his middle part duo tone dreads incorporate stylish framing fringes on the front. It has two coils on the front with colored strands twisted, adding a strikingly fashionable touch.
The great thing about this hairdo is you can do it yourself with the right equipment. However, getting the assistance of hair professionals might be best if you want the most splendid results.
On the same note, we suggest avoiding using hair accessories when recreating the front fringes. Using your hand to make the curls is the best method to achieve a more natural look.
3. Afro Taper Fade
The nappy high-top fade hairstyle was worn by Ja Morant back in 2019. It's when he got drafted by the Memphis Grizzlies and signed a four-year contract for the same team.
This afro is a variation of the classic afro that expresses your natural curls that were popular in the 60s and 90s.
So, instead of free and cloud-like locks, it adds a contemporary twist of clipping the sideburns and nape hair, emphasizing the face and hair.
The afro plus taper fade style complemented Ja Morant's appearance well. And he's worn the look for a year before deciding to switch cuts.
The advantage of this haircut is you can wear it long or short-haired. And it suits virtually any facial shape, so there's no worry about your face looking out of place in the fringe. There are many dope styles of the afro taper fade, too!
You can have a low or high taper fade, which refers to how high your fade goes. You can also play around with your look by matching your beard and mustache!
4. Ja Morant Twists
Ja Morant switched to the twist hairstyle on the court in 2020, shortly after his afro taper fade. The new cut presented a fresh appearance for the young player and made the foundation for his full-blown dreads in the future.
Twist refers to a hairstyle that requires twisting two sections of the hair around each other. The sections can be long, short, thick, or thin, depending on your preference.
As you can see, Ja Morant's twists added volume and personality to his hair. He twisted his locks to form uniform layers and a voluminous hairstyle.
The advantage of the twist is that they're lightweight. So, your hair won't get in the way even if you play a sport that requires large movements like basketball.
Furthermore, twists will help your hair retain moisture longer. It's low maintenance yet stylish, allowing for easy washing and untangling.
Most importantly, twists exert no tension on your hair. Less manipulation coupled with moisture retention means few broken hairs!
5. The Cornrow Dreads
The cornrow dread is another hairstyle of Ja Morant in his initial years as an NBA player. And what can we say, cornrow does look well on the NBA point guard.
Cornrow is a traditional braiding style. Unlike regular braiding, cornrow braids the hair extremely close to the scalp through an underhand, upward motion, making flowing raised rows—much like the rows on which we plant corn.
This style fits people with naturally curly hair and thick dreadlocks. It's presentable and firm, which suits any occasion, whether running on the court or paired with your formal suits.
That said, you can mix it up with other styles as well. As you can see in the photo, Ja Morant incorporated dreads and taper fade to his hair. There's much history about the cornrows, too!
Did you know that cornrows date back as far as 3000 B.C.? Experts link the earliest records of the style to ancient Africa, specifically in the Horn and West coasts of the continent.
In the 1500s, African societies used the cornrow hairstyle as a statement. African slaves wore cornrows to keep their heritage close while doubling as a vital way of communication.
6. The Classic Blowout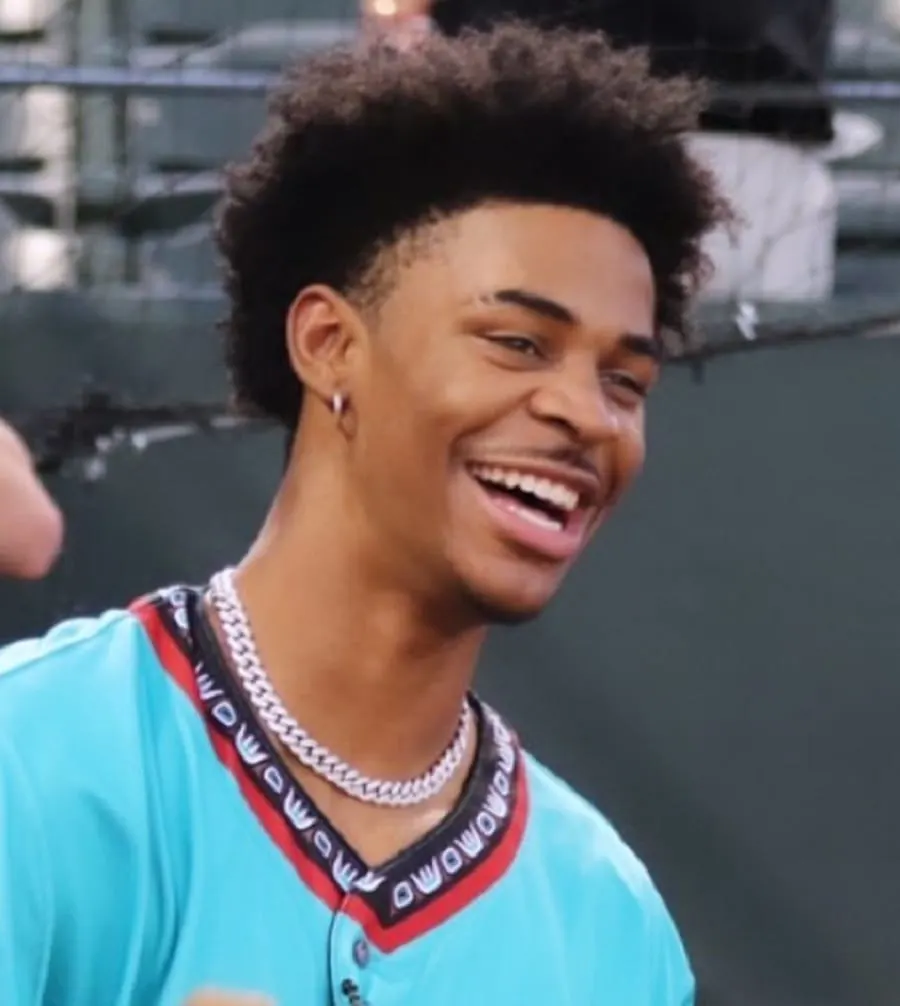 As you might already know, the blowout is a classic hairstyle that makes you look like you survived the strongest gale wind.
You can trace the origin of the hairstyle to the 90s, which peaked in popularity in the early 2000s. This hairstyle was also rocked by NBA star Jimmy Butler.
He wore the blowout in his teenage years as a basketball player. And like most of the hairstyles above, he rocked the style on the court.
Ja's blowout hair flaunts his voluminous natural curls with clean sideburns. However, you can also freely add twists to the style based on your hair type.
Achieving the blowout is easy for thick and textured hair like Ja Morant's. Blow drying with a round brush should get you the result you want.
7. Half Up Dreads
The half-up dread is a hairstyle that's been around for decades. Famous NBA athletes like Derrick Rose and Dwight Howard have sported this style on the court.
Ja Morant started wrapping his dreads into a bun early in the 2023 season. Fans loved the new look, and the dread bun has become his signature look for the following games.
Dread buns have served him well until now. Strapping two handfuls of his dreads into a high ponytail, he created a stylish hairstyle without hampering his game.
If you have long dreadlocks like Ja Morant, incorporating the dread bun into your list of hairstyles will undoubtedly change your overall style!
So, whether you're an athlete or not, you can learn a thing or two about Ja Morant's hairstyles!
Trending Topic