Jimmy Butler's haircut demonstrates that this NBA star appreciates a good fade. He is committed to this style and is not afraid to change the infamous Jimmy Butler's fade hairstyle's texture, rise, or fall. No matter whether you are a fan of basketball or not, you have to admire his awesome styling taste!
NBA Star Jimmy Butler's Hairstyles
Fade can be worn in many ways. Jimmy Butler proves this with his various styles. Here are 15 ways that Jimmy Butler wore his classic high-top fade.
1. Kinky Top + Fade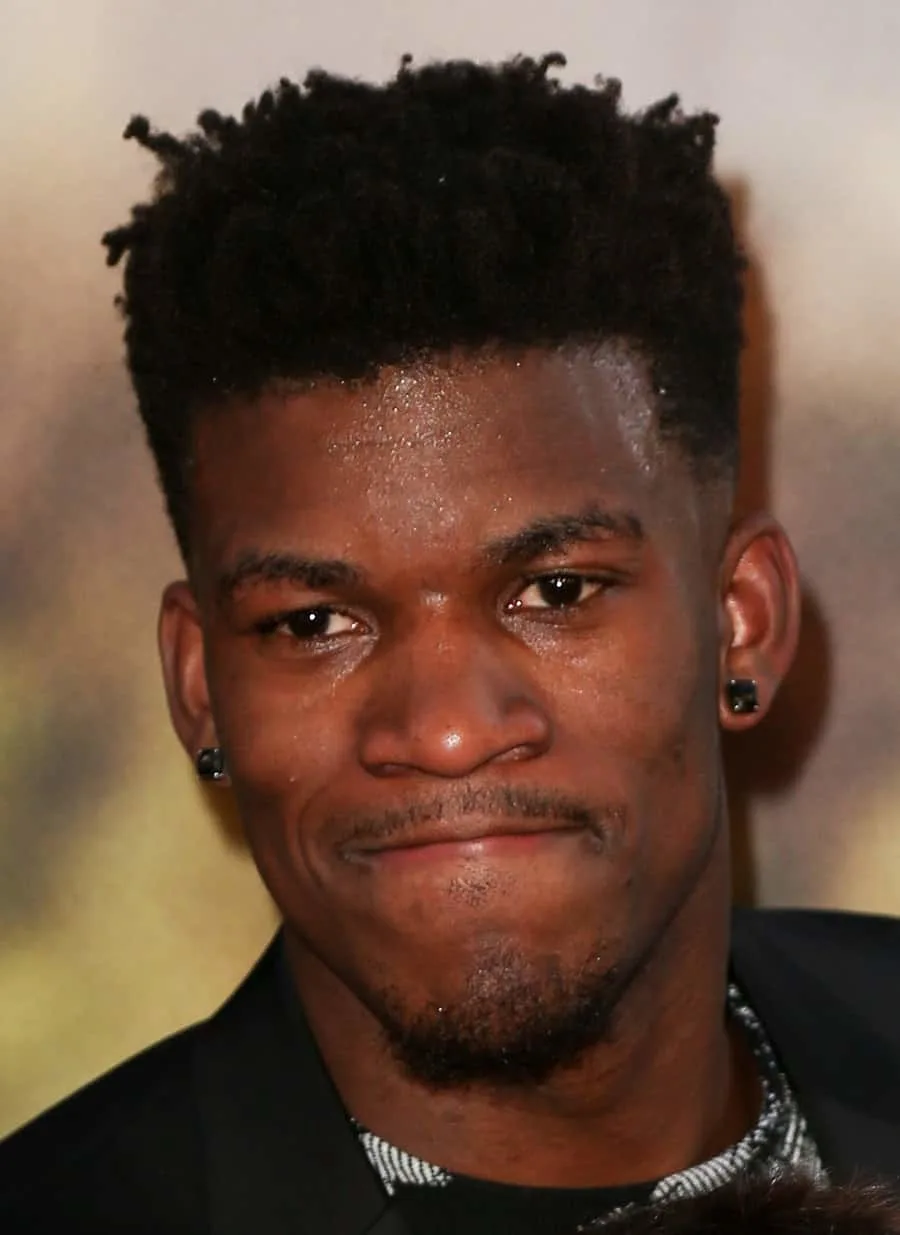 Jimmy Butler's iconic look is well-known among his fans. The basketball star wears his kinky afro curls with confidence by going for a long top and a fade along the sides for a neat appeal. This look is easy to maintain requiring a touch-up every few weeks.
2. Short Dreadlocks
This hair look is an inspiration for black men thinking about dreadlocks. The sports personality dreaded his long top with a touch of blonde for a highlighted appeal. The short sides keep all the attention on the top while the chin strap beard and moustaches finish off the style.
3. Zigzag Partings
On one occasion the basketball player went for zigzag hair partings all over the head with each section being braided down to the ends. Jimmy topped off his hairstyle with a headband covering a part of the forehead for a punk look.
4. Ruffled Micro Coils
The NBA player is not afraid to rock a ruffled hairstyle. For this look, he outgrew his high top and faded sides with the micro coils bending in all directions. A hand-tousle to the top is enough to maintain the kinky afro all day long.
5. Straight-Back Cornrows
One of the best Jimmy Butler hairstyles to copy are these straight-back cornrows. The high top is sectioned and braided while all the braids are secured at the back into a knot bun. The buzzed sides stand against the entwined top with a balboo beard completing the chic style.
6. Pre-Fade
Before one can achieve a fade, one must start somewhere. While some may choose to grow their hair out to a certain length before taking on the "classic" high-top fade, Jimmy Butler's haircut is a symbol of new beginnings.
7. Freestyle Fade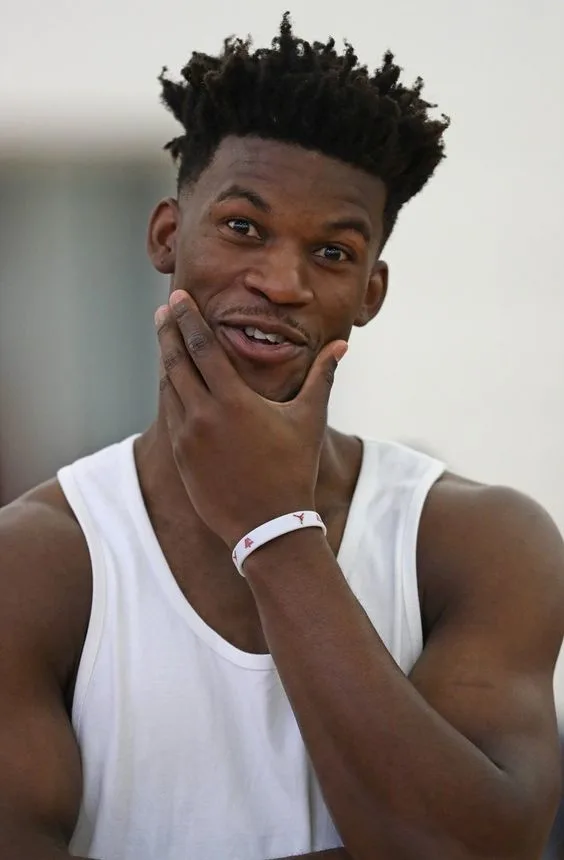 This Jimmy Butler Fade is probably confusing for those who do not know natural hair. His hair is Type 4C hair which is the kinkiest of the natural hair type family. Jimmy Butler's wild hair is demonstrative of hair that is no longer undergoing purposeful trims but instead is hair that is coiling under its accord.
Most Popular Bryce Harper Haircuts & Styles
8. Low Fade
This Jimmy Butler haircut is representative of how a short, low-cut fade should appear. The sides of the head are cut close, with the fade neat and under control.
9. Box Cut
This box cut just might be the tamest you will see in Jimmy Butler's Fade. This style borders on being box cut, although there are still elements of untamed natural kinks and coils.
10. Fade with a Splash of Color
Color gives hair new life, and Jimmy Butler gave his infamous fade a boost with these highlights.
11. Brushed Fade
This Jimmy Butler fade is simple and clearly brushed up with a minimal definition. Hair appears to flow forward with a front lift of his natural hair.
12. Round Top Fade
We have seen the box top fade, but this Jimmy Butler fade has a bit of the shape of a saucer, demonstrating that a fade does not always have to rise in the form of a square.
13. Layers
Jimmy Butler's Fade haircut evolves through varying lengths, and yes, as seen here, his hairstyle also gives evidence of layers. Thanks to the thickness of his natural hair, Jimmy Butler's hair stacks in multiple rows of kinky, coiled layers.
14. Jimmy Butler's Fan Out Fade
A good fade does not necessarily have to stand up straight. It can also fan out as seen here. This Jimmy Butler hairstyle shows that even natural hair can wilt and give kinky hair an alternative look.
15. Butler's Hair Raising Fade Style
This Jimmy Butler haircut is another variation on this classic haircut. His hair is disorderly yet; there is a distinct level of organization. Hair is riddled with spikes that are pointing skyward.
Get more hairstyle inspirations from other male celebrities:
These are 15 ways Jimmy Butler's hairstyle took shape over the years. Hope you have enjoyed these styles!