If you're looking to spruce up your hair color but aren't ready for a significant change, you might consider highlights. Highlights will allow you to brighten your look with subtle streaks of hair color without changing your entire head of hair.
But the big question is: What kind of highlights do you want? The word "highlights" is an umbrella term that can encompass a variety of techniques. Balayage and babylights are two popular options.
Babylights hair vs. balayage— which one is right for you? Read on to find out.
Balayage
Balayage is a freehand highlighting technique done with hand painting that dates back to 1970s France. The word "Balayage" comes from the French language and refers to the freehand, sweeping strokes a colorist uses to paint balayage hair.
Balayage brings the lightest color at the ends of your strands instead of at the root. As you go down the strands, a lighter shade is gradually worked in, becoming stronger and stronger. The ends of the strands are mainly highlighted, and your natural hair color is no longer visible.
Babylights
Babylights are little highlights. They get their name because they resemble the type of natural highlights found in children's hair, with more lightness at the crown and the ends.
Babylights aren't hand-painted freely like balayage. Instead, they are applied using the same technique as regular highlights, with foils. However, babylights use tiny sections of hair spaced closely together. With this technique, the natural hair color and babylights blend easily.
Babylights vs. Balayage: Choosing the Right Option for You
Are you trying to decide between babylights hair vs. balayage? There are five key factors to consider:
Desired appearance
Your hair color
Your hair type
Maintenance commitment
Styling preferences
We go into more detail on each point below. Read on to see what you should consider when making your final choice.
Appearance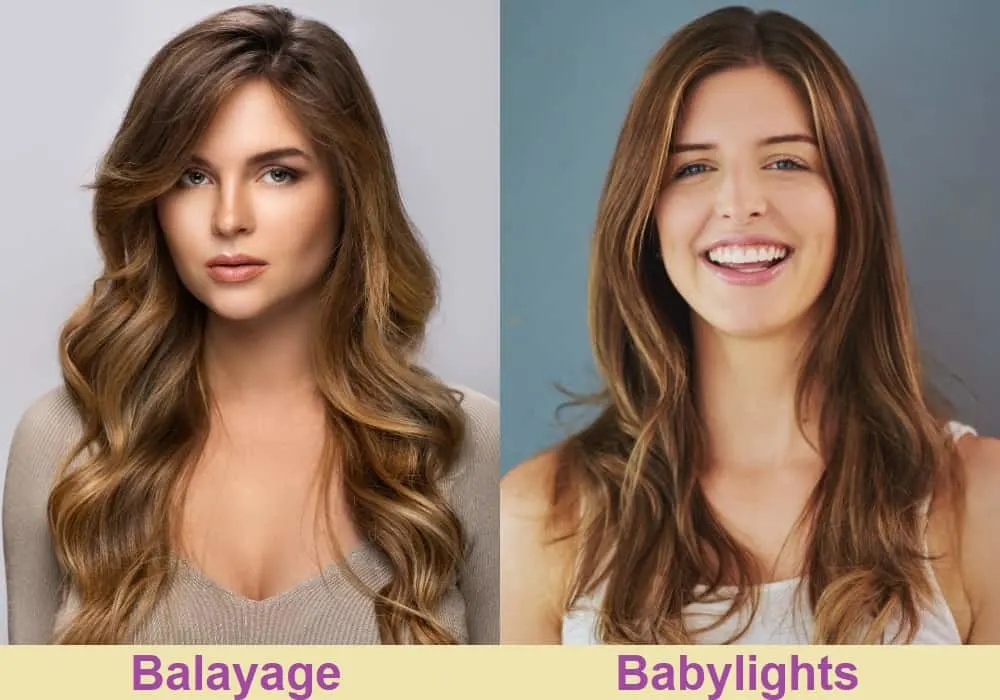 The balayage look is very natural and casual. It gives off a summer vibe as if you've been spending time at the beach because your natural roots are still visible.
The easy-breezy feeling is accentuated by the fact that balayage highlights tend to be quite chunky and free-flowing. They aren't symmetrical like the traditional stick-straight highlights (like what you might see in 1990s throwback photos).
Babylights tend to look a bit more polished and put-together. They are a more muted version of the classic highlight, providing a softer, more subtle finish. Since they blend the roots, they are a less apparent dyed look and are more natural than balayage.
Hair Color
Balayage is a look and hair coloring technique that's naturally suited to dark hair. The entire appearance is built around the concept of leaving the roots natural while lightening the ends. For brunettes, this is easy to implement since it involves simply lightening the tips of strands.
For blondes, a balayage can get more complicated. If you have very light blonde hair, the technique may not be possible. You won't get a compelling contrast between the already light roots if you lighten the ends.
If you want to, you can dye your blonde hair darker overall and then implement a balayage. However, this can increase the risk of damage. Too much processing tends to leave hair weak and brittle.
Here's the excellent news: Babylights work on all hair types, dark and light. Babylights come in all shades and can accentuate your natural strands by going darker and lighter. Blondes and brunettes alike can enjoy babylights.
Hair Type
Hair type is another consideration when deciding between babylights and balayage. Balayage is ideal for people with thick, voluminous hair. Especially people with natural waves can make the most of this look, showing off the bold hair transition with a bit of curl.
Babylights work well on all hair types. However, they're incredibly well suited for people with fine hair. Thinner hair tends to show color contrasts starkly, and the muted effect of babylights can allow for a more aesthetically pleasing appearance.
Further, fine hair is more prone to damage. Hair dye is one common culprit, as it dries out strands, making them brittle and prone to breaking. Since babylights only color small, thin sections of hair, they are less intense and thus less damaging overall.
Maintenance
The great news about balayage and babylights is that both are relatively easy to maintain. Since you aren't dying a full head of hair, it's less noticeable as it grows out, which is good news for those who don't want to go to the salon to refresh every few weeks.
That said, balayage is more evident as it grows out, simply because the color contrast is bolder and the highlights chunkier. In comparison, babylights are more subtle. In either case, expect to get a refresh every 12 to 14 weeks.
The need to redo your dye job will also depend in part on how fast your hair grows. How often you'll need to touch up depends on various factors, from your genetics to your hair type, age, and diet. External factors like hair products can also impact the need to refresh your dye job.
Styling
Finally, when choosing between balayage versus babylights, consider what you want to do with your hair. For example, if you wear your hair in an updo, you won't enjoy the total aesthetic impact of a balayage, which is meant to show the transition from dark roots to light ends.
However, if you like to keep your hair down and free-flowing, you'll be able to show off the balayage transition perfectly. If you want more flexibility with your styling, you may want to stick to babylights. These look great up or down.
Wrapping Up
With the information above, you should be able to make an informed decision as to whether babylights vs. balayage is the right option for you. If you're still not sure, it's best to consult a hair care professional.
Every individual's hair is unique, and an expert will advise as to what highlighting technique is suitable for your hair profile. You can then proceed with confidence and look forward to your hair transformation.