The first haircut is so special for every baby. There are very few resources to guide how black baby boys should get their first haircut. So we decided to get it covered & recommend you some ideal hairstyles.
First Haircuts for Black Baby Boys
Every moment in your child's life is extraordinary for you. From their first word to the first step, and even the first haircut is very special.
Often you see moms stressing over how to style their little munchkins for the best look. We decided to make things easier by compiling a list of some of the most fashionable black baby boys' first haircuts. Apart from being extremely stylish, these are some of the most comfortable styling options for your little ones.
Check out these amazing baby boys' first hairstyle ideas for black kids and help them get an appealing look.
1. Short and Simple
For an active and playful kid, the best first haircut for black baby boys is one that's short and simple. Not only that, this fuss-free haircut highlights the beauty of your little boy's curls and focuses the spotlight on the thing that matters the most– his cute face!
2. Short Haircut with Design
If your little boy is already displaying a badass attitude at such a young age then make sure that he has the best first haircut to show it off. You don't have to go overboard with it though. Just keep it low key and go with a short haircut with a simple shaved design that shows off his adorable personality.
3. Buzz Cut with Line Up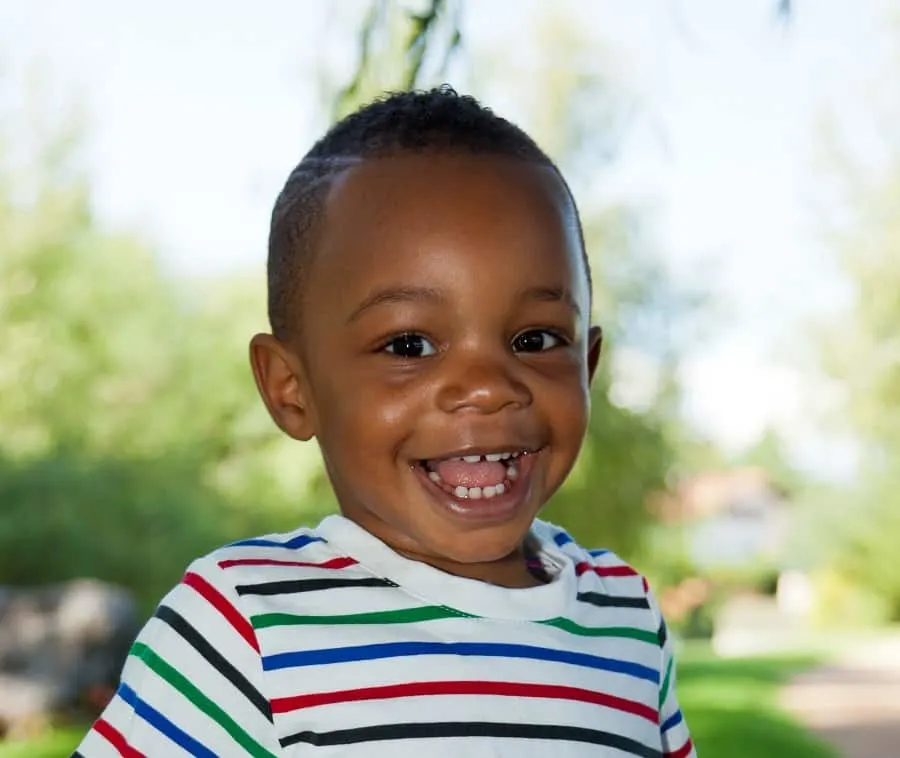 With this clean cut, your baby boy can already look dashing and sleek at a young age. You can even experiment with different line up designs to make him stand out. The best thing about this haircut is it's still so easy to maintain despite having a lot of elements.
4. Thick Curls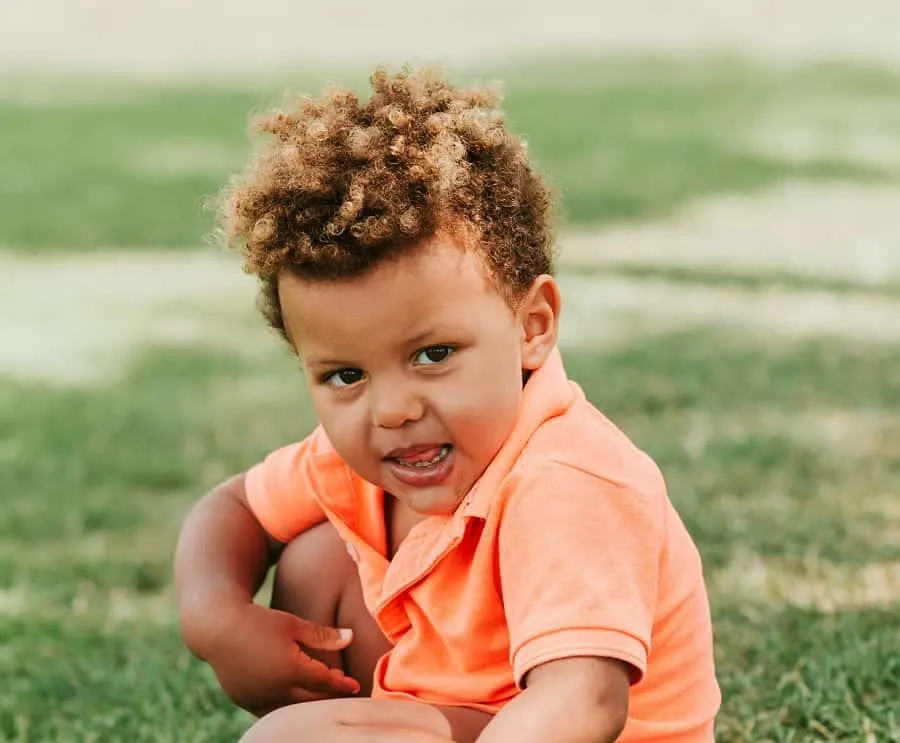 Is your son one of those boys who have been blessed with the most gorgeous looking curls? If so, you should flaunt it!
Instead of taming it, let his curls run wild by opting for a longer haircut. The longer his curls are, the more freedom he will feel, so this cut is perfect for a fun and carefree baby boy.
5. Short Mohawk
If you're not too keen on managing long curly hair, go for the next best thing– a mohawk! The short hair at the sides and back is easier to maintain. The good news is you can still show off your baby boy's fluffy hair, thanks to the long hair at the middle.
6. Medium Curly Hair
The medium-length haircut gives you the best of both worlds as it's long enough to let the beauty of your son's curls shine through while still being short enough for easy maintenance. While this haircut looks pretty simple, the natural texture of the child's hair make it stand out.
7. Twists All Over
Do you wish to protect your baby boy's curls but still want him to look cool at the same time? Go for the eye-catching twists. You can simply divide your child's hair into four sections then twist its section for a cute and adorable look!
8. Mini Top Braid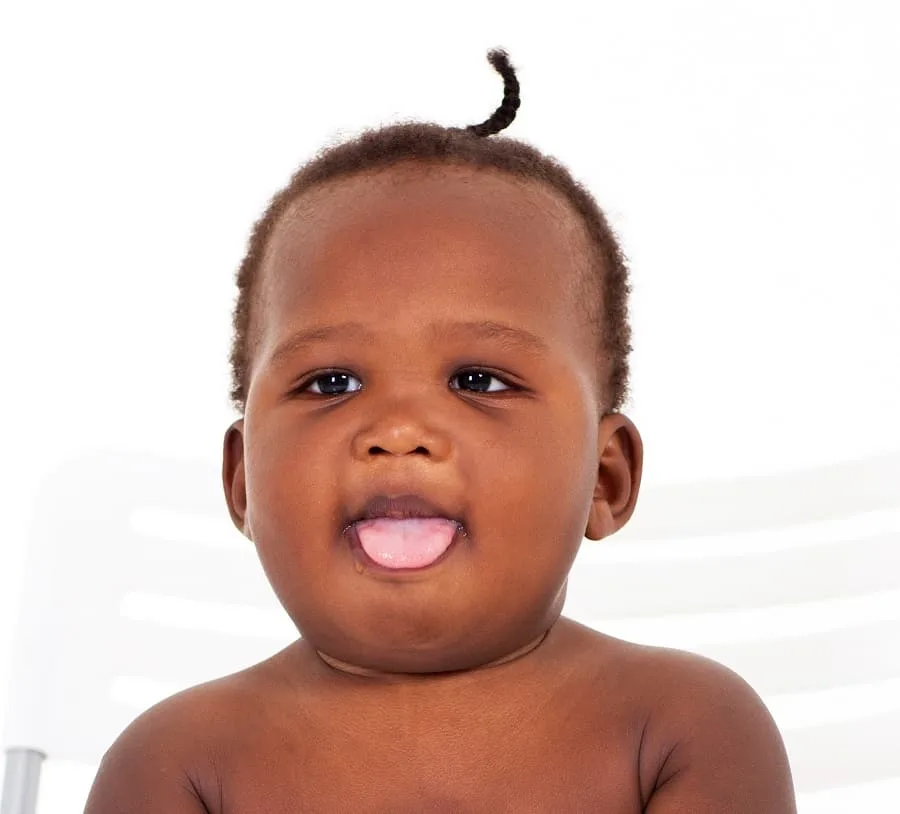 Is your baby boy's hair too short that it seems like you can't do anything with it? Here's an amazing idea: create this adorable little top braid. It gives you something to do and at the same time can make your child look incredibly cute!
9. Thin Messy Haircut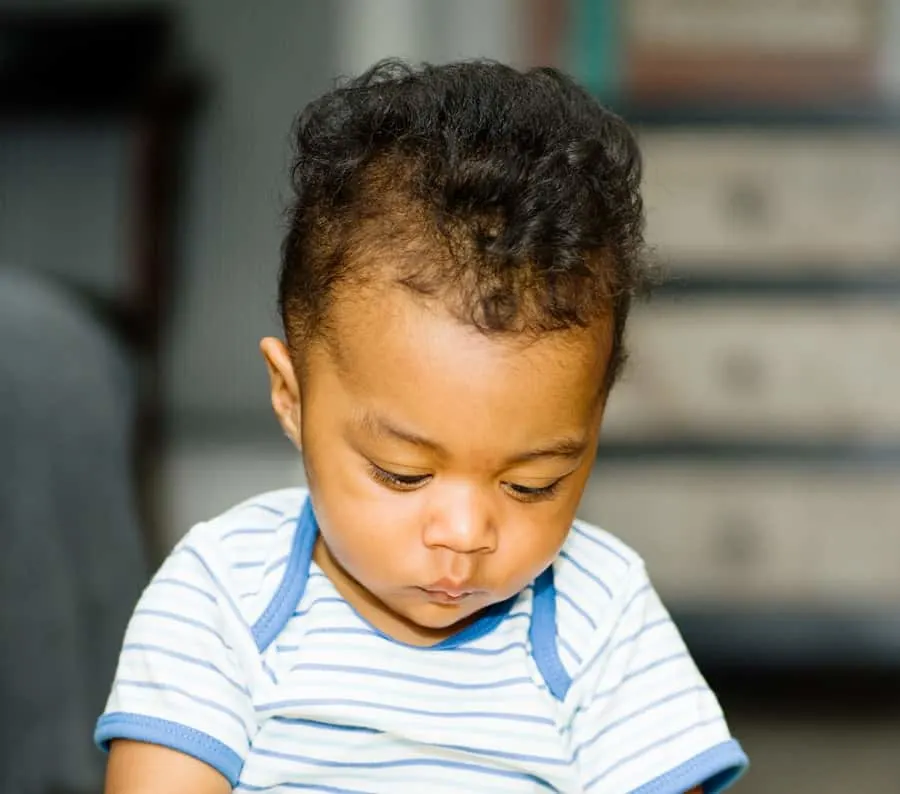 Don't know what to do with thin and curly hair? We suggest that you let it grow out! After all, little boys' hair shouldn't be at on point at all times. At times, you can leave it as is– messy– which gives off a fun, playful, and cute vibe.
10. Perfectly Defined Curls with Undercut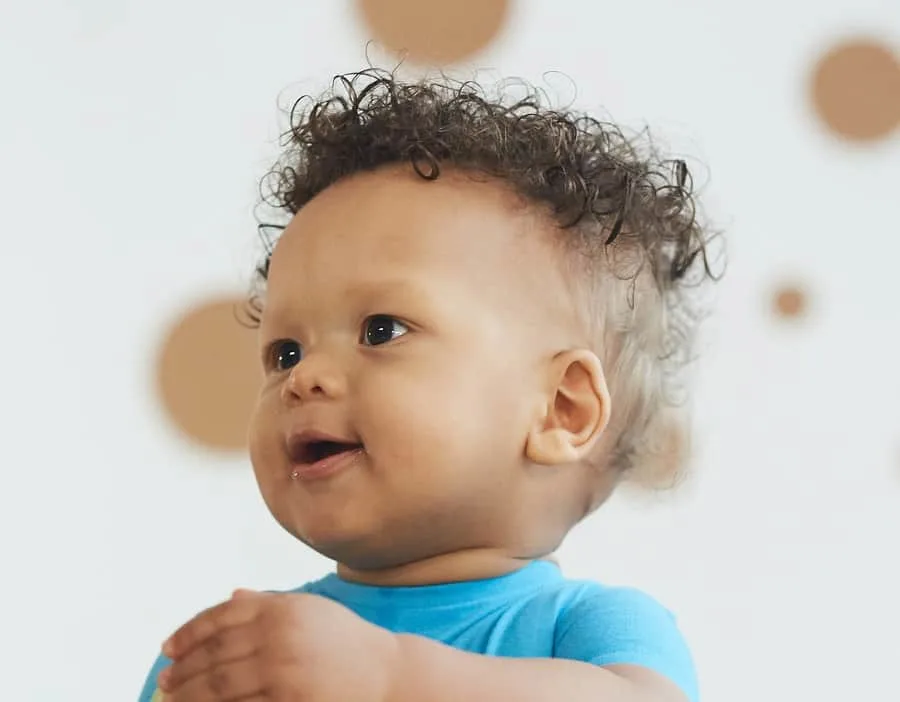 Do you love how bouncy and curly your child's hair is? If so, show it to the world! This is the perfect haircut for that! The undercut will add an edgy touch that will perfectly balance off your child's cute hairstyle.
11. Flat Twists Braids
Twist braids are one of the best options for styling and protecting your child's hair at the same time. If your baby has medium-length to long hair, you can divide it into sections and twist each section tightly then pull everything into a high mini bun to keep it looking neat and nice.
12. Mini Afro Puffs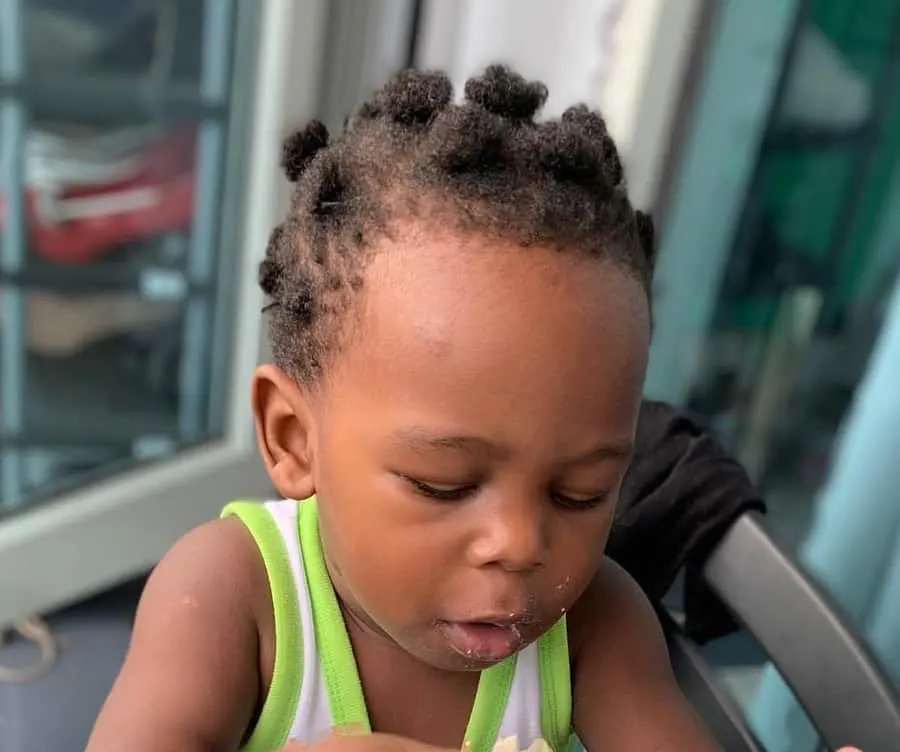 No other haircut for black baby boys can look as adorable and fun as these mini Afro puffs. The best part is it's also one of the best protective hairstyles when it comes to maintaining the shape and bounce of his coils.
13. Mini Twists
Mini twists all over your child's head won't just make him look cute– it will also add movement and bounce to his hair. Not only that, this will allow him to go around and do things without you having to worry about his hair getting in the way of his face.
14. Top Bun
If you don't have the time to create mini twists, here's a hairstyle that can help save your time– a bun! With this hairstyle, your child can play around without getting hair on his face and look extremely cool while doing so!
15. Tight Braids All Over
You can also braid your child's entire head of hair. Little tight braids hang down around your son's face, making his hairstyle look more fun and relaxed (and yet still neat)– perfect for a nice day out!
16. Cornrow Style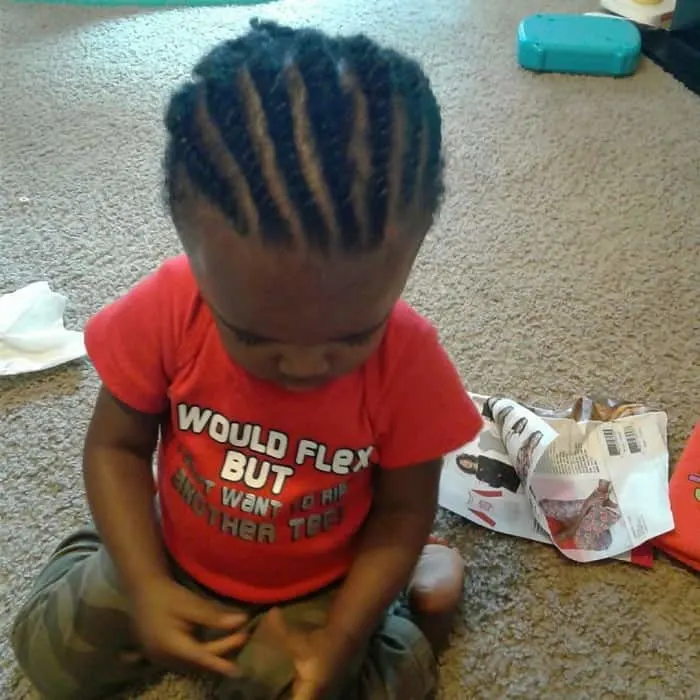 This is invariably one of the most popular first haircut choices when you go for a cool black baby boy hairstyle. The advantage is whether your toddler has a lot of hair or relatively short hair, this style looks good. It adds a cute quotient and also makes the hair extremely manageable.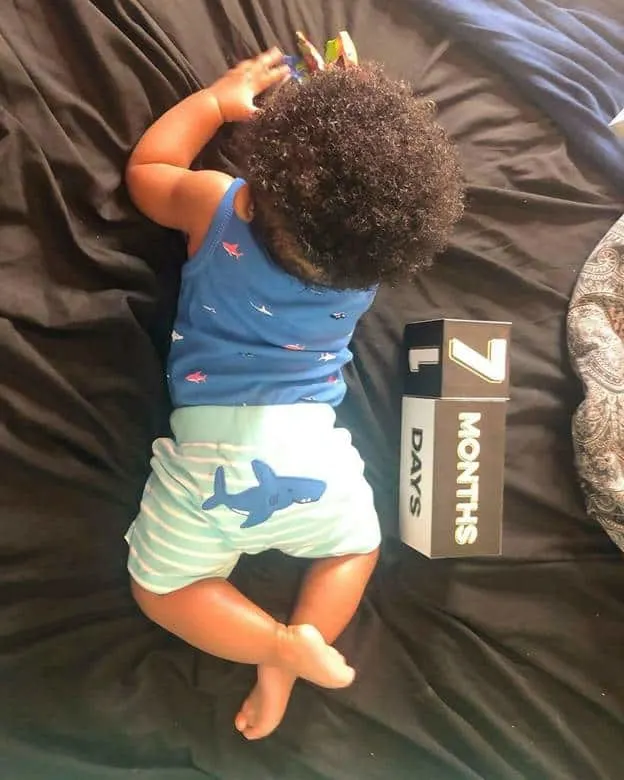 If cute is the buzzword, there could be nothing cuter. Needless to mention that this easily qualifies as a striking baby boy's first haircut for a black toddler.
It is natural and cuddly and enhances the overall adorable factor by many notches. It is also a relatively hassle-free styling option for curly-haired baby boys as it follows the natural flow of the hair.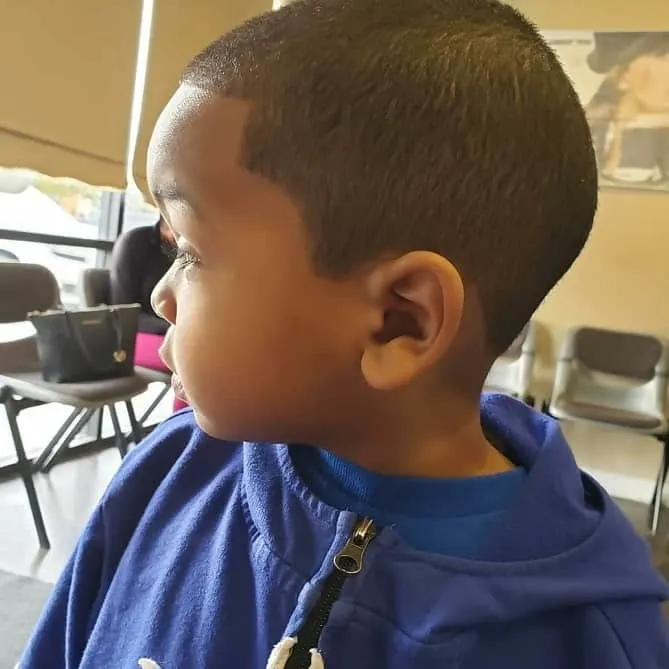 This is fairly straightforward cut following the natural hairline. It is cool and comfortable for your little one and helps to keep the style quotient intact. The really short length of this haircut is also a major advantage. It enhances the cute and adorable factors to a large extent making it a popular black baby boy's first haircut.
This is the kind of black boy haircut that really suits boys who have relatively sparse hair growth. The shaved line manages to take the focus off the thin hair volume and makes for a rather interesting diversion.
So when you are looking at options for the first hairdo, this emerges as one of the more popular black toddler boy styles.
When you consider the options of first haircuts for black baby boys, the sky is the limit. It is mostly about improvising established styles with what is comfortable for the toddler. This little boy's fade is a perfect representation of the same.
It is cool, classy, and keeps your little prince comfortable. The slight kid's Mohawk style on top looks even more appealing due to the natural curls. It somewhere boosts the cute quotient of this hairdo.
When you are looking at options for the most trendy black baby boy first hairstyles, it is invariably a mix of cute, classy, cool and comfortable features. The idea is to keep your precocious toddler comfortable and yet have some fun doing up their hair. Most of these styles are quite easy to recreate but manage to deliver on two counts every time, striking and cute.