Gone are the days when overweight women were considered unattractive. In modern days, every body type, no matter whether it's slim, curvy, or overweight, is considered beautiful. Just as we choose suitable clothes to go with our body shape, an appropriate hairdo is extremely important too for chubby black women to look their best.
When it comes to hairstyles for overweight black women, there are two options. Choose a look that conceals most parts of your chubby face and neck, or flaunt those curves with utmost confidence. Either way, a fresh hair makeover is sure to spruce up your beauty.
Ready for a little style shake-up? Keep scrolling!
Coolest Hairstyles for Overweight Black Ladies
Have a look at the following guide consisting of 18 stunning hairstyle ideas for chubby black women to boost your self-esteem.
1. Braided Lob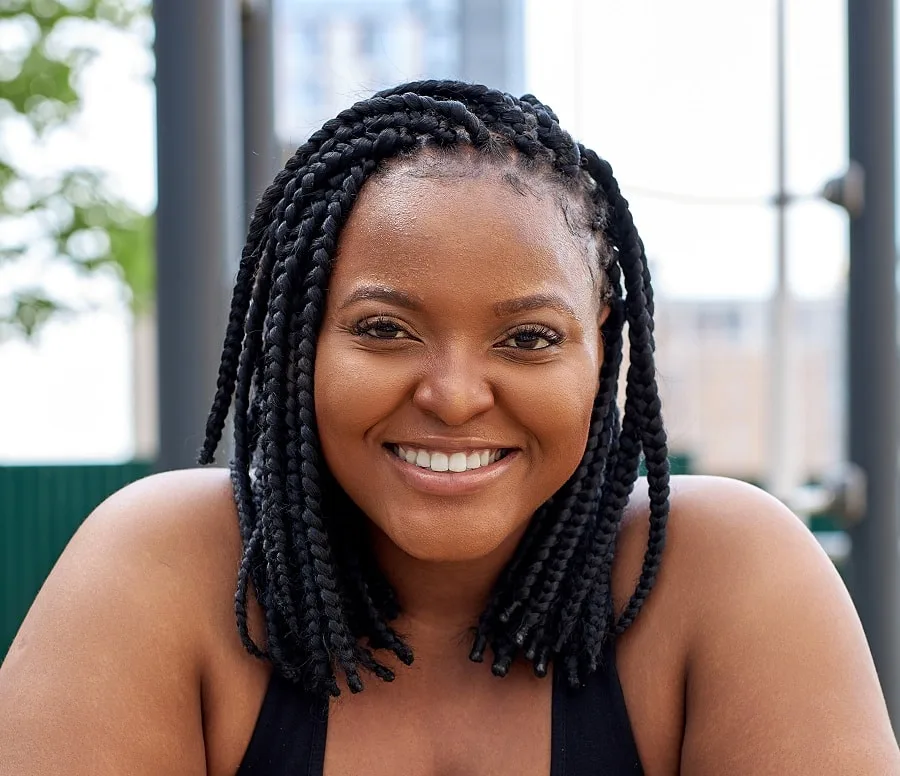 Lob and bob haircuts are perfect for concealing chubby cheeks and a fat neck. Use extensions in a matching shade or choose colorful ones instead to create chunky box braids falling on the shoulders. Sweep the knits on one side and adorn them with shiny hair cuffs for a fancy appeal.
2. Curly Layers
Curls look adorable on plump faces. Overweight black ladies can recreate this hairstyle by cutting layers into their precious coils to frame the sides of their faces. A shoulder-length mane is the best option to go for, although you can try shorter and longer cuts too.
3. Play with Symmetry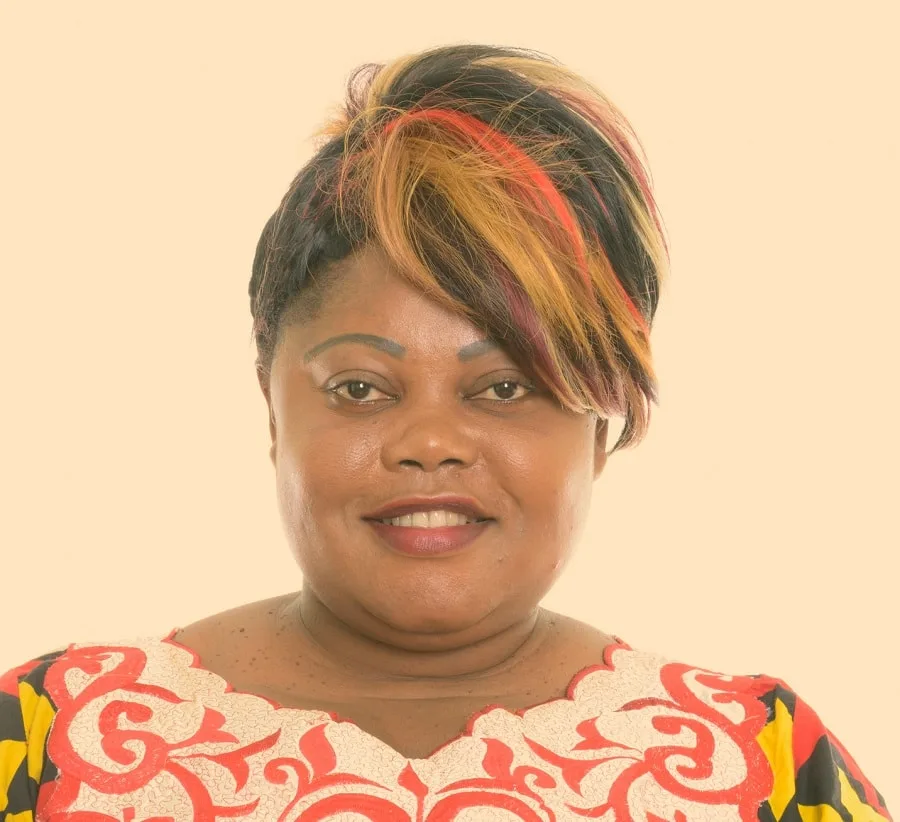 Keep all the attention away from a double chin by rocking an asymmetrical hairdo. The sides and back are kept short with choppy layers on top that are tousled on one side, reaching the ear. Spice up the look further with vibrant streaks of yellow, orange, and burgundy.
4. Frontal Cornrows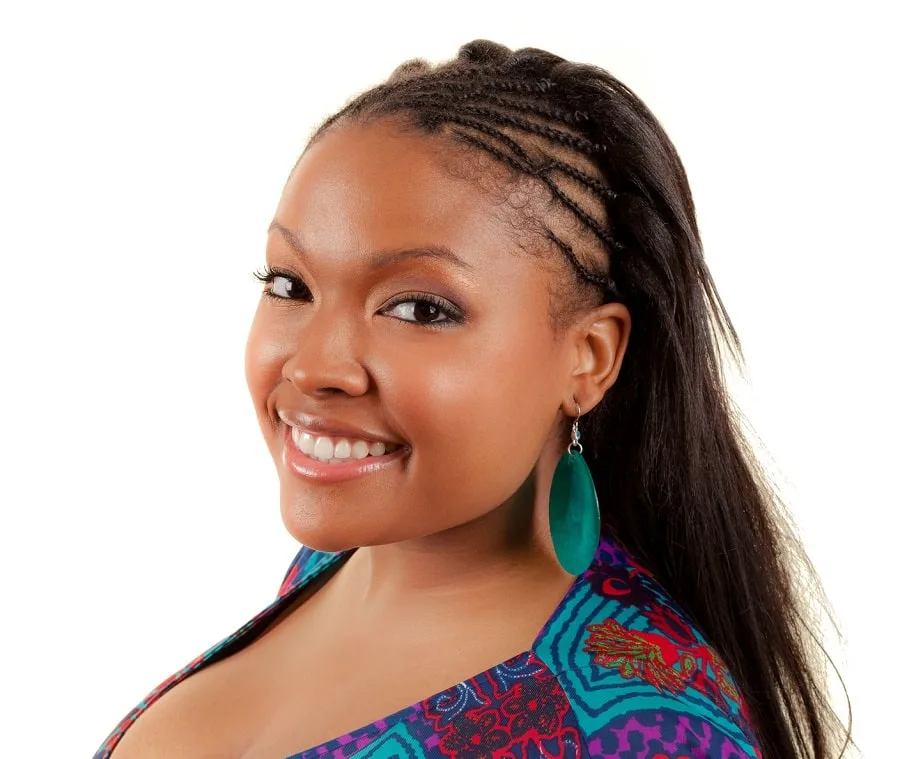 Plus-sized African-American girls can create the illusion of a slimmer face by opting for frontal cornrows. Choose a pattern before creating these fine scalp braids and add curls to the remaining tresses dangling loosely at the back or keep them simply straight. Your call!
5. Box Braids + High Ponytail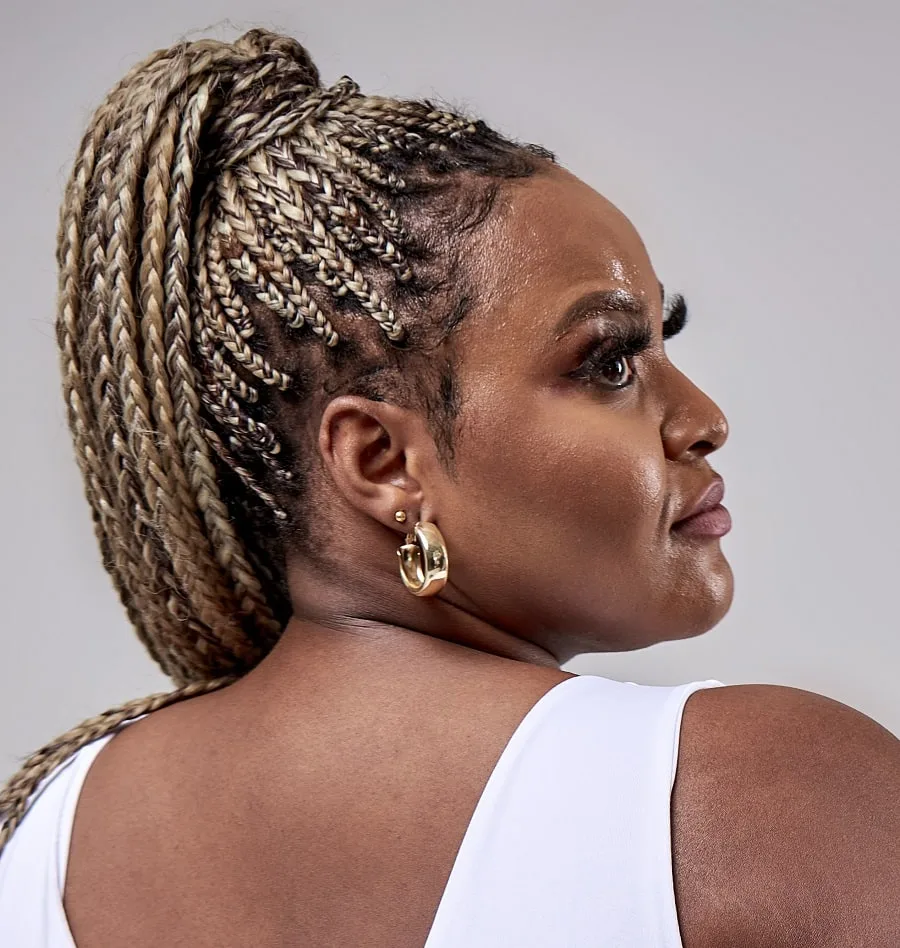 Box braids provide the benefit of rocking a long mane instantly while protecting the natural hair. Incorporate blonde extensions when knitting the strands going as long as you want and gather the plaits in a top knot ponytail making a round face appear longer.
6. Dread Bun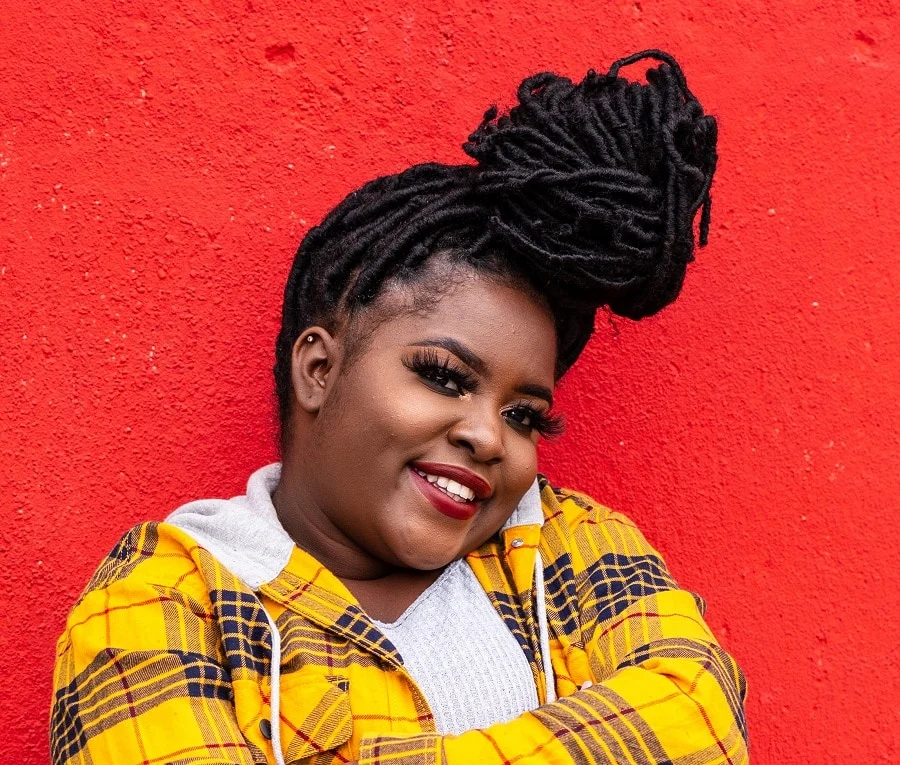 Accentuate a big face with a big bun, and you won't regret it. Tease and twist the strands producing bulky dreadlocks and swirl them around in a bun sitting on the top just behind the hairline. Complete the look with chic earrings and red lips.
7. Short Tight Curls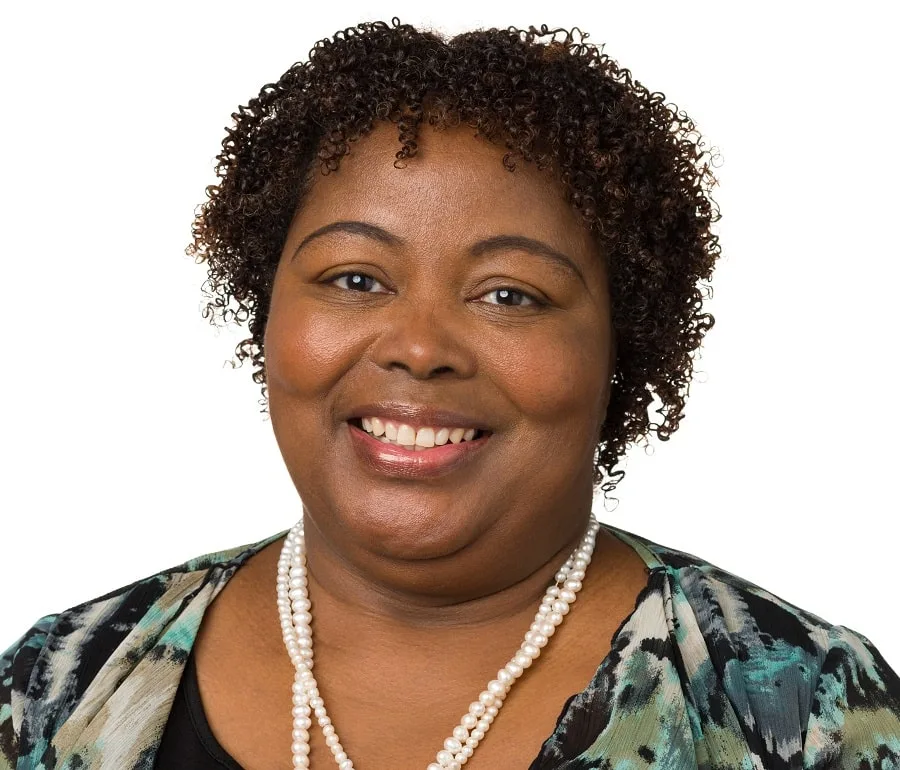 Lucky enough to be blessed with a head full of 4a/4b curls? Chop them into a short round haircut with layers in between. Although this style exposes the face from all sides, it does not look as flattering on slim women as it does on curvy ones.
8. Half-Up Top Knot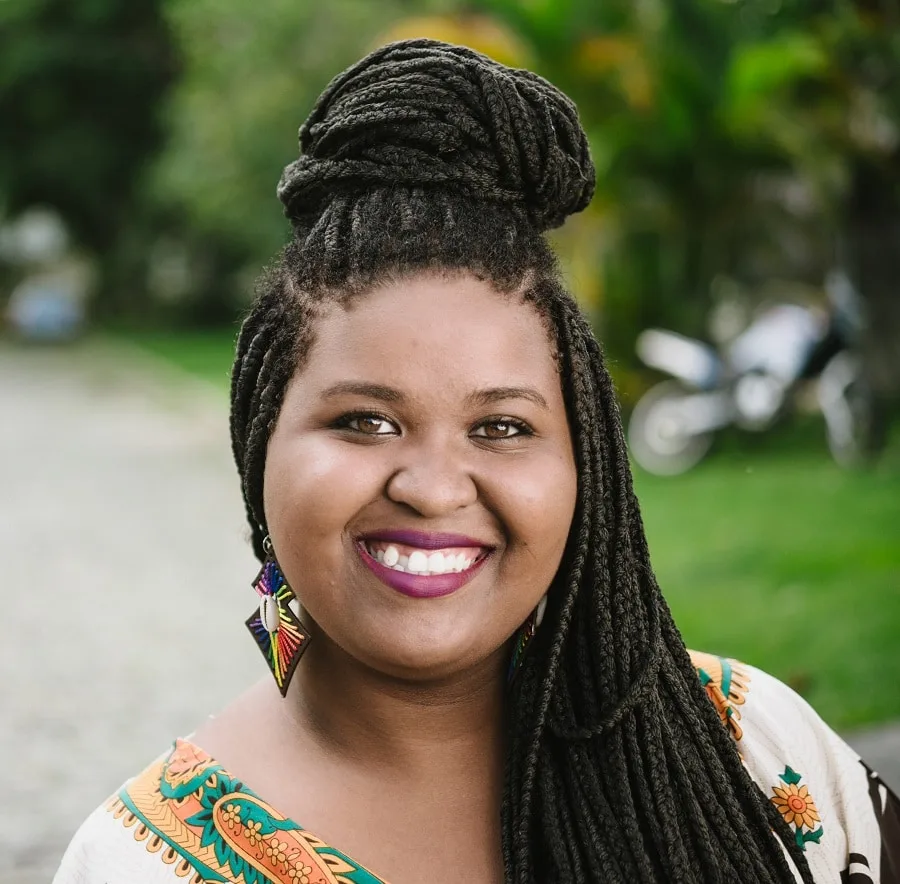 A perfectly round updo for a perfectly round face! Take the top braids and swirl them around in a bun. Secure with pins while the remaining knits are tousled at the front resulting in a stylish half-up half-down hairdo that is sure to attract some attention.
9. Wavy Perm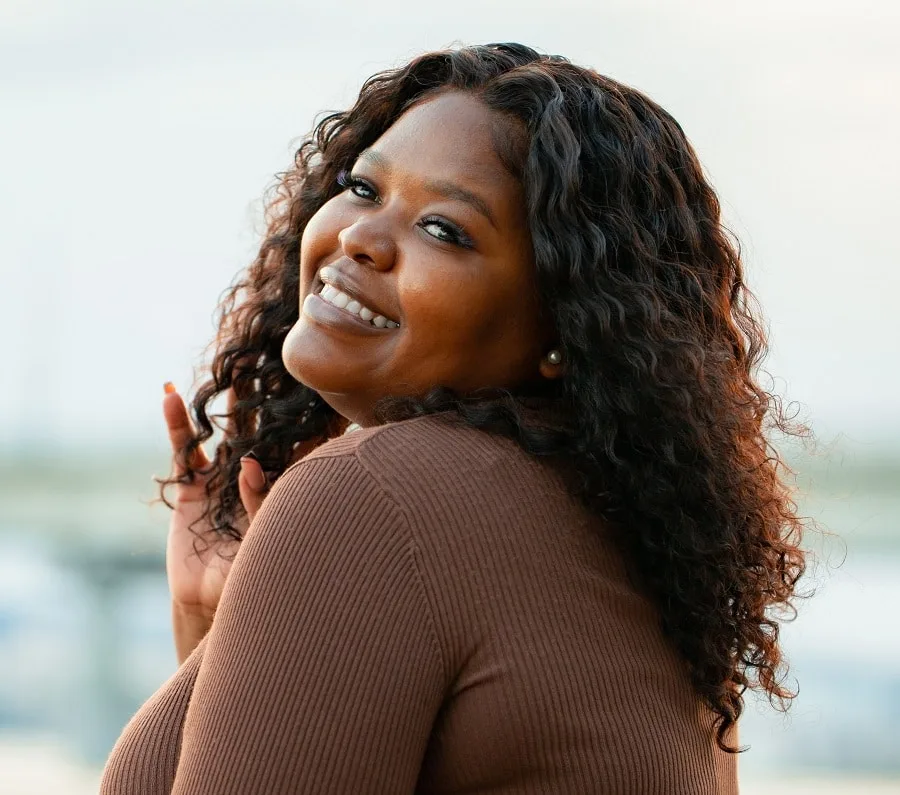 Overweight black women looking for a low-maintenance hairstyle can consider getting a wavy hair perm that lasts for about six months. Opt for loose beach waves rather than tight curls with soft layers. A hand-tousle and off you go!
10. Two-Toned Dreads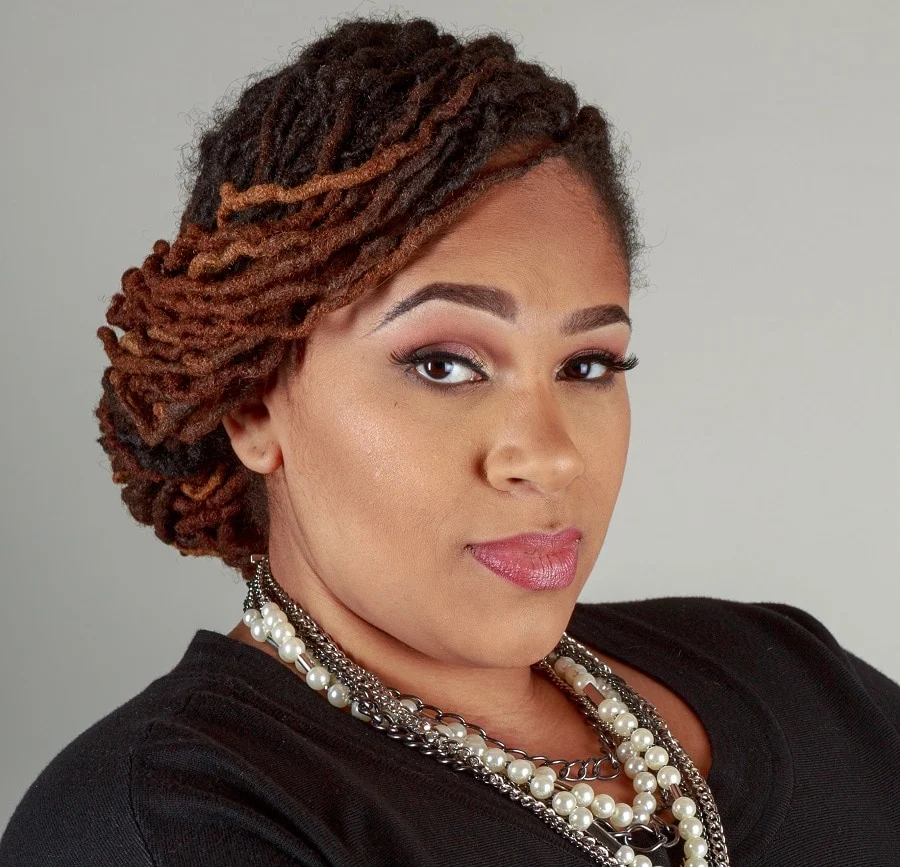 Dreadlocks are suitable to flatter a round face and can be kept for some time. Dye the dark strands medium brown with a hint of caramel in between for a two-toned look. Twist them at the front towards the back into an elegant updo for a formal event. Gorgeous!
11. Afro Puff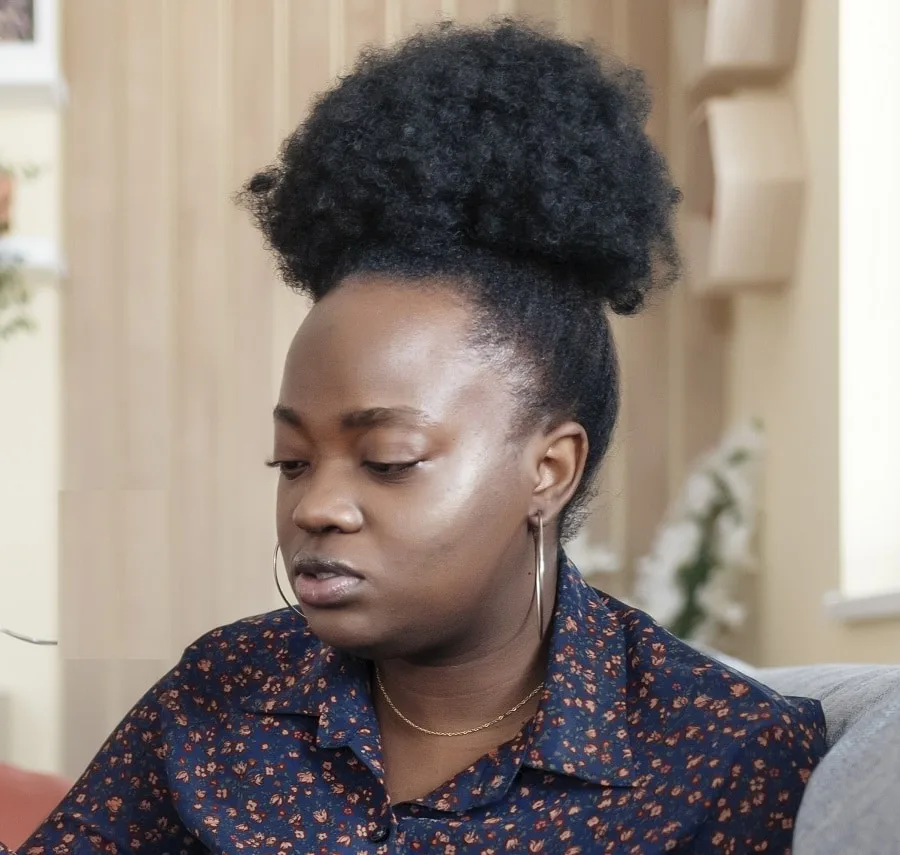 Flaunt those kinky afro curls with utmost pride by styling them in a simple updo. Slick back the strands in a high ponytail and leave them to fluff up like a cloud. Those who have short locks can use a synthetic afro puff to achieve a similar look. Can't get any easier!
12. Havana Twists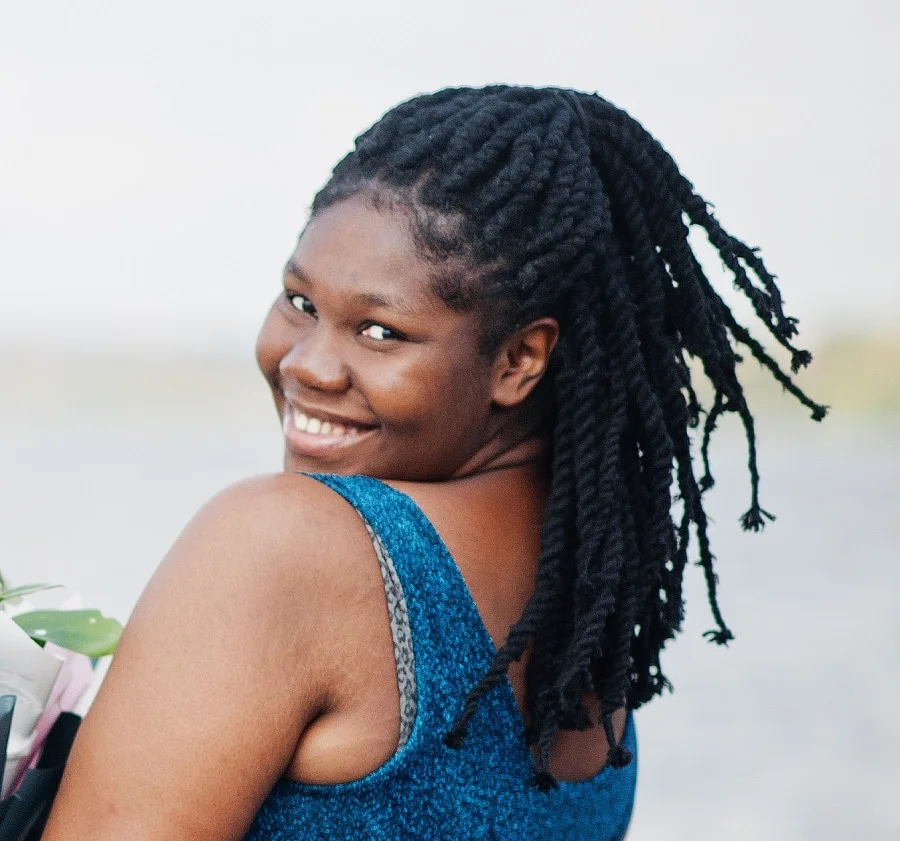 Pulled-back styles make round plump faces appear smarter. Take this look as an example where the strands are twirled into Havana twists using synthetic extensions and are gathered in a half-up ponytail. Traditional, easy maintenance, and chic what more to ask for?
13. Braids and Curls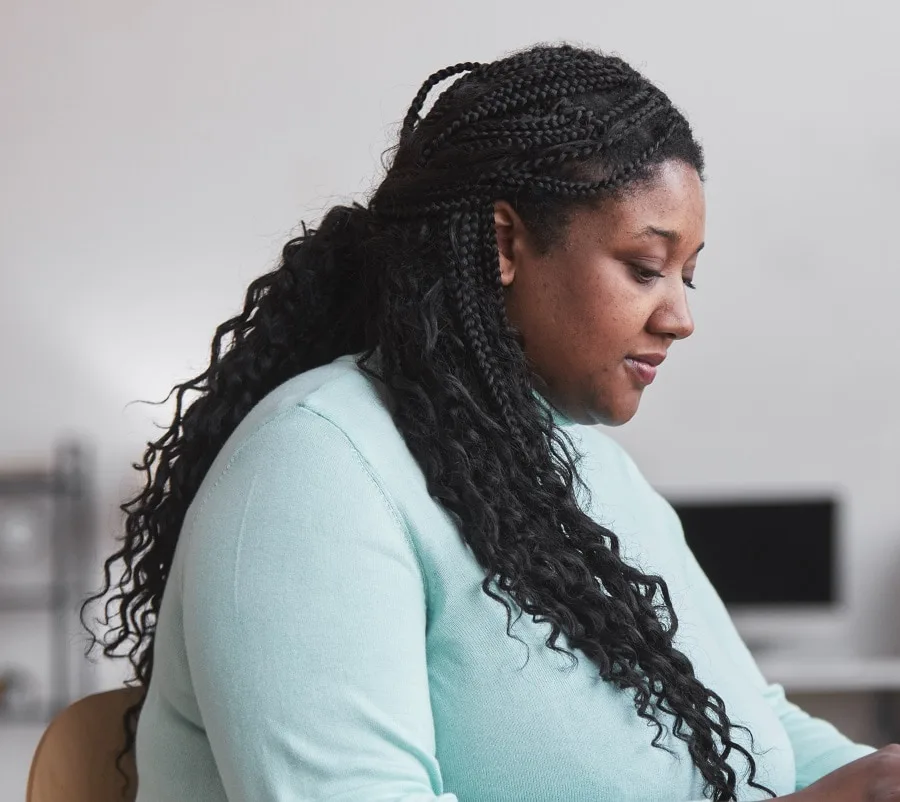 Braids and curls when combined create a hot mess that is sure to turn around many heads. The front portion is sectioned and plaited down while leaving the remaining strands untouched. Attach a weave at the back to boost up the overall volume of your mane.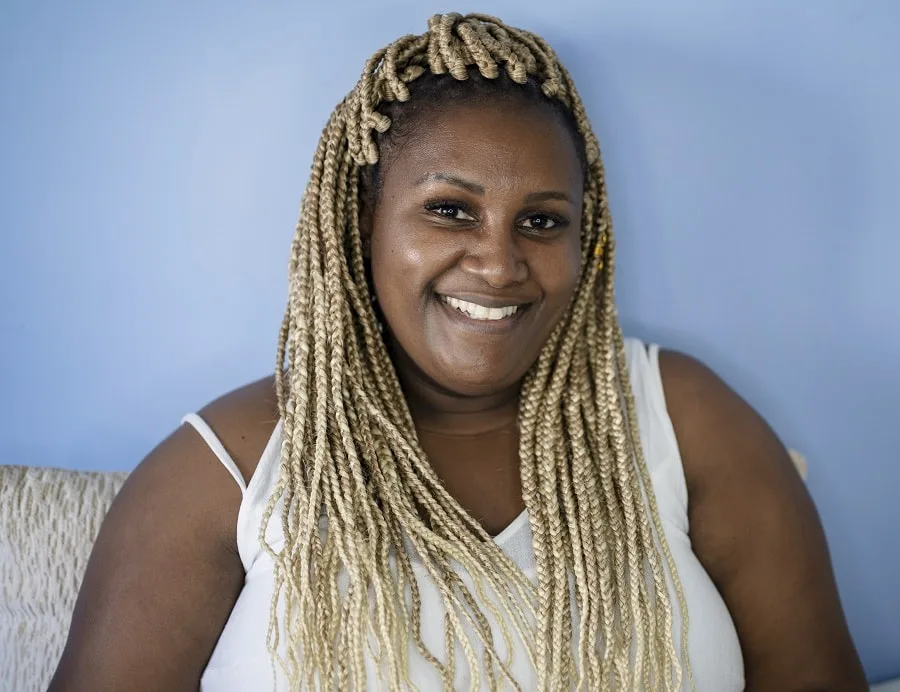 Overweight black women can get noticed from a distance by rocking a hair shade from the opposite spectrum to contrast against their beautiful dark skin. Whether going for box braids, micro braids, dreads, or microlocs use two slightly different shades of blonde extensions for a highlighted effect. Simply wow!
15. Pretty Pixie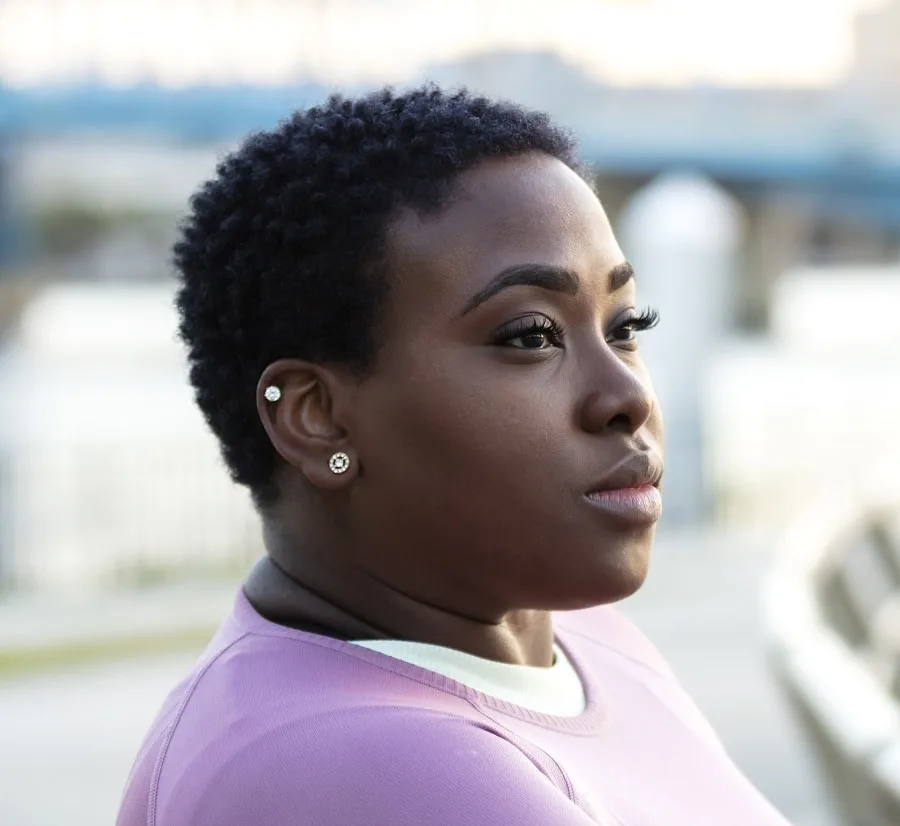 A curvy body is not something to be ashamed of. Embrace the roundness of your plump face with style by cutting those tresses into a short and sassy pixie. Consider a long top with shorter sides, or go for a uni-length chop instead. The choice is yours!
16. Long Top + Undercut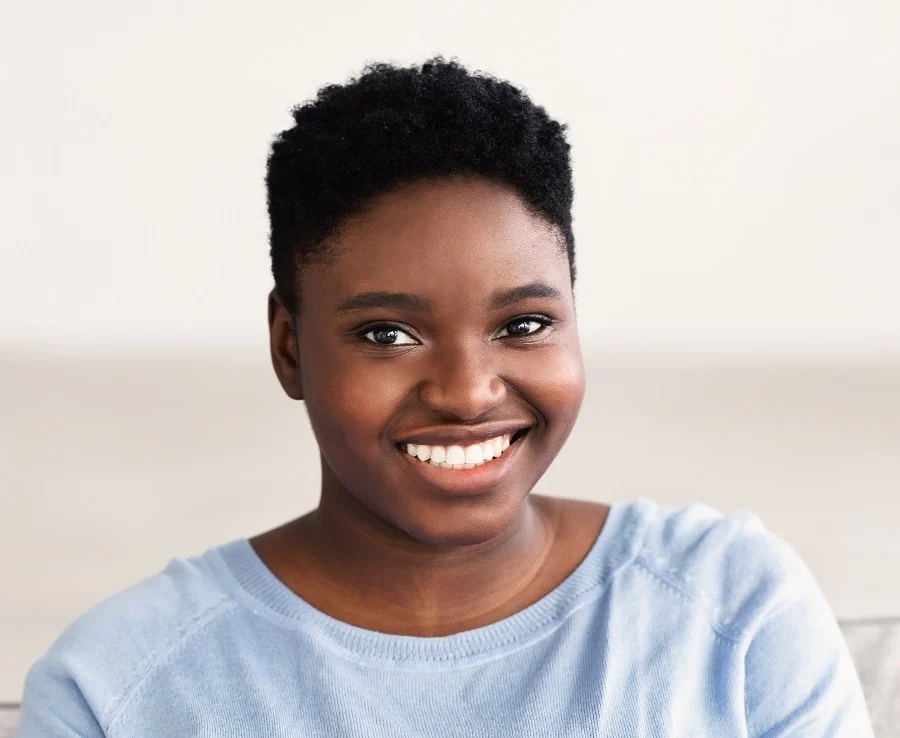 A baby afro is ideal to start fresh. Couple it with an undercut along the sides, imparting a slimming effect on the face. Black girls with this boyish hairstyle don't even need to comb their mane daily. Just finger brush the top and get ready to rock.
17. Pop of Color
Focus all the attention on the hair with a vibrant hair shade. Play with geometrical shapes and separate triangular, hexagonal, or square sections to be braided using the hottest pink extensions available. Rather than a single color, why not bring the entire rainbow on the head? You will love it!
18. Funky Mohawk
Last but not least, this wild hairstyle for plus-sized black women is sure to drop some jaws. The mohawk is defined by a shaved/buzzed head with a long strip of hair in the center. Add multi-colored streaks on the top and finish off the funky rock star look with stylish sunglasses and hoop earrings.
With these 18 hairstyles for overweight black women, it is clear that a curvy figure is no excuse for a boring hairdo. Although the options to choose from are vast it all comes down to your comfort and liking. Pick your favorite one and book a salon appointment!