When you choose to wear a strapless dress, you need to be bold, confident in your skin, and ready to receive a lot of attention. And for this, you certainly need a hairstyle for strapless dresses that will go hand in hand with its fabric, the occasion, your personality, and your face shape.
Length is also important for such outfits and can guide you when choosing the best hairstyle for strapless dresses. If it's short, you'll have a sexy provocative look, and if it reaches the ground, you need to opt for an elegant updo.
If you don't know how to match the two, check the images below, and you will undoubtedly find the inspiration you need!
1. Long Blonde Hairstyle for Strapless Dress
A long hairstyle for a strapless dress will make you look elegant and obtain a hairdo ideal for glamorous events. Every time you choose a strapless dress, make sure the fabric used for it will suit the hairstyle. You don't want to wear a satin dress with space buns, right? The two must complement each other.
2. Big Bun for Strapless Dress
This is probably one of the best hairstyles for a strapless wedding dress. The glamorous massive bun with messy strands will complete the look and show off your beautiful neckline and chest. Everyone will be able to see your silhouette and will compliment you for the outfit.
3. Curly Mane for Strapless Dress
Every young girl wants to look ravishing at her prom, and you can achieve that greatness by going for a prom hairstyle for a strapless dress. Use bobby pins to secure your whole mane on one side and style gorgeous curls and waves that will make you look elegant, like a beautiful princess.
The best curly hairstyle for a strapless dress is certainly one that doesn't cover the shoulders and keeps the ringlets bouncy and beautifully layered. Opt for an inverted bob haircut and wear the fringe on one side.
5. Messy Low Bun + White Strapless Dress
Sometimes less is more, and with this updo for a plain white strapless dress, you'll obtain a romantic chic look. Gather all the hair in the back and style a bun. You can also make a bump on top of the head to obtain more volume and spare a strand from your fringe and let it fall on the forehead.
6. Curly Braided Low Bun + Gorgeous White Strapless Dress
If you are attending a wedding or a party, opt for a more formal hairstyle for a strapless dress. Use your bangs to make a loose crown braid and curl the rest of the mane. Build a big textured low bun that will keep the shoulders and neck uncovered.
7. Crimped Ponytail for Strapless Dresses
Uncover your neck shoulders and chin with a modern white cotton dress and a suitable hairstyle. Go for a middle part and a low ponytail. Use a thin strand that you can wrap at the base of the pony to hide the hair elastic. Opt for a crimping iron to give your strands more volume and texture.
8. Casual Braided Ponytail + Red Strapless Dress
When you are a caramel blonde girl with highlights, a red strapless dress will go hand in hand with your shade. If you opt for a casual outfit, consider making a low braid and wearing your hair on one side.
9. Twisted Curls for Strapless Dress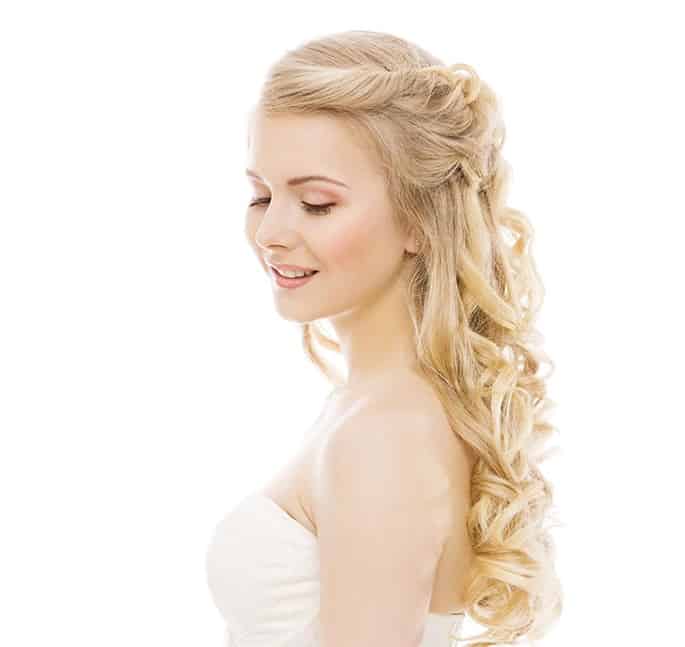 When you want to impress, a strapless dress is undoubtedly the best way to do it. Now all you need to do is to find the perfect hairstyle. Our suggestion is to go for a long hairstyle with curls. Take the top hair and split it into two pieces. Twist and meet them in the back to create a half ponytail.
10. Bob Haircut + Colorful Strapless Dress
A strapless casual dress you can wear for a walk in the park or a day spent at the beach will beautifully pair with a medium haircut. Go for an inverted bob and swoop the bangs on one side. A gorgeous bright blonde shade will fabulously match your tanned skin.
11. Short Pixie for Black Strapless Dress
Depending on the fabric, the strapless dress requires certain hairstyles, and a pixie haircut is an excellent match if you pick a denim outfit. Opt for a boyish haircut that highlights your eyes and is pretty low-maintenance.
12. Long Bob for Strapless Dress
A lob haircut has the perfect length and adds value to your dress. It provides a good framing for the face, and those bangs will complete the look.
Related: Pick The Right Hairstyle For One-Shoulder Dress
13. Short Haircut for Women Over 50 With Strapless Dress
When you are a woman over 50, a strapless dress can be considered a real statement. You are never too old to look fabulous, sexy, and fit. Opt for an elegant short hairdo that will show off your chest and shoulders, and pick a royally simple pearled necklace at the base of the neck.
14. Blonde Retro Curls With Red Lipstic and Strapless Dress
Pulling off a retro look for a strapless dress is a fabulous idea. Go for chunky curls and wear the bangs on one side. Complete the look with gorgeous red lipstick and a pair of shiny golden earrings.
15. Afro Curls + Light Green Strapless Dress
When wearing a sexy dress that draws all the attention to your chest and shoulders, you need to go for a hairstyle that completes the look, nothing too fancy or elegant. An Afro-black hairstyle for a strapless dress with gorgeous coils and height will be perfect.
16.
17.
18.
19.
20.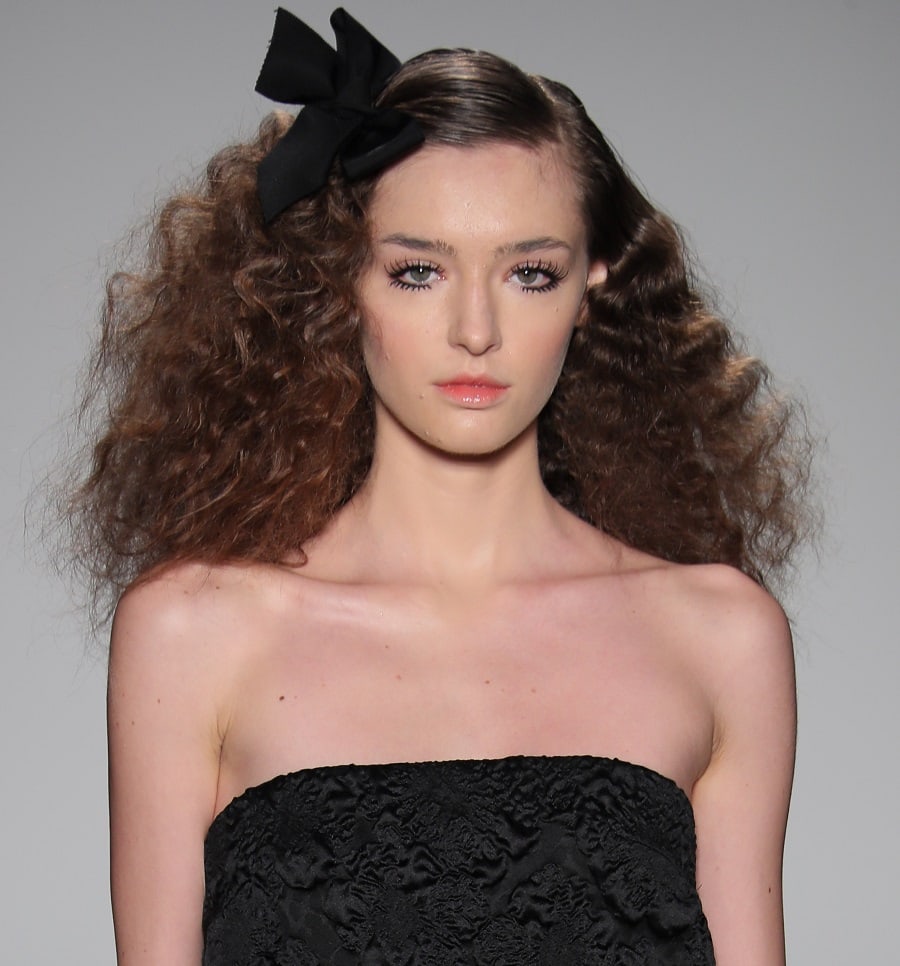 21.
22.
23.
24.
25.
When you opt for a strapless dress hairstyle, the outfit's color and your hair should also perfectly match. For example, an all-red appearance is a big no-no. Finding the balance between your mane and outfit is the key, and once you master that, you'll obtain the best hair look with a beautiful strapless dress!