In the hair world, dreadlocks are becoming an increasingly popular hairstyle, especially for women who have short hair or desire a short hairstyle. Dreadlocks, also known as locs or dreads, have a rope-like or matted appearance and can come in a variety of thicknesses.
While dreadlocks can form naturally as a result of not combing the hair, stylists now offer their services for professional 'locking'. The process for getting dreadlocks is lengthy. If you let them form naturally, it can take anywhere from as little as six months to as long as 18 or 24 months! It really depends on how dedicated the person is to their formation.
Short dreadlocks on women don't have to be ratty-looking either, despite the popular assumption. There are many chic styles women can rock with their short dreads, including layers, colors, and a mix of dreads and natural hair.
Whether you already have short hair in dreadlocks and need a new do, you're purchasing dreadlock extensions, or you're considering going on your own natural dreadlock journey, you need to be aware of the many short dreadlock hairstyles available to women today!
Trendy Short Dreadlock Hairstyles
Some of the most popular ways to wear short dreadlocks include bobs, fades, ponytails, and pixies! No matter your day-to-day environment – work or school – there's a style suitable for you!
If you already love wearing your hair in dreadlocks or are considering making the switch to short dreads, you'll want to choose a style from these 25 short dreadlock hairstyles for women!
1. Natural Black Hair Dreadlocks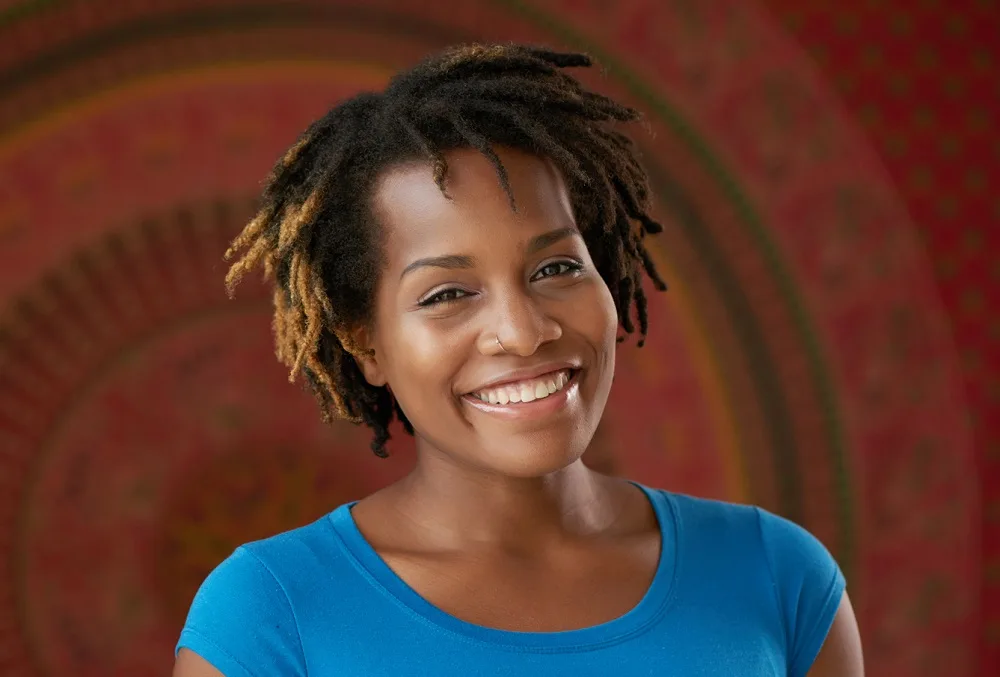 For women of color who love their natural hair, you don't need to have long hair to show off your gorgeous texture! Just go with this short dreadlock hairstyle with its beautiful caramel color as an ombre!
2. Thick Dreadlocks with Beads
One chic way to wear a short dreaded hairstyle for white girls is by leaving about an inch or less of the hair near the scalp natural, then forming thick dreads. The style here is also accessorized with large beige and maroon beads stacked on the ends, a cool colorful contrast on blonde hair.
3. Short Layered Dreadlocks
For older women wanting to rock a youthful, stylish look, opt for short layered dreadlocks. On natural hair, it's a beautiful protective hairstyle and the layers will create flattering framing around the face.
4. Short Dreadlock Ponytail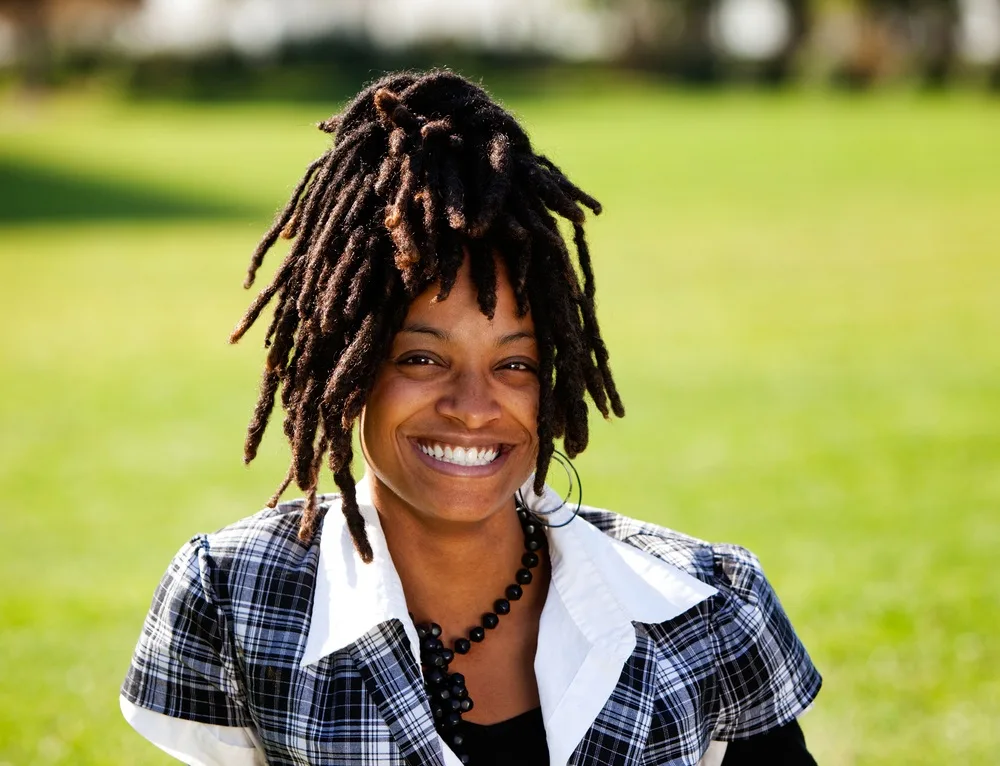 If you like wearing your hair up, a short dreadlock hairstyle will still allow you to rock your favorite high ponytail! You can either gather it all up and secure, or leave part of the front loose to drape around the face.
Love a short punk hairstyle? Add in a few dreadlocks to your short hair and get creative with your two favorite colors for a truly electric, eye-catching look! A pop of pink is vibrant next to a dark blue back half of the hair.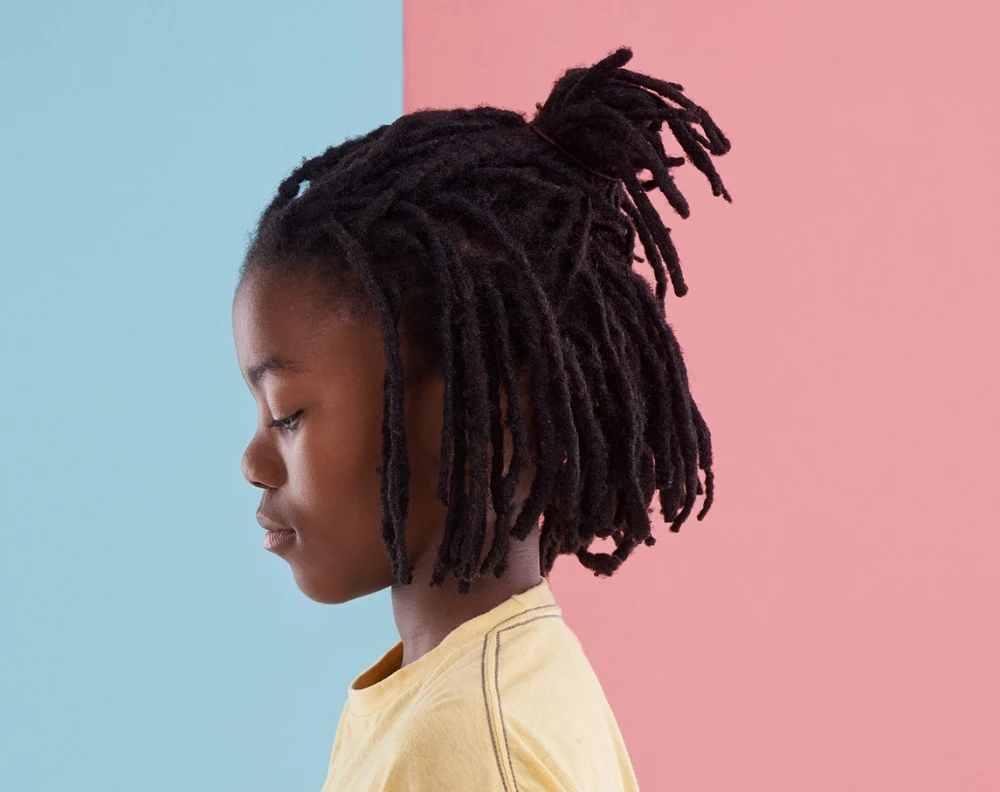 On little girls with natural black hair, dreadlocks are an easy hairstyle to maintain. They can wear it down for casual, simple style, or wear the top half up in a cute ponytail.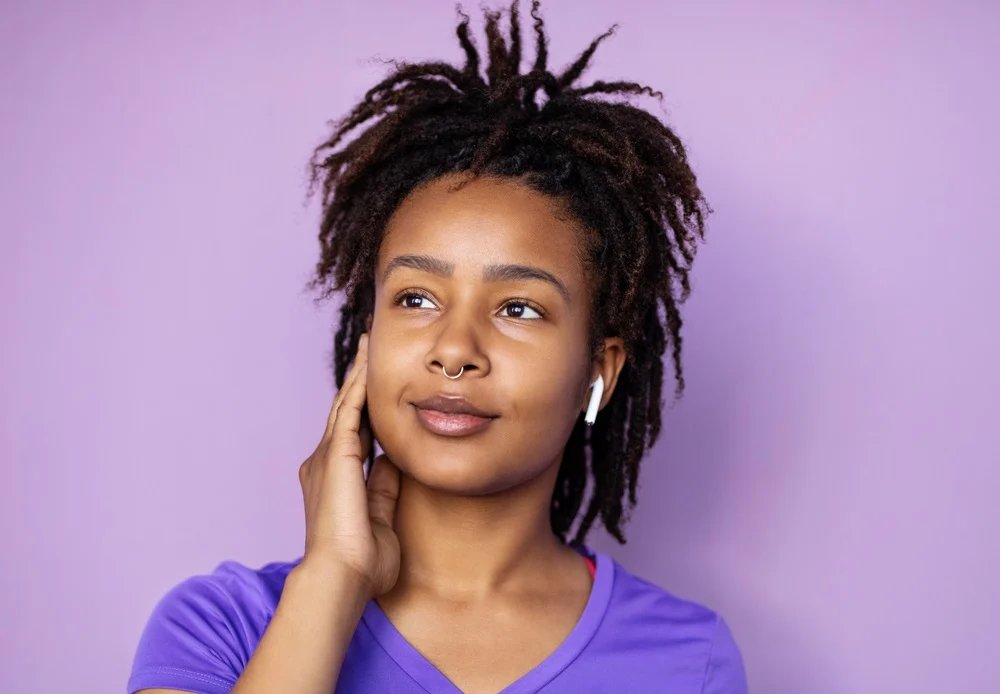 Women with thin hair will appreciate how dreadlocks make hair look thicker. If you love hair accessories, add a cute headband to keep hair off the face. For extra style, rock a half up ponytail or bun.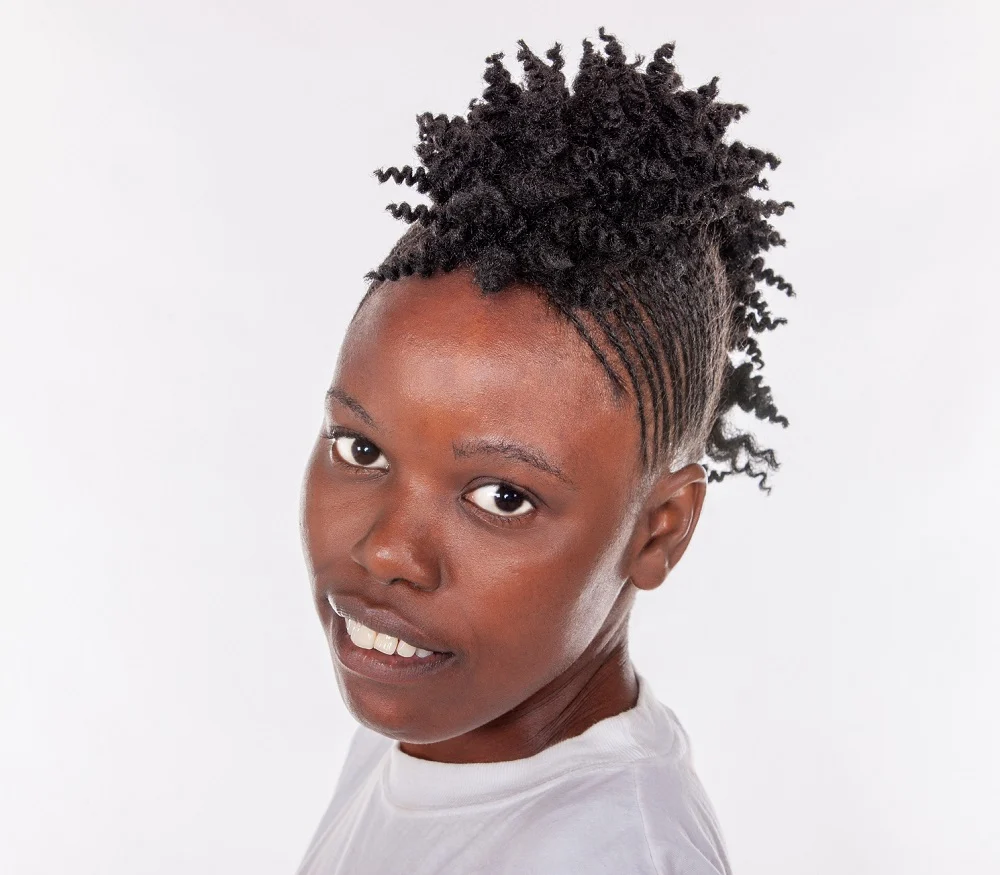 Another bold way to rock dreadlocks on women with short natural hair is by forming tiny cornrows or braids to create a "fade," then shaping the top into a faux hawk with a mix of dreadlocks and twists.
9. Jumbo Dreadlock Ponytail with Beads
For extra thick hair, short jumbo dreadlocks are a lovely and stylish way to control hair. When wearing your favorite dress, try gathering hair up into a high ponytail, adding large beads at the forehead for noticeable detail.
10. Twist Locs
To protect natural hair but express your personality at the same time, consider a short twist loc hairstyle. This look flaunts long side "bangs" in a medium red while the rest of the hair is in a perky ponytail.
11. Short Dreadlock Bob
A bob is a go-to hairstyle for women everywhere because of its ability to make any hair texture chic. Short dreadlocks in a mix of color, like blonde and medium red, are youthful and gorgeous.
This sophisticated bob is perfect for the office. The dreadlocks will flatter any woman's bone structure. Opting for ombre in light brown or caramel is an elegant way to rock a bit of color too.
Just a few dreadlocks are seen here on this women's short hairstyle, but they're just as noticeable given their bright platinum blonde color. Form a small ponytail near the temple for sassy style.
14. Ginger Bob with Dreads
For all you redheads out there, switch up your daily do by changing to dreadlocks on short hair! They'll give a bit of texture and flattering dimension to thin-haired women, especially when you part hair off-center.
When it comes to bold, edgy hairstyles, short dreads in layers are perfect for petite faces. Create a heavy part to emphasize the layers, using black rubber bands to section off the dreadlocks.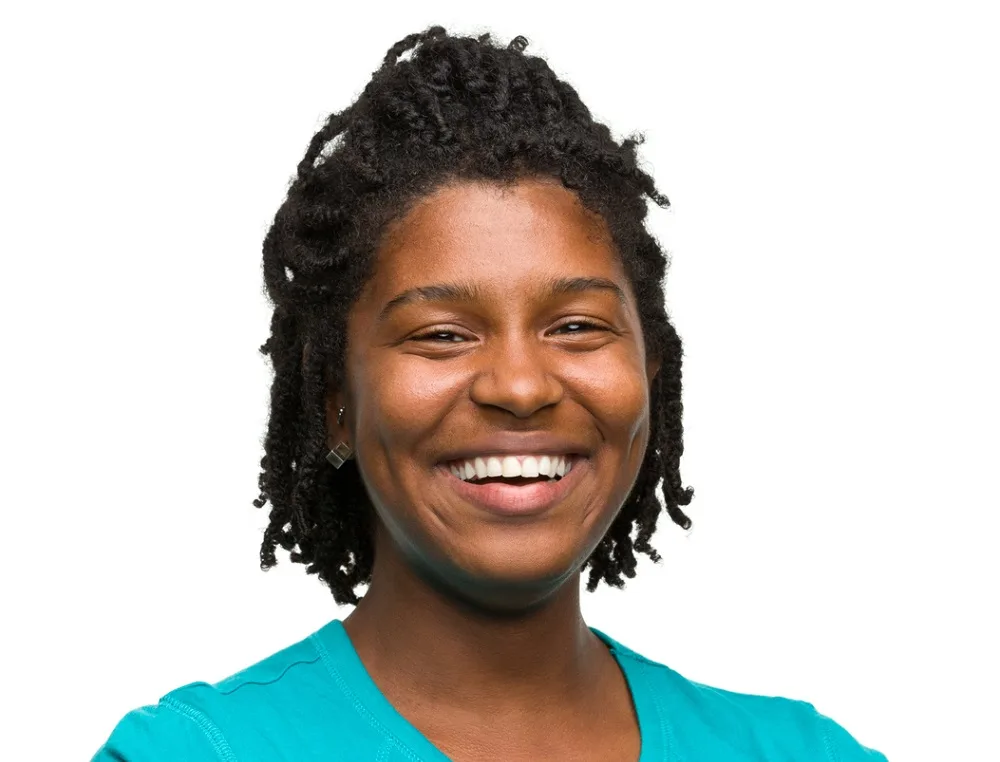 There's no need to nix your natural hair's curly texture just because you have a new do! This women's short dreadlock hairstyle shows how a half ponytail still lets curly texture peek through.
What girl doesn't love a playful hairdo? The beautiful burgundy color seen here on a short dreadlock space bun hairstyle makes the funky look come to life.
18. Wrapped Dreads and Under Color
For simple style, you can create with just finger combing, go with short dreadlocks in layers. A pop of purple peeks through underneath while the white wrapping contrasts nicely on a dark hair color.
From the two half ponytails and white hair accessories to the piecey dread bangs, this women's short dreadlock hairdo is not short on detail! If your hair is brown, add a tint in a lighter color to bring warmth to the face.
We can't be the only ones getting Fifth Element vibes from this red short dreadlock hairstyle for women! A few thin dreadlocks is all your short hair and cropped bangs need to take style up a notch.
When creating this dreadlock style on your short hair, be sure to leave some hair loose around the face for softness and framing. The two-toned hair colors are a nice way to accentuate your new dreadlocks.
22. Dreads and Twists
Whether you're looking for everyday style or something for a fancy occasion, short dreadlocks are a beautiful option for updos. To give your dreads more detail, add a few tiny gold hair cuffs.
A pixie cut is just the look to show off short dreadlocks on women. Try adding a light color like lavender for subtle color. This color will flatter women with light and pale skin tones.
24. Inverted Dreadlock Bob
The inverted bob puts an edgy take on the women's dread hairstyle. Its shortest pieces are directly at the back above the neck, giving the face flattering framing. For a blast of color, consider blending orange-red with yellow, and adding a variety of silver hair cuffs.
25. Short Brown Locs
For women with dark skin tones who prefer neutral hair colors, opt for blending light and dark brown on your dreadlocks. This style is parted slightly off-center and worn down, and effortlessly stylish do.
After seeing the plethora of ways for women with short hair to wear dreadlocks, we're betting you've changed your opinion! Short dread hairstyles are very low maintenance, but obviously not void of style or personality! They leave plenty of room for playing with color or mixing with natural, braided, or twist styles.
A few tips for keeping your short dreadlocks look gorgeous:
every 2 to 3 weeks, wash and detox hair to remove product and oil build up, as well as keep it clean
avoid tight hairstyles
consider a leave-in conditioner for moisture
The nice thing is that, there's no rule that says your entire head of short hair has to be dreadlocked. You can start with a few, if you're unsure if you want to commit to the look, then slowly add more. Experiment with color, updos and down dos, and be bold!
Most importantly, be sure to share your final result with us!