Dreadlocks today are worn by musicians, athletes, actors, rappers. The blonde dreads have a specific beauty because the accent the women's beauty, look feminine, romantic and unique. They differ from person to person and give a fabulous new look.
Many fashion brands acknowledged the popularity of the dreadlocks and even presented them on the models on their runways. If you are considering dying your dreadlocks, there is no girlish color than the blonde one.
No matter if you have long or short hair, dreads can be done on each length and still look beautiful. Depending on your hair type and quality, the dreadlocks can be thick or thin.
How to Dye Your Dreadlocks Blonde

The first step into dying your dreads blonde is bleaching. Everyone with dark hair must go through this process because the blonde is a light color and will not be easy to achieve the blonde light effect.
Bleaching and dying should be done at your hairdressers. First comes the process of bleaching, on dread at the time.
After at least 30 minutes, the dreads are washed and rinsed, and then the blonde dye is applied. With a soft brush, the blonde dye is applied onto each dread and left for about 45 minutes to absorb in the dread.
Best Blonde Dreadlock Hairstyles
Check the 10 most gorgeous blonde dreads hairstyles for women that will be huge in 2023.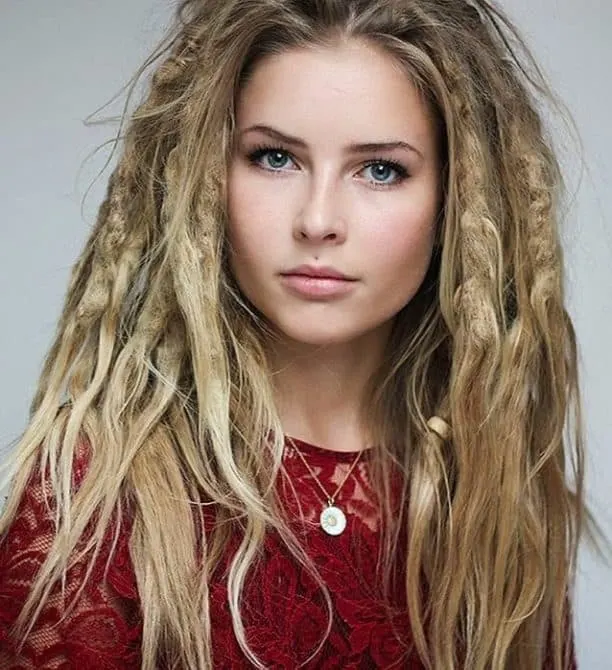 The loose ends remind of a hippie style, so here, we have a completely messy and undone look. the blonde dreads do not start right from the root and end with loose ends.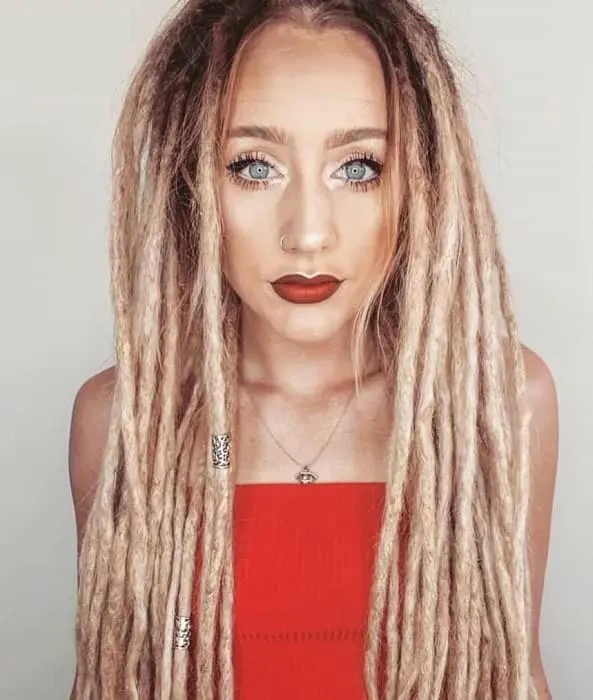 For this look, you do not need to have all your hair made in dreads. Half of the dreads are blonde, half is in a darker shade. Sassy and beautiful blonde dreadlock hairstyles for women.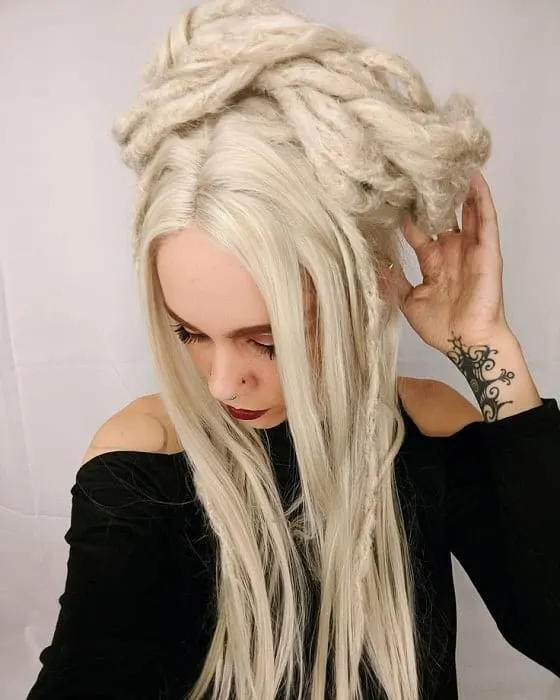 The half up-do also does not require all the hair to be in dreads. Contrary to the previous look, this time, the dreads with blonde dye are made at the back part of the hair and they are thicker. The up-do looks like a fabulous crown.
4. Messy Lattice Crown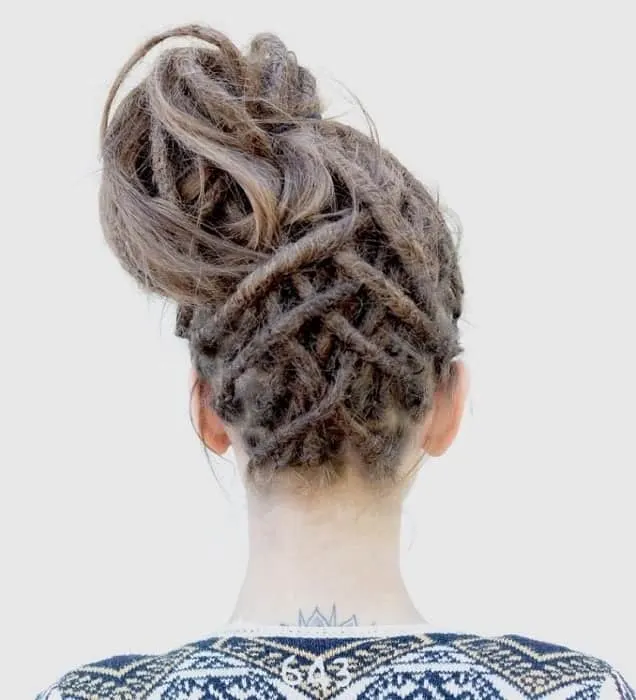 Messy lattice crown look involves interlocking blonde dreadlocks at the back of your head, looking like a net, all done in a side messy bun with free ends.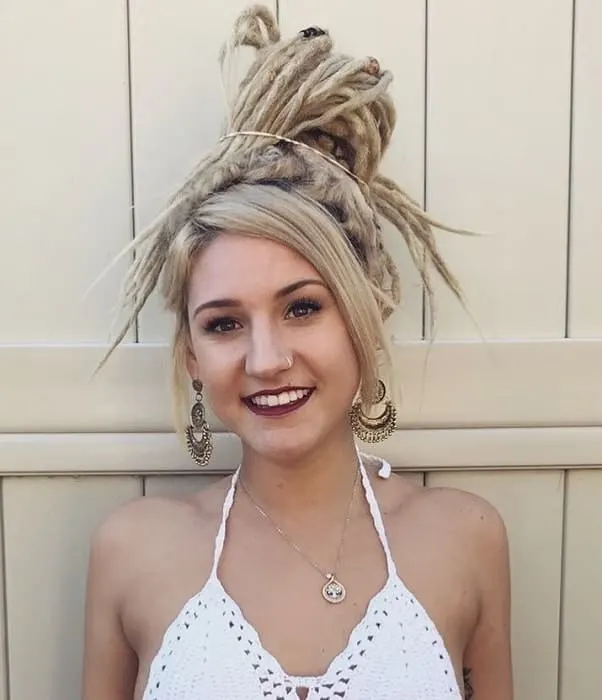 This extravagant look requires long and thick dreads. They are curved and styled all over each other, without a clear pattern. This blonde dreads style with bangs is an artistic look.
6. Dreadlock Up-Do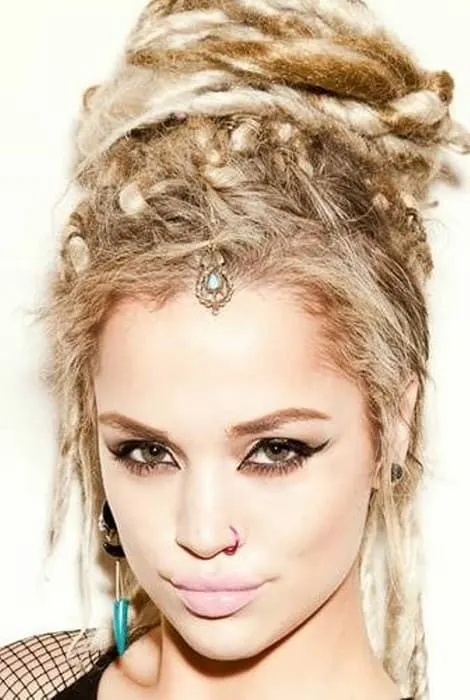 The bun up-do is a hairstyle that is very easy to do. It is messy, relaxed and informal. Just put your blonde dreads away from your face in a bun that looks like an up-do.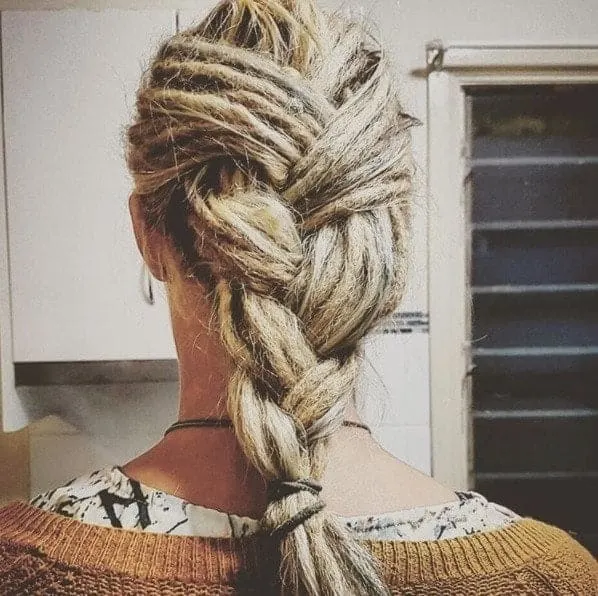 This is one very feminine and fresh look and can be done with thin blonde dreaded hair. Separate them into three parts, and with each part do a French plait.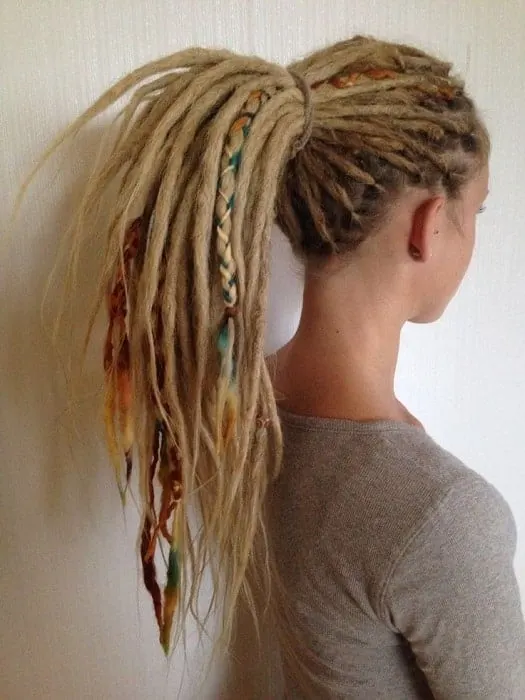 The blonde dreadlock in a ponytail is a very common and regular look. it only requires headband to style your dreads into a ponytail.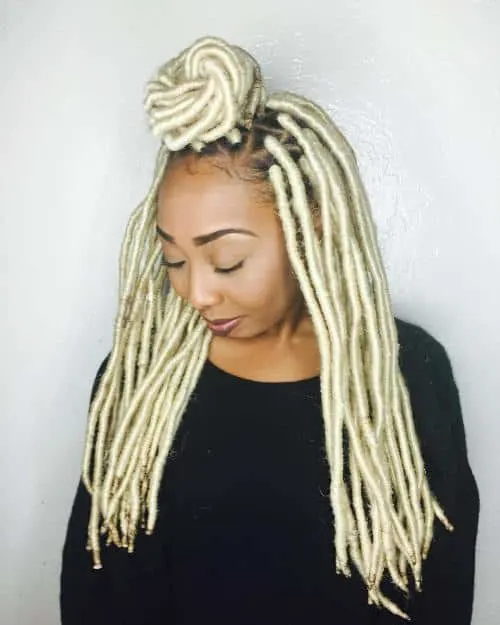 This exotic blonde dreads style is made of two separate hairstyles – the top of the hair is styled in a voluminous bun of dreads, while the rest are let down freely.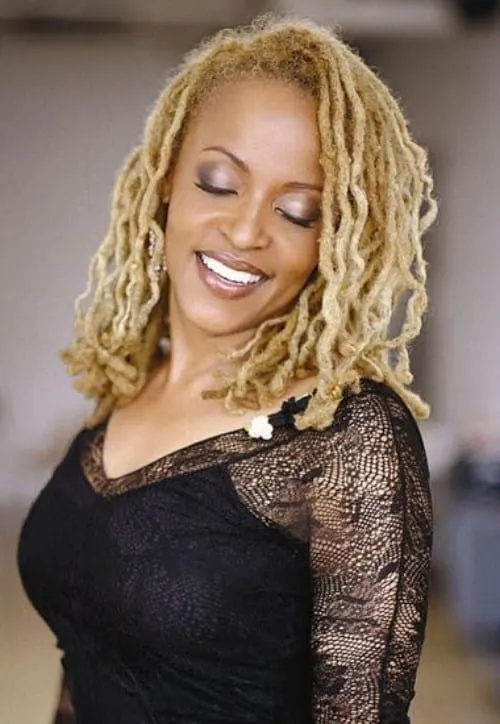 The look of curly blonde dreadlocks can be achieved if the dreads are let to form their own way, or are curled with a straightener or hair dryer. They usually are let down.
FAQs on Blonde Dreads
How to wash blonde dreadlocks?
Dreads do not rinse easily as regular hair so you will need more time under the shower. You will need extra time to wash them thoroughly.

The washing process is the same, apply the shampoo all over the dreads and them wash them. They are not washed as regularly as hair is, so there is a chance that the hair color will stay on longer.
Can bleach damage hair permanently?
Bleaching is a chemical process, so yes, it does damage the hair permanently. The longer you leave the bleach on, the more damaged the hair will be.
Can I wash dyed dreadlocks?
Of course, dyed or not, the dreads can and must be washed, just the process is longer than regular.
How long the blonde dye lasts on dreadlocks?
Dreads are washed not as frequently as any other hair is, so the blonde color shade will stay longer on them.

Touch-up is suggested to be done every month, just on the roots, or on some parts of the dread. You do not need to do the bleaching all over again.
If you are a free-spirited, adventurous individual that likes to try out new and interesting stuff and styles, then getting and dying your blonde dreadlocks is a good start.
From one side, dreadlocks will show your rebellious and unique personality, and on the other side, the blonde dye will keep your look girly, soft and feminine. Take care of your hair, keep the blonde dreads clean, do regular touch-ups on both on the dreads and roots and you will always have magnificent look.