Beyonce, Alicia Keys, and Gabrielle Union are among those black celebrities who make us fall in love with braids even more. They don't feel shy to embrace their heritage and embellish their natural locks. With every appearance on the red carpet, these famous black actresses, singers, athletes, and others give cultural recognition to different braided hairstyles like African braids, Fulani braids, or Bantu knots, etc.
Depending on the braiding technique, these plaits can bring color, thickness, volume, or texture to the table. If you're looking for a celeb-inspired braided hairstyle, explore some of the most famous dark-skinned female celebrities who rocked braids in style.
Stunning Braided Hairstyles from Top Black Celebrities
Scroll down and uncover the secrets of various braided hairstyles of famous black celebrities! Read the article and replicate the plaits you loved the most!
1. Alicia Keys – Furlani Braids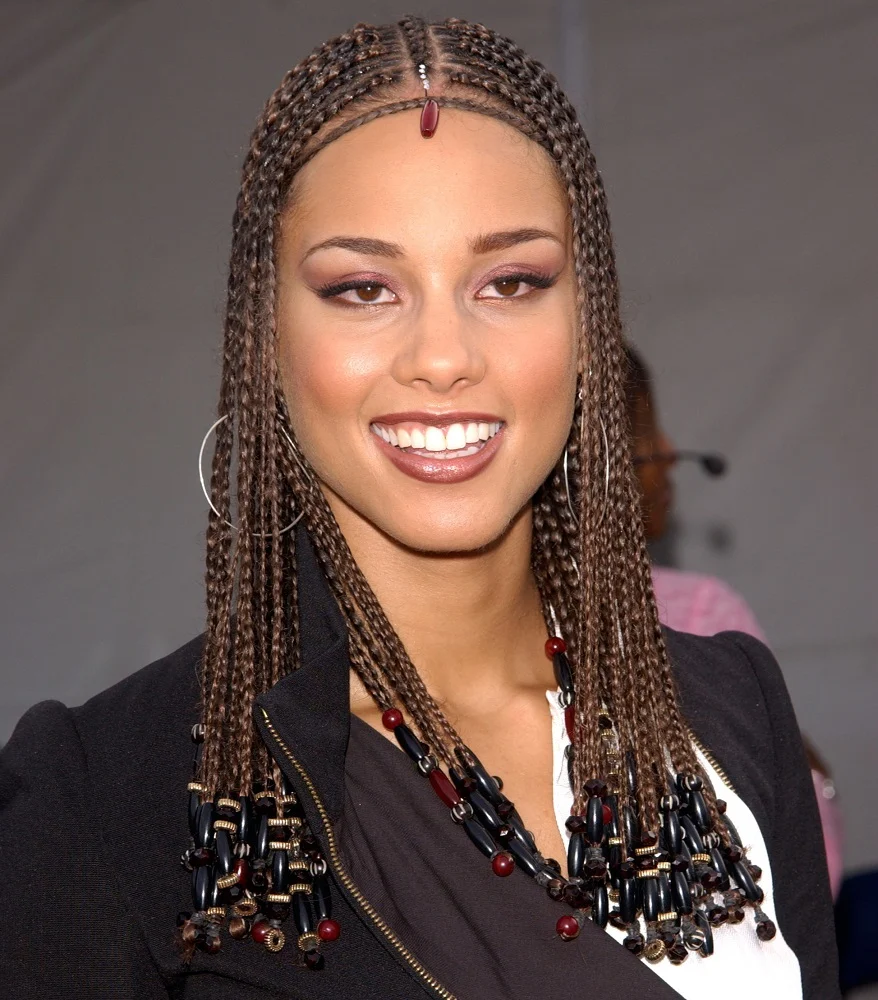 Edge control products are crucial if you want to replicate Alicia Keys's Furlani braids because they will keep the frizz away.
Once the hair is properly prepped, create a cornrow braid that separates the sides and decorate each braid with various shaped beads.
2. Amandla Stenberg – Feed-In Cornrows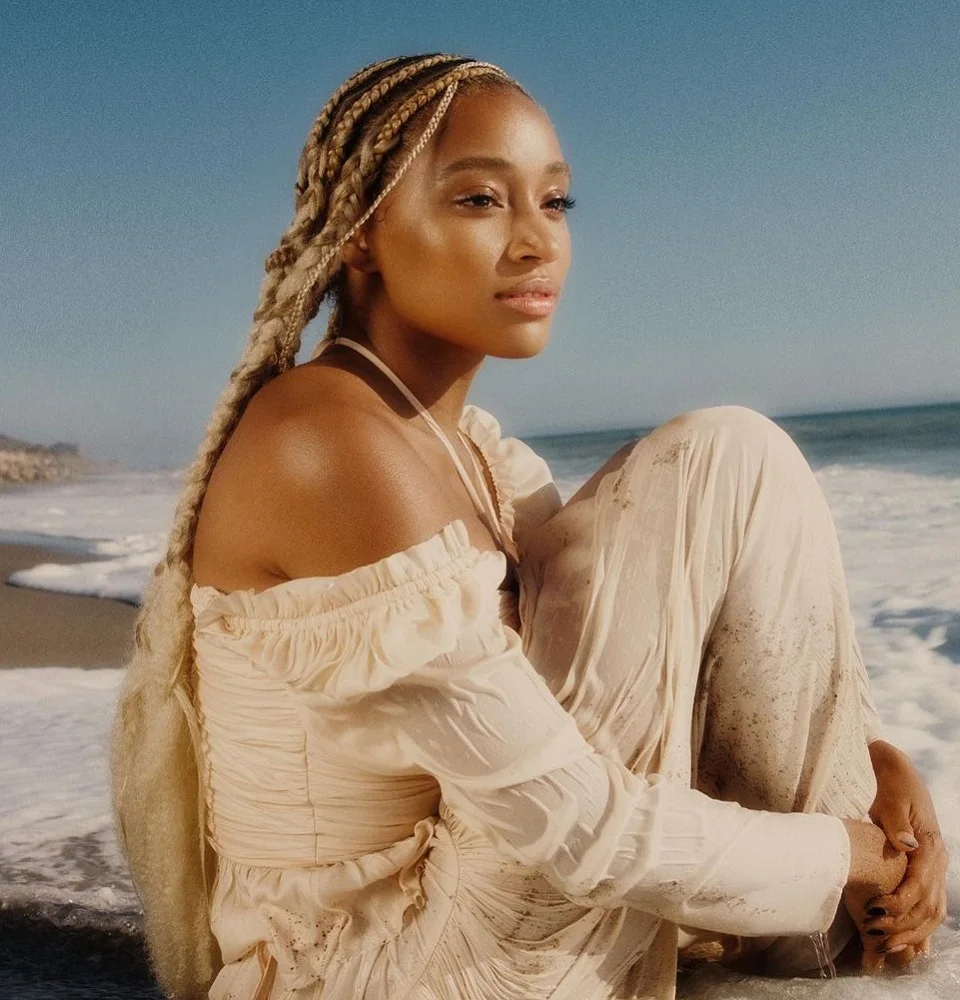 Mixing cornrows with loosely feed-in hair extensions will help you achieve a bohemian look that gets all the attention it deserves.
Create various textures, add ultra-thin braids, and build volume at the ends.
3. Beyonce Knowles – Finger Waves Braids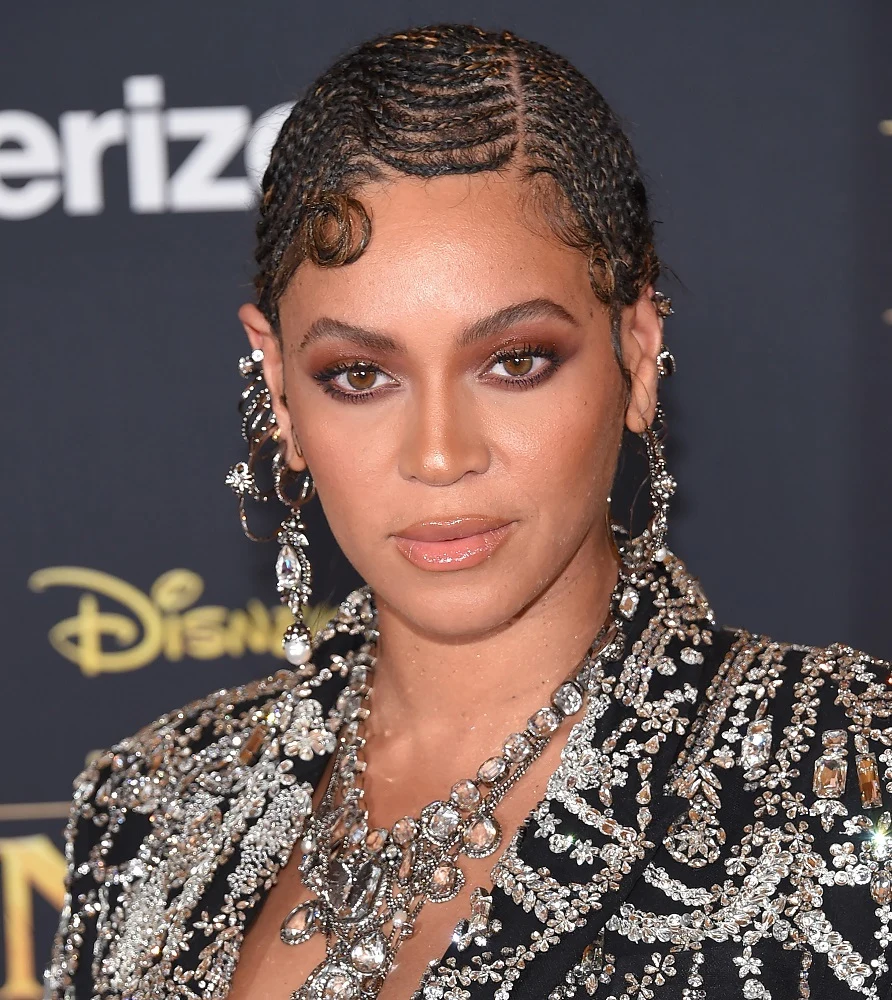 One of the most adored black celebrities is definitely Beyonce. Queen B knows her wrap around braids and she uses them to recreate iconic hairstyles like finger waves.
She curved and waved thin cornrows so they will replicate popular flapper girl hairstyles from the 60s. Moreover, she styled a blend between her heritage, natural hair, and an emblematic hairdo.
4. Bia – Braided Pigtails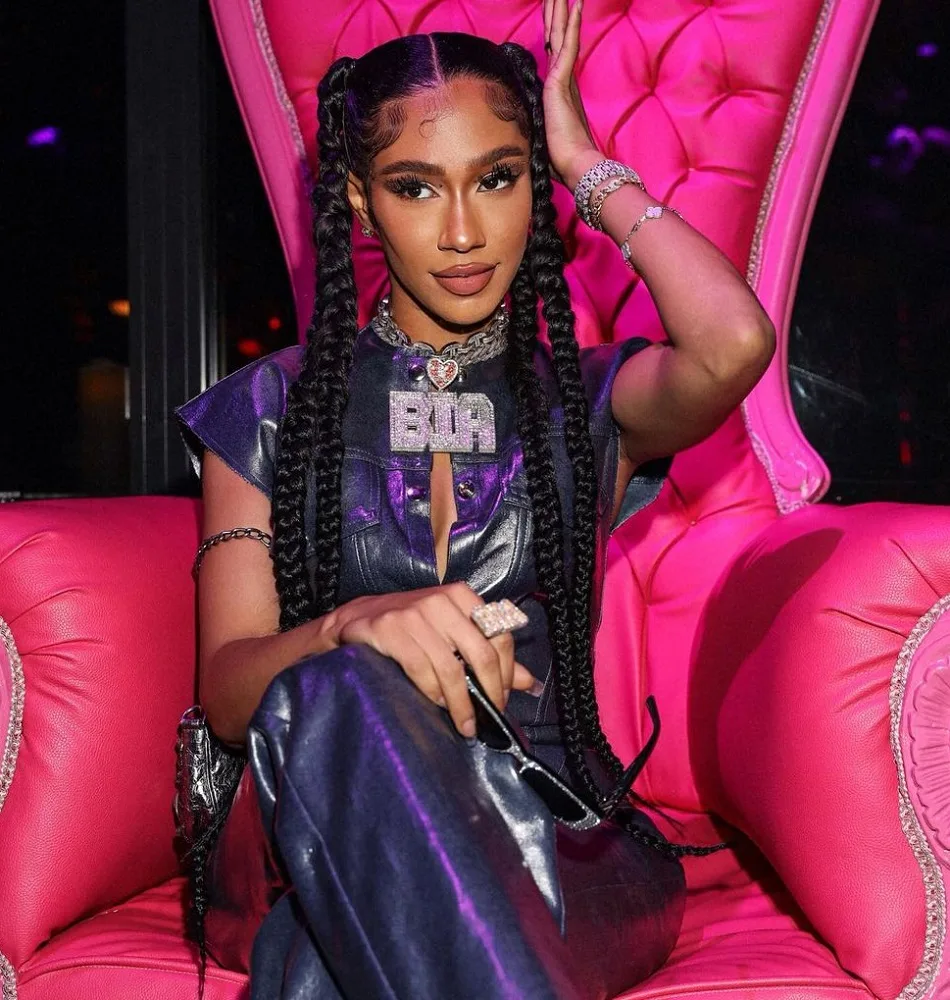 Braided pigtails are sassy, cute, and an ideal option for women who want to be in the spotlight. The hairstyle has all the ingredients to rock and stun!
Bia served us thick plaits, with a youthful allure, and flawlessly shaped baby hairs.
5. Blvke – Jumbo Knotless Braids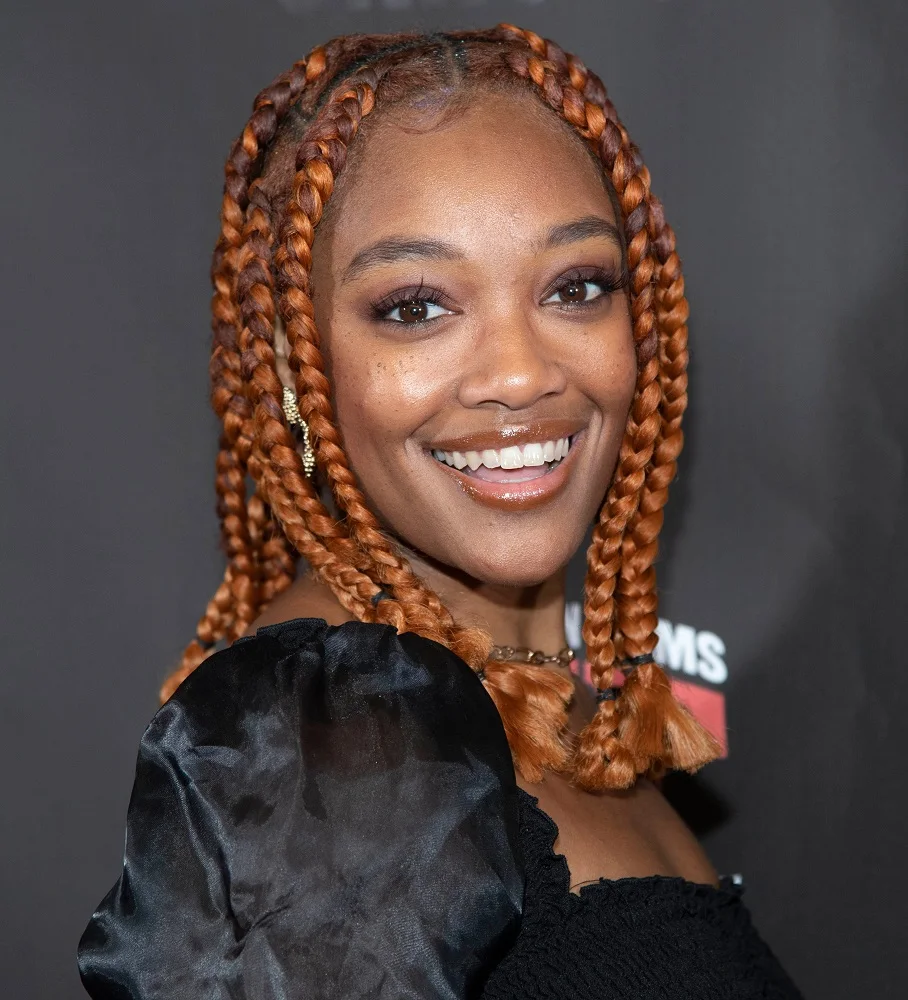 Artist and entertainer Blvke blended her natural hair with coppery red hair extensions to get a shoulder-length braided hairstyle.
She dyed her roots in a darker red shade that matched the copper, giving her plaits some depth.
6. Coi Leray – Thick Braids + Curls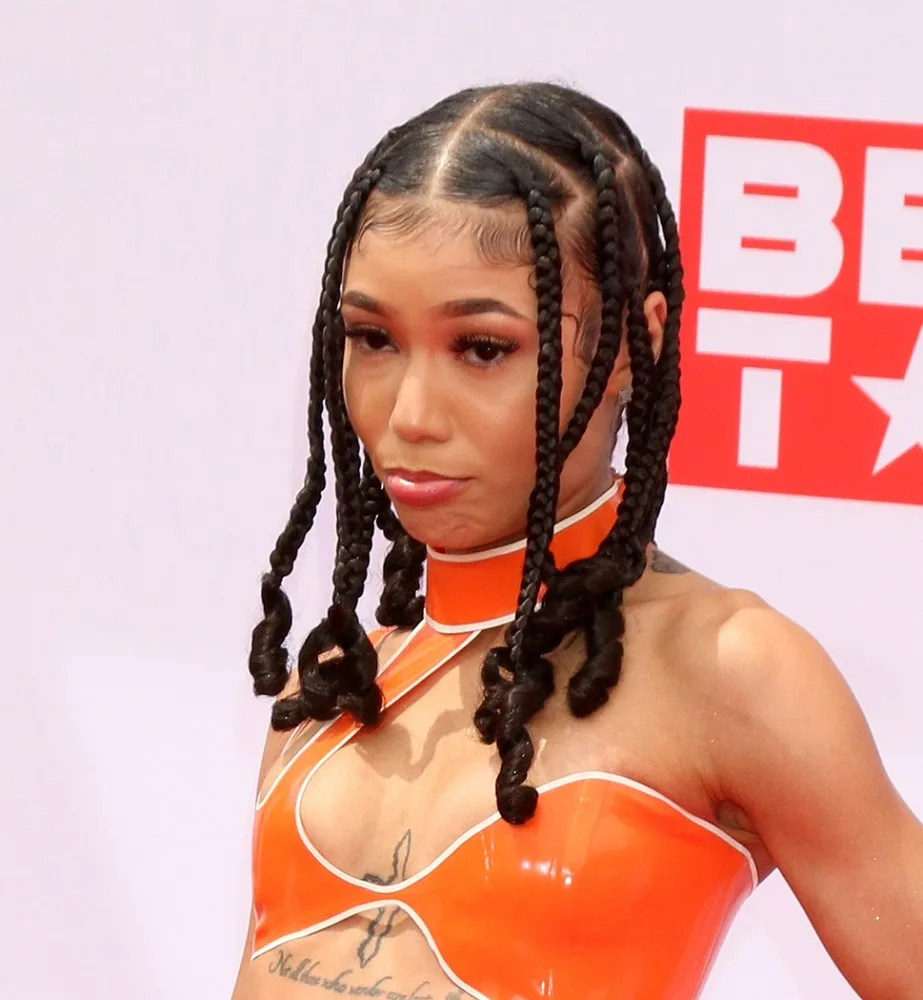 American black rapper Coi Leray created even square partings to get these simple thick braids. The knotless braids are tight and secured at the bottom with hair elastics.
She spared her tips so the hair has enough length to be curled.
7. Eva Marcille – Poetic Justice Braids
Let your creativity flow in your quest to build uniquely decorated box braids. Choose a color that matches your skin tone and start embellishing your plaits.
You can use colored threads that you will wrap around those braids, creating numerous color mixes.
8. Gabrielle Union – Knotless Braids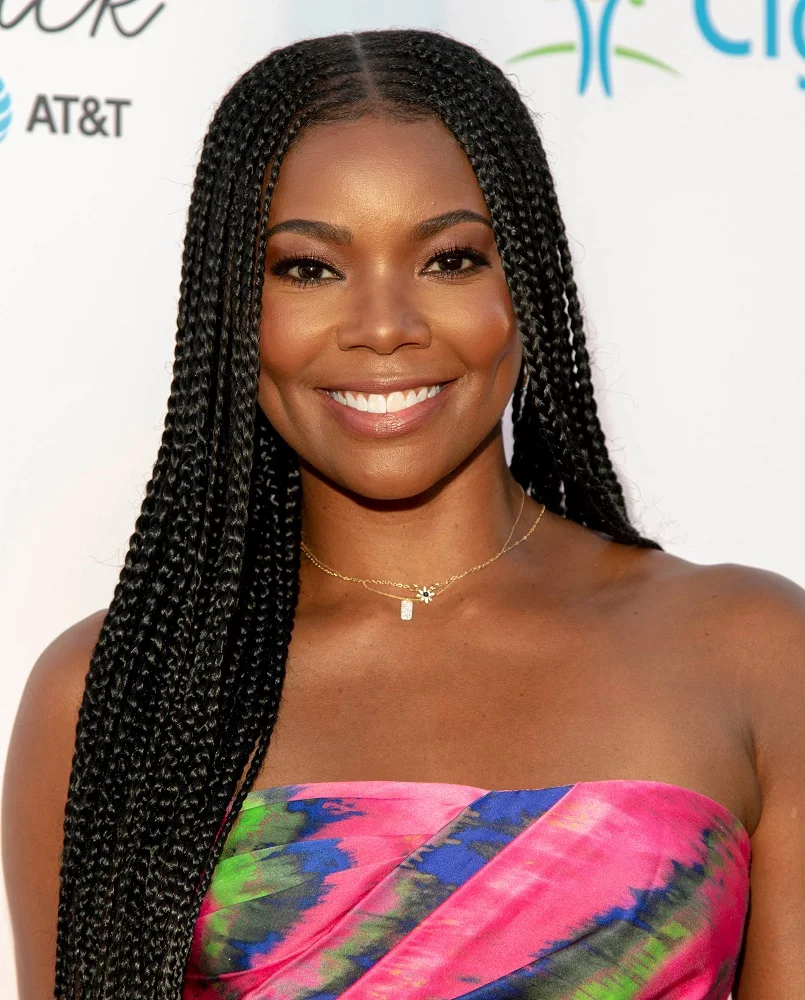 Gabrielle Union is one of the most adored black celebrities with braids, as she never seems to disappoint each time she walks the red carpet.
She has a great career and she also nails her braided looks and encourages self-expression, especially when it comes to natural hair and protective hairstyles.
9. Issa Rae – Sweeping Side Braid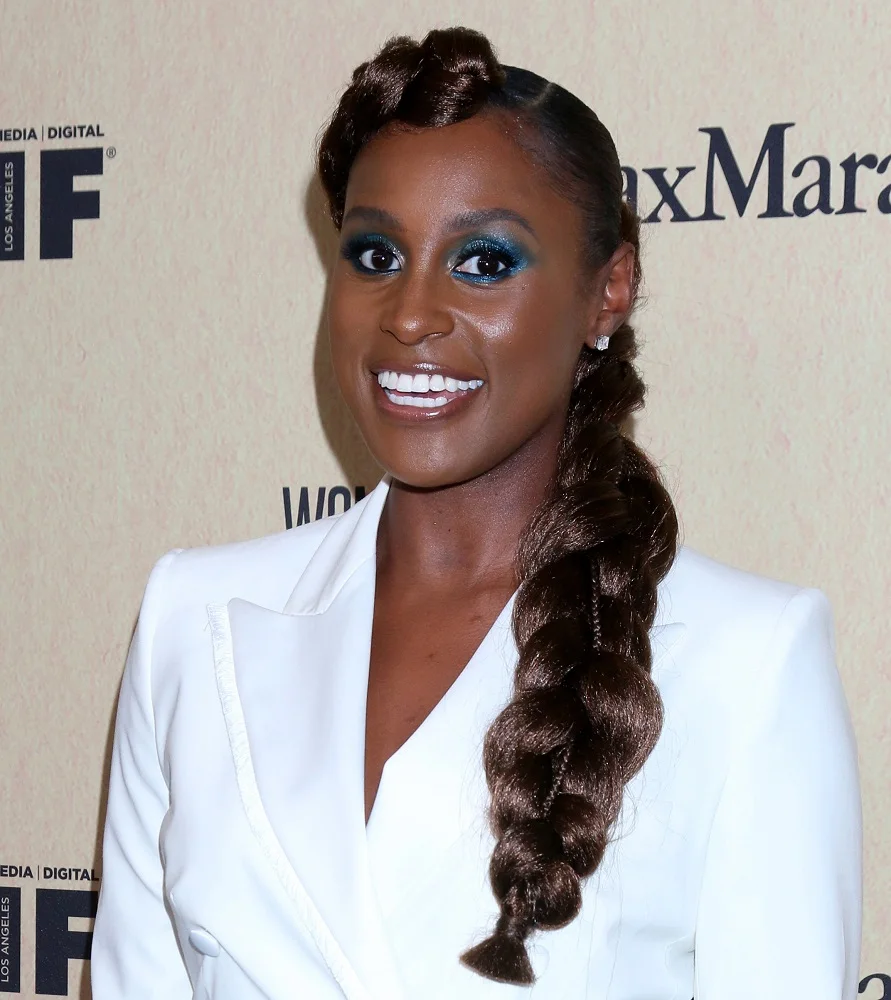 Some love thin braids that look as natural as possible, others fancy a great hairstyle that has volume and transforms the look into a statement.
Actress Issa Rae has 4C curls that she transformed into a ultra-dimension braid, by using hair extensions. She built her braid with Jumbo hair, starting from the forehead to the side. She then pulled that braid to the other part and wore it on the shoulder.
10. Janet Jackson -Poetic Justice Braided Pony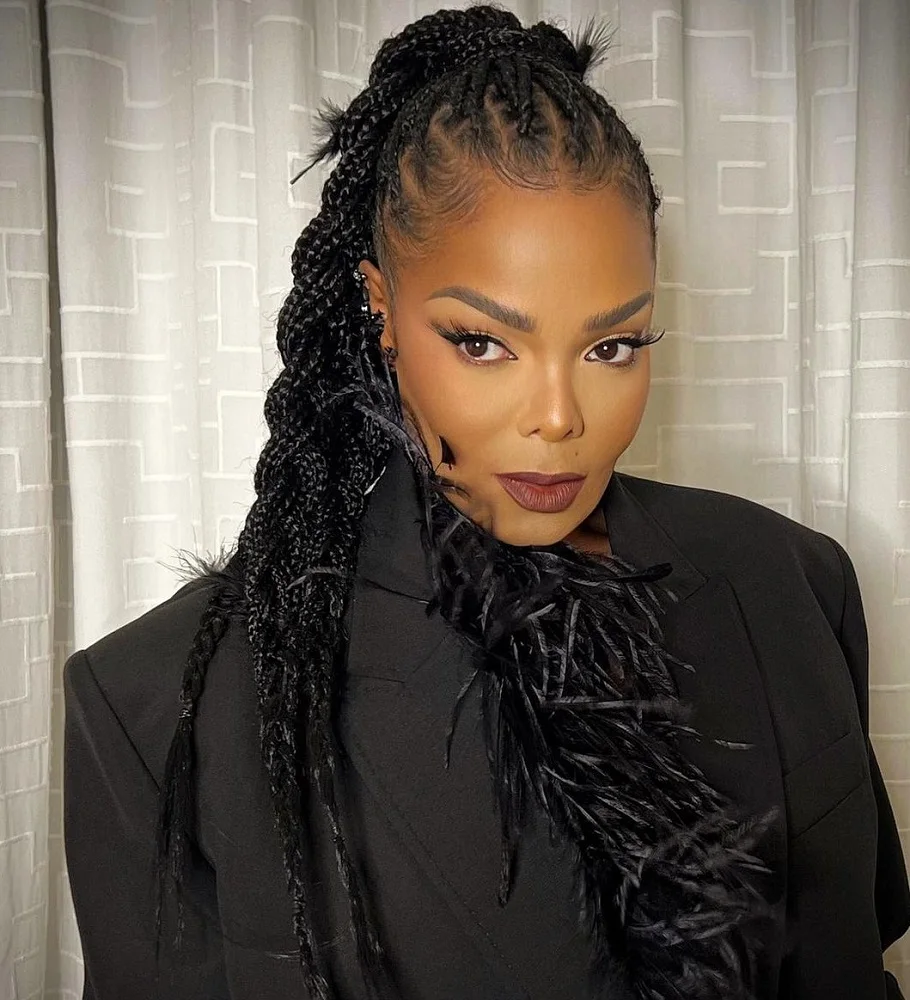 Janet Jackson is the Forever Queen of Box Braids. Back in the day, these protective hairstyles got the name of poetic justice plaits just because she wore the hairstyle in the Poetic Justice movie.
And if she doesn't know how to rock these knits, then no one does! Moreover, the image above is clear evidence that the singer deserves a spot in the Hall of Fame of braids.
11. Jada Pinkett Smith – Gray Box Braids + Short Sides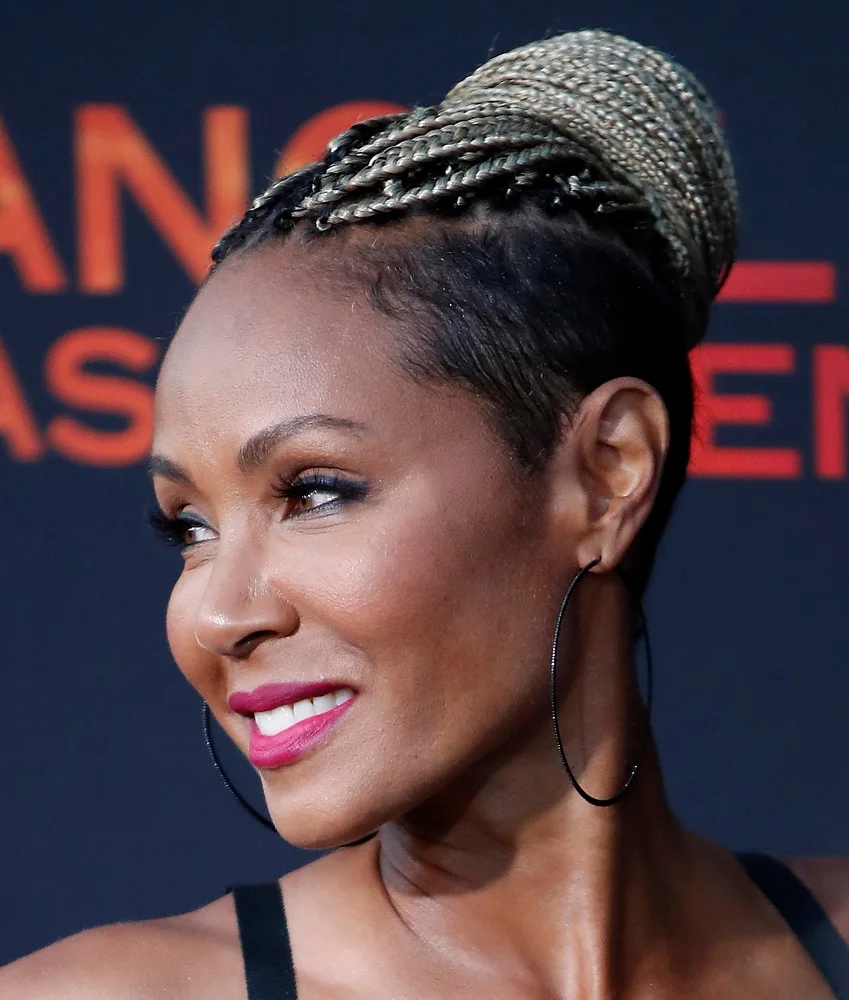 Combining hair extensions with shaved sides and building a large bun on top of the head will give you a unique look that will make you feel like a Hollywood celebrity.
Keep the plaits tightly braided and don't overwash if you want a long-lasting hairstyle.
12. Jodie Turner-Smith – Side Swooped Box Braids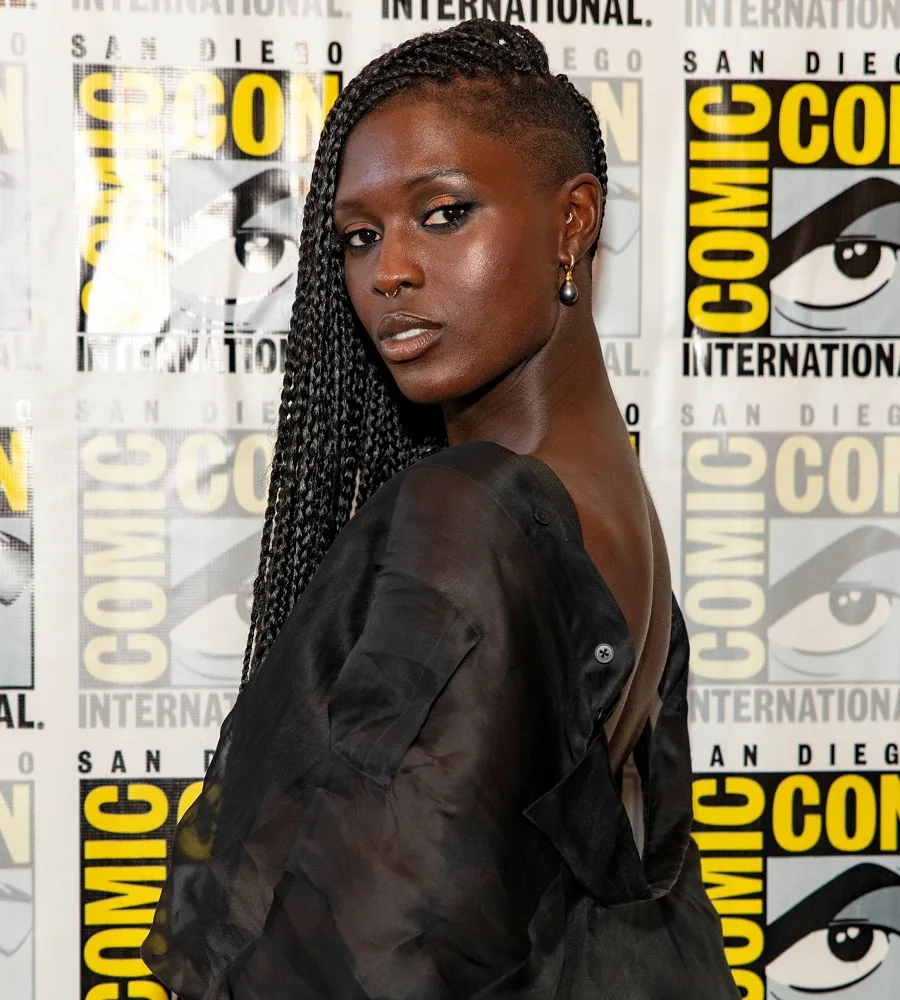 Box braids are the definition of versatility, as you can create the desired length, play with braid thickness and wear them however you please.
For this Comic Con edition in San Diego, Jodie Turner-Smith swiped her locks to the side and sported an undercut with a curved shaved design and fade.
13. Justine Skye – Thick Jumbo Braids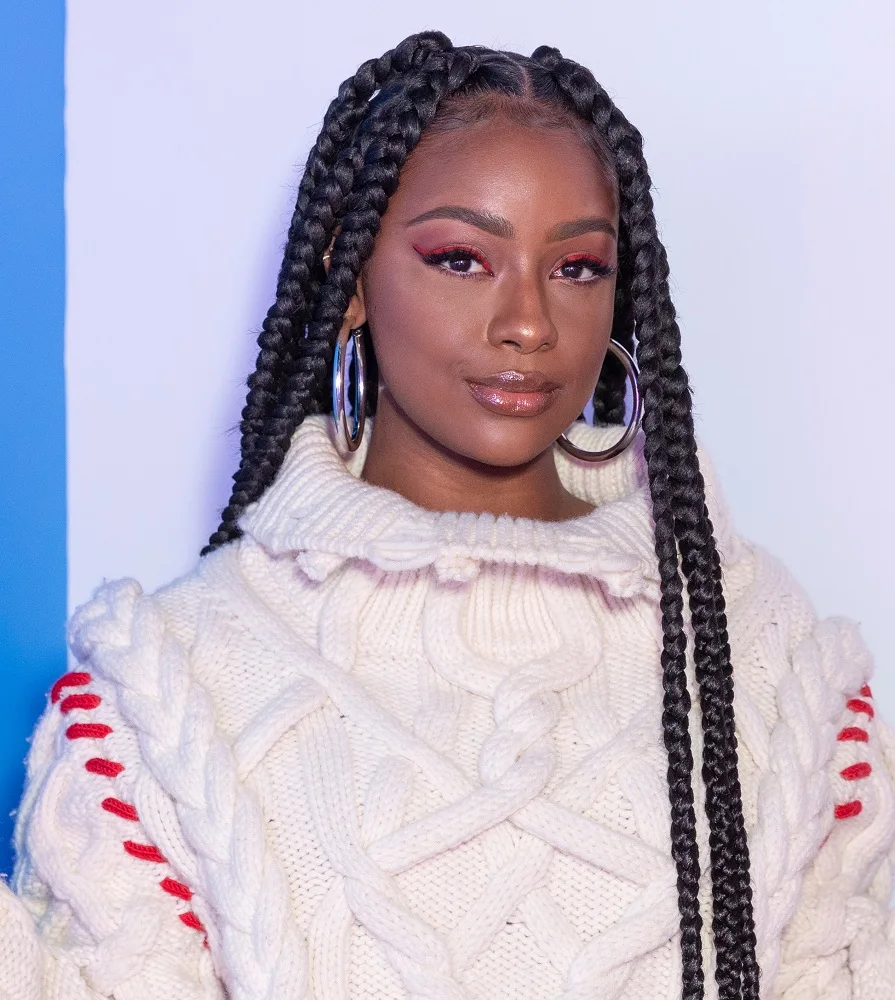 Replicating these Jumbo braids it's a piece of cake. Treat your natural hair with edge control gel, evenly part it, then add hair extensions to build the braids.
Keep them long and tightly knitted and make sure no smaller threads stick out, as they will make the hairdo look messy.
14. Keke Palmer – Diamond Parted Box Braids
Diamond partings make box braids look unique, defining each plait. For this red carpet appearance, Keke Palmer took protective hairstyles to a whole new level, defining them with unusual sectioning.
Additionally, she gathered them all on top, creating a ponytail and she styled her baby hairs with edge control and a toothbrush, giving them a wavy shape.
15. Kelly Rowland – Milkmaid Braid
On the stage, next to Queen B, we can also find Kelly Rowland, another cherished star among the black celebrities with braids.
For this VMA moment, the singer and X Factor judge chose to wear a dress with thin straps and a milkmaid braid that highlighted her neck and collarbones.
16. Kirby Howell-Baptiste – Rolled Braided Bun
Kirby Howell-Baptiste, best known for her role in the Netflix series The Sandman, has no fear in sporting voluminous braids that stand out and create a contrast between the jumbo hair extensions and her natural hair.
She went for platinum blonde extensions that she braided and into three plaits, twisted in a high-top bun.
17. Letitia Wright – Cornrows
Cornrows will suit any outfit and are a proper hairstyling choice for any moment, including red-carpet appearances.
Do a central braid on top of the head, that is thicker and wider, and style smaller cornrows around this central piece.
18. Lizzo – Bantu Knots
Lizzo is a vocal militant for body positivity and supports women who are embracing their natural hair and African heritage. And what better way to express her convictions than choosing Bantu knots?
She has ultra-thin box braids that she parted and rolled into buns, securing each with untraceable elastics.
19. Marsai Martin – High-Braided Pony
To elongate her look and highlight her facial features, American black actress Marsai Martin transformed her box braids into a high ponytail.
She used blonde hair extensions to highlight her braids and wrapped some plaits around the base of the pony to get a lifting effect.
20. Priah Ferguson – Goddess Braids
Goddess braids create so much volume, whether you keep them loose, falling in a cascade on your back, or tied in a pony.
You will use curly hair extensions and attach them close to the scalp. Braid only half to reveal the texture of your extensions.
21. Regina King – Braided Hair Crown
Other black celebrities with braids like Regina King use their long plaits to style braided hair crowns.
Starting from one side of the head, she braided her knits following the hairline and pulled off a large bun on the same side.
22. Rihanna – Bow Braids
RiRi knows how to flex and transform simple long box braids into a hairstyle that any black woman will want the next day.
She sleekly did a middle part and created ultra-thin braids that she later tied into three bows.
23. Serena Williams – Box Braids + Ponytail
When you're playing sports and need a hairstyle that is low maintenance, and looks good on and outside the tennis field, box braids are one of the top selections.
Winner of 23 Grand Slams, Serena didn't ignore her look and added details that captured our attention like a red thin headband or a USA scrunchie.
24. Simone Brown – Snake Braids + Braided Bun
African braids come in so many shapes and sizes and include these snake braids that celebrities like Simone Brown embraced on the red carpet.
She transformed her plaits into a statement, creating curved braids that connect into a natural braided bun on top of the head. Moreover, she spared two braids from the forehead and decorated them with pearls.
25. Skai Jackson – Ghana Braids
One of the most influential teens of 2016, Skai Jackson, embraces her heritage and sports ultra-long feed in Ghana cornrows that she decorated with multiple hair rings.
Also, she used wooden beads and cylinders for styling the tips, showing the African influences.
26. Solange Knowles – Knotless Braids
Knotless braids that are super thin look incredibly natural. Solange, Beyonce's sister, and well-known singer chose this hairstyle in 2020 when she received the Lena Horne Prize.
The singer transformed this moment into an opportunity to flatter her heritage and display her knotless braids.
27. Storm Reid – Box Braids + Fishtail Braid
This is another example of how versatile box braids can be. Stormi Reid chose a lighter brown color that amazingly blended with her natural hair.
She swooped all her locs to one side and styled a fishtail plait that she decorated with multiple hair rings.
28. Tracee Ellis Ross – French Braids
One of the most adored black celebrities with braids is Tracee Ellis Ross from the TV series Black-ish. The winner of the four Emmy Awards is very involved in supporting women, empowering them, and helping them embrace their natural hair.
She even started her own brand, Pattern, that focuses on coarse, curly natural hair. On any occasion she gets, Diane Ross's daughter shows off her bouncy curls or gets different braids.
29. Venus Williams – Braids with Beads
Venus Williams was in the spotlight on the tennis field but also on the red carpet where she still loves to literally shine.
And it's not only the dress that sparkles, but also her braided natural hair that is decorated with translucent and black beads.
30. Yara Shahidi – Braided Ponytail
Getting that sleek top requires using your favorite jam or edge control to prevent any waves and curls from sticking out.
Yara Shahidi tied all her hair in a pony and use pre-braided hair extensions that she wore on her back and shoulder.
31. Zoe Kravitz – Half Braided Half Curly
Zoe Kravitz never fails to impress, whether it's with her role in a Batman movie or on the red carpet. The actor flaunts her braided long braids and curls and all we can do is admire her look.
Lenny Kravitz's daughter chose feed-in knotless braids that she knitted until they reached the ear level. From there. she revealed the curly texture of her long locks.
Some black celebrities with braids shot a Cupid's arrow straight into our hearts! And it's not only their voice, acting skills, or personality that mesmerized us, but their ability to highlight and show off exquisite natural hairstyles with braids. Follow our guidance and easily recreate them!
Trending Topic