Many celebrities rock a classic bearded look and keep it sophisticated. From Hugh Jackman's Disconnected Goatee to Johnny Depp's Defined Stubble and Sideburns; we took a closer look at some of the better beards from across Hollywood, from the world of music, and from the stars of TV and radio – all to give you some inspiration for your next crucial look.
But it's not just the trendy that has us all hot under the collar. The range of classic beard styles making a comeback this year goes from the full beard to the tapered beard; our celebrities with beards are so stylish that they are the envy of most men – and the desire of most women!
We selected some of the coolest celebrity beard styles for your viewing pleasure.
Trend-Setting Celebs with Classic Beard Styles
So we appreciate that trend-setting technically applies to new fashion – but we say there's nothing wrong with reviving a classic to make it popular with the masses once more, as it is with the beard styles these celebrities are sporting!
Here is a look at some of the stunning beard styles of celebrities who rock the look in totality.
1. 50 Cent Jackson
Whether you consider the chinstrap or the short pencil beard, this is one celebrity with a beard who rocks the look and manages to appear dapper every time.
2. Adam Stephen
Whether you see the full-length beard or the shorter boxed beard version, some celebrities own the full beard look, and he is one of them. The experiment with a variety of beard colors also works. The undercut brown hair complements the beard very well.
3. Armie Hammer
He manages to look dapper in almost every beard style. Whether he is wearing just a hard stubble in the natural color or a dyed ginger brown bushy tapered beard variant, this celebrity's beard makes them look fashionable and statement-making.
4. Channing Tatum
If you list celebrities with goatee beard who make the soul patch or the hint of a French beard look fashionable, you cannot miss Tatum. Effortless and cool, this celebrity will make you a fan of this beard style.
5. Chris Evans
Both the low boxed beard and high boxed variant suit Evans. It celebrates his facial structure and highlights the taut features in the most definitive way. Chris Evan's beard is making his fan base crazy!
6. Chris Pine
This Sci-Fi heartthrob from Star Trek is known for his boyish good looks and charm. Whether you look at the salt and pepper full or chinstrap beard, here is one actor who does not have to try too hard to look good in his beard. While the eyes still have the boyish glint, the beard also brings his masculinity to light.
7. Christian Bale
Whether you look at the French beard or the walrus mustache, Christian Bale is known to rock the character he plays. This Academy Award and Golden Globe winner manages to look chic and smashing a variety of beard styles.
8. Daniel Radcliffe
You probably know him best for his Harry Potter roles, effusing boyish charm. But boy, how quickly did this boy grow up with this astonishing full beard avatar. This is one of the few celebrities who manage to make the full beard fashionable.
You know this footballer as much for his prowess on the field as for the fashion trends that he manages to kickstart. He belongs to that genre of celebrities with beards who look good with every look they adopt.
10. Donald Glover
The full beard can add glamour to your face if you style it right. If you are unsure how to achieve that, here are some quick ones from one of the best masters of the full beard.
11. Aubrey Drake Graham
Drake is another notable celebrity with the beard who is as famous for his career and achievement as he is for the fantastic beard styles and buzz cut. Not just the full beard, if you are keen on making the stubble a fashion statement, do your beard the Drake way.
12. Heath Ledger
This Australian actor and director is best known for his role as the Joker. But you can totally understand the charisma of this celebrity's beard by the way his fans copy his looks even a decade after his sudden demise.
13. Henry Cavill
If you are looking for an ambassador for the boxed beard look, this is a celebrity that rocks the beard look. The beard, in many ways, accentuates his boyish charm.
14. Hugh Jackman
Another in the list of actors with beard, Hugh Jackman absolutely owns & sports wolverine beard style. The best part is the choice of styles that truly highlight his features.
Here is one of the best known Hollywood celebrities with the beard who have transformed the bearded look into something absolutely sexy. His oval face makes it possible for him to look good in almost every beard style and we are not complaining.
16. James Franco
If you are looking for that perfect example of patchy beard transformed into a gorgeous style, your search must end here. James Franco styles his beard intelligently to retain the suave element without compromising on his masculine appeal.
This American basketball player is not just a sports' icon but a fashion icon too. Be it his clean-shaven look, goatee or full-grown beard, he has a train of fans following his style and adapting their beard style to his.
18. James McAvoy
The French beard with the mustache and soul patch never looked as gorgeous as this celebrity makes it look. The style and the beard color both compliment his face and help retain his boyish charm and sexy appeal intact.
19. Jamie Dornan
The full beard, trimmed short with the hair slicked back makes Jamie Dornan a style icon par excellence. Here is another celebrity beard style, Dornan absolutely celebrates his machismo in an understated and classic manner.
20. Joe Manganiello
The angular pointy short box beard looks even more dashing in this salt and pepper avatar. This is also an intelligent example of how best to carry the salt and pepper look. Joe Manganiello's beard is absolutely heating up the style villa and you have fans swooning to copy the look.
21. John Krasinski
When you are drawing up a list of actors with a stylish beard, it is hard to miss Krasinski. Be it the full beard or the circular scruffy beard, he wears it with panache and wows his fans every time.
22. Jon Hamm
Best known for the portrayal of the Ad Executive, Don Draper from Mad Men, he absolutely rocks almost any beard style he wears. Needless to mention, Hamm's oval face complements most styles. You, therefore, see this celebrity and his varied styles of beard from the stubble to the full length depending on the need.
23. Justin Theroux
Justin Theroux is one American actor, producer, screenwriter and comedian who has always managed to look handsome and charming with his lumberjack beard. He also experiments with the beard color with quite a lot of success.
24. Kanye West
Be it the inverted T beard or the Circle beard, Kanye West is amongst those celebrities with a beard who has always managed to stand out in the way he has presented himself. It is subtle, understated and classy all at once lending a delightfully charming appeal to his overall personality.
25. Keanu Reeves
If there is some way to add more glamour to these almost perfect Greek God-like features, it is perhaps the beard. Keanu Reeves personifies glamour in every avatar that he dons. Both with the short beard and without beard variants add a dose of charisma and candor to his overall personality.
26. LeBron James
LeBron is another famous American Basketball player who is known as much for his basketball shots as his beard styles. Whether he wears them as a pointed Amish beard, a goatee or simply a soul patch, he has a train of fans ready to follow it all to the last detail in every way.
DiCaprio is another Hollywood celebrity with beard who does not just carry it with panache but also adds an adequate dose of glamour. Whether you look at the pointy box beard or the full beard cut short, it exudes charm and appeal in every possible way. No wonder he always has a battery of fans ready to try out every style he adapts.
The fan following that this FCB soccer player has is unimaginable. His fans, spread all over the world, can literally kiss the ground he steps on. No wonder this celebrity with the golden boot is a style icon with his beard too. His blonde hair with red beard complements his skin tone.
29. Nick Offerman
Almost similar beard style but startling effect using different colors. Offerman's Balbo beard styles highlight the use of colors as an element to enhance the styling quotient. These easily sway between serious and business-like to casual and rugged with just a difference in the shade and combination of colors.
30. Paul Walker
Talk of sporting a beard but keeping your boyish charm intact, Paul Walker absolutely walks the talk with his. Light and almost like a hard stubble, this celebrity with shadow beard portrays an understated machismo with a sensitive and soft edge.
31. Prince Harry
Sixth in the line of the British Throne, Prince Harry is one of the most popular celebrities who absolutely rocks the bearded look. It is not just very becoming of his personality and public image, but he also wears his ginger beard with a lot of pride. He exudes a sense subtle, a sensitive charm that is hard to overlook at any time.
32. Ricardo Kaka
The stubble and the light beard no doubt add to the intensity of his bright and deep eyes and lends him a distinct dose of charm and good looks at every juncture. He pairs them intelligently with his flowing wavy hair for the best and most striking impact.
33. Ricky Martin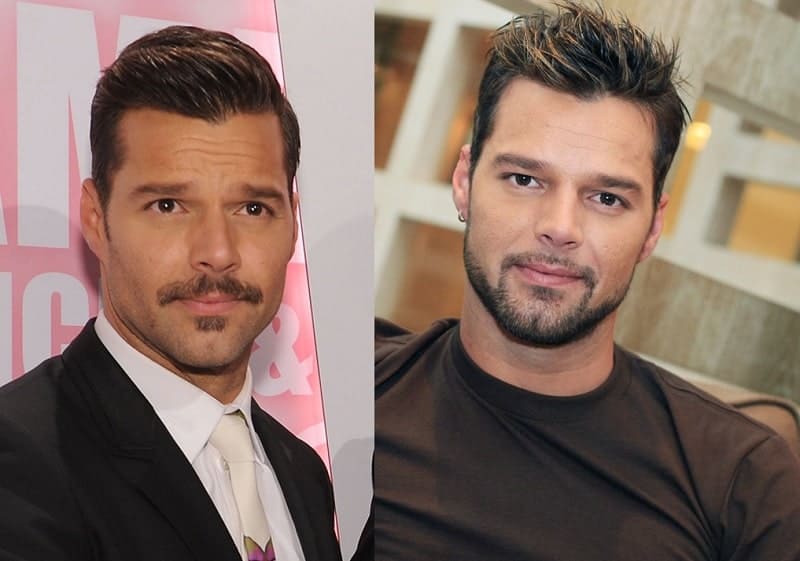 Ricky Martin's music rocks but his look sporting a beard rocks too. He is one of those celebrities with bearded look who is keen about creating a subtle, sophisticated and suave impression with his beard. These extremely urbane variations establish that and a lot more adding a lot of charm and appeal to his personality.
34. Robert Pattinson
He might be sporting some striking beard styles but here is an example of a celebrity's beard who can let his confidence make all the difference in your overall styling. The experiment with a variety of shades too is quite impressive. You can easily add some fun element to your styling with these elements.
35. Russell Brand
Styling short beard with long hair can be tricky but not if you are Russell Brand. His effortless sense of style, the flair for something unique and eclectic dressing sense works together to bring in a dose of oomph and wow factor to the overall look in a convincing manner.
36. Sean Penn
This Academy award-winner American actor and filmmaker is known for his good looks. In these pics, you can see him giving a brand new dimension to the inverted t-beard. It does not just add a sense of mystique and intensity to his looks but also brings the focus directly on his naturally sharp features.
37. Tom Cruise
The flowy hair goes perfectly well with the box beard or the stubble that you see Tom Cruise sporting. This is one Hollywood actor with beard who is known for smart pairing and intelligent execution. The beard and the hairstyle work in sync to highlight his natural good looks and charm.
38. Tom Ford
This text book's perfect photograph of Tom Ford's tight short box beard highlights the brilliance of proper styling and great execution. It is not just important to conceptualize a great beard style; it also needs to be executed with elan.
39. Virat Kohli
This Indian cricket superstar is one celebrity with a beard who is a style icon for kids and adults alike. His disarming smile, boyish charm and the full-length ducktail beard work together like magic.
40. Will Smith
When you list out celebrities with beard portraying subtle classic elegance, Will Smith features prominently with his French beard.
41. Zayn Malik
Effortless, natural, striking and absolutely gorgeous, Zayn Malik is amongst those celebrities who totally own the beard. Check these Zayn Malik's bearded looks.
Therefore you will notice most celebrities opt for beard styles that suit their personality and facial structure. They use the beard more as a means to amplify their looks. The beard for most celebrities is to celebrate their masculinity and portray that undeniable charm of understated machismo.
Most of us have that one favorite celebrity with beard who we want to copy but make sure that you adopt the style appropriately with the shape of your face and the beard color. More importantly, match the style with your personality too. For most celebrities, that is the primary focal point.