When it comes to making a statement with your hair, outrageous dyeing tops all the charts. Blue ombre hair can make your day, week, month or even year. Playing around with hair color is one of the favorite time spendings for many women.
However, not everyone is ready for such drastic changes. Blue hair color is not easy to achieve and to maintain. But it looks truly impressive. Whether you feel as if your image requires a serious change or just want to make an impression on someone, all shades of blue are at your feet.
Blue Ombre Hair – Things You Should Know
Dyeing your hair an outrageous color is fun, exciting, and impressive. However, it's far from being similar to dyeing your locks a more or less natural shade. There are some things you have to be prepared for when opting for blue ombre hair.
Mahogany Hair Colors for Any Woman
1. It Doesn't Last Long
Unfortunately, crazy colors are always the first to go. If you can wait for 1 -2 months between regular dyeing touch ups, the outrageous shade might fade less than a week after dyeing. The only way to make it last just a tiny bit longer is to wash your hair as rarely as possible and use special cosmetics for dyed locks.
2. It Stains Like Crazy
Bright colors tend to bleed even after the first couple of washes. So get ready to throw out the towel and bleach your pillowcase. The only way to avoid too much bleeding is to dry the hair with a hairdryer immediately after washing. However, such an approach can also lead to quicker fading. So consider finding a special towel, t-shirt, and a pillowcase that you don't mind throwing out.
3. It Might Take Weeks
If you are naturally blonde, you are lucky. All kinds of blue ombre will look great on you. However, if your locks are dark, blue color just won't show unless you bleach them beforehand. Bleaching is tricky. Sometimes your hair might need more than one bleaching session to get ready for crazy color dyeing. These sessions have to be at least several weeks apart.
4. It might Not Wash Out Completely
While the green and blue colors fade fast, they don't disappear completely. So if in some time you'll decide to change the color, you'll have to go through a lot of trouble to get rid of the green and blue shades.
Caramel, Violet & Cinnamon Brown Hair Color Ideas
Bright Blue Ombre Hair Color Ideas For Girls
If you are out for a tremendously bright hairstyle but don't feel like cutting your locks, a dye can become your best friend. Blue ombre hair is one of the unique options that you can rarely see when walking down the street. There are dozens of blue shades out there so your experiments can last a lifetime. If you are a big fan of blue hues, you can take advantage of the 20 below options. Each one of them was handpicked to help you get an idea of what suits your image the best. Good luck!
1. Shade Mix
When you are thinking of blue ombre hair, the top part can stay natural. This way you can keep at least part of your hair from being damaged by bleaching and dyes. The lower part can include several shades of blue.
2. Blondie blue
If your natural hair is light, you can create this attractive blonde blue ombre. The top part can stay light, the middle layer can be light blue and the bottom part dark blue. This reverse ombre can look stunning.
3. Contrasted fun
The best part about blue ombre hair is that it can look "out of the blue". Leave the top part of your hair natural or add some highlights and then make the bottom part light blue for 100 % contrast. Contrasted hairstyles make the best impression.
Best Dark & Honey Blonde Hair Color Ideas
4. Match the eyes
If you have blue eyes, then choosing the colors for your blue ombre hair is easy. At least one shade should be similar to the color or your eyes. This approach can outline your wonderful eye color and make your face look balanced.
5. Fully blue
This fully blue ombre involves dyeing your whole mane. This hairstyle is a great choice for patient girls, who are ready to spend some time touching up the color. The result is definitely worth the effort.
6. Patchy blue curls
This ombre involves highlighting your locks blue. While only about half of your mane is actually colored, the impression you get is as if the whole head is bluish. Take advantage of the highlighting technique and leave most of your hair untouched.
7. Down by the sea
Deep-sea blue on top and light blue on the bottom is another example of a fully blue ombre. The top part is dyed dark blue in order to keep the hair beautiful longer since the black roots won't be too visible.
8. Hair extensions
If you don't feel as if the time has come to dye the hair but you really want to check out the way you look with blue locks, use hair extensions. They can be sewn into your natural locks without anyone noticing the difference.
9. Green and blue
Green is a great addition to the blue ombre hair. The aquamarine color can complement the blue shades and make them look softer and richer. Just don't forget that the mix of blue and green can be very hard to get rid off.
Chestnut Brown Hair Colors You Want to Plagiarize
10. Blue curls
If you have long hair, you can create an amazing hairstyle by playing around with the way the ombre is styled. Keep your natural black hair on top straight and brushed as usually while creating large and beautiful blue curls.
11. Silver blue
Silver hues are becoming more and more popular. However, many women are afraid to use them since such color can make them look older. A great way out is to create a silver blue ombre hair color and add some purple highlights.
12. Dip dye
The dip dye method allows you to create an impression of a fashionable hairstyle while keeping most of your hair looking natural. The best part about the dip dye technique is that you can cut the ends off and get clean grounds for new color experiments.
13. Great sea colors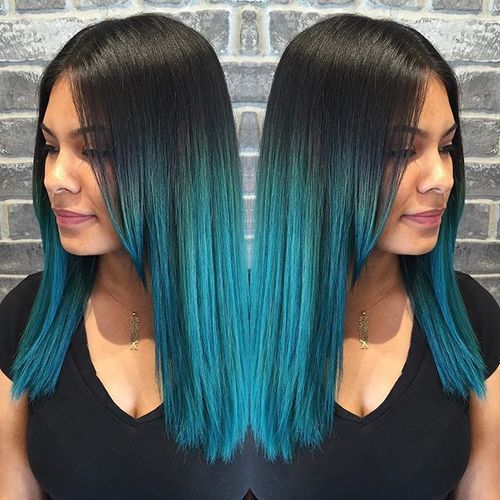 Light and dark blue, as well as aquamarine shades, look great on black or dark brown hair. Such mix makes an impression of a deep blue sea on top of your head. Such ombre looks dreamy and allows you to stand out of the crowd.
14. Faded blue
Since such outrageous colors as green and blue are quick to fade, you might want to settle for something less bright. Start with pale and faded blue colors and you can enjoy them longer without touching up.
15. Dark blue and light green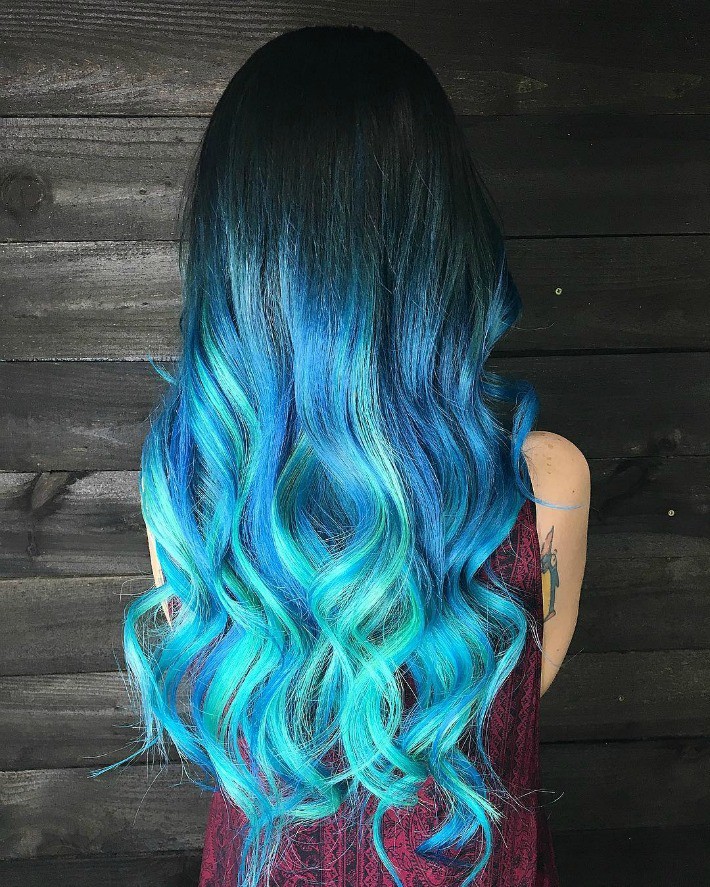 The combination of light green and dark blue hair color create a special contrast with your dark hair. Since both of the outrageous shades are lighter than your natural color, such ombre can give your hair a much-needed volume.
45 Unique Ombre Hair Color Ideas to Rock
16. Blue balayage
A blue balayage is even a better way to make a statement than a blue ombre hair color. Unfortunately, this bright option won't last long. Get ready for some fading and be armed with maintenance measures.
17. Aquamarine style
If your natural hair is dark, consider getting a dark color to match it. A dark green, blue or aquamarine can look much more natural than their light counterparts when coupled with a black mane. The maintenance is easier too.
18. Get violet
Violet shades look very attractive together with blue and green colors. You can go further to use two different shades of blue and a couple of different shades of violet. The only thing you have to control is the smooth color transition.
19. Use waves
If you have wavy hair, you can use the waves to dictate you the size of the layers to color. The first top layer should end where the first wave starts. This approach is good for long hair, which is too heavy to be wavy on top.
20. Icy flames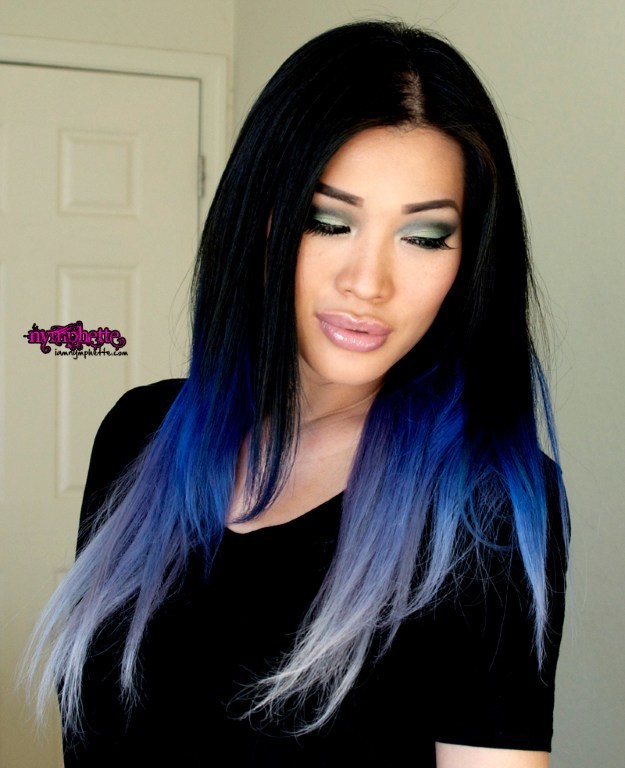 Raven black hair combined with icy blue shades can create an extravagant hairstyle that will keep all the eyes on you. Even though the touchups are imminent, only a small part of the hair needs to be maintained.
Blue ombre hair can be so striking, it can light a fire you never knew you were capable of experiencing. Hair experiments allow you to open up and find new ways to express yourself. Use outrageous colors to reach your goals.