Did you know that the uber-cool black hair with blue tips trend traces its roots back to the wild hair dye days of the late 90s and early 2000s?
That's right! Initially, it was all about showing off your unique personality in the punk and alternative scenes. But guess what? Now it's become a huge hit with everyone – from pop stars to your next-door neighbor!
different ways to Get blue tips On Your Black Hair
Salon Dyeing: Trust a professional hairstylist. They understand how to apply the color and can ensure an even, vibrant result. They'll start by dyeing your hair black, then add the blue tips.
Home Dyeing: Buy black and blue hair dye from a beauty store. Start by applying the black dye to your entire head, then rinse and dry your hair. Next, apply the blue dye to the tips. Remember to protect your skin and clothing.
Hair Extensions: Consider hair extensions if you want to avoid dyeing your hair. You can find extensions that are black with blue tips and attach them to your natural hair.
Semi-permanent Dye: If you're unsure about the look, try a semi-permanent dye. It will wash out after several shampoos, giving you a chance to try the style without a long-term commitment.
Hair Chalk or Spray: For a temporary look, consider using hair chalk or colored hair spray. This method allows you to play with the look for a day or an event.
Always follow the instructions provided with your chosen method, and consider doing a patch test first to ensure you don't have an adverse reaction to the dye.
Black Hair with Blue Tips
This hair trend lets you keep your classy black base while adding a pop of electric blue on the tips. Just imagine the striking contrast! It's like having the mystery of the night sky with a sprinkle of dazzling blue stars at the ends.
Whether you're aiming for a hint of color that's barely there or a total "here I am" statement, black hair with blue tips can do it all.
1. Blue Hair Tips with Blended Streaks
You can carry black hair with a blue tip in a lot of ways! One of them is to blend blue hair tips with upward streaks. This combination is perfect, for those who prefer a subtle look even with such a distinct color combination. The blended blue streaks are more visible with the swinging movements of hair.
2. Spiral Black Hair with Blue Tip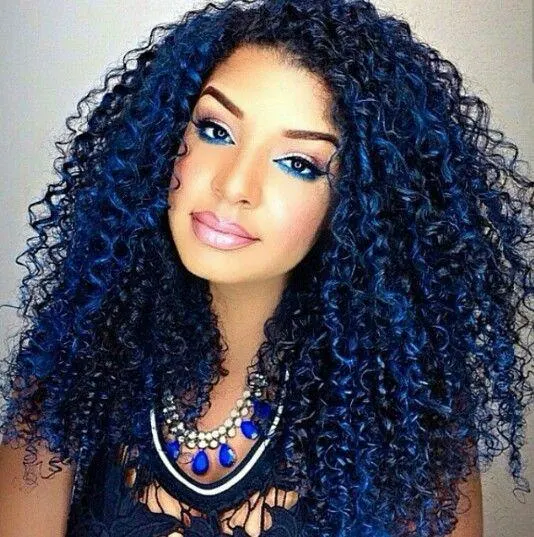 Blue hair tips look ravishing with spiral hair. But only a hair expert knows exactly, up to which level the hair pigment needs be cut down, to achieve the desired look. A little miscalculation can result in uneven coloration as the hair is densely textured.
3. Blue Tips with Flat Iron Curls
Learn to play with your black hair with blue ends. Apart from styling, you can even curl and twirl your hair with a flat iron! The beach wave look mainly suits short and medium haircuts such as bob-cuts or layers. Tousled hair enhances the blue hair tips.
Mermaid hair is one of the most popular hair trends of the millennium. Balayage hair technique blends pastel blue hair tips on black hair beautifully. The blue hair tips come out more beautiful when curled loosely. It's a fairy tale look, for those who love to live their fantasies.
5. Short Hair with Blue Tips
Don't you think people with busy lifestyles should have the liberty to style their black hair with blue tips accordingly? Of course! Maybe short hair is the right choice to show off your trendy blue hair tips.
6. Ombre Shag with Blue Hair Tips
Shaggy cuts are not always messy. A neat shag can be brightened up by ombre blue hair tips. A low-maintenance, simple hairstyle yet, very eye-catching. To style formally just add some hair grips to your lovely locks and rock the evening!
7. Full Layered Black Hair with Blue Tip
Highlighting black layered hair with contrasting colors adds dimension to your tresses. The mysterious black hair can be popped up with blue hair tips. Thick layered black hair with blue tip is a must-try.
Are you unsatisfied with your fine hair? Then try black haircuts with blue hair tips in faded ombre hair. The black roots hair gives an illusion of fuller hair. Whereas the lengths sweep the bright blue into faded ombre tips.
9. Blue Hair Tips with High and Low Lights
There are numerous ways to perk up your blue hair tips. Highlights and lowlights are one of these ways. Straight long black hair and blue end can be characterized effectively by this unique technique.
10. Graduated Bob Cut with Blue Hair Tips
A graduated bob can look sassier with blue hair tips. The sleek cut above the nape area gives a refreshing feel. Blue tips on the black hairstyle is an edgy hairstyle for the bold and daring.
Some Beautiful Examples of Black Hair with Blue Tips
In summary, black hair with blue tips looks stunning if you can match the match with your look.
Finally, if you decide to dye the ends of your black hair blue, you will need first lighten those tips to ensure that the color you are trying to achieve is a possibility.
Next, you will want to test an area to confirm that your hair is healthy and the color produced is what you are seeking. Finally, you will want to choose a hairstyle that compliments those wonderfully, blue tips!
Tips to Get Blue Ends on Black Hair
Black hair with blue tip is worth trying if you are craving for some savage vogue. Blue hair tips look spectacular when incorporated with suitable cuts and texture. Here's the way to get the blue tips on the end of black hair.
First, you will need to ensure that those ends have been lightened to support that unique blue color you are so anxiously seeking. The lighter your black hair, the more likely it is that the blue color you are in quest of will take.
Failure to lighten those tips first will leave you with dark hair that barely has the markings of that gorgeous blue color. Instead, you will appear to have hair that is tinged with the color blue or glowing blue color.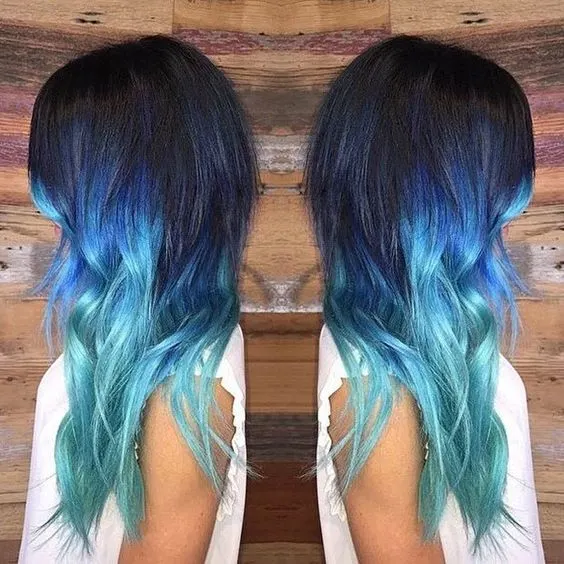 Once you have attained those lighter tips on your black hair, make sure that those golden locks are healthy and ready for the next step in the process. Applying blue dye to your hair too soon could damage hair and lead to unexpected breakage.
Consider undergoing a color test before full application of that blue dye on the ends of your hair. A color test will not only tell you if your hair is healthy and able to withstand the hair coloring process but you will also be able to determine if the color that emerges is indeed the blue hue that you are seeking.
Is there a best way to apply blue dye to the tips of your black hair? Opinions vary. If daring to undertake this process on your own, some have tried the ponytail approach to help focus the application process.
Others suggest sectioning your hair with rubber bands into two broad sections with a part down the middle and placing rubber bands on the ends of your hair to point that only a few inches remain free on the ends.
Experts will tell you however that the better process is to section your hair and apply the solution to the ends of your hair all around your head as you might any other dye – except focusing on the ends of your hair.
Recommended for you: