If you have an oval face and wear glasses, a bob can be the perfect short hairstyle for emphasizing your face shape in all the best ways.
You can also create a modern look with some simple customizations like adding bangs and layers, and varying lengths with bobs. The hairstyle and glasses together create a harmonious balance.
We have covered some best bob haircuts for your oval face and glasses.
Best Bob Hairstyles for Oval Face with Glasses
Depending on your preference, you can choose bobs and glasses that provide either a nerdy or a fashionable look.
Here are some oval face-flattering bobs with glasses for you to decide the length, bangs, or other styling options:
1. Blunt Bob with Bangs and transparent frames
Fair skin and green eyes look like they demand a copper hair color. The bob should be bluntly trimmed with bangs that go one or two inches above the eyebrows.
If you don't want your glasses to steal all the attention, go for translucent rounded frames.
2. Layered Bob With Side Bangs and Thin Glasses
One of the best bob haircuts for oval faces is this feathered wavy trim. It has a romantic vibe, softens your features, and draws all the attention to your eyes.
Rounded glasses with thin metal frames are a great match, maintaining the elegant touch of the overall look.
3. Side Swooped Bob with Thick Black Glasses Frame
If you want a natural hair color, that makes your blue eyes stand out, your locks should be flawless. Go for a blunt bob that highlights even more your thick hair.
Swipe your bangs to the side and opt for thick black rectangle frames.
4. Asymmetrical Bob with Thin and Wider at the Bottom Glasses
This asymmetrical bob with long bangs that are swooped to the side shows a lot of spunk. On the shorter side, the hair is flipped out and slightly messed up.
The color is a light blonde that matches fair skin and creates contrast with your thin and wider at the bottom glasses.
5. Curly Bob With Thick Rounded Glasses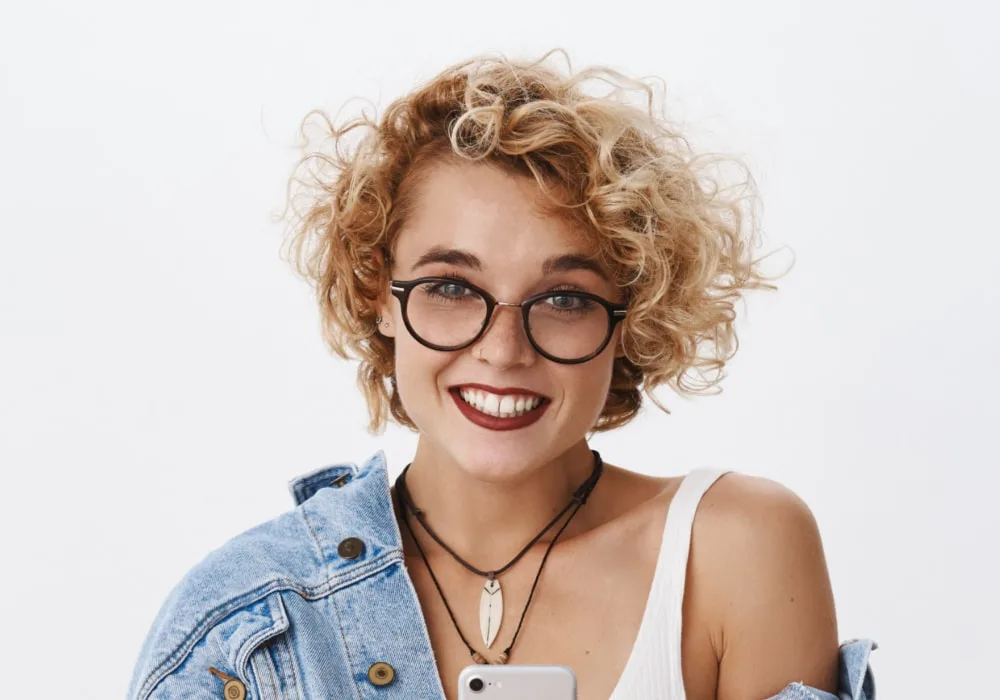 If you're a natural blonde, then you can play around with multiple shades and nuances, combining them. Go for caramel strands and lighter pieces. Layer your hair to achieve that rebellious cute glow.
Swipe the top to the side, wear red lipstick, and add your cute, rounded glasses for a more chic touch.
6. Coarse Hair with Rectangle Oversized Glasses
Oversized glasses are not always recommended when you have an oval face shape, but in this case, your hair will steal all the attention.
When it has such height and volume, you might want to soften your look, so consider creating some low highlights.
7. Yellow Bob with Thin Round Glasses
Keep your roots dark, in their natural color, and opt for an extravagant nuance like this eye-popping yellow.
Part your hair in on the diagonal, so when you flip your bangs, they seem shorter than the rest of your bob.
Complete the look with perfectly round glasses with black thin frames.
8. Blunt Bob for Thin Hair and Rounded Glasses
When you want an elongated look, then you should definitely choose a bob hairstyle. It's ideal for oval faces that have prominent cheekbones.
The length of your bob should be below the chin, and with hair parted in the middle. Thin rounded glasses are the perfect match for this look.
9. Pale Mint Green and Yellow Bob with Wayfarers
A fair skin color allows you to experiment with vibrant colors like a mint green with teal and yellow dye.
The tips are slightly layered so they will get that stacked appearance. Add a pair of glasses that softens the look, with a round shape.
10. Wavy Short Bob with Scarf and Square Glasses
This romantic wavy bob hairstyle for oval faces works hand in hand with a pair of square glasses that come in a dark brown color, with a marble pattern.
Add a blue twisted satin scarf and wear it as a headband. Make sure it has a color that matches your eyes.
11. Burgundy Angled Bob With Rectangle Glasses
For this bob haircut, you will create stacked layers in the back, while the front pieces get more length. Keep your roots in a dark color, the same as your eyebrows and opt for a burgundy color.
Your glasses should have a rectangular shape, with a black on the outside and red on the inside.
12. Front Layered Bob with Round Gold Glasses
When you want to look glammy, and not like a young teenager, the shape of your glasses is so important. Opt for a lob haircut with long bangs that reach the jawline.
Style a middle part for your blonde locks and wear golden large round glasses.
13. Blunt Bob with Bangs and Round Glasses
This frizzy edgy look has a smooth sombre. Bangs are bluntly trimmed above the eyebrows and the hair reaches the chin level.
These fuzzy eyebrows are brushed to match the messy hair. Rounded metallic glasses are a great piece of styling for your look.
14. Feathered Bob with Rectangle Glasses
Adding some blonde highlights will create depth, and give your look so much warmth. The ends are layered and the bangs are being tossed to the side.
Rectangle glasses are a classic choice, especially for women who love sporting a professional look.
15. Middle Part Bob with Black Round Glasses
A simple chin-length bob hairstyle with a middle part will give your face a great contour. The ends are slightly styled towards the inside.
Glasses have a round shape, making you look fresh and younger.
16. Bob with Flipped Out Ends and Rectangle Glasses
When you want a pop of unconventional added to your look, you can always trust that a colored highlight will do the job.
Choose wispy bangs that you will spread on the forehead and opt for rectangle glasses with thin frames.
17. Wavy Bob with Thick Square Glasses
A simple, layered bob with a middle part will give your face contour. It will gain so much dimension if you slightly wave your locs and mess them up a little.
Choose square black frames that draw attention to your blue eyes.
18. Ponytail with Cateye Glasses
Bob cuts are versatile and when you're having a bad hair day with no time to spare on styling, you can easily pin your locks in the back, into a pony.
To look professional, do a side part before pulling off that pony and wear dark cat eye glasses.
19. Pink Wavy Layered Bob with Round Glasses
For some hairstyles, the best pair of glasses will be one that looks cool, but has subtle frames. In this case, a round pair will make your hair and features stand out.
Opt for a blunt bob with long bangs that you will style with a thick curling iron.
20. Asymmetrical Bob with Rectangle Glasses
Asymmetrical bobs are still fashionable, but it all depends on how you choose to style this trim.
And if you love a more classical retro look, pairing a bob haircut with one side shorter than the other with rectangle glasses can work just fine.
Bobs are some of the most suitable hairstyles for women with oval faces who also wear glasses. The cut gives plenty of styling opportunities, like creating various lengths for bangs, curls, layers or asymmetrical trims.