Thinking about getting a feminine bob haircut? Middle part bob is very sleek & chic and is usually mostly worn by women who prefer comfort over long or dramatic fluffy hairstyles.
This cut will allow you to wear your hair recklessly since it won't come in contact with your face a lot because it has no bangs, and it will definitely look the best on women who are into minimalistic hairdos.
How to Style Mid-Parted Bob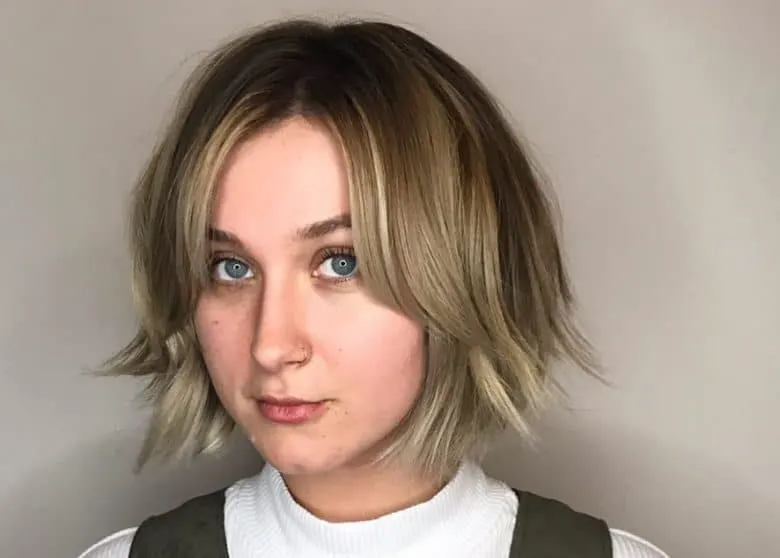 Step 1: Make sure your hair is properly cut at your desired bob-length level. If not, make sure your hairdresser gets it right and straight the next time you pay them a visit. Also, make sure that your overall hair volume is the same on both sides.
Step 2: Take a round brush and get rid of any knots around your hairline. You should always comb your hair when it's dry, don't comb wet hair.
Step 3: Take the end of your brush and drag it across the middle portion of your head because its handle is very small and sturdy, ideal for parting. Equally and evenly part your hair on both ends and let it fall seamlessly.
Step 4: Take a bit of your favorite hairspray and spray it directly on your brush. This way, you will get rid of any frizz while combing it through.
Step 5: Lay down the edges with your favorite hair-gel and make sure you apply some finishing spray. Bob hairstyles with middle part usually look the best with a lot of shine, so make sure your chosen spray & gel have some shimmer in them.
How to Style Quick Weave on Bob with Middle Part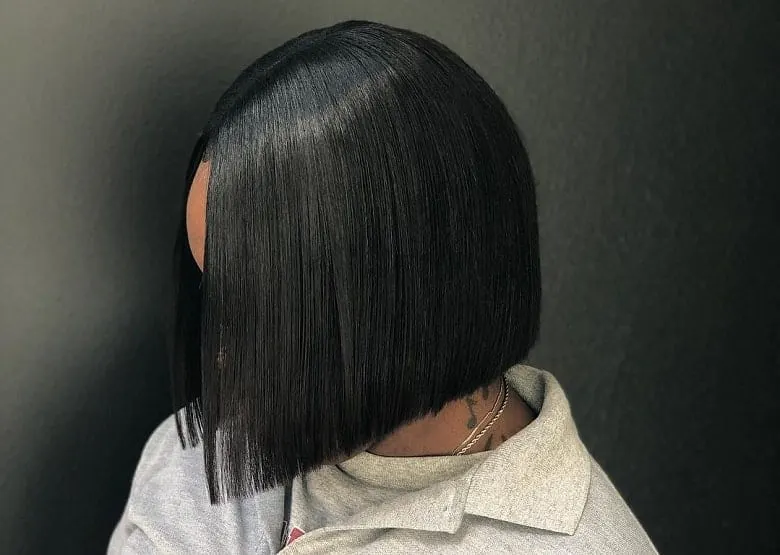 Step 1: Your hairstylist or you yourself should braid your hair in tight & flat braids because the installation process will be a lot easier. Try to make regular braids all over your hair, but be very careful around the middle portion of your hair.

Step 2: When working with the center portion, try to part the hair equally on both sides and leave a seamless and flat line directly through the middle. Let the rest of your braids fall on the sides, and make sure that the middle line on the head is precise.
Step 3: At this point, you should place down your chosen weave on top of your braided hair. Some hairdressers also incorporate the stockings while others avoid them. The bob weave itself will be cut to your desired bob-length level. In case it isn't, take a pair of scissors and make straight & flat cuts.
Watch The Following Tutorial to Learn How to Style Quick Weave for Short Middle Part Bob
Middle Part Bob vs. Side Part Bob
If you want to rock a middle part bob know that it adds balance and it also allows you to play with your hair symmetrically at all times. Usually, this hairstyle will look the best on women who have oval or round face shapes because it equally 'closes it' on the sides.
However, if you end up wearing your side part bob hairstyle, it will soften the angles of your face, which is why this is ideal for those who have square-shaped faces. Also, this look is very chic and fashion-forward, but women mostly prefer it because it softens any harsh angles.
Women usually prefer this look because it hides the roots which may need a new hair-salon visitation and coloring.
Glamorous Middle Part Bob Hairstyles
If you are ready to go to the salon, make sure you bring an inspiration pic with you and choose among these 18 flattering centre parted bob option.
1. Black Lob
This is naturally beautiful dark hair that will look amazing on women with darker skin complexions! This middle part on blunt cut lob is very sophisticated, and it looks even better once paired along with a winged liner, and a gorgeous juicy lipstick!
2. Short Bob with Centre Part
This shorter blunt bob will suit women who are always running errands or who are super busy the best. This short middle part bob is minimalistic and so effortless, yet it looks like something you'd spot on the runway when watching a Victoria Secret fashion show.
3. Funky Pink Bob
If you are a fan of soft & rose gold ombre hair you are going to love this one. It looks very playful and will suit women who want to stand out.
Also, it is covered in some lighter & darker highlights, which you will love to show off at some fancy events.
If you think of yourself as of a rebel and you love unique haircuts you will enjoy this middle parted bob balayage style.
It looks very fashion-forward, and it has been inspired by the fashion runway and all the models! All you have to do is add some texturizing spray to your roots and you'll be good to go!
If you really want a super-defined, precise, and asymmetrical bob haircut, this one will speak to you! It is perfectly parted on both sides, has these cute wavy strands, and is a must-have for the office! Also, it looks amazing with a little bit of makeup and a gorgeous, confident smile!
6. Dyed Bob with Bangs
Take your middle part bob to a whole new level with wispy bangs and a whole lot of dye! These unicorn colors and full wispy bangs can certainly turn your classic old bob from drab to fab.
7. Wavy Short Bob
Stay classy and stylish during your older years with a short bob. Add in a few waves and you get yourself a timeless bob that will never go out of style.
8. 70's Flip Bob
You know that a hairstyle is iconic when it has its own name and that's the case with Farah Fawcett's Flip which features big volume waves which are curled away from the face.
While this '70s hairstyle looks so amazing on long hair, the good news is it looks equally as gorgeous on bob haircut too.
9. Layered Short Bob
For an easy-to-wear everyday hairstyle, go for a layered short middle part bob. The subtle layers will help add a stylish flair, tame flyaways, and keep your hair volume well-balanced.
Pro Tip: Apply hair serum to keep your hair sleek and frizz-free.
10. Wavy Balayage Bob
Get that vibrant and youthful look by playing with your hair's texture and color. For a summer-ready bob, we highly suggest getting your curls on and going for brown shades, and this brown blonde balayage hair color is the perfect example!
11. Shaggy Bob
The combination of the layered shaggy haircut with natural curls will amp up your middle part bob game. The layers and shape of this hairstyle are similar to that of the shaggy mullet, one of the hottest curly hairstyle trends of today.
Pro Tip: Use a diffuser and apply a salt spray to keep your curls bouncy.
12. Pink Bob with Headband
This vibrant fuchsia pink number will definitely make you the apple of everyone's eye. Add in a simple headband to tone down this eye-catching hair color and keep your locks in place.
If you are blonde and you have a bob cut why not also add a pair of bright highlights to finish off the look? This is an ideal combo for women who have lighter skin complexions, as well as green or blue eyes.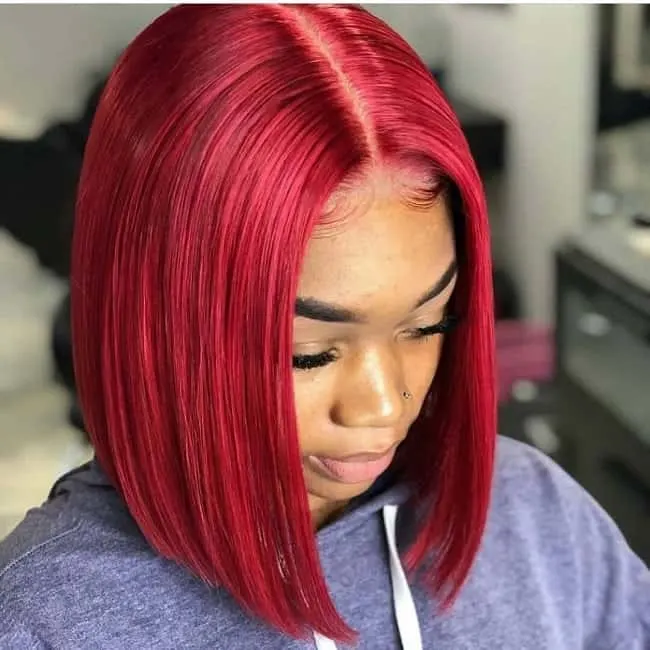 This weave bob hairstyle with a middle part is actually a sew-in wig, which we will talk about later below because many women are curious about its application.
Either way, this wine red hair looks very realistic, and it should be worn by women who want to give their natural hair a time-out, and who don't mind wigs.
15. Sleek Bob for Natural Brown Hair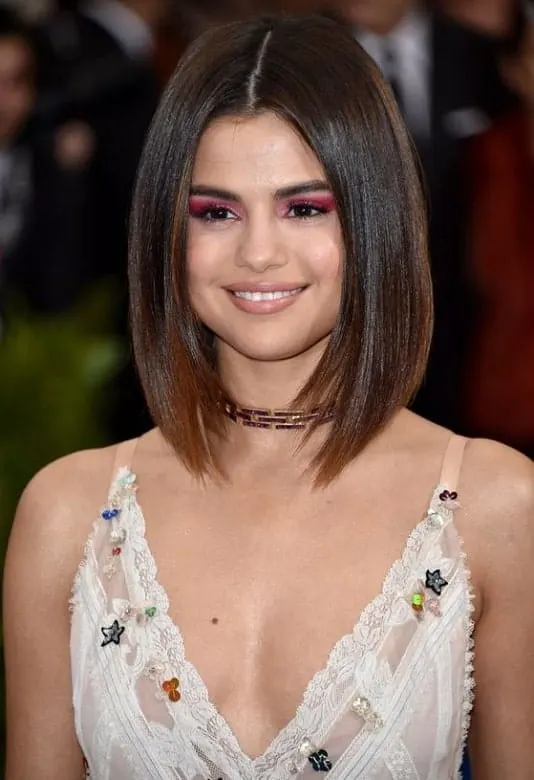 Selena Gomez can rock everything, but so can you! Her precise & long angled bob cut with a part in the middle is very attention-seeking and super defined. If you crave perfection, make sure you get the exact same haircut.
If you are a natural blonde and you have a short mid-parted bob cut, round up the look by getting some minimalistic waves and by pairing it all up with bright lipstick. This look is also ideal for formal night-outs and special gatherings.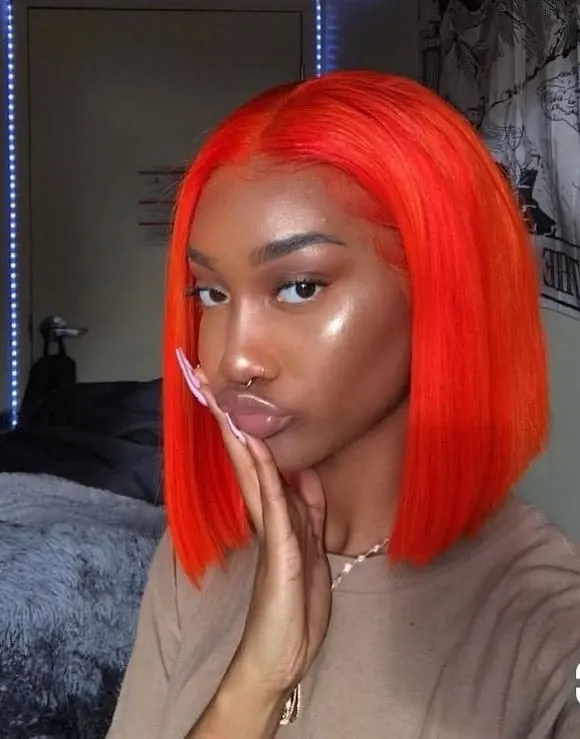 This super bob sew in style is very fashion-forward and and centre parting will suit women who are not afraid of color. In fact, neon is trending and is a must-have for the summer season, therefore you should get it if you want to stay trendy.
18. Bob with Highlights
Lastly, this darker brown bob with some front copper highlights will look gorgeous on younger women, as well as on those who prefer feminine & playful haircuts. If you love a hint of highlights, make sure you get them along with your new centre-parted bob hairstyle.
Are you in love with middle part bob hairstyles yet? If so, make sure you get a haircut asap! Women of all ages love bob cuts because they are very feminine, attention-seeking, and definitely appropriate for any event- wedding, job, school- you name it!