Speaking of an asymmetrical bob with bangs, this style is quite trendy and in fashion these days. It is very similar to a standard bob cut, the only difference being that one side of the bob is slightly longer than the other.
The back of this hairstyle only sports a blunt bob cut. Because of its unusual, funky, and irregular setting, the asymmetrical bob is often referred to as "Work at the back and party at the front."
Trendy Asymmetrical Bob with Bangs
Let's delve more into the details of how the asymmetrical bob can be styled and what are the different hairdos you can make to flatter this look.
If you are hesitant to try the bob, a lob is the answer. A wavy, curly, shaggy lob is just the right way to go. It will even help you make up your mind whether you want to chop off a few more layers to make a proper bob.
Long asymmetrical bob with side bangs is one of the prettiest and most versatile looks for a girl with mid-length hair, and you'll soon be turning heads in your direction.
2. Bob with An Undercut and Bangs
A pixie cut is not just in trend with the likes of the current generation, but also super stylish and comfortable as well. Add to it an asymmetric bob on the side with an undercut on the other, and you have an asymmetric pixie bob ready.
Even better, a few bangs on the side of your long bob will take the aesthetic appeal of this style a couple of notches higher. You may even go a step further by making a tattoo on the side so as to avoid your undercut looking plain and boring.
A-line and an asymmetrical bob are two amazing independent hairstyles. But for a more outgoing and extra look, create a hybrid of the two and pair it up with extra-long bangs.
The overall look is pretty with an asymmetrical bob with bangs and is quite recommended for girls with fine hair looking to add some volume to their bangs.
4. Shaggy Bob with Layered Bangs
To add bangs to your shaggy asymmetrical bob cut, start by layering it from the side while your bangs taper down towards the end.
You can decide the length of your long side and, subsequently, the layered bangs accordingly. The bangs with asymmetrical bob hairstyle work wonders for curly hair too.
This asymmetrical bob hairstyle with bangs has choppily layered hair instead of just the bangs. You can have straight or wavy hair. Better still, go for slightly curled bangs to add a more artsy and casual look to your overall vibe.
Straight side swept bangs on asymmetrical bob are the go-to look for when you find it difficult to decide the type of bangs you want. They look good with any type of bob you wish to sport.
Better still, increase the contrast between the lengths of the sides of your bob, pair it up with side swept bangs, and you have a cool style ready to rock!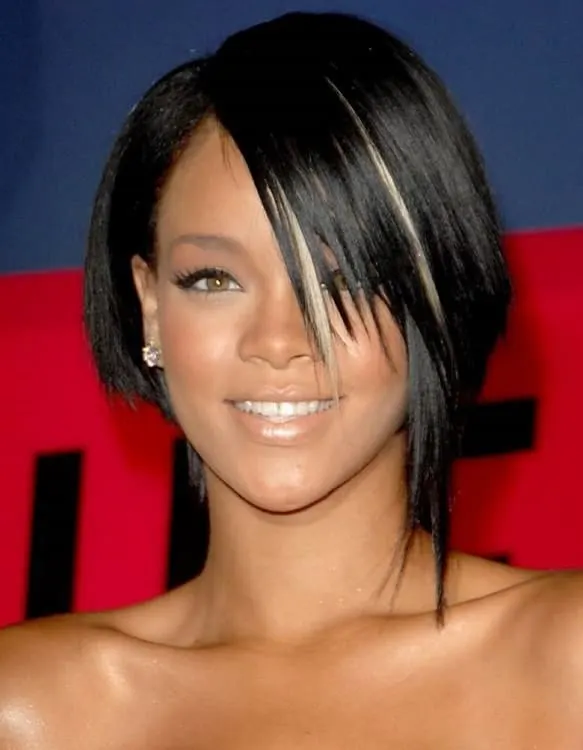 Long blunt bob is bold, chic, and the mark of a lady willing to experiment with her hair. Straight bangs on the side will only add to the charm of the entire haircut and complement the overall look as nothing else can.
You needn't have a vast difference between the length of the bob sides, but you can add tapering layers to create volume and length to your asymmetrical bob.
8. Eye Covering Bangs
Growing the bangs long enough to cover the eyes is a bold move that produces a smoky and sexy glance.
Chin-length asymmetrical bob with bangs style is a little difficult to maintain but an idea hairstyle for short hair lovers.
How to Style Bangs on Asymmetrical Bob
Side swept bangs work wonders with an asymmetrical bob. If you have your hair colored with 2 shades lighter or darker than your original tone, you are bound to rock this look even better.
Short bangs placed across the top of your forehead while just grazing your eyes at the top look beautiful with an asymmetrical bob cut. You can even add a little wave or curl to your bangs by heat styling and a hair spray, and you'll be good to go!
How to Style An Asymmetrical Bob with A Weave
Wearing a weave with an asymmetrical bob can add variations to your style. It can double up as straight long bangs, wavy bangs, or fringe bangs. Start by weaving your hair on the side of your long bob and add more volume to it.
Depending on what kind of weave you use, you can style your hair according to the occasion, be it a casual or a professional setting.
Watch The Following Tutorial to Learn How to Style An Asymmetrical Layered Bob with A Weave
FAQs
Inverted and asymmetrical bob: is there any difference?
Yes. Asymmetrical bob has a straight cut with constant length throughout, while an asymmetrical bob is slightly longer at one end than the hair at the other end at the back.

On the other hand, an inverted bob has stacked layers at the back giving it a gradient look.
Long angled bob or asymmetrical bob which looks better with bangs?
An asymmetrical bob with one side longer than the other flattering your face looks amazingly well when coupled with bangs on the same side. These bangs can be long, short, wavy, or curvy depending on your own taste.

Curly bobs are also quite versatile in nature and can sport a pair of bangs as well as any other hair type.
Bangs, weaves, curls, and waves are only a few ways of styling your asymmetrical bob cut. Depending on the length of your hair, you can even play around with a lot of different hairstyles which suit your personality accordingly.
Your face shape also comes into play when zeroing down on your asymmetrical bob with bangs hairstyle. Try a hairstyle that not only complements your features well but also adds layers of extra charm to your vibe.
You May Also Like