The teenage years are all about looking good. Every teenager wants to keep up with the latest fashions, participate in the coolest activities, and have fun. Braids keep girls in style without having to maintain their hair every day.
Braids are more than a hairstyle to dark-skinned teenagers; they are an art form. Braided hairstyles for black teenage girls are abundant and have been a mainstay in the black community for centuries. Check the below list to know the trend and get inspiration.
Braided Hairstyles for Black Teenage Girls
Braids are universal. Every country in the world has its various braided styles. Here are some of the cutest braids that black teenage girls are rocking all year round.
1. Two Braids
Pigtail braids are a quick hairstyle for black teenage girls. It is easy and stylish, and changing the looks is as simple as adding different accessories and pins.
To accomplish this style, part the hair straight down the center, forming two sections of hair. Braid each section straight back and add in accessories.
2. Triangle Braids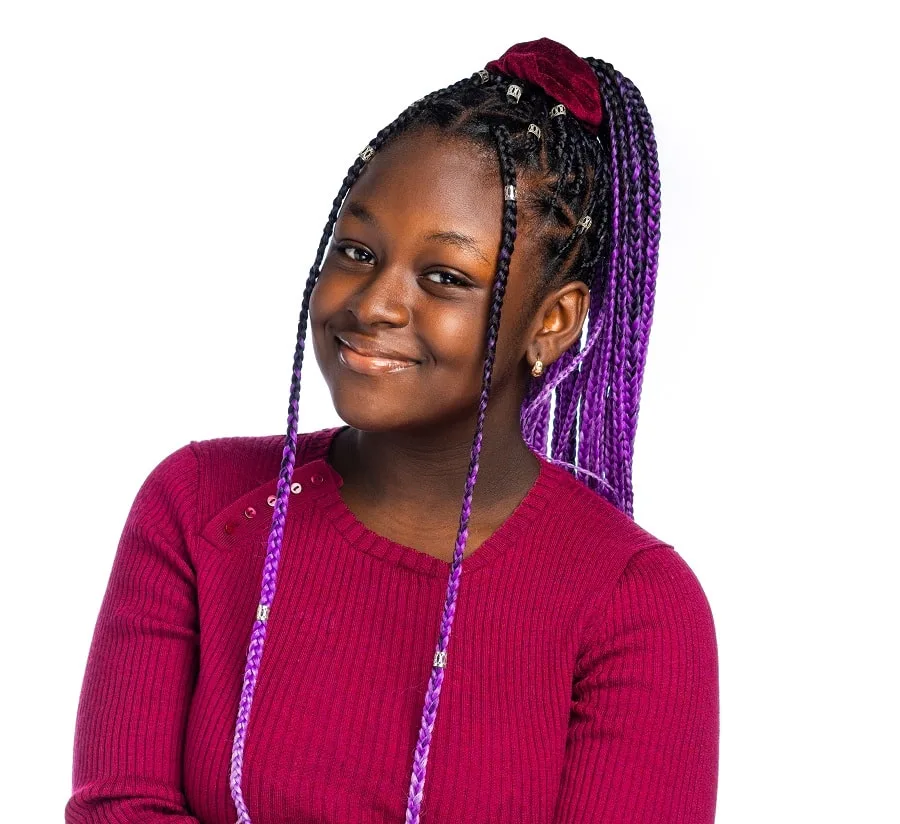 Box braids, beads, and a splash of color make this braided ponytail hairstyle for black teenagers pop. Unlike traditional box braids, the parts in this style are triangular.
3. Braided Bob
Braids put a nice twist to the traditional bob haircut and are a fuss-free style for black girls. The hair divides into mid-size sections. Each section forms into a box braid and is cut to form a bob.
The active high schooler participating in many activities benefits from this collarbone-length hairstyle.
4. Box Braids With Bangs
This box braided hairstyle popped up in the black community in the early 90s. Hair stylists install thousands of braids throughout the year, creating variations of this style, using hair extensions and small sections of hair.
The stylist braids each section to the hip and creates a bang at the forelock with decorated beads. This is a magnificent back-to-school hairstyle for African American teen girls.
5. Multiple Braids with Extensions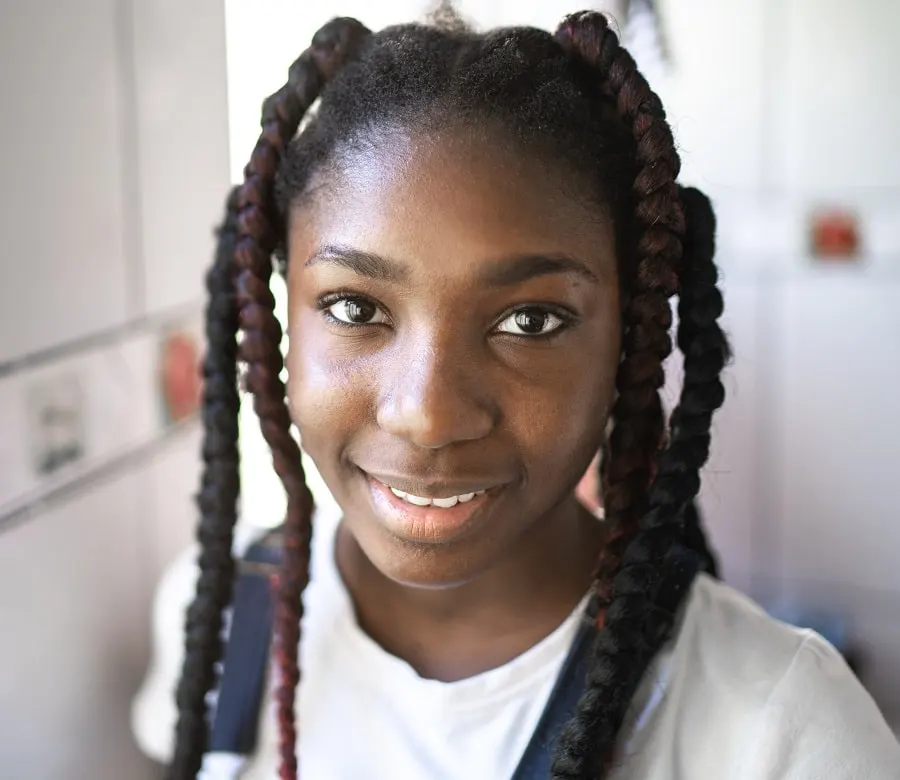 Braid extensions are another quick, cool braided hairstyle. The hair parts into six different sections, and the extensions combine into each section and then braid down.
These braids complement an active lifestyle suitable for teenage girls participating in sports. It keeps the hair protected and stylish at the same time.
6. Medium Braids With Beads
Another box braid hairstyle for teen girls, the hair is parted straight down the middle, and the medium-sized box braids are created to mimic a cornrow style.
Each braid has four beads attached to the end. This is a popular braided hairstyle among the black community.
7. Natural Hair Braids
Black teenage girls have been wearing braids for centuries. These braids look breathtaking regardless of what pattern the stylist creates.
This style uses all-natural hair and does not divide straight down the middle. The part divides at the ¾ point. The braids fall to each side of the head, and there are colored rubber bands on the end of each braid.
8. Jumbo Two-Strand Twists
This braided hairstyle for black teenage girls is easy, bouncy, and full of volume. The hair is parted in large sections, and two-strand twists are installed.
Because this style is easy to take down, freshening it up, making braids tighter, or applying moisturizer is easy.
9. Individual Braided Bun
Individual box braids are versatile, stylish, and pretty. The size of braids varies from micro to large sizes. Once you have your braids installed, creating other styles is a cinch.
This style is the braided bun. Gathering all of the braids up into a bun on top of your head is a quick updo that gives you a professional look in seconds.
10. Half Up Half Down
This twisted look is similar to individual box braids, and the installation is the same. There is a difference between box braids and this micro-twist style.
The hair parts are in tiny boxes, but the braids are created with two stands instead of three. This creates a rope look.
Braids can be traced back 5000 years and have no sign of going anywhere. These braided hairstyles are great picks for black teenage girls and you will look stunning in any of these styles. Each style is beautiful and low-maintenance, giving teenagers time to do what they do best, discover life.