The teenage years are the craziest days in life no one ever forgets and just like every girl, young black girls are as worried about their natural hair as about other changes occurring in their life.
It can be quite a hassle to choose the right hairdo, but the first thing you need to do is to embrace those God-gifted curls with utmost pride.
There are plenty of options when it comes to hairstyles for black teenage girls with natural hair, and to save you from the toil, we have brought together 20 of the cutest ones that will surely spark some inspiration.
Hairstyles for Black Teenage Girls
The following list is full of creative and stylish natural hairstyles for black teenagers. So whether you're looking for a new way to style your natural hair or want to try out a sleek and chic updo, you'll find the perfect teen girl look here.
Go through the following list to see how versatile natural black hair can be. You're sure to find a style that you love.
1. Headband Style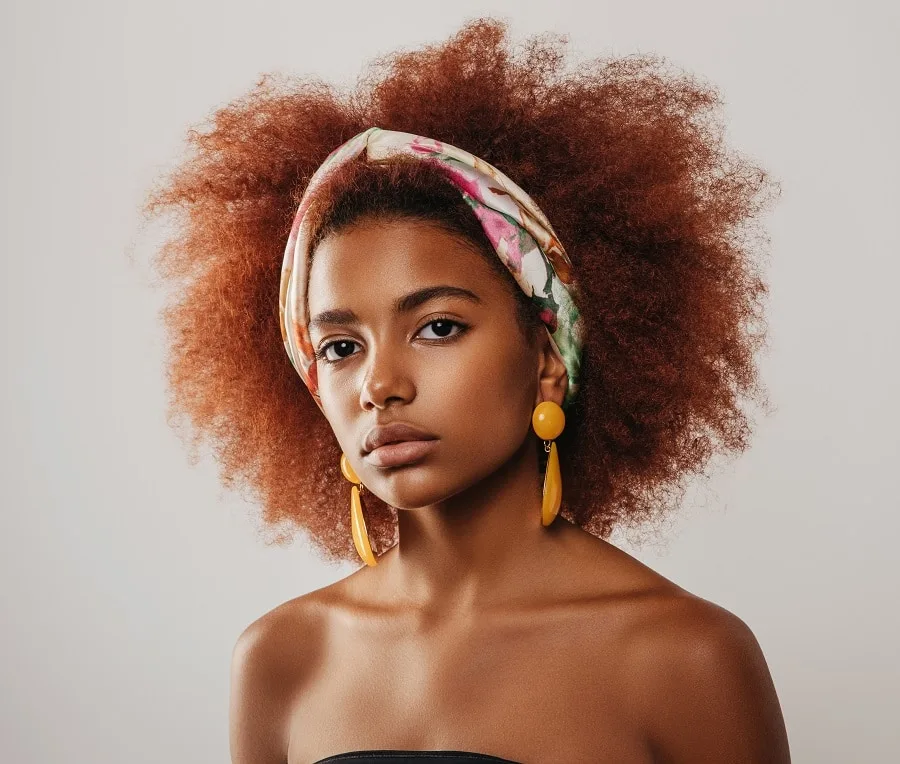 Let's begin with a simple one. Sport those kinky afro curls by cutting them into a round shape and dying them in a rich auburn hue to accent your beautiful skin. Push the strands away from the face with a silk headband and put on some funky earrings to complete the look.
2. Top Knot + Undercut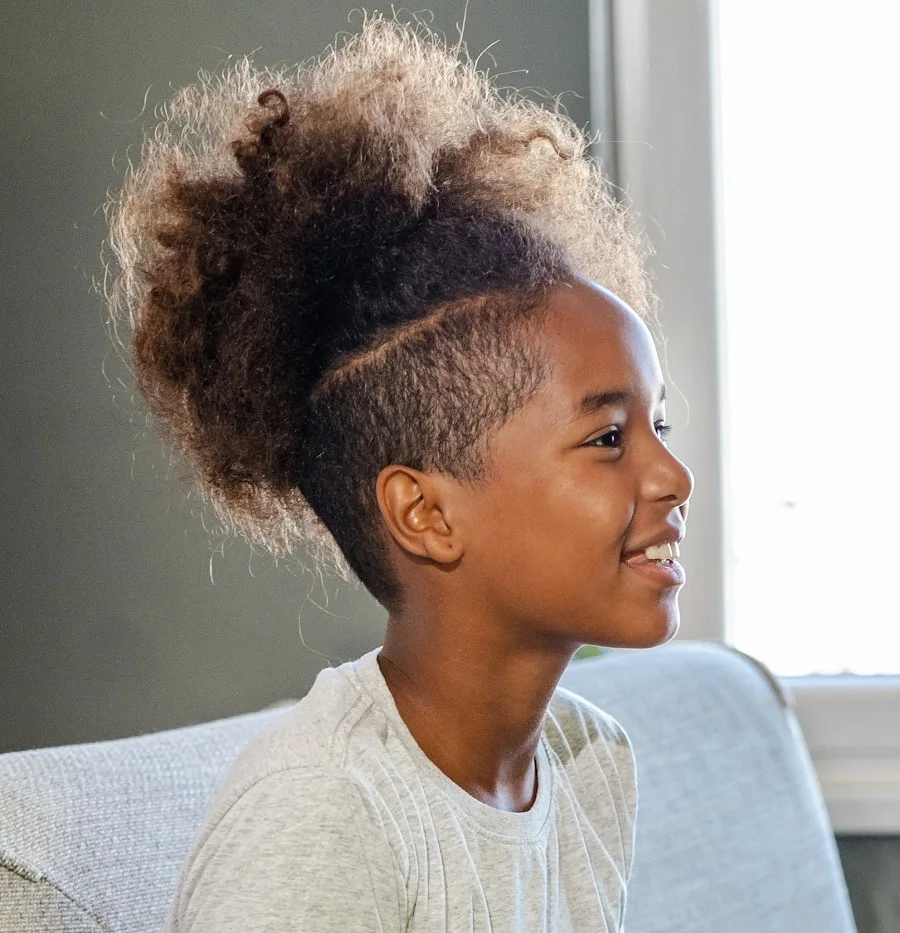 This undercut hairstyle is suitable for bold black teenage girls with fluffy natural hair to express their wild side. The sides and back are buzzed keeping all the attention on the long top styled in a top knot ponytail. Take a step ahead and get a shaved design too.
3. Space Buns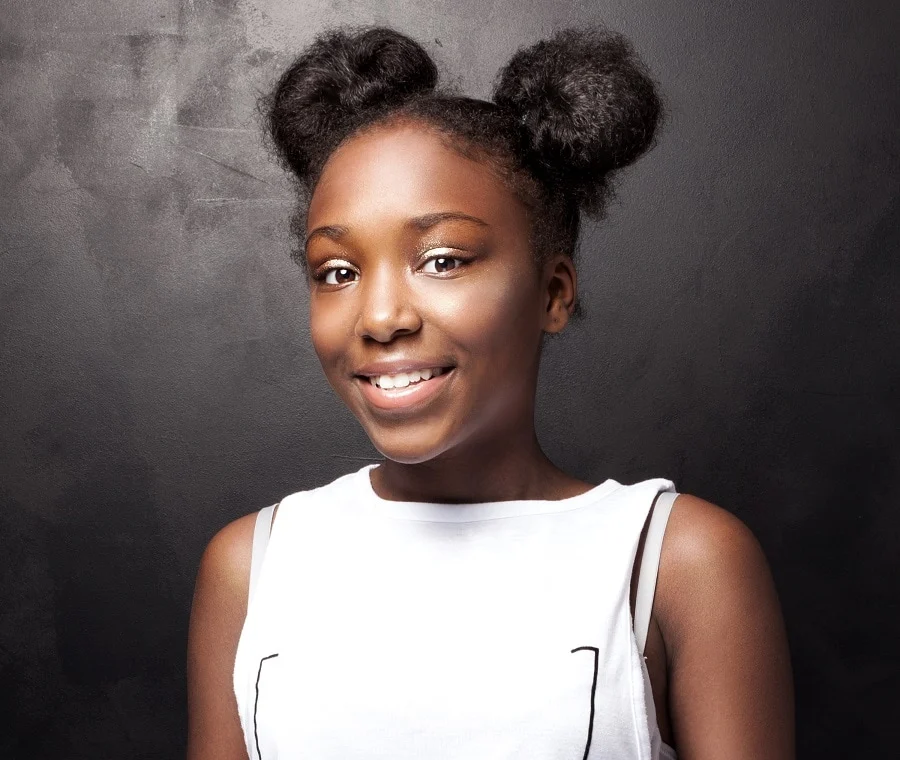 Space buns are versatile going perfectly with all hair textures but they look exceptional when styled on an afro mane. Assemble the locks in twintails and wrap them around in two cute buns. This style is ideal to save an oily hair day.
4. Braided Bob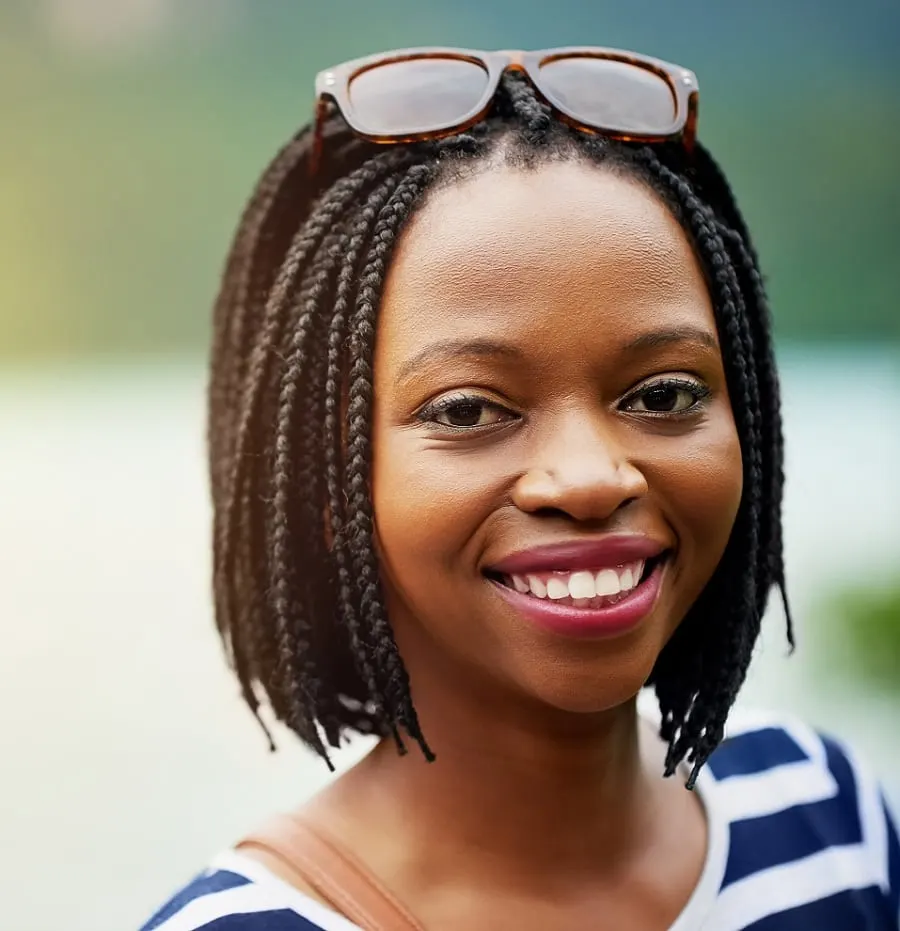 What are African-American hairstyles without braids? Rock a chic bob by plaiting the strands at chin length for the knits to bend naturally around the face. Adorn with shiny hair cuffs and beads or keep it simple instead. Whatever you like!
5. High Ponytail
Talking about braids, black teens who wish for long tresses can use extensions in a matching shade or a vibrant one while knitting their natural hair going as long as they want. Style the plaits in a jumbo bun or try out a high ponytail for the braids to sway with the wind.
6. Half-Up Look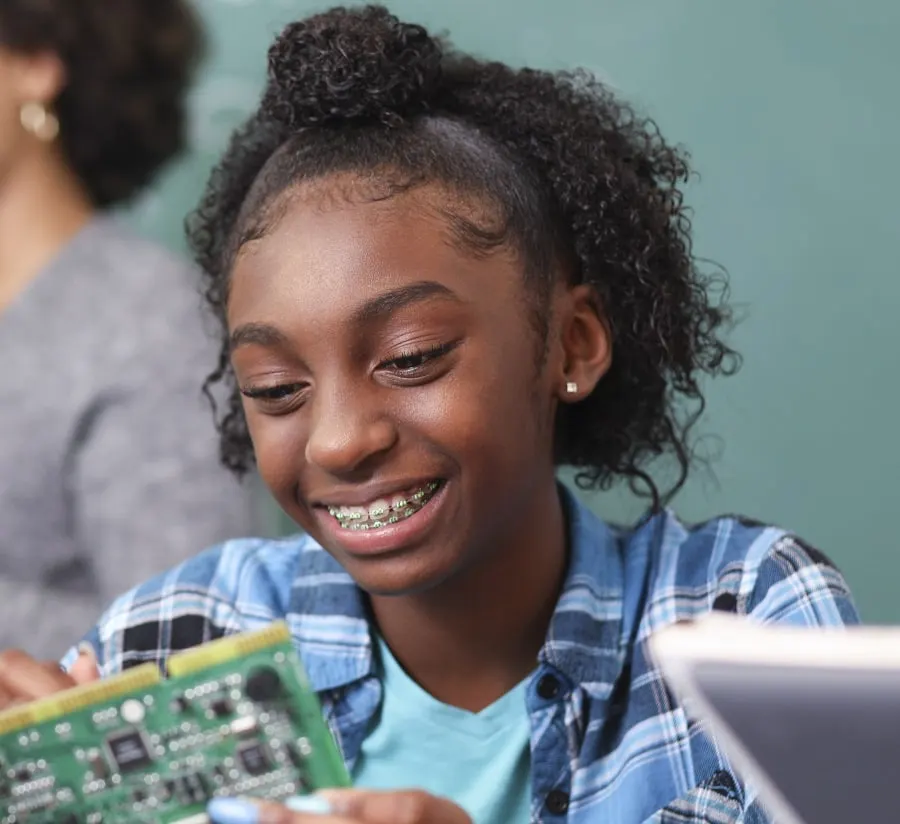 Flaunt those bouncy coils confidently with a modern half-up hairstyle. The front strands are swirled in a bun and secured with pins while the remaining locks dangle loosely at the back. Top off by swooping down the edges for a neat finish. Easy-breezy!
7. Long Bowl Cut
Want to sport a short hairstyle perfect for teenagers? Teen girls who don't mind wearing a weave or straightening their hair regularly should give this retro bowl/mushroom cut a chance. The brow-skimming bangs elongate gradually towards the sides, reaching the back framing the face all along. Add a hairband and done!
8. Afro Puff
There are good hair days and then there are bad hair days. During the bad ones, black teenage girls can manage to look good with their natural hair by copying this effortless hairstyle. Slick back the strands in a tight ponytail and leave the rest to the curls or use a synthetic afro puff instead.
9. Pop Smoke Braids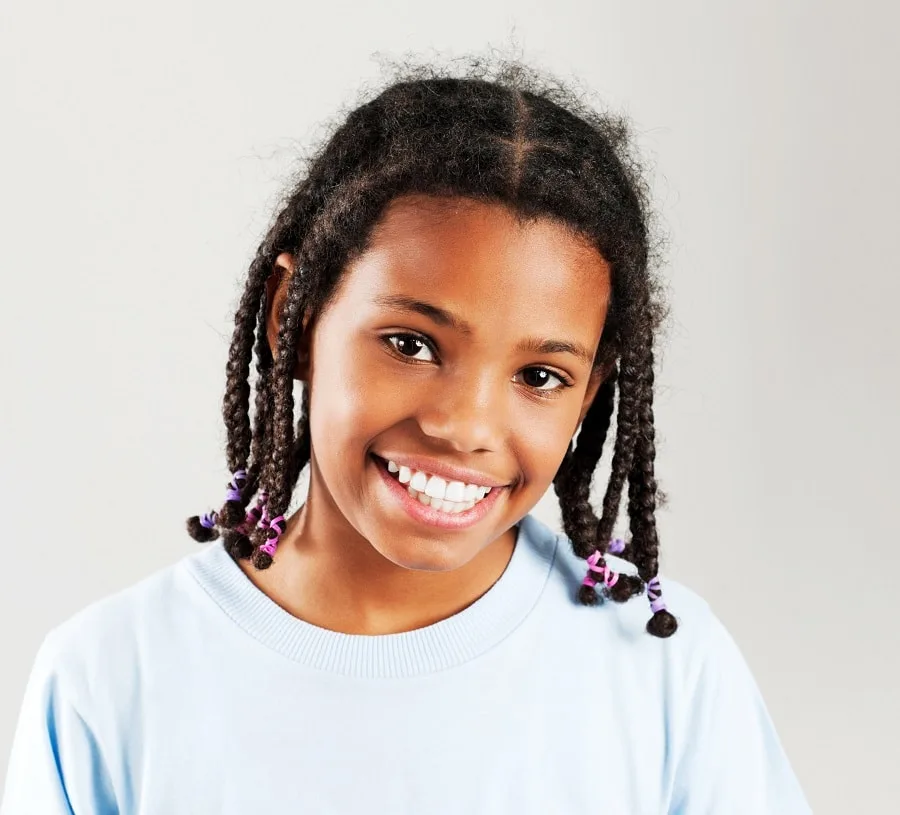 One of the most beautiful medium hairstyles for teen black girls. Named after the famous late rapper, Pop Smoke braids are cornrows characterized by a prominent middle part. Tame an unruly mane by knitting it into four to five horizontal scalp braids that can be kept for some days. Add colorful beads or rubber bands on the ends and you will love it!
10. Caramel Sweetness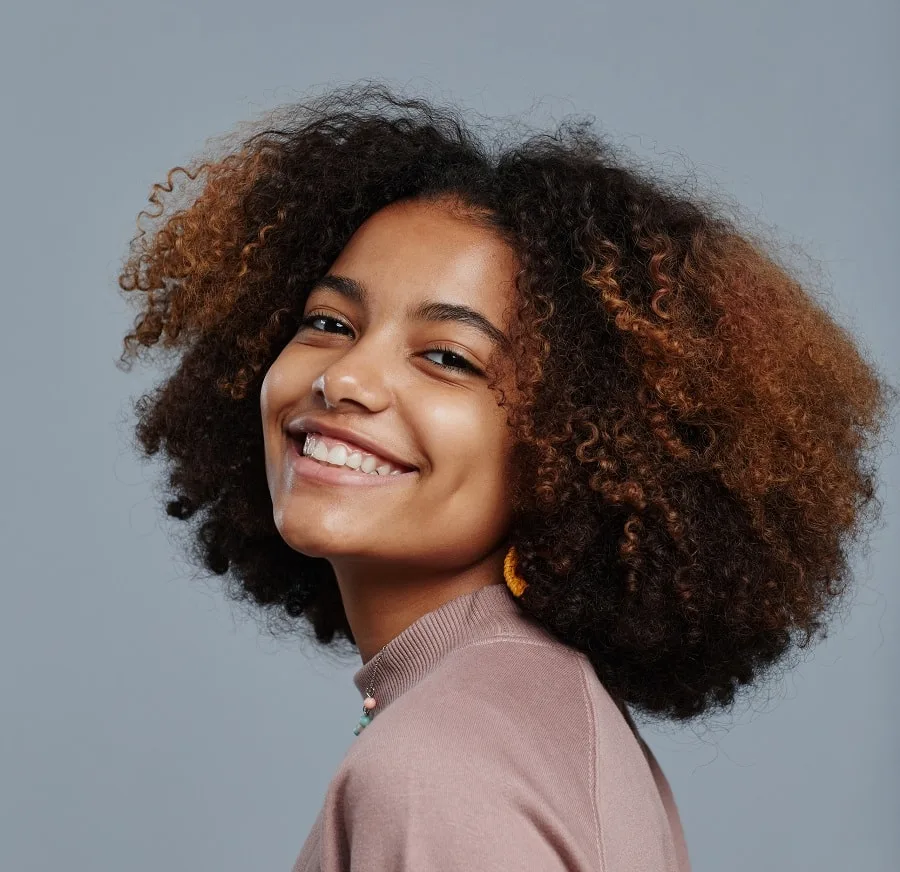 A bit of hair dye surely won't hurt. Spice up natural hair by adding a touch of deep caramel blonde to shine against the remaining dark strands. Avoid a blunt look by layering the coils to fall along the sides of the face with a middle or side parting. Wow!
11. Bold and Bright
Be bold, be beautiful! Turn around some heads by painting those kinky coils in the brightest yellow shade available and flaunt them with a braided headband hairstyle. This look is however high maintenance requiring regular touch-ups to keep the hair color vibrant. Eye-popping, right?
12. Fluffy Pigtails
While girls rock pigtails all the time young black girls can use their natural hair to create the cutest version of this classic hairstyle that no one else can copy. Secure the tresses in two ponytails leaving the curls to fluff up into two clouds on both sides of the face.
13. Simple and Stylish
Why opt for an elaborate hairstyle when a straightforward ponytail saves the day? Detangle the strands and pull them back to be secured with a hair tie or wrap the strands around and you'll get a classic high bun that won't be ignored. Can't get any simpler!
14. Uneven Flat Top
Considering hairstyles for black teenage girls with natural hair, this one is sure to make you stand out from the crowd. Ask the hairdresser for shaved sides with an uneven long flat top. Use a pick to brush out your strands daily making them stand perfectly upright.
15. Easy Twist-Back
Sticking to a basic hairdo is sometimes all you need. Whether you opt for braids, dreads, or micro knits show them off with an easy twist-back hairstyle. Take the front chunks and twirl them towards the back on both sides. Recreate the look with a braided bob/lob and you won't regret it!
16. Accessorized Box Braids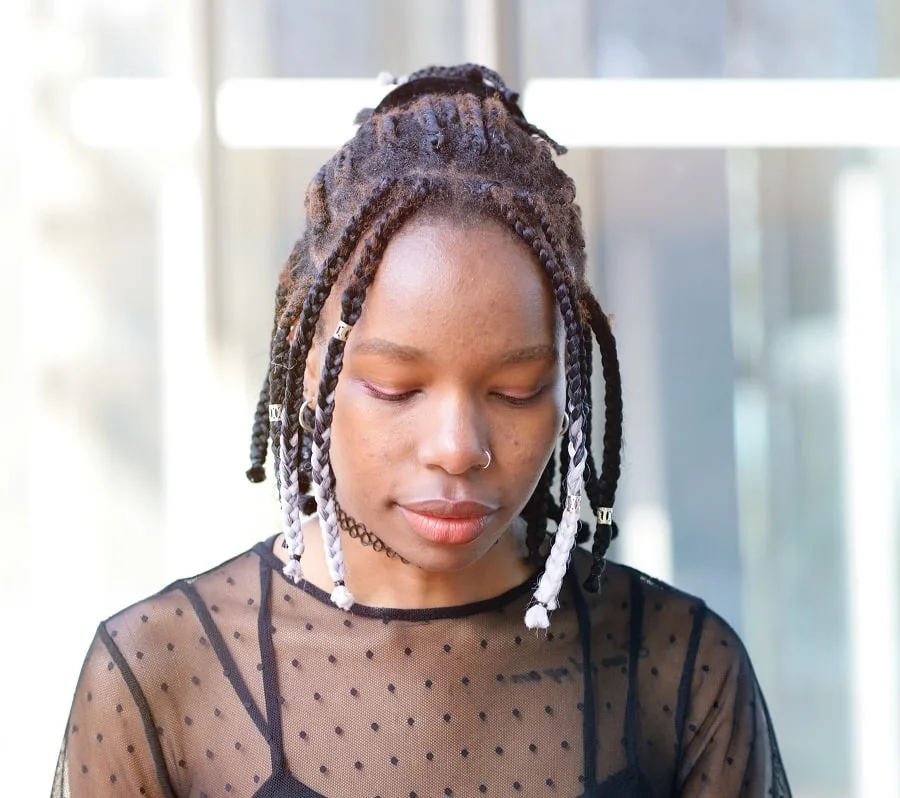 Box braids are popular among African-American girls all over the world. Incorporate silver or any other bright-colored extensions while creating the knits for a stunning ombre effect and cut the front plaits short to frame the face like a fringe. Accessorize with plenty of hair cuffs for a fancy appeal.
17. Faux Locs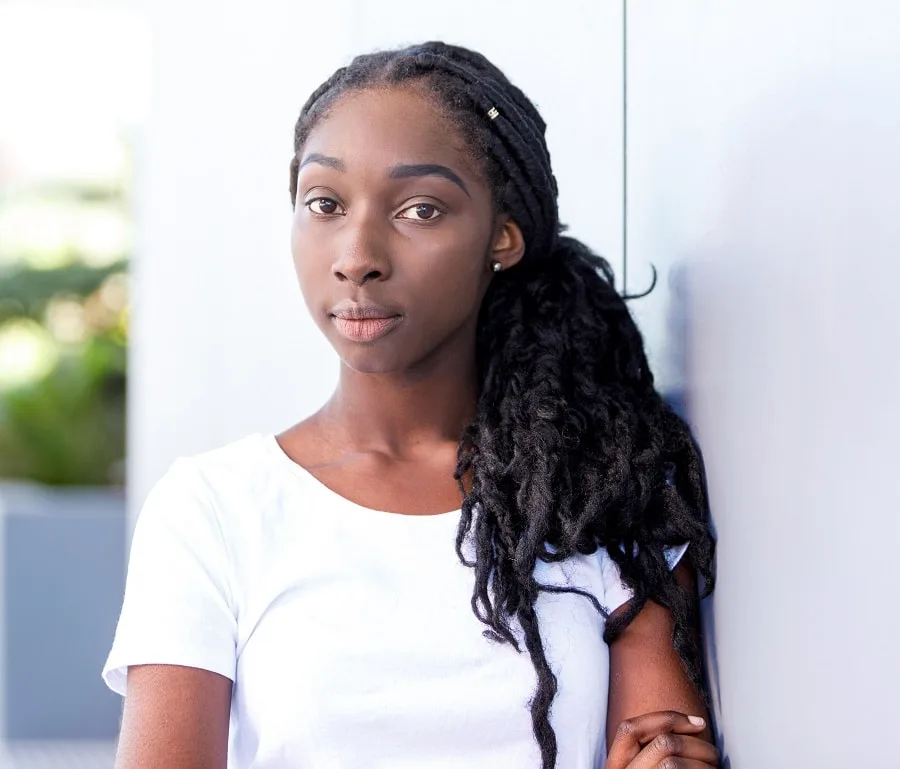 Black teens can protect their natural hair by experimenting with faux locs. Instead of teasing and twisting the strands braid them down and wrap them around the synthetic hair. Continue all over the head resulting in cool dreads that are sure to grab some attention.
18. Sleek and Straight
Although regular straightening is damaging to the hair, rocking straight tresses on special occasions won't be that much of a risk. All you need is to use a good quality heat protectant. Put on a bowtie hairband or a head bandana and voila!
19. Pretty Pixie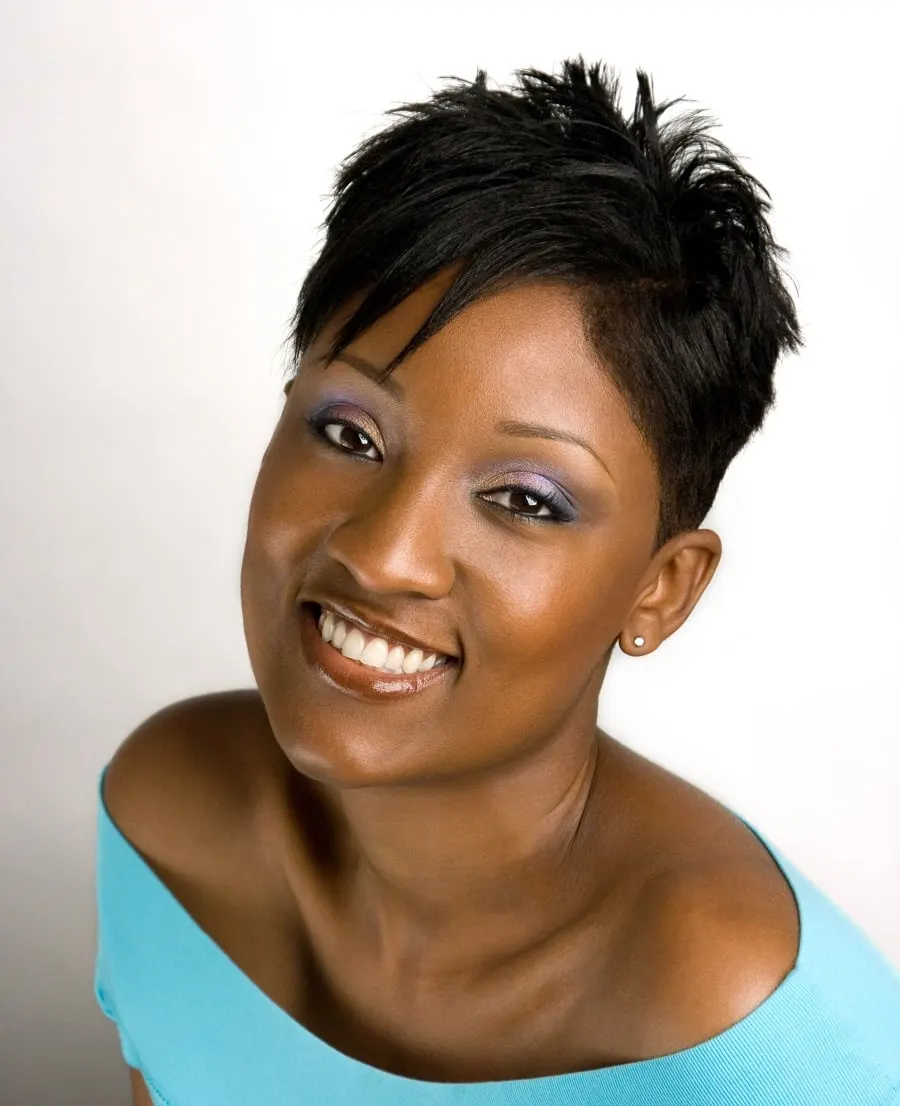 The shorter, the sexier! Start fresh by snipping those black tresses in a short and sassy pixie featuring choppy layers on top tapering towards the sides with side-swept bangs at the front. African-American ladies can opt for permanent hair straightening treatments recreating the look exactly.
20. Pineapple Updo
Another carefree hairstyle that is just made for black teenage girls with natural hair. The key lies in gathering the locks on the top back part of the head for the curls to fall over the face at the front. Apply temporary hair chalk in a bright teal shade and see jaws drop all around you.
From buns and ponytails to braids and bobs the above guide has it all and with so many looks to choose from black teenagers can sport their natural hair with a brand new hairstyle every day. So what's the delay for? Pick out the one that attracts you the most and try it out.