Braids are ageless, timeless, and flawless. In fact, braids can be a stylish and practical choice for women over 50 as well! They are ideal for protecting hair and tucking it away effortlessly for the entire day.
And although braids are commonly associated with school-going girls or even considered boring at times, there are so many braided hairstyles that are just the right for older women.
The best thing about braids is that they are easy to create and super versatile. You can rock them during normal days as well as at formal events. Having that said, let's have a look at some braids for women over 50.
Flattering Braids for Women Over 50
No matter how long or short your hair is, you will find a suitable braided hairstyle in the following list. Let's explore some of the best braided hairstyles for women over 50.
1. Classic Pigtails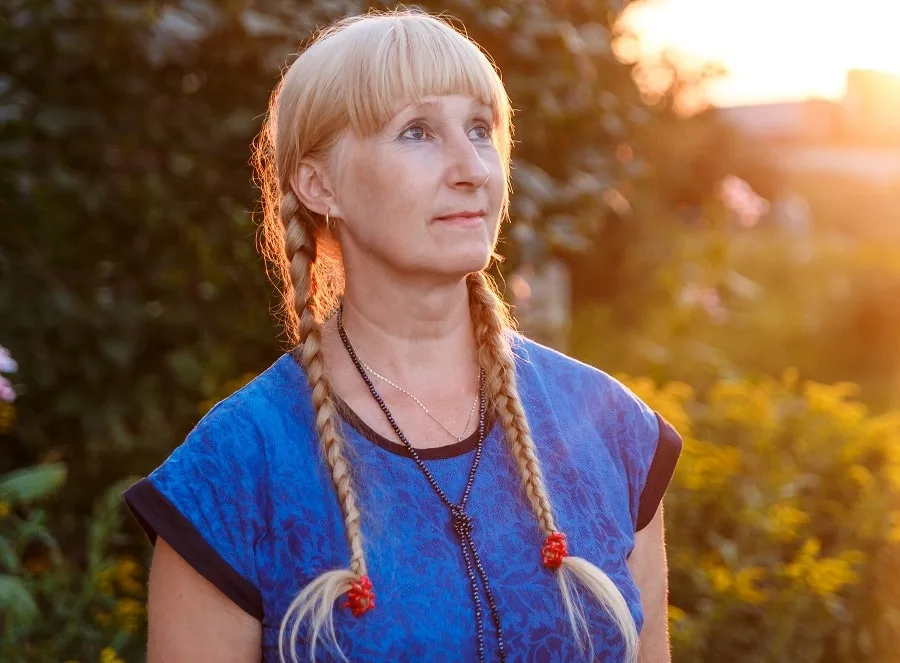 Though talking about braids for women over 50, let's begin with a hairstyle every lady has rocked in her childhood.
Braided pigtails are a classic and don't appear childish when accompanying a mature face. The arched fringes are ideal to add some edginess to the look.
2. Cowgirl Braid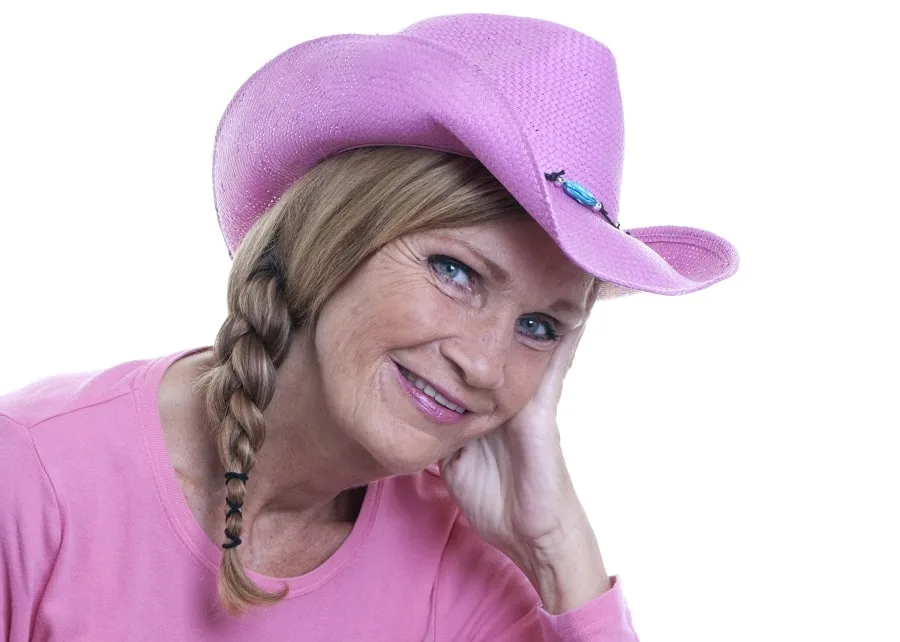 Those who love wearing cowboy hats or are going to a costume party can recreate this sexy cowgirl look with ease.
Tousle the hair on one side and plait it down to fall on the shoulder at the front. You can also create two braids instead of one for a change.
3. Plaited Crown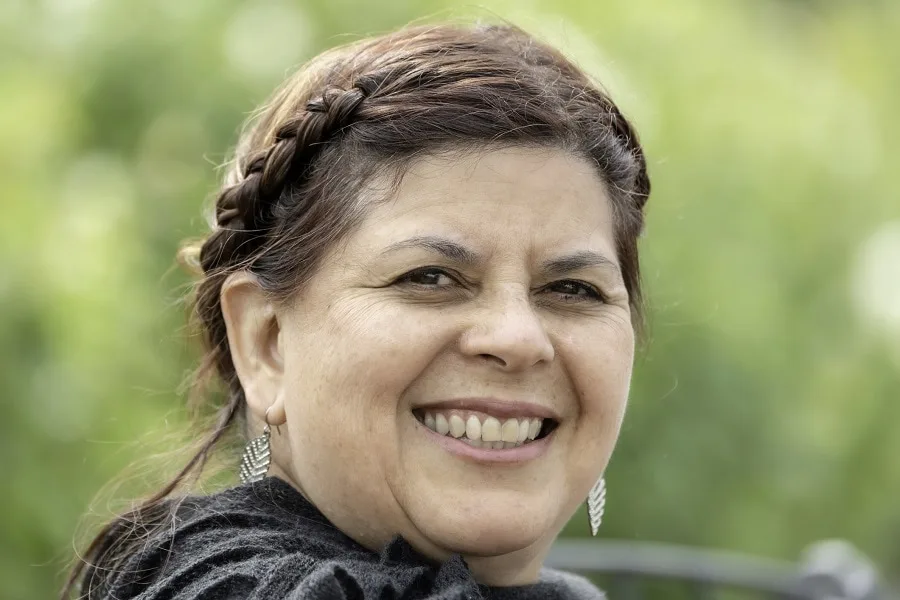 Wear your tresses like a crown on the head by knitting the sides with a middle/side parting and wrapping them around the head to be secured with pins.
The conventional crown updo, however, involves plaiting the hair in a continuous manner all around the circumference of the head.
4. Snake Braid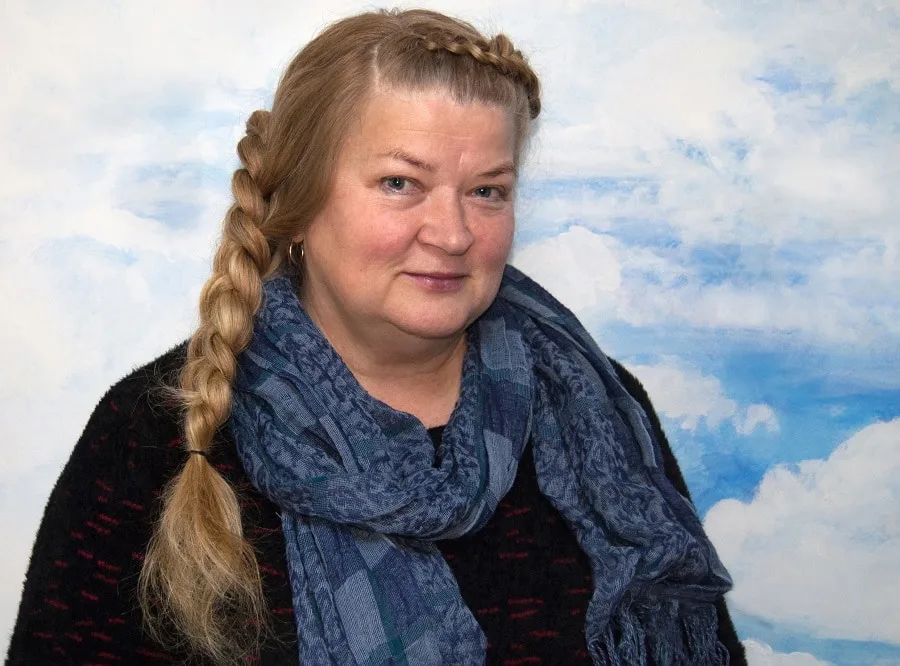 The snake braid gets its name from the curvy pattern that mimics a snake slithering on the ground. Carve out a side part and start braiding at the front, continuing towards the end while bending and turning along the way. The plait should ideally sit on the opposite side of your knitted front.
5. Goddess Braids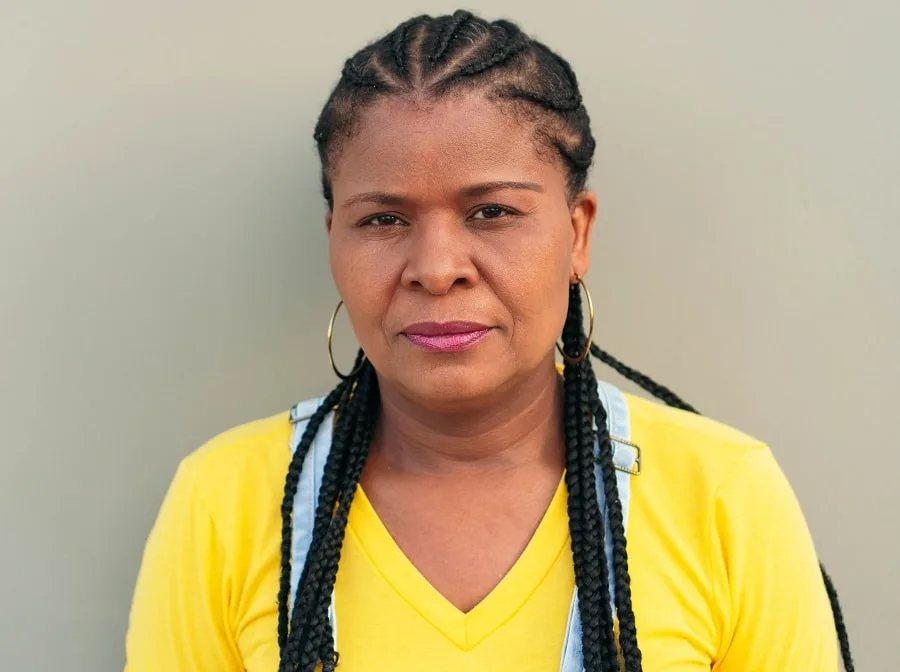 Chunky cornrows are more popularly known as goddess braids and are ideal for black women over 50 to protect their natural locks from any damage.
Opt for straight-back scalp braids or create a curvy pattern while gathering them at the back. Use extensions to go as long as you want.
6. Casual Twintails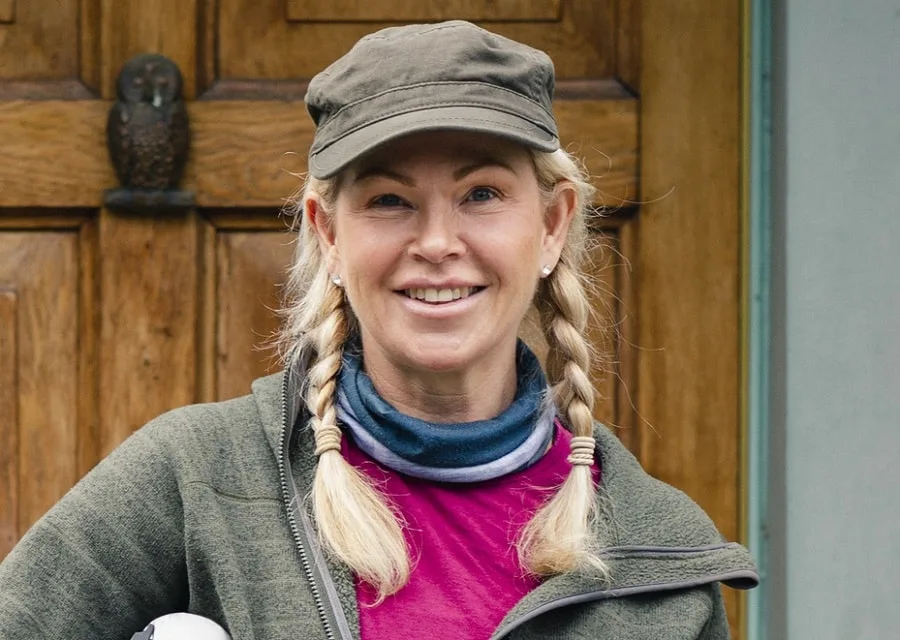 A casual hat will save an oily hair day for sure. But instead of coupling it with a boring bun, ponytail, or single braid, shed off a few years by parting the hair in the middle and knitting it down, resulting in cute twintails that won't be overlooked.
7. Salt and Pepper Cornrow Bun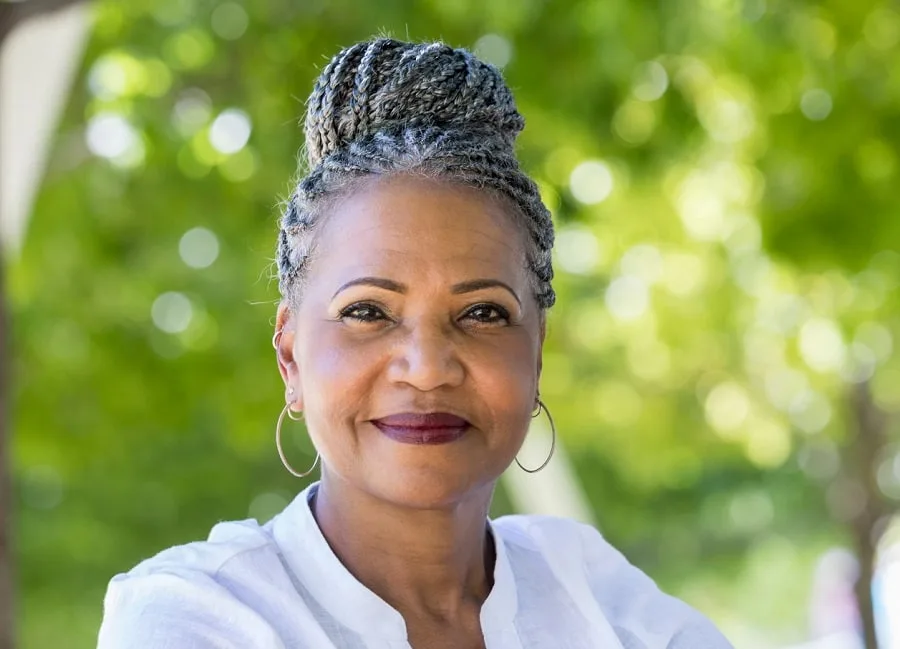 Embrace those grays with utmost confidence by using matching extensions to produce some gorgeous salt and pepper cornrow braids.
Leave the knits loose or copy this look by assembling them on top of the head in a jumbo bun. Add some shiny hair cuffs for a fancy finish.
8. Plaited Headband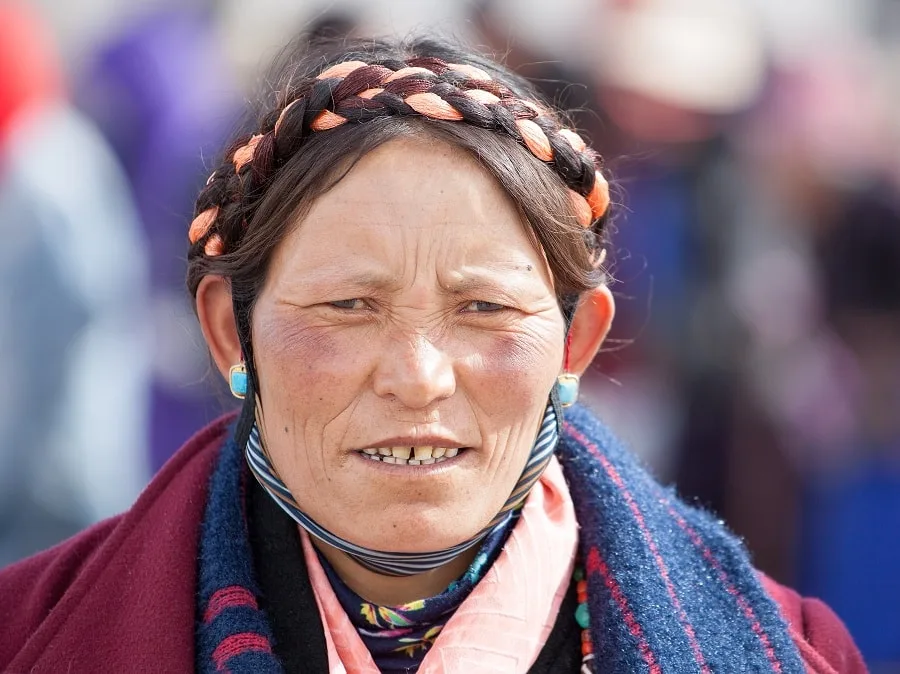 Braided headbands are available in the market but what's more fun than creating one with your own hair?
Take big chunks from behind the ears, braid them down, and place them over the head to be fixed in place with hairpins. Use synthetic strands in contrasting colors for an eye-popping result.
9. Long and Loose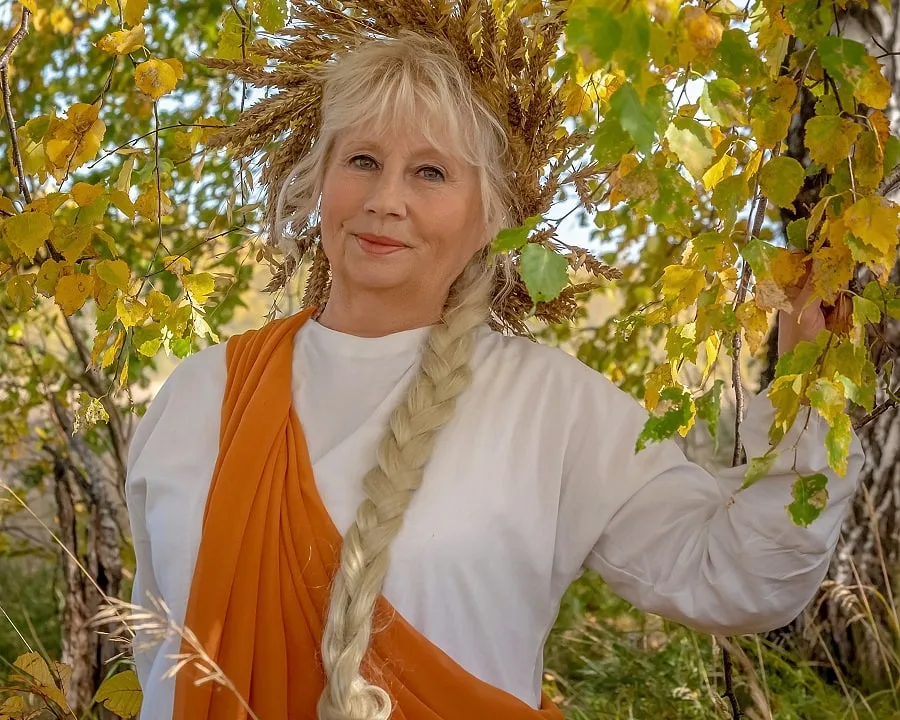 Braids are ideal for women over 50 with long tresses. Avoid a boring look by getting bangs to frame the face rather than a dull center parting. Section the hair into three parts and entwine them leaving the ends loose for a natural appeal.
10. Braided Bob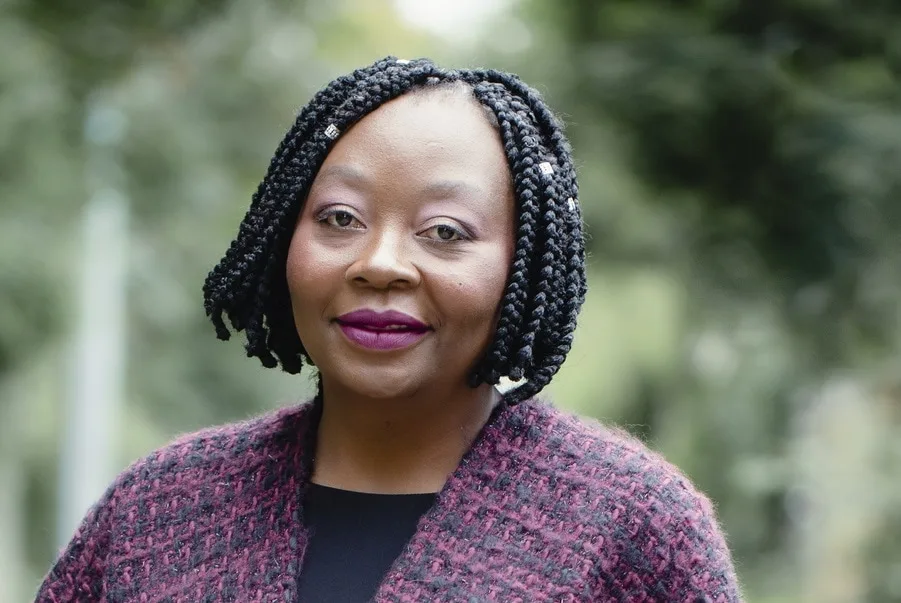 Another look for mixed-race elderly ladies who like to keep their manes short. Ask the hairstylist for classic box braids and cut them at chin length for the knits to bend around the face naturally while framing it all along. Adorn your braided bob with hair cuffs and hair rings.
11. Blonde Beauty
Mentioning box braids, those who are not impressed by the ones depicted above can consider this look to turn around some heads.
Go for medium-sized knits and incorporate blonde extensions while plaiting the hair achieving a long mane instantly. Finish off with a half-up hairdo.
12. Side-Swept
Make a style statement by adding subtle beach waves to the hair before tousling it on one side and braiding it.
Pull some strands out to accent the face at the front. Some soft makeup, a couple of stylish earrings, and nobody will believe you're over 50!
13. Formal Braided Updo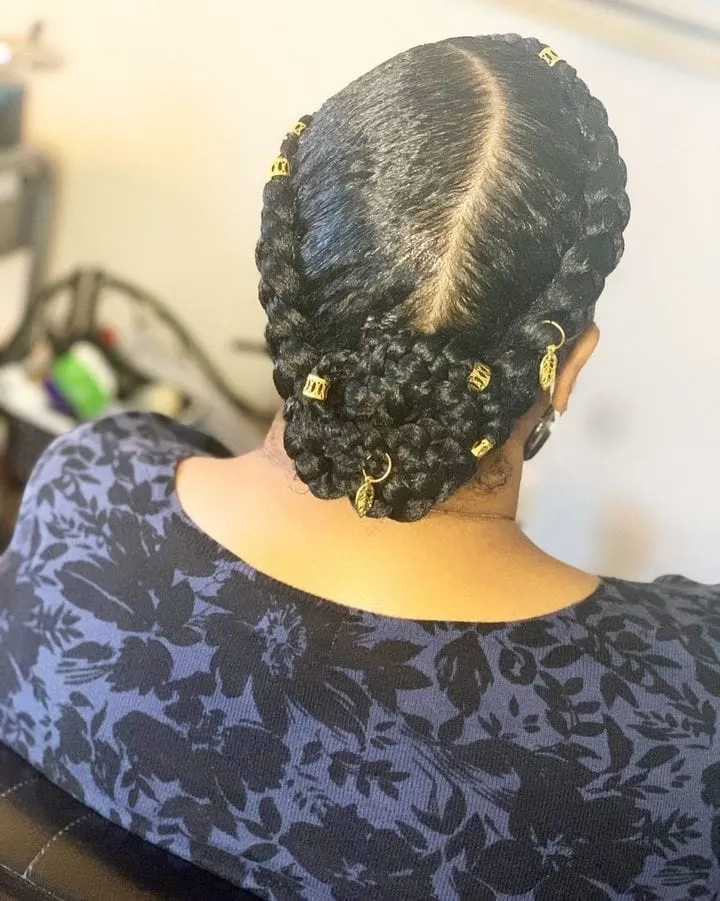 Keep it elegant at formal events by creating Dutch braids along the sides and wrapping them into a simple low bun at the back.
Embellish with a couple of hair rings and cuffs or skip them if you are wearing this style during casual days.
14. Braid with Bangs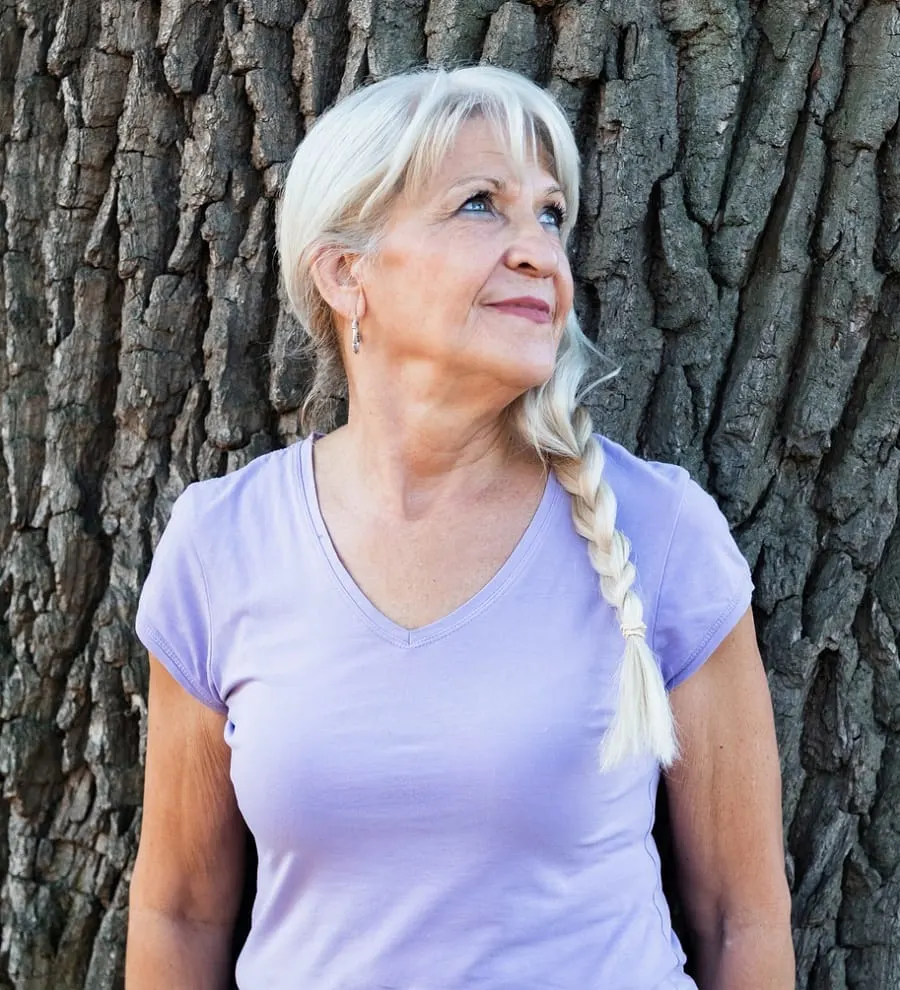 Braids go perfectly well with bangs; here is a look to prove it. Bangs can conceal a wide forehead or its wrinkles while adding youthfulness to the face. Go for wispy fringes to avoid a suffocated look. Curtain bangs aren't a bad idea either.
15. Tribal Vibes
Tribal braids are a must-try for women over 50 who want to celebrate their ethnicity and culture with style. A single central braid is often decorated with beads and rings and is accompanied by side knits like these half-done cornrows depicted here that can be left loose or styled in an updo.
Getting older does not necessarily mean getting frowzy. These braids for women over 50 are perfect for switching up your hair game while working with the texture and length you have at hand. The styles mentioned above are only a kick-start. You can create countless patterns with braids so let the magic begin!