A combination of dark hair and blue strands is absolutely mesmerizing. Actually, there's a lot you can do to spice things up a little bit including blue highlights in brown hair.
Women with dark hair often feel they're left out of trendy styles because it's difficult to change the color entirely without damage, brittleness, rough texture, and other problems. Read on to learn more about this style and to see ten amazing suggestions to try.
How to Style Brown Hair with Blue Highlights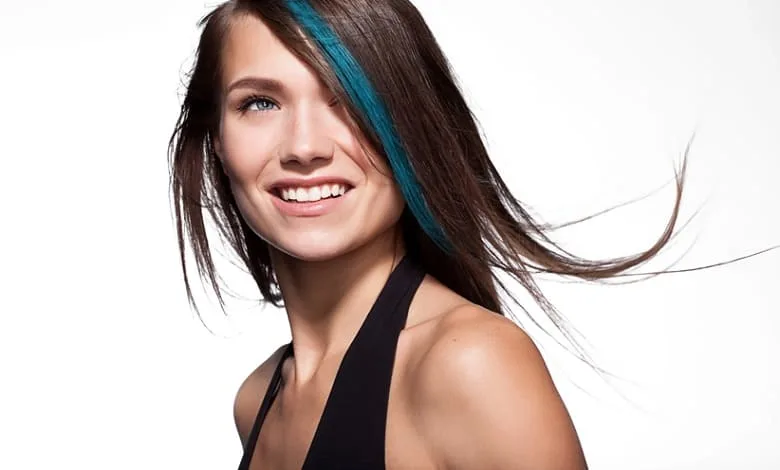 So you decided to try brown hairstyles with blue highlights, but aren't quite sure how to do it? Getting highlights in blue color generally requires the same concept as with any other color. You need a tinting brush, box dye, a hair-lightening kit, a mixing bowl, gloves, the old towel, of course, tin foil or plastic wrap, and a conditioner.
Before you start working on the highlights, make sure to style your hair as you would normally do. Why? The reason is simple; it would give you a better idea of which strands to dye. Mix hair color according to instructions on the packaging and determine the hair sections you'll color.
Now, start coloring carefully and wrap each colored section into the foil. Rinse after 20 to 30 minutes or as long as it's specified on the box.
Doing highlights on your own can be tricky and stressful which is why it may be more useful to let a professional do it. The hairdresser knows what style suits you best, and sections to color to frame your face, but he or she can also give you highlights without using foil.
You can style your highlights any way you want including edgy or more demure looks. It all comes down to your personal preferences. In terms of shades, you can go for electric or striking blue color or darker, more subtle hues.
Try These Blue Highlights On Your Brown Hair
Wondering how to do your highlights, what style to get? These 20 ideas will inspire you. When you're trying any of these blue highlight ideas on your brown hair, find a skilled stylist who knows how to work with different colors and techniques.
1. Blue Highlights on Light Brown Hair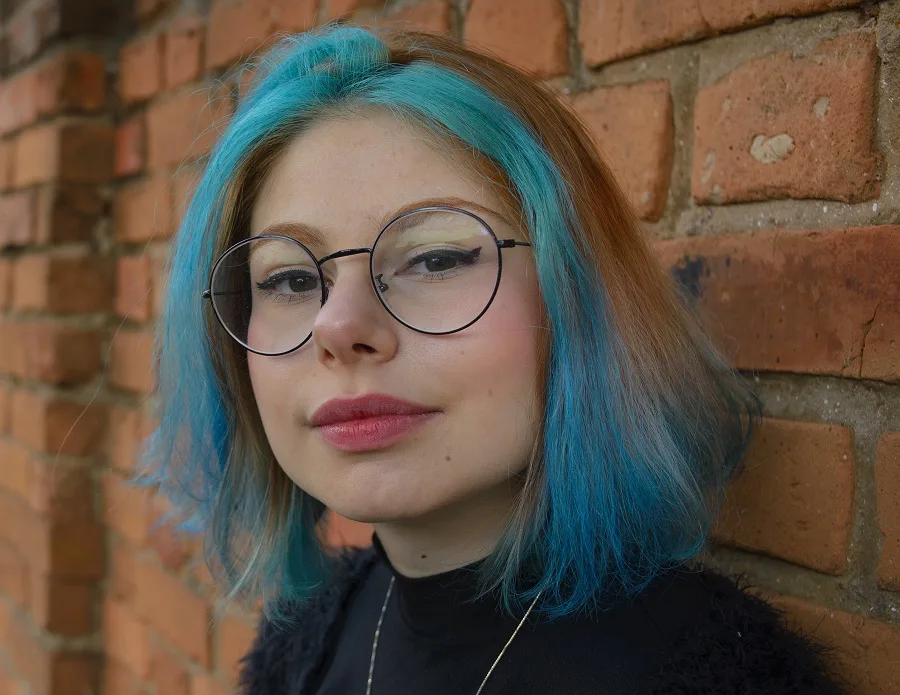 Subtle blue face-framing highlights are a fun way to add a pop of color to light brown hair without going overboard. It looks fantastic when the sunlight hits it just right!
2. Blonde and Blue Highlights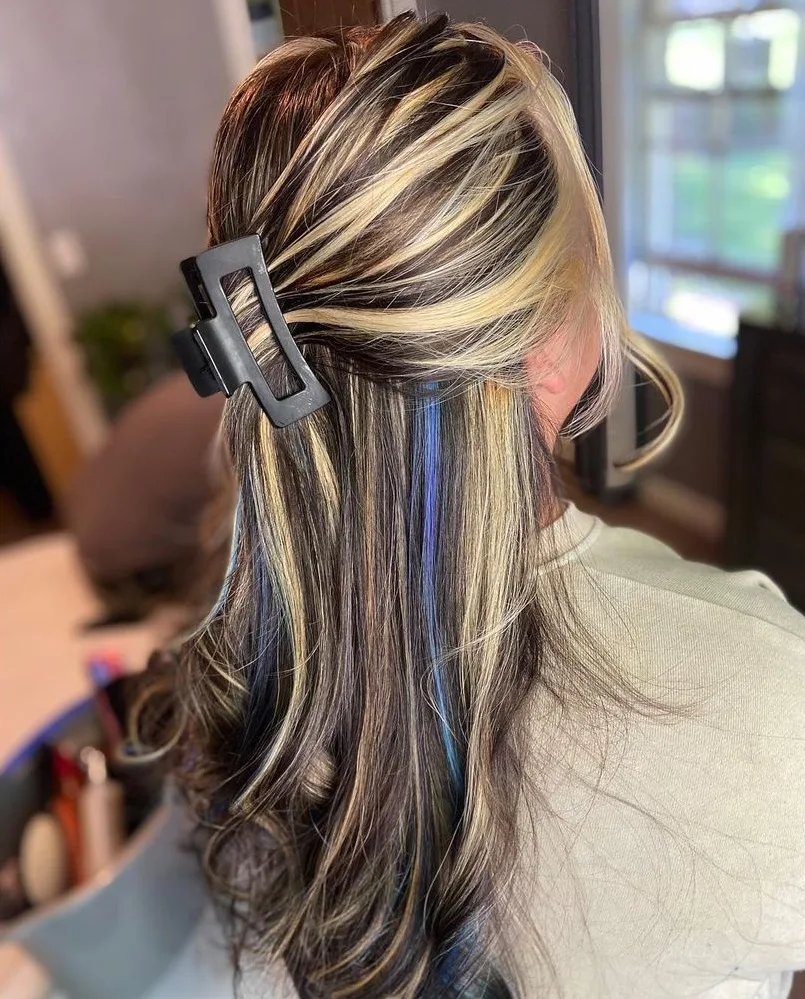 Why not mix things up with both blonde and blue highlights on your brown hair? It's a playful combo that's totally eye-catching and gives your hair a unique, multi-dimensional look.
3. Chunky Highlights on Short Brown Hair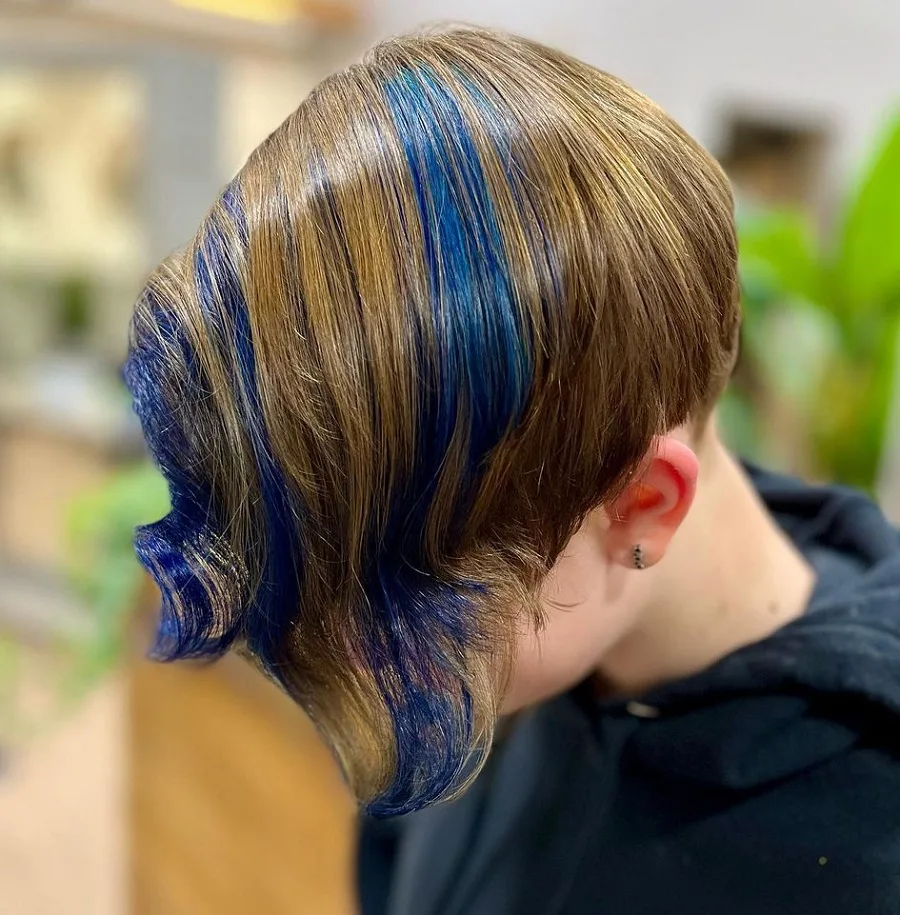 Short-haired gals, this one's for you! Adding some blue highlights to your brown hair can really amp up your look and give it a cool, edgy vibe. It's perfect for those who love to stand out in a crowd.
4. Blue Highlights on Brown Curly Hair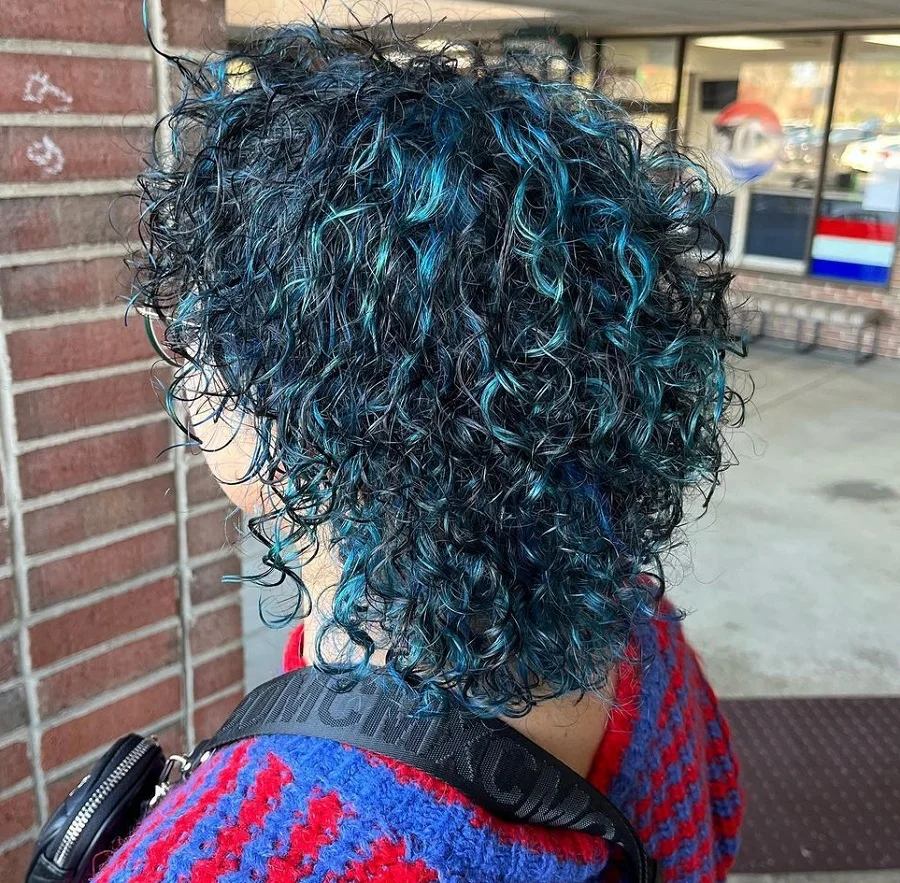 Curly-haired beauties, listen up! Blue highlights in your dark brown curls can create a gorgeous, whimsical effect. The mix of colors and textures looks absolutely stunning, especially when your curls are bouncing around.
5. Peekaboo Blue Highlights
For a more subtle approach, try some peekaboo blue highlights hidden beneath your brown locks. It's like a little secret splash of color that only shows when your hair moves or when you style it in a certain way. It's super fun and low-key!
6. Blue Ombre on Brown Hair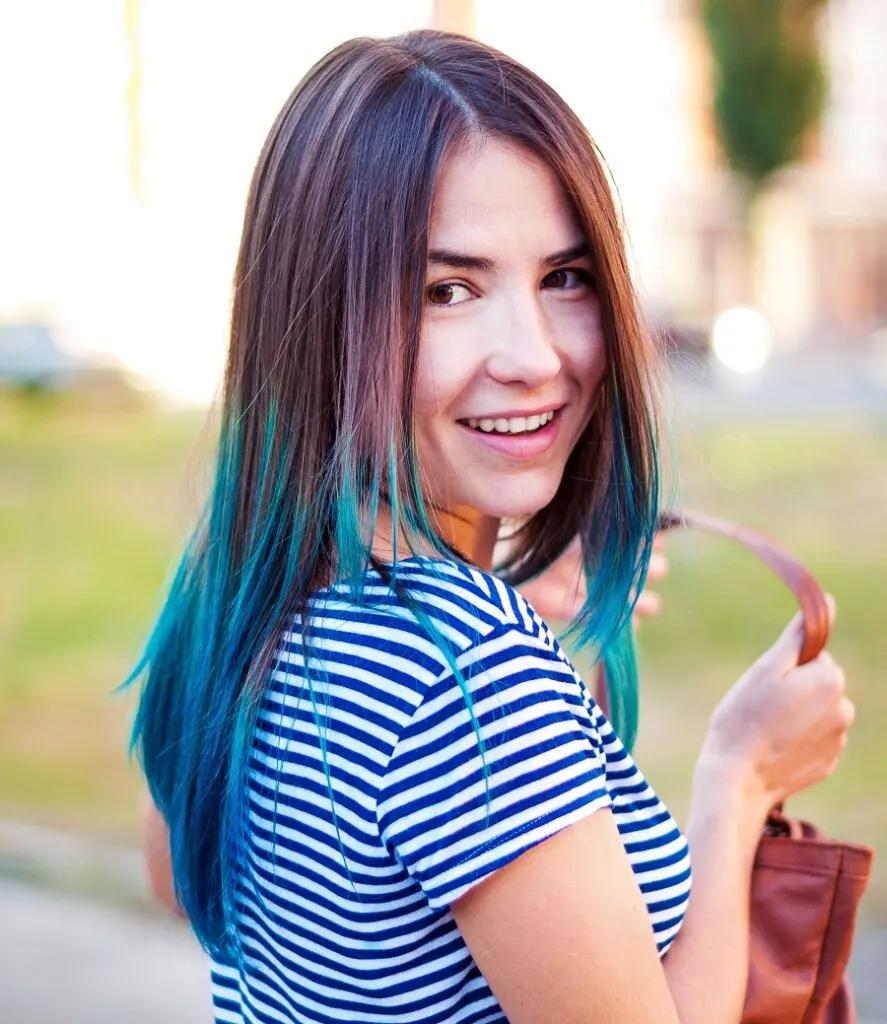 Ready for a more dramatic change? Try a turquoise blue ombre on your brown hair. It starts with your natural brown color at the roots, gradually blending into a beautiful shade of blue toward the ends. It's a bold look that's sure to make heads turn!
7. Electric Blue Money Piece Highlights
Want something a little more daring? Add some electric blue streaks to your brown hair for a look that's full of energy and sass. These bright, vivid highlights are perfect for those who love to make a statement with their hair.
8. Teal Blue Balayage on Brown Hair
For a more natural, sun-kissed look, consider a teal blue balayage on your brown hair. It's a softer, more blended approach to highlights that creates a beautiful, beachy effect that's perfect for the warmer months.
9. Blue Highlights with Brown Lowlights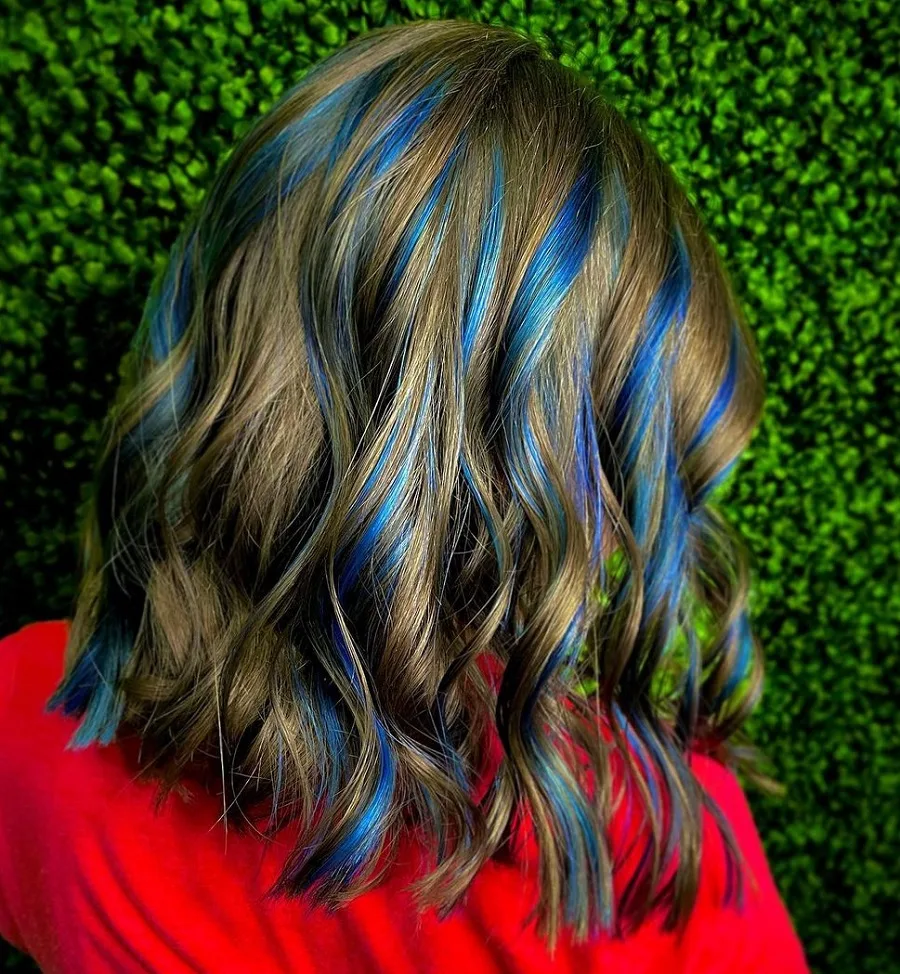 Another way to add depth and dimension to your brown hair is by combining blue highlights with brown lowlights. This creates a stunning contrast and makes your hair look full of life and movement.
10. Pastel Blue Highlights
If you're into softer, more delicate colors, pastel blue highlights on your brown hair might be just the thing for you. It's a subtle and romantic look that adds a touch of whimsy to your hair without being too loud or overpowering.
11. Subtle Highlights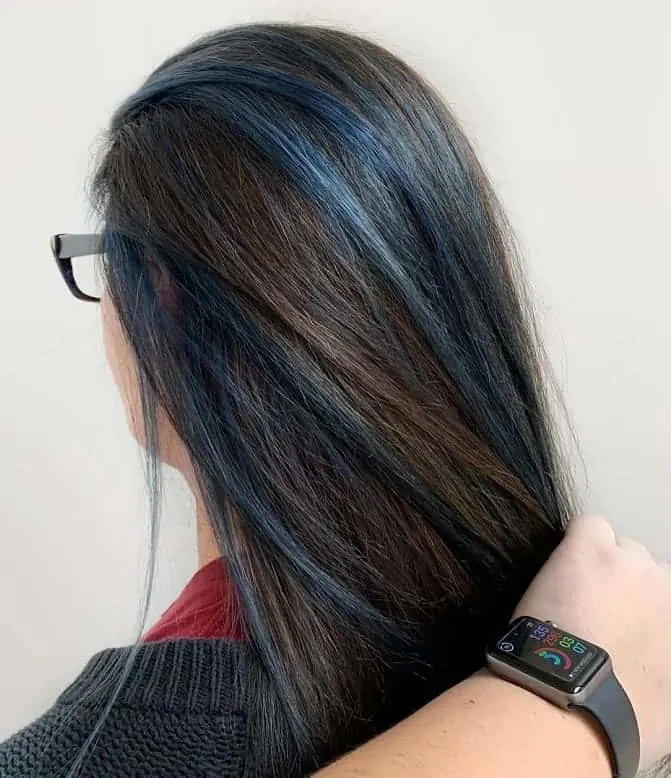 If you're a type of girl who wants blue highlights but still wants them to be subtle, this shade is ideal. Light or dark brown hair with blue highlights gets a whole new dimension. Get highlights in a way that accentuates your locks and wavy hair.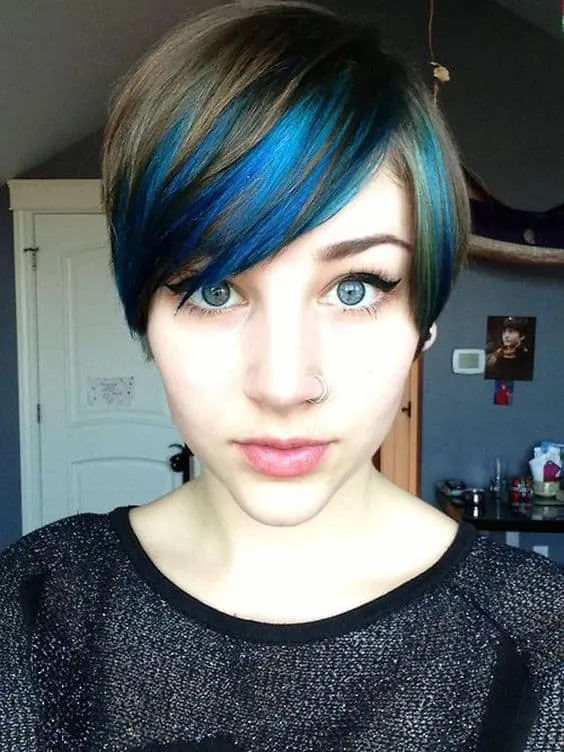 Pixie cuts are always cute, but you can make them edgier with striking blue highlights. When placed correctly, highlights will bring more definition to your hairstyle. As you can see, blue highlights look awesome in light brown hair too.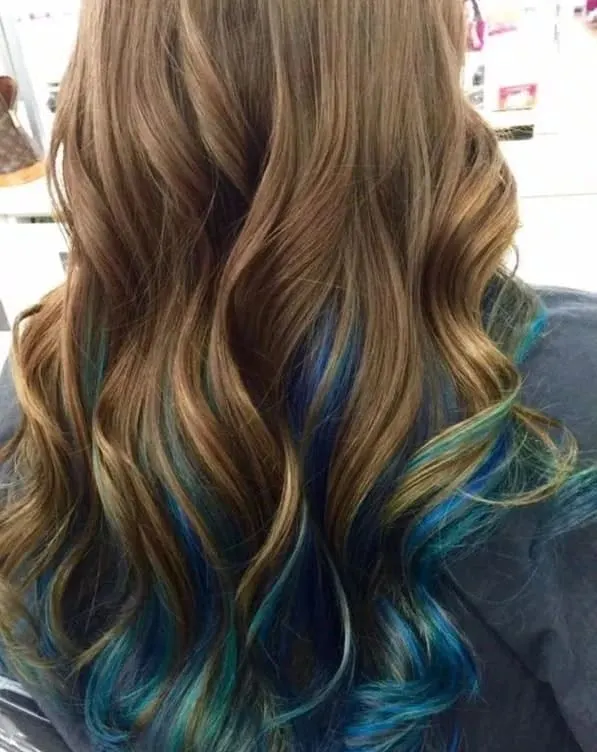 Not all highlights have to be distributed on the sides, or somewhere around the crown, bangs, you name it. Peekaboo blue highlights in brown hair are tucked neatly and emerge as you move for a sensual look. Aren't they lovely?
Pastel hues are trendy right now, and you can have them in your hair. Pastel blue highlights with brown hair are cute and edgy at the same time. They're particularly lovely in long hair where they bring both romance and energy to your look.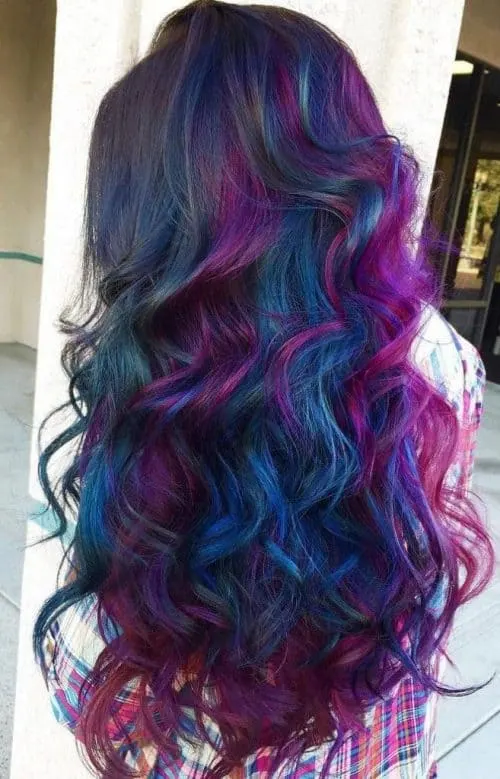 Combination of blue and purple is unique and kind of cosmic. It gives your hair a romantic and delicate vibe.
Purple and blue highlighted strands intertwined on your dark brown hair will make you stand out for sure. Plus, this is a great style for summer fun and festivals.
16. Wavy Hair and Blue Highlights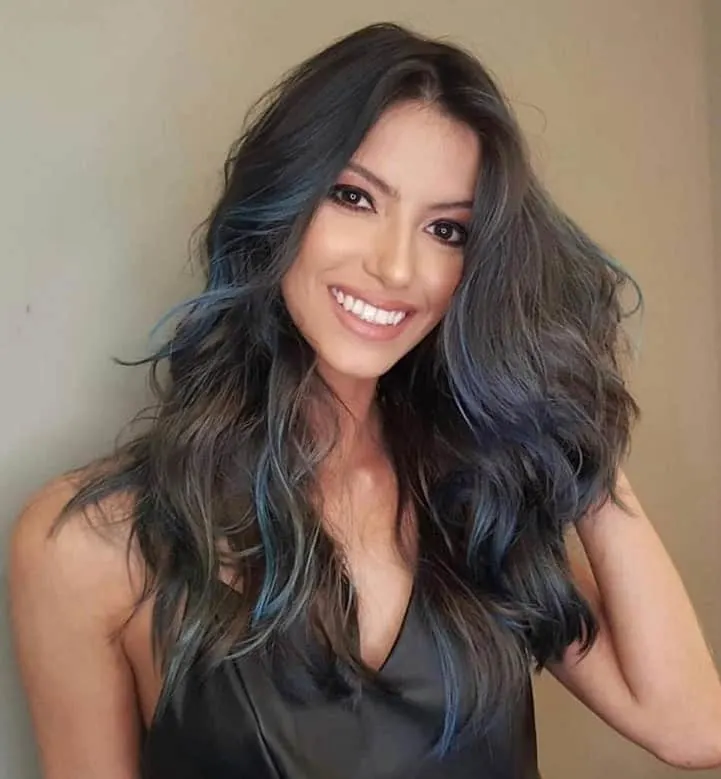 Highlights are not reserved for straight hair only. Women and girls with wavy hair can pull off this look too.
Your wavy bob and lob and even longer styles like the one in the photo below will look even more romantic and elegant with dark blue highlights or any other shade you choose. For an edgier look, you can opt for lighter shades and electric blue color.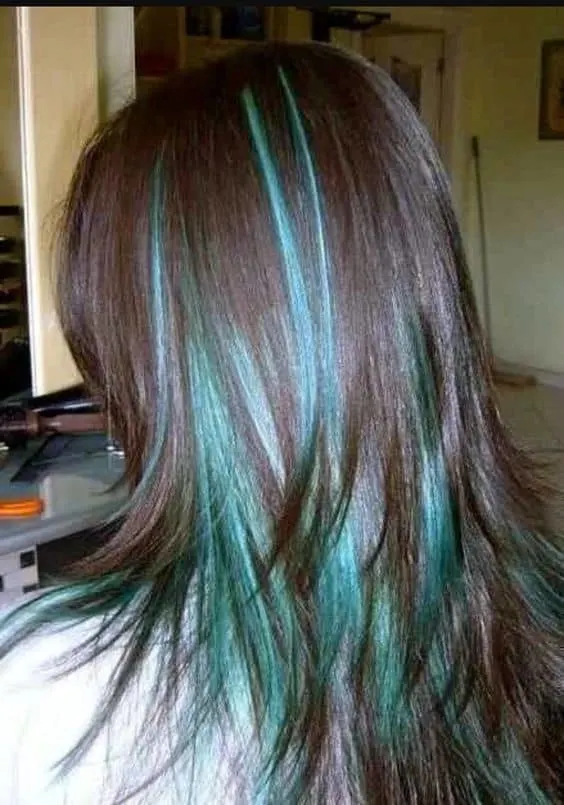 Teal highlights are a subtle take on the blue shade, and they work well with dark brown hair. But, they can work with light brown hair too.
Bring your light brown hair to attention with these teal blue highlights that add a bit of edge and playfulness to your look. Truly amazing, isn't it?
18. Dark Blue Highlights on Brown Lob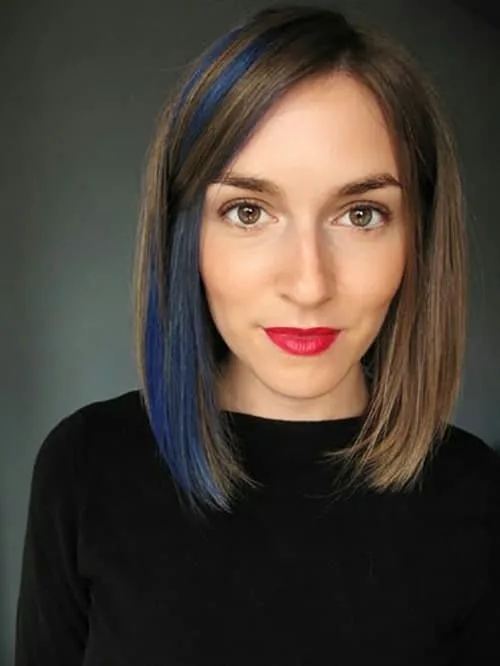 Brown hair with blue highlights doesn't have to involve dark base color and light strands only, although that's the most popular combination. You can go in the opposite direction by adding dark blue hair to a lighter base color. Cute look!
19. Medium Brown Hair with Blue Highlights
Get more energy to your medium brown hair with lovely blue highlights. What makes this style so cute is that you can rock it with ease and style for different types of events or occasions.
Bring more color to your brown hair by combining multiple colors for a truly wonderful highlight style. This is a somewhat edgy, yet cute, blue highlight in a brown hairstyle that you'll love to rock this summer.
Do something new with your hair this spring and summer. Blue highlights in brown hair are a huge trend, and you may want to jump on the bandwagon and try it out. We listed ten suggestions that show how lovely this style truly is.
FAQs on Brown Hairstyles with Blue Highlights
Blue or purple highlights which go with brown hair well?
Both purple and blue highlights look great on brown hair. Take some time to think about which color you'd prefer more and go for it.

Purple, just like blue, has various shades and hues and it's not that difficult to find an ideal one for your needs and preferences.
Which shade of blue is perfect for dark hair?
The good news is that every shade of blue is a good match with dark hair. Women and girls who prefer subtle looks may want to try darker, more demure shades.

On the flip side, adventurous girls who love to stand out will probably choose lighter, striking shades such as electric blue. Turquoise and teal can go both ways, and they can either stand out or just hint of the color, depending on your choice.
Related Topics