Teal hair colors are central to the mermaid trend, but the vivid, versatile shade is a beautiful pick all on its own. Find out which one you need, you're one step closer to uncovering the teal that's just for you.
Teal Hair Color Ideas
Do you love warm, tropical hues? Do bright shades make you happy and inspired? Then turn to teal hair colors when you're ready for a change.
Teal can lean more toward blue or it can have greener undertones. An adept stylist can expertly mix a unique, one-of-a-kind shade that's just for you.
From a deep, bejeweled teal to a pretty pastel, the options are endless—but here are a few hairstyles with teal hair color to get you started.
1. Classic Teal
Do you want a genuine teal hair color? Then go straight for a matte shade with little or no highlights or lowlights. True teal falls somewhere between dark and light, just like this hue.
2. Dark at the Edges
Ask the stylist to mix the smallest bit of black dye with your color. That, in addition to letting the dye set in a little longer, will result in a deep, rich shade like this one. It's like an underwater dream.
3. Sneaky Lowlights
Here's another shade of teal with darker dyes mixed into it. It looks more like navy or another dark blue hue combined with teal to create this rich, gleaming coif. The lowlights are subtle but that's what makes them pop.
4. Dip Dyed
Because teal hair colors are so rich and vivid, you might not want to go the whole hog. That's why dip dyeing is such a fab technique. Splash out with teal tips to enjoy all of the color without all of the commitment.
5. Glowing Gray
Who knew that teal and gray complemented each other so beautifully? The gray anchors the teal so that it's not quite as brash, while the teal brightens up the gray so it's not so dark or gloomy.
6. Jagged Edges
For starters, this bob is perfection. Jagged edges are edgy and on-point at the moment. Secondly, the deliberately harsh ombre adds to the overall aesthetic. This is an art house hairstyle, and it's to-die-for.
7. Bright Teal Locks
The great thing about teal hair color is that it's dynamic as an all-over shade, but it never appears dull. Some matte colors come out flat, creating the need for highlights and lowlights, but teal stands on its own.
Multicolored Hairstyles for Women
8. Blue Tips
Since teal is composed of various shades of blue and green, it complements a broad range of colors. That list naturally includes blue—even a shocking electric blue such as this one.
9. Black Roots
If you're looking for drama, here you go. The contrast between the dark roots and the rich, glass-bottle teal shade is jaw-dropping. They play off one another, which is just what you want your hair color combos to do.
10. Nearly Neon
You're spoiled for choice when considering teal hair colors. The shade is a versatile one that ranges from dark to pastel light. To stand out brighter than anyone, be bold and show up with neon locks that practically give off their own illumination.
11. Sky Blue
The teal blue pictured here is a true blue. Her hair is almost indistinguishable from the clear sky spread out behind her. Could you wear your hair this bright?
Pastel teal is cool but sweet. There's something refreshingly minty about the shade. It's like a heavenly blue, but you don't have to be an angel to pull it off, thank goodness.
13. Tropical Teal
Always experiment with a teal hair color that matches well with other colors. Even if you don't add another shade to your hair, you still want something that looks lovely with pink, purple, or blue hues. After all, you don't want your hair accessories and makeup palettes to clash with your pretty tresses.
14. Teal Sandwich
This is just about the neatest technique. It would work with any combination of hair colors. In this instance, there are hints of gray at the roots, followed by a bright swatch of teal in the middle and silvery tips.
15. Sweet Pastels
Gray and teal really do make a winning combination. A pastel variation on the mix comes out pale and pearly, almost ethereal. The soft shades practically give off their own aura.
Subtle streaks of blue peek through the teal hair color seen here. They add another layer of color, not to mention tons of dimension. The blue also deepens the teal, turning it richer and a bit darker.
17. Peek-a-Boo Lights
Do you consider yourself adventurous? Do you pride yourself on your edgy trendsetter ways? Then take a look at your new hair goals. Even if you don't mimic the style, ask for peek-a-boo streaks of teal through platinum blonde.
The midnight blue roots resemble the very depths of the ocean. The turquoise and teal tips look like the color of the waves that lap at the whitest, sandiest beaches. Doesn't this 'do make you think of summertime?
19. Vivid
Here's another dose of teal hair color accented by dark blue roots. Flashes of blue peek out at random spots that frame the face, making this an excellent way to draw attention to your favorite features as well as your bright, lovely locks.
20. Tie-Dye Teal
All right, how rock and roll is this? Her hair resembles a blue Rocket Pop. This follows an entirely different pattern than most gradient color patterns. Her tie-dye tresses are nearly white in the middle, creating a striking contrast with the teal tips.
21. All-Around Teal
It's hard to say what's better—the hair color or the hat. The combination does the trick, but you don't need the hat to make this hair your signature shade. You should definitely copy the red lip, though.
Women's Best Updos for Medium Length Hair
22. Underwater
This teal hair color leans more toward green. Often you can ask your stylist to add more blue or green, depending on which teal variation you love best.
23. Half and Half
If you really want to be a show-stopper, this is the way to do it. Platinum and teal, side by side—why pick just one?
Ultimate Short Hairstyles for Teenage Girls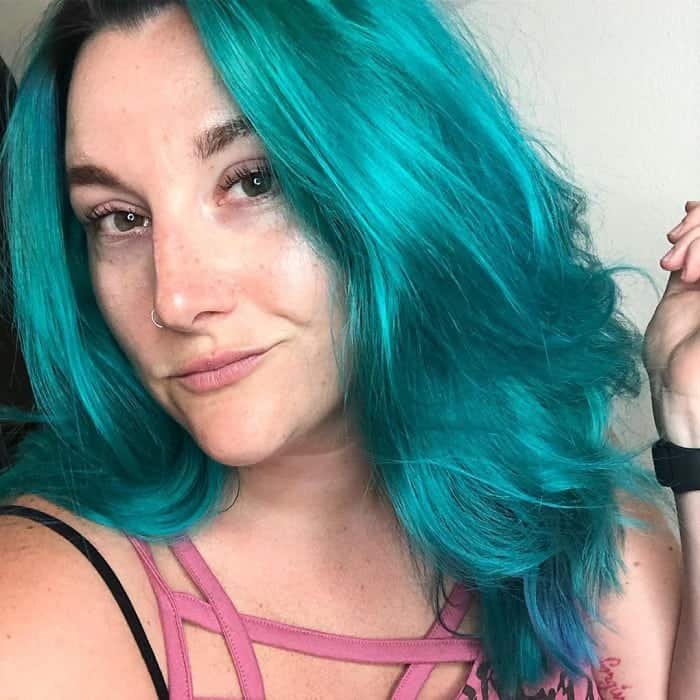 Because the hue runs such a wide spectrum, you'll have no problem finding a teal hair color that suits you. What's your pick—blue-bent, greener, combined with purple or pink?