Guess who the daredevil with a short and hot pixie cut with highlights is? Hairdos aren't mere styles; they make a statement about our personality. Pixie cuts do the job for women who are daring and adventurous. What's more dashing and bolder than a crisp pixie cut with quirky highlights?
How to Style Pixie with Highlights and Lowlights
If you want a 'transformation' look, pixie haircut with highlights and lowlights is a go-to option. As quirky and cool this look is, it's equally versatile and fun to style. You can have fun with the short and bouncy hair and experiment to have incredible results.
The best part is, the pixie cut looks great by itself; hence, any hairstyle will just elevate the style quotient. The highlights and lowlights are like the cherry on top.
Pixie Cuts with Highlights
Since there are innumerable ways to style the look; here we have compiled a list of our top 30 favorite pixie with highlights hairstyles for you.
1. Pixie with Pale Red Highlights
Go for a dark pixie cut with highlights if you crave a cool but low maintenance look. Perfectly define the edges and opt for a pale red color for the highlighted strand.
2. Blonde Messy Pixie
A pixie cut with blonde highlights will make you look feminine and chic, even if your hair is now considerably shorter. You can lift the top to give the coiffure height and use some setting spray to gain that unkempt look.
3. Pixie for Black Girls
A pixie cut with blonde highlights is perfect for black women who what that touch of glam. Keep the hair short on one side and toss the bangs on the other, revealing those blonde highlighted bangs.
4. Turquoise and Pink Pixie
Short pixie cuts with highlights are very popular at the movement, especially because you can turn your hair into whatever color you want. It doesn't take too much to regenerate, and once you are bored with the color, you can easily switch it without worrying you will damage those locks. .
5. Rebel Pixie
This pixie cut with red highlights and metallic purple shades features a short cut for the back and sides and a long top with bangs colored in different dark red, orange, and blue nuances. You will instantly be placed into the spotlight if you choose this amazing color combo.
6.
7.
8.
9.
10.
11.
12.
13.
14.
15.
16.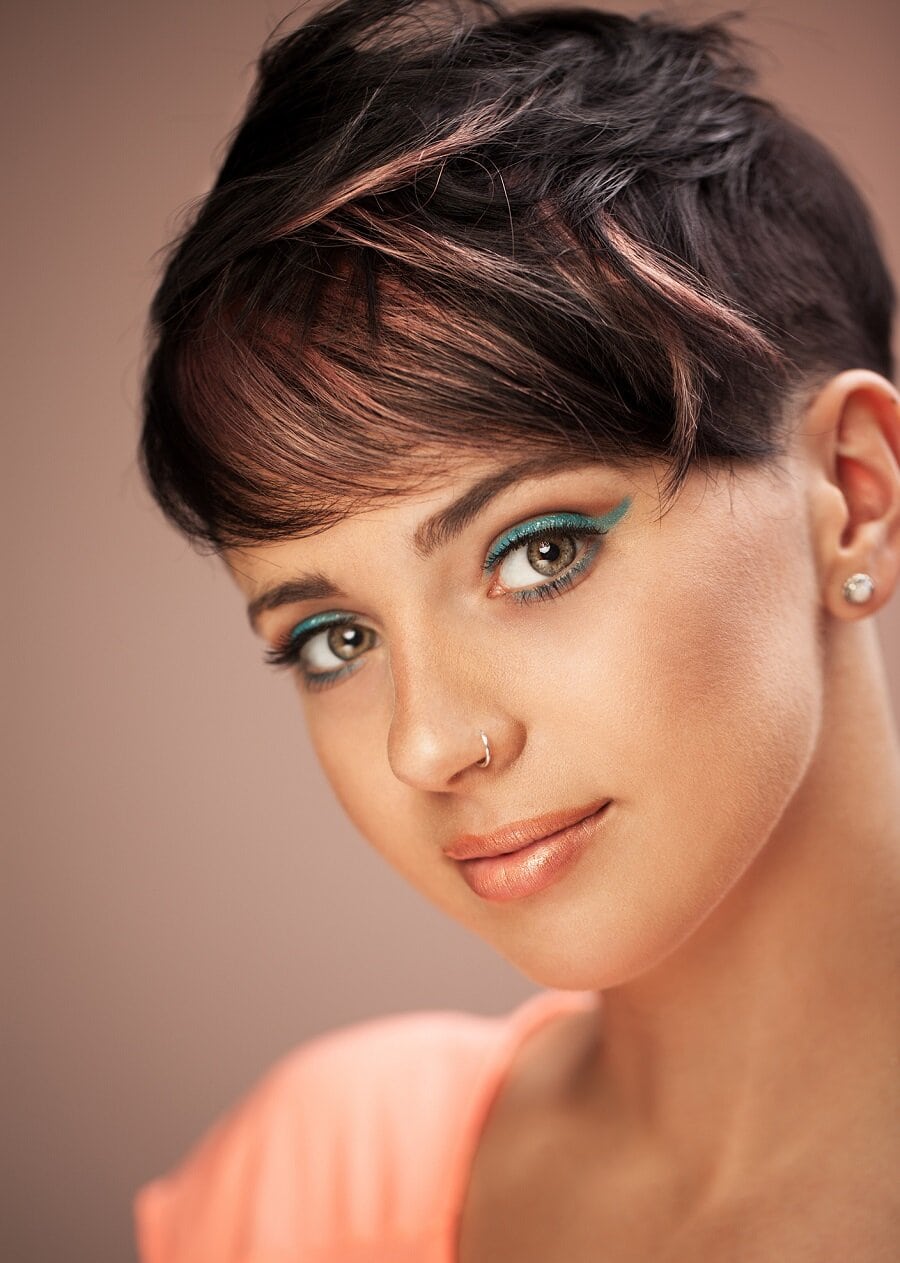 17.
18.
19.
20.
21.
22.
23.
24. Tamed Phoenix
Light brown with gold is the most common color of highlights that is chosen by the crowd. Pixie cut with golden highlights spices things up to another level.
This look makes you look edgy, as well as poised and modern. The cut is sharp, and the blonde highlights add the right proportions of cool and nonchalance.
5 Amazing Light Brown Balayage Hairstyles
25. Messy But Dressy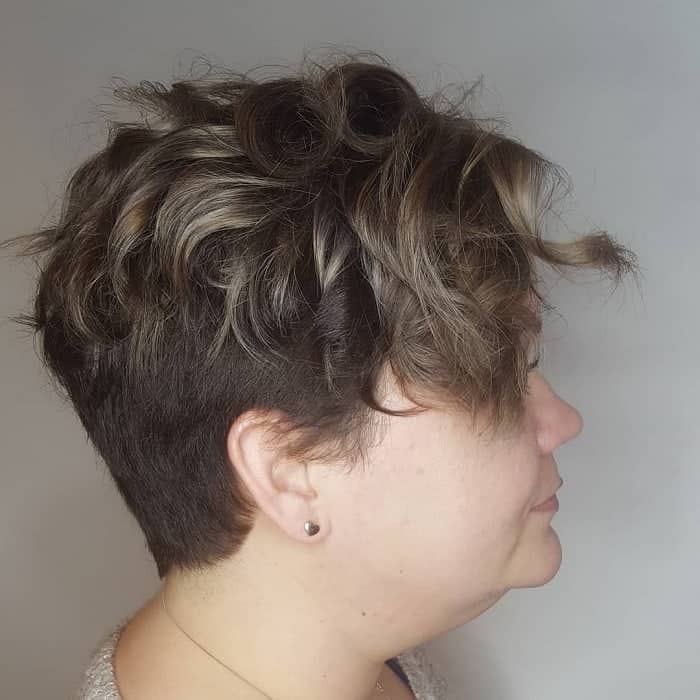 If you want a very laid-back pixie cut with highlights, this look is just the right one for you. A messy haircut is the new style statement. An asymmetrical pixie with lowlights in shades of brown encompasses the calm yet bold persona in you. You can dress up or dress down this look with accessories.
26. The Girl on Fire
If you live by the statement, 'I want to make heads turn'; this is the ultimate look. This is an edgy, daring and quirky pixie with highlights. When people think, getting a short pixie cut is daring enough; you could take a step forward.
Get bright and blazing highlights and stand out of the crowd. With some matching accessories and your cool vibe going on, heads are going to turn for sure!
Amongst the various shades of blue, aquamarine and turquoise speak a different language. The wackiest highlights on pixie cut would be heavy fringe bangs with bright blue highlights. It oozes of style and quirkiness.
With such an elegant hairstyle, you don't really have to worry about wearing fancy clothes or makeup. All eyes are going to be stuck at your top-notch hairstyle statement.
28. Smoke and Ash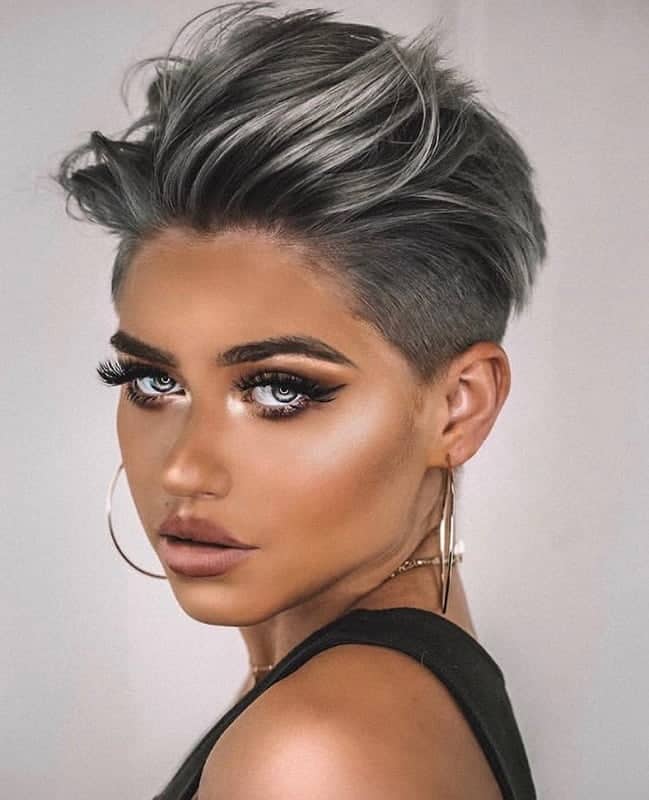 What is the hottest hairstyle in town? This look, hands down. Nothing syncs better than matching your eye color to your hair. With dreamy grey eyes, rich platinum and silver streaks will make everyone go 'wow!'. Now imagine, a hot pixie cut with highlights that has smoke and ash effect.
It's insane even to fathom how hot and daring it'd look. The look has an ultimate style quotient which looks incredible without any added efforts. Some black clothing, junky jewelry with the haircut; and you're certain to set the stage on fire!
29. Curly Pixie with Highlights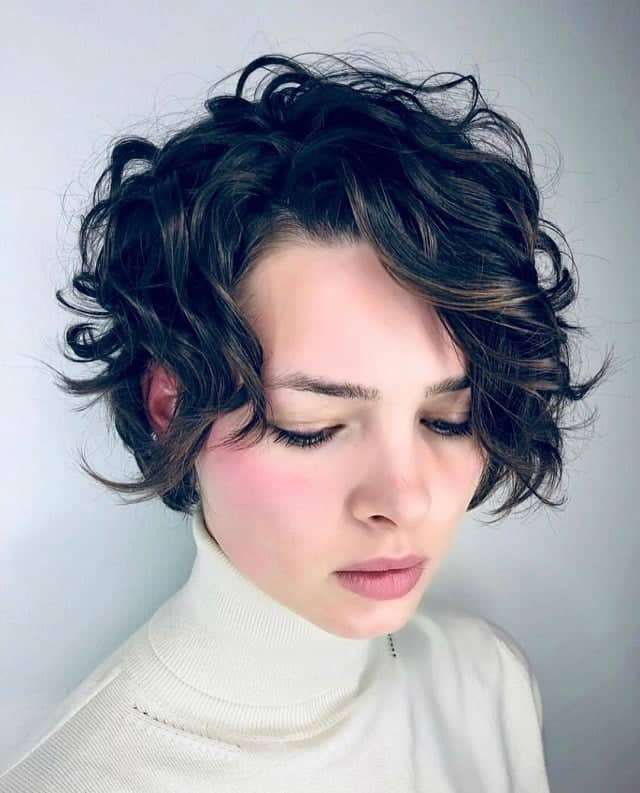 If you're reading this, you're the women in a dilemma about your pixie hairstyle with highlights. You want it short, but not too short. So, what's the safe length? A semi pixie cut, with wavy texture and brown hair highlights, is the perfect look for you.
It gives out a cute and innocent but dauntless and cool vibe. The best part about this look is that the length makes it easy to style the hair in multiple ways. You could make braids on bangs or let it loose, depending on your mood and occasion.
30. Elegant Highlighted Pixie Cut
Most of the lot, get a highlighted pixie because the length is easier to manage and the style is attractive. For a pleasant and chic demeanor, go for a clean pixie haircut with minimal platinum lowlights. With the right length and texture, you'll look polished and elegant.
Pixie cut with highlights is definitely a daring look to adopt, but it can be dressed up or dressed down. It's a misconception that only the rebels can pull off the look.
You can look intimidating with a loud and bold haircut or well-polished with a short crop and lowlights. You can be what you want to be! So, what are you waiting for? Pick a look, and make a statement.