The two block haircut first emerged in Korea and since then has emerged to become a huge trend especially for KPOP. Male hairstyles don't often tend to become a trend, but the this haircut has taken the hairstyle world by storm.
So, if you are one of those teenagers or youth confused with what your new hairstyle should be, go for the two-block cut.
What Exactly is The Two Block?
Speaking technically, the two block is just an improvement on the earlier popular undercut. The side and the back hair is cut very short or even shaved. On the other hand, the hair on the top is kept long.
Amazing Long Top Short Sides Hairstyles for Men
After that, you can adjust that hair and keep it in various ways to set up new hairstyles. Each one is a different version of the classic two block haircut. The maintenance is barely minimum, and it is also pleasing to the eyes.
Popular Two Block Haircuts
Here we present the top 23 versions of the two-block cut and leave you to choose from it.
1. The No-Style Hairdo
Some people consider the two block as itself a style. Then, why style a hairstyle further? They advise us to keep it as it is and honestly speaking it doesn't really look out of place provided you don't keep the top really long and wavy.
For short or medium-sized straight hair on the crown, you can just keep it as it is, and your hairstyle will be sorted perfectly. A casual demeanor nonetheless which can be modified to look better. But when in a hurry this one is the one to choose.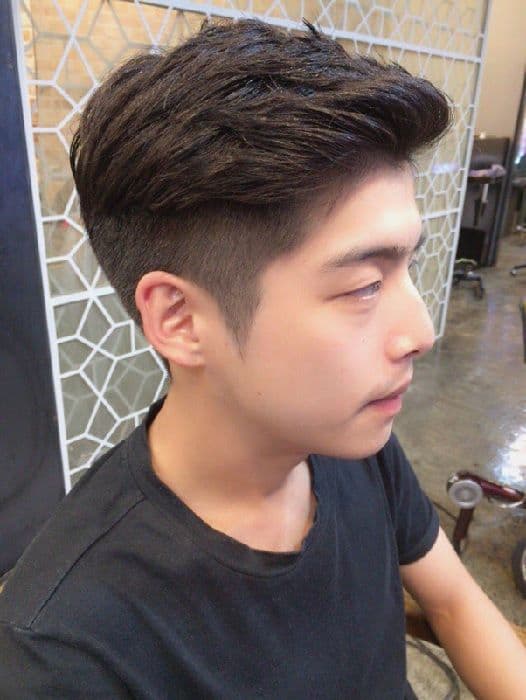 The disconnected undercut is unique, to say the least. Not many people will have the guts to try these out, but they do add a certain sense of artistry to your hair. Your crown hair will be pulled up from the sides and an undercut will separate them altogether.
Highly recommended two block haircut for ones looking to stand out from the crowd.
3. Slicked Back
Short two block styles can be modified by slicking it back and giving it a clean gentleman look. This one is perfect for formal working environments where the rules are present but not too strict. Wearing it down can also be an option which can provide you casual look while wearing it up will save up your look.
4. Two Block with A Side Part
The side part is the most basic one of them all where the top crown is parted sideways and separated from the short sides. This hairdo is for anyone to carry anywhere. There is no going wrong with this one unless your face is really tiny.
5. Keeping it long
This two block style is a tricky one considering its high chance of going terribly wrong. The long crown on the top has to be managed properly so that it doesn't get messed up. Altogether, it is a nice one for those who love to keep their hair a bit long.
Popular Long Hairstyles for Asian Men
6. Curly Two Block
This curly two block haircut highlights those glorious ringlets. The undercut and the curly top create great contrast, while those bangs cover the forehead.
7. Red Asian Two Block
An Asian two-block haircut can put you in the spotlight, especially if you choose an eye-popping color such as a bright, vibrant red. To maintain this shade, you need to use a special shampoo for dyed hair because you don't want to look washed out.
8. Two Block with Glasses
White guys will fall in love with a two block haircut because it's a low maintenance hairstyle that you can style on one side or with a middle part. It gorgeously works with glasses and even beards and mustaches, depending on the look you want to pull off.
9. Layered Two Block
If you are a teenager, you will certainly love a messy two block hairstyle. It's youthful, perfect for school, can be arranged to transform you into a gentleman, but it's also suitable for more casual moments.
10. Two Block with Highlights
A two block haircut with long fringe is stylish and can get a touch of glam if you also get some highlights. Use a straightening iron to get that flawless touch and arrange the bangs on one side and also on the forehead.
11. Caesar's Cut
Cesar's cut inspires this two block haircut with an undercut. It features straight bangs, an undercut, and it can be paired with a thick full beard that is well defined.
12. Brown Messy Hairdo
When you have straight hair, a two-block cut can boost your sex appeal. Girls love a careless, messy look and this hairstyle will deliver just the appearance you need.
13. Two Block With Temple Fade
A temple fade will highlight that two-block haircut with waves and a messy touch. Get a clean-shaved beard, and you can also beautifully shape your eyebrows to get a fresh look.
14. Two Block For Thick Hair
Thick hair looks marvelous if styled in a two block haircut. You can create layers or get a straight cut that is sharp and can become a statement. If you also have a thick beard, use it to show off your masculinity.
15. Feathered Two Block
Two block haircuts make such a fine job for men with round faces. Get a feathered cut with layers and one-sided bangs that will make that roundness fade.
16. Korean Haircut
Korean BTS phenomenon band brought back to our attention the two block haircut. They transformed it into a versatile look that can be curled, waved, and even dyed in multiple colors, or simply kept in a natural state.
17. Hipster Haircut
A short two block haircut can be transformed into a hipster look. Define those edges and get a bald undercut. If you are a hipster, a clean face with a thick mustache will certainly complete your look.
18. Blonde Ombre Hairstyle
A layered 2 block haircut with a stunning blonde ombre can give your cut a touch of glam. Maintain the undercut in a dark shade and only dye the longer top.
19. Messy Thow Block Haircut with Highlights
Guys will adore this two block haircut with highlights because it's messy, rebellious, and great for young guys who want to stand out and express their personalities. Choose blonde and other colorful nuances as hair dye.
20. Pale Pink Haircut
Two block haircuts with a middle part will reveal your forehead, making this hairstyle a great opportunity to play with all sorts of shades. You can opt for a pale pink color that is very trendy at the moment, obtaining a beautiful modern look.
21. Messy Two Block Hairstyle
Wave your two block haircut to get a messy youthful hairstyle. Adventure on this journey and you will feel modern and will totally switch things in the sex appeal department.
22. Asymmetrical Haircut
This asymmetrical haircut features long bangs that cover the eyebrows while the temple side is shorter than the bangs creating a stunning disconnection. Make sure you layer your hair while the tips are cut in a straight line.
23. Sleek Blonde Two Block Cut
When you have fair skin with freckles, a blonde hair color with orange shades will totally complement that skin tone. Use hair gel to make it look sleek and style curtain bangs if you want an eccentric look.
Although the two block haircut is the most trending haircut at the moment, it can go wrong if you do not consider the above aspects. Go for the two-block cut and join the trend.