Asian men with short hair are a huge trend this year, and we can thank K-pop music and the fashion & movie industry for that. Nowadays a lot of Americans are slowly transitioning into simple Asian cuts because they are easy to achieve, and let's not forget how low-maintenance they actually are. If you want to have the ultimate hairdo this year, here we will present you 12 different short hairstyle ideas for Asian men!
How to Style Short Hair for Asian Guys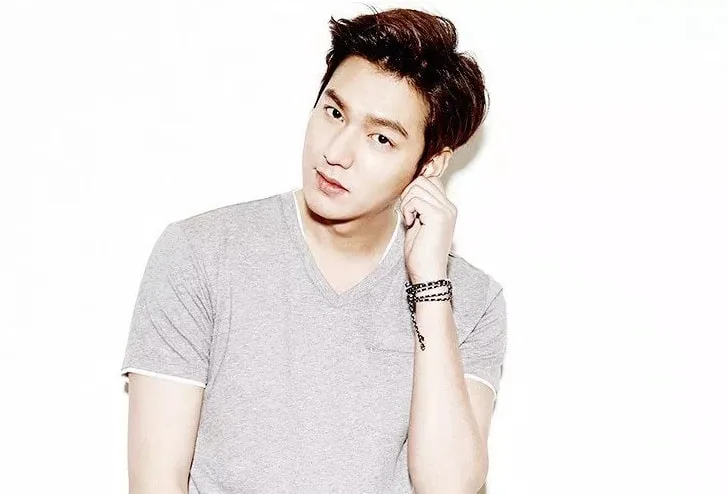 Choosing a perfect haircut for Asian boys or guys is hectic with the variety of options rightly so, so is styling. Your hair is already probably cut to the right length, but is it voluminous or thin? Well, if it is super thin use a texturizing spray, as well as some growth-boosting shampoos. If it is voluminous, simply blow dry it and use some defrizzing products to tame down the curls. Part your hair and create the perfect section.
Most Asian men love short hairstyles which are parted in the middle since they look business-friendly and casual. Use a wide tooth comb and part your hair. Use a bit of your hair gel to set the hair in place. Work it from the roots to your ends, and rub the product in. Let it air dry before you leave the house.
Hair Care Tips for Asian Men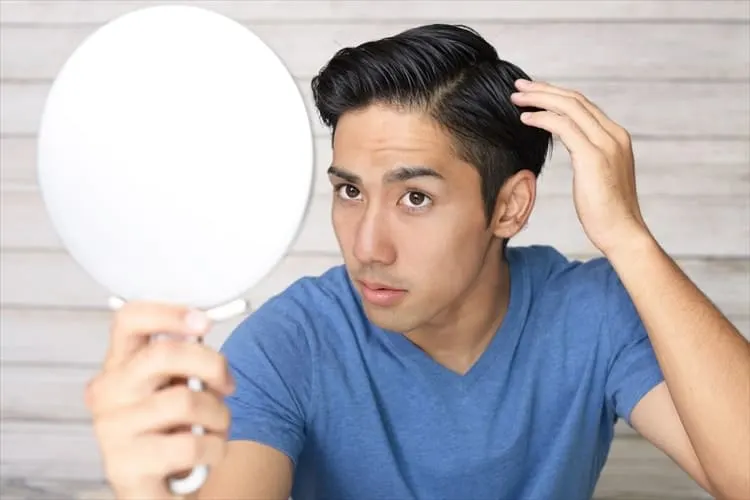 Always use hair products which are free of parabens and sulfates. These are great for any hair types. Use smaller combs when brushing your hair, as well as when parting it. It will easily gather all little strands and push them to your wanted direction.
Don't bleach your hair since Asian hair color & texture is really strong, and so are your natural pigments. Asian men with long hair who transition to bleached or even blonde hair usually mess up their texture and they have a hard time trying to grow it back to normal.
Coolest Short Asian Hairstyles for Men
Following are the trendy and low maintenance short hair look for Asian men to copy this summer.
1. Short Hair with Wavy Top
If you naturally have short wavy hair and a voluminous top, why not accentuate the bangs? This Asian men's short hairstyle is appropriate for the office, but it can also look great on those who are still partying, and who love that casual vibe.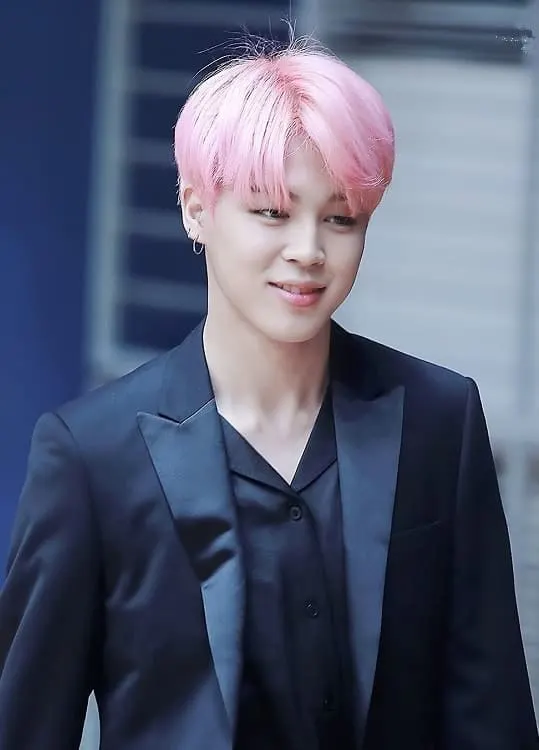 If you love your facial features and you want to emphasize them you can get this cut. It is super chill, voluminous on the top, and it looks really natural and playful. However, make sure you have well-shaped facial hair when getting this short hairstyle since it rounds up the entire look.
3. Textured Front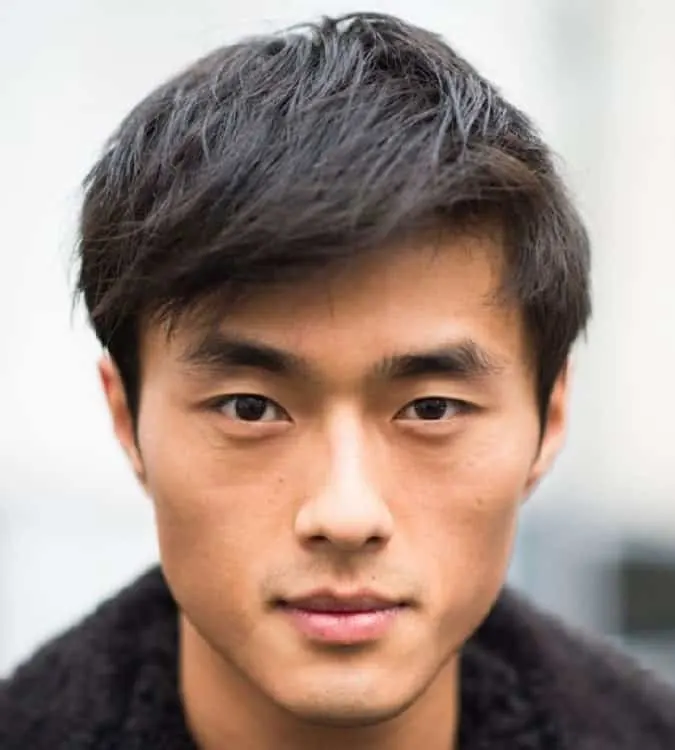 If you need a haircut which can suit your office wear this is a great choice! It is short and defined on the sides while looking a bit messy and reckless at the top. Also, all you have to do is comb it through each morning and you'll be good to go with this short Asian hairstyle for men.
4. Short Thick Hair with Fade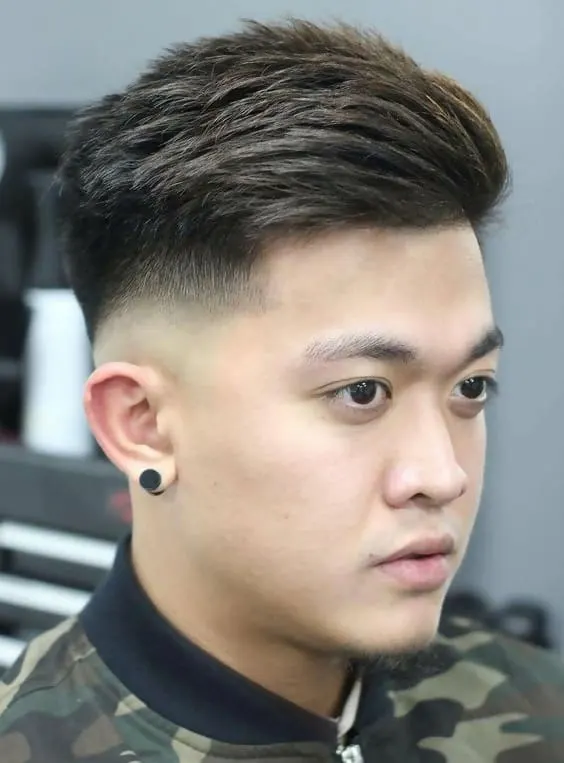 This defined & sharp fade for Asian guys on the side with short hair looks very stylish, and not everyone can pull off this look. If you already have the voluminous upper part you can get a side cut. Guys who have naturally thicker hair will look the best with this shorter cut.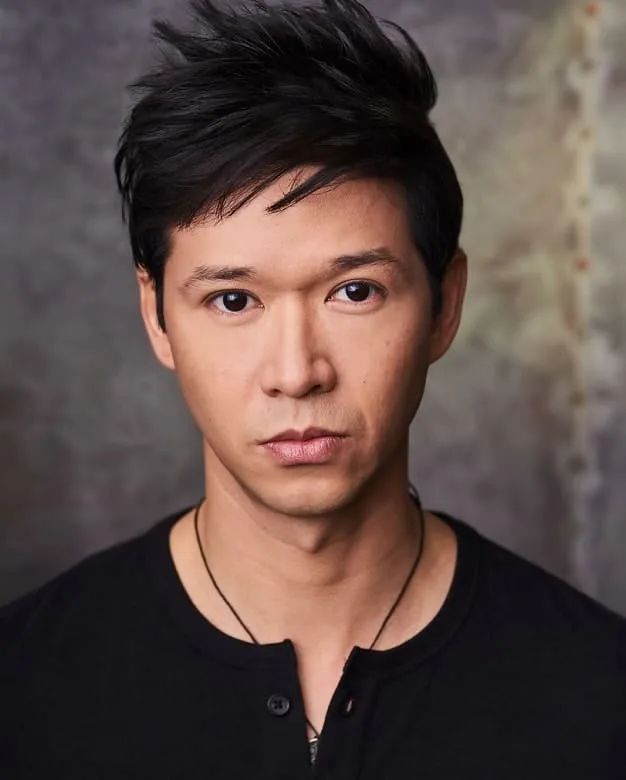 A lot of spikes on top look messy & stylish at the same time. If you are someone who prefers short sides but a lot of volume at the top, this short Asian men's haircut will look good on you. Also, it can look good at any given point since it is a messier kind.
6. Comb Over Bangs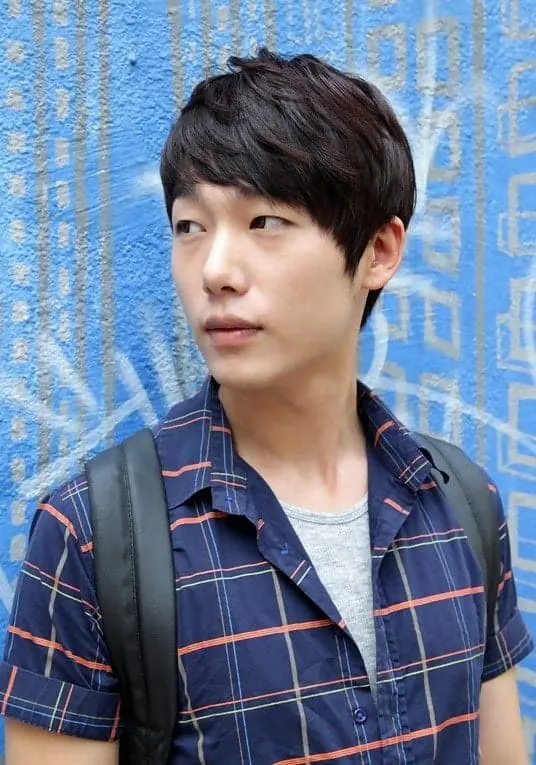 This is a trendy short hairstyle for Asian men to follow! Men's fringe on the side will create an illusion of a smaller forehead, while definitely accentuating the beauty of your eyes. However, make sure your hair is already voluminous and thick, since guys with super thin & bristle hair won't be able to pull off this look.
7. Short Asian Hairstyle with Spikey Top
If you are in your 20s and you are thinking of going big or going home: get a side cut with a spikey top. This Asian haircut for short haired guys screams boldness, uniqueness, and is definitely attention-seeking. Also, if you have a piercing and you want to embrace your 'bad boy' style, this hair is for you!
Comb over haircuts for Asian male with short hair can look classy, and are suitable for any age group. This haircut doesn't take too much time to achieve since all you have to do is use a bit of your favorite hair gel and push it directly through the middle of your hairline.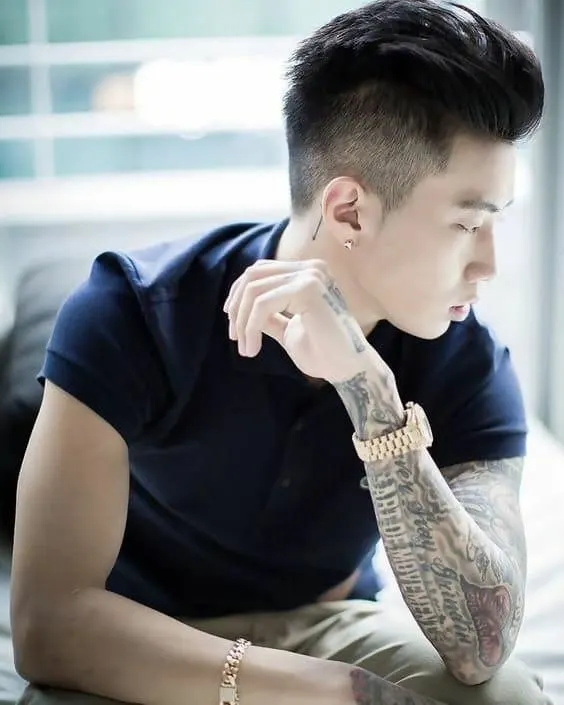 Asian guys who love shaved sides can also pair them along with a heavy looking pompadour. Make sure you trust your hairdresser if you are going to commit to this short hairstyle. Also, know that it is quick & easy to do: just brush it through each morning and emphasize the upper texture with a little bit of your trusted hairspray. It will leave you with a stronghold, and it won't move around.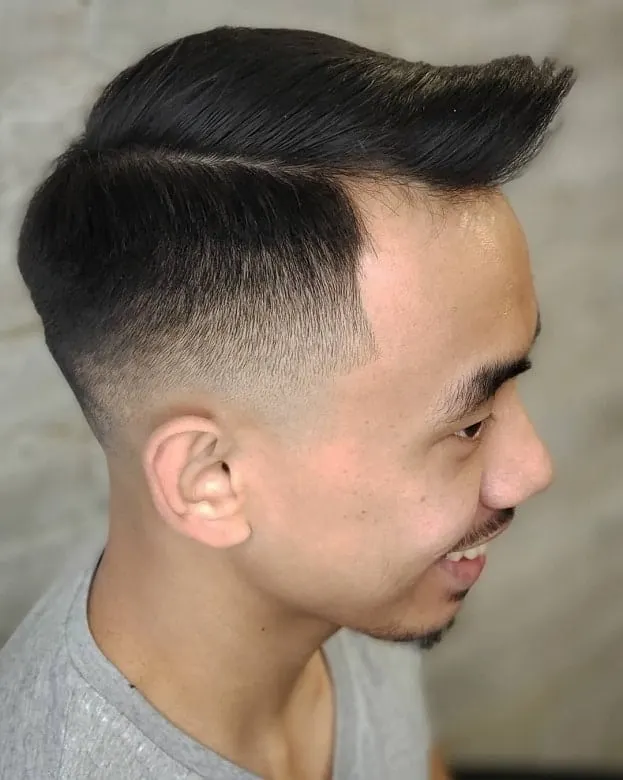 If you have naturally thin & brittle hair, this is the best short Asian hairstyle which can cover it up. It is very thin but precisely done that no one will be able to spot that something's off. Also, it can be worn by men who are in their late 40s since it is still appropriate for their age group as well.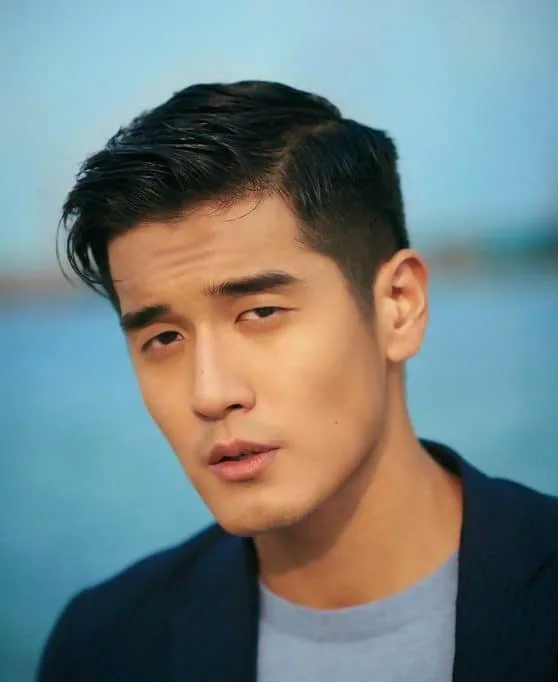 Side part comb over is the best look for Asian men with short hair. It looks classy and like you've invested a lot of time into creating this hairdo. However, the reality is that all you did was apply a bit of your gel through the middle portion, and have pushed the bangs on one side with a wide tooth comb. If you want to look well-put while investing only one minute a day, why not get this look?
12. Textured Hair with Wavy Bangs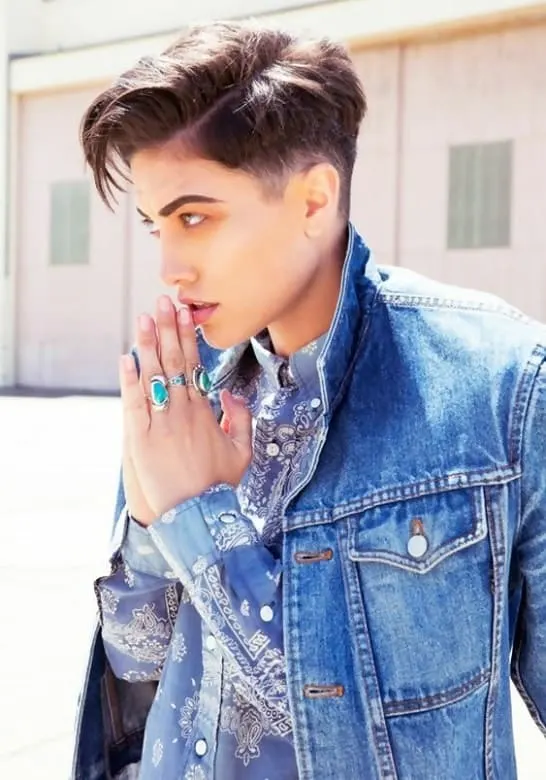 Lastly, for guys who are still at college, there is this short Asian hairstyle for men which may look the best on you. It is short on the sides and it has long bangs which look very fashion-forward. Also, once paired up with some jewelry, this look can't go unrecognizable. Check out these Asian beard styles to match up with this hairstyle.
If you are in love with Asian men short hair look and you are in the mood for some dark colored and easy to maintain styles, why not get this cut? We have 12 irresistible options which will mostly suit guys who are in their 20s-40s. These cuts are chic, fashionable, and they won't take too much of your styling time.