If you are a Black man seeking a stylish haircut to tame unruly hair, the buzz cut might be your secret weapon against those wild morning hair moments.
The super-short buzz cut hairstyles come in many cool varieties that look good on both curly and straight hair. Plus, it's so easy to manage, you don't have to worry about it getting messy or bad hair days!
Perhaps this is the reason so many famous African Americans, including actors and athletes, prefer the buzz cut.
If you are convinced to get a buzz cut for yourself, here are 15 perfect buzz cut hairstyles for black guys. Let's take a peek!
Buzz Cut Hairstyles For Black Men
1. Typical Buzz Cut and Stubble with Oval Glasses
You don't think you're the type who must follow all the latest trends and fashion patterns? This typical buzz cut is for you. It's short and looks neat without any lines, fade, or taper.
A stubble beard goes hand in hand with this haircut. Glasses with a thin metal rim can add some more subtlety to this look without being too much.
2. Butch Cut
What makes a butch cut so special is that it even works for people whose hairline has started to recede. For a cleaner look, you may choose a light stubble goatee.
The goatee is so light that you might look like a clean-shaven man from a few meters away. This style is mostly suitable for teen African-American men.
3. Bald Fade Haircut with Goatee and Mustache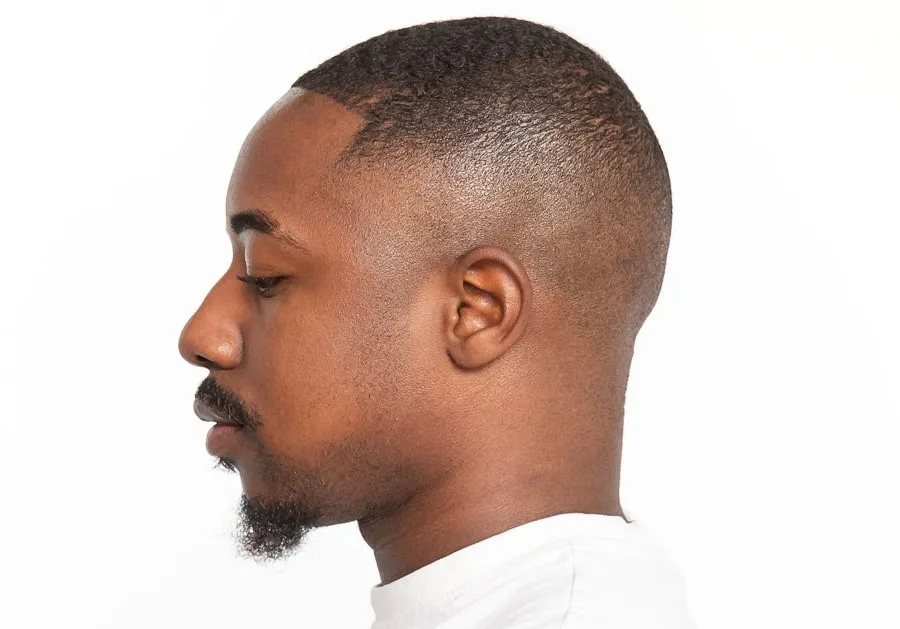 We're now in the zone where things get a bit stylish, and this bald-fade buzz cut for black men is a great example of it.
It's not just the sides but also the back of the head that's almost bald faded as a part of this style. The front is squared, and to add more oomph to the style, you can go for a small goatee and beard.
4. Buzzed Mohawk with Short Beard
Make a statement with this style that's not only bold but also eye-catching. It's a buzzed mohawk that looks like a mat on the head with both sides and the back shaved as close to the skin as possible.
The beard is short, but more than stubble and proves to be a pleasant contrast to the haircut. Get more buzz cut with beard ideas here.
5. Short Grey Hair
You don't always have to grow a big beard on your face to show the world because this short gray haircut proves less is more.
The short and almost completely gray hair looks great with a clean-shaven face. This no-bearded look will definitely make you look younger.
6. Geometric Buzz Cut with Sculpted Beard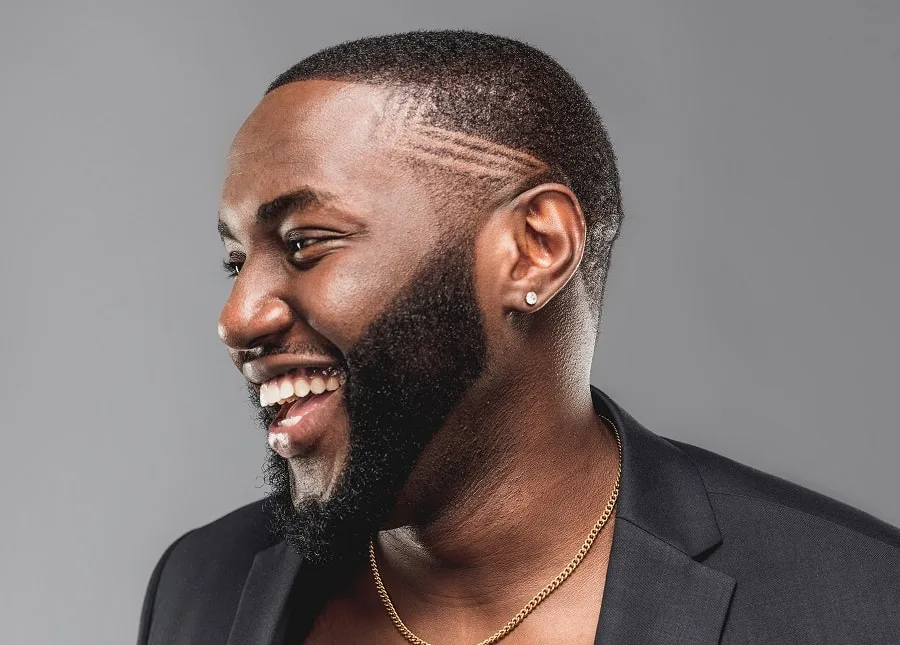 This buzz cut is a great pick for black men who want their personalities to be known as soon as someone looks at them.
The short hair might not be very unique, but those geometric lines are sure to catch some glances. The sculpted beard with tapered sides and clean cuts makes it look stellar.
7. Wavy Skin Fade Haircut with Pencil Mustache and Chin Strip
The skin fade is quite low here and almost looks like a tapered haircut. What sets this short haircut apart are the waves, which are as unique as they are subtle.
The pencil mustache is a go-to style for many black men these days. Keep a strip on the chin starting from the soul patch and shave the rest of the beard.
8. Burr Cut with Egyptian Goatee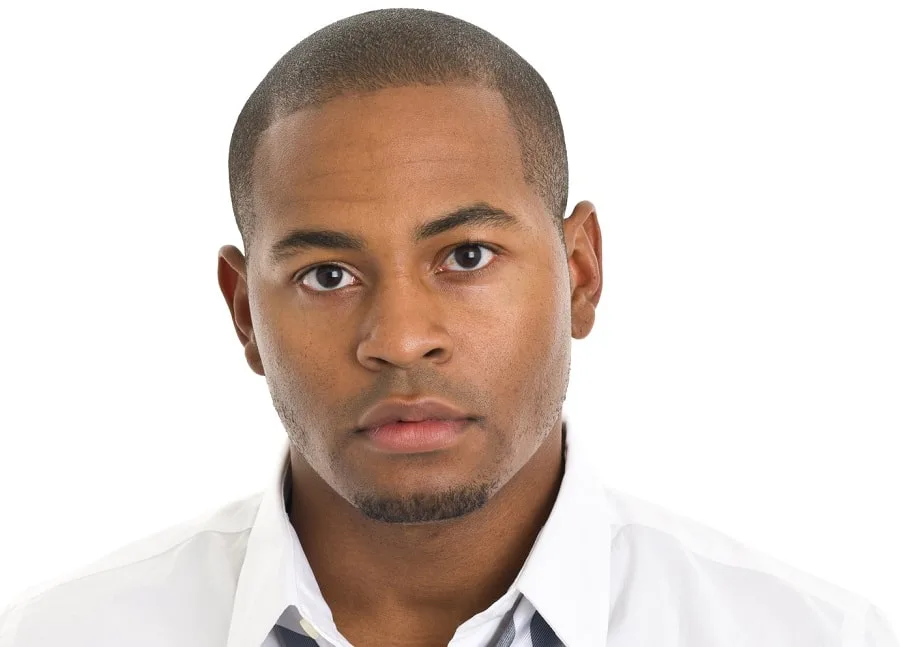 If you notice, this particular look suits professionals, businessmen, and executives. You can achieve the burr cut by cutting your hair short and keeping the length consistent throughout.
For a minimalistic yet fresh look, you can grow a stubble Egyptian goatee.
9. Hard Part Short Hair with Chin Curtain
Bring classic and modern styles together with this buzz cut for black men. The hair is overall short and consistent in length but with a twist at the hard part.
The chin curtain really sets this look apart and while it starts short at the sideburns, it does gain some growth on the chin. The mustache is so thin, you might not have noticed it.
10. Military Haircut with Short-boxed Beard
It's a contrasty design that brings attention to the lower part of your face. The military cut is short with a high fade on the sides and back.
The short-boxed beard looks thicker than it is because of the very short hair. You can say this style is perfect for black men who are in the rectangular face shape category.
11. Typical Crew Cut with Curly Chin Curtain
If you want to see what a crew cut looks like on a black man, this is it. The hair is longer on the front and crown but shorter on the sides. It might make your forehead seem a bit bigger, but cancel that out with a chin curtain.
The bushy and curly chin curtain makes the face look smaller and snatches attention away from the forehead.
12. Blonde Buzz Cut with Ear Studs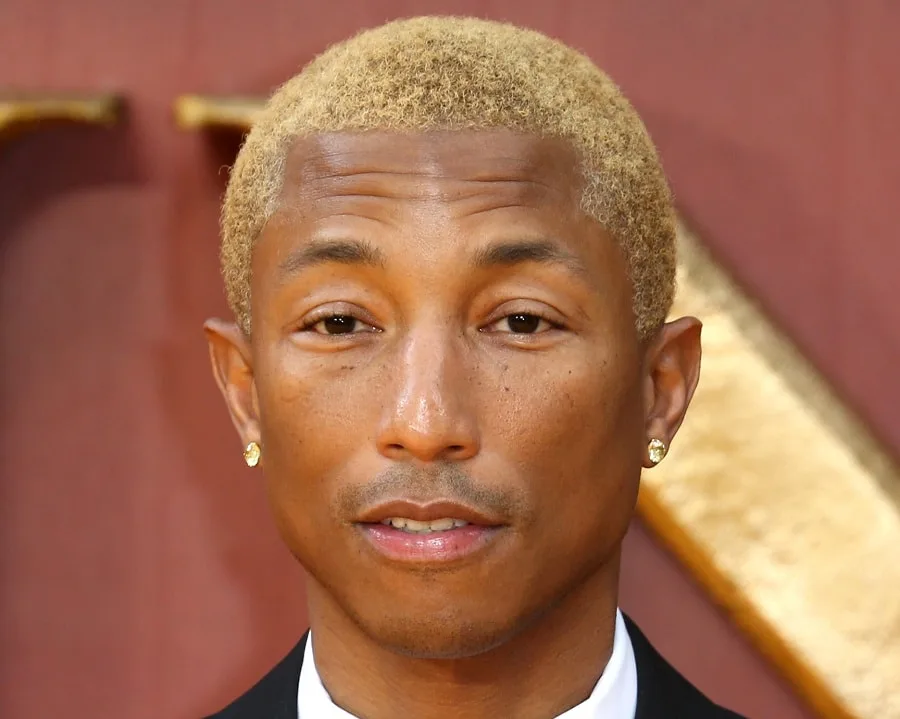 It wouldn't be wrong to call this buzz cut for black men a celebrity look. The hair isn't naturally blonde, but that effect has been achieved with dyes.
The color makes the hair pop and a clean-shaven face lets the gaze nailed to your head. Golden sparkly studs seal this look.
13. Low Fade Buzz Cut with Garibaldi Beard
If you have a long curly beard, a great way to complement it is to keep the haircut subtle. This buzzed haircut has a low-fade effect, which is almost unnoticeable.
The real star of the show is the beautifully trimmed, well-kept, and perfectly-trimmed Garibaldi beard that has a well-defined shape.
14. Celebrity Buzz Cut with French Beard
Let Jamie Foxx inspire you to have a haircut that shines. This one has a cleanly squared front with mid-fade sides, making the haircut look almost like a flat top, which it isn't.
The curved line on the front is to make the haircut memorable. With a French beard to go with this haircut, you're ready to walk on the red carpet.
15. Buzzed Bowl Cut
The last on the list of buzz cuts for black men is a buzzed bowl cut. The sides are shaved as close to the skin as you can imagine with a heavier top.
This look is quite suitable for people working as executives in any profession, mainly because of the 5 o'clock shadow that makes the overall visual quite professional.
These 15 buzz-cut styles are perfect for black men working in various fields, from sales managers to celebrities.
You can notice that some of these styles are quite regular and don't require a lot of maintenance, but others will need you to keep a clipper ready every other day. So, make your pick accordingly.