Country music and beards – it's almost like you can't have one without the other. If you think back, you'll realize that most notable country singers sport some type of facial hair.
It's like their beard is a silent partner to their musical talent. It's a sign of ruggedness and authenticity in the genre. That's why countless country artists grow out their hair and beards.
These bearded celebrities express their personal style through their facial hair. Besides that, it's a visual representation of country music's values and traditions.
We've picked out bearded country singers who are taking over the stage and showing everyone how it's done, both with their songs and their style.
Famous Country Artists With Beard
There are hundreds of country singers with beards. Some of them sport long facial hair while others prefer more subtle accents. Here are some of the most notable country artists with beards.
1. Blake Shelton – Stubble Beard
There aren't many country singers who've had careers as successful as Blake Shelton's. Back in 2001, he released an album titled "Austin".
That record would go on to become Platinum-certified. This blasted Blake into superstardom.
Within a few years, everyone in the country music industry knew who he was. After that, the singer managed to chart 40 singles, including 28 number-one hits.
Aside from that, Shelton has won several awards for his contribution to country music. Yet, his popularity would still skyrocket even further when he joined the Voice.
The singing reality competition introduced Blake to a whole new audience. Plus, the fact that he won nine of 22 seasons didn't hurt his career.
People fell in love with Shelton's salt-and-pepper stubble beard as soon as they saw him on their screens as he was always known for his clean face.
2. Chris Stapleton – Lumberjack Beard
Most of us are familiar with Chris Stapleton's work. He's a singer-songwriter who's written music for major players like Luke Bryan.
After the release of his debut album, "Traveler", he exploded onto the country music scene. Stapleton would later go on to win five Grammy Awards for this record.
This made him instantly recognizable. Even though Stapleton has an amazing voice, there's one feature that helps him stand out.
The country singer has a bushy lumberjack beard. The singer lets his beard and hair grow wild. Because of that, the long beard covers his entire neck and his highlighted blonde hair reaches to his chest.
3. Willie Nelson – Gray Beard
There are few country singers who are more famous than Willie Nelson. The Red-Headed Stranger has been in the industry for decades.
He's given us all sorts of hits throughout the years. These include:
On the Road Again
Always on My Mind
Seven Spanish Angels
Angel Flying Too Close to the Ground
Mammas Don't Let Your Babies Grow Up to Be Cowboys
Over the years, people have come to know Nelson for his distinct voice and unique music style. He can seamlessly blend elements of country with blues and jazz.
When Nelson hit the music scene back in 1962, he sported a clean-shaven look. Yet, a few years later, he'd grow out a full beard.
Willie is now in his 90s and his beard has turned gray but he still rocks it in style. The cowboy hat and long hairstyle go well with the full beard.
4. Sam Hunt – Heavy Stubble
Sam Hunt released his debut album, Montevallo, back in 2014. Although, he was part of the country scene long before that.
Before he hit the spotlight, Hunt used to write songs for artists like Keith Urban and Reba McEntire.
The country singer made a huge splash with his debut single, "Leave the Night On". Fans and critics alike complimented the artist on his ability to incorporate pop and R&B into his music.
Because of that, Hunt has won many awards throughout his career. He managed to bag Grammys, CMT Music, and Billboard Choice Awards, just to name a few.
Moving on, Sam has had short facial hair for most of his career. Yet, as of late, he lets his beard grow out slightly longer.
5. Hank Williams Jr. – Curly Beard
Hank Williams Jr. is one of the most outspoken voices in country music. He's a singer-songwriter with a passion for activism.
Hank Jr. followed in his father's footsteps and joined the country scene. At first, he emulated his dad's style and songs.
This made finding his own voice a bit of a challenge. That was all until a tragic accident. In 1975, Williams had a near-fatal fall while climbing Ajax Peak.
After months of recovery, Hank came back to the music industry with a brand-new style. It was a blend of country and rock that people hadn't heard before.
That quickly gained him a lot of popularity, both with fans and critics. So, by 2020, Williams had the honor of becoming a Country Music Hall of Fame inductee.
Besides that, Hank has a curly beard that covers his entire jawline. He's worn his facial hair that way for many decades. He looks cool with his beard and glasses, doesn't he?
6. Zac Brown – Tapered Beard
Zac Brown is the co-founder and lead singer of the Zac Brown Band. The group made headlines with their debut album, "The Foundation".
After that, the band released several hit songs with Zac as the frontman. They created songs with a modern twist that appealed to millions of fans.
Their music is upbeat, with incredibly catchy lyrics. On top of that, most of the songs have high-energy sounds.
That's why many people consider them one of the leading voices in contemporary country music. The entire band has full beards. Although, since Brown is the lead singer, his is the most noticeable.
He has a slightly longer beard with tapered sides. Not only does this help frame his face, but it also gives him a more rugged look.
7. Dierks Bentley – Blonde Beard
Dierks Bentley has been a staple of the country music scene since 2003. Back then, he released his self-titled debut album.
This would be a significant turning point in his career. His first single, "What Was I Thinkin'" reached the number-one spot on the US Hot Country Songs chart.
Bentley was able to blend elements of bluegrass and country into his work. Plus, in some songs, you can hear rock-influenced music.
That set Dierks apart from his competition. On top of that, he had a boy-next-door vibe that was exceptionally popular with fans.
Unlike most country singers, Bentley prefers to keep his blonde beard short. Although, on occasion, he's let his facial hair grow out a tad.
8. Thomas Rhett – Thick Beard with Mustache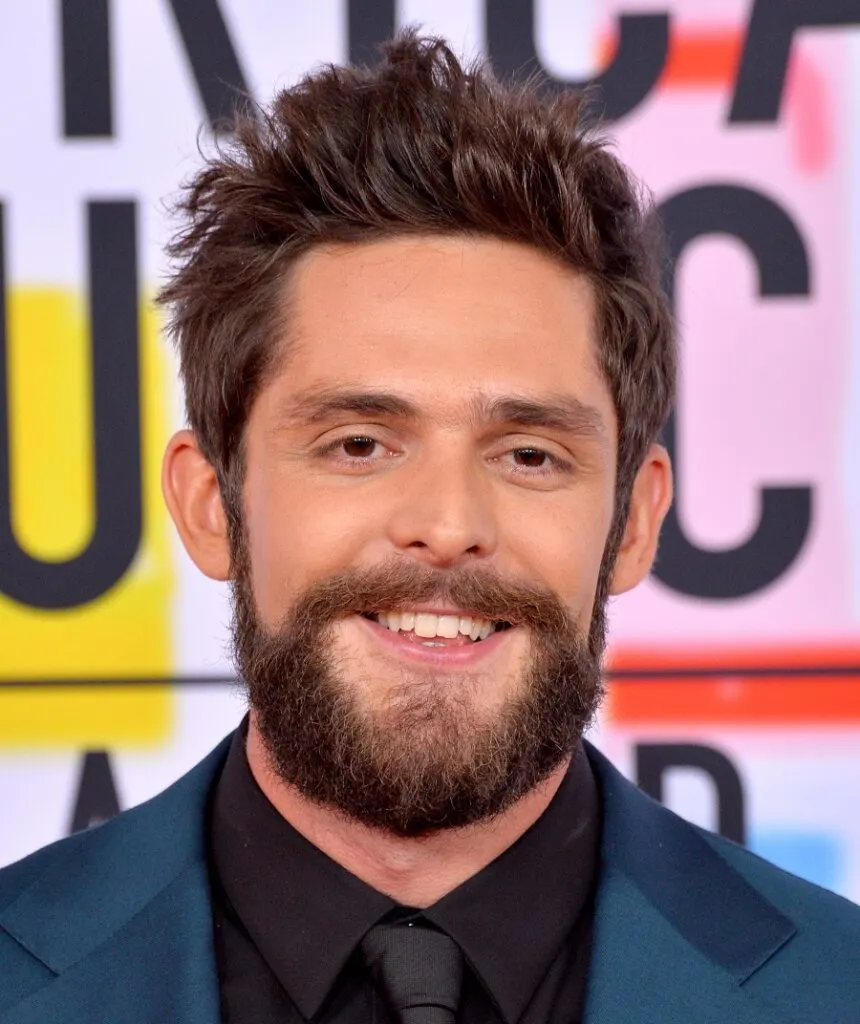 Thomas Rhett is another country music legacy on our list. His father, Rhett Akins, released two country albums back in the late 90s.
Although, he was nowhere near as famous as his son is today. Thomas has put out six studio albums as of date.
Two of which were nominated for Best Country Album in 2017 and 2019. Besides that, 17 of his singles have reached the number-one spot on the Country AirPlay charts.
Moving on, Thomas spent a good chunk of his career with stubbly facial hair. Yet, as the quarantine came around, that changed. The country singer grew a thick beard with a bushy mustache while he was stuck at home.
So, these bearded country singers show that in country music, a good beard and a good tune go hand in hand. It's clear that both their music and their beards have made them favorites among fans.