Tapered beard styles are among the most popular for men of all ages. Clean, sharp, and attractive, it looks well in both casual and professional settings.
It is also easy to maintain and keep looking neat. While it has experienced a boom in popularity in the modern age, the style has existed for decades and undergoes constant evolution.
What Is A Tapered Beard & How To Grow It?
A tapered beard is the kind of contemporary trimmed beard style, that gradually thin out the beard as you go down or up. It looks neat, put together and well maintained, making it perfect for a lot of men no matter what their face shape is.
A taper with beard is easy to grow if you learn how to maintain it properly. Make sure to keep your beard looking healthy and thicker as it grows down. The hair around the jawline is not supposed to be that prominent.
How To Trim & Taper A Beard
Maintaining a tapered beard is easy if you learn a few tips and tricks. You will need a good quality razor, trimmer, and beard comb to get a tapered beard effect. Mark a sharp like from the area around your ear going towards your lips for a precise look.
Gradually shave the hair down with the help of trimmer. Make sure to not shave all the hair off or it will look patchy. Focus on a gradient effect that you are looking for.
In this way, the area around your sideburns will have lesser hair compared to the beard along your jawline and chin. If you are looking for trendy tapered beard styles, then keep on reading!
Watch the following video about How to Taper and Trim Beard
Popular Tapered Beard Styles to Copy
If you want to look polished, put together, and trendy at all times, then this article is for you. Have a look at these following taper with beard styles and opt for the best one!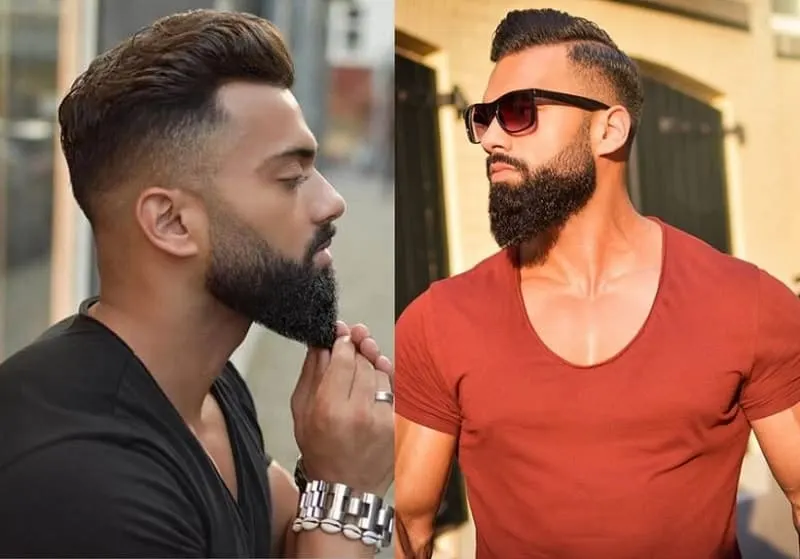 If you like to look fashionably up to date at all times. Then this taper fade with beard look is perfect for you.
Ideal For: Square face shapes.
How To Style: Make your fade more prominent for a tapered appearance. Comb your hair thoroughly for a neat look.
All the hipster dude's out there, we have a style that made just for you.
Ideal For: Oblong face shapes.
How To Style: Grow out your beard to give it more volume while it stays tapered around the temples.
Get this style if you have a touch of grunge and edge to your personal style.
Ideal For: Oval and oblong face shapes.
How To Style: Long hair goes perfectly well with a long tapered beard like this. Maintain a mustache with it to complete the look.
4. The Guy Next Door Beard
Steal the heart of your crush with this attractive guy next door hair and beard style.
Ideal For: Rectangular or oval face shapes.
How To Style: Neatly cut the taper with beard and pair it with a slick back, classy hairstyle with a low bald fade.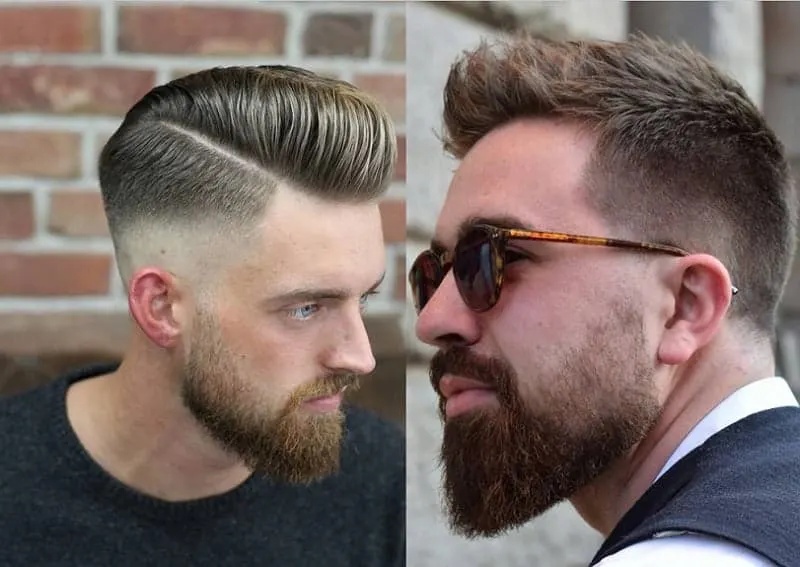 For a classy look that is fit for the red carpet, this short hair and beard is what you need.
Ideal For: Oblong and diamond face shapes.
How To Style: Slightly grow your beard and give it a tapered effect around the jawline.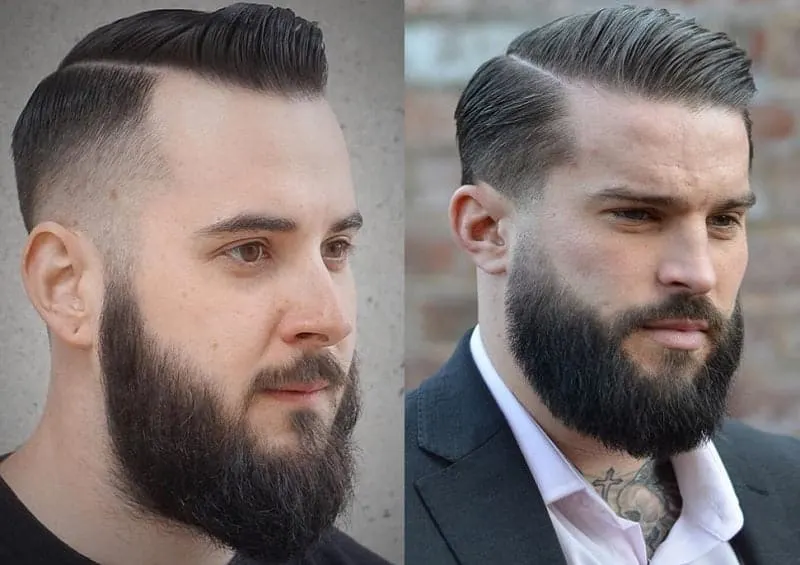 Get this tapered beard and hairstyle for a mature and neat look.
Ideal For: Square face shapes.
How To Style: Keep your beard thick and full while you hairstyle has a nice fade and clean look.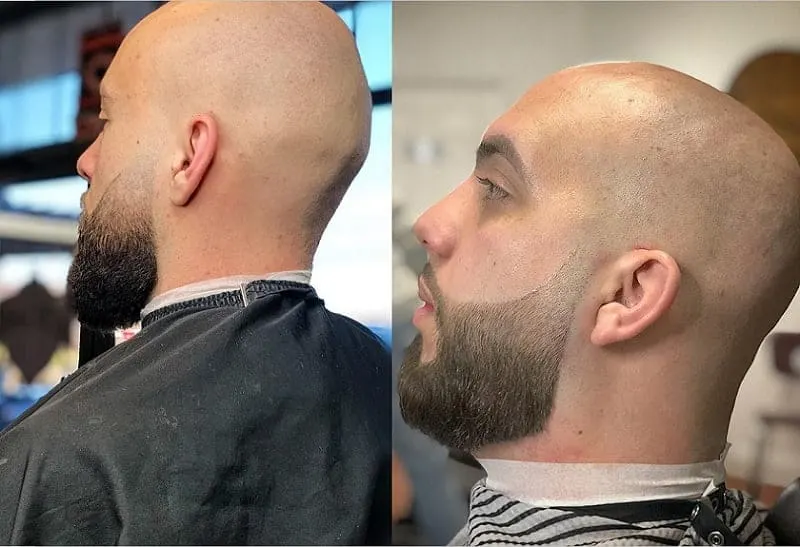 If you like to stay low maintenance and still look ultra trendy then this is the look for you.
Ideal For: Rounder face shapes.
How To Style: Shave your head and pair it with a light taper cut beard.
8. Pair It with A Quiff
A stylish quiff adds to the classy appearance of the tapered beard.
Ideal For: Oval face shapes.
How To Style: Give your beard a sophisticated tapered trim and style your hair in a deep quiff with faded sides.
9. The Sharp And Precise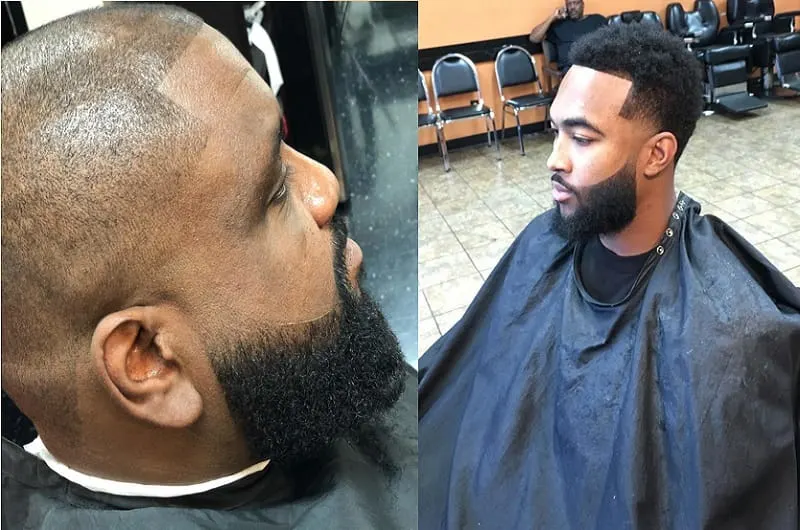 Get some sharp and precise lines to steal the spotlight.
Ideal For: Oblong face shapes.
How To Style: Shave off your hair in precise geometric lines for a contemporary taper fade with beard and hairstyle.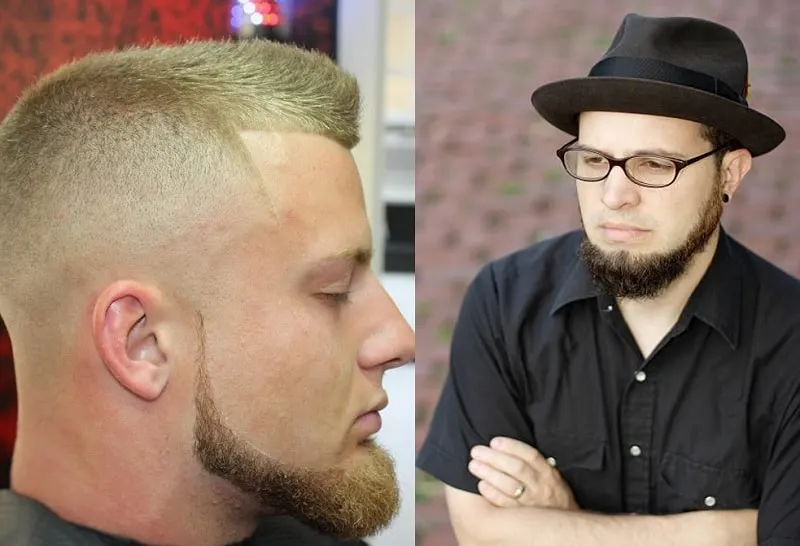 Keep it neat and trendy with this hair and tapered beard combo.
Ideal For: Round and square face shapes.
How To Style: Shave your beard from the rest of your face and leave it thick and full on the jawline. It looks clean and polished when paired with a military haircut.
11. Tapered Beard for Older Men
Just because you're old, that doesn't mean you can't still have dapper beard style!
Ideal For: Round or heart shaped faces.
How to Style: White and gray hairs are handsome in short facial hair on the cheeks and slightly longer hair on your beard and mustache. Go with a long top, short sides haircut you can easily comb or style with fingers.
12. Petite Handlebar Mustache
No need to worry about thin facial hair – this style makes it look good!
Ideal For: Rectangle, heart, or square face shapes.
How to Style: On a full or anchor beard, taper the sides and add a small handlebar mustache for sophistication.
13. Tapered Viking Beard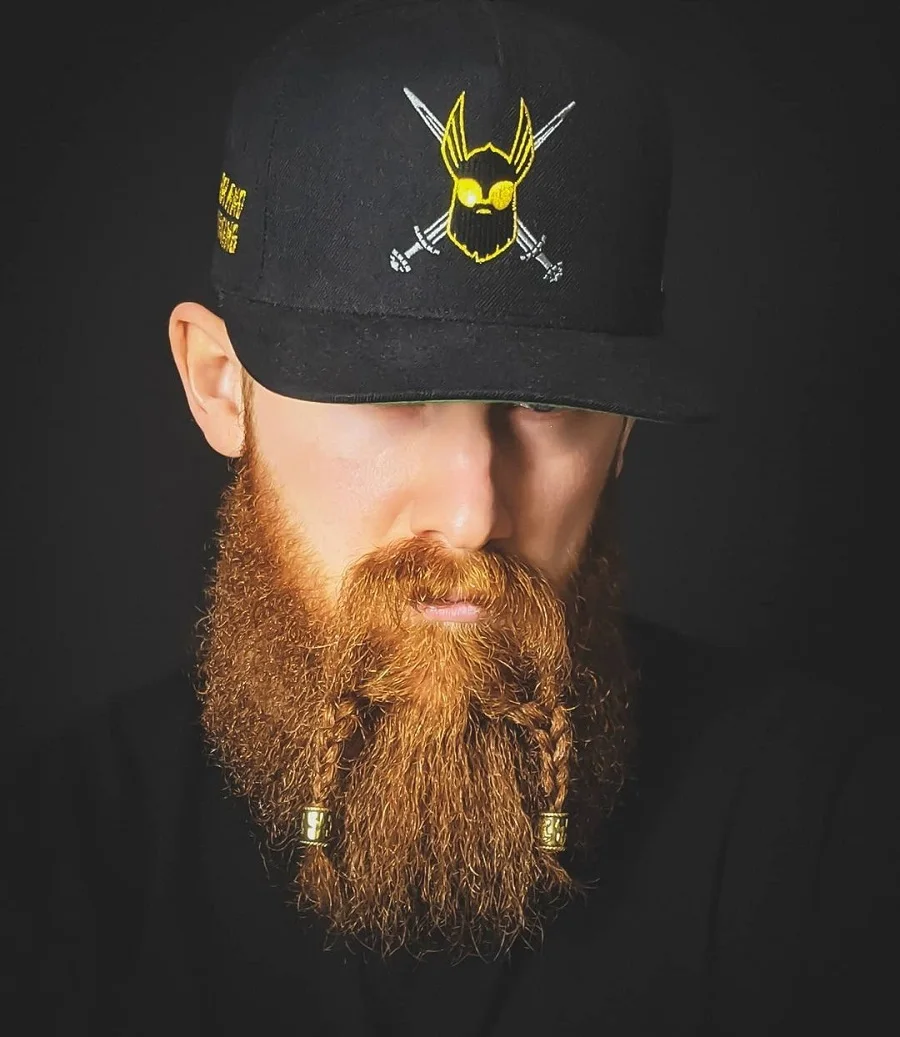 Calling all rugged, masculine men: now's the time to rock a long Viking beard!
Ideal For: Long, square, or rectangle face shape.
How to Style: Facial hair should be at least four to five inches (or 6 months of length) before tapering it. Single out two sections of hair to braid and secure ends with a bold gold bead.
14. Tapered Beard Fade
When worn with a slicked back hairstyle, this tapered beard screams classy.
Ideal For: Long or narrow face shapes
How to Style: Define the lines along your beard at cheeks, then buzz or trim the facial hair at cheeks, leaving hair longest at the chin and mustache.
15. Round Tapered Beard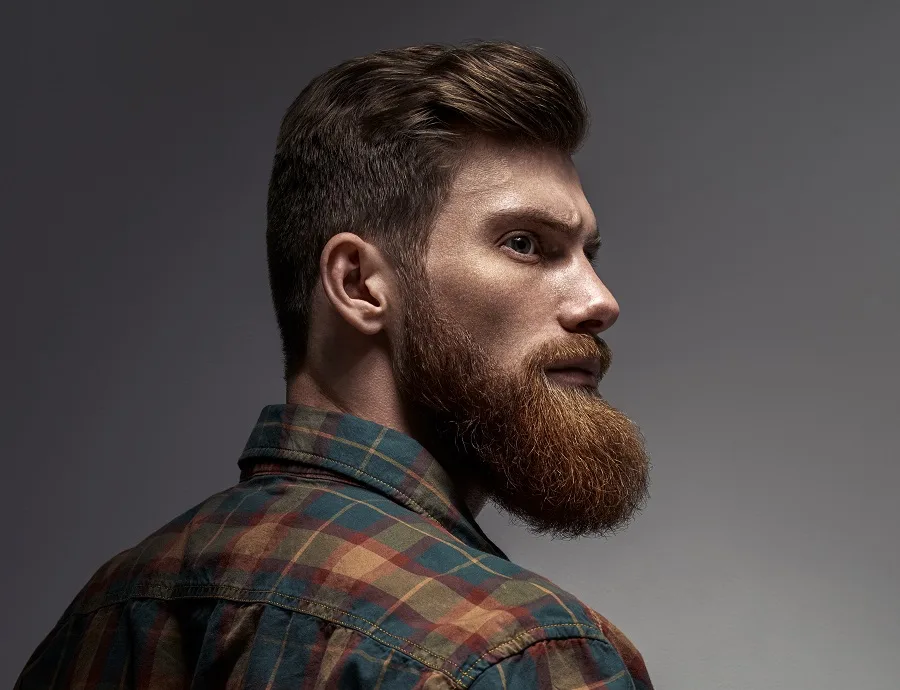 Get a handsome outdoorsy look with this rounded beard.
Ideal For: Rectangular face and pointed chin
How to Style: The sides of this beard accentuate a long chin. Neatly comb facial hair before trimming to get perfect roundness. Keep your mustache short and trim.
16. Cool And Geometric Skin Fade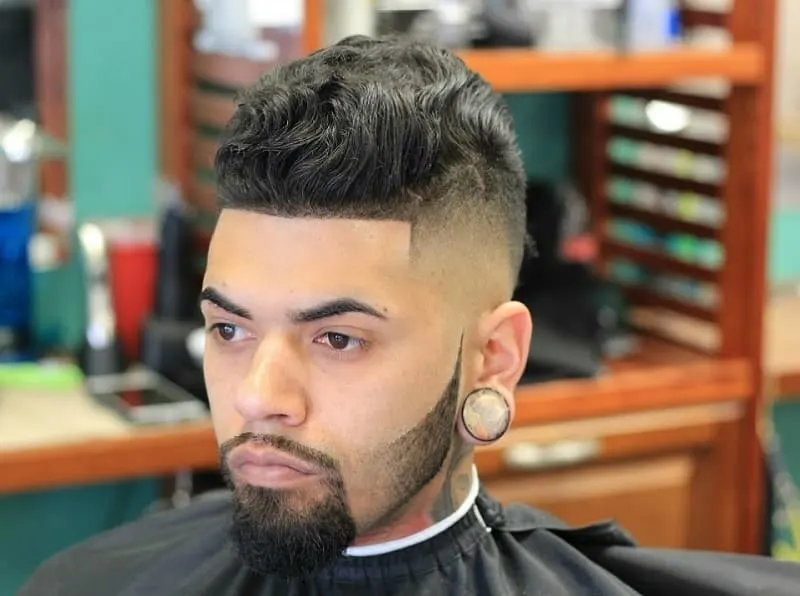 This hair and beard style screams rock star.
Ideal For: Sharper face cuts.
How To Style: Give a reverse tapered effect to your beard and trim it more from the outward section than the inward section.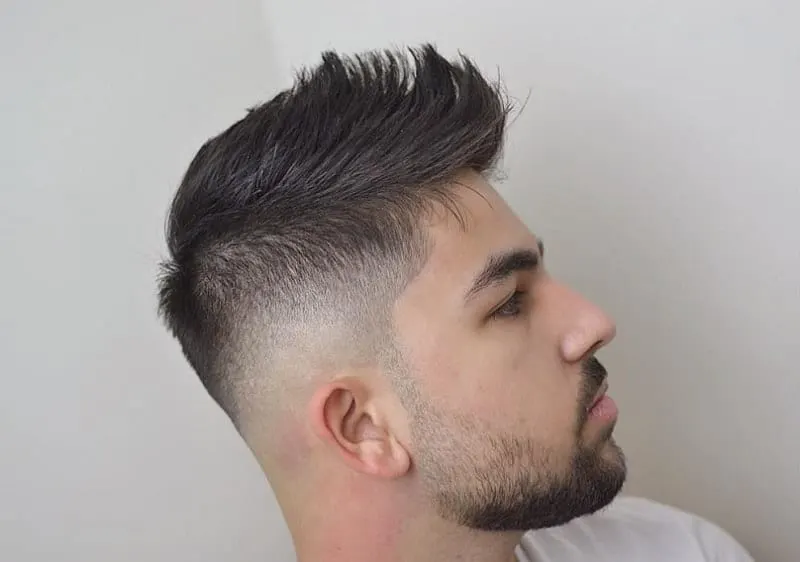 If you don't want to part ways with spikes, then get this hairstyle.
Ideal For: Square face shapes.
How To Style: Grow a moderate beard and give it a bold tapered effect. Sport a faded, spiky hairstyle to compliment it perfectly.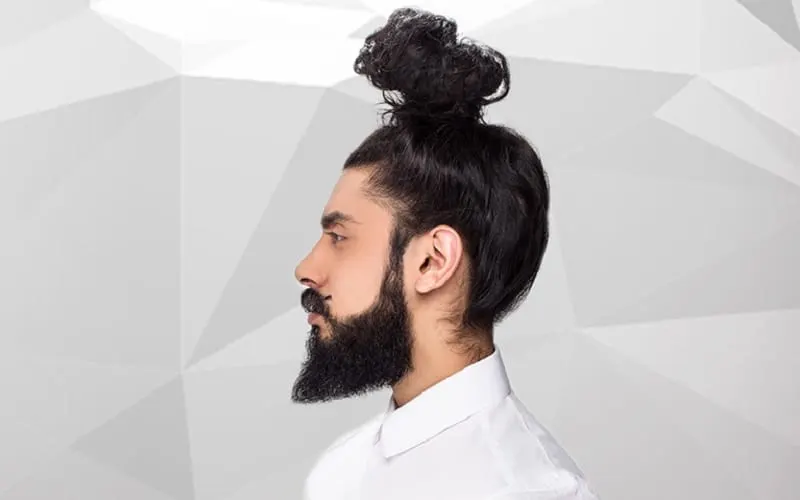 We can't get over how classy this man bun and taper with beard combo look.
Ideal For: Oval face shapes.
How To Style: Grow a thick and full beard that goes ideally well with a top knot.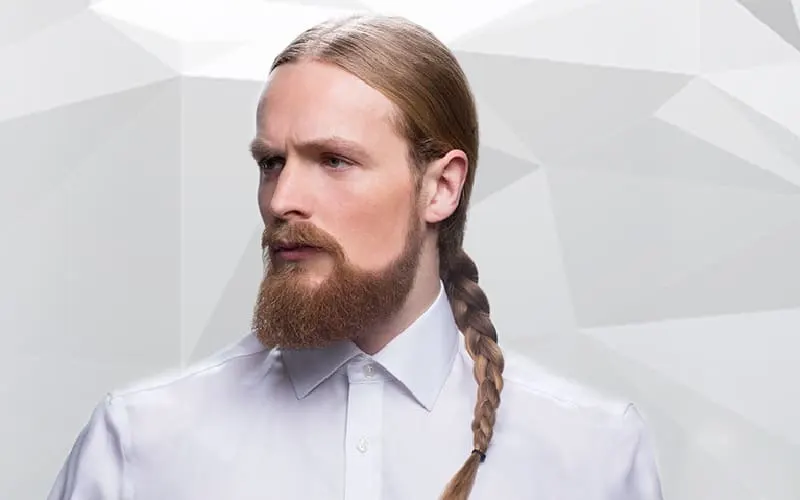 Who said you can't have a braid if you have a beard!
Ideal For: Rectangular and oblong face shapes.
How To Style: Subtly taper your beard along with the sideburns and tie your hair into a neat braid for this look.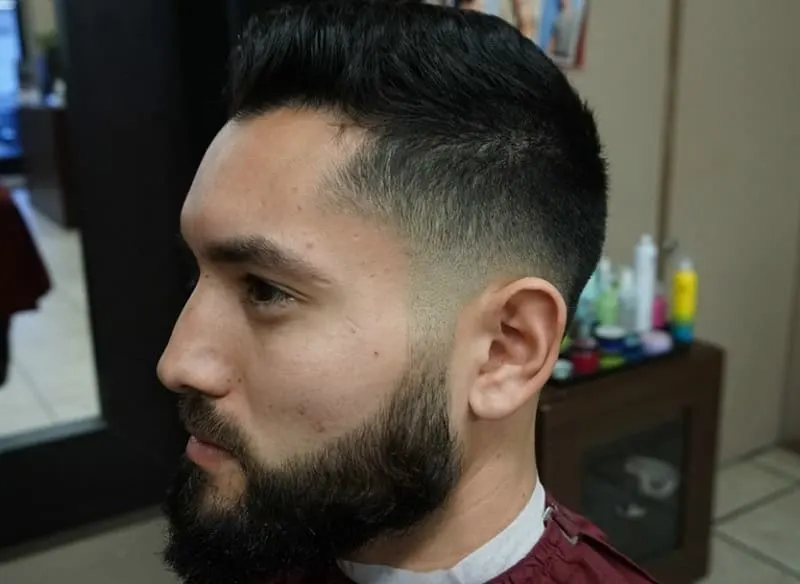 Keep your fade subtle for a softer look on your face.
Ideal For: Diamond face shape.
How To Style: Go equally subtle on the fade of your hair and tapered beard to achieve this look.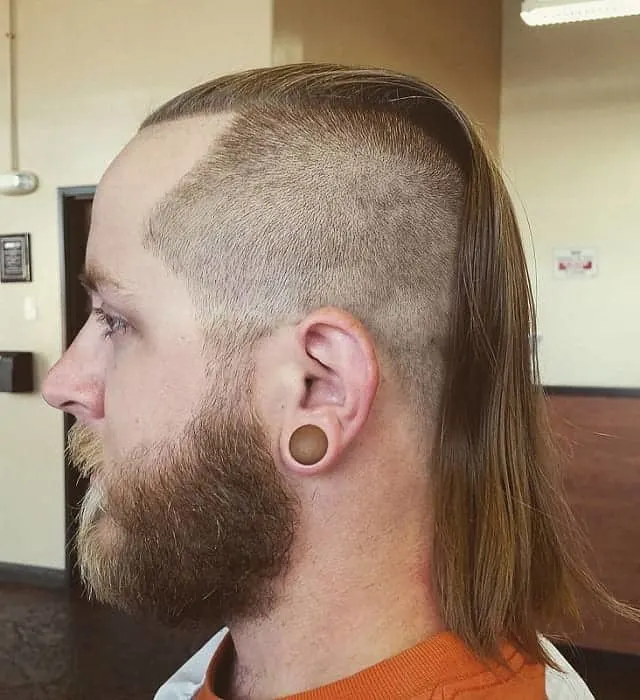 Feeling a bit daring? Go for this beard and hairstyle.
Ideal For: Softer face shapes.
How To Style: Taper your beard along the sideburns that blend into your deep and bold Mohawk.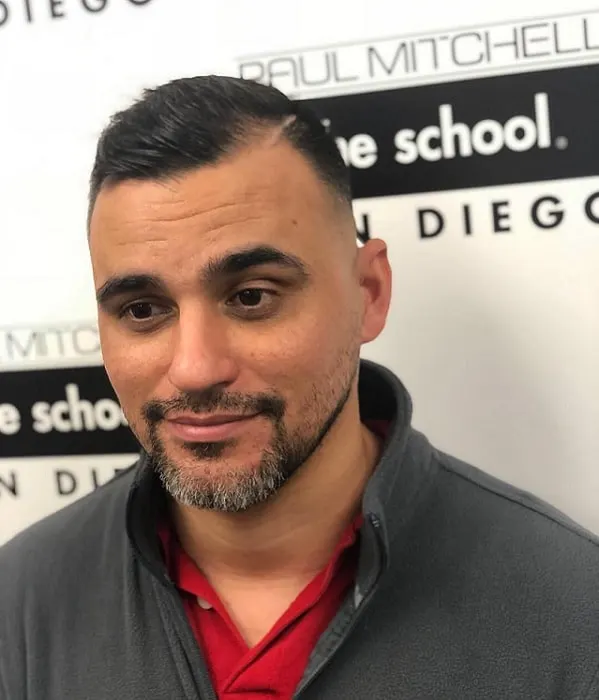 True gentlemen go for hairstyles like these.
Ideal For: Round face shapes.
How To Style: Keep your hair and beard short and tapered for this minimalistic look.
Look fresh, young, and stylish with this hairstyle and tapered beard.
Ideal For: More defined face shapes.
How To Style: Let your stubble grow a little and taper it from the edges. Give some texture to your hair to flaunt your fade perfectly.
Go a bit deeper and more prominent with your taper faded beard for a bolder look.
Ideal For: Square face shapes.
How To Style: Leave your beard messy but tapered. Focus on a deeper fade for your hairstyle.
25. The Sexy Influencer Tapered Beard
Achieve a timeless classic look by pairing your taper fade with beard and mustache.
Ideal For: Longer face shapes.
How To Style: Grow your beard and mustache and keep them healthy with the help of beard oil. Allow them to grow past your collar. Get your hair and beard tapered from the point they meet for a trendy appearance.
Tapered Beards vs. Faded Beards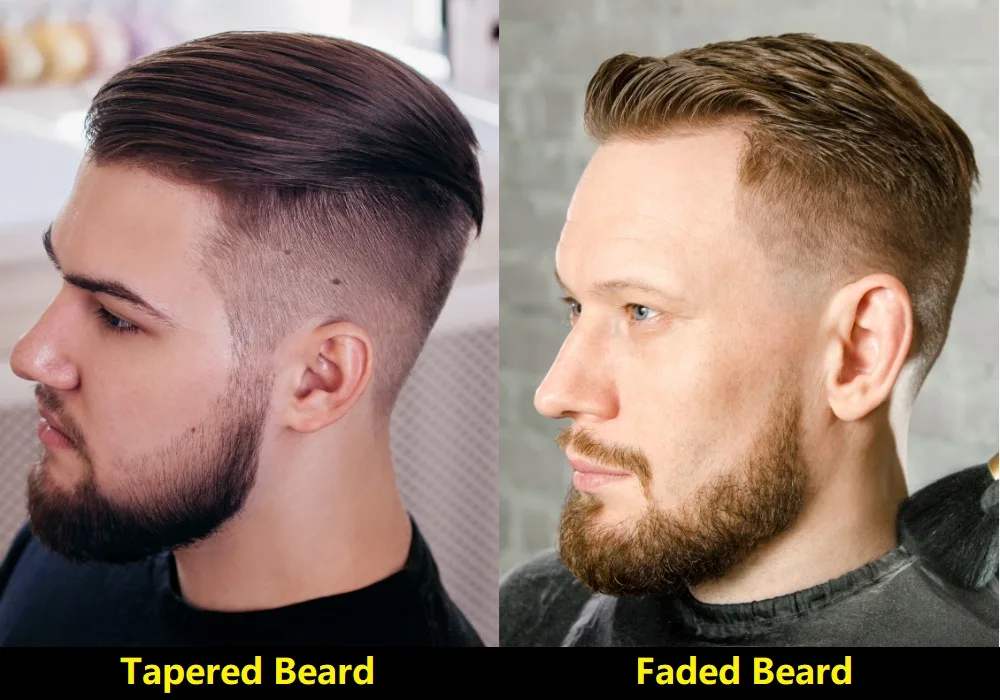 Whether you want to get the best possible version of a particular style or experiment with something new, the first thing to do is research. Styles of facial hair often overlap, which makes it an easy mistake to tell your barber you want one when you really mean the other.
Here you will learn the difference between tapered and faded beards.
Tapered Beards
Tapered beards are a style characterized by varying lengths of facial hair. Your hair will be thinner near the top of your face and thicker around your jaw and chin. Often, tapered beards are shaped by distinct angles and lines.
Faded Beards
Faded beards are similar to tapered beards. The primary difference between a taper and a fade is the appearance of thinner hair.
In contrast to the tight lines and even length of a tapered beard, the thinner top of a faded beard is trimmed down in such a way that it appears to "fade" into the skin.
To find what beard variety works best for you, experiment to see what complements the shape of your face and head and, of course, what you most enjoy seeing in the mirror!
FAQs on Tapered Beard Styles
How to cut a tapered beard line?
Taper cut beards usually have a sharp line from where the beard actually starts. Some are geometric and some have an organic flow.

Start from around the ear and mark a sharp line to the ends of your lips. Shave everything above the line to keep your beard line precise and neat.
How to taper short beard?
Short beards can be easily tapered as well but sometimes give the effect of stubble. Keep your hair dense around the chin and trim the rest in a gradient.
How to shape a taper faded beard?
You can shape it from the bottom with the help of sharp scissors and razors or give a U or V-shaped appearance to your beard with the help of these tools
With these trendy tapered beard styles paired with stylish haircuts, you'll definitely steal the spotlight and look more put together. Be sure to use beard oil to maintain the health of your beard and look handsome 24/7.