Are you getting bored with your plain hair color and you want to spice it up with a few colored streaks? If so, blonde highlights are the way to go!With their subtle yet striking shade, blonde highlights are the cherry on top of your gorgeous dark hair. If you want to add depth, texture, and dimension, but also transform your plain boring locks into a cool and eye-catching hairstyle, you need to explore the cool blonde highlight ideas for men with dark hair.
Modern Blonde Highlights for Men with Dark Hair
If you're ready to be the talk of the town, here are some of the best ideas for blonde highlights for dark-haired men.
1. Platinum Frosting on Dark Waves
If you wish to keep hair away from your face while still looking like a rockstar, these spiky waves are the way to go. The vertical nature of the waves and the tapered sides created an illusion of longer and thicker hair, so it's also perfect for thin hair.
The manly platinum blonde highlights are like the cherry on top of your spiky hairstyle. It gives your spiky and wavy hair a touch of brightness, making it look more eye-catching.
2. Golden Blonde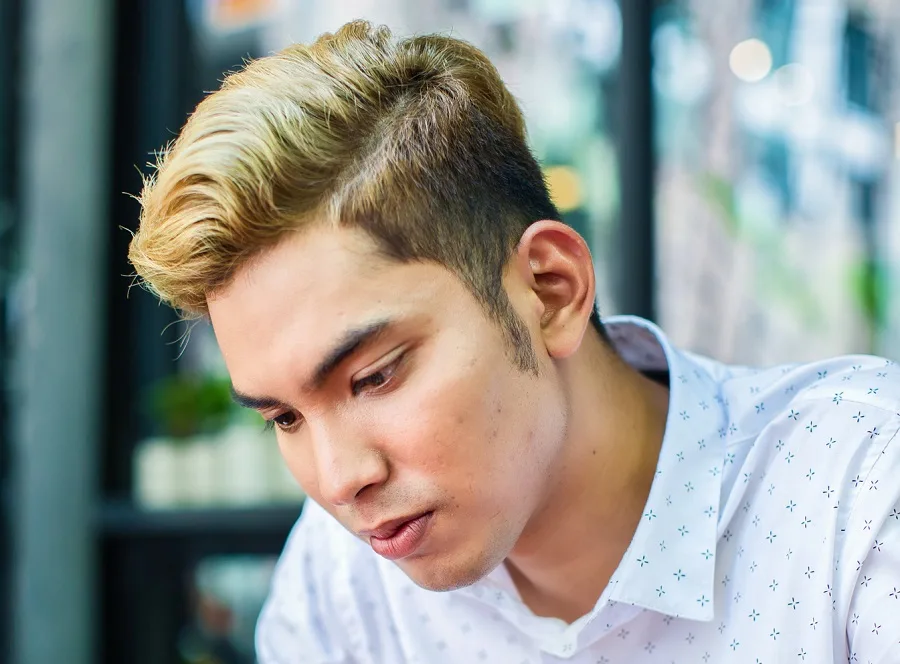 If you want subtle boldness, nothing beats matching golden blonde highlights for men with dark hair.
With their warmth and vividness, the golden blond highlights are like rays of sunshine against your dark locks. The highlight's luminous and radiant effect will give you that sunkissed look and a more glowing complexion.
3. Sandy Blonde Curls
There's no perfect pairing for your beach boy waves than sandy blonde highlights. This warm blonde shade adds a beachy charm to your wavy locks and gives you that charming boy-next-door appeal.
It's also one of the best ways to give your dark hair that sunkissed look without going full-on blonde.
4. Brown Hair with Blonde Highlights
If there's grey blending for women, there's blonde blending for men! If your white hair is already starting to show off, you can give it a youthful update simply by adding a few blonde highlights, which soften the gap between your white and dark hair.
5. Light Blonde Chunks
Dark and wavy hair looks grungy, but give it a nice touch of light blonde highlights and you'll instantly transform it into one of the most perfectly styled men's hairstyles out there. There's just something about this light hair shade that can instantly give you that polished and well-coiffed look.
6. Golden Blonde Babylights
Are you getting bored with your medium-dark hair? While all the layers will make it look charming and sexy, you need a dose of golden blonde to prevent it from looking too flat.
Instead of going for the chunky obvious highlights, we recommend baby lights which are a thinner, more subtle way to add dimension and depth to your hair.
7. Frosted Blonde Tips
Spiky hair is definitely not for the faint of heart, but if you want to make it more unique, you can frost up your hair tips with a light blonde shade. The frosty highlights are a cool contrast against the dark spiky hair, adding more texture and movement to this sought-after hairstyle.
8. Curly Highlights
Do you want to transform your beautiful afro into a head-turning hairstyle? You need eye-catching golden blonde highlights! It adds a sliver of sunshiny brightness to your hair while highlighting your beautiful curls at the same time.
9. Ashy Blonde Streaks
An edgy ash blonde money piece highlight is definitely the pop of color that your sleek and suave spiky hair needs. Strategically placed in the front portion of your hair, these highlights are designed to frame your face, brighten your complexion, and enhance all your amazing facial features.
10. Honey Blonde
Choppy layers and straight hair are just the perfect ingredients for that messy hair-no-care look, but it's not enough to make it stand out.
Do you know what else you need for an attention-grabbing look? Honey blonde streaks! The subtle gold tones will definitely sweeten up your look, making it one-of-a-kind.
11. Dip-Dye on Curls
Take your dark curly locks to a whole new level by dip-dyeing them. Since only the ends are dyed, the black and blonde hues of your hair are perfectly intertwined and well-displayed on your hair.
The bright and sunshiny blonde dip-dye on black hair looks like a sunrise on the horizon. It's stunning and mesmerizing to look at.
12. Platinum Highlights on Curls
Give your charming and alluring dark curls the edge it needs with platinum blonde highlights. These unique highlights are just the perfect topping to your wild natural curls. With this fresh hair color, you get to inject a bold and daring touch to your guy-next-door look.
13. Fringe with Highlights
With the side-swept nature of this fringe haircut, you can conceal your large forehead while looking like a mysterious man or a rock star at the same time.
But as if that's not enough, you have a few dirty blonde highlights scattered all over your beautiful fine hair. With this vivid shade, you get to show off your beautiful hairstyle in an effortlessly cool way.
14. Bronde Blending
If you want a subtle highlight shade for your dark brown hair, bronde is the way to go!
Is it blonde? Is it brown? It's neither or both! Bronde is a blonde-meets-brown color that has the classic charm of brown and the brightness of blonde. It looks amazing on guys with naturally darker hair.
15. Blonde Skunk Highlights
You don't need to add blonde highlights all over your dark hair just to make a statement. Sometimes, a small splash of color would do, and we mean that literally! This blonde skunk highlight will unleash your wild side and add an edgy touch to your look.
16. Long Hair with Highlights
If you're looking for a versatile hairstyle with a lot of attitudes, this long luscious dark chocolate wavy hair paired with highlights may just be what you need. It will make you look like a rock star and a surfer rolled into one.
The seamless transition from dark to light shades is like the perfect blend of a mocha latte. It's warm, inviting, and definitely a sweet treat!
17. Caramel Blonde Streaks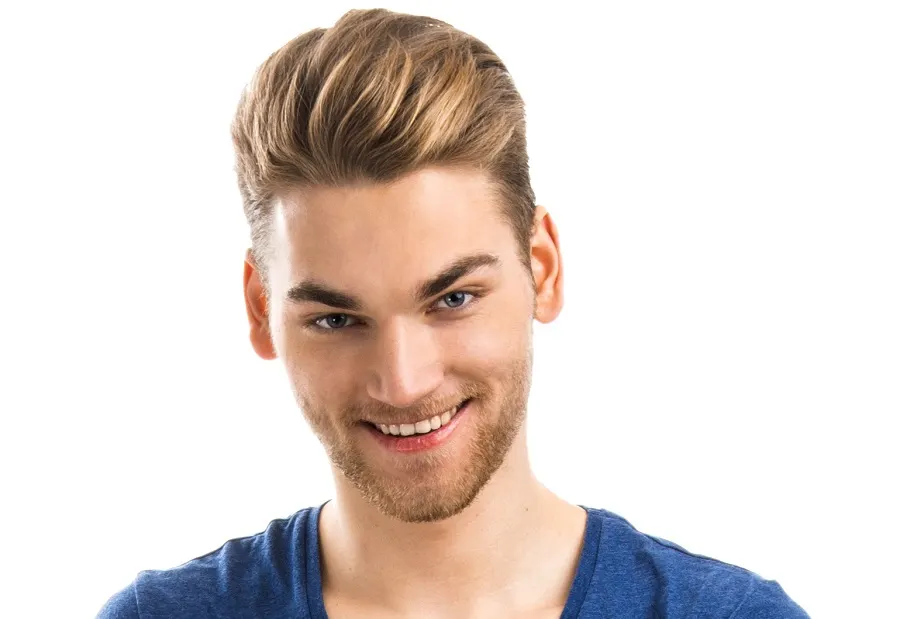 The dark brown brush-up hairstyle is already striking on its own, and it's now made more elevated with a few caramel blonde highlights.
The highlights really hit differently as it makes your hair look like it's been kissed by the sun, giving your charming hairstyle a warmer and friendlier vibe.
18. Icy Blonde Frosts
Add a frosty flair to your dark and mysterious spiky hair with a touch of icy blonde highlights. These highlights are cool, and edgy, and can definitely elevate your overall look. With this fresh and frosty hair color, you can surely steal the show wherever you go.
19. Blonde Highlights on Man Bun
If you already have your man bun on, it means you already know how to have fun. The good news is you can even amp up that playful charm with a few blonde highlights all over your dark hair. Then highlights bring a breath of fresh air to your daring and dashing hairstyle.
20. Thin Highlights
There's no denying the fact that your wavy locks look gorgeous on their own. Add in a few strawberry blonde streaks and you can make your already striking hair a fun, playful, and flirty touch.
The thinner highlights will definitely give you that air of mystery and adventure that all women love.
21. Blonde Highlights on Spikes
Blonde highlights on dark hair for men give you the best of both worlds. Just take a look at these blonde spiky tips which look amazing against the natural dark brown hair. The dark spiky hair screams confidence and style while the blonde tips give it a more playful vibe.
22. Dark Roots
Getting natural blonde highlights is like having your own personal spotlight wherever you go. It gives you that brighter and more glowing complexion which is perfect for men with pale skin. Achieve the perfect balance between the beach dude look and a sophisticated urban guy by keeping your roots dark.
23. Frosted Caramel Blonde Waves
Why settle for plain dark brown waves when you can spice things up by adding caramel blonde highlights at the tips?
The delicious-looking caramel tips blend beautifully with the dark chocolate waves. While the waves definitely added texture to your look, the caramel blonde highlights add a unique and eye-catching touch to it.
You don't have to keep your hair in the dark anymore because we have the perfect way to add dimension and color to your hair– blonde highlights. Just make sure to work with a skilled stylist so you can find the right shade of blonde highlights on dark hair for men.