Since the ancient times, despite some of the strongest muscular features of abs and biceps, facial hair has been prominent to embellish the manly looks of the finest males. Men have always tried to come up with unique and brilliant styles for facial hair to impress the onlookers and leave a deep emotional impact on the opposite gender.
Curly beard has proved to be a very trendy and highly popular beard style. Though curly beards are rather sturdy to maintain than the straighter ones yet the glory they add to the face is unmatchable.
Best Curly Beard Styles
The most natural beard type is the bushy beard. Highly relevant to the natural and default texture of curly hairs, this brilliant curly beard style lets you live your fabulous way to the fullest. Rather than marinating it, the bushy style is more about granting freedom to the facial hair to grow on every possible part of the face including chin, mustaches, and neck.
It is another popular and very trendy curly beard style. Gaining popularity from Abraham Lincoln, the chin curtain beard never stopped to leave an irremovable impact on the fashion industry. This is a finely trimmed and maintained curly beard style. The "chin curtain" is indeed for all the fashion freaks out there.
Mutton chops is a rather old curly beard style but it never went out of the limelight. Hugh Jackman popularly known as Wolverine adopted it and the style was resurrected to its classic glory. This fascinating curly beard style is the hallmark of manly features and fashion love of today's men.
4. Shenandoah
Another very natural beard style for curly facial hair is the Shenandoah. Shenandoah is a wild and exotic beard style. If you want to enjoy the pure masculinity and a macho look, Shenandoah is here to serve the cause. With close similarity to the bush beard, Shenandoah differs only in its rather fork shape in the lower portion.
5. Garibaldi Beard
Garibaldi beard is the ultimate curly beard style. If you want to attain a fresh yet very trendy and refined look then Garibaldi is the best choice for you. Fine trimming and highly managed chin down length is the trademark feature of Garibaldi beard. It is the coolest ginger beard style to try.
6. Wavy Beard Style
The name is in exact accordance with the curly hair texture. Thus, the elegance of your curly facial hair is going to be increased many folds. Wavy beard style is for real men and earns high esteem.
It is one of the most eminent and casual beard styles in America. Wavy beard style is the highly maintained and conditioned curly beard style and has earned a huge number of followers around the globe.
How to Straighten a Curly Beard The Right Way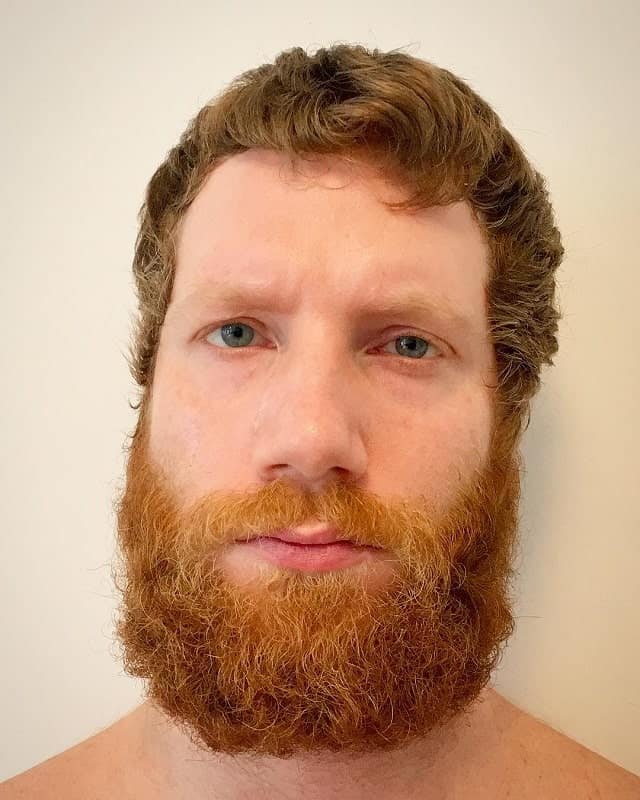 Beards are to men what makeup is to women; they are different yet better looking with it. If you are planning on investing time to grow a beard, knowing the right shape and size is essential. I
f you have curly hair and a curly beard, this medium length bear is what you should draw inspiration from. The medium hair length compliments the short hair towards the top.
This hairstyle is heavily inspired from the past, something that can be considered retro. The unkempt long beard that tapers towards the end goes extremely well with thick, long hair on your head.
This varied aesthetic is astonishing to look at and easy to style. If you consider yourself bold enough to rock this hairstyle, it is something you should try.
9. Short and Curly
Beards come in all shapes sizes, and textures and each of those elements tends to bring out a different look. If you are a person who isn't ready to commit to a long beard and the care it expects, this short curly beard hairstyle is something you can choose instead.
If you have short straight hair that tends to never listen to you when you intend to style it, this kind of beard is something you could go for. The boxy shape of it that goes wide at the edges serves as a great contrast to unkempt hair. The low is flawless and has a perfect balance between effortlessly messy and an exquisite aura.
11. Two-Toned Beard
Just because you have a grey beard doesn't mean that you can't sport one, instead of looking at it as a boon, look like a blessing! Two-toned curled beards can have a great aesthetic, especially when they are curly. It's a great way to include color by not going through the trouble of actually coloring your hair.
Incorporating a curly beard is a great way to toughen up a man bun. It is a perfect method to blend something modern with something that's not. The bun and the medium sided beard go with each other extremely well and create this undying look that's striking.
13. Accessories and Beards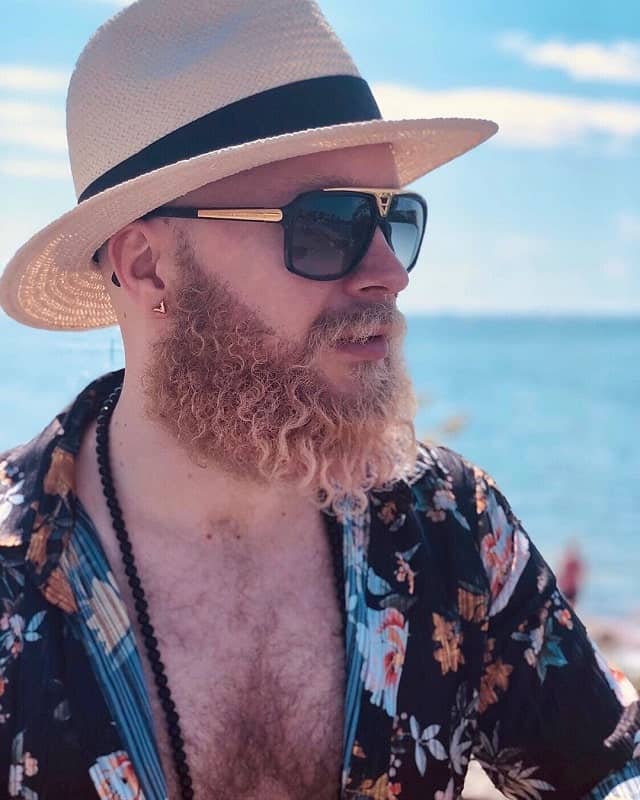 Curly beards create a lot of character when it comes to a look. But to have them look good, trimming and grooming them periodically is essential. If you are someone who tends to wear caps or hats a whole lot having this type of beard will only compliment that aura.
Pompadours are hairstyles that are most worn with a beard during this day and age. The hairstyles come off as much more trendy and youthful than others. Most of the look is that it's considered more fun that a mature bearded look. The sleek finish of the pompadour and the well-shaped edges of the beard go hand in hand.
If you look at this hairstyle, the first thing you are going to think is truckers hairstyle. The interesting element about this is that nowadays not just truckers but even normal people are diving into this look.
The curly scruffy beard look is convenient because it doesn't have a lot of maintenance; the trimming and shaping is something you could do yourself. Hence, for convenience purposes, this hairstyle is a great option.
A beard can add a lot of depth and a significant amount of dimension when it comes to a baldhead. Instead of using your hair on your head to frame your face, you could use your hair for the same purpose.
This type of beard can go well with a side-swept haircut. It tends to balance out the entire look and make it look exceedingly pleasing and sexy.
18. Redhead Beards
Having short hair allows you to play with the proportions of the length of the beard. This hairstyle is perfect for someone with a round face. The short hair on top and the tapered beard towards the bottom helps in great ways to elongate one's face, making it look thinner.
19. Thin Beard
This beard is a great option for someone who can't grow a full beard yet wants to have one. This subtle beard shadow will help accentuate your face structure by focusing itself on the jawline. Cut your hair short to maintain a manly well-kept look will balance out the entire style with your curly beard.
This beard is a mix of a French and 5'O clock shadow beard. If you are bold enough to play around and have it in you to try something that's out of the box, this beard style is the one.
21. Short and Groomed
This curly beard style is a classic one. If you grow a beard that's curly but doesn't particularly like the whole wavy long hair beard look, this is the style you can try. By cutting your hair short, the curls aren't grown fully, giving it more texture than curls.
More Breathtaking Curly Beard Styles for Your Choice of Preference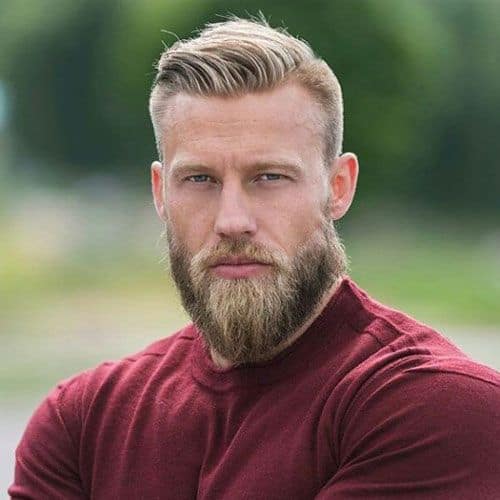 These curly beard styles are here to let you choose the most appropriate curly beard style for you. Attain any style and enjoy your manly looks to the fullest. These curly beard styles are giving you a chance to leave a lasting impact on the ladies around and enjoy a fashionable look analogous to your personality.