To look on fleek when saying 'I do' is every girl's dream. The dress, jewels, and hair must be picture-perfect and so should the decorations, especially when you're getting married at a romantic lakeside or a dreamy farm. If you're planning a country wedding, you should plan your bridal hairstyle to match that theme!
When it comes to wedding hairstyles, there are countless options to choose from but it's best to experiment with hairdos that appear more natural to match the theme of your rustic ceremony.
That is why we have brought today the best country wedding hairstyles to make you look like an ethereal fairy amidst an earthy environment.
Stunning Country Wedding Hairstyles for Your Big Day
From laid-back updos and playful braids to bouncy curls and loose waves, the following list of country wedding hairstyles includes a look for every hair length and texture.
1. Braided Floral Headband
Keep it low-key yet magical with a headband knitted with your very own tresses. Plait down a big chunk and fix it on the opposite side over the hairline.
Gather your favorite floral ornaments and pile them on top with a veil at the back. Don't forget the loose waves!
2. Loose Flip-Twist Braid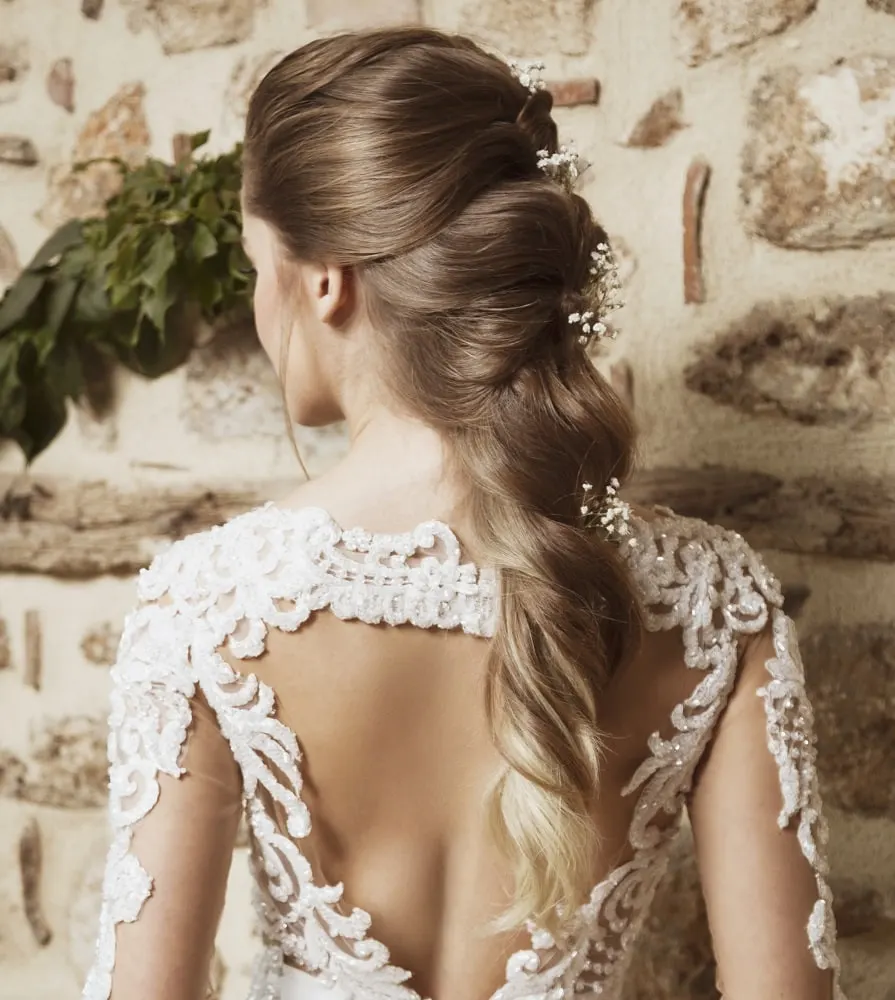 Brides can put their long locks on full display with a basic flip-twist braid. Section the hair, create ponytails, and flip them inward all the way to the ends.
Loosen up the chunks and adorn them with delicate flowers to drop some jaws when walking down the aisle.
3. Half-Up Beach Waves
A messed-up updo amidst a fairy-tale wedding surely won't disappoint. Practice this country wedding hairstyle at home with teased beach waves assembled in a half-up knot.
Add a cute little flower bunch matching the bouquet in your hands and voila!
4. Classic Bun
Whether it's a fancy occasion or a simple gathering, a classy bun is sure to stand out from the rest.
Wrap the hair loosely at the back with a subtle pouf at the front accompanied by lightly curled face-framing chunks on the sides. Chic!
5. Pinned-Back Curls
Put your curls on full display or use a curling wand to end up with a big bouncy mane for a change. Experiment with a tousled updo or keep it basic with a pinned-back half-up hairstyle.
Embellish with pearls or put on a veil instead.
6. Sexy Hollywood Waves
Achieve a Hollywood-style glam with these iconic waves that have stood the test of time.
The trick lies in getting a uniform S-shaped pattern by brushing out your curls evenly along the length. Finish off with a sleek side swoop and there you go!
7. Mohawk-Style Updo
Make sure your bridal hairstyle is one of a kind by opting for a bold Mohawk updo.
Create braids on both sides of your middle parting with a gorgeous bow at the back. Keep the remaining hair simply straight or add curls or waves instead.
8. Twisted Side Knot
No need to go to extreme lengths when a minimalist side bun can make you look like a princess in no time.
Twist the front strands and repeat the same for the remaining hair at the back before piling it up in a side knot grazing the shoulder.
9. Elegant Fishtail Braid
A dreamy fishtail braid is the perfect country wedding hairstyle for all the braid lovers out there.
This braid type appears complex but is easy to achieve with a little practice. Couple it with some loose chunks and a delicate floral halo to get the rustic look of your dreams.
10. Messy Ponytail with Floral Halo
Looking for something that'll lift up your features? Don't search any further as a ponytail will work wonders.
Opt for a knotted high pony with plenty of curls and complete your bridal look with a hairband made from real flowers. Simply stunning!
11. Asymmetrical Bridal Hairstyle
Play around with the symmetry of your tresses to end up with a funky hairdo that's worth remembering your entire life.
Go for braids and beads on one side with loose curls on the opposite side. Balance out those loose chunks with a side-swept bridal veil.
12. Basic Bob with Bangs
One of my favorite minimalistic short bridal hairstyles for country-themed weddings. Why not chop off all of your hair when beginning a new chapter in life? Make jaws drop with a blunt bob and bangs.
Avoid a flat look with barely-there waves or go all crazy with curls. A floral headpiece on one side will make a huge difference.
13. Soft Beehive Half Updo
Beehive updos never go out of style and are a must-try for ladies who are more into vintage wedding hairstyles.
The key lies in achieving a dome shape on the crown region. Instead of going for a typical updo, replace it with side-swept curls and a pearl hair accessory.
14. Boho-Chic Micro Braids
African-American beauties can celebrate their ethnicity alongside their big day with micro braids. These thin knits appear just like natural hair and can be styled further in a number of ways.
Add a countryside touch with a big floral hairband and done!
15. Sophisticated Chignon
Maintain a high-class look with a classic low-lying chignon bun positioned just above the nape. Opt for a sleek and sexy side parting with a pearl headband on top.
Finish off with pearl jewels. Place some pearls on the bun too and you won't regret it!
16. Rustic Curly Waterfall Braid
It would be unfair to skip the good old waterfall braid when enlisting country wedding-themed hairstyles.
Braid both sides while leaving a chunk to fall down along the hair length while adding further strands on the way. Adding curls is a must!
17. Vintage Bouffant, Uneven Fringe
Express your wild side by adding a hipster vibe to an otherwise sophisticated bouffant hairdo.
Fold the sections inwards to achieve a dome shape with some strands loose at the back. Set the look on fire with an uneven choppy fringe at the front.
18. Thick Side Bangs + Low-Lying Bun
Talking of a fringe, relive those good old days from the 90s with these timeless thick bangs parted on the side.
Style a basic bun at the back with cute little flowers on one side for a romantic finish. Some side braids won't hurt too.
19. Countryside Half-Up Braids
The simpler the better, especially when it comes to a rustic-themed wedding ceremony.
Plait down the sides all the way to meet at the back. Spare some chunks to frame the face and throw in highlights for a sun-kissed finish. Don't dare to skip those loose curls!
20. Wet Waves Look with Pouf
Wet hairstyles are still going strong and look sexier than ever before. Stun your groom by applying a hefty amount of gel to wet tresses and scrunching them up to enhance your natural hair texture.
A pouf is ideal to keep all the mess away from the face.
21. Cute Cowgirl Pigtails
This country wedding hairstyle is a show-stopper for sure. Women who wish to match their attire exactly with the earthy vibe of their wedding at a farm can go for a cowgirl look.
Two messy twisted pigtails with a cowgirl hat on top are all you need!
22. Two-Toned Edgy Pixie
Short is sexy and so is this pixie! Bring your best features under the spotlight with an edgy crop featuring plenty of texture and spiky layers.
Add a touch of blonde unevenly all over the head to create a stunning light and dark interplay.
23. 1800s Rococo Style
The rococo hairdo is characterized by plenty of piled-up voluminous tight curls and was rocked by all the high-class French women in the 1800s.
Recreate the iconic look by coupling a French twist updo with a textured top and slicked-down sides.
24. Big Chunky Rapunzel Braid
Ladies blessed with luscious long tresses should not miss their chance of looking like a real-life Rapunzel on their big day.
Curl, braid, and entwine each strand to produce one big chunky braid falling on one side at the front. Adorn with gems and flowers.
25. Waves and Highlights
Highlights are ideal to add a youthful glow to the face. Give yourself a good hair makeover by refreshing your base color, adding streaks of blonde, and finishing off with a nice trim.
Add waves just before the ceremony and you won't need anything else.
26. Side Bun with Loose Ends
Try a flirty side bun if you can't think of anything else. Gather all the hair on one side, twist it into a knot, and spare the ends to graze the shoulder.
Pull some strands loose to frame the face with a deep side parting.
27. Loose Curly Coiffure
Instead of taming and flattening those god-gifted coils, curly beauties can show off their fluffy mane with pride when exchanging vows.
Take chunks from behind the ears and secure them with an elastic band at the back. That's pretty much it!
28. Fancy French Braid Updo
The French braid updo is yet another country wedding hairstyle that you can't say no to.
Plait the sides with a folded bun at the back. Tug out long tendrils at the front and curl them up for a dreamy finish.
29. Unicorn Balayage
Add a pop of color to the hair making it stand out against that white dress of yours like nothing else.
Try a purple balayage to give off strong unicorn vibes. Intermix strands of lavender and grape midway to the ends and let the magic begin.
30. Intricately Piled-Up Curls
Lastly, updos are always a smart choice as nothing can go wrong with them.
Go for tight curls and pile them at the back using a hair donut bun maker as a base. Attach the veil at the bottom with a chic side parting at the front.
Regardless of the look you finalize, all of these country wedding hairstyles are sure to make jaws drop whilst you say your vows in the woods. And while trying to keep everything simple, basic, and rustic, put a little effort into styling your tresses at home. A little practice is all you need!