Lavender hair is mesmerizing, and depending on the shade, it can suit any skin tone. You almost feel that pure smell of a beautiful lavender field when you see it. You can style gorgeous braids, buns, ombres, or highlights that will transform your look with this fabulous color.
How To Get Lavender Hair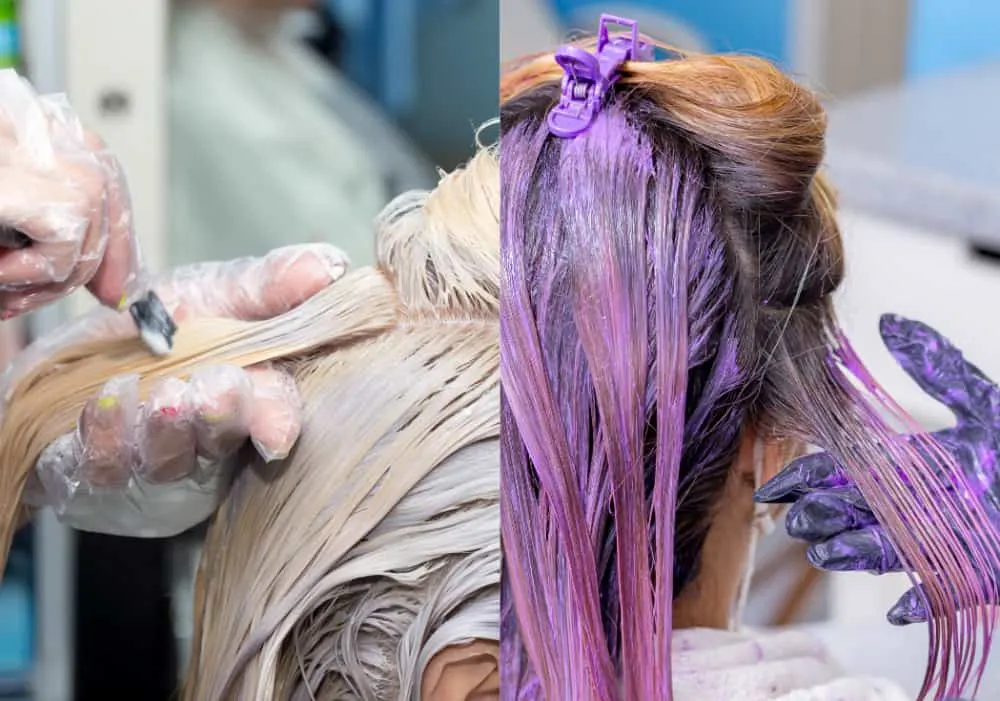 The best way to get lavender hair is to go to a salon and have a professional assist you. However, you can give yourself lavender hair through the following steps:
Step One: Bleach Your Hair
The safest way to bleach your hair is to buy a box kit and follow the instructions on the box. When bleaching your hair, make sure that you wear gloves to protect your skin from irritation. Also, do not leave the bleach on your hair for longer than 45 minutes, even if your hair hasn't turned the shade of blonde that you need it to be.
If your scalp starts to feel irritated, wash the dye immediately, even if 45 minutes haven't passed yet. If your hair is dark, it may take you two attempts to bleach your hair. Make sure you deep condition your hair between bleaches.
Step Two: Dye Your Hair Lavender
You should purchase lavender hair dye and use a box kit. There will be dye and developer in the box. Mix the two chemicals as instructed by the box and apply them evenly to your hair, starting at the roots and working your way out.
After the appropriate time has passed, wash your hair thoroughly, ensuring that you remove all the dye.
Step Three: Styling
Once your hair is dyed but before it's dried, style your new locks! Depending on your hair type, you can use lavender-colored pomades or hair spray for an extra pop of color.
Watch Following DIY Tutorial to Learn How to Dye Hair Lavender
Lavender Hair Color Ideas
Lavender hair colors can vary a lot, and you can opt for pale faded nuances that only give your mane a high tint. Darker shades such as smoky or ashy nuances are also available, and you will obtain a glamorous, state-of-art look.
Every time you want to make a good impression or need a dramatic change that stands out wherever you go, opt for lavender hair. To make your search easier, you can find below the best examples of lavender hair colors and styling ideas! So get ready to rock any party and to receive all the compliments about your new look!
1. Braided Lavander Bob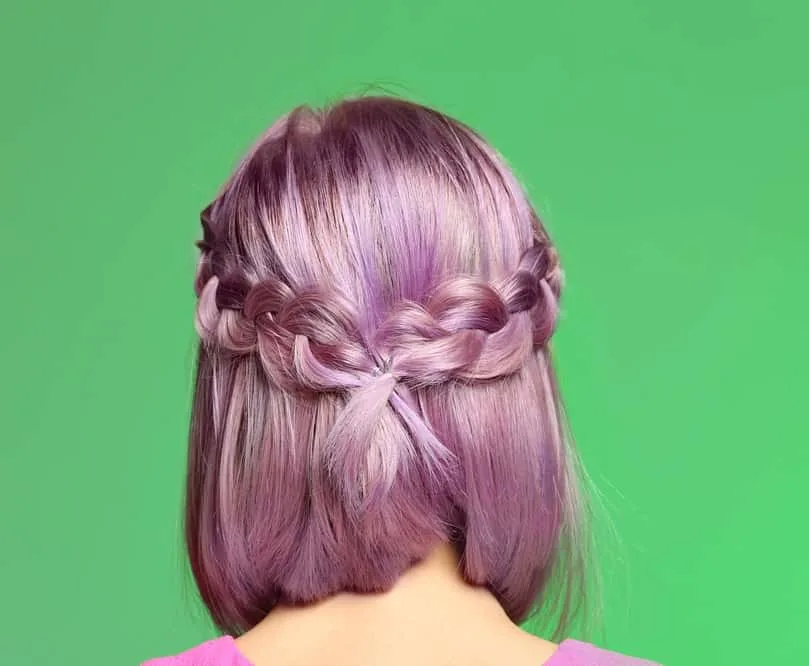 This silver lavender hair looks gorgeous because it has an inverted bob cut, and the knits make the hairstyle pop. Use two thick strands from the forehead hair and braid them to the back to obtain a hair crown. Pull off the edges to give the braid more dimension.
2. Silky Long Lavander Hair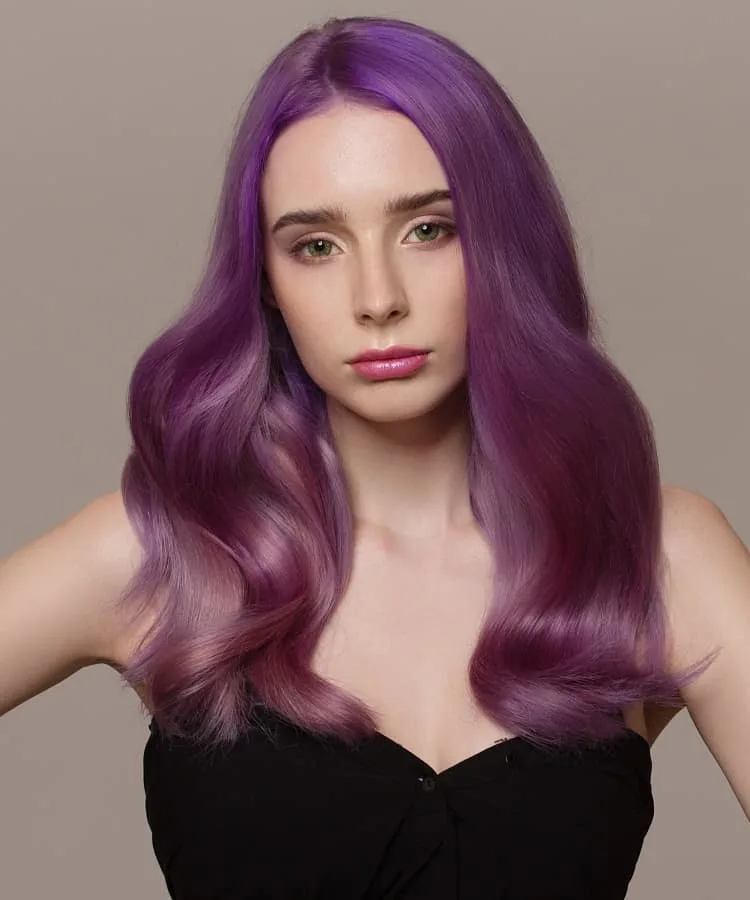 To recreate this beautiful look presented in the image above, opt for dusty & smokey lavender hair. Then, cut the hair blunt and style loose, glamorous waves that will give your mane a mesmerizing texture and glow.
3. Pale Lavander Ombre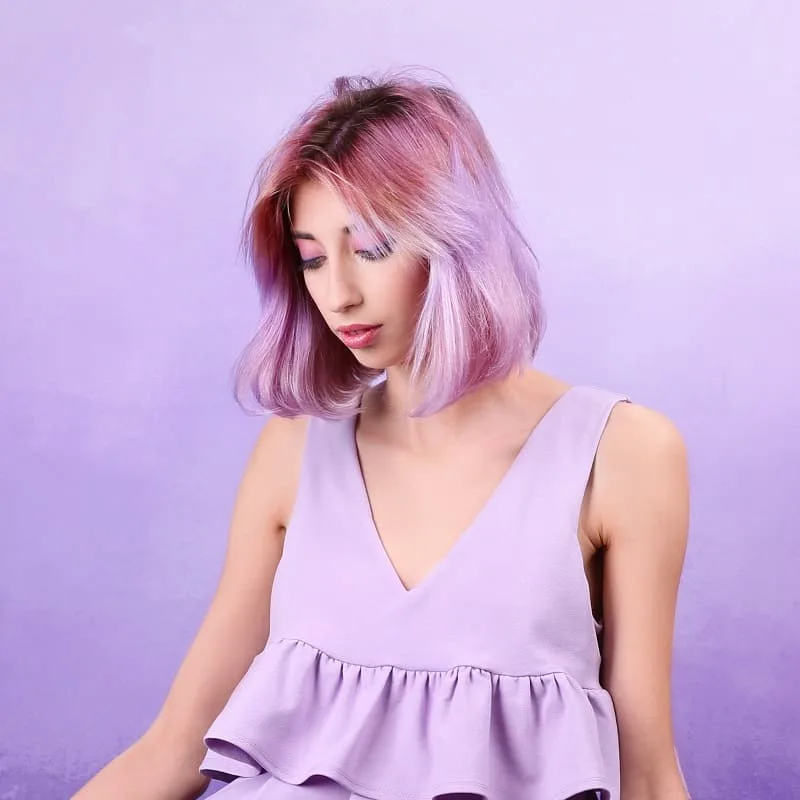 Get light lavender hair with dark roots and opt for a bob haircut. You can also get short bangs and part them in the middle. Trust us, and you will look fabulously cool!
4. Blonde Hair with Lavander Highlights
When having a yellow blonde shade for your mane, get some layers and chin-length bangs that are tossed on one side. Lavender and blonde hair are beautiful, and they will give you a gorgeous transformation.
5. Dark Lavander Ombre with Waves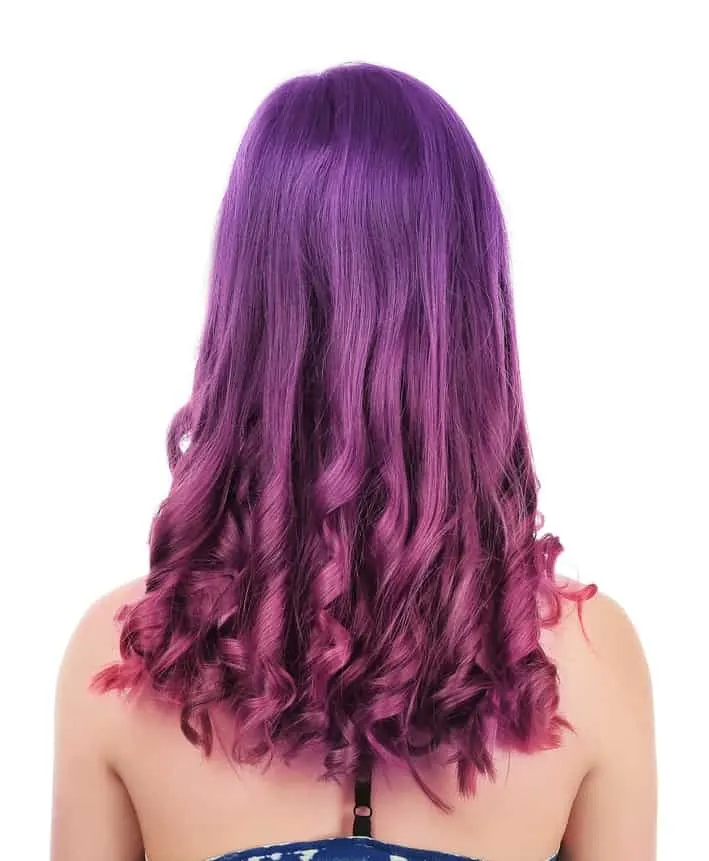 Go for lavender and pink hair if you want a mane that grabs all the attention. Opt for a purple lavender hue for the top that beautifully transits into a pink tint. Build your curls and let the hair fall on your back.
6. Lavender Hair Curled to the Side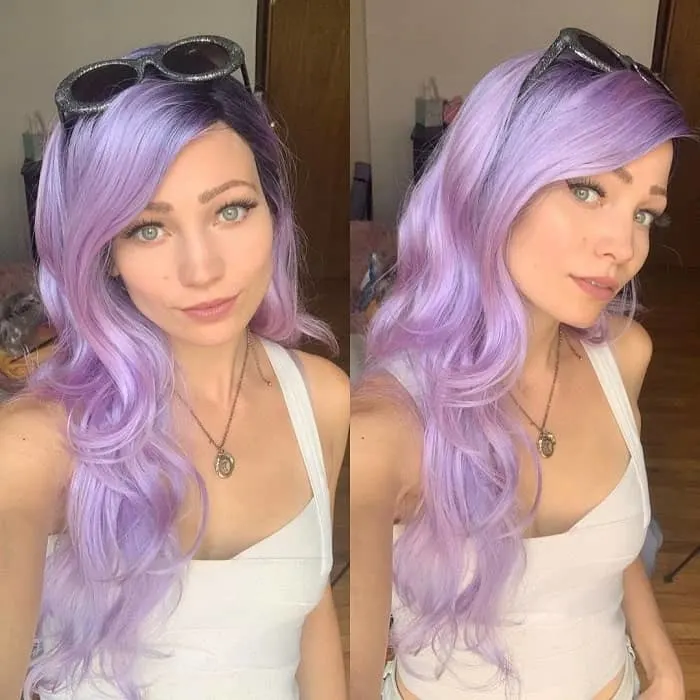 One of the easiest ways to show off a new color is to curl the hair to the side. This allows the light to bounce off the lavender, showing depth of color and allowing the hair to shine. This is best for women who have thick and long hair.
Chic Lavender Grey Hairstyles for Women
7. Lavender Highlights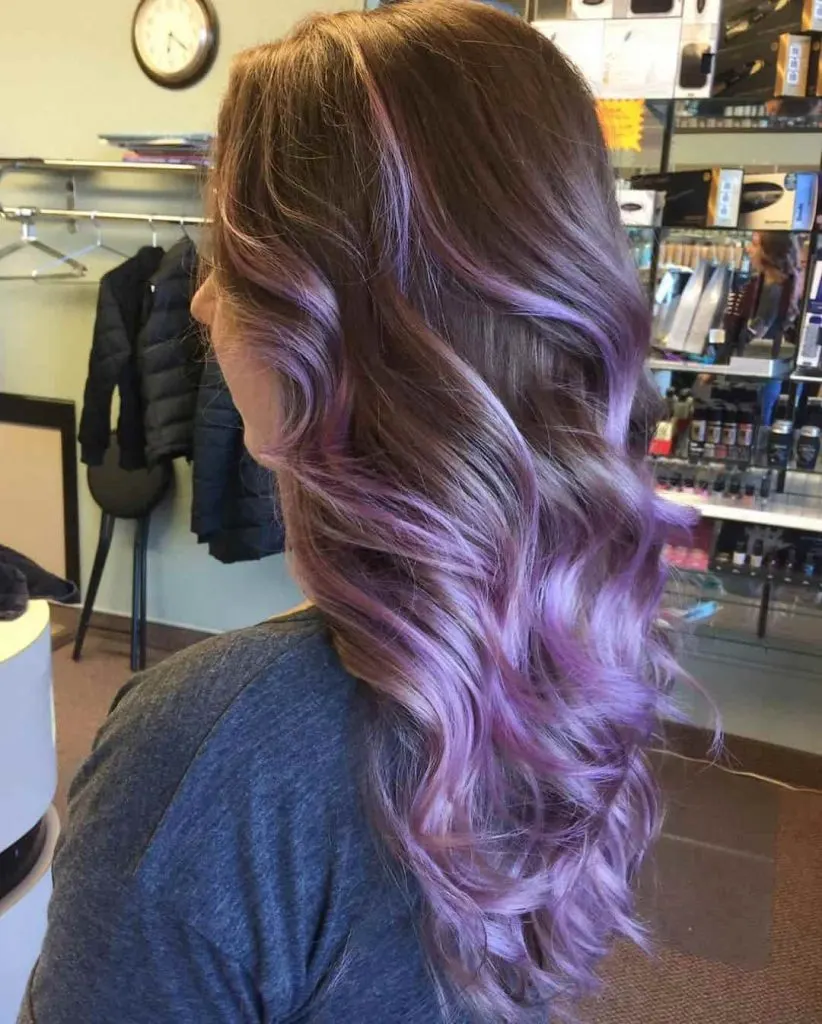 Dyeing just the tips is a great way to add lavender color to hair without a huge commitment. This is a fun way to try out this color and still enjoy natural hair color. Having a professional dye just the tips is a great way to incorporate this color without going overboard.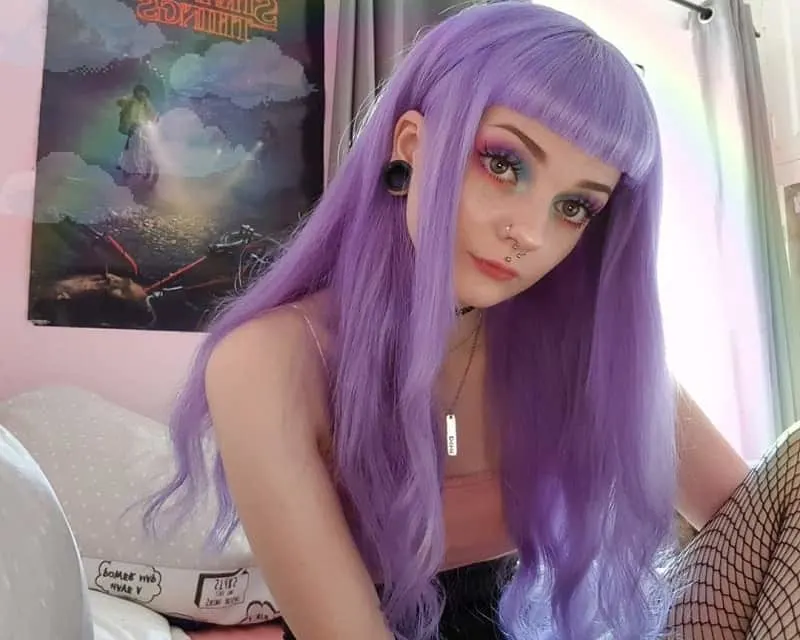 These blunt bangs are a lot of fun and are an excellent option for women who have very long straight hair. Allowing the rest of the hair to grow long can even out the shorter bangs and look a bit more movement and freedom.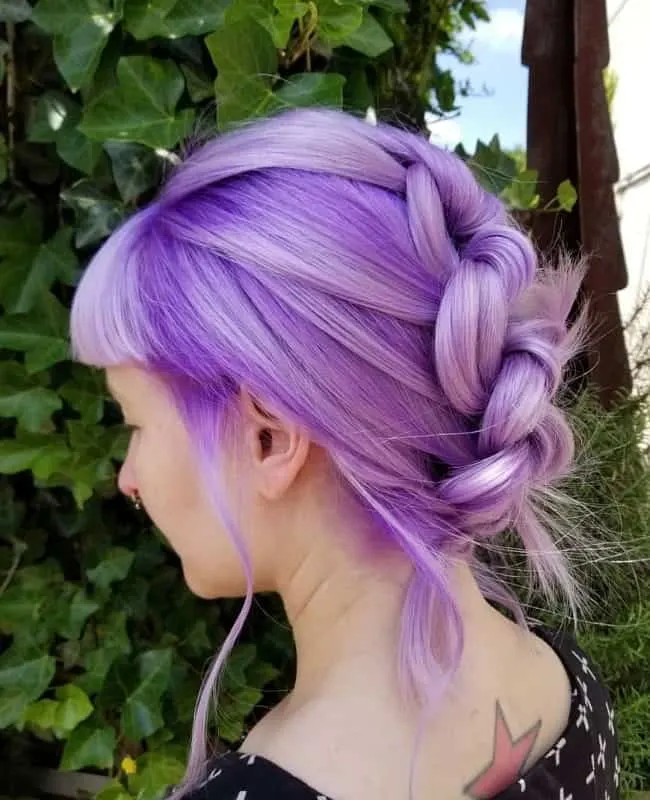 Lavender hair looks excellent when braided and twisted to easily see the different shades. This quick braid is very thick and twisted up off of the neck, helping to contain hair while also making the colors shine.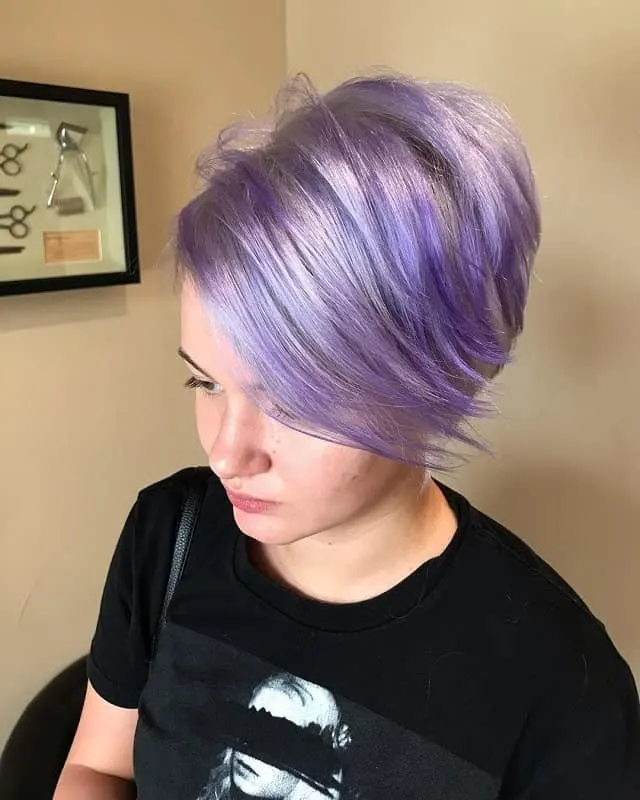 Thanks to the longer front on this cut, it already has a ton of personality. The hair color updates the look and makes it even more fun. By streaking the hair without dyeing the whole head, it adds personality and movement and color.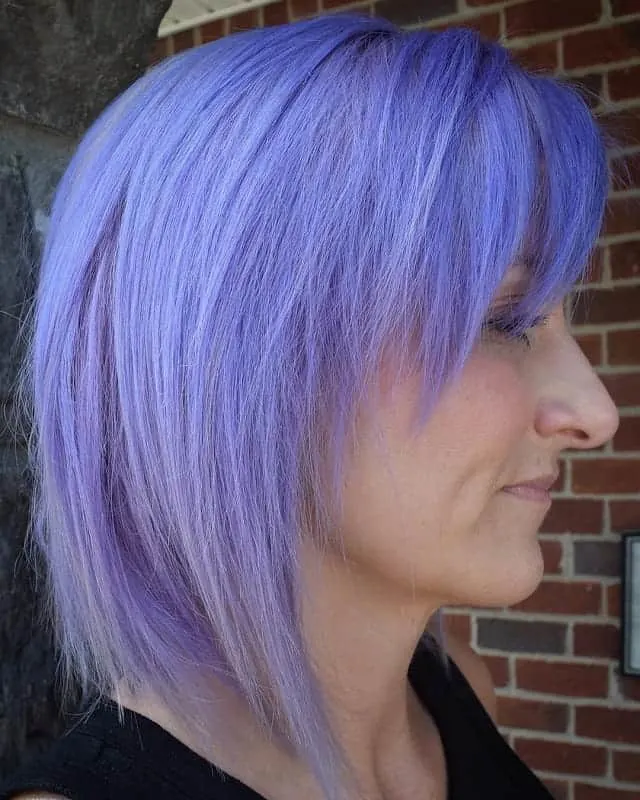 This shaggy look shows that Bobs don't have to be neat and blunt. It's a bit more fun and has a ton of personality, thanks to the uneven edges.
Adding a bit of product to the look helps make it stand out and ensures that it won't fall flat during the day.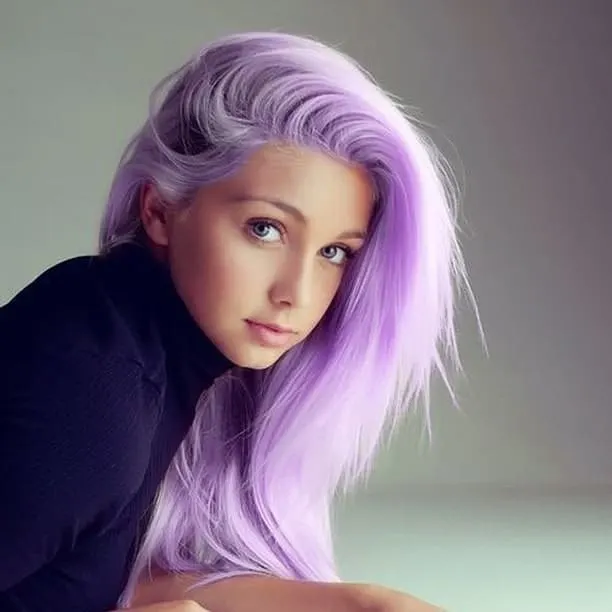 Long hair doesn't have to rest flat around the head. Instead, it is flipped up and over the head to the other side, adding volume at the roots and ensuring that it won't fall flat. This means that the roots and undersides of the style have to be perfectly dyed.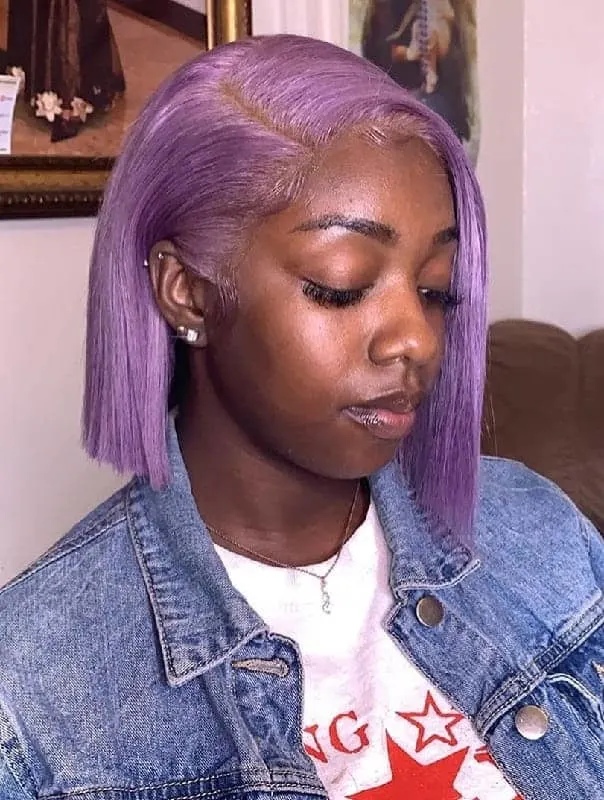 A chic and straight bob is very sleek and stylish. The blunt ends on this weave are all business and keep the hair from looking wild and crazy. It's a fun look for women who want to add some levity to their life but still need a work-appropriate cut.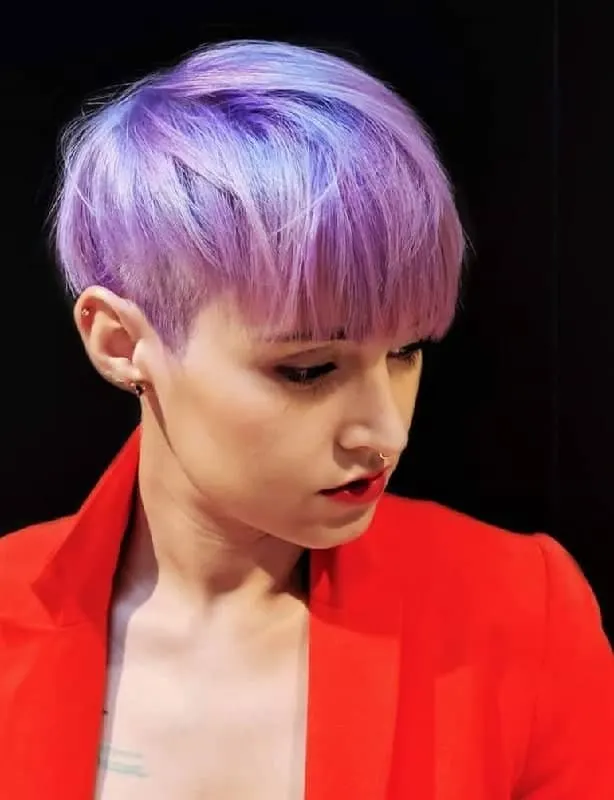 Lavender hair dye is easy to use on short hair, as this look shows. The longer top flops down over, the shorter sides, which adds some interest to the look and keeps it from being boring. Keeping the bangs above the eyebrows is key to preventing the look from appearing shaggy.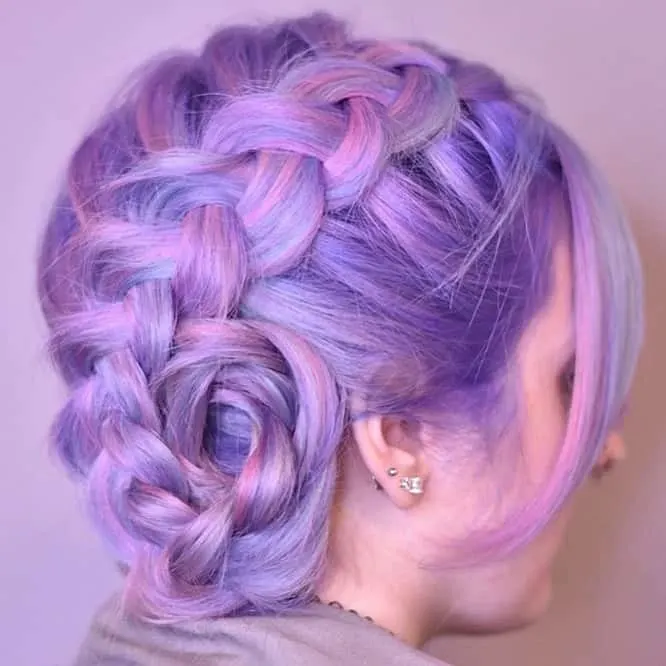 This gorgeous braid does a beautiful job showing off all of the different tones in the lavender. The end is curled up and around on the head, making it stand out from other types of braids. Leaving a little hair loose around the face softens the look.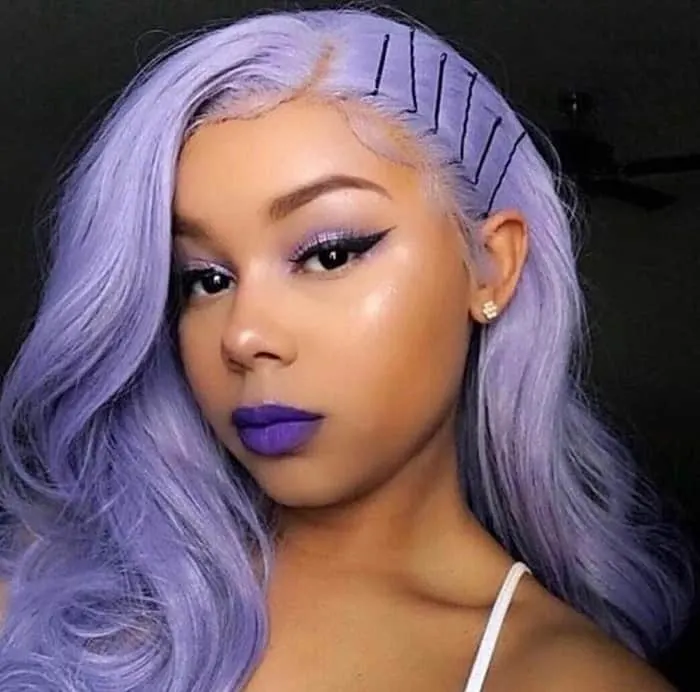 Thick hair looks exceptional when pinned away from the face. This style is particularly bold because the lavender color in the hair perfectly matches the eyeshadow and lipstick. It's a wild look for a confident woman.
Classic Purple Ombre Hairstyles to Copy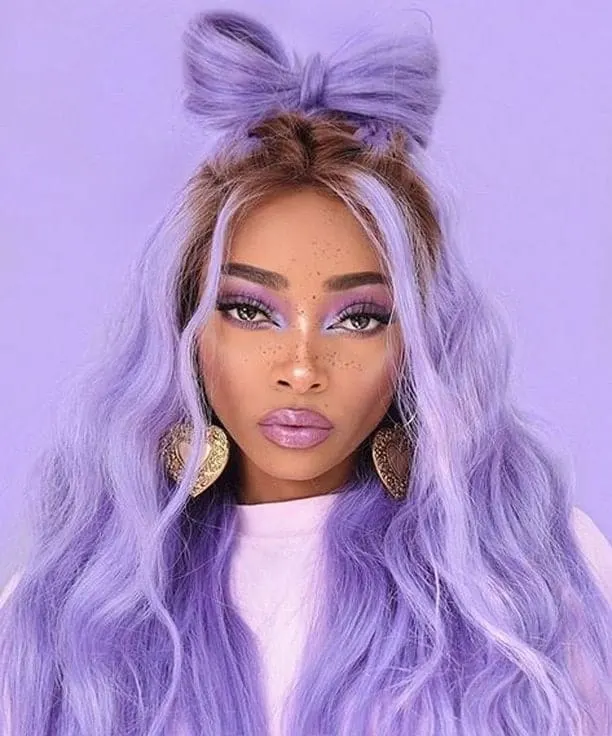 Roots aren't something to hide, although some women shy away from them. Here, they are put on display.
A bow made from hair rests on the top of the head, and longer wavy locks flow down around the face, softening the look and matching the eyeshadow.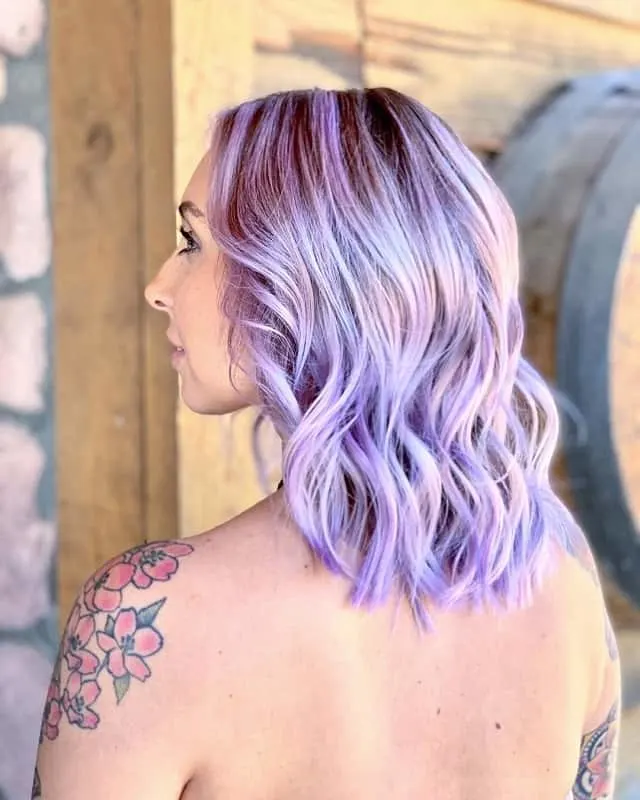 Loose waves allowed to flow down the back and around the shoulders set this look apart. It's very easy to take care of, and as long as the color is applied by a professional, it doesn't require a lot of upkeep or maintenance, making it perfect for busy women on the go.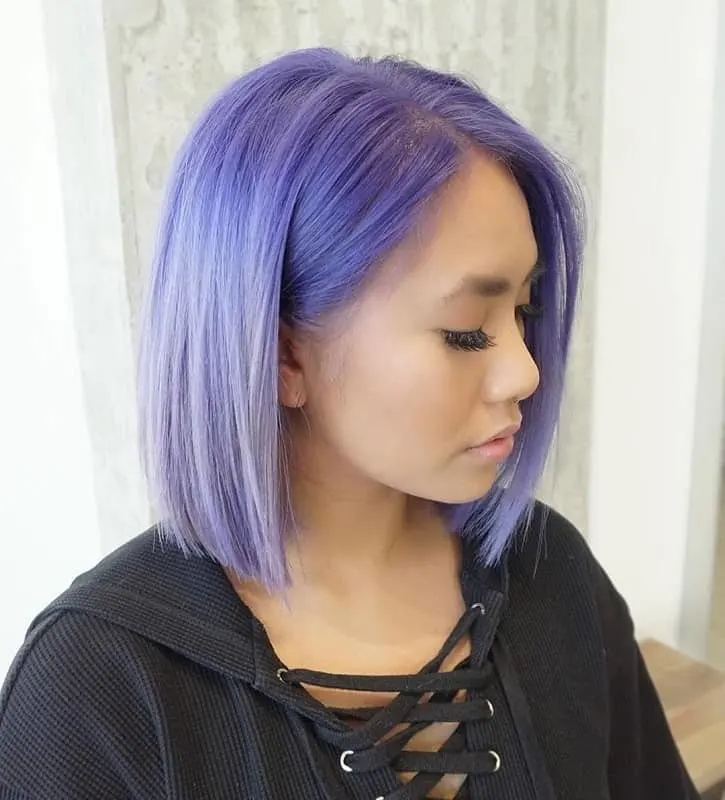 Bobs with blunt ends are impressive, even though they require regular upkeep. This lavender bob barely brushes the top of the shoulders, making it a bit longer than others.
This additional length and the thick and full style of hair make it appropriate for all settings.
20. Silver Lavender Hair + Pixie Cut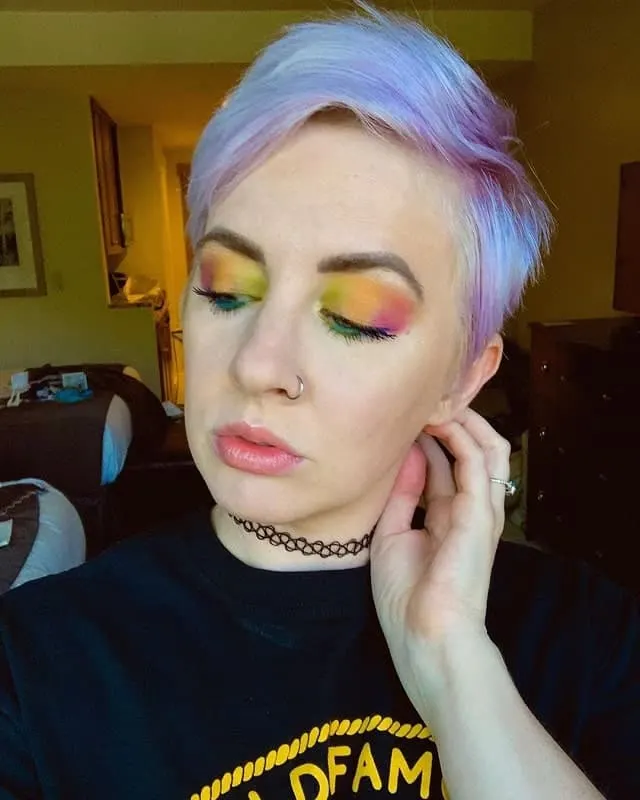 Short hair is attractive on most women, especially when paired with wild makeup. The rainbow eyeshadow seen here is a great option to wear with lavender dyed hair.
The hair is cut up and around the ears, and the bangs are pushed off to the side, so they don't get in the way.
21. Lavender Hair Color + Short Hair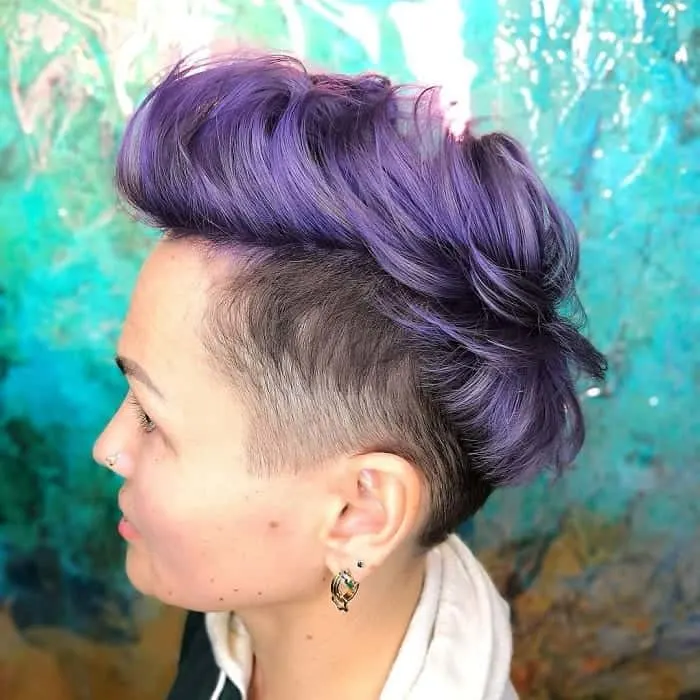 A full pompadour for women is bold and looks great in dark lavender. This dye job contrasts beautifully with the shorter dark hair on the sides and back. Plenty of product is necessary to hold the hair in place and prevent it from falling during the day.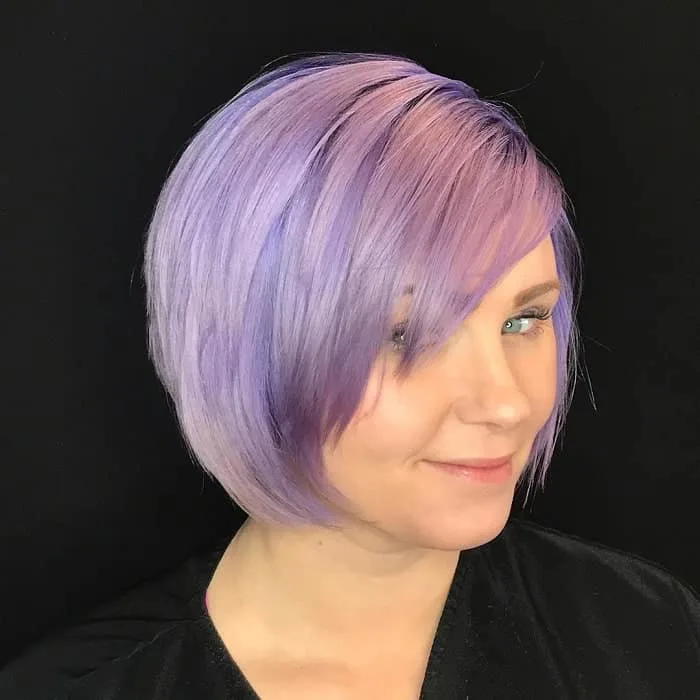 This style has longer bangs that are cut to fall across the face, even partially hiding one eye. The rest of the hair is a bit longer and cut in a modified bob that curves around the face and gently hugs the chin.
23. Curly Lavender Ends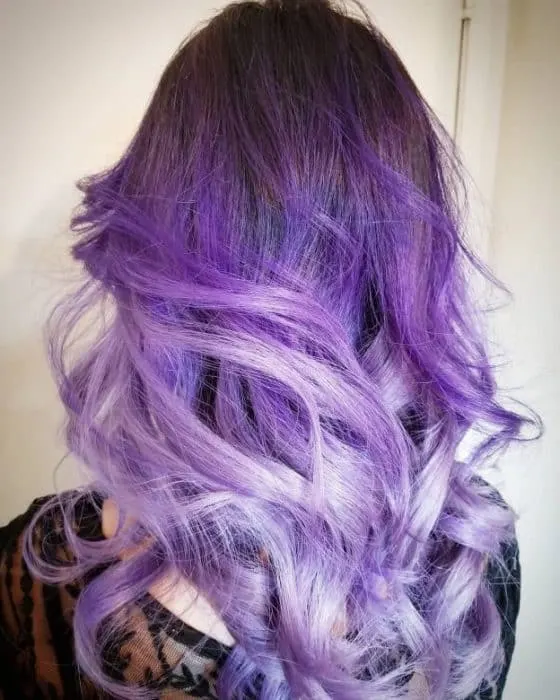 When it comes to ombre, we usually go for super striking hues in order to make sure our hairstyle is noticeable.
But, what happens when you don't want it to be noticeable that much? Dark-haired girls may want to try a sophisticated ombre in pastel hair color that involves a subtle hue that easily blends with your beautiful locks.
24. Dark to Light Braids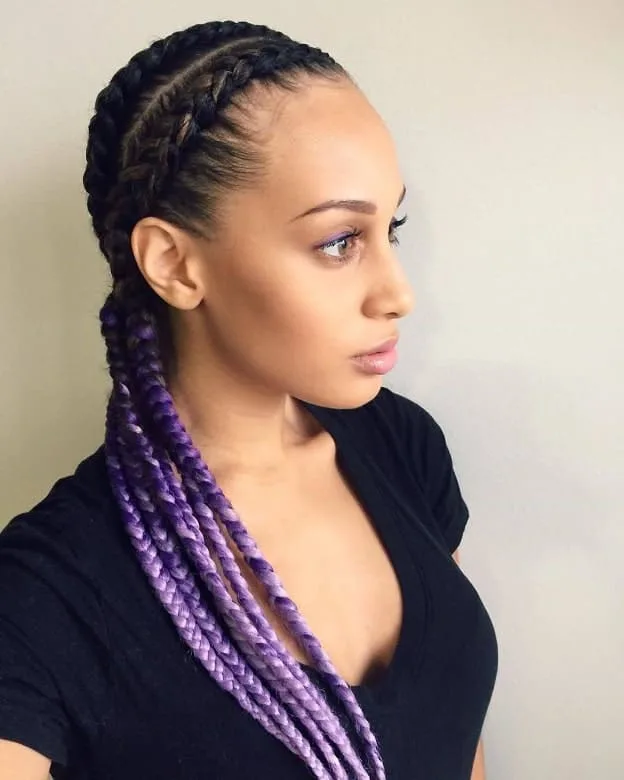 Braids are always IN, and millions of girls across the globe are rocking them. A great way to wear hair color is to include it in your braids for a cute new look. This type of ombre gives your braids even more edge. To complete the braided hairdo opt for a purple eyeliner that matches your ombre.
25. Lavender Purple Hairstyle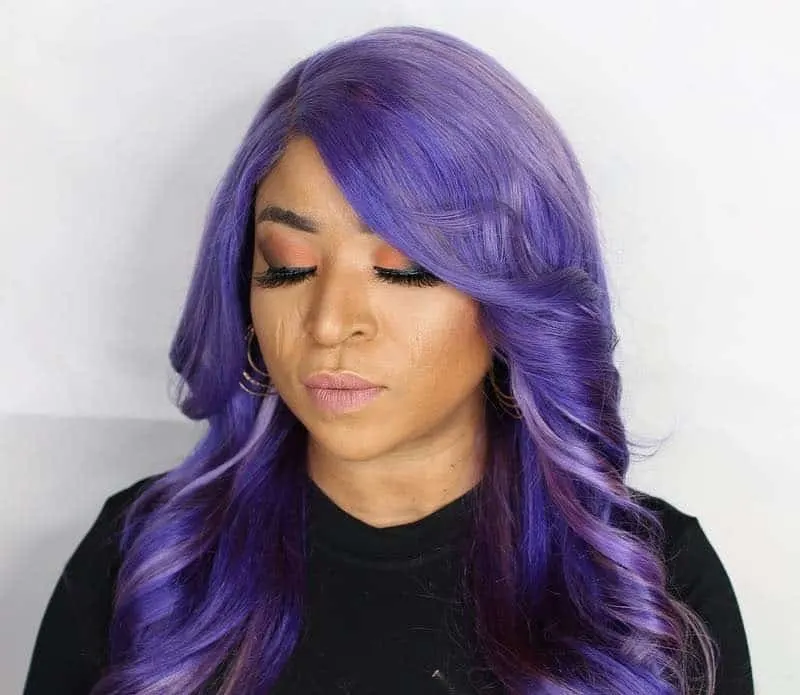 Lavender hair color looks great on all women, but this darker shade will stand out. The hair is then curled away from the face to see the woman's beauty easily. With longer layers and thick ends, it's a bold look that stands out.
26. Longer with Brown Roots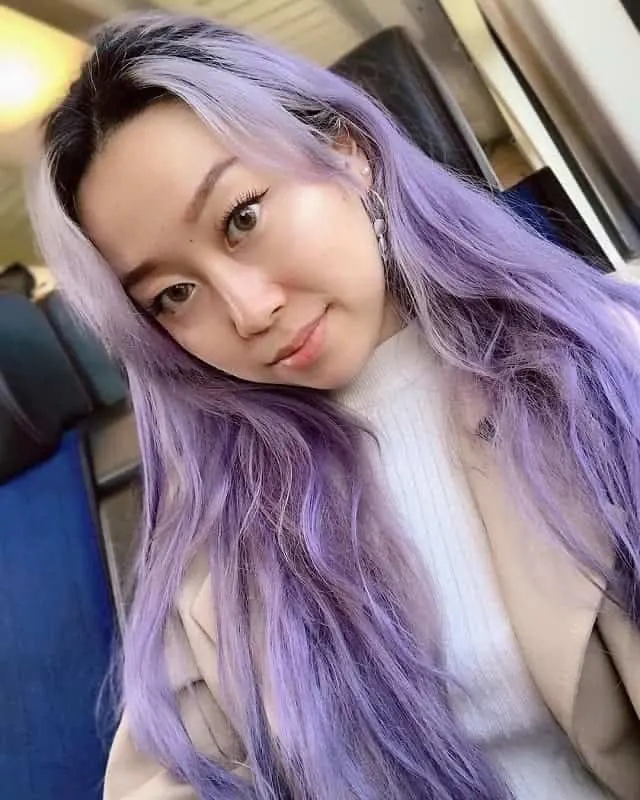 This longer look is a bit faded, but shows how excellent pastel lavender hair can look even as it washes out. The darker roots are a gorgeous contrast to the lighter color.
Tucking some of the longer strands behind the ears keeps the hair out of the way. Bangs are pushed off to the sides to allow women to see without them covering their eyes.
Eccentric Purple Curly Hair Ideas to Try
27. Lavender Ombre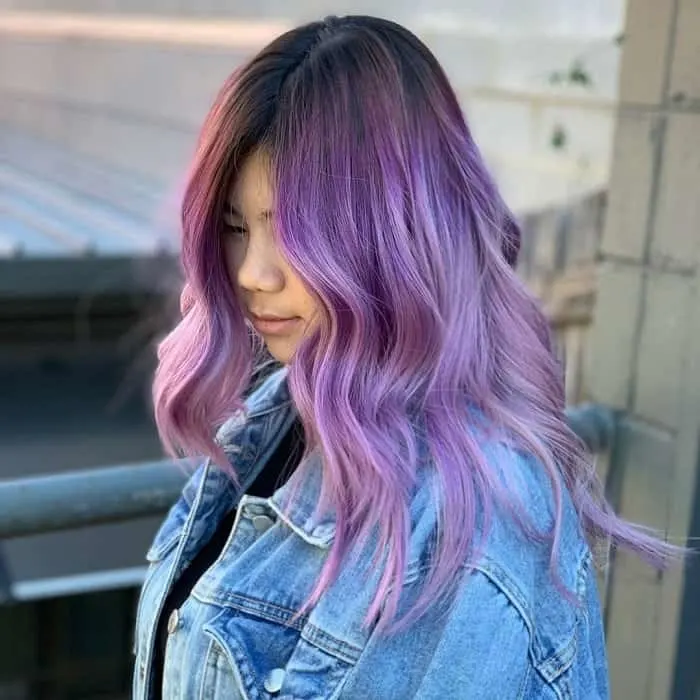 Instead of evenly dyeing hair lavender, women who want to stand out can opt for an ombre look. This look is darker, thanks to the roots, and then fades to a much lighter lavender at the tips.
28. Lilac Lavender Hair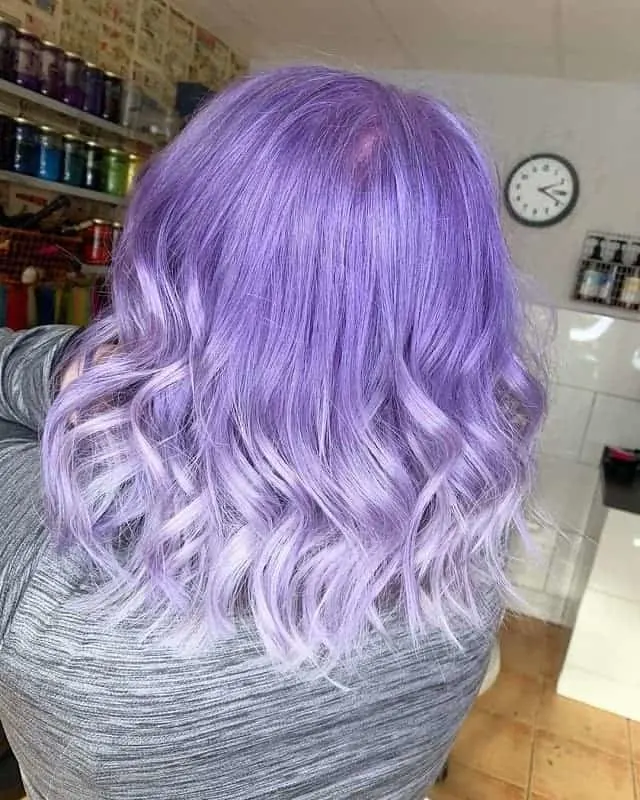 No one will be able to not stare at this fascinating lilac lavender for medium hair. Get a straight bob haircut and style some smooth waves to give your ombre even more value.
29. Lavender Edges on Blonde hair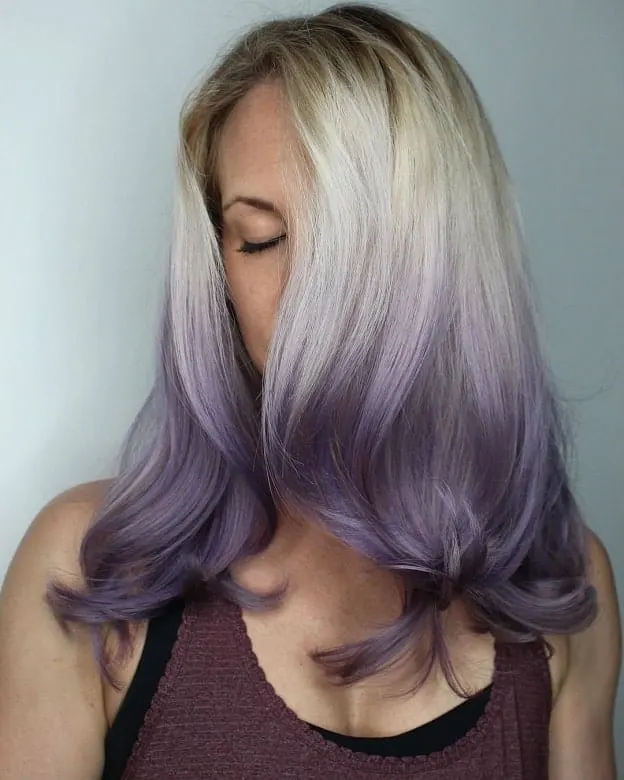 Champagne blonde and lavender ombre are a good match. Besides the vibrant lavender you can use at one point or another, you may also want to consider a subtle shade. In fact, blonde and subtle lavender will give a unique look you've been dreaming of.
30. Three Toned Hair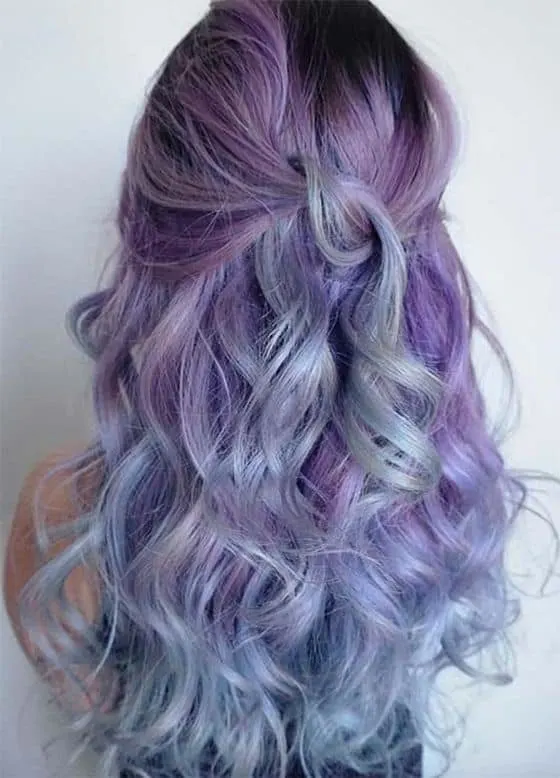 Unconventional hair colors are ideal for brave girls who love to stand out. If you're one of them, then a combination of purple and lavender will take your hairstyle to a whole new level, especially if you also experiment with different 'dos, waves, and other cute things you can make with your locks.
31. Lavender Sombre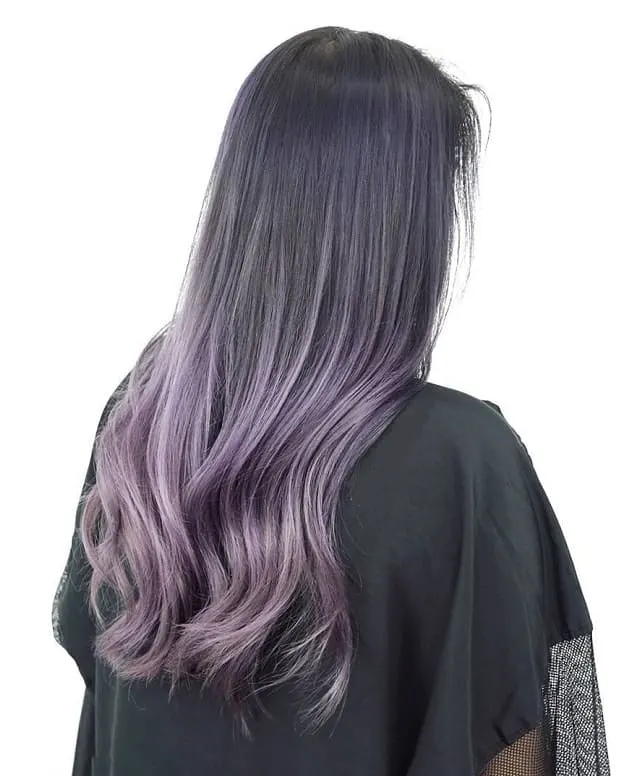 The striking shade of lavender may not be suitable for all girls or women and in different situations. If you're looking for a style that features lavender sombre, then this is the one. Bring more life to your dark hair by adding a hint of lavender. Looks lovely, doesn't it?
32. Ashy Balayage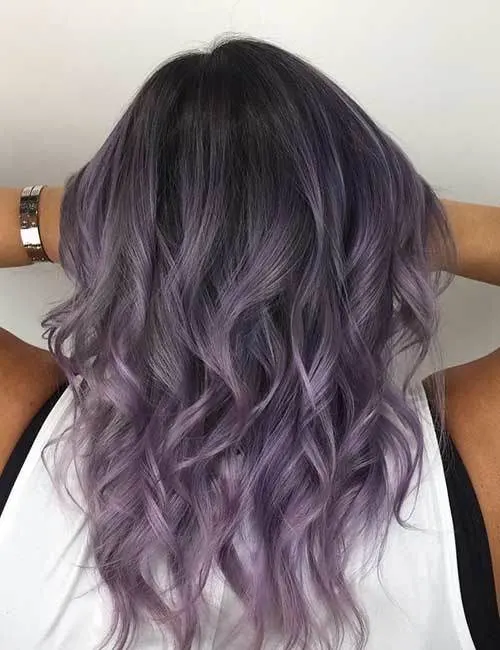 Women who want to achieve a sultry look may want to try dark lavender or faded purple hair color. This particular style starts high up on your hair leaving roots in the natural black shade. Hair is curled to add more dimension and structure to your style.
Lavender Highlights
A lot of women don't see themselves in hair highlights other than brown, black, or blonde. There are a few, however, who are bold enough to go for colorful highlights like lavender if you're one of the few who is confident enough to rock lavender highlights, though; kudos to you! Check out these incredible lavender highlights.
33. Chocolate Amethyst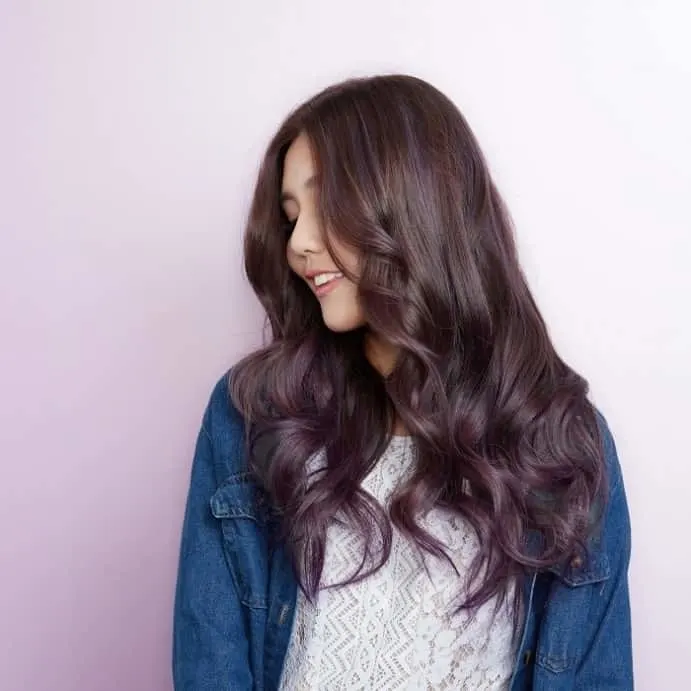 You can achieve this gorgeous look by adding lavender highlights to long brunette hair. It's a great look for those who don't want anything too bold or too loud but still want to get some subtle statement going on in their hair.
It's great for those who want a pop of color on their dark hair without having it fried in bleach.
34. On Gray Hair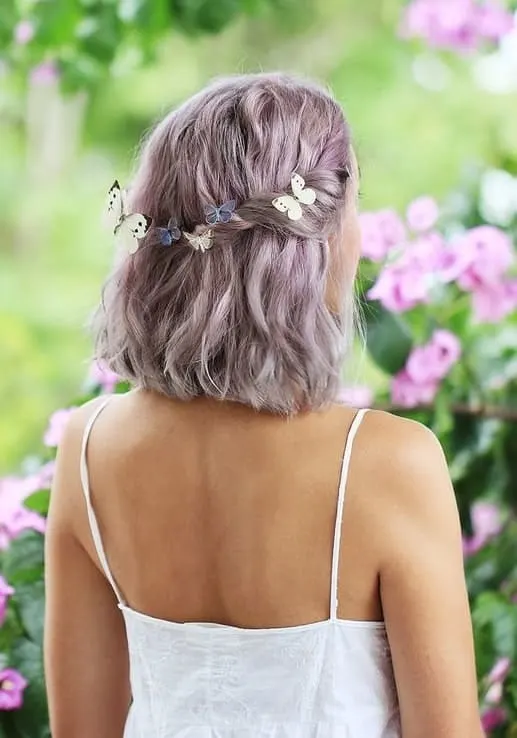 It's hard to pull off grey hair. You might nail it and look like the queen you are or you could fail and look like an old lady dressed up like a millennial.
One thing that can help you pull off the look is to add bold highlights to your grey hair, and lavender is the perfect color for that. Think Kelly Osbourne or Katy Perry – gorgeous, right?
35. Fairy Hair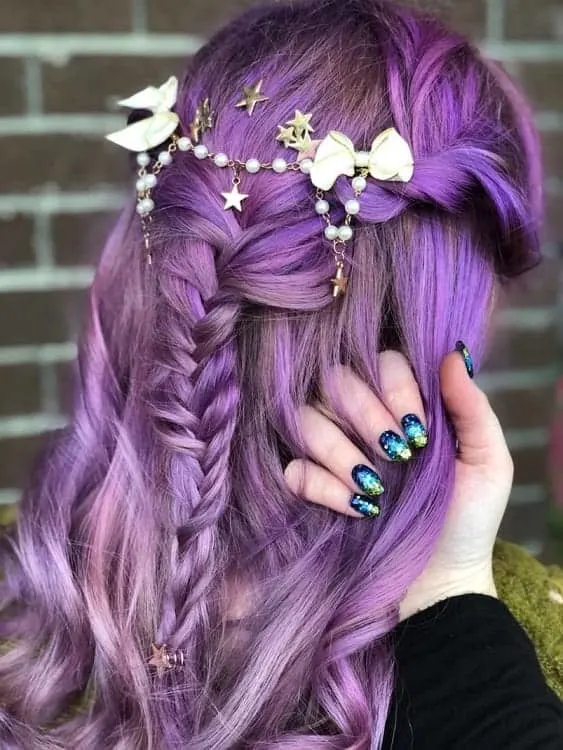 Love the ethereal look of fairies? Why not try to recreate the look with lavender highlights on your hair. This look is best achieved with a light base like blonde or light brown and long wavy hair.
You can go all out with your highlights or be as subtle as you like. Add twists and fishtail braids to complete the look, then accessorize as you see fit.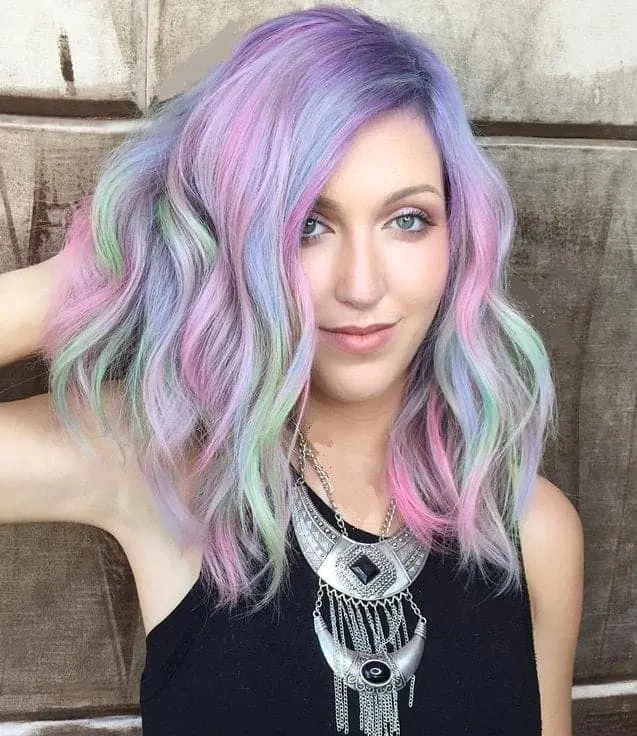 Do you know what would look great with lavender highlights? Other pastel highlights! This would look incredibly epic on blonde hair and it's the perfect way to achieve that trendy rainbow/unicorn hair that's all over Pinterest right now! The only downside to this look, though, is that you might not be able to wear it to the office or school.
37. Short Purple Pixie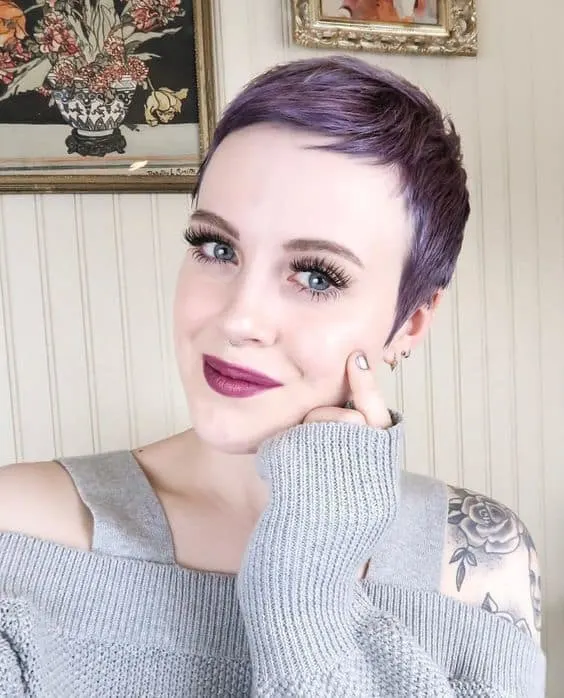 Rocking a pixie cut is no joke. It's one of those hairstyles that's not that easy to pull off. One of the risks of getting the pixie cut is that it might age you. Luckily, it's easy to spruce it up and make it look cool, edgy, and modern by adding highlights in bold colors like lavender.
38. Going All Out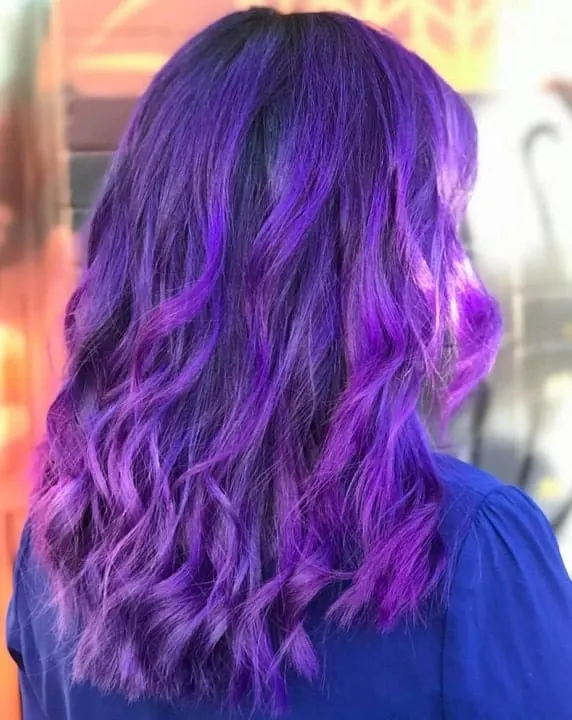 You've done it! You got your hair dyed a gorgeous purple ombre color so why not add the final touches and top it off with lavender highlights? This is a great way to keep your hair from looking dull, and adding different shades of purple/violet as highlights and lowlights will bring a ton of dimension to your 'do.
39. Royal Ice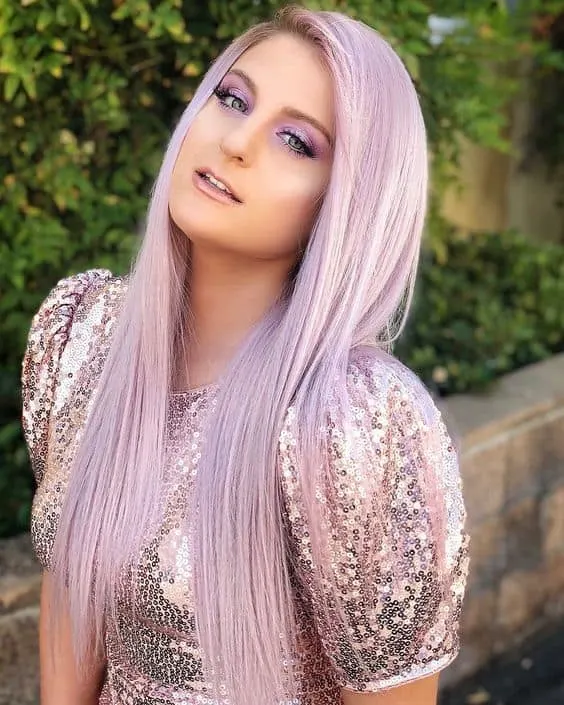 Not the type to shy away from attention? Going platinum blonde with pastel lavender highlights makes for a great statement look, whether for winter or summer. This look is the perfect cross between edgy and playful, so if you're looking for something in between those lines, this might work for you.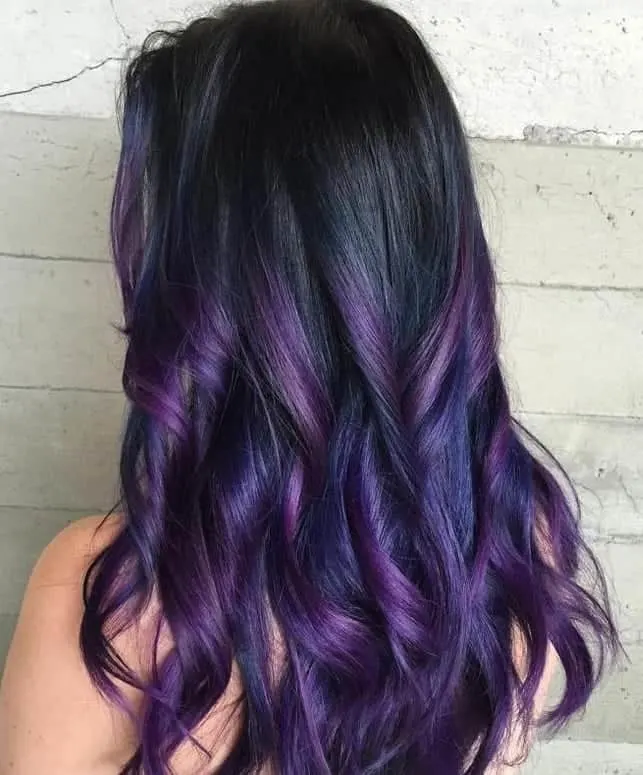 They say the downside of having black hair is that your highlights won't show up as vividly as if you had lighter-colored hair. So if you're looking for something subtle but cool, you might appreciate the look of lavender highlights on black hair.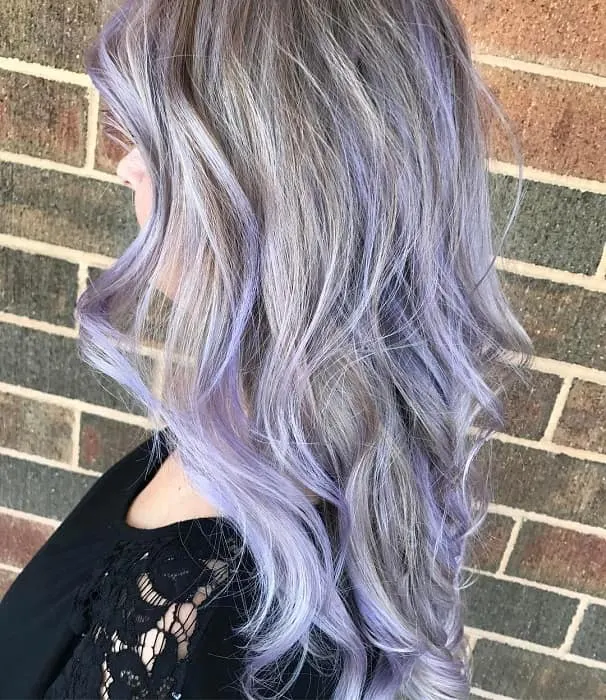 If you're looking for another way to add a subtle statement to your hair, peek-a-boo lavender highlights might be what you need. These will look great, no matter what your hair color is.
What's more is that you can rock these and sneak them in at work just by keeping your hair down and when it's time to party, you can get your hair up to reveal the surprise. Or, you can keep your hair up in a bun with a cute lavender swirl.
42. Sneak-a-Streak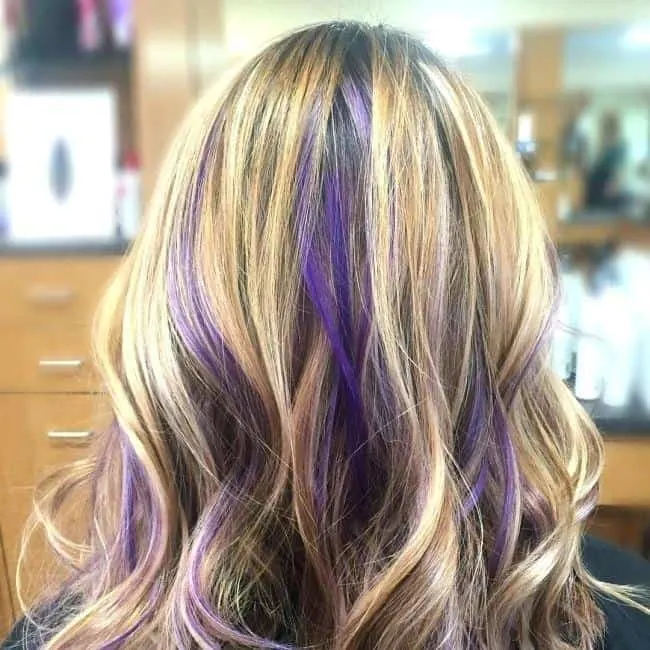 Streaky highlights aren't everyone's cup of tea, but if it's yours and you want something cool and unique, getting lavender highlighted streaks on your hair might be something that's right up your alley.
43. Cosmic Curls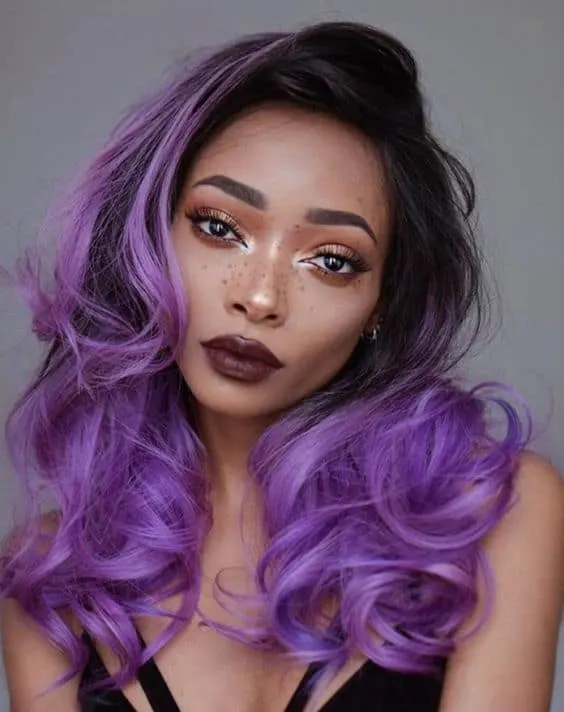 If you love wearing your hair curly and looking for a way to add a bit of a street style edge to your look, why not add purple lavender highlights to your hair? It's the perfect way to get that cute, curly, cosmic look on your locks, and it makes the texture of your curls look more attractive.
44. Lavender and Blue Multi-Shade Style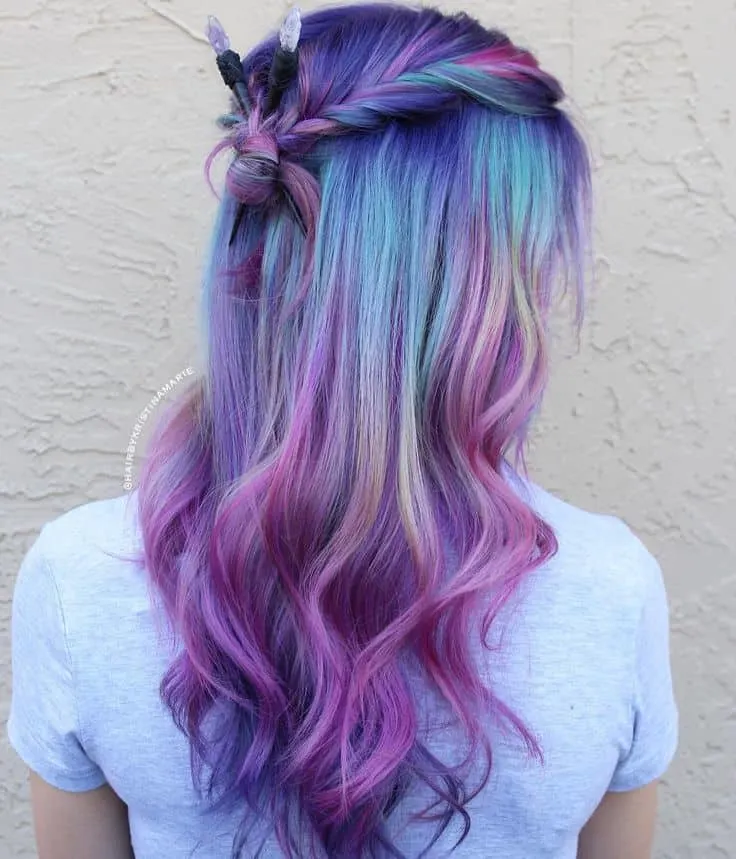 Rainbow lavender hair is so mesmerizing! This unicorn hair trend is vibrant and bold and is a perfect choice for this summer. Create pastel blonde, teal, and pink hues and make them beautifully blend with the lavender. Use the top hair to build two braids that meet in the back.

Splurge yourself with a pastel lavender shade that gets all the attention when you enter a room. Remember to boost its vibrancy from time to time because this hairstyle needs regular touch-ups.
46. Purple Ombre and Big Waves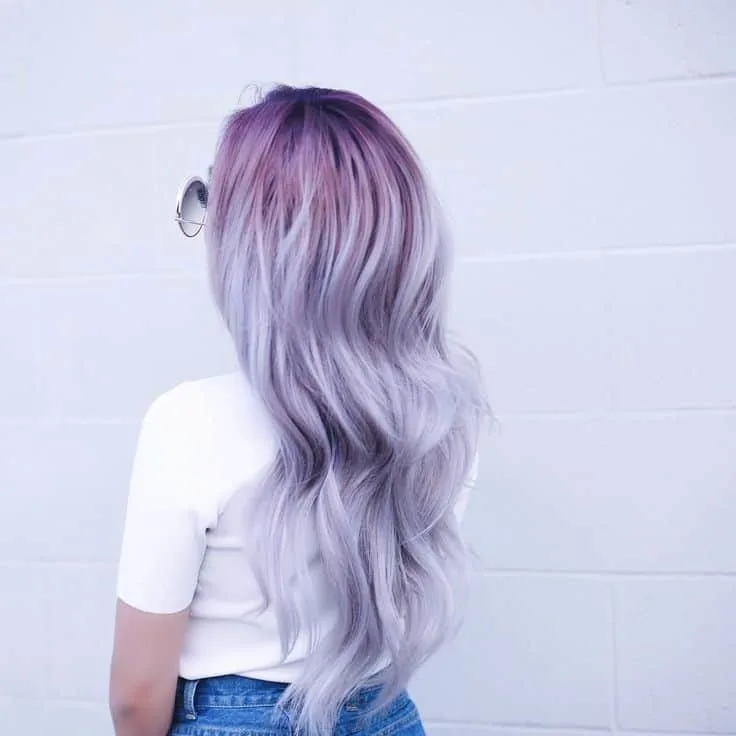 Take this lavender hair color to a new level by creating a marvelous sombre. Keep the shade darker in the root area and gradually add a silver touch once it reaches the tops. Gain more volume with some big waves.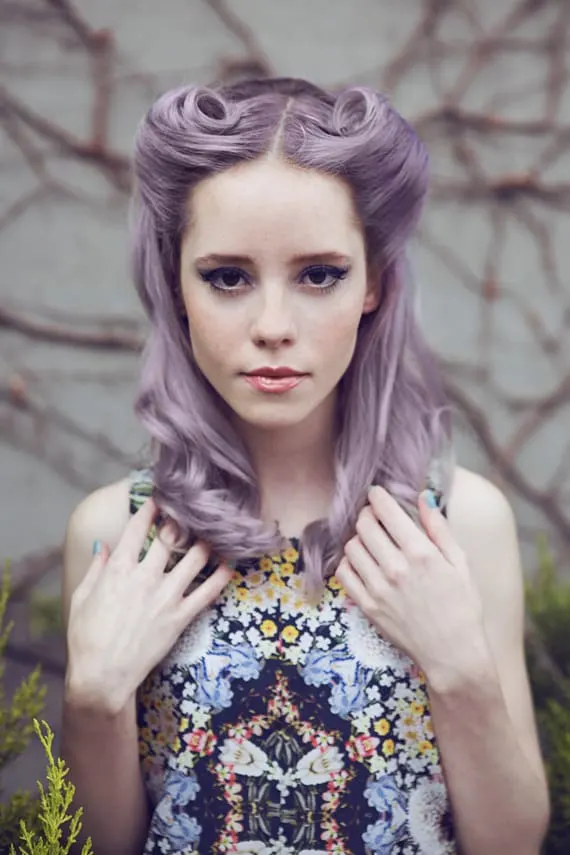 Build an eccentric retro hairstyle by dyeing your hair in an ashy lavender color, and use your long bangs to build Victory rolls. You will show off your creativity and bold personality through this fabulous hairdo.
48. Two-Tone Purple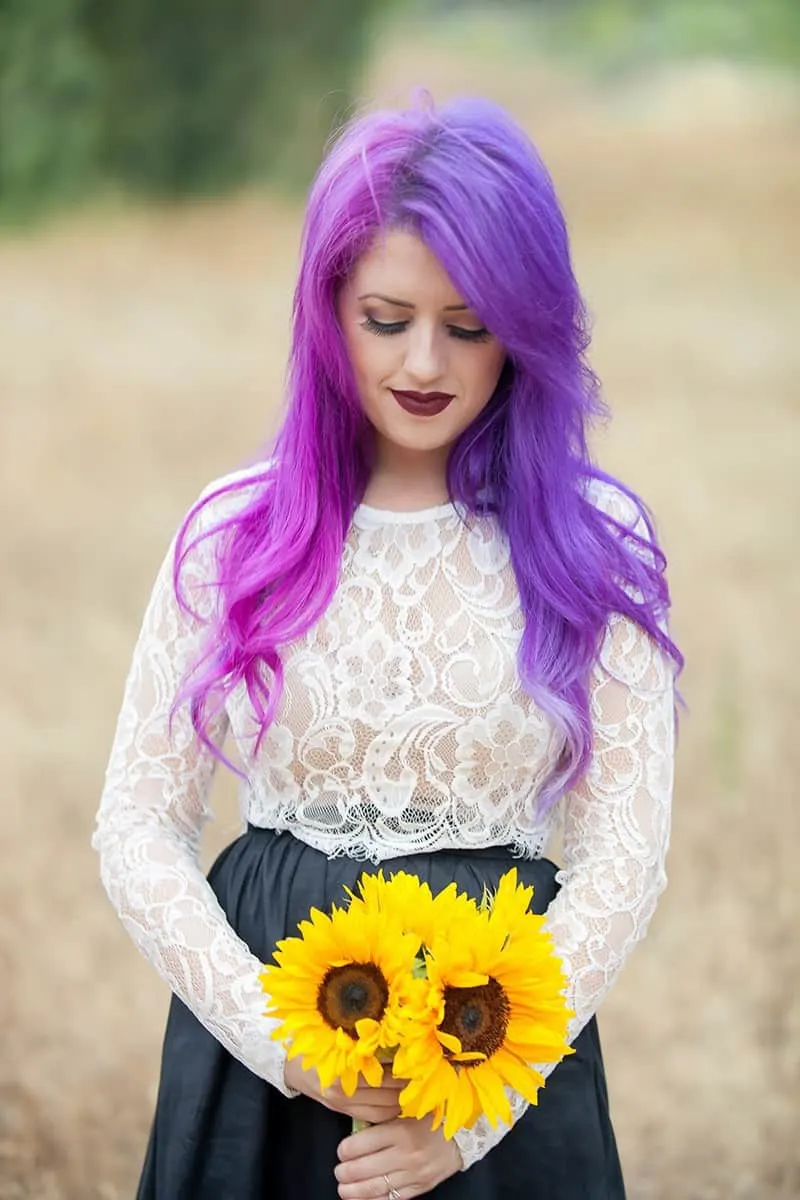 There are so many ways you can play with lavender hair color, and one of the options is to choose two purple tones for your hairstyle. Then, create a middle part and dye one section into an electric purple and the other one in hair color with pink-ish notes.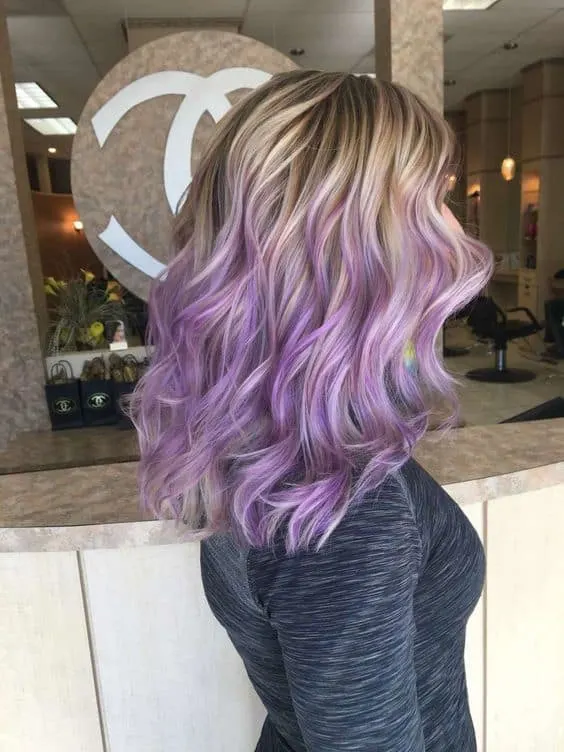 There's something irresistible about dirty sand blonde and lavender highlights hairdos. A unique combination of the two colors is best styled with sexy, long beachy waves fit for spring and summertime. Festival season is just around the corner, and you're ready for it.
50. Ponytail with Highlights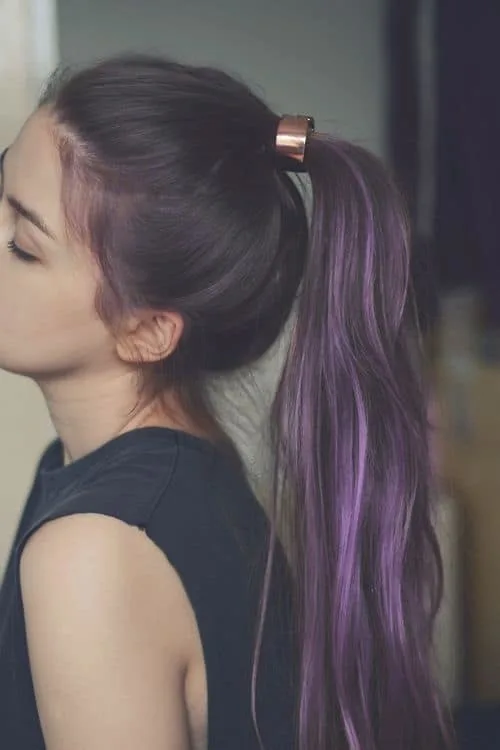 The high ponytail is probably the most practical hairstyle ever. Us girls wear it every day. Sometimes you make a super hot ponytail that you rock outside, at work, or on a night out. In other cases, it's just a way to prevent your hair from bothering you while working, reading, or doing something else. Ombre in lavender shade looks perfect when picked up in a high ponytail.
51. Muted Lavender Ends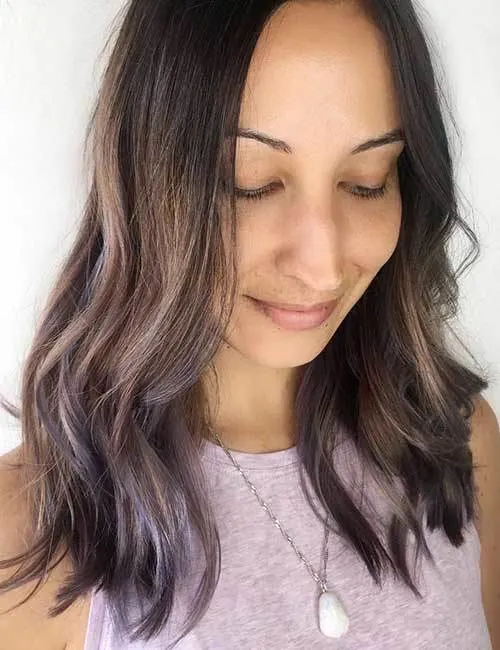 Here's yet another great subtle lavender hairstyle for all the lovely ladies who want to try highlights, but in a subtle manner. Muted lavender agrees well with any hair color, including ashy blonde and chocolate brown. This particular hairstyle has a mysterious yet fun vibe you'll emulate with ease.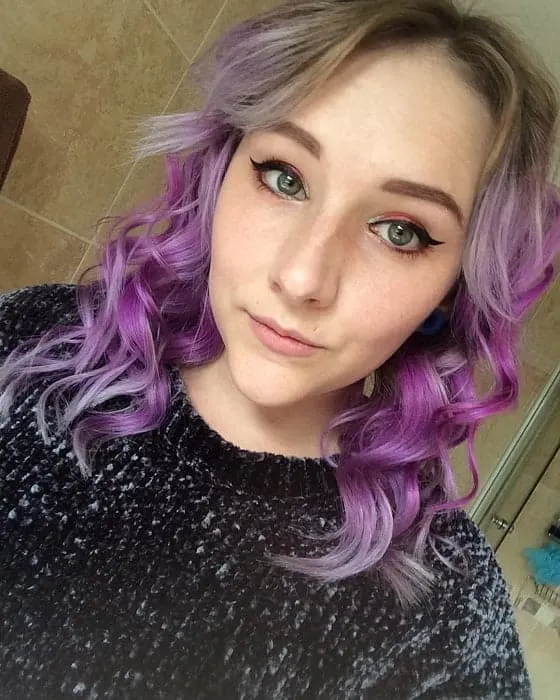 If your goal is to combine both wild and feminine touch, you may want to consider this light brown style with a dash of lavender-colored highlights. The look is completed with sexy curls.
Maintenance Tips
Lavender hair, like most pastel shades, requires a lot of maintenance to keep hair vibrant and fresh. Some of the best ways to keep your lavender hair include:
Washing your hair in cool or cold water
Washing your hair as infrequently as possible
Buying color-safe shampoo and conditioner
Avoiding heat treatments on your hair as much as possible
FAQs
Colored hair is trendy, and if you are thinking about taking the leap and coloring your hair lavender, you probably have questions. Read below to see some of the most frequently asked questions.
Can I lighten my purple hair into lavender?
Yes. You can lighten purple hair into lavender with bleach or toner. However, when you first dye your hair, it is at its most vibrant. Often purple hair will fade into a lavender color on its own after a certain number of washes.

If your hair comes out too dark when you attempt to dye it lavender, let the color develop on your hair for a week before you try to lighten it.
Does lavender hair color fade fast?
It depends. Like all pastels, lavender dye will fade if you expose it to water, chemicals, or heat too frequently. One way to ensure a longer life for your colored hair is to limit showers and choose your shampoo and conditioner carefully to extend the life of the color for as long as possible.
Who should try lavender hair?
Lavender looks best on people without pink or cool undertones. The pink and the blue are too close to the lavender and can wash out your skin.

While it looks excellent on anyone without pink or cool undertones, it looks lovely on those with tan or dark complexions.
Is lavender a high-maintenance hair color?
Yes, it is a high-maintenance color. Consider how often you wash, style, and heat-treat your hair before you choose to dye your hair lavender. However, the high maintenance cost comes with high rewards as lavender is a beautiful and popular color.
What color will lavender hair fade into?
Lavender hair tends to fade into an icy purple-tinged gray. As long as the fading occurs evenly on your hair, the fading can be beautiful.

Be consistent with your hair to prevent one place from fading more quickly than any other. Don't stand under hot water in your shower without moving for an extended time. It also means that you shouldn't only straighten or curl certain portions of your hair.
Lavender highlights are not for everyone. If you're looking for ways to freshen up your 'do and add some edge to your look, this might be a great way to do so. It's a different take on the purple trend It looks great on all lengths, especially when the hair has some curl or wave.