Choppy bob is one of those styles that all women love to wear. It is super versatile and great for styling. It is also one of those bob haircuts that never goes out of style.
What Is a Choppy Bob?
Bob doesn't need a big introduction, it's been around for so long that you have probably worn it in some period of your life. The biggest difference between classic and choppy is that the choppy cut bob is messier and your hair is practically all in layers.
Even though you will need to style it and use different products, your haircut will be absolutely breathtaking. Let's see how to do it without a fuss.
How to Style Choppy Bob
Only thing hairdressers advice us about choppy bob hairstyle is the messier, the better. Don't worry, this won't take your whole morning or that precious time in the evenings. On the contrary, with good products and some kind of a routine you can achieve perfect hairstyle in no time.
You should first spritz the hairspray all over your bob. Comb it with your hands. Hairspray will add more texture and volume to your hair.
Blow dry your hair. You can also section it to make it quicker. Don't think about drying too much, just make it messy.
Once you finish blow-drying your hair, section it again and prepare it for curling. You can opt for both curling wand or flat iron – you can make waves with both.
Go through your hair to separate waves.
In the end, add more products to keep your hair messy. Gel applied with your fingers will make your hair looks great, with a messy vibe.
Rub some of the gets on your hair ends and squeeze them for a chunky look.
To keep your hair in order don't forget to spray it with dry shampoo before the bed.
Trendy Short & Long Choppy Bob Haircuts
Like any other bob, choppy bob can be short and long. Depending on how you want to cut it, we have handpicked some examples to try.
1. Purple Bob
This trendy look is all about the short bob with choppy strands. The hair is dyed in a lilac-purple shade with brinjal tones in between. The side bangs covering the forehead add a cute touch to this look which is ideal to flaunt short waves.
2. Fresh Look
A minimalistic hairstyle like this will give you a fresh look. All you need is to get a blunt cut choppy bob and add beautiful tight waves for an on the beach look. Use some setting spray to avoid frizz and add shine to your chocolate brown locks.
3. Long Front Fringe
A choppy cut bob can be turned into a chic hairstyle by adding an asymmetrical long fringe. Chop down the strands to ear length and keep the front fringe long enough to reach the chin with a side part. This style is ideal for middle-aged blonde women.
4. Edgy Cropped Bob
Get an edgy choppy bob to lighten up your look. Cut the bob short enough with a lot of layering to be tucked behind the ears with a deep side part. Add blonde babylights to contrast the darker brown hair and complete the dreamy look.
5. Curly and Layered
This mystic look is a toned-down version of the deva cut. The shiny brown curls are layered in a way to frame the face all along. The bob is long at the front and shortens down the back. Add a headband to keep strands away from the face.
6. Eyebrow Skimming Bangs
A bob haircut always goes perfect with bangs. To create this cute look, chop down the hair to chin-length with eyebrow skimming bangs at the front. Use a hair straightener to add beachy waves to the chopped bob while keeping the bangs straight.
7. Tousled Waves
The more disheveled and tousled a choppy bob is, the better it looks. Take this style as an inspiration where an inverted bob is coupled with messy waves and straight sleek bangs at the front. Give the hair a hand-tousle and you are ready to go.
8. Choppy Bob for Fine Hair
A choppy bob adds a lot of volume to fine hair. With a side part, add maximum layers till the ends to get a sassy look. Pair it up with see-through bangs touching the eyelids. Blonde highlights can be included to further accentuate the look.
9. Pink Highlights
Rock a French girl bob by adding vibrant pink highlights to it. Color the hair in a rich burgundy shade and add highlights in such a way that they frame the face along with the bangs. Add subtle waves and be ready to turn some heads around.
10. Dark to Light Ombre
Bring the sunset on your head with this look. Add a copper hue at the top that tones down into lighter shades of orange while reaching the ends of the choppy bob. Tousle your bangs and waves, and the look is ready. This style is ideal for ginger-heads.
Even though this bob is pretty short, you can still make waves and make it look chic and very interesting. Highlighted ends will make layers even more visible. You will love how easy for styling this hairstyle will be.
If you are thinking about chopping off your hair but you don't want to overdo it, opt for this long bob. The funky, highlighted structure will make it look stylish and very attractive. Not every bob should be short.
Choppy bob haircut of this length will provide you with a chic vibe. You can wear it all day long, without wondering it will look dull at the end. You don't need highlights to make it eye-catching. Instead, opt for this lovely brown chocolate dye.
Balayage highlights look cool and eccentric. However, it will only make your complete outfit look great. This choppy lob is perfect for styling as well – a bit of spray, curling wand and voila!
The layered inverted bob with choppy ends is for those who like to keep things polished and classy. Choppy ends are straight, fringes at one side, and the length is short. This hairstyle is perfect for working women.
Suitable Choppy Bob for Face Shapes
Not all bob haircuts with choppy ends suit all face shapes. Sometimes, you need to opt between side bangs, fringes or the length of your bob to make it compliment to your face shape.
Here is a guide for five different face shapes and how to choose a choppy hairstyle for them.
16. Round Face Shape
Round faces need a good hair layering. In order to make that round shapeless round, you need to cut off your hair in a choppy bob with a lot of layers. You can comb over your hair and make it more voluminous that way.
17. Oval Face Shape
Oval faces can be pretty challenging for a bob haircut. However, it is surely not impossible to achieve that perfect one that will suit you. You can wear a short choppy platinum bob, with a few layers and side bangs. Side bangs will hide the high forehead.
18. Square Face Shape
This choppy medium bob will accentuate your square face but in a positive way. This haircut is full of layers, and that is exactly what you need. It is not so hard to maintain – towel-dry it, add a hair spray and let it find its own shape.
19. Long Face Shape
This is classy and lovely bob with swept fringes. It is perfect for all those women with long faces as well as for those who like a classic haircut that is easy to maintain. Swept fringes will hide your high forehead and make your cheekbones highlighted.
Super short choppy bob like this is perfect for heart-shaped girls. There is a potential danger that this haircut can look like a mushroom on other face shapes, but no worries for heart-shaped ones.
Choppy Bob with Bangs and Layers
There is no better way to make your choppy bob cut look interesting than by adding bangs and layers. It is practical for oval and long face shapes, but it also adds that wild, messy vibe to all bob haircuts.
Not only this choppy blunt bob cut looks extraordinary, but it is also perfect for everyday wear. Ombre moment on your hair will definitely catch all the attention around you.
Bangs will give a special framing vibe to your face. Make sure to leave your hair towel-dry and do this blunt bob with bangs hair in a messy style.
These bangs bring us some serious bohemian vibes. Messy bob like this is perfect for summer days and warm temperatures. It consists of a lot of layers, but no matter – they look amazing. All girls who like to stand out of a crowd – don't hesitate to try this haircut.
Choppy cut bob hair, along with these beautiful choppy fringes look absolutely amazing. This is one of those haircuts that you can wear for work, for a date, and for an open market day.
You can make it even more interesting by dyeing your hair in two tones. Balayage or ombre techniques will do amazing work here.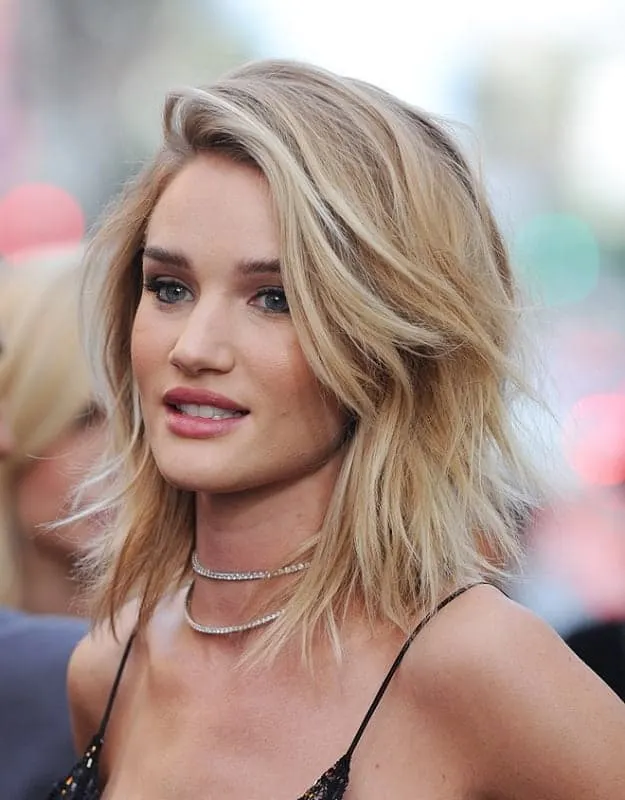 Side bangs are perfect for those women with long and oval face shapes. They will hide your high forehead, and also make your hair looks boho, messy, and utterly chic. You can always make your own side bangs by comb over your hair from one side to the other.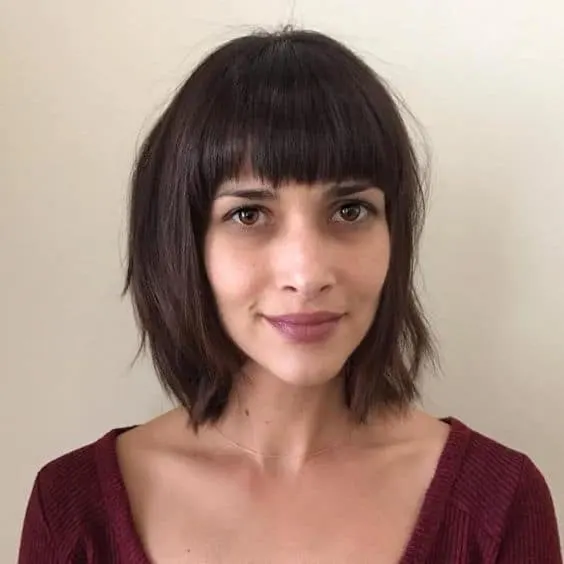 There is a big chance that in some period of your life you have tried classic French bangs. Whether you have one-toned hair or you have opted for lovely balayage or ombre technique – your medium choppy bob haircut will look amazing.
Choppy Bob for Fine Hair
More layers, more texture – that is the recipe for perfect choppy bob cut for fine and thin hair. Here are some of the examples on how to achieve all this.
Waves, asymmetric cut, and side bangs – all these things are perfect for girls with thin and fine hair. They will make your hair look more voluminous and textured. If you opt for this messy look, make sure to spray it every time you wash your hair.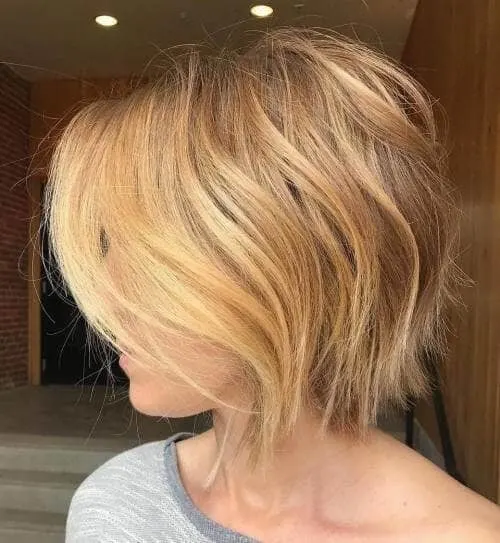 Balayage technique will definitely give your hair that extra texture that you need. Whether you opt for a super short choppy bob for fine hair like this or you would like to leave it a bit longer, you can actually do both. They will look amazing, even though your hair is fine.
Sun-kissed golden blonde hair is perfect for summertime and the beach. However, if you have thin hair it might be hard to achieve that. Well, with loose waves, a choppy medium bob cut like this, and asymmetric length you can make your hair look gorgeous.
29. Choppy Cut Lob
Lob is an amazing haircut, especially for those that are not dedicated enough to cut their hair into a bob. This long choppy bob is great even for thin and fine hair. Layers will give your hair more texture and will frame your face.
30. Highlighted Hair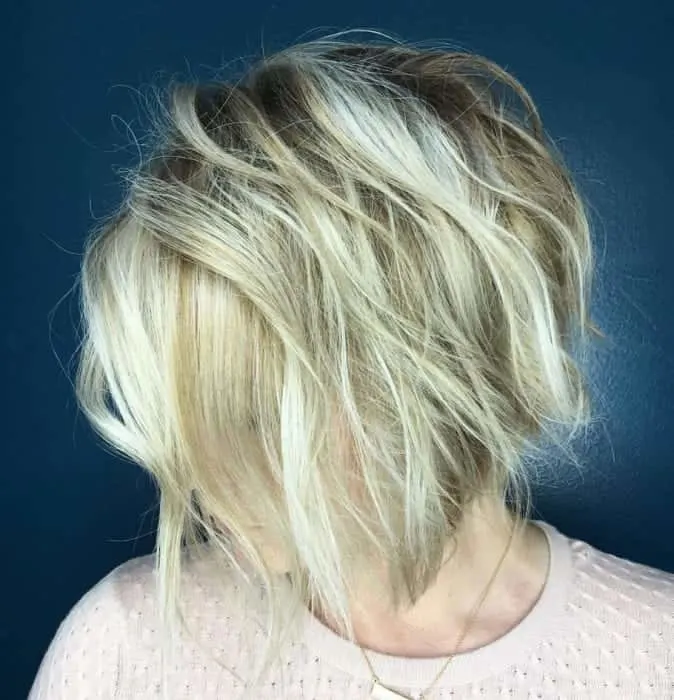 Highlights will definitely turn your thin hair into a textured, voluminous one. Curls will make you look messy but chic. This is an amazing haircut for everyday wear.
Choppy Bob for Curly and Wavy Hair
Curly and wavy hair is known as hard-for-maintaining. However, with the right cut, length, and shape of your hair, you will rock your curls like no one else.
31. Long Bob with Waves and Highlights
Waves are amazing whether you have made them with a curling iron or mother nature. This long, highlighted choppier lob looks amazing. It is perfect for those girls who are still not sure if they should cut their hair really short.
As you can see, even natural curls can be styled into a lovely choppy bob haircut. They can always be your partner in crime when it comes to texture and volume, so don't try to iron them and make your hair straight.
Highlighted curls like this will really give some rock 'n' roll vibes to your complete look. You should take good care of your curls and style them with the right products.
We are aware that this hairstyle is for those brave girls. It is really short and beautiful. Short inverted choppy bob cut will look gorgeous on both wavy and curly hair.
Copper is a very attractive hair color. Whether you have medium or long hair it looks wonderful and very appropriate for everyday wear and businesswomen. Waves and choppy medium bob cut will provide you with an amazing look.
More Amazing Choppy Bob Hairstyles
Get more choppy looking bob inspiration from here.
This hairstyle inspires you to move your head all the time. A lot of texture and cute layers will make your choppy cut bob beautiful. You can dry blow it and enjoy the results.
Blonde layered choppy bob is a perfect hairstyle for those girls who like short hair. Angled bobs take some time to style, but the results – they will absolutely amaze you.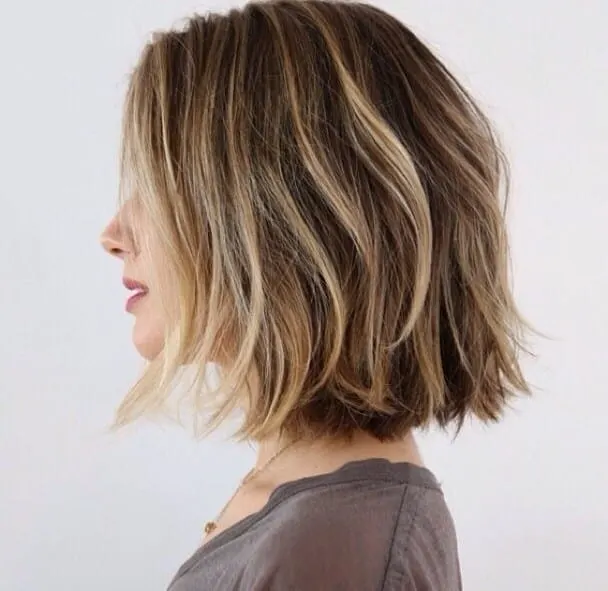 The blunt choppy layered bob is perfect for those girls with thin hair. This way of cutting hair is great because of it the same length throughout. You should only add a hair spray right after washing it and make it messy.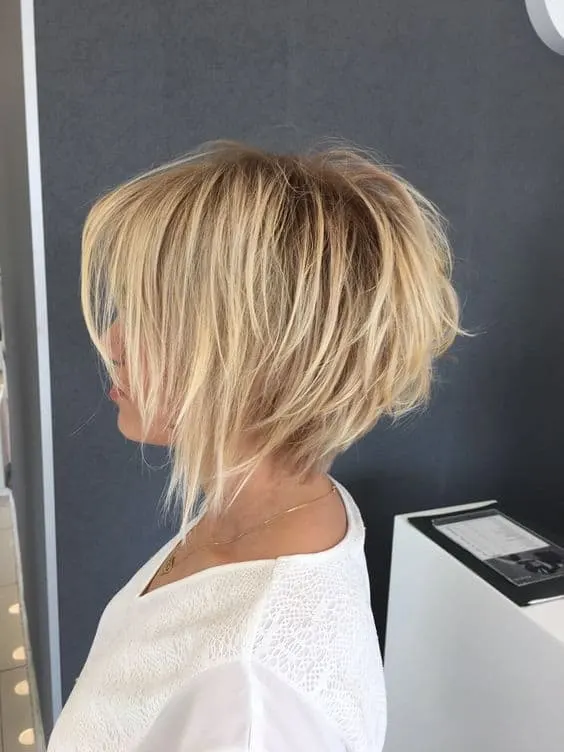 Longer on a front and shorter on the back, this lovely inverted choppy bob haircut looks interesting and offer sharp angles that you can't resist. It looks even better if you make this shorter part in the back messy.
Choppy straight bob is for those who like the classy style and polish haircuts. It might take you more time to style it after washing your hair, but the fact is that in the end, it will look amazing.
I hope you have found something for yourself. As you can see, choppy bob is an achievable and very compliment haircut. You can choose between various types of this great cut. And whatever style you pick – you can't be wrong.