If you're one of those women who have short thick wavy hair and want to rock it, the time is now to embrace the styling challenge it presents. It's no secret that women with thick hair experience difficulties.
Because it is usually voluminous and heavy, many women end up ditching the regular ponytail or bun and just decide to chop it off. But there are so many different short hairstyles for thick wavy hair that will work for you – you just have to find the perfect one.
Waves are fresh, elegant, and beautiful, so work with your volume to create a look you'll love. There are many different short hairstyles that complement wavy thick hair and don't require a lot of time to maintain.
How to Style Short Thick Wavy Hair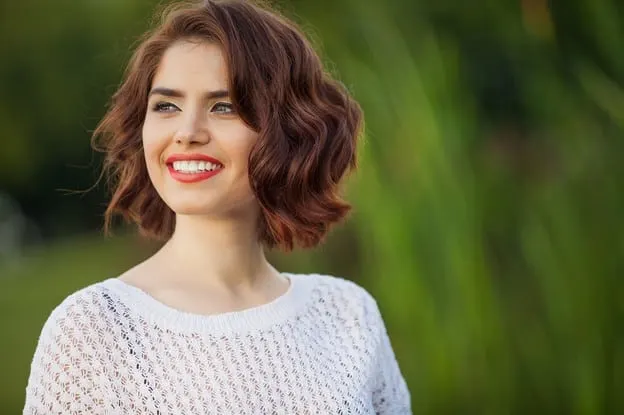 Short, thick, and wavy hair is a time commitment, but there are tricks for styling that can minimize time spent in front of the mirror. You'll need mousse, hair spray, different brushes, and a hairdryer.
Each style involves a different technique. Lots of them can be done with your own hands. For more defined waves, use a small round brush and hairdryer.
When you're finished, lock in your style with hairspray. If you want undefined waves and a messy look, use a little mousse on your hands to define hair. Let it dry and seal with hair spray.
Lovely Short Curly and Wavy Hairstyles for Women
Best Short Hairstyles for Thick Wavy Hair
We promise you'll love at least one of these 35 alluring short haircuts and hairstyles for thick wavy hair.
This haircut draws attention to your thick bangs, accents your eyes and makes your face main attraction. It is a short haircut for women with thick wavy hair who want to hide their forehead and for those with a long, narrow face.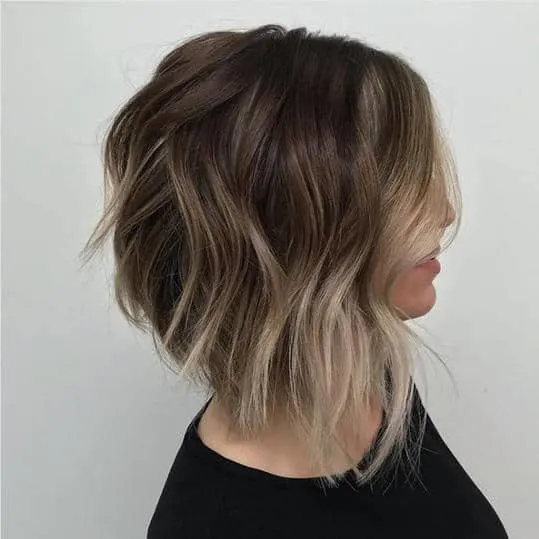 The muted tones on this hairstyle open the option of ombre or balayage technique that will accentuate the hairstyle even more. It is a soft, edgy and fashionable hairstyle and everyone can wear it. This is the perfect option for short thick wavy hair.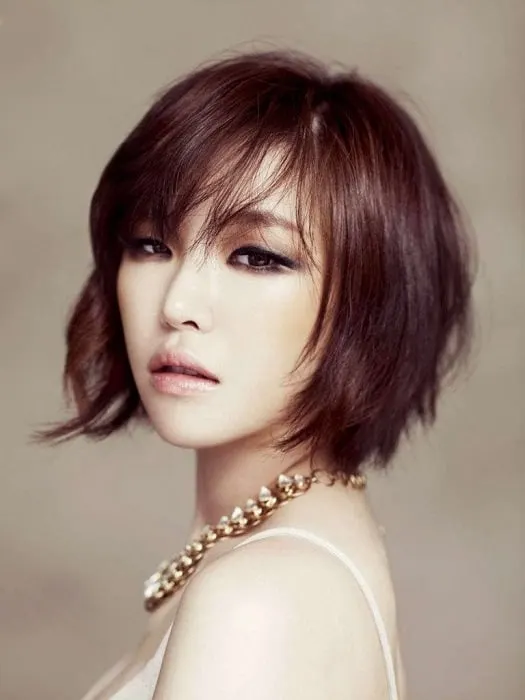 Fancy and modern, this short hairstyle with thick wavy hair is considered to be a soft short bob because of the graduation in the back and the texture. It is clean, easy to wear look and the waves can be made with hairdryer or hair strengthener.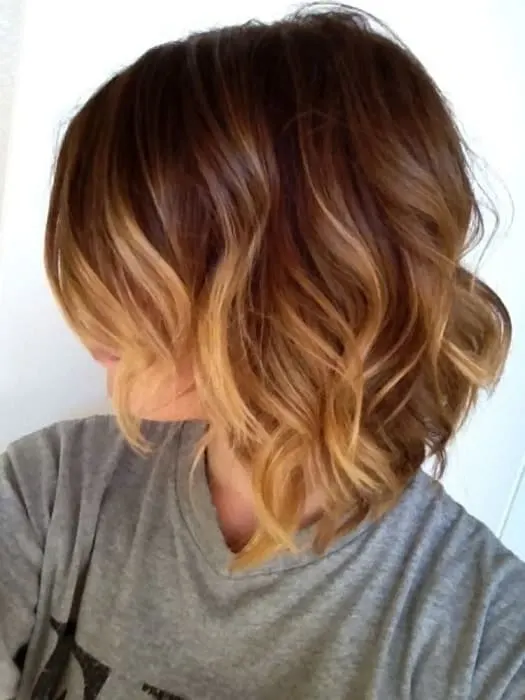 Another long bob balayage look on short thick wavy hair is the edgy, playful lob. If you decide not to cut much of the hair, this look provides soft waves, texture, and sophistication.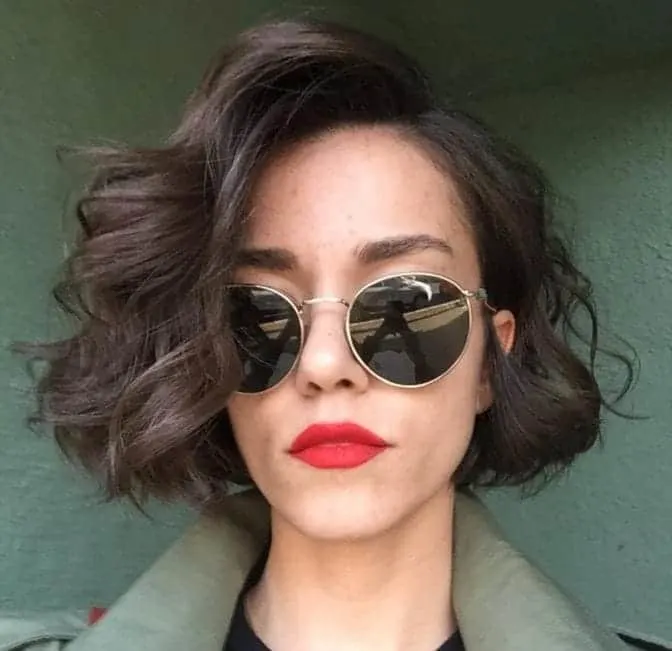 This bob is a fresh, modern and new look, suitable for young persons. The hair is short and wavy, asymmetrical at certain places and it is voluminous in the locks. The side part on bob adds to the uniqueness of the look.
6. Pink Bob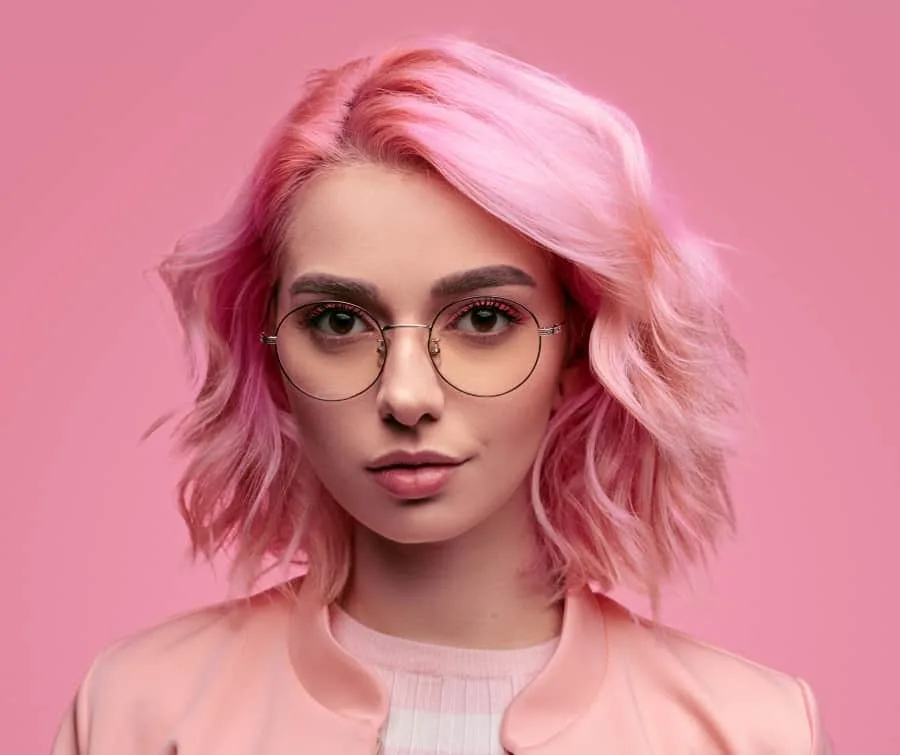 This short wavy bob with choppy layers offers a fresh pop of color with its bright pink, which looks best on women with a medium to light skin tone. You'll feel more youthful instantly.
7. Asymmetrical Pixie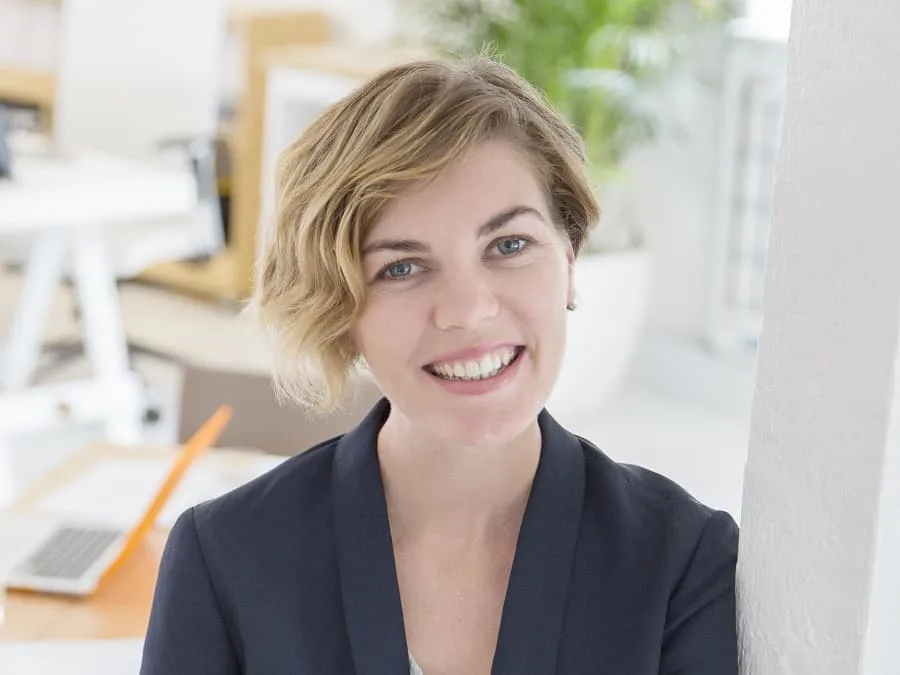 Short pixies and bobs on thick hair are easy to maintain when they have an unusual cut that takes out bulk. Try an asymmetrical style, which will bring all your wavy length to the front of one side.
8. Platinum Short Layers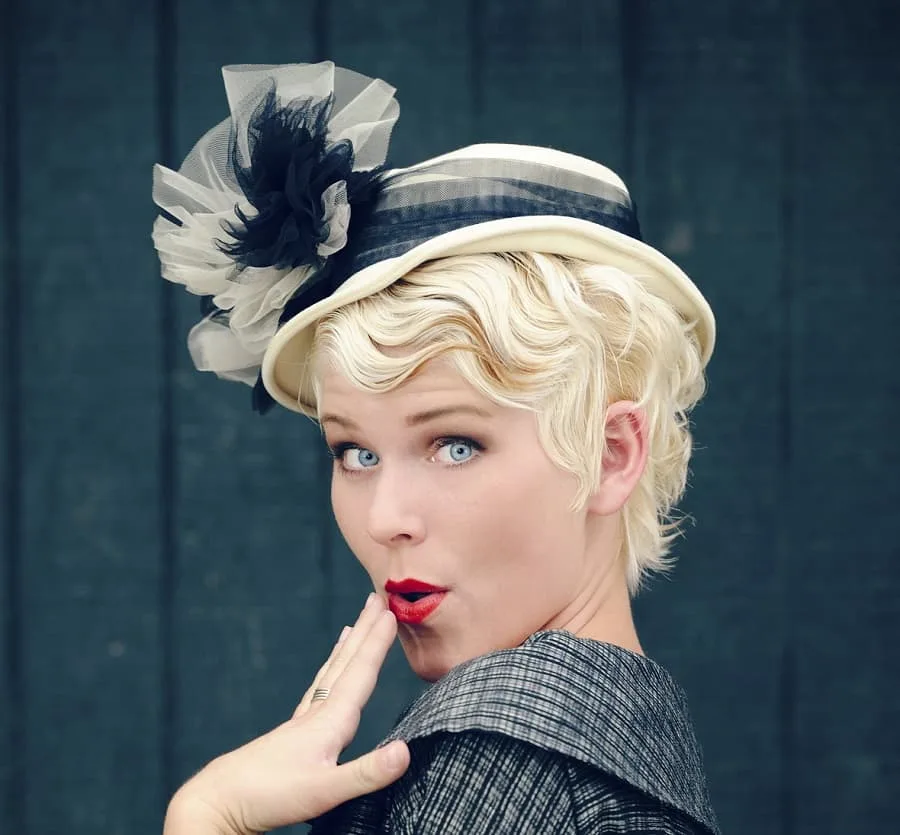 We have a feeling Marilyn Monroe would approve of this blonde bombshell hairstyle. Its short waves are smoothed to perfection in an off center part. The final touch is an elegant hat.
9. Formal Updo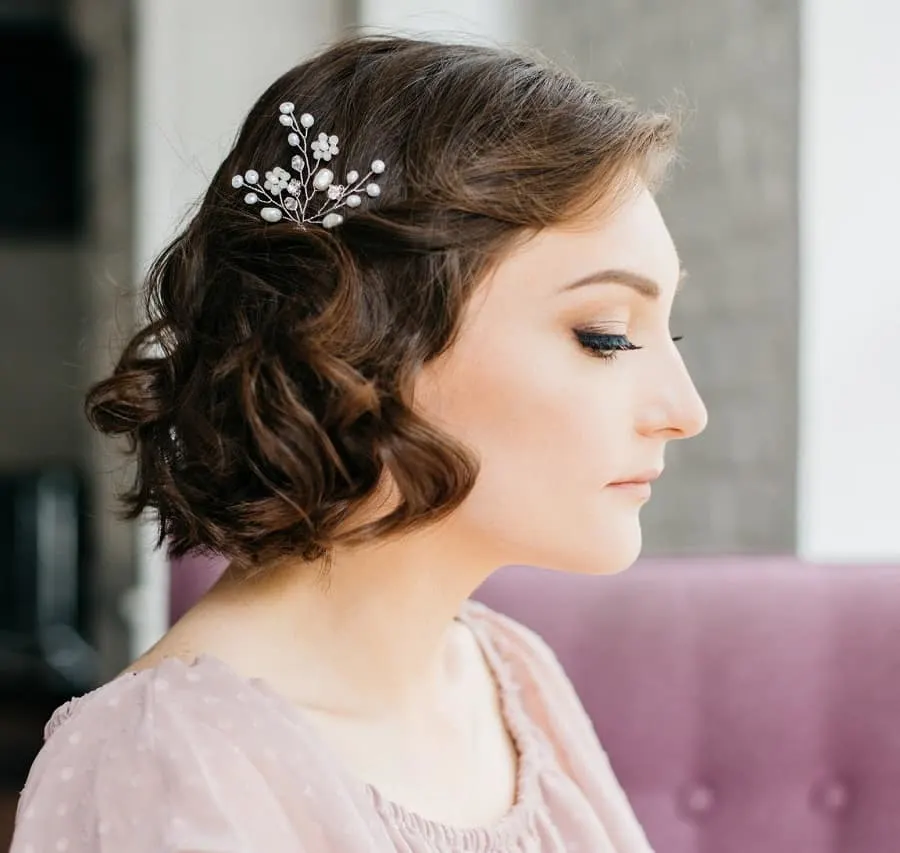 Getting dressed up is no longer stressful when you have this gorgeous hairdo to fall back on. Just twist and pin back one side of your short hair with a pearled clip and leave your hair loose to flaunt waves.
10. Choppy with Caramel Highlights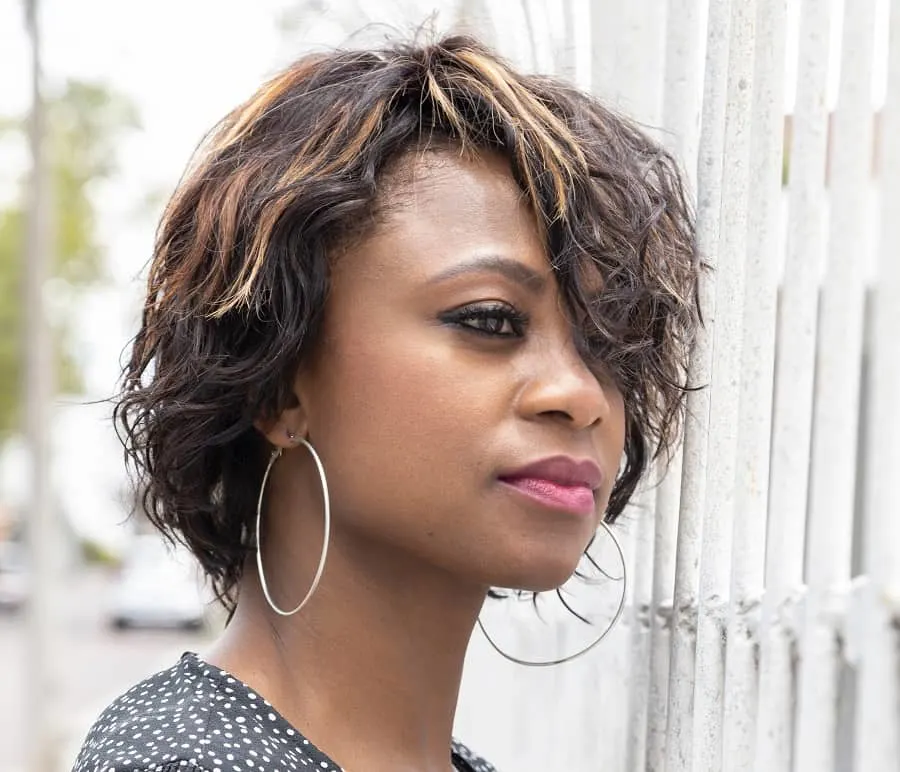 If your have natural black hair, liven it up with a few caramel highlights and some choppy layers. They'll give thick hair more shape and texture.
11. Blonde Bob with Side Bangs
If you're an older woman searching for the perfect short haircut to tame your thick waves, a bob is always a cute choice. This blonde beauty also flaunts short side bangs that flatter the face.
12. Chin-Length Bob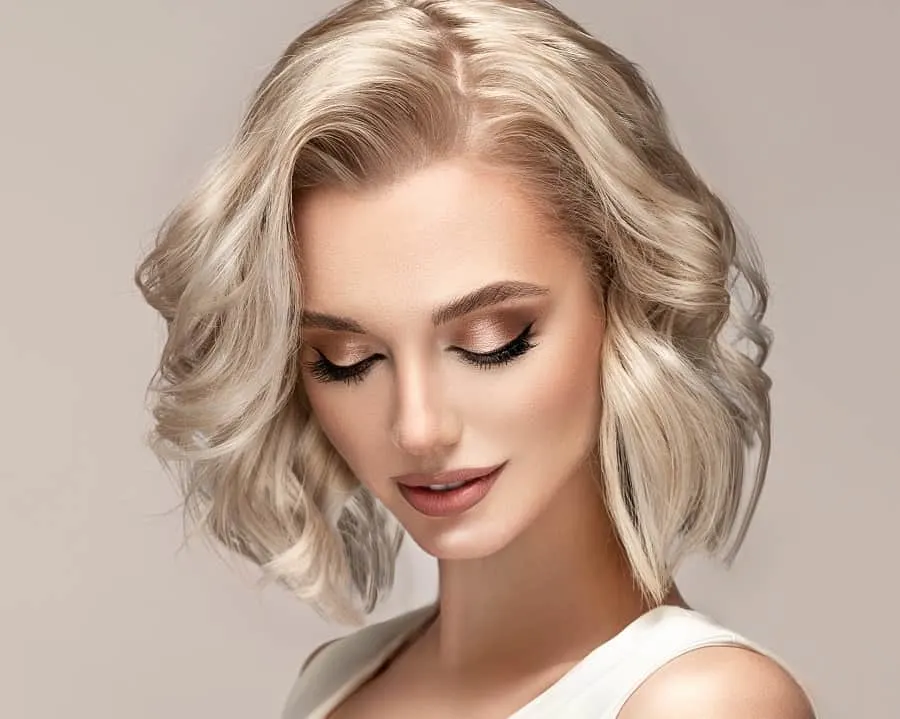 Another beautiful color on women with medium to light skin tones is light blonde. This thick, wavy chin-length bob is completely elegant and chic with its coloring and off center part.
13. Purple Waves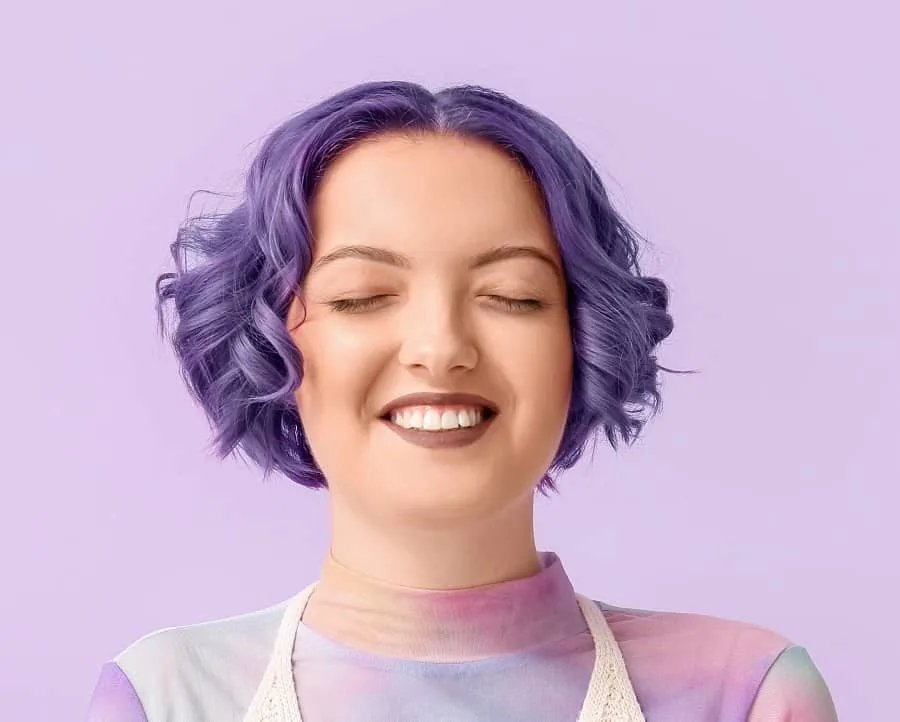 A medium shade of purple works wonders on these short thick waves. Never underestimate the power of a simple center part on a cute layered bob!
14. Dark Green with Pink Bangs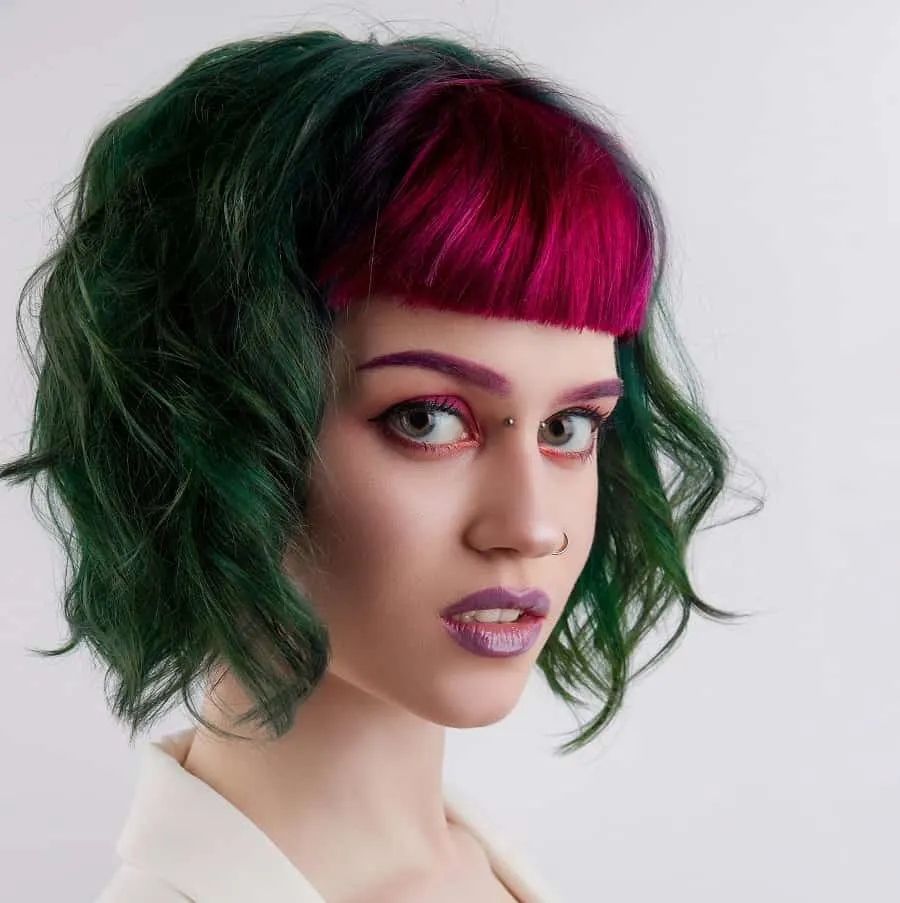 Moody and mysterious is only a color job away. We love this pairing of dark green waves on a short mane with bluntly-cut straight bangs in magenta.
15. Teased with Side Braid
How chic is this textured pixie? Cut down on thick unruly hair by adding a bunch of short layers that are easy to enhance with a little product. A cute side braid is a great way to soften your hairstyle.
16. Finger Wave Pixie
If you're a Black woman with short thick hair, you can easily add sexy texture with smooth finger waves. Try them on a short pixie and don't be afraid to add dark highlights, like burgundy.
17. Wavy Blonde Lob
For women whose skin tone is light, go with an equally light hair color for a nice complement. This wavy lob brings out the best in thick hair. It also features two bright pink highlights front and center.
18. Undercut Bob
When you're looking to put an edgy twist on a short haircut, consider an undercut or a small shaved area on one or both sides of your head. In this a-line bob, the waves disguise what's hidden underneath, making for a fun surprise!
19. Pixie with Shaggy Waves
Shaggy haircuts are great for women with round or oval faces. Short bangs will cut off your face dimension to create a whole new look. To emphasize thick waves, work in a little mousse with fingers.
20. Sleek Wavy Ponytail
Going out somewhere fancy and need an elegant hairstyle? You can't go wrong with a slicked back ponytail! Use a curling iron to make waves and conceal a boring hair tie with a strand of hair. Be sure to leave a few straightened tendrils loose along your face for softness.
21. Vintage Wavy Pixie
Vintage and glam are the two words everyone will think of when they see you flaunting this short wavy pixie. Whether you opt for an asymmetrical or a-line bob, slick back one side and pin it in place for this chic look.
22. Pixie with Purple Highlights
Bright purple highlights on dark hair are just the thing to give your hair a pop. They'll also help your half wavy-half straight layers shine. You can make them stand out even more by going with an asymmetrical pixie.
23. Wavy Undercut Bob
Hot pink is an unexpected color on this short black pixie with an undercut. A tapered fade or one buzzed side can edge up your look even more. We like the way platinum blonde and a thin line of purple highlights the shorter side.
24. Vintage Blonde Pixie
If you're a fan of pin-up hairstyles, get your own by adding a colorful bandana as a headband. On this short wavy pixie, thick hair is easily tamed with the help of a red bandana.
25. Dark Red Waves
Looking for a low maintenance haircut? A short pixie is easy enough to style. As usual, layers are your friend. And there's no need to worry about your look being boring when you've got a beautiful dark red color to show off.
The pixie cut is a popular choice for short thick and wavy hair. It has sharp edges, texture and can easily be styled into wavy one without much effort. The subtle waves give it is a soft and feminine look.
This short hairstyle on thick wavy hair is a much shorter version of the regular bob, where more hair is left on the top and it is styled in loose wavy curls.
28. Bouncy Curls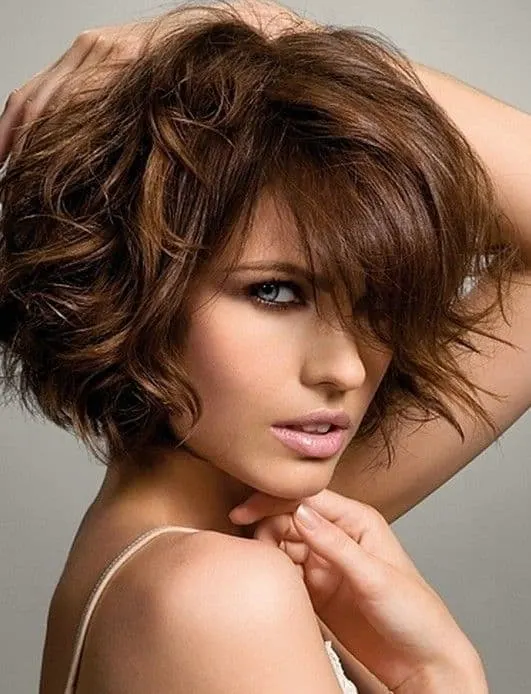 If you have a little bit of length, then you can perfectly pull off this short haircut for thick wavy hair. Regular, short loose curls or waves on all of the hair is a look that is very attractive and alluring.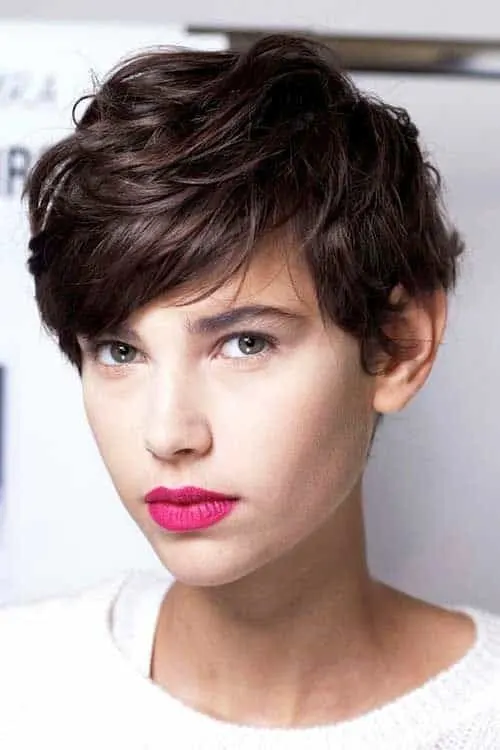 The cut allows modifications and options on how to wear your thick wavy hair short like pixie & it is the perfect one for wearing in wavy instead of straight. It is cute, bold and different.
One of the most suitable short haircuts for women with naturally thick wavy hair is the curly bob. It is easy to style and look trendy.
The curly pixie is different than the messy one, because or the intensity of the curls that are mode defined in those look. it is suitable for those with naturally wavy and thick hair.
32. Curly Tapered on The Sides
Another fabulous and unique short hair look for women with wavy thick hair is the tapered haircut. The curls are falling on the sides while the side part divides the hair accenting the cut.
The extremely thick hair that at the same time is curly can be easily tamed into this short hairstyle. The middle part on curls will make balance and the gradual bob will accent the waves. A classic short wavy hairstyle for thick haired women.
The longer version of the pixie cut is a new way of wearing a curly short cut on wavy thick hair. The curls are falling from the sides, and the rest of the hair has its own natural look.
The beauty of the tousled bob accents the curls or the waves, discreetly and softly. It is much shorter than the regular bob. One of the stunning short thick wavy hairstyles to try.
As each hair length and hair quality is different, every hairstyle will vary on a different person. Follow the lines and shape of your face and do a makeover with a new look. Short thick wavy hairstyles are rare and very stylish. Find the perfect one and make a make a change!