If you are one of those women who have short thick wavy hair and want to rock it, the time is now. Lots of celebrities are making drastic changes in rocking a short hairstyle and in that way promoting something different. It is well known that women with thick hair have more difficulties in styling their hair because it can be wild and unruly.
It is usually voluminous and heavy, and many women are ditching the regular ponytail and the bun and just decide to chop it off. There are so many different short hairstyles for thick wavy hair that will work for you, you just have to find the perfect one.
The waves are giving a dose of freshness, elegance, and beauty on the haircut, and instead of wearing it straight, they give volume and you can always get a new look. There are many different short hairstyles that complement wavy thick hair that does not require a lot of time to keep in nice and tamed.
How to Style Short Thick Wavy Hair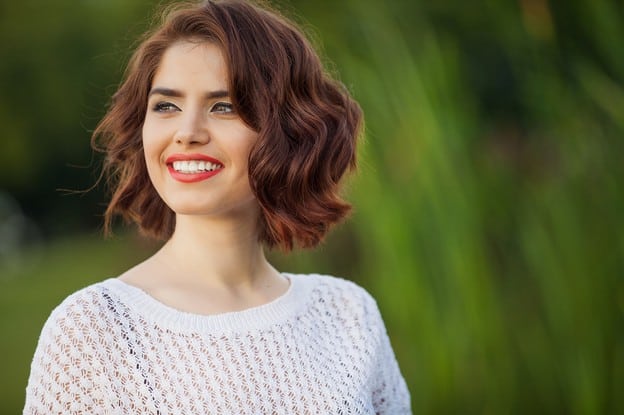 The short thick and wavy hair requires time to be styled. However, there are always tricks and suggestions on how to style it without spending a lifetime in front of the mirror. The products you will need for styling a short wavy hair are hair mousse, hair spray, different brushes, and hairdryer.
Each style has a different technique in styling. Lots of them can be done with your own hands. The beauty of it is that each time you get a new look, different from the previous one. If you want more defined waves than use a small round brush and hairdryer.
Fix the lock with hairspray. If you want undefined waves and messy look, then use your hands. Put hair mousse on them, apply it on the hair and define it with your fingers. Let it dry and fix it with hair spray.
Lovely Short Curly and Wavy Hairstyles for Women
Best Short Hairstyles for Thick Wavy Hair
Here is a list of 15 alluring short haircuts and hairstyles for thick wavy that you can find interesting to try.
This haircut draws attention to your thick bangs, accents your eyes and makes your face main attraction. It is a short haircut for women with thick wavy hair who want to hide their forehead and for those with a long, narrow face.
The muted tones on this hairstyle open the option of ombre or balayage technique that will accentuate the hairstyle even more. It is a soft, edgy and fashionable hairstyle and everyone can wear it. This is the perfect option for short thick wavy hair.
Fancy and modern, this short hairstyle with thick wavy hair is considered to be a soft short bob because of the graduation in the back and the texture. It is clean, easy to wear look and the waves can be made with hairdryer or hair strengthener.
Another long bob balayage look on short thick wavy hair is the edgy, playful lob. If you decide not to cut much of the hair, this look provides soft waves, texture, and sophistication.
This bob is a fresh, modern and new look, suitable for young persons. The hair is short and wavy, asymmetrical at certain places and it is voluminous in the locks. The side part on bob adds to the uniqueness of the look.
The pixie cut is a popular choice for short thick and wavy hair. It has sharp edges, texture and can easily be styled into wavy one without much effort. The subtle waves give it is a soft and feminine look.
This short hairstyle on thick wavy hair is a much shorter version of the regular bob, where more hair is left on the top and it is styled in loose wavy curls.
8. Bouncy Curls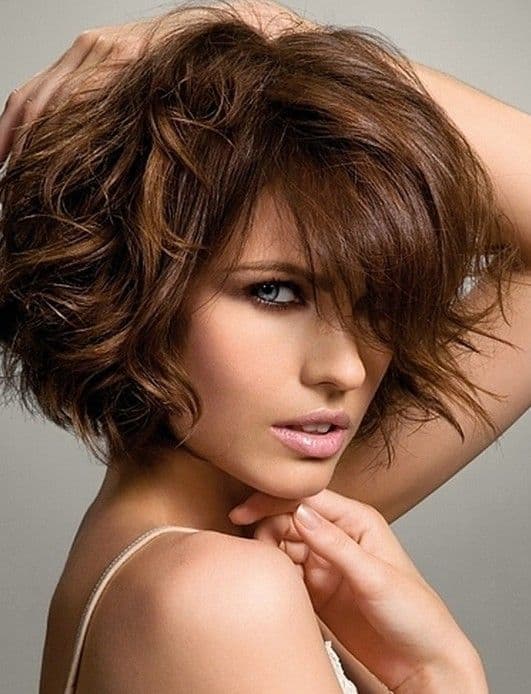 If you have a little bit of length, then you can perfectly pull off this short haircut for thick wavy hair. Regular, short loose curls or waves on all of the hair is a look that is very attractive and alluring.
The cut allows modifications and options on how to wear your thick wavy hair short like pixie & it is the perfect one for wearing in wavy instead of straight. It is cute, bold and different.
One of the most suitable short haircuts for women with naturally thick wavy hair is the curly bob. It is easy to style and look trendy.
The curly pixie is different than the messy one, because or the intensity of the curls that are mode defined in those look. it is suitable for those with naturally wavy and thick hair.
12. Curly Tapered on The Sides
Another fabulous and unique short hair look for women with wavy thick hair is the tapered haircut. The curls are falling on the sides while the side part divides the hair accenting the cut.
The extremely thick hair that at the same time is curly can be easily tamed into this short hairstyle. The middle part on curls will make balance and the gradual bob will accent the waves. A classic short wavy hairstyle for thick haired women.
The longer version of the pixie cut is a new way of wearing a curly short cut on wavy thick hair. The curls are falling from the sides, and the rest of the hair has its own natural look.
The beauty of the tousled bob accents the curls or the waves, discreetly and softly. It is much shorter than the regular bob. One of the stunning short thick wavy hairstyles to try.
As each hair length and hair quality is different, every hairstyle will vary on a different person. Follow the lines and shape of your face and do a makeover with a new look. Short thick wavy hairstyles are rare and very stylish. Find the perfect one and make a make a change!