Curtain bangs with a side part need no introduction since they are a variation from the trendy middle part bangs. Doing a side part for your fringe can help you slimmer your face, especially when dealing with a round shape.
The type of bangs you're picking is up to you, as you can choose from short bangs, a feathered trim, or a fringe that is short on the forehead and with more length in the corners.
Lovely Curtain Bangs with Side Part
Curtain bangs with a side part can be styled in multiple ways. To learn how to master your fringe, scroll down and read more below!
1. Messy Curtain Bangs with Side Part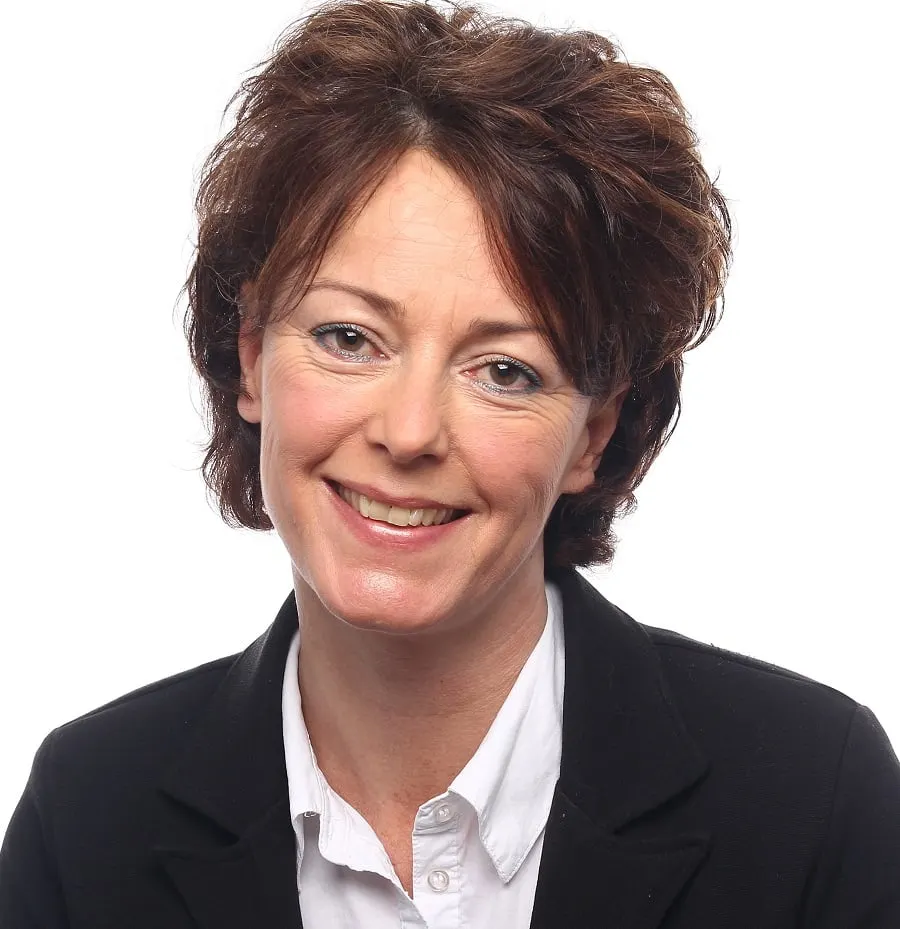 Go for a pixie cut that keeps your hair wavy and voluminous on top and sides. Tease the hair and add hair spray.
For your bangs, do a side part and create curtain bangs. Give them length so they will reach the corners of the eyes.
2. Layered Curtain Bangs with Pony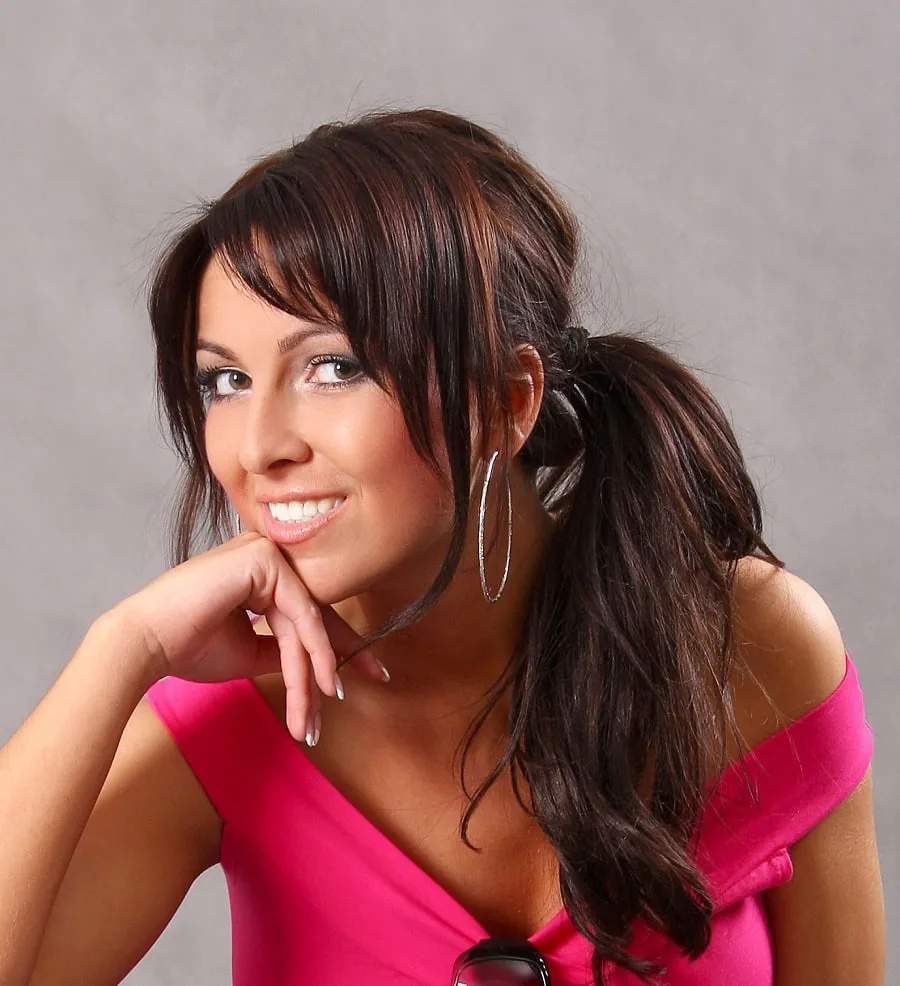 Curtain bangs can be layered with longer pieces on the sides. Go from short pieces above the eyebrows to long strands that frame your face.
Opt for a side ponytail to create some dark copper highlights.
3. Ombre and Bangs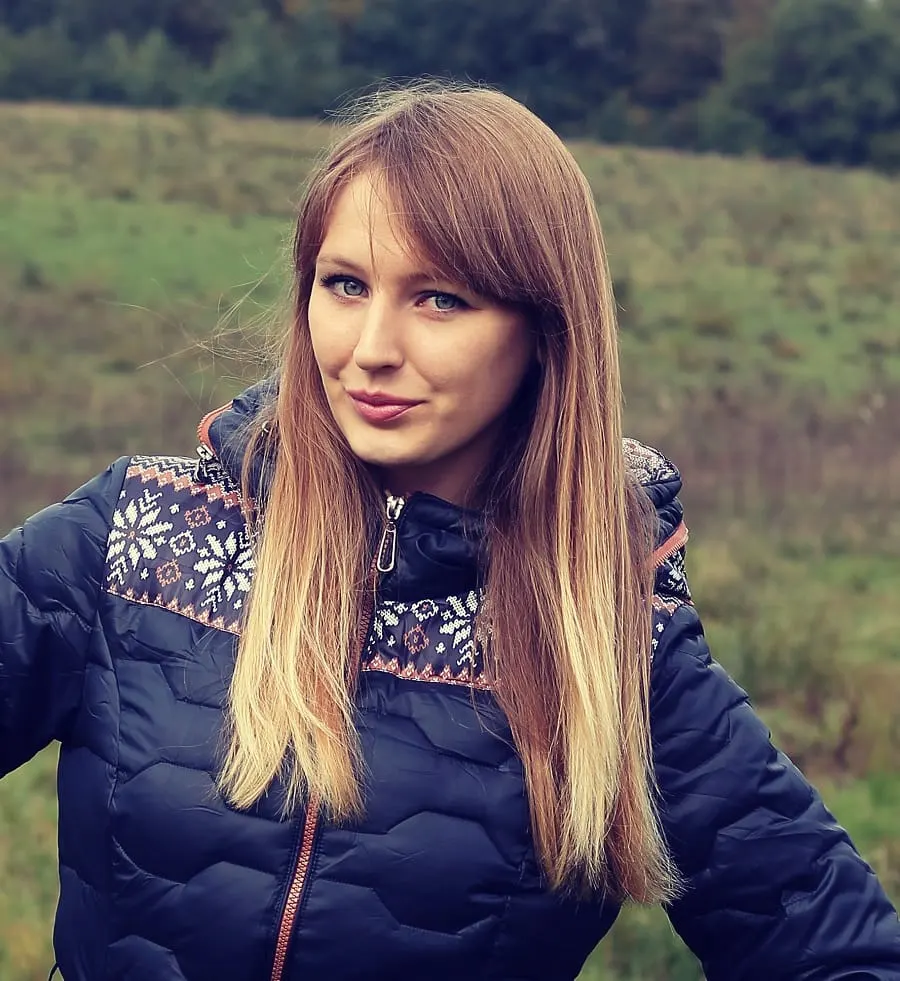 If you love wearing your hair long and feel like you need a change, choose a hairstyle that preserves the length.
Go for an ombre and maintain your natural color, enlightening it towards the tips. Also, complete the look with curtain bangs that you will part on one side.
4. Asian Feathered Curtain Bangs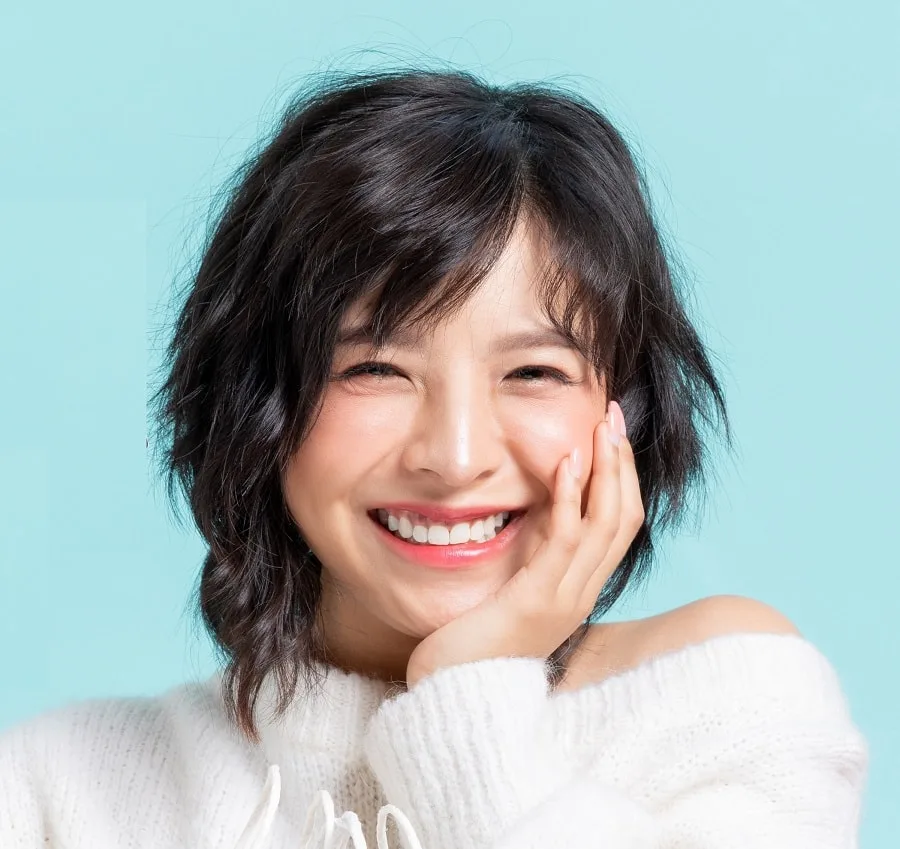 If you have naturally wavy hair, then you might consider choosing a hairstyle that emphasizes that hair texture.
Layer your hair, including your bangs, and part them on one side. The hairstyle is ideal for women with prominent cheekbones who want to create angles.
5. Short Straight Curtain Bangs
Create loads of layers on the sides and for the ends and use a rotative brush to style them towards the jawline, framing your face.
The longer layers that reach the shoulders should be flipped out and your bangs cut blunt with a side part.
6. Bangs with Waves
Curtain bangs with a side part are the perfect asset for a hairstyle that aims to highlight the hair color and layers.
Keep your hair long and wear it on your shoulders; choose a warm brown copper and add blonde caramel highlights.
7. Strawberry Blonde Hair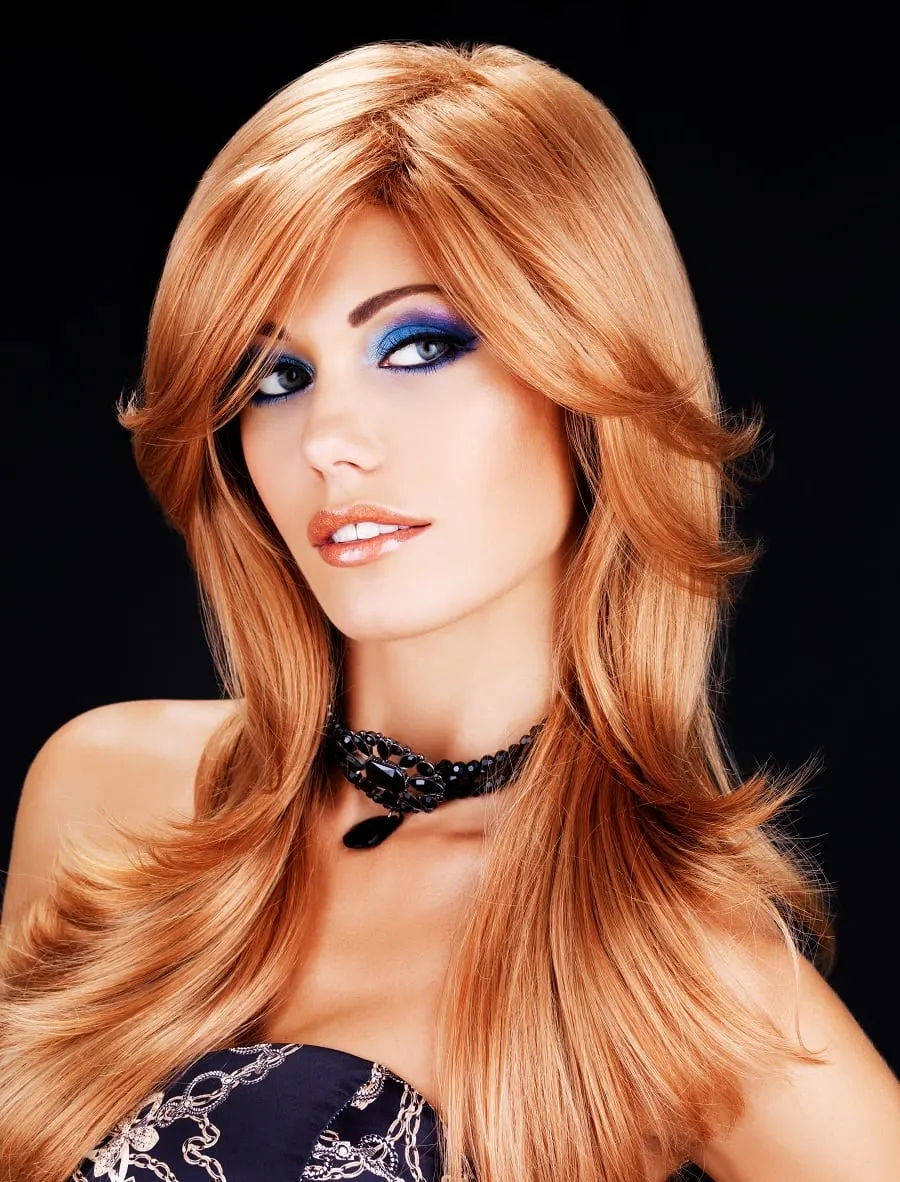 If you have blue eyes and fair skin, all red nuances suit you. You can choose this hue which is a combo between strawberry blonde and red.
Opt for multiple layers, and style the longer pieces on your shoulders, spreading them. As for your side curtain bangs, flip put their ends and direct them on the laterals and to the back.
8. Flipped Out Layered Curtain Bangs
If you're a side-parted curly hair lover who loves messy looks, go for this layered curtain bangs hairstyle. Messy curls work so well with layers and side-parted bangs. Go for an asymmetrical micro fringe that grows longer on the sides.
Layer your curls so they will look stacked, creating more dimension.
9. Shaggy Cut
This curly shag with curtain bangs has loads of layers that are curled, creating more volume for the entire length.
The cut elongates your look, while that fringe creates angles. In this look, the bangs is straight but with lifted roots and parted on one side.
10. Bob Hairstyle for Thin Hair
Choose a bob with a blunt cut and go for long curtain bangs with a side part. Create some curls for the lateral pieces and the fringe.
Opt for a warm summer blonde color and add some highlights that are a nuance or two lighter. This way you will create that fantastic sun-kissed look.
11. Blonde Curtain Bangs with Black Hair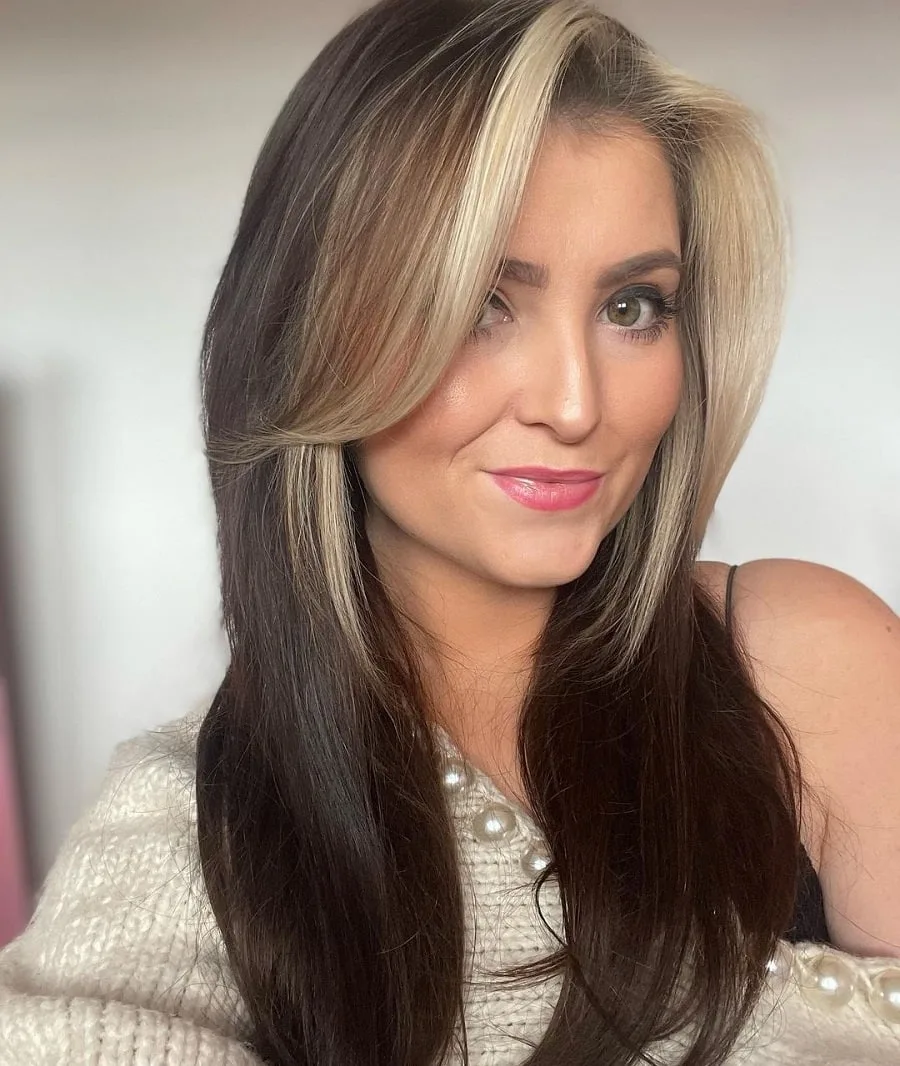 Combine black hair with platinum blonde bangs that are layered and blended with the darker hair pieces.
Lift the roots for your fringe to create more height and volume and part it to the side.
12. Side Curtain Bangs with Blonde Highlights
Combine a natural brown color with blonde highlights that add depth to your hairstyle. Create long waves to build more volume.
Concentrate some curls in the top area. Go for curtain bangs with a side part and add thicker blonde highlights in this area.
13. Blonde Curly Bangs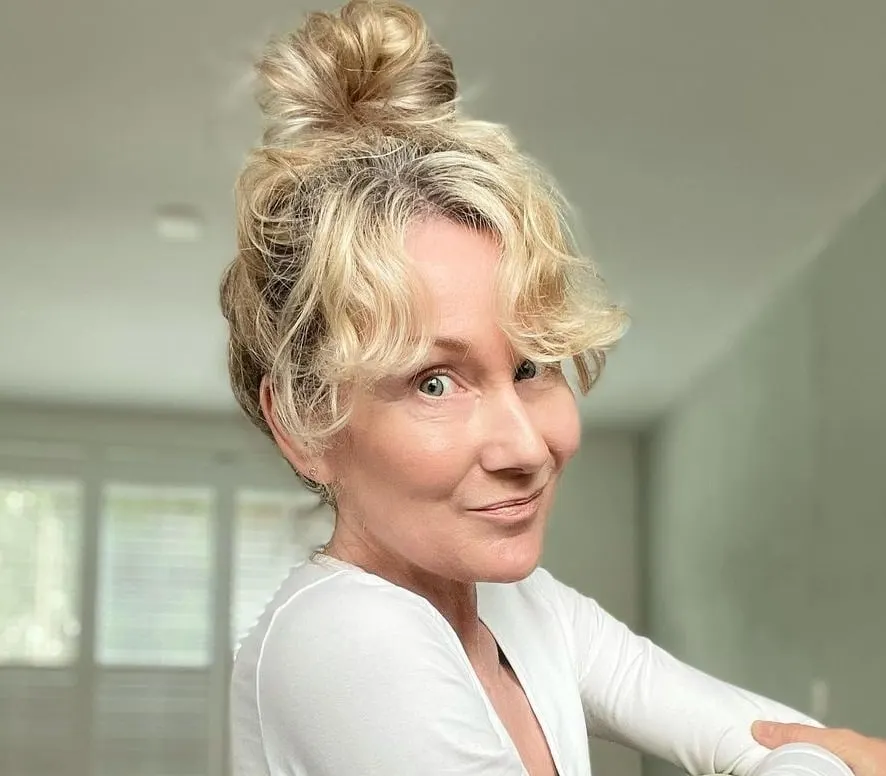 Opt for a blonde hair color but keep your roots dark, in their natural color. Pin all the hair up in a messy top bun and wear your bangs on the forehead.
Arrange them on one side and keep them wavy and tousles on each part.
14. Gray Long Hair with Short Bangs
When you have gray and white hair, you need a hairstyle that makes you look younger. Also, it's a great idea to choose colors that will help you better blend your gray hair.
Choose sort bangs that are one or two inches above the eyebrows and part them on the side.
15. Straight Black Bangs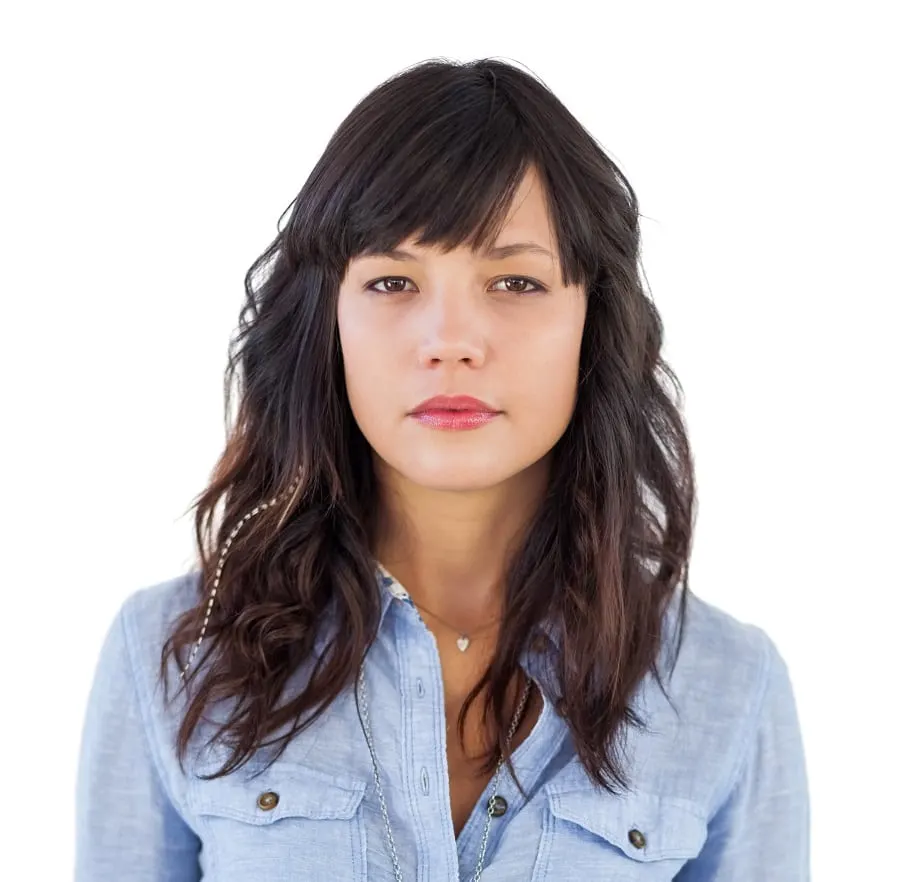 For this side part hairstyle, curtain bangs must be placed on one side of the corner and kept straight, as the rest of the hair is smoothly waved.
The hairstyle is layered, with hair falling on the shoulders. Moreover, to make it look unique, you can add a thin long rooster feather as decoration.
Curtain bangs can be beautifully styled with a side part, creating angles that help slimmer round and chubby faces. You can trim them blunt, feathered, with more length or a few inches above the eyebrows, adapting them to your style and complexity.
Curtain bangs with a side part are hitting the trends, creating an alternative to the common middle sectioning. Learn here how to style them!