The best hair color for pale skin and blue eyes is a nuance that suits your personality and, of course, personal style and wardrobe. If you love more natural looks, you can easily opt for warm tones, but if you like transforming your hair into a statement, opt for fierce colors or choose a nuance that helps you create contrast.
How to Choose the Best Hair Colors for Pale Skin and Blue Eyes
When you want to decide upon the best hair color for fair skin and blue eyes, as a woman with a pale skin tone, you surely have many options. But you also need to find a color that highlights your eyes, which it's not too much to handle and looks simply fantastic on you. Below you will discover some of the options:
Red. When you opt for red hair color, you must be sure you can wear this shade and not the other way around. Red hair colors are for fierce women who can make a real commitment. Because guess what, no matter how cool it looks, red hair needs a lot of maintenance.
Black. Black hair color is ideal for women who want more gothic looks or love to highlight the paleness of the skin and those stunning blue eyes. Such color will create a better contour for your face and will draw attention to all your features.
Blonde. It is probably one of the best hair colors for pale skin and blue eyes and one of the most common. Women love that angelic look and most of the times opt for the blonde color spectrum.
No matter what choice you make, be sure you use special shampoo when you wash your hair. Shampoo for colored hair that is designed to maintain your color and keep your hair healthy. A hair conditioner is also required if you want your tresses to be smooth and silky and properly nourished.
Your deep blue eyes will amazingly stand out when you have fair skin with freckles and pink undertones. If you want to be a unique presence, opt for a ginger copper hair color and part hair in the middle.
Everyone loves a blonde girl with blue eyes. Choose a bob haircut with bangs tossed on one side and opt for several blonde nuances that will mix gorgeously, creating a stunning blend. Opt for darker tones and enlighten the hair towards the tips.
3. Dark Grey
When your eyes look like exotic crystal clear waters, you might want a hair color that doesn't turn the attention away from the iris. Opt for a great dark color, a nuance that is not fully black but something more distinctive and eye-catching. This look will look good on women over 50 too.
A fierce red is certainly one of the best hair colors for pale skin and blue eyes. It is not only intense and fiery, but it also draws attention to your hair and face. People will be enchanted by your look and won't stop staring at you.
5. Light Brown
If you are the kind of woman who doesn't like to wear makeup and adores a simple, casual style, you will love a natural light brown hair color. Our entire look will express natural beauty, and you can be proud of your spectacular features.
Dark brown is also on top of the list among the best hair colors for pale skin and blue eyes. Dye your eyebrows in the same color as your hair to highlight those crystal clear colored eyes. Opt for a short haircut like a pixie cut with bangs.
7. Platinum Blonde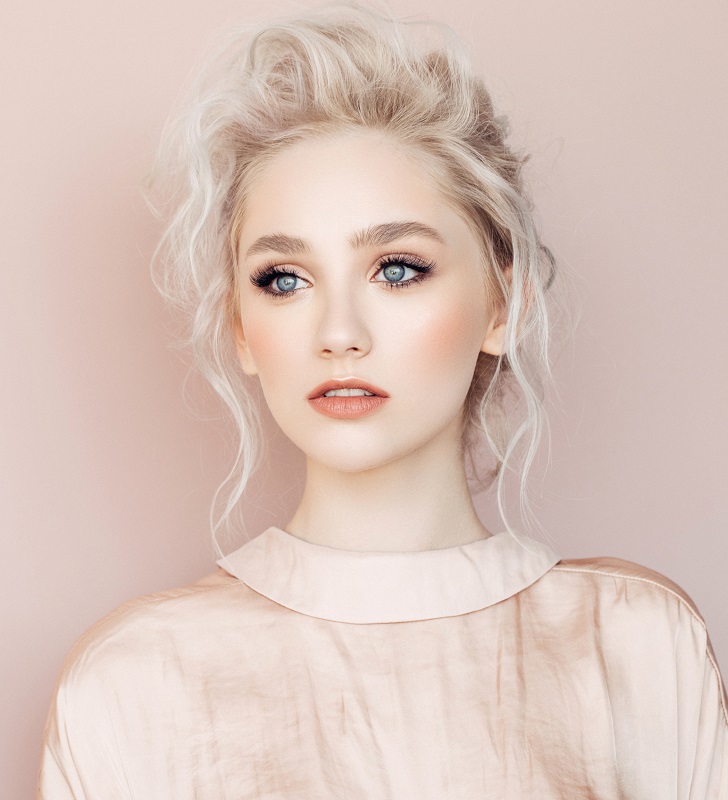 Platinum blonde hair color is very hard to maintain, even if you are a natural blonde. The color requires constant touch-ups, and once your hair grows, your roots need to be bleached. However, if you use professional products, the damage won't be that significant.
One of the best hair colors for blue eyes and pale skin is a fierce dark red. If you have freckles, the nuance will match your whole look, even more, highlighting them. To spice things up and add more warmth, sport some blonde highlights.
Every woman with blue or green eyes knows that if she chooses a black or a dark color, her eyes will be in the spotlight. These shades create a great frame for the face, especially if you choose a hairdo that involves bags cut just above the eyes.
10. Curly Light Copper
Those stunning eyes are the attention grabbers, but you will certainly look more attractive if you have a hairstyle that looks equally cool. So opt for a few light copper highlights to enlighten that natural base color.
If you don't know which is the best hair color for pale skin and blue eyes, you can have your pick between black, blonde, and red and all the variations that come along. For some, a fiery red might be too unnatural, and they prefer a simple brown color. Other women might love black hair and the way it frames their faces. No matter the choice you make, be sure the color represents you and your style.