Side part curly hair or straight hair is a great way to switch your look without getting a haircut. Looking at yourself with the same hair color, style, and part every day can get frustrating. Sometimes changing your style up a bit can be beneficial; it makes you feel like a fresh new version of yourself because change is necessary even when it comes to your style.
How to Deep Side Part on Curly Hair with Closure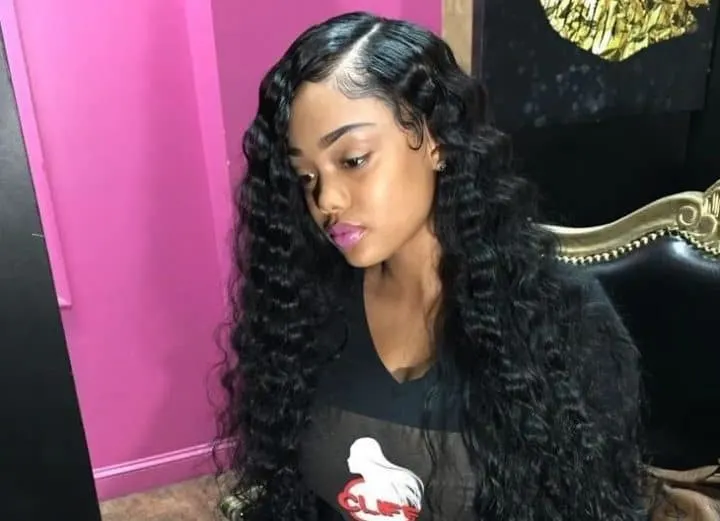 The best part of wearing a weave is the freedom to play with it. A hair closure is a section of hair made or created specifically to imitate your scalp. Depending on your preference, this closure can be sewn, taped, or even glued. It is used to protect your hair, and it's healthy when you wear weaves. You can part this closure however you want to.
Watch The Following Video to Learn How to Do Deep Side Part Hair with a Closure
Gorgeous Middle Part Curly Hairstyles
Best Curly Hairstyles with Side Part
We have shortlisted 15 of the most trendy side-parted curly hairstyles for women.
1. Chocolate Brown Curls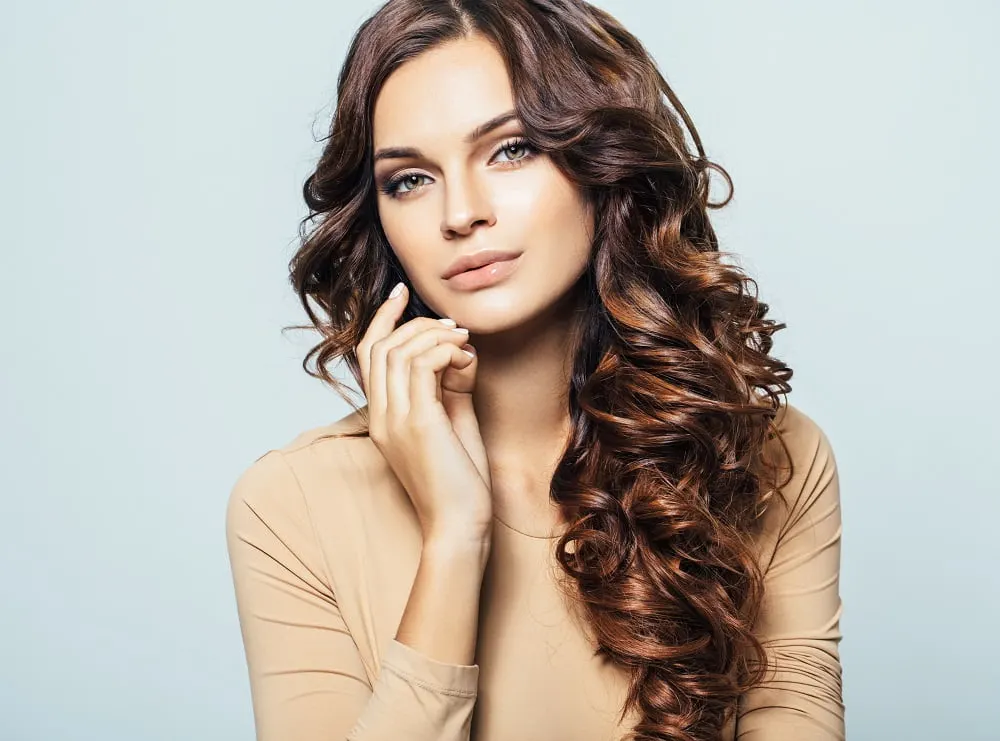 A simple side part will amp up chocolate brown curls in a flick. Brush the long hair and curl it if not coiled naturally. Most of the strands are made to fall on one side. The side-parted long bangs frame the face elegantly.
2. Shoulder-Length Spirals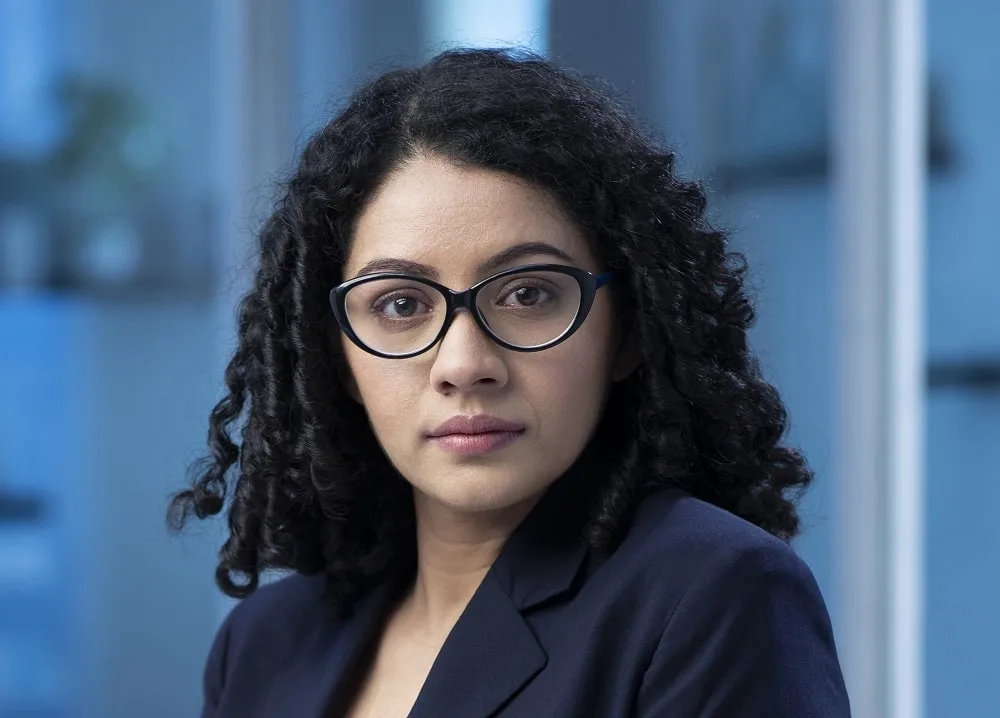 This short black hairstyle is suitable for an everyday office look. The coiled strands are left loose to sit on the shoulders with a side parting. Use some hairspray to tame the strands and keep the side parting intact all day long.
3. Curly Bob with Side Part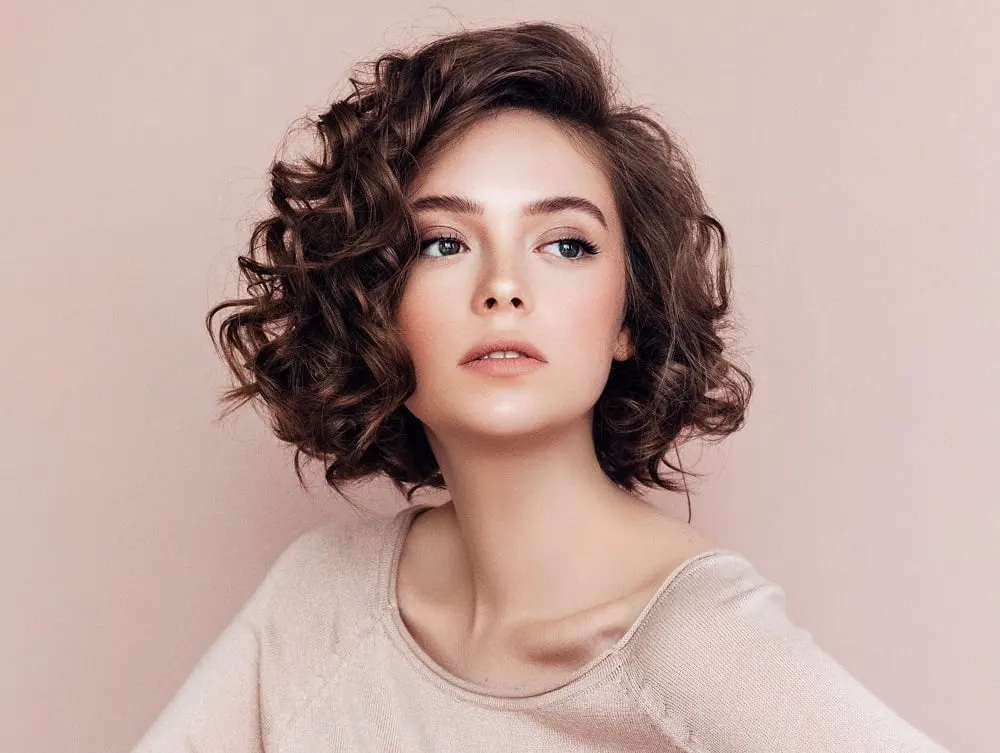 A bob haircut looks the most gorgeous with a deep side part. Chop down the hair slightly above the shoulders and add big bouncy curls. Tousle the hair on one side and the look is ready.
4. Pinned Back
Adopt an ultra-modern look by pinning down one side at the back with bobby pins. The rest of the long side-parted blonde lob is curled tightly adding extra volume and height to the style. This hairstyle will surely help you make a style statement.
5. Side Part with Bangs
A side-swept fringe is not necessary with a part. Instead, flaunt your light auburn curls by getting messy bangs covering the forehead of a bob. This look is further defined by blonde babylights.
6. Deva Cut
Show off your curls rather than taming them with a deva cut focusing on each individual curl to frame the face beautifully. Pair it up with micro bangs and a curly side part to spice up the look. This curly hair look is ideal for women over 50.
7. Messy Updo
On some days it is difficult to carry curly hair on the loose this is when it can be styled in a carefree updo with a subtle side parting. Pull out long curly strands here and there to top off this messy style.
8. Kinky Curls
Bleach down your dark locks and dye them in a honey blonde hue. Ask the hairstylist for curly bangs grazing the eyebrows and show them off with a deep side part. This look is suitable for the laid-back ladies who want a low-maintenance hairstyle.
9. Keeping It Classic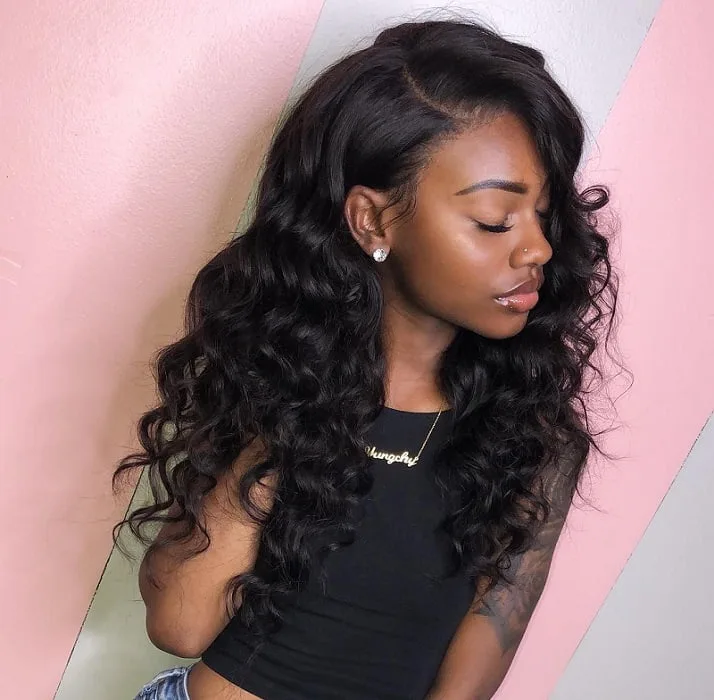 This is one of the most underrated hairstyles. To achieve this, all you have to do is tight curl half an inch of hair each time. Remember to section your hair so that you can curl all the layers uniformly and not miss any strands.
After curling your hair slightly, run your fingers through them and then side part curly hair. You can wear this look for a casual occasion or when you want to get a glam look without putting too much effort in.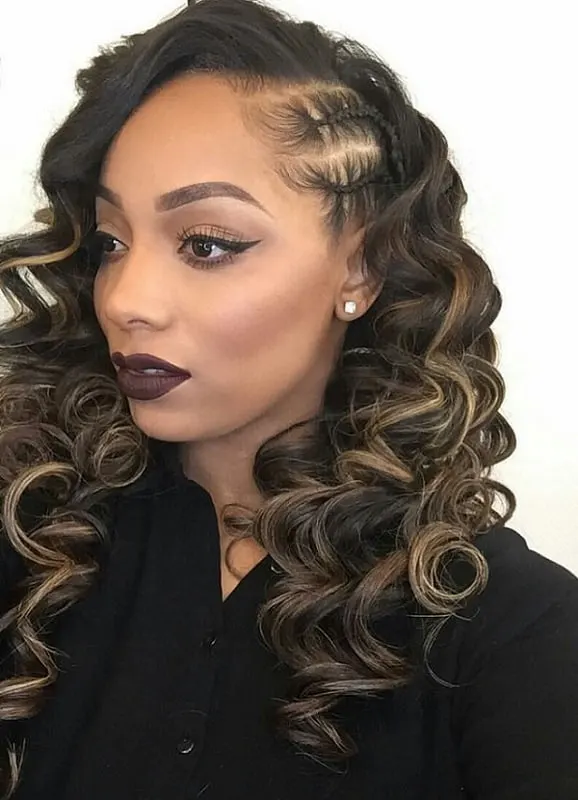 When a simple side part gets a little boring, braid it up. Let the braids do the talking. To achieve this look, make two cornrow braids next to parting and curl the rest of your hair in tight curls.
This look comes together with elegance and with a twist. You could wear this look to a glam business event. It screams glam girl boss all the way. Of course, you could also wear this hairstyle to a dinner party.
Curly hair can be challenging on some days because it can get uncontrollably frizzy. On days like those tying them up and away from your face seems like your best option. Sleek looks are extremely in trend.
You have to side part your curly hair and pull it back into a bun. Instead of the look being messy, hairspray all your flyaways down. You could use this look for a business occasion or when you are going out on a fancy date.
12. Put It Up in A Pony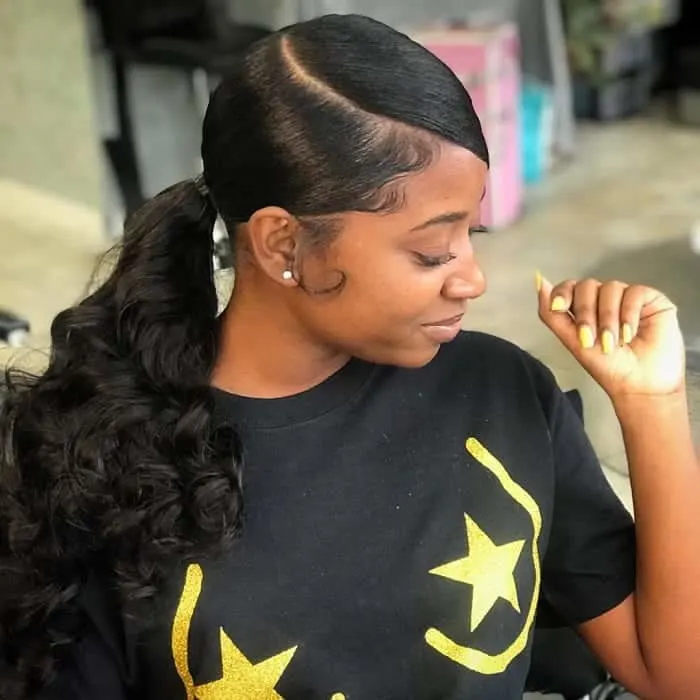 If you style a pony the right way, it could go from a casual side-parted curly hairstyle to a glam one. All you have to do is curl the bottom of your hair and then side part curly hair.
Put all your hair black in a sleek manner and tie a low or high pony, wrap a strand of hair around the pony to hide the elastic band. You could wear this look to go out for a few drinks, and it is perfect because your hair is out of your face.
Amazing High Curly Ponytail Styles for Women
13. Curly Bob with Side Part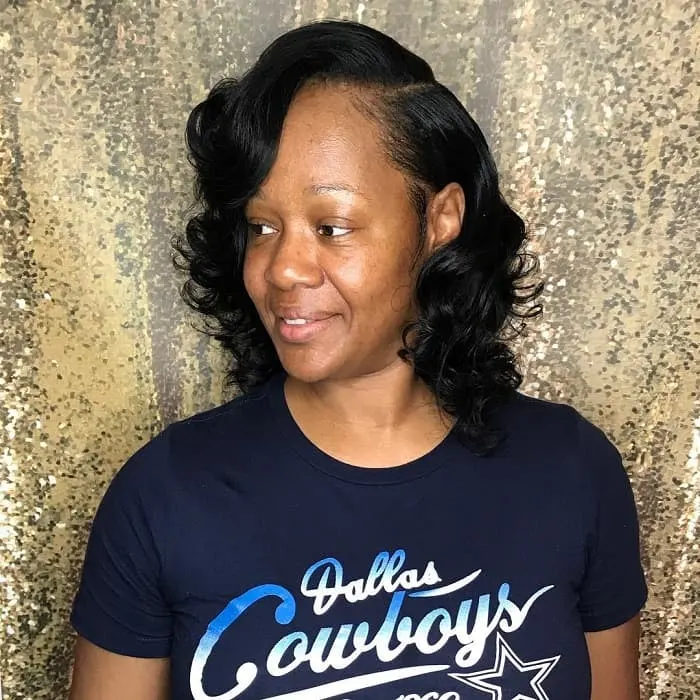 Styling short curly hair can become a task because there is only so much you can do with that length. Although a side part, while your hair is curled, is a perfect casual look, for when you don't want to put too much time and effort but still look groomed. You could wear this look to go to the mall or while you catch a quick bite—a classic way to wear curly hair with a side part.
14. Cute Space Buns
Space buns are all in, and it's a fun way to look dressy and young and the best way to keep your hair away. You could rock this style almost anywhere, from just a usual day at college to a glam party; it works for every occasion. You can opt for a prominent side part to make these regular space buns slightly edgier. This is one of the trendiest options for a side part curly hairstyle.
If you are someone with a significantly large forehead, this is your hairstyle. Side bangs whilst you side part your curly hair is a good way for your forehead to appear narrower. You have to call the ends of your hair and smoothen the tops to look sleek. This hairstyle is versatile and perfect for any occasion.
How To Part Curly Hair When It's Dry?
Parting curly hair is easy enough when it's wet, but what if you want to part curly hair when it is dry? Curls can sometimes be a challenge when it comes to styling. However, once you learn all of the essential tricks, taking care of your precious hair can actually be fun, and parting curls is no different.
You might want to part dry curls to create a different hairstyle on day 2 or 3 of shampooing, or you may prefer making a part on clean, dry locks instead of wet ones.
Actually, parting hair when it is wet might take less time, but not much. Plus, doing so is more likely to flatten curls at the top of the head. Creating your part or switching it up when your curls are dry boosts the volume that curls need to shine truly.
There are a few fool-proof methods that reveal how to part curly hair when it is dry. Check them out below.
Use a Diffuser
Diffusers are amazing at creating even air over your hair. Attaching one to your blow dryer is gentler for curls and keeps feisty frizz from forming. Using a diffuser while blow-drying hair with your head upside down will create movement on the hair that'll help you manage your part easily.
By blow-drying hair with your head bent over, hair doesn't fall in any direction. When you finally flip hair over and choose a part, the job will be easy to do, and you won't lose any delicious volume.
Use Your Fingers
If you choose not to blow dry hair, flip your head over once the curls are dry. In this position, shake your head and work your hands through your hair to loosen things up.
Next, choose which side you prefer the part to fall on. Just know that later on, it's easy to switch your part for a voluminous boost if curls seem to be falling flat.
Using your fingers, draw a rough part in a slightly zig-zag motion that follows your natural curls. The line won't be precise, but it's more than fine for curly hair and avoids having to break up any curls.
Use A Comb
You can use a comb instead of your fingers for parting, but this technique is not usually recommended. Dragging a comb down the center or side of your scalp creates a line of demarcation. This may require you to split some curls because this method does not honor how they fall naturally.
Using a comb is okay so long as you are very careful at breaking up delicate curls. Otherwise, it's best to avoid this method to maintain the integrity of your beautiful curls.
Parting your hair when it's wet as opposed to dry actually creates more volume and more versatility as the days wear on. Always remember to take your time and use a delicate hand when it comes to managing your curls. As long as you honor the natural shape of the curls, you can create virtually any part imaginable.
Here you have numerous ways to style your curly hair with a side part. You can make it fun, glam, or casual or have all of that all in one hairstyle. Your side part curly hairstyle can do it all; all you have to do is figure out what you want to do with your hair that day and what look you are going for.