Erling Braut Haaland is the rising star of football. The young Norwegian player is performing extraordinarily with the balls in Machester City and also rocking the fans with his long blond hairstyle.
The 23-year-old sportsman has naturally straight light blonde hair which he often grows out and dons in several ways each time he enters the playground.
We may not have seen Erling Haaland change his haircut often, but we have seen him switching up his hairstyles to bun, head tie, swept-back, and many others.
Let's have a look at some of the best hairdos of Erling Haaland over the years.
Top Hairstyles by Erling Haaland
The Telegraph says Erling Haaland is starting a new era of footballer's styles. He's not afraid to wear feminine jewelry and silk pajamas to parties. This translates to his haircuts as well.
Here are some of the best hairstyles rocked by the young soccer star Erling Haaland:
1. Short Hair with Undercut
2020 was a great year for Haaland. He scored three shots and three goals in his Borussia Dortmund debut within 34 minutes! During this time, Erling Halaand sported a comb-over undercut.
As you can see, Halaand does his undercut with a comb-over for a classy aesthetic. Aside from this, you can have patterns shaved into your hair to help you stand out!
The best part about an undercut is you don't need to spend a lot of time maintaining your locks. It's an effortless hairstyle.
2. A Half-Up Bun
Half-ups came about in the 18th century when women did them to volumize their hair. It's quintessentially feminine, and you rarely see men wearing this style.
But that didn't stop Erling Haaland! He sported the half-up bun with confidence and it really looks elegant on him.
Half-ups are flattering to the face since they draw attention to the eyes and lips. For men, it shows you're comfortable and confident in your skin!
3. The Stylish Headband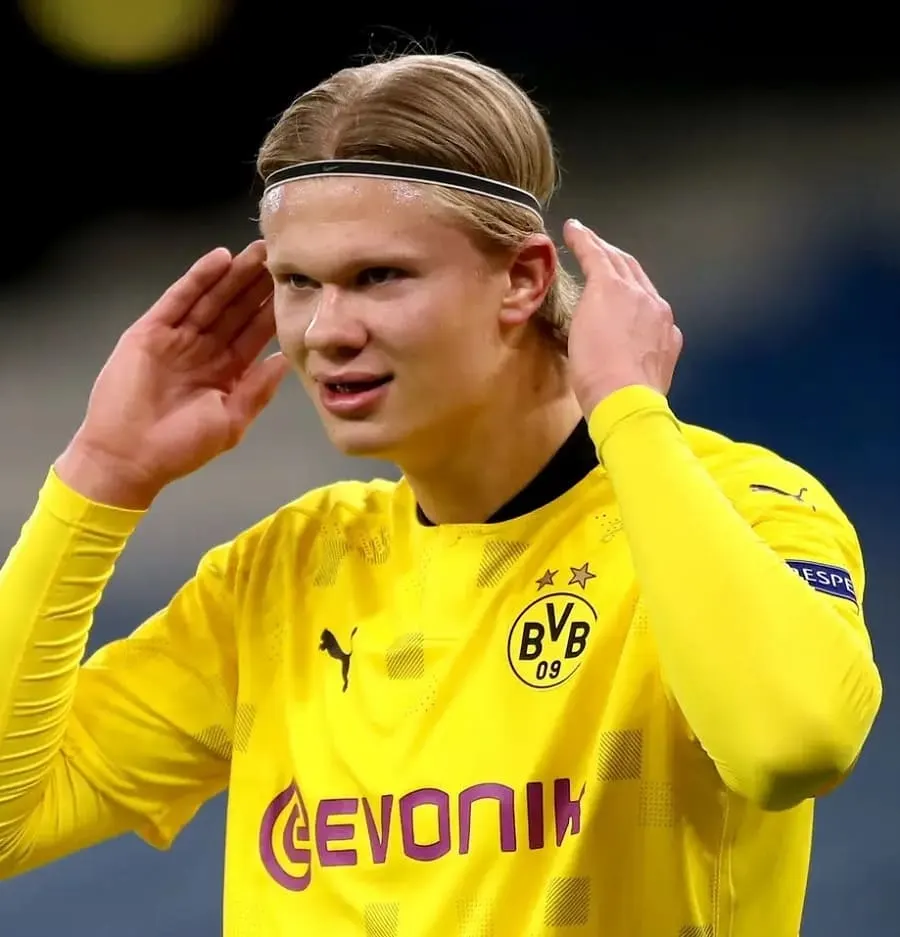 Sometimes an accessory can completely change your look! Headbands are useful because they keep sweat away. It can help you stay cool while also making you stand out.
This simple hairband with long hair gives Erling Haaland an endearing, approachable look. In fact, the day he wore this, a referee asked him for an autograph!
4. Stylish Man Bun
In his first season with the Blues, Erling Haaland scored a record-breaking 52 goals while sporting a mid-height man bun. He pulled his hair back neatly and used gel to prevent any strands from escaping.
What's different about this man bun is it has a partial ponytail. Only the top half got tied into a bun while the rest of his hair trails down.
You can see a similar hairstyle worn by Jared Leto as he accepted his Golden Globe.
Additionally, he pairs this with a small undercut for functionality. The result is a truly unique and iconic hairdo! Overall, this style is a great choice because it allows him to play without fear of hair malfunctions.
5. The Infamous Viking Pigtails
Last April 2023, fans spotted Erling Haaland wearing braided pigtails. It was a bold hairstyle, and many took to the internet to compare it with Greta Thunberg. You may be asking, what was Haaland thinking?
The athlete made a post on Instagram claiming the hairstyle is inspired by Vikings and his Nordic heritage.
6. Free-Flowing Long Locks
Here's why this long hairstyle is the most controversial to date: In January 2023, Erling Haaland appeared on the cover of GQ with loose, long hair. He wore a Givenchy jumper and a designer jacket.
This sparked a storm because people thought the photoshoot was too glamorous for the football player. Some complained that Haaland should look like a Viking and not a supermodel.
Others say the photos are cheesy. This isn't the only time the player offended people with his natural hair.
A few months later, Erling Haaland let his hair down at Manchester City's game against Arsenal. Unfortunately, he did it at the last minute before thrashing the Gunners 4-1.
As you may know, loosening your hair tie is a sign that you're relaxed. This gave onlookers the impression that Haaland was disrespecting the opposing team!
Fan Reactions to Erling Haaland's Haircuts
Many fans seem to love Haaland's long ponytails. In a game against Southampton, he once again took the hair tie off. Yet, the reaction was positive this time!
The football player tossed his hair around as he was playing. Spectators described it as majestic. Another fan said Haaland should have a sponsorship deal with a shampoo brand.
Haaland's Comment
So, what does Erling Haaland have to say about all the commotion around his hairstyles? When a netizen passionately told Haaland to cut his hair, he bluntly replied No. Honestly, that sums it up for my thoughts on the matter as well!
Erling Haaland is truly an inspiration with his record-breaking plays and daring personality. He's shown he doesn't care what people think about his appearance. This football player is creative when it comes to his hair.
He can wear buzz cuts, undercuts, or comb-overs. He sports feminine looks like the half-up and braided pigtail with confidence!
Similarly, you can also embrace your sense of style with some unconventional Erling Haaland haircuts!
Trending Topics