Comb over undercut hairstyles are sleek and trendy. They give you're a polished look with the low shaved sides and back and the wavy top. This style can be worn into any event by giving yourself a manly look.
Coolest Undercut with Comb over Hairstyles
The style really depends on your preference. You may want the comb over to fall in the middle or to the right or left of your hair. In order to achieve the perfect undercut comb over, you will need to apply mousse, hair gel or a styling agent to your damp hair.
This will aid in combing your hair towards a specific angle. Also, it will define your naturals waves or curly hair. Check out 11 comb over undercut hairstyles that you can wear as a modern man.
For this hairstyle, the undercut with comb over is done similarly to shaved sides while still keeping the top heavy.
Naturally, the mode has short hair so the comb over is short and spiky. He uses mousse to let the hair lay beautifully on the top of his head.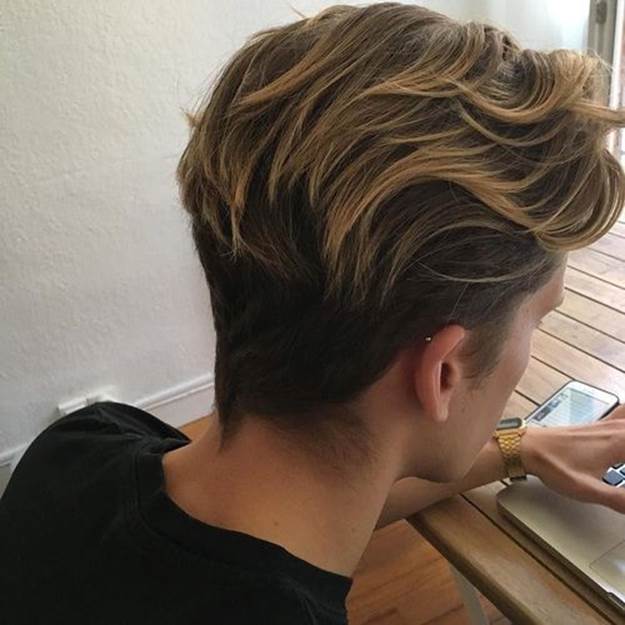 This comb over undercut hairstyle is perfect for the guys with longer natural or dyed blonde hair.
The model's undercut is done so that it shapes like a widow's peak then the top portion is combed backward. Since the model has waves in his hair, it shows once the mousse or hair gel is applied.
David Beckham rocks this comb over hairstyle. The undercut is not taking away from his overall style. As well as, the top-heavy is combed to his favorite side which is the right.
You can comb it to the other side if you so desire. Then, to finish off the hairstyle you would get your line up and clean up your beard if needs be.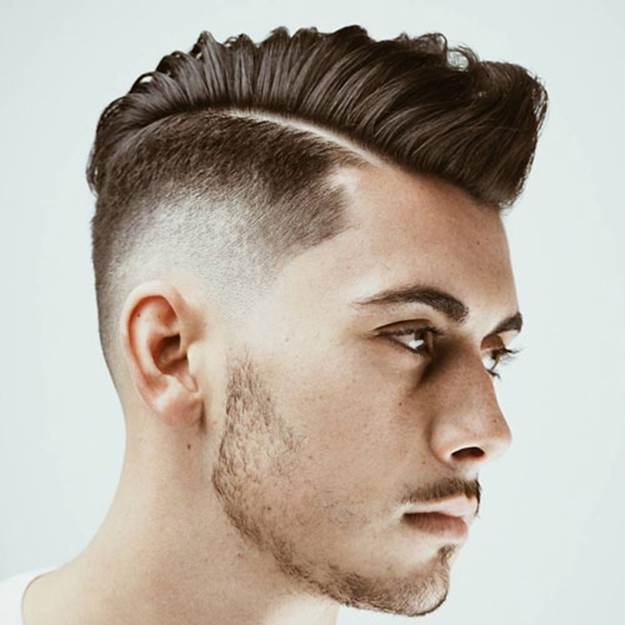 The model is rocking his undercut that transitions into a low fade. Then, the middle section is combed upwards into a mohawk. In order to achieve this hairstyle, you will need moose or hair gel as well as a comb.
You can apply the products to your hair then comb upwards. Depending on the length and thickness of your hair, it may slightly fall or arch to a particular side.
For this undercut comb over hairstyle, the sides and undercut are kept really low. Then the top portion is combed backward with the use of the gel. Depending on the texture of your hair is you can rock these textures look.
This undercut hairstyle is different because of the way that the combed-over hair lays. It plays like a man bang without doing too much.
The model has waves which will add texture to the length. As well as, a lot of hair to increase the thickness of the hairstyle
This model is rocking a simple undercut comb over hairstyle. The top portion is short however it is still slicked back to one side.
Also, he added a deep side part to add more flair to the look. Lastly, he lined up his beard as well as mustache to look polished.
For this model combed over undercut the top is fuller. He has longer and thicker strands and can be styled into a pompadour. The pompadour makes his hair look longer and thicker than it really is.
Through the use of combs and styling mousse, this hairstyle can be achieved in no time. Then, the sides and back and brushed downward to add to the foolishness of the look.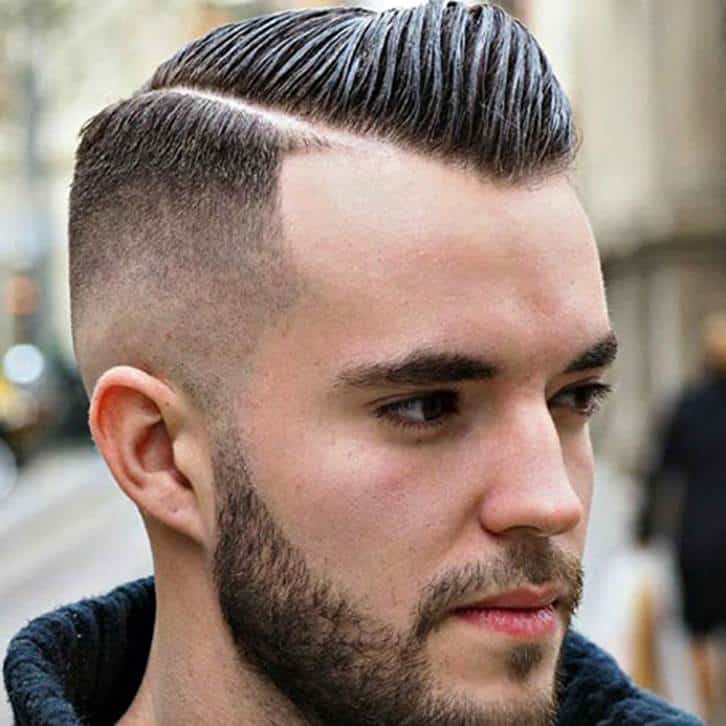 As the name suggests this model is sporting the smaller version of a mohawk. The styling procedures are the same however it would be done with less hair.
If you have a widow's peak ensure to get your barber to line your peak accordingly. Then, line up your beard and sideburns and you're good to go.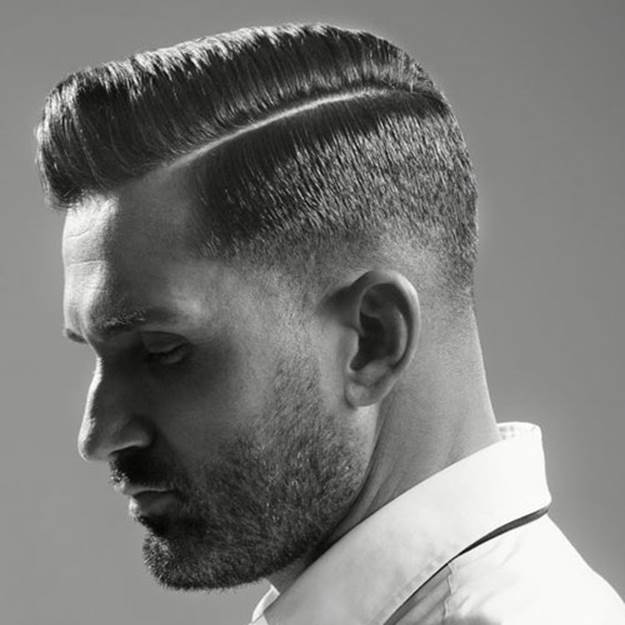 Do you remember the classic movies with the top guys within the firms with their suspenders, and cigars? Well, this is the hairstyle they use to wear. The classic undercut comb over style features low sides with a deep side part.
Then, the top and sides are combed over to your favorite side, for the mode, it's his right. Usually, the top portion of your hair has to be the same length in order to achieve this look.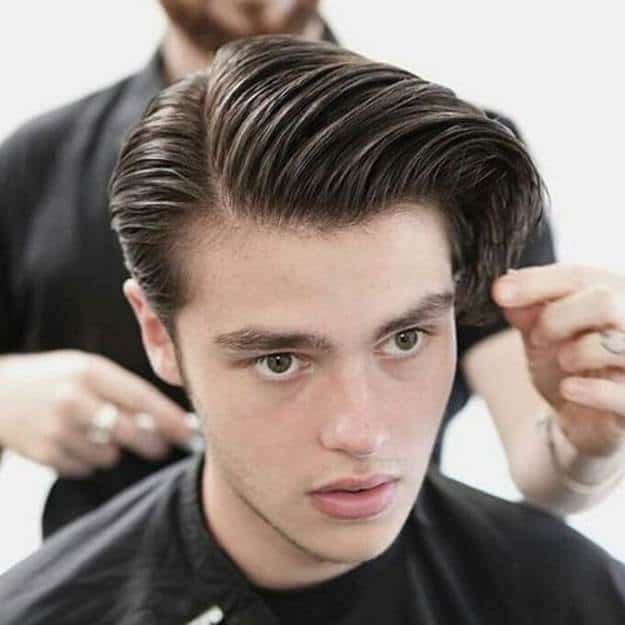 Comb over with undercut hairstyles can be done on medium length or even longer hair. In addition, if your hair is thick then that is great.
The longer hair will be combed towards one side and hangs off. Depending on who you;r hairstylist/barber is they will look like flawless.
Also, it will be even more beautiful for your thick strands or wavy or curly hair. the long comb over can then be styled into quiffs and pompadours if you so desire.
FAQs
Slick back or combed over?
It usually depends on the style that you are going for. If you're going to a casual outing the combed-over is more suitable.

However, if it's a formal function with friends or says Friday then you can wear it as well. Slicked back hairstyles are for events where you dress to impress. They accentuate your attire by making you look polished.
Undercut or Fade – what goes well with a comb-over style?
Both go well with the comb-over style. The undercut will add flair to your look especially if you do designs. However, a fade will give you a polished look. Hence, it depends on your preference.
Undercut and shaved sides are the same?
No. Undercuts is when the back of your hair is cut so that the hair on top falls over it. The hair on the top is usually short or longer and can mask undercut if needs be.

While shaved sides are as the name suggests shaved or really low sides. For this look, you will still have hair on the top going towards the back of your hair.
These 11 undercut comb over hairstyles are perfect for any modern man. Which one will you be wearing?