Don't be afraid to use short hair and a hairdo in the same sentence. For those of you who want to look beautiful, there plenty of fiery yet easy hairdos for short hair to play around with.
Whether you have a bob or a pixie, it can be easily arranged into something really interesting. You can sweep any guy of his feet with a smart and creative approach to getting your hair done.
There are many simple tricks that will make your short locks appear as if they are long and voluminous. All you need to do is choose the right hairstyle. There are plenty of useful tools such as a curling iron and a simple elastic band that can turn your short hairstyle into a striking hairdo.
Easy Hairdos to Try With Your Short Hair
Many women get short haircuts because they want to avoid too much hair maintenance.
However, wearing the same hairstyle day in and day out can become boring. That's why girls came up with various easy hairdos for short hair that won't take up too much of your time but the results will be amazing.
Experimenting with short tresses requires plenty of imagination and inspiration. Here are 60 easy hairdos for women with short hair.
1. Short Bob with Braids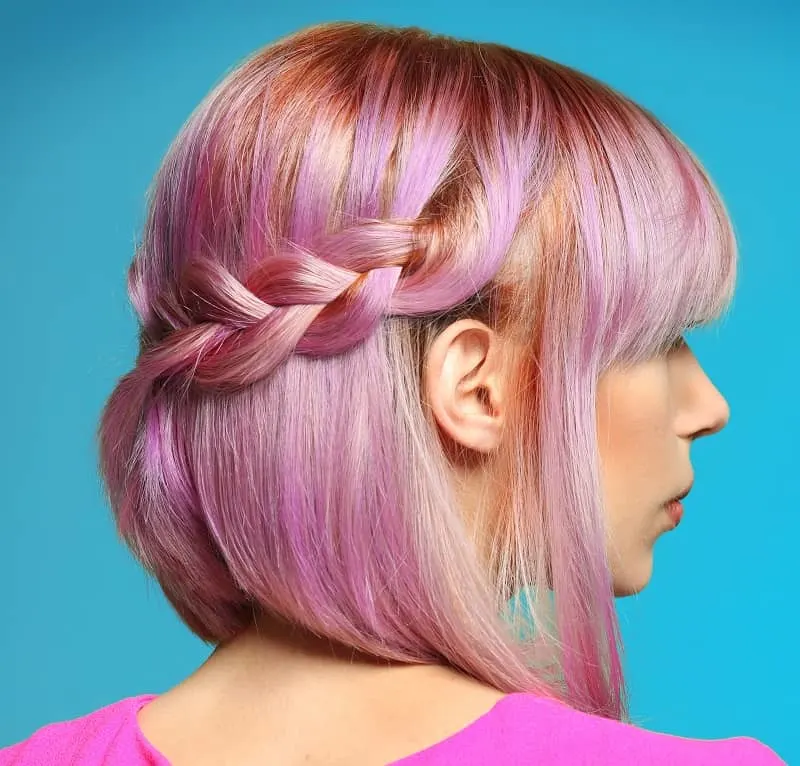 Braids make a great team with short hair, especially if your mane has a pastel pink hair color. Keep your bangs in a blunt cut, covering your forehead and create a knitted crown.
2. Short Hair with Waves and Bangs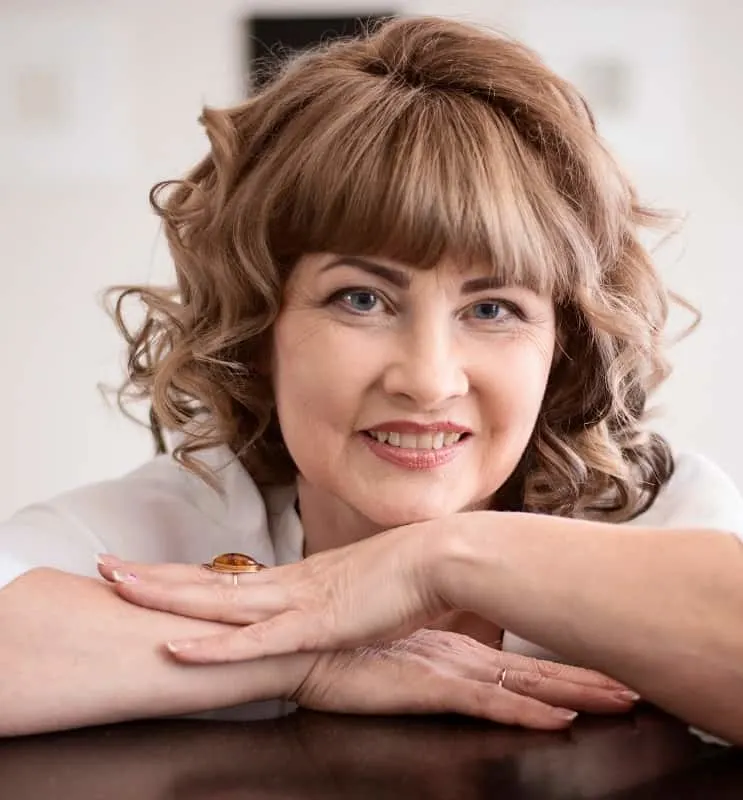 A short hairstyle is a perfect match for any woman over 50 who wants to look elegant all the time. Get a blunt cut for the bangs and give them more volume with a rounded brush. Build curls for the rest of your head to obtain that beautiful glow.
3. Short Curly Hairstyle with Braids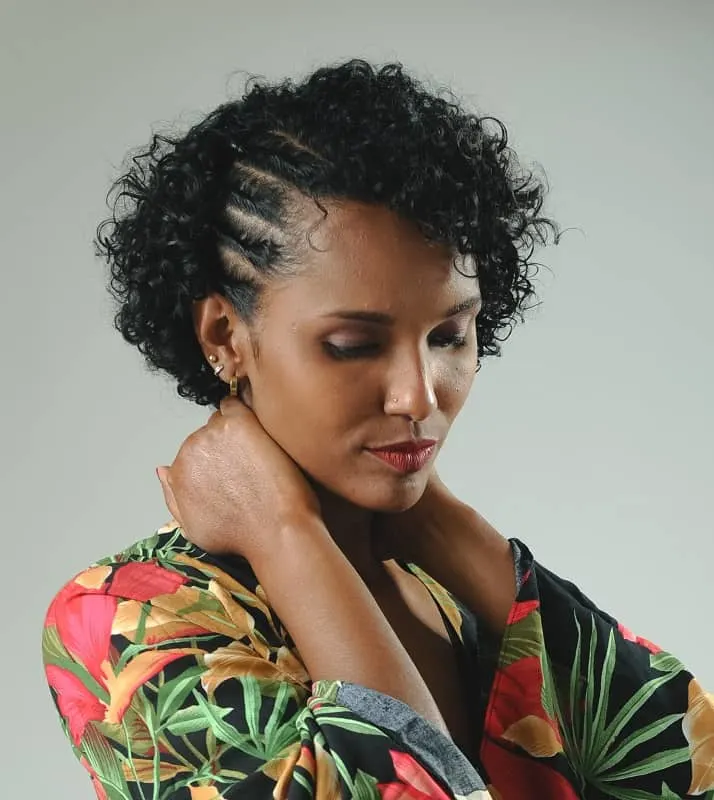 Show off your short curly hairstyle and get all the attention on your curls and fabulous one-sided knits. Keep the bangs covering half of your forehead and use some jam to define your coils.
4. Short Retro Hairstyle
When pulling off a short vintage hairstyle, you'll feel like a real elegant diva. Wear your bangs slightly on one side and the forehead and wear a white headband with a decoration.
5. Short Space Buns for Black Girls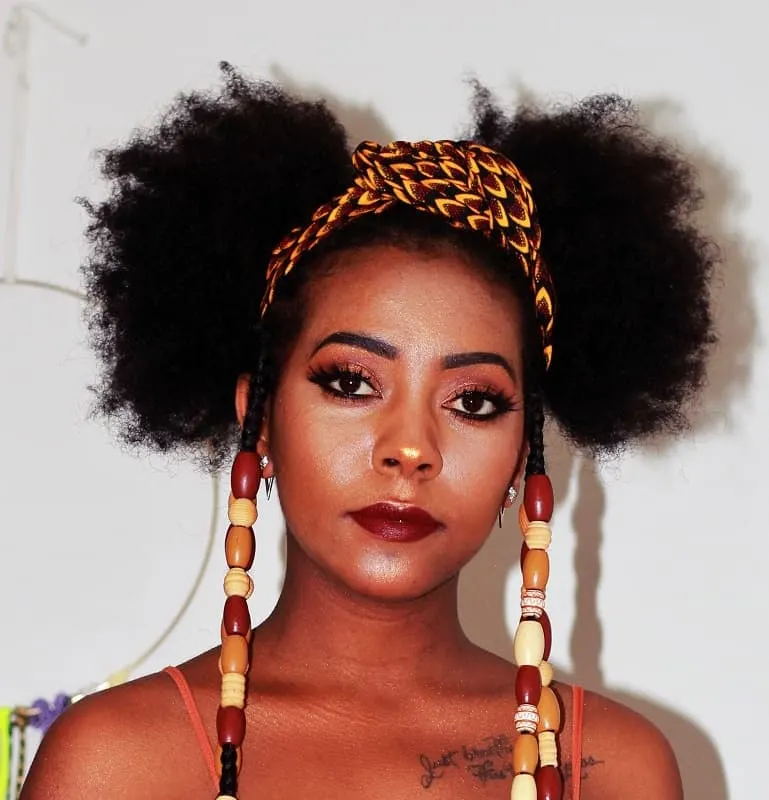 Short pigtails can make any black girl look stunning! Style them on top of the head and use your bangs to create two braids. Decorate them with wooden beads and wear a headband to make your hair look eye-popping.
6. Short Red Pixie Hairstyle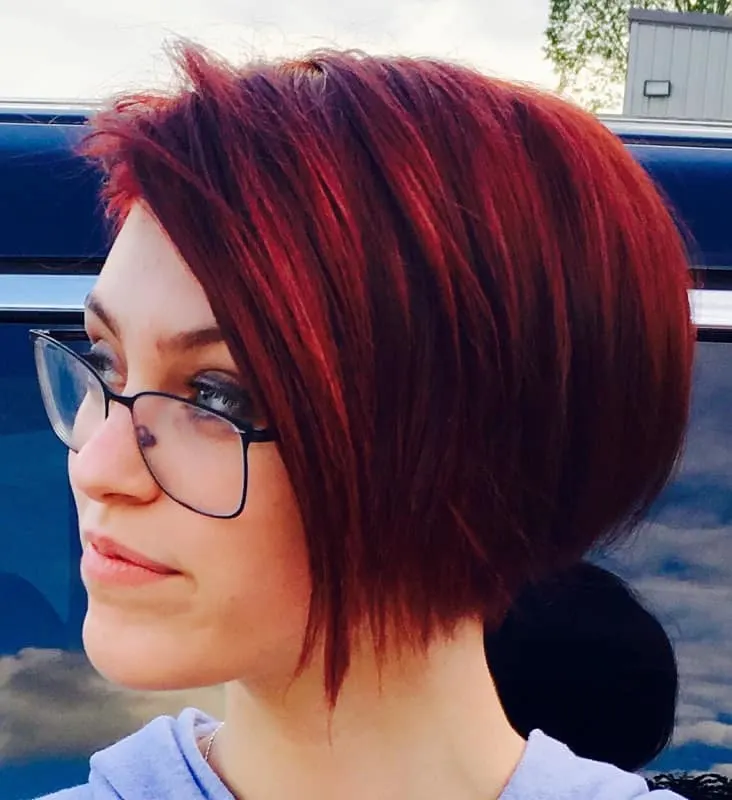 When styling a short hairstyle on thick hair, you will probably get a mindblowing volume. Take your styling game to a new level and make a fabulous switch to the redhead team.
7. Short Low Ponytail
Get a short ponytail if you want a professional look that is so simple, yet captivating. Use a black ribbon to tie the pony and create a bow. It will be an excellent asset for your hairdo, especially when you have blonde hair.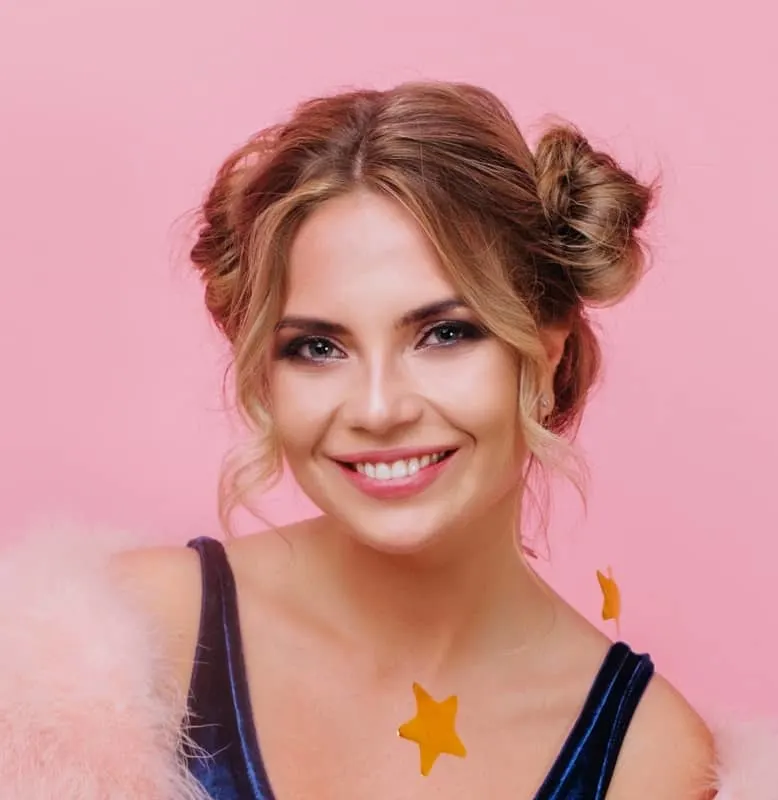 Space buns can really spice things up for short hair. Make them loose, on top of the head, and curl two strands from your bangs. They will astonishingly frame your face.
9. Blue Short Pixie Hairstyle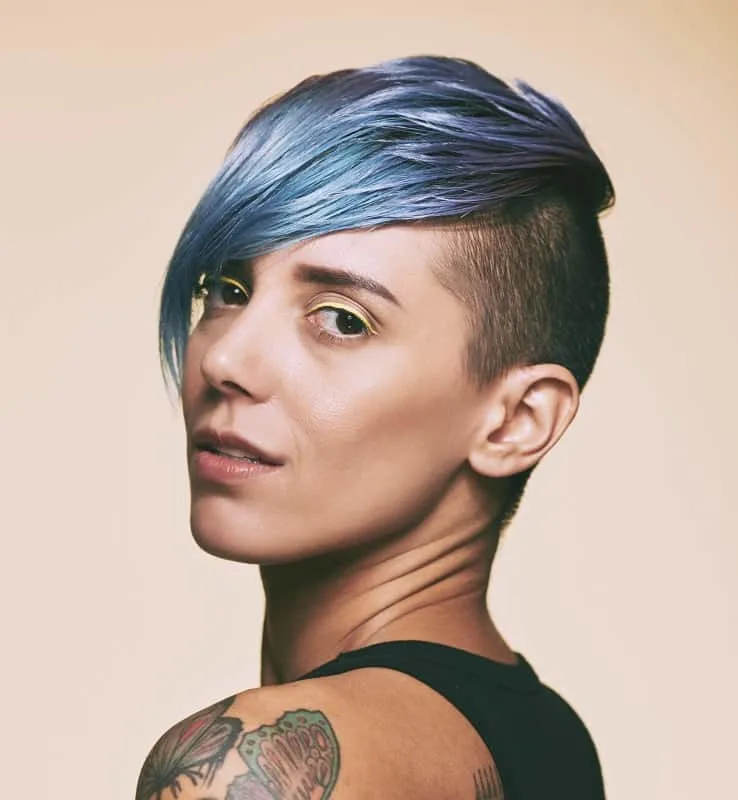 A short hairstyle is the best choice you can make when having thin hair. Create a metallic purple-blue ombre for the top hair and wear it on one side. Use a tapered cut for the rest of the head.
10. Finger Waves for Short Hair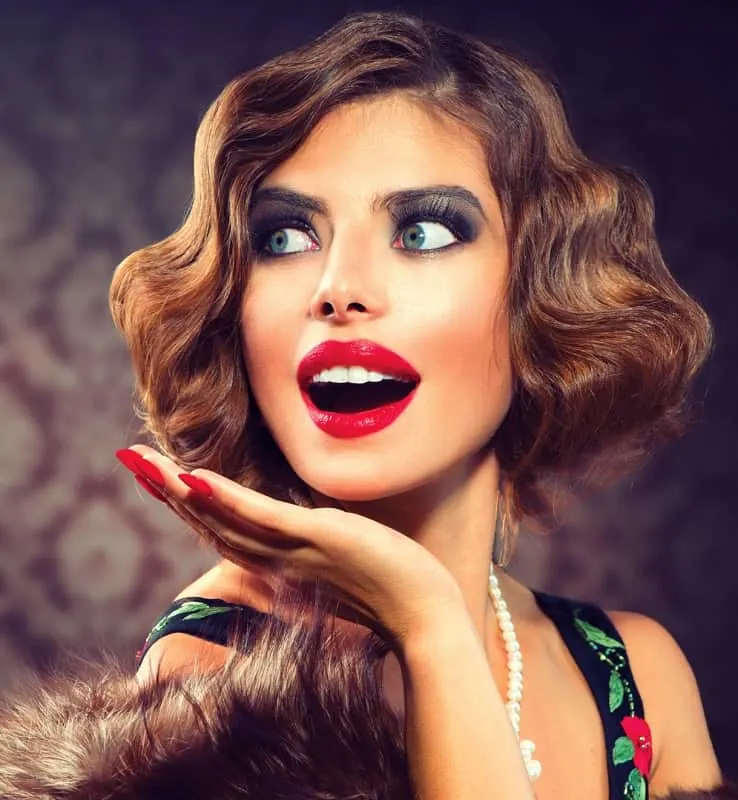 Finger waves are a perfect styling option for short hair because they provide loads of volume. If you go for a brown hair with lighter highlights, your strands will marvelously glow.
11. Low bun hairdo with short hair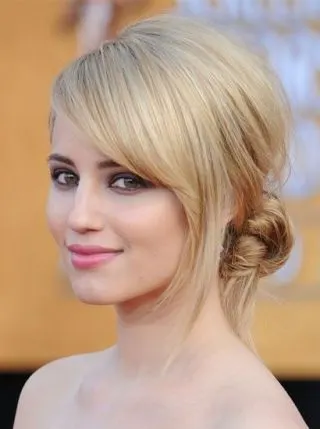 A low bun is a handy option for women who wear bobs. It can be created in a matter of seconds using just one simple elastic bands. If your front strands are not long enough to get tied, they will look great hanging down.
12. An updo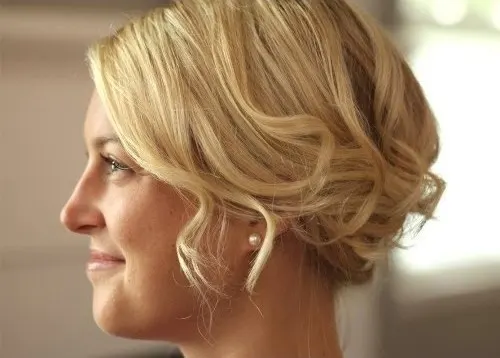 Every woman with short hair dreams about wearing her locks up. So why give up? You can clip your hair upward very easily with just a few hair clips and plenty of hair spray. If you curl your locks beforehand, the results will be even more impressive.
13. A bun trio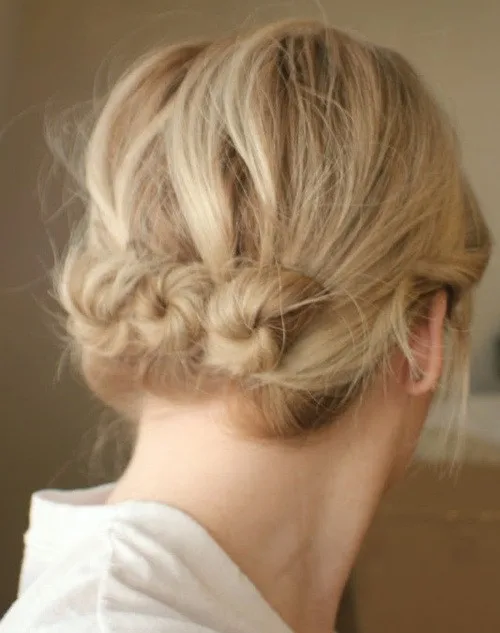 You can create this easy hairdo for short hair by separating your locks into three strands and creating a mini bun with each of them. Then clip the buns to the rest of your hair and voila!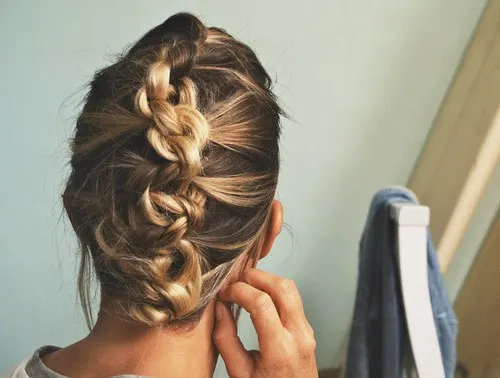 This hairstyle might need some practice but it's the easiest way to create a braid out of short locks. You will need at least a bob to achieve this. Girls with pixies need to look for other options.
15. A donut bun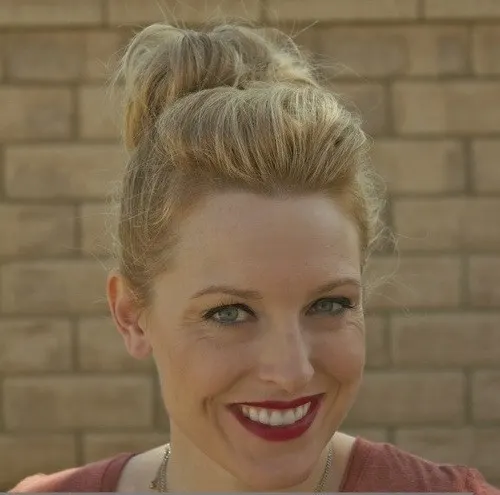 A donut bun can be created even if you have a short bob. The hair must be long enough to be swept up into a high ponytail and arranged around a donut. It's a great way to make your hair look longer.
16. Side braid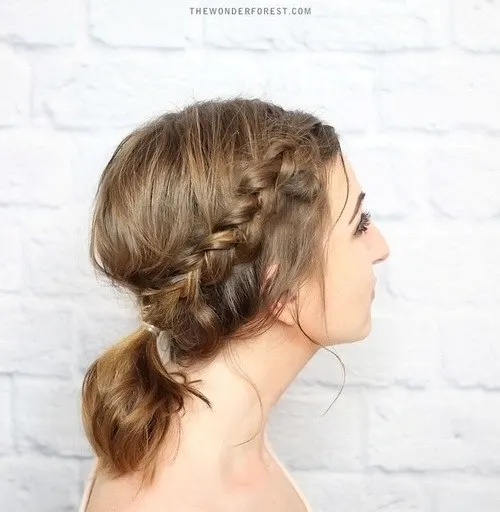 If your hair is not long enough to experiment with full-blown braids, you can settle for a beautiful side braid. Start braiding with your bangs and go down your neck. Then tie the rest of your locks into a ponytail.
17. A silk kerchief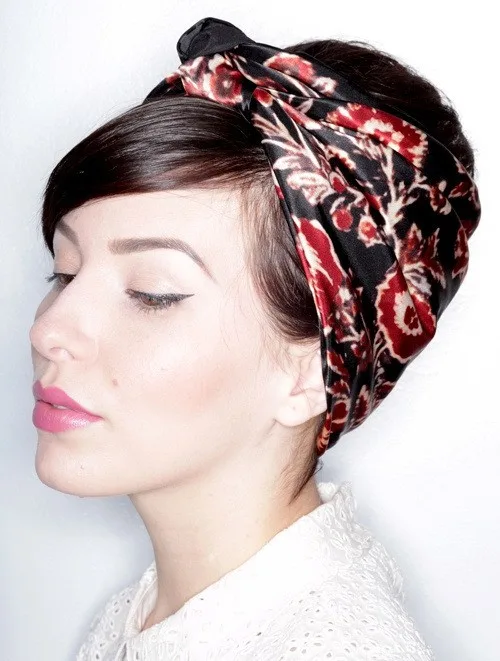 You can make an easy hairdo for short hair just by using a simple kerchief. All you need to do is tie it around your locks to make an impression of a long mane tied up in a bun. A great idea!
Love Both Braids & Updos? Try Top 45 Braided Updos
18. Twist and turn short hairdos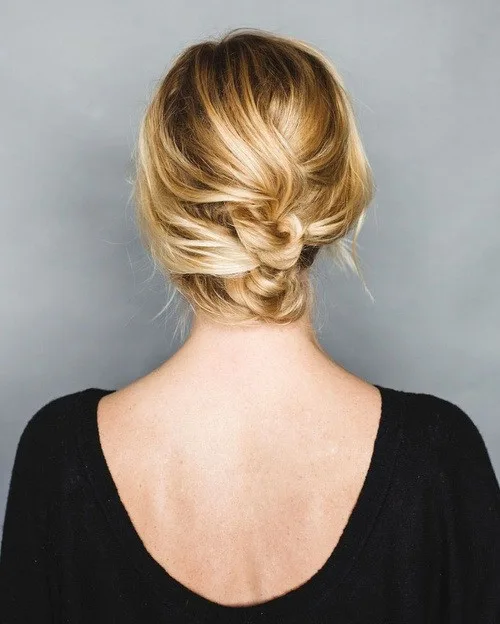 If your mane is not long enough to braid, twist it! A few creative twists will make your hairdo look impressive and keep your locks neatly tied for the whole day.
19. Pretty coils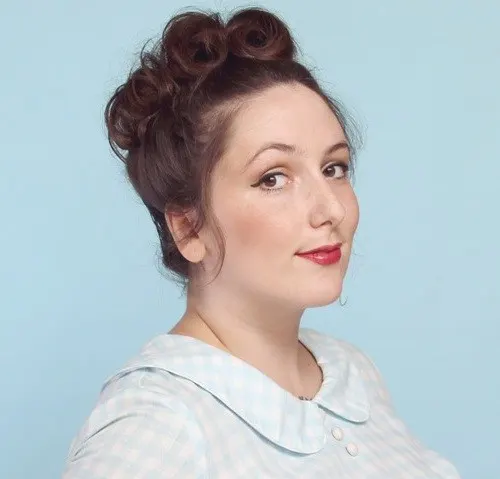 Sweep your short mane upwards and make small coils that will be clipped to the rest of the hair with pins. This is an interesting hairdo that will definitely keep some heads turning your way.
20. A loose braid
A loose runaround braid is a great idea. If your hair runs at least half way down your neck, you can enjoy a loose braid hairstyle. Start with your bangs and run the braid to the nape of your neck.
21. Messy updo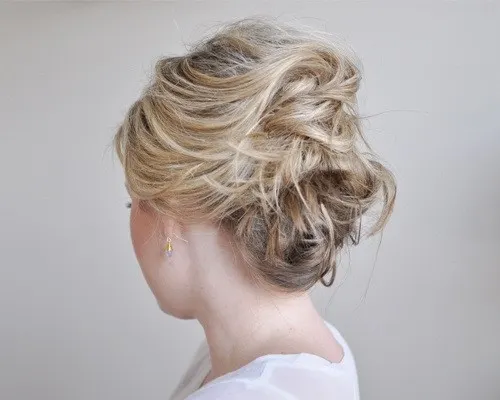 This is an easy hairdo for short hair that looks voluminous due to its messy nature. You will need professional assistance to make this type of hairstyle look suitable for a special occasion. But the effort is worth it!
22. High hair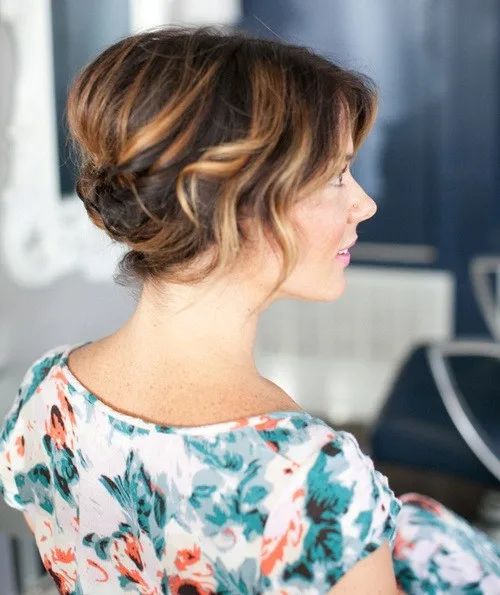 High hair is easily achieved with a special brushing approach. You can create it on locks of any length to pump up the volume. Clip the hair under the high hair part to create contrast.
23. Short curly bun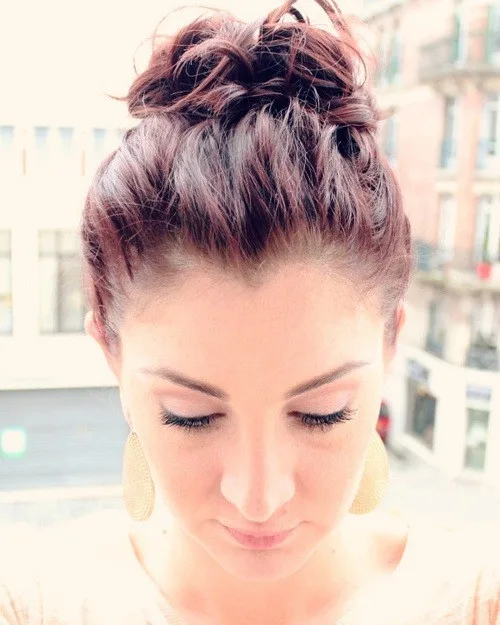 If your locks are long enough to be swept into a high ponytail, you can create a stunning bun. All you need to do is curl the strands in the ponytail and arrange them in a circle by clipping. Use some hair spray to keep the bun intact.
24. Twisted braid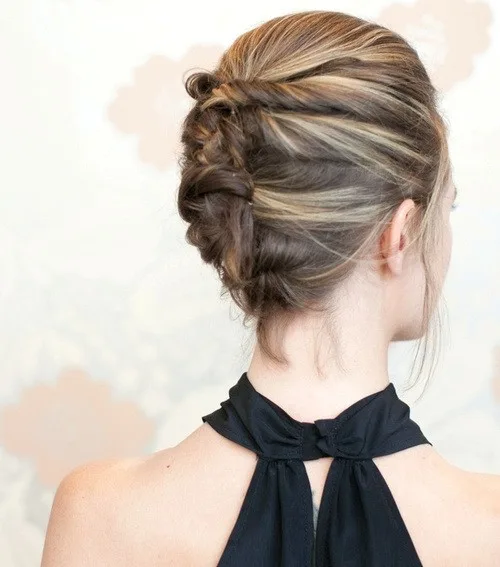 You can create this impressive hairdo with the same approach as you would use for a French braid. But instead of braiding the locks, you'll need to twist them. It will take just a few minutes to do.
25. A mixed braid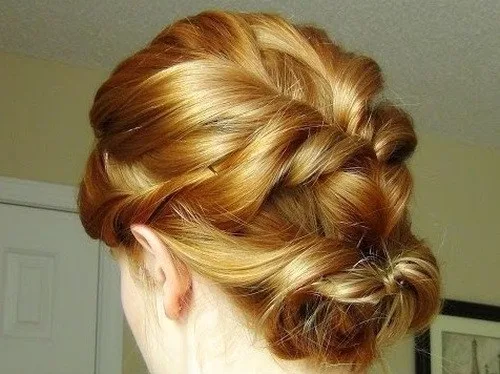 This is an impressive wedding hairdo with short hair that will make your hair look voluminous. You'll need to create a braid mix from different strands all over your head. Ask a professional stylist to show you the way.
26. A bun on top
A simple bun on top can be created if your hair can be swept upwards. The size of the bun doesn't matter. You can make it larger by curling the strands or pulling at them to make them loose.
27. Short undercut braided hairdos
This is a great hairstyle for girls who have pixies. The top layers of your hair are braided to create the undercut look. Take a close look at the photo to copy the style.
Best Beehive Hairdos for Women
28. Pretty curls
Make a short easy hairdo with your curling iron. Curl and arrange your strands to create a magnificent pattern. This hairstyle takes a few minutes to make.
29. Accessories
Use different accessories to help create a voluminous style. You can buy headbands or a diadem to clip your short hair to for the desired effect.
30. French twist
A French twist is easy to make regardless of your hair length. You will need to practice this hairstyle but once you get a hang of it, you'll only need a few minutes to start looking fabulous.
When it comes to beautiful hairdos, girls with short hair have plenty of options. Most of them are easy and take a few minutes. Some require some learning time. But in the end, you'll have many different hairstyles to try and enjoy.