Red skin and blue eyes are already a mesmerizing and unique combination. However, it can be made more special and beautiful when matched with the right hair color. With that said, you may want to check out our recommendations for the best hair colors for women with red skin and blue eyes.
Gorgeous Hair Colors for Red Skin and Blue Eyes
If you want to make your blue eyes pop and your red skin glow even more, here are some hair color shades you can try:
1. Ginger Red
When it comes to accentuating hairstyle for blue eyes, nothing beats the reds. The most mesmerizing red shade of all is ginger red and it will certainly be the perfect canvass for your tantalizing blue eyes.
And contrary to popular belief, red hair won't med your skin look redder.
In fact, it's a great hair color for red skin and blue eyes because it will outshine the redness in your skin.
2. Fuchsia Pink Hair + Light Pink Highlights
Vibrant shades look amazing with your attention-grabbing blue eyes. And if you're looking for a fantasy hair color, fuchsia pink is one of your best options since it's one of the warm shades that are located across blue in the color wheel.
Add depth to this gorgeous hair color by incorporating a few strands in a lighter pink shade.
3. Medium Brown
If neutral shades are what you're looking for, medium brown is one of the safest choices.
However, shy away from darker brown shades as they will clash against your cool blue eyes and red skin.
Your best options are lighter brown shades with tinges of red like this medium brown color.
4. Blonde Hair + Dark Highlights
You can even go for an even lighter brown shade- blonde! Make this already beautiful color look more interesting by adding a few strands in a darker shade.
This can add depth and texture to your blonde hair while enhancing the beauty of your blue eyes and red skin undertone.
5. Turquoise Hair + Silver Tips
When it comes to finding a hair color for red skin and blue eyes, ashy shades are your best friends.
If don't want something neutral or bright, silver hair is the next shiny thing you can try. Add splashes of light turquoise for a unique and edgy look.
6. Strawberry Blonde
If you can't decide between pink and blonde hair color for your blue eyes, strawberry blonde is your best bet. It's a warm blonde color with pink tinges that bring out the healthy glow from your red skin tone and adds a nice contrast to your beautiful blue eyes.
7. Brown Ombre Curls
For women with red skin and deep blue eyes, a darker hair shade is the best match for you. If you want a low-maintenance hairstyle that is equally as stylish as brown hair, go for brown ombre.
8. Galaxy Hair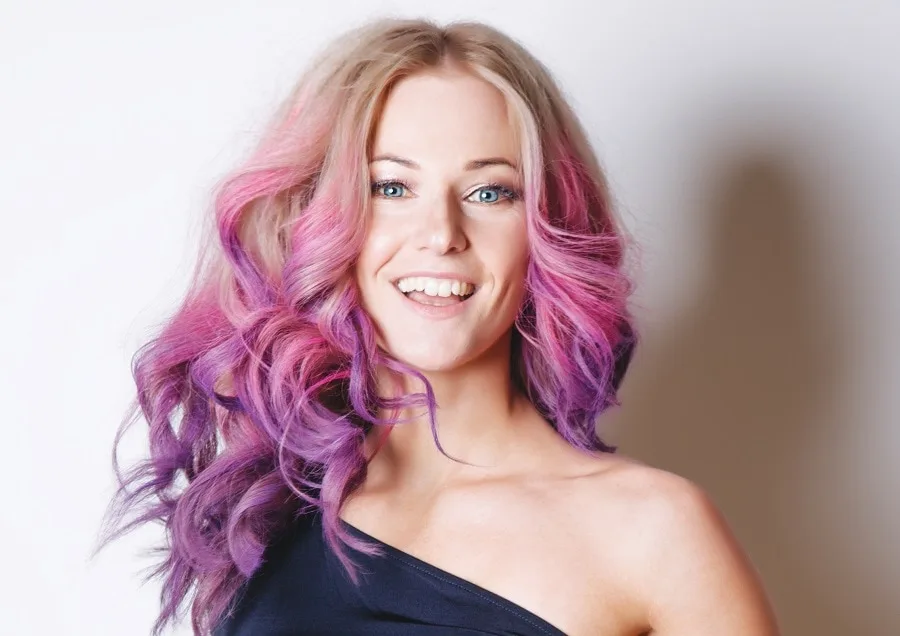 If you want a hair color that's equally as eye-catching as your skin tone and eye color combination, you may want to check out the galaxy hair color.
It features vibrant shades of pink and violet which are all located the opposite of blue in the color wheel so you're sure that it will deliver a beautiful contrast against your blue eyes.
9. Warm Platinum
Platinum is supposed to be icy and cool, but this warm platinum has a touch of creaminess and warmth to it which makes it a perfect option for complementing the healthy glow of your red skin tone.
Not only that, this neutral and unassuming shade allows your blue eyes to take center stage.
10. A Fiery Option (Orange)
If you found red shades to be too dramatic or intimidating and you want a more playful hue, then orange is the bright color that you need.
Start off with darker roots for a more natural look, then proceed to play with different shades of orange (darkest at the top and lightest at the bottom) to get that fiery look that perfectly complements your healthy and glowing skin.
The beautiful combination of red skin and blue eyes is quite rare, and you are truly blessed to have it. While this combination already looks gorgeous and amazing, you can take it to elevate it further by pairing it with any of these hair color ideas for red skin and blue eyes that we've shared with you.
Related Topics