Red hair and blue eyes is one of the rarest yet chicest combo for women. Redheads are mysterious, fun, adventurous, sexy, and you name it. Every girl or woman has thought about dying her hair red at least once in her life. There's something about this hair color that attracts us, and we simply want to try it out.
Red Hair and Blue Eyes
Red hairstyles are suitable for everyone due to the fact there's a perfect shade and length for different face shapes, eye color, and other factors. What about red hair blue eyes combination? It's one of the most powerful combinations, and we have ten amazing styles to prove that.
Curious to find the best shades of red hair for girls with blue eyes? Scroll down to see ten amazing suggestions.
Women who love subtle shades and demure looks may want to go for darker reds. This is especially the case if your natural hair color is dark as well. A combination of dark red hair and blue eyes is to die for. For a complete effect, use a curling iron to get subtle locks for the prettiest look ever.
There is no need to limit yourself to one color if you don't have to. Make your blue eyes pop with a two-toned look. Use a striking red shade that gradually lightens and becomes subtler for an amazing effect. This look will be particularly awesome on a girl with red hair and blue eyes who likes edgy styles.
Are you a woman with her eyes on the prize? Successful businesswomen need a hairstyle that not only matches but boosts their confidence. You can achieve that goal with bob. This sleek hairstyle is always trendy. Red bob weave, combined with blue eyes, is like hitting the jackpot. Isn't it gorgeous?
Long hair is always sexy, but it's even hotter in red. You can choose any color you want, including copper shade. If you wish to keep it simple, just let your hair flow down your shoulders and back. After all, sometimes the best effect is when you don't do anything wild at all.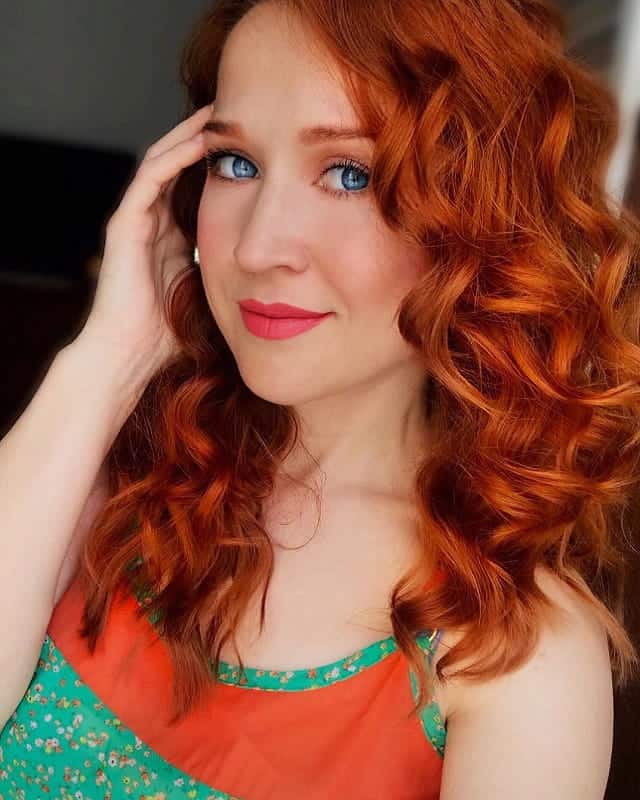 If you have curly hair, then the red color will accentuate your locks even more, in addition to making your blue eyes pop. But, if you don't have curly hair, you may want to consider using hair rollers.
While curling iron can do the trick, make sure you avoid heat styling as much as possible to keep your red strands looking perfect at all times. A classic red hairstyle for blue-eyed girl.
Red hair is one of the rarest hair colors and take advantage of that! What we love about long red hair is that we can style it any way we want. Braids have always been a popular choice for more reasons than one.
There are different types of braids to suit every woman's personal preferences. Make two long braids. This red hair and blue eyes combo will not only rejuvenate you but also bring attention to your eyes.
Channel Ariana Grande and her high ponytail with blood red hair while accentuating your blue eyes. High ponytail is not only chic but also very practical as it keeps hair out of your way. For a unique effect, you may want to get bangs in a different color to achieve an edgy look.
As mentioned above, fiery red hair and blue eyes are a perfect combination. To introduce more playfulness to your hair, you can rock gentle curls. This way, your hair will basically bounce and look adorable. Just take a look at the photo below. Hair is shorter, bouncy, curly, fiery red, and it's perfect. The look is even stronger with blue eyes. Try it out.
Every girl or woman loves ponytails, but instead of the classic look, you may want to go one step further. Pull your dark red (or any other shade, of course) hair up in a ponytail that you'll secure with a hair tie. Then, use a different hair near the end of the ponytail for a voluminous yet fun effect.
Classic red hair and blue eyes go a long way, and we're absolutely here for it. Use mousse to boost the volume of your hair for an effect that is both minimalistic and fashionable at the same time.
Brown Hair Looks With Blue Eyes
Now that you know more about red hair blue eyes combination, you're probably eager to dye your hair or try some hairstyles from this post. Remember, red hair requires a lot of maintenance to remain perfect at all times, so make sure you care for it properly.