If you have blue eyes, you probably know the struggle of finding the perfect hair color for blue eyes. Blue eyes are the rarest, yet they are considered the most attractive eye color after green.
The color blue symbolizes loyalty, confidence, intelligence, and peace and it is the color of the skies and the seas. Over 8% of the world's population has blue eyes.
Choosing the right hair color is not about getting your favorite shade or telling your hairstylist about the color that looks great on your best friend or favorite celebrity.
There is a whole lot of a process for finding that perfect hair color that fits best with your skin tone, eye color, and the natural color of your hair.
How to Choose Hair Color Based On Your Eye Color & Skin Tone
When you think it's time to rejuvenate your hair color. Rather than rushing things and blindly choosing the color you like, analyze your skin tone and eye color to know the perfect hair color for blue eyes.
Here's how you can choose the right hair color based on your skin tone and eye color:
Study Your Skin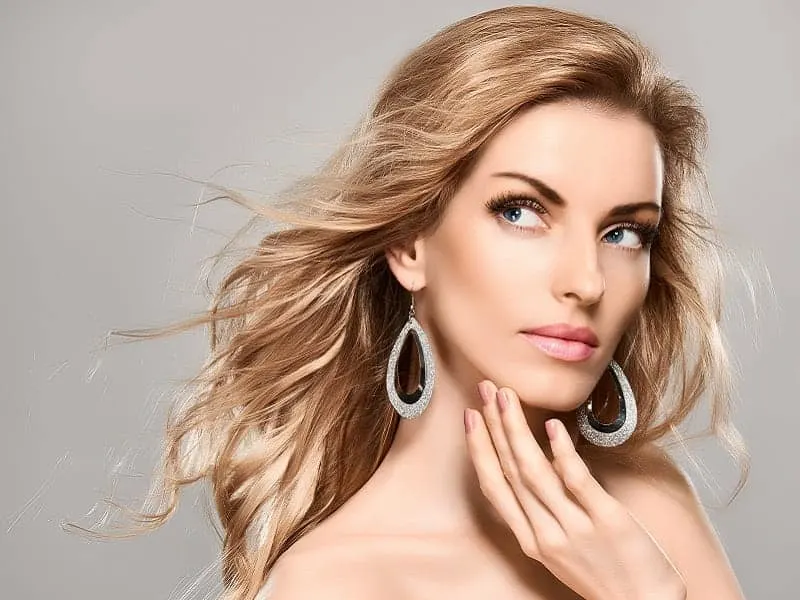 Consider your skin shade before choosing the hair color. The shade of your skin is likely to be pale yellow, medium, olive, or deep.
Remember that pale skin adjusts to almost all the hair colors. However, try to avoid the shades of red or golden blonde hair if you have cool undertones.
If you have yellow undertones, stay away from yellow or orange tones as they will highlight the awkward yellow color of your undertone.
The darker hair colors are explicitly the best for olive undertones. Go for brown, Auburn, Burgundy, and hints of red if you have a medium-toned skin.
Wrong hair color can cause a disastrous look, so choose your hair color wisely.
Determine Your Skin Tones
You need to determine your skin undertone to find the perfect hair color for blue eyes. Knowing your skin undertones is simple:
Wear a white shirt, stand in natural light in front of the mirror.
Determine the undertone of your skin by looking at the veins on the underside of your wrist.
If the veins seem to be greenish, you have got warm undertones, if they are bluish-purple, you've got cool undertones and if the color of your veins is contrasting between the two colors, you've got neutral undertones.
Easy Tips and Tricks to Find Your Skin Tones
It is recommended to consult a hairstylist before making any final decision, but to give you a rough idea, here are some things to remember while determining your skin undertones.
If you look good in gold, olive, and rust, you have got warm undertones.
If silver, platinum and royal blue are your colors, then you have got cool undertones.
If you have got green, brown and hazel eyes, you're warm.
If your eyes are blue or grey, you probably got cool undertones.
If you need more makeup to look presentable after you dye your hair, you have probably made the wrong choice of hair color. The best hair color for blue eyes or any skin tone is supposed to highlight your skin complexion.
Perfect Hair Colors for Blue Eyes
Here is a list of the 30 best hair color ideas for women with blue eyes:
1. Dark Dirty Blonde Waves
Dirty blonde is one of the darkest shades of blonde with a strong hint of brown. It is easy to maintain and will make your gorgeous blue eyes pop like nothing before.
Try it as a basic all-over hair color or soften your look further with highlights.
2. Bouncy Burgundy Curls
Blue and red lie opposite on the color wheel and are ideal to create an eye-popping contrast.
Put those god-gifted curls on full display by painting them in a deep burgundy red nuance that goes perfectly well with all skin tones. Finish off with some layers.
3. Butter Blonde Lob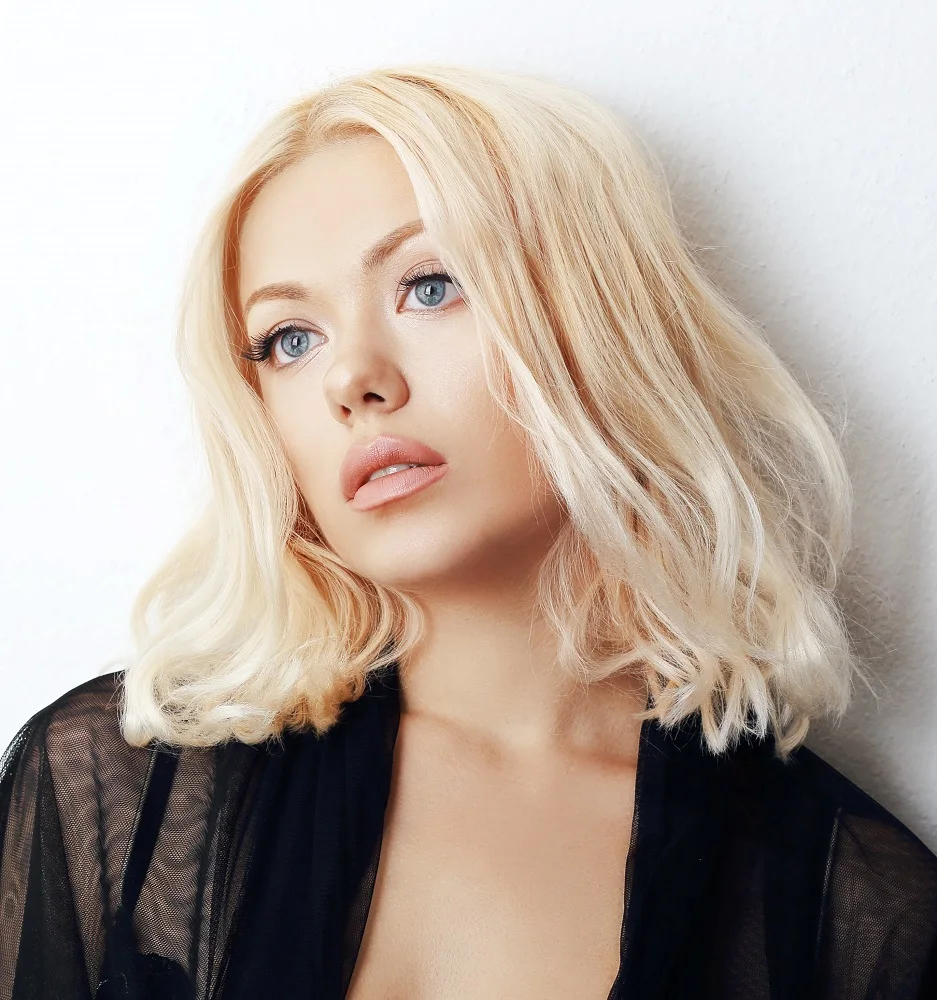 Butter blonde is the perfect hair color for blue eyes when it comes to achieving a classic look.
Ladies with cool skin tones should definitely give this shade a try creating a light background for those peepers to shine like precious gems.
4. Unicorn Highlights
Keep hair damage at a minimum by opting for some cool classy highlights. Experiment with pink and purple streaks to give off strong unicorn vibes when coupled with your baby blues.
Put effort into blending the colors for a seamless finish along the hair length.
5. Pretty In Pink
Combine the vibrance of pink with the calmness of blue to end up with a unique color harmony.
Go for the brightest shade of pink available like bubblegum, as depicted here, that'll fade into a stunning pastel nuance without the effort. Dark roots further enhance your look.
6. Honey Caramel Locks
Add some warmth to the face by asking the hairstylist for a honeyed caramel shade of blonde.
Such a tone is ideal to keep those blue eyes the center of attention. Throw in some layers and curls for a romantic finish along with an off-shoulder dress.
7. Flirty Red and Brown Tresses
Ladies with dark brown or black tresses and blue eyes who wish to refresh their look while keeping it low-key can opt for red highlights without further ado.
The dark streaks of red are subtle yet noticeable and complement the light blue color of your eyes perfectly.
8. Sea Foam Green Streaks
Both green and blue are refreshing colors so why not pair them together to achieve a one-of-a-kind style statement?
Choose a mystic sea foam green nuance and brighten a couple of chunks at the front only to create the perfect face frame. Simply stylish!
9. Dark Cherry Peekaboo Hair
The peekaboo hair trend is a must-have for ladies who wish to play around with shades of the opposite color spectrum.
Separate and underlayer and lighten or darken it depending on your natural base shade. Cherry red with some babylights under blonde won't disappoint for sure!
10. Pastel Pink Beauty
Pastel pink is the best hair color for blue eyes. How? It is feminine, funky, dreamy, and cheerful all at the same time.
It's however high maintenance and best suited for fair-skinned ones as it makes darker warm skin tones appear sallow. Get chunky layers and beachy curls for a no-care vibe.
11. Emerald Green Mane
Green hair isn't something seen every day and is worth a shot for those who wish to stand out from the crowd.
Stay on the darker side with an emerald tone and try a dark-to-light gradient effect to avoid a blunt look. Bangs help focus all the attention on those twinkling blues.
12. Sun-Kissed Golden Blonde
Golden blonde is ideal to bring out the true beauty of your frosted blue peepers while maintaining a natural appeal.
Achieve a sun-kissed glow by throwing in some barely-there highlights that are just a tone or two lighter than your base shade. Dark roots won't look bad anymore!
13. Copper Fire
Although blue eyes and natural red tresses are super rare, you can enjoy being a unique redhead with just a little effort.
Dye your curls in a vibrant shade of copper that leans more towards the orange side for a wild look. A hand-tousle and off you go!
14. Frosted Platinum Bob
Platinum blonde is yet another perfect hair color for blue eyes. Enjoy a frosted appeal by experimenting with the lightest shade available along with fine babylights for an enhanced dimension.
A flawless square bob ending just below the chin will take off several years from an aging face.
15. Color Pop Shag
Instead of going for a single hair dye, create an explosion of colors by opting for kaleidoscopic highlights regardless of your base shade.
Choose your favorite nuances and place them irregularly all over the head. Stay on the safer side with temporary hair chalk before making a permanent change.
16. Mahogany Red Ombre
Blue-eyed beauties can enjoy an ombre mane to turn around some heads without taking attention away from their beautiful peepers.
Add deep mahogany red midway to the ends with a brown top. Blend the dyes carefully together to achieve a seamless color melt.
17. Pearl Blonde Textured Pixie
Light-colored locks are an ideal partner for blue eyes. Open up the face with a pixie haircut featuring plenty of texture on top with smooth sides and angled baby bangs.
Cover every strand on your head in pearl blonde and there you go!
18. Toffee Blonde Mess
Avoid light shades of blonde in the case of warm to olive undertones to prevent the skin from appearing washed-out and pale.
Try something warmer like toffee or caramel blonde although you can always go much lighter when it comes to highlighting that curly mess of yours.
19. Chunky 90s Highlights
Relive those good old days with this nostalgic hair color idea for blue eyes. It features a dark brown base with distinct chunks of blonde emerging from the top.
This look creates a unique light and dark interplay that won't be overlooked.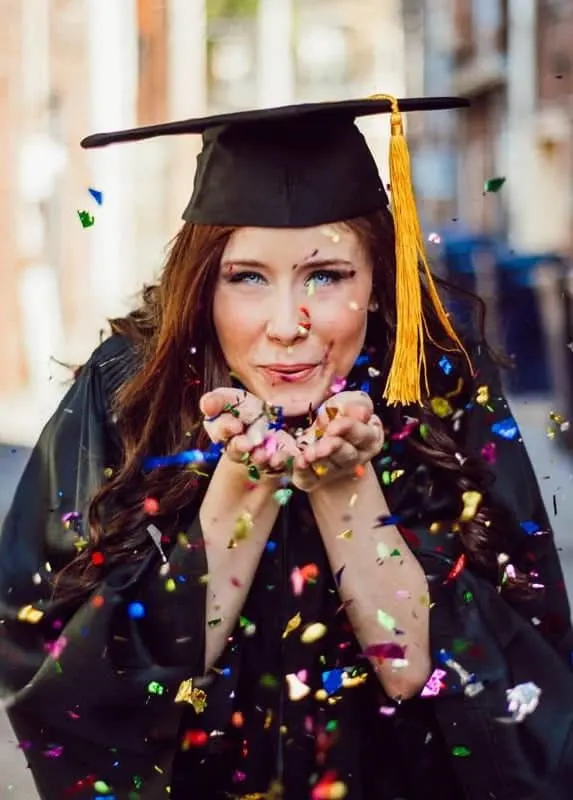 Auburn color is an ideal hair color for blue eyes. Elan colors like Auburn serve as a quintessential for cool undertones and blue eyes.
Platinum blonde hair color is best suited for light skin and blue eyes with bold and bright lip tints.
Strawberry blonde hair for cool undertones looks extraordinary, intense and fierce. This hair dye is undeniably the best hair color for blue eyes.
23. Black Hair
Black is perfection. Blue eyes and black hair color makes the coolest combo and looks unrealistically gorgeous.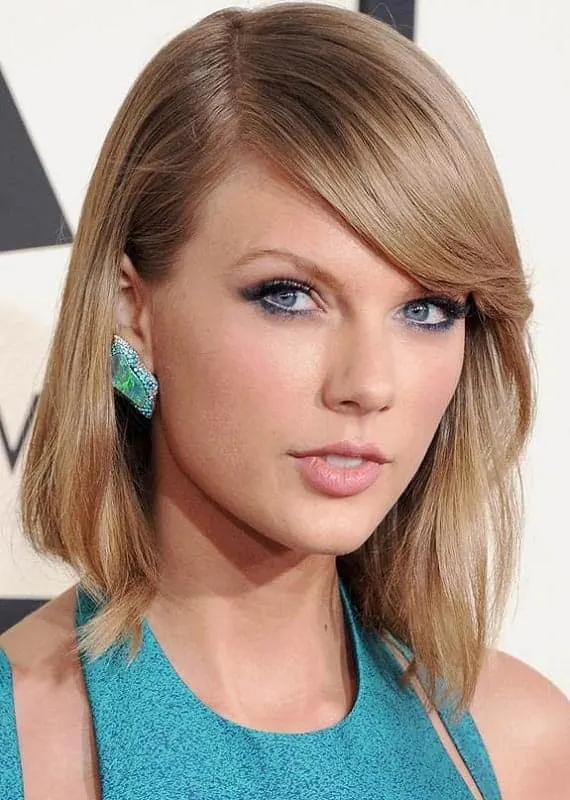 Blue eyes are a vision in light hair color. Blonde hair color enhances and emphasizes your blue eye color. This hair color adds elegance and charisma to your already beautiful blue eyes.
If you've got cool undertones, red hair is the richest & best hair color for blue eyes.
No color can be as eccentric as red hair to accentuate blue eyes. The color adds a unique charm to the eyes and makes them stand out from the crowd.
If you want a perfect balance of rich, vivid, vibrant shades of brown, then fancy this honey brown shade. It is one of the most lavish shades of brown and serves as luxurious brown hair color ideas for women with blue eyes.
People love ombre and if you are graced with baby blues, you should love it too. The perfect blend of dark and light colors make this hairstyle worthy of all the praise.
This hairstyle can be the best you can get for dreamy blue eyes.
If you've got blue eyes and love springs, flowers, and warmth, this hairstyle is great and gives the brightening and lively effect for your hair.
This hair dye is difficult to pull off, you need extra attention, care and maintenance to tame this hair color shade for blue eyes. You can try this hairstyle any day if you want to sport an Uber-chic and sassy look.
Espresso hair is the trendiest and most flattering hairstyle that suits every skin tone. However, it adds grace and glory to the blue eyes.If you want to add warmth and glow to your hairstyle, Espresso brown serves as the stupendous hair color for blue eyes.
FAQs
What hair colors are best for blue eyes and pale skin?
Hair colors that complement your eyes and skin color should also complement your skin's undertone. The most common undertones are cool, warm, neutral, olive, pink, and yellow.

Most people with blue eyes have pale, olive, or warm skin undertones. If you have pale skin with blue undertones opt for copper, ash brown, or platinum blonde hair. For pale skin with warmer undertones, choose a sandy blonde, chocolate brown, or chestnut.
How rare is brown hair with blue eyes combo?
Brown hair and blue eyes are not as rare as you may think, although blue eyes come from a recessive gene. About 80% of people have brown hair. Evidence shows that brown hair and blue eyes occur in about 50% of people with brown hair. Since it occurs in this many people, it is not considered rare.
What is the origin of blue eyes and blonde hair?
Blue eyes and blonde hair is ordinary among European people, especially Scandinavians. People think these traits come from adaptation to the lack of sunlight in those areas.
Will blue hair look good with blue eyes?
Yes, blue hair looks good with blue eyes. But is looks best on olive and neutral complexions. Remember, hair color should work with your eye color, but skin tone and undertones make the combo work.
Do dark hair colors suit blue eyes?
Yes, one of the best parts of having blue eyes is the opportunity to make them pop. If you do not have naturally darker hair, you might want to emphasize this feature more. Dying your hair a darker, richer color can help make your eyes pop for that striking look.
Do brown hair and blue eyes look attractive?
Yes. Many people consider brown hair and blue eyes to be attractive. The contrast between light and dark makes the eyes pop.
What unnatural hair color best suits blue eyes?
Vibrant tones are great to pair with blue eyes. Colors like platinum blonde, gray, bright red, bright pink, and orange all suit blue eyes if you also have warm undertones. If you have cool undertones, stick to unnatural colors like lilac or pastel pink.