When it comes to hairstyles, the word bohemian evokes your most laidback and free-spirited self. Long, loose locks, wispy chignons, and goddess locs make creating your ideal bohemian hairstyle easy, dreamy, and fun. Regardless of your hair texture, type, or length, we have the look for you.
Bohemian Hairstyles
Check out our 55 styles for your ultimate bohemian hairstyle.
1. Bohemian Wedding Hairstyle
Chignons are common for weddings, but can still express your laidback style. Go for a casual low bun instead of neat and leave a few wispy pieces down to frame your face. Tie your bun to the side for a romantic vibe.
2. Boho Dreads
Show off your bohemian side with beautiful dreadlocks. You don't have to dread all of your hair, either.Wear them loose or tie them up into a large bun on the top of your head. Just remember, dreads come with specific care.
3. Bohemian Box Braids
Let your box braids show off your chilled out style. Add charms, various widths, or multiple colors. The darkest color should be at the root of the hair for a grounding feel, but the combination of color is up to you.
4. Crochet Hair
Crochet hair describes the technique with which to apply braids. It makes creating your personalized bohemian look that much easier! Add twisted braids and wear the ends loose and curly.
5. Boho Curls
Unless your ringlets are perfectly tight, curly texture can embody a laidback vibe. Give hair a tousle and brush out certain portions of hair to create varying textures. Imperfect is better, so don't focus too much on styling.
6. Long Hairstyle
Evoke your inner mermaid with long, loose tresses and beachy texture. Naturally straight hair can achieve this texture with braids that are either slept in or braided when wet and dried with a blow dryer.
7. Boho Ponytail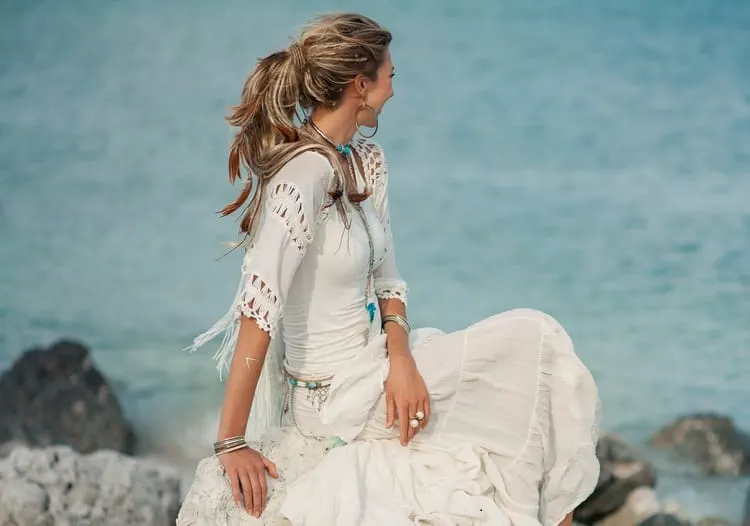 As long as your ponytail isn't slicked back and smooth, you can take on a free-spirited vibe. Loosely pull hair back and secure with a light brown hair tie. Natural balayage highlights amp up this look.
8. Messy Hair
Give off the ultimate salt-licked and wind-kissed look with a messy style. This look requires little styling so you don't have to worry about perfection. Just make sure you've invested in a good quality shampoo and conditioner.
9. Half Up Half Down Hair
This bohemian hairstyle is especially romantic. It also looks great for formal events. Twist hair as you pull it into a half-up half-down style and let it fall down your back with ease. Add a flower or two and you're ready to go.
10. Flower headband
If you are just starting on your way to a bohemian style, you need to get a few flower headbands. All you have to do to create a classic look is make attractive waves on your hair and slide on a headband.
11. A straw hat
The beauty of the bohemian style is in the natural looks and accessories. Keep your hair down, make just one thin braid in front and put on a girly straw hat. These hats are perfect for any hairstyle.
Short Hairstyles for Teen Girls
12. Feathers bohemian style
Feathers are a wonderful natural addition to your bohemian hairstyle. Don't be afraid of experimenting with various headbands. You can get feathers of any color you like to suit your wardrobe.
13. Synthetic braids
Synthetic braids look great with your bohemian style. They are braided into your natural hair to make your hairstyle look more voluminous. If you get various colors, your overall image will shine even brighter.
14. Single braided bohemian hairstyle
Braids are often an essential part of a bohemian style but don't overdo them. Create one or two braids. This will be more than enough to give your image a little natural style. Make sure to tie the braid with a simple elastic band.
15. Natural twist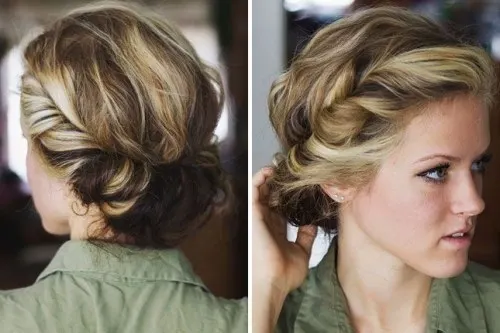 Not all bohemian hairstyles involve letting your hair down. You can go for this natural runaround twist that looks just as amazing and keeps the hair looking neat for any occasion. Just make sure that no pins or bands are showing.
16. Braid-like headband
If you like bohemian styles, you know they are all about natural braids. However, you can use a little trick and purchase a braid-like headband to make your image unique. Wear it over your forehead.
Unique & Stylish French Braids
17. Silk scarf
Adding a softly-colored silk scarf to your hairstyle can make your bohemian image even more stylish. You can lift your hair up into a high bun and tie the scarf around your head for a great look.
18. Bohemian Laces
Braiding the laces into your natural hair can help you make the braid look more voluminous while giving it a breezy bohemian feel. Add a floral wreath and get a stunning image in a matter of seconds.
Funky Box Braids to Wear with Pride
19. Side braids
A braid on the side coupled with a low and messy bun is a wonderful bohemian hairstyle that you just can't pass by. This is one of the styles that keeps your hair more or less together and can be used for special occasions.
20. Braid extravaganza
Bohemian haircuts are usually simple. The most complicated ones include a lot of braiding. A runaround braid is a wonderful choice especially if it's coupled with a headband and a few laces.
21. Rainbow colored headbands
You can simply wear your hair down or make it loose braid but your bohemian image won't be complete without the right accessories. There is no need to go all out. Use a simple rainbow-colored headband.
22. Loose braid
Whether you have thin or thick hair, a loose braid is a perfect hairstyle for your image. Just make sure no elastic bands or clips are showing. This way you'll be making the most beautiful and natural impression.
23. Asymmetrical black bohemian braids
This is an interesting approach to the bohemian hairstyle. You make one loose braid on one side and a tight braid on another. As soon as you keep the style of the braid the same, the impression is stunning.
24. Short Boho Hair
This is a perfect hairstyle for girls with medium length or short hair who can't create a long loose braid. Braiding the hair on top of your head will give your image some airiness.
25. Real flowers
If you are getting ready for a special occasion, you might want to consider adding some real flowers into your headband. This way you'll achieve the most magnificent bohemian hairstyle.
26. Jewelry
While a lot of jewelry doesn't go together with bohemian images, using a few jewels on the hair accessories is a good idea, especially if they are styled as natural flowers. This is a great wedding hairstyle.
27. Two simple braids
Runaround braids are a hallmark of the rural bohemian image. You can keep the hair tied slightly back into a loose ponytail and have two braids running around your head. This is a wonderful choice for women with short hair.
Fishtail Braids You Always Wanted to Wear
28. No styling
If you have thick hair, you can allow yourself not to style it too much. Put a few strands on top tp create a bun and make one loose wave. No hair gel or spray is required. Keep the hair looking as natural as possible.
29. Large flowers
If you are looking for a bohemian hairstyle to sport at your wedding, you might want to consider large accessories. Keep the hair up so you don't have to worry about the touch ups and enjoy your special day
30. Windblown locks
The main advantage of bohemian styles is the lack of maintenance. You can create a braid or a bun, but the looser they look, the more appealing your image will be. Forget about the hair gel and hair sprays.
31. Basket braids
These types of braid are perfect for a bohemian hairstyle. Don't be afraid to make experiments with regular styles and turning them into something to match a bohemian fashion.
32. Hair extensions
If you don't want to bother with braiding, you might want to consider braided hair extensions to wear as accessories. For example, a runaround braid weave is a great choice.
33. Loose strands
The more loose and wavy strands you add to your hairstyle, the more natural and breezy it will look. A bohemian image involves messy and windblown hair. Take advantage of the lack of maintenance.
20 Cutest Short Braided Hairstyles
34. Knots and twists
While braids are the most popular way to arrange your hair, you can use all types of natural knots and twists to keep your locks neat. Consider using your own hair strands to hold the hairstyle.
This bohemian hairstyle is, in fact, a combination of Dutch and fishtail braid. One-sided combination braids tied loosely into a braided bun at the back create a gorgeous bohemian look.
This hairstyle is perfect for a casual event as well as for a bridesmaid. Leave a few locks loose in the front to create an effortlessly beautiful look.
Beach bride hair is all about volume, creativity, twists, and turns. This hairstyle involves hair all over the head. This sophisticated and fun bohemian hairdo is something a professional hairstylist can make.
Leave a few locks in the front to create a thin side bang. This messy yet sophisticated hairstyle is ideal for almost any type of event.
Crown braids create a perfect summer boho hairstyle. A summer bridesmaid, or even a bride, cannot get a hairstyle more sophisticated and manageable than this one. The braids on each side are twisted around the head to create a crown of hair.
The French braid is the evergreen and eternal hairstyle. It is easy to make and look gorgeous. However, this braid has come with revolutions in it.
One of the modified and sophisticated French braid hairstyles is a braided low bun. The style is kept messy to look effortless. If your hair has caramel balayage, this style is made for you!
39. Messy updo with flower hairpiece
Flower hairpieces make an essential of bohemian hairdos for modern women. As already known, Bohemian hairstyles are all about twists and turns. A messy twisted side bun at a slightly lower height can be made more royal with the help of the lily flower piece.
Beach waves have become very popular. This boho girl's hairstyle is very easy to make and requires very little maintenance. It is the everyday look you can carry almost anywhere. Long sunkissed caramel hair with beach waves is definitely the type of bohemian hairstyle everyone will love to have.
41. Simple and messy bridesmaid hair
The challenges for a bridesmaid are pretty much the same as those for a bride. Choosing a perfect hairstyle is one of the many. Bohemian wedding hairstyles have surpassed all other hairstyles.
A simple side fishtails braid combined with a messy high ponytail on jet black hair create the simplest yet elegant hairstyle.
42. Fishtail braid with flowers
Here come the flowers again. This time, we are dealing with a loose fishtail. Therefore, the flower pieces have to different. Small flowers pinned into the fishtail at intervals will give a very subtle look. Make a diagonal fishtail for a creative touch.
43. Flowers and waves
Bohemian hair and waves are bread and butter to each other. Medium and long hair with a caramel balayage makes a perfect pallet for waves and loose curls.
Make a loose pinned-back hairstyle and cover it will delicate flower pieces. Choose the colors of the piece wisely so it complements your hair color and outfit.
44. Whorls updo
A whorly boho updo looks extremely gorgeous and extravagant. This style is made for blonde and caramel hair. The light caramel whorls on the back with contrasting darker hair on the base create a very dramatic hairstyle. Tonight, all the eyes will be on you.
45. Multiple fish braids
Fishtails come with a number of innovations and twists. This what makes women' bohemian hairdo versatile enough for almost every occasion. Tell your hairstylist to make multiple fish braids and then twist them at the back to create a lowe and messy braided bun.
Loose curls are an ideal hairstyle for long hair. This tyle is simple to make and easy to carry. For added effect and dimension, combine these curls with Dutch braid and a backcomb. Decorate this volumized hairstyle with While lily flower pieces and look stunning.
47. Geometric hairstyle
This geometric hairstyle is a very bold and creative hairdo. Make a center part and tie your hair into fishtails on each side. Tie the lower hair into tight spindles; a look you'll seldom come across.
Tuck a long metallic centerpiece in your mid-part. This hairstyle is schematic to make but is worth it!
48. White ombre
White ombre hair on a dark base looks extremely gorgeous and delicate. Create twists on each side above the ears and bring them on the back into a long fishtail.
Leave the lower half of the hair loose and long. If your hair is sleek and long, this hairstyle is the perfect option for you. Use subtle flowers under each twist for a further bohemian touch.
A twisted ponytail requires little effort but reflects extra grandeur. Twist your hair to the back and tie them into a loose half ponytail. Leave the waves loose and long.
50. Curtain Hair
Justice is done with long and sleek caramel hair when they are left open and loose with curtain fringes. This style is simplest to make and is a low-maintenance one.
Rainbow hair looks bold and lively. Create loose curls or beach waves for an added effect and your bohemian hairstyle are ready to slay.
52. Bohemian Black Haistyle
For girls with dark black and thick hair with a rough texture, body waves do wonders. Create a side part and leave your body waves open and loose. Use hair shine products for extra pomp.
53. Mother of dragons
Mother of a dragon is wild and bold just like this hairstyle. The style is messy and carefree. Create side fishtails and twists and tie them to the back. Beach waves will give extra effect t the hairstyle and make it look voluminous.
54. Fish braid ponytail
Boho ponytail hairstyle is perfect for a bridal as well ad formal office look. This versatile hairstyle goes a long way. Create fish braids on each side of the center part and tie them on the back into a sleek ponytail. Create a few waves or loose curls on the lower end to give volume to the ponytail.
Columbus's hair looks super cool and sexy. Blonde hair makes the perfect pallet for this bohemian hair look. Make tight French braids on each side of amid part and tie them into a messy top bun. Leave the remaining hair open. Beach waves will hype up the style.
Tips To Maintain Bohemian Hair
Here are some tips for maintaining bohemian hair:
Use a soft paddle brush to brush the hair extensions before washing.
Use shampoo to soak the hair extensions in before wearing.
Use hair conditioner mixed with water to spray on the hair so it becomes softer and more manageable.
Make natural curls on your hair by braiding the locks overnight.
Try to use as little hair gel as possible to make your hair look natural.
Use a curling iron to create large waves instead of tight curls.
Use hair masks to improve the quality of your bohemian hair.
Accessories For a Bohemian Hairstyle
A boho style usually requires some accessories. Before choosing one of the below options, think about which accessories you like the best. If you locks are thin, you might want to consider a braided hair extension.
Take a look at the plaited hairbands. Cotton daisies, laces, headbands should be in the arsenal of each boho girl. Pay special attention to the scarfs.
If your hair is thin or not as long as you wish, you can use a pretty silk scarf to braid it into your hair. This will allow you to make your boho hairstyle voluminous and more special.
FAQs
What does bohemian hair mean?
Many people wonder about the bohemian style and the meaning of bohemian hairstyles. In fact, it's very simple. Bohemian hair locks that have a curl of a wave to them.

You can easily create a bohemian hairstyle no matter what type or length of hair you have. Just add the locks a little wave and a few accessories. Girls with short hair often go for bohemian hair extensions.
How long does bohemian hair last?
If you are using hair extensions to create a bohemian hairstyle, such bohemian hair lasts just as any braided in hair extensions.

From 3 weeks up to 3 months depending on the quality of the extensions and the type of your hair as well as the maintenance routine.
Bohemian hairstyles are truly flattering. They look natural, appealing, inspiring, and magnificent. The main advantage of them is that you don't have to keep the hair neat. You can let your imagination run wild!