At some point in her life, every girl should try honey brown hair. It's a universally flattering hair color for any texture, length, and skin tone. With as many hairstyles as there are to show off honey brown hair, there's no reason you can't try it for yourself.
Ideas for Honey Brown Hair
For ideas on how you can rock honey brown hair for yourself, take a look at these 17 hairstyles and bring them with you the next time you visit your hairstylist.
1. Medium Brown Straight Hair
Medium brown hair will show off honey brown in a beautiful way, especially when it's subtly added to the tips of your hair. Wear the color with a hat and your favorite shades for an edgy style.
2. Honey Brown for Thin Hair
Pump up the style on your thin hair with a sheen of honey brown. Wear your hair down, parted at the center or side, and topped with a pretty headband.
3. Honey Brown Hair for Women with Brown Eyes
Your brown eyes will pop with honey brown hair color. A cute layered pixie with thin wispy bangs across the forehead is flirty and easy to maintain.
4. Honey Brown with Blue Eyes
Because of the lightness of blue eyes, a dark color like honey brown will contrast beautifully. A straight hairstyle with curled ends and straight bangs is an attractive way to wear the color.
5. Thin Honey Brown Hair
If your hair is thin, work with what you have and experiment with a new color: honey brown. Tie it back in a low updo with tendrils framing the face.
6. Light Honey Brown Hair Color
A gorgeous long brown hairstyle that we love! On dark brown hair, a tinge of honey brown as highlights or balayage is a beautiful complement. Wear it curled in a half updo when you want a casual or dressed up style.
7. Honey Brown Hair on Dark Skin
Think you can only pull off black hair if you have dark skin? Think again and be proven wrong when honey brown graces your straight locks for a glow-up you'll love.
8. Honey Caramel Brown Hair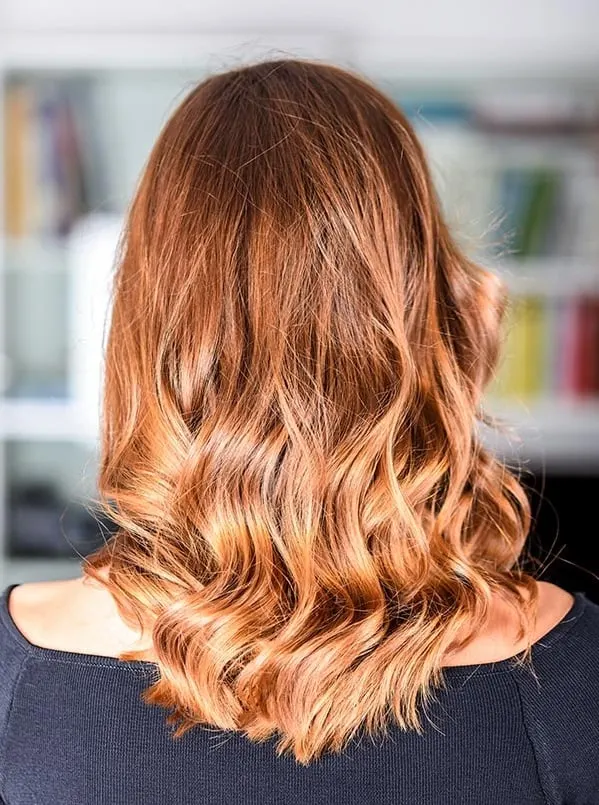 Tired of your brunette hair and ready to go light? Honey caramel brown hair is a warm shade perfect for brightening up your complexion and it looks great as waves.
9. Curly Honey Brown Hair
On that special day you have planned, honey brown will help you look your best. Fill the bottom half of your hair with curls and pull the top half up, accenting it with a pretty hair pin.
10. Dark Honey Brown Hair
A dark honey brown makes a half French braid updo the most sophisticated yet stylish hairdo you can wear while running errands or out to brunch with the girls.
11. Honey Golden Brown Hair Color
A short honey golden brown bob with wavy body and choppy ends hits right at the neck and is super low maintenance yet chic. Wear down or pull the top half up for effortless style.
12. Natural Honey Brown Hair
If honey brown if your natural color, you're lucky and don't need to do a thing to change it. But if it's not, highlights or a balayage will make the color look super natural and beautiful on curly hair.
13. Honey Bronde
Honey shaded cross between blonde and brown is just the thing to liven up your locks. Rock the color on an A-line wavy bob.
14. Honey Brown Highlights
You don't have to give up your dark hair color to try a bit of honey brown. Work it in as highlights for a pretty updated twist on your wavy hair.
15. Honey Brown Ombre Hair
Adding color to hair as an ombre is one of the best methods of making it look natural. Honey brown looks great against dark brown hair on this wavy half updo with side bangs.
16. Honey Brown Straight Hair
For naturally straight hair, add honey brown for natural lightening. Wear it loose so the sun catches it this summer; all your friends will be in total envy!
17. Medium Honey Brown Hair
This shade of honey brown is probably the most popular hair color women wear these days. It's a classic choice and looks great on straight hair pull up in a half updo or low bun.
When you decide which of these hairstyles is for you, remember that honey brown color will last about three months before fading. But for temporary pops of lighting to your hair, this shade is a must-try!