Balayage is a beautiful hairstyle that has been steadily gaining popularity. "Balayage" comes from the French language and means "to sweep," which is fitting, as certain pieces of hair in the top layer are 'swept' randomly with color to create unique, light, and gorgeous highlights.
While the style is easy to maintain and makes for an ideal first style for virgin roots, some might be put off by the use of bleach seemingly required to make those highlights pop.
However, it is possible to get the same breathtaking balayage results without bleach.
Pros and Cons of Doing Balayage Without Bleach
Pros
Your hair is healthier if we avoid bleach altogether because bleach dries and weakens hair.
Upkeep won't require bleach, so the style can be maintained for longer without sacrificing the health of your hair.
Produces a natural, fresher look.
If you decide you don't like the look, you can just let it grow out and rest easy knowing you didn't compromise hair health for a style you didn't even like.
Cons
The colors are a little less vibrant when forgoing bleach.
You may need to upkeep a little more often if you want to keep the style going.
Harder to apply crazier or unnatural colors, such as neons and pastels.
How to Get Balayage Without Bleach
Preparation
If you're looking to avoid bleach, you're in luck! While blonde-haired beauties can escape using bleach to achieve the balayage look, those with glamorous darker hair can still avoid bleach by using other hair products, like color lifters.
Blondor specializes in color lifters designed to remedy this very issue, and you can check out the ones you might need here!
To get your hair ready for some balayage magic, you'll want to start fresh with clean and dry hair. You'll then section off your hair, putting the top and side sections into hair ties or clips, leaving the bottom section free.
Before starting, put a towel around your shoulders to protect your shirt and skin from spills. Putting petroleum jelly around your hairline and on your ears will prevent any product from settling on your face. Plastic gloves are also a great idea to avoid stains on your hands.
The Balayage Process (No Bleach)
Remember to be thorough when picking a hair dye– you'll want something natural, light, and easy to maintain. If you're trying to do a very bright or light color (like a neon blue or a pastel), remember that it won't look exactly as it does on the box because you're skipping bleach. It may be best to consider other color options there when avoiding bleach.
After preparing your hair dye mix and setting up your workspace, you are ready to begin.
Always follow the box instructions! These kits usually come without that extra bleach step; if your kit includes it, you can just set it aside. And since you're not using bleach, performing a hair strip test is important.
Testing a strip ensures the hair will look how you expect or want it to look. After you confirm you like the style and color, you can keep going and do the rest of your head!
Depending on what works best for you, apply the dye using your fingers or the brush included in your kit.
It is best to start at the bottom and make your way up the hair on your head, alternating how heavy you apply your formula by applying heaviest at the bottom and applying lighter and lighter as you go up.
Remember to alternate side to side to capture pieces on both sides of your head; this keeps it looking elegant and natural.
After application, follow the box instructions for the waiting period and then rinse with shampoo. Your kit will usually come with one for you to use, but if not, you can use your new color protectant shampoo.
Maintenance Tips
To keep your new 'do, it's best to invest in some new shampoo and conditioner following your at-home hair dye. There are plenty of brands that have a color-safe shampoo that will help keep the color from washing out, as well as work to repair and maintain those delicate sections affected by the dye.
You also may need to alter your washing routine- while it's healthiest to wash your hair every few days rather than every day, you should still aim to wash every other day with lukewarm water.
Deep moisturizing your hair at least once a week will help keep your locks smooth and soft; you can invest in hair masks or a leave-in conditioner that you rinse out after a short period.
Keep an eye on your hair to determine when you want to reapply- this will depend on how fast your hair grows and how well the color lasts with your color protectant and deep moisturizing masks.
Balayage With Bleach vs. Without Bleach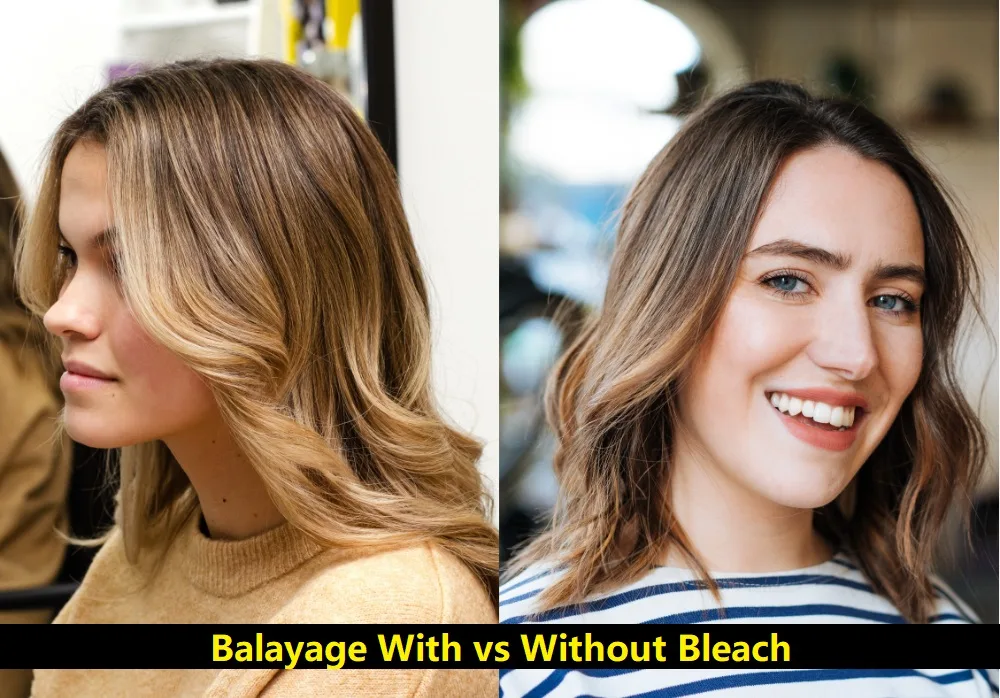 Balayage with bleach will help give you more vibrant and colorful layers. However, balayage without bleach is just as beautiful and is healthier for your hair. While you may face upkeep more often to maintain your color, you can keep the style for longer without bleach exposure.
The Balayage without bleach is as beautiful and perfect as with bleach style if you're looking to shake things up with a look both natural and effortlessly gorgeous.
If you're new to dying hair and want to keep your hair free from bleach, you can still experiment and create a new look without compromising your hair's health. It's easy to do and looks just as amazing!