Cornrows braids are a lovely way to wear your hair. This hairstyle can be classic and simple or a real artwork.
No matter why you opted for cornrows, as soon as you did, I'm sure you won't like it to get messy. Therefore, this article is about how to keep cornrows away from frizzing and make them look good.
Before we get right into the things you need to do, let's see what could make this thing happen. So, the first questions would be:
Why Do Cornrows Frizz?
The most frequent causes of frizziness are friction, dryness, environment (more humid than thirsty hair), hair condition, new growth, and wrong products.
Your hair's natural texture and thickness can cause frizz in cornrows. Coarser hair textures may be more susceptible to frizz.
Tight or improperly done cornrow braids can create tension in your hair. This tension can lead to frizz and hair breakage over time.
Over-manipulating cornrows by touching, brushing, or styling them too frequently can result in frizzy cornrows.
Lack of moisture is one of the key reasons for frizzing cornrows. So, make sure your cornrow braids are moisturized properly. Using products that contain alcohol or other drying ingredients can strip moisture from the hair and cause frizzy hair.
Sleeping with your cornrows uncovered or rubbing your head against rough surfaces can also cause frizz and flyaways.
Neglecting to properly maintain your cornrows, such as not washing or moisturizing them regularly, can contribute to frizz and damage.
If you use too much hair products or don't wash out the products properly, your cornrows will end up frizzy because of build-up on the scalp and hair.
How to Prevent Cornrows from Frizzing
The two most common reasons for frizzy cornrows are discussed in detail below:
#1. Protect Braids from Friction
The first thing you need to know and do starting with your first day (night) of wearing your braids is to wrap a silky scarf or a satin durag on your head before going to bed.
That way, you'll protect your hair from friction as well as from getting dry and frizzy. Don't forget to add moisture or water before putting on the durag as often as needed to keep your hair hydrated.
Furthermore, use your durag when getting dressed, for the same reason of protecting your cornrows from friction. Try to avoid rough textures touching your hair.
Nowadays, you can even find nice caps, hats, or all types of headgear with full-screened satin lined on the market.
Also, replace your towel with a soft microfiber one to safely dry your cornrows after washing them. Your hair will thank you, as it is better to use it in any circumstance.
#2. Learn About Your Hair Needs and Keep It Hydrated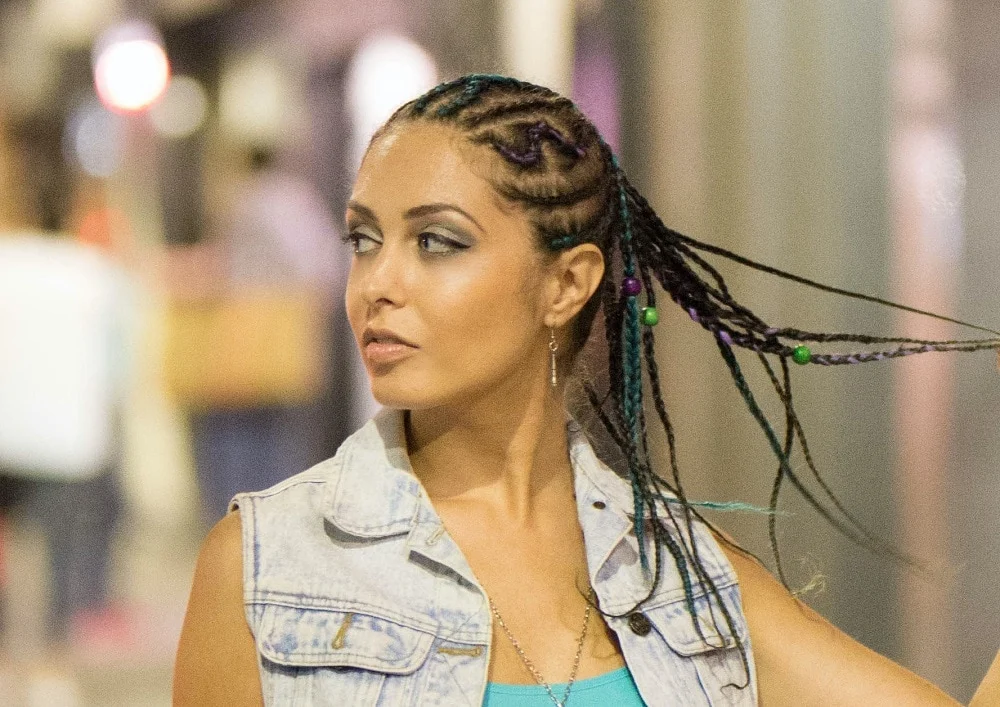 If you have low porosity hair, heat can help you open your hair cuticles and absorb the products into your hair. So it would be helpful to do your cornrow maintenance routine, wrap a scarf around your head and use a warm blow-dryer to help products get inside.
On the other hand, if you have high porosity hair and your cuticles are wide open, heat would do no good, but what would help would be using cold water to close the cuticles and seal the moisture inside.
You may also need to use different products, according to your hair type, as low-porosity hair needs low-weight ingredients, high-PH products, humectants, few or no proteins, and clarifying shampoos as it is prone to build up.
Whereas high porosity hair needs much more proteins, low-PH products, and heavier ingredients like oils, butter, and cream-based leave-ins. Also, deep conditioning can be frequently co-washed and rinsed with an ACV mixture (water with apple cider vinegar).
If you have large strands of hair coming out of the braids, you can put them back inside your cornrows using a latch hook crochet or even cut them if you don't mind.
Here are some more tips to prevent cornrows from frizzing:
Keep your hair moisturized by using a leave-in conditioner or hair oil.
Avoid over-manipulating your cornrows by touching or brushing them too frequently.
Use anti-frizz products such as serums, sprays, or gels.
Protect your cornrows from humidity by wearing a headscarf or hat (if needed).
Avoid using too much hair products. If you do use, make sure you wash out the products properly.
Use a wide-tooth comb or your fingers to detangle your hair gently.
Prevent friction and breakage for your cornrows. You can sleep with a silk or satin pillowcase if needed.
Don't leave your cornrows in for more than six weeks to prevent frizz and damage to your hair.
How to Refresh Frizzy Cornrows
If you need to do a touch-up on your braids to make them look neat again and calm down the frizz and messy hair, you'll need to clean your scalp and hair and apply plenty of mousse on your cornrows in the same direction that has been braided.
Next, you can add some holding spray or gel, and after that, wrap a satin scarf or a durag around your head and let it sit there until your hair gets completely dry. That will make your messy hair stay flat and add some shine.
Also, lay your edges down on the forehead or back on the head, using a small brush like those used for mascara or teeth and an edge control product.
I hope you enjoyed reading this article and that it helped prevent your cornrows from getting frizzy. Keep loving your hair and your hairstyle!
FAQs
Is it good to clean my cornrows with dry shampoo?
Dry shampoo is not very efficient for any type of hair, but the most powerful for all hair types styled in cornrows would be a foaming shampoo. You can definitely use that for a quick clean of your braids and to get rid of itchiness.
How can I stop my cornrows from itching?
Clean your scalp and keep it moisturized. You can wash your hair in the shower or use a foaming shampoo. If your scalp isn't dry, and you typically collect build-ups, you can also use apple cider vinegar mixed with water to deep clean your scalp.

If your cornrows are made together with synthetic hair added, which is treated with highly alkaline chemicals, ACV would also neutralize that. Tea tree oil can also help with itchy scalp problems.
How much can I keep my cornrows on?
Cornrows usually last between 1 and 6 weeks, depending on the braids size, hair type, and caring. Try not to keep them for more than six weeks.
Related Topics