White girls with braids look so amazing, and they are loved by all! In this article, we have gathered 21 glamorous braided hairstyles for white girls that are a perfect way to show how braids don't always look good on gorgeous black girls, but on white girls as well.
Beautiful White Girls With Braided Hairstyles
Braids have always been a go-to style for women, especially when you don't want to deal with loose, flowing hair. One of the most popular hairs used for braiding is Kanekalon hair. Braiding this hair onto your natural hair can take about 5-6 hours. But the result is worth sitting in a chair that long.
Below you will find photos of 51 glamorous braided hairstyles for white girls ranging from thin to thick braids, from wavy ponytails to straightened hair, from blondes to brunettes and they are sure to inspire you to try and be as creative as possible with your hair.
1. Multicolored Rope Braids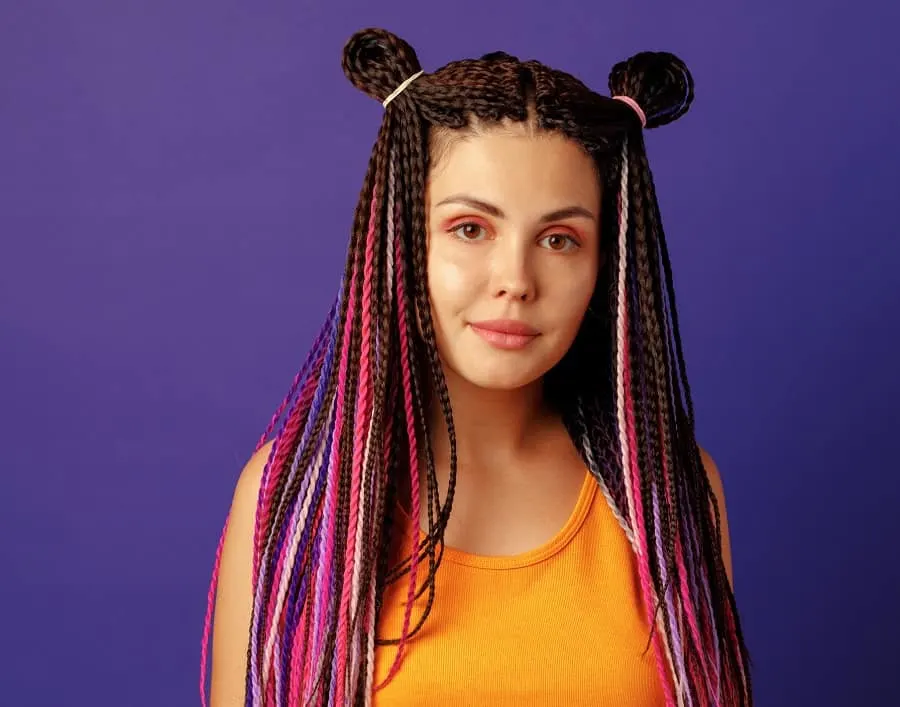 Braids are perfect for any white girl who wants to extend her hair, make it look voluminous, or just want a new approach. Get already twisted braids and attach them close to the scalp. You can opt for a color close to your natural shade or go for vivid and electric nuances.
2. Blonde Fishtail Braid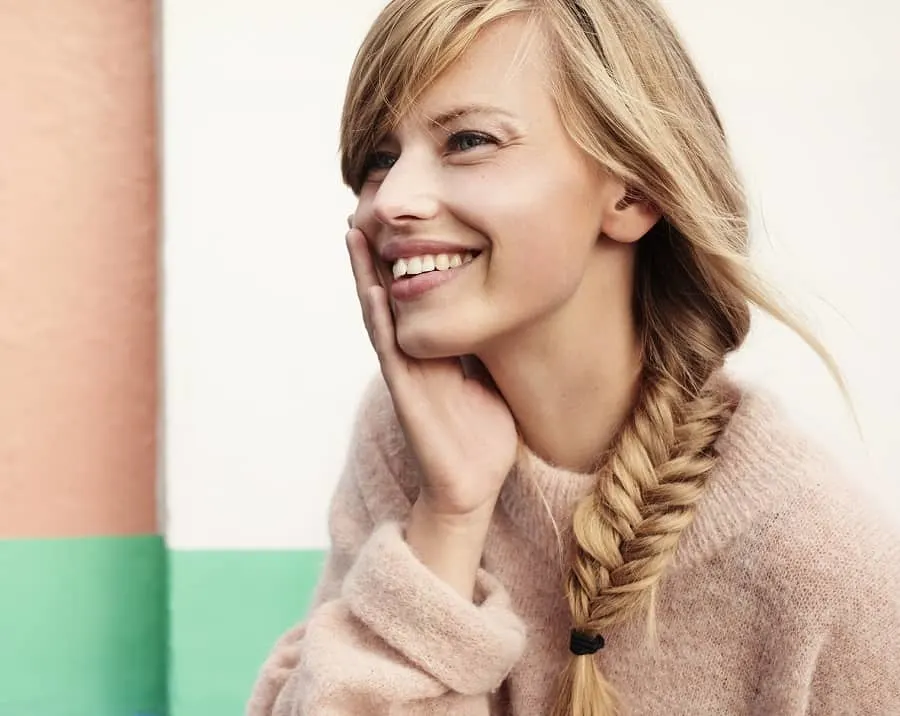 This fishtail braid for white women is a great choice for office days or even stay-at-home mothers. It is simple to recreate, and you just need to use very small hair strands when knitting the braid. Wear bangs on one side and the braid on the opposite part, on the shoulder.
3. Braids and Undercut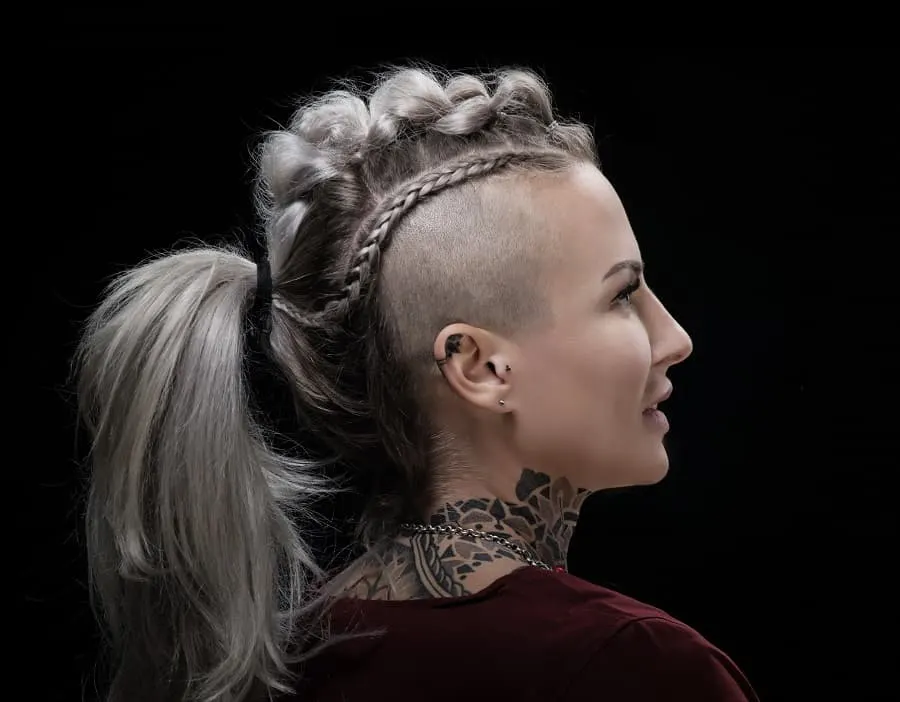 If you are one of those women who like eccentric looks, you might love this hairstyle with a pony, different types of braids, and an undercut. If you have fair skin, you can go for a balayage or an ombre and pick a grey color. It will gorgeously fit you, especially if you love a more grunge look.
4. Halo Braid and Bun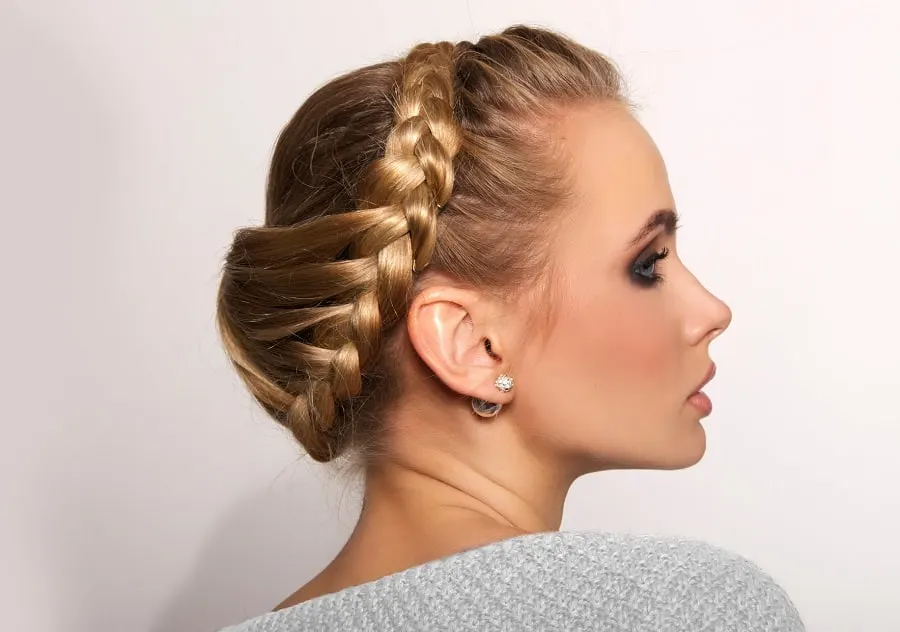 Every time you want to look classy, you can pick this halo braid for white women. Create a bun in the back and pull off strands through the braid to obtain that stunning effect.
5. Two Braids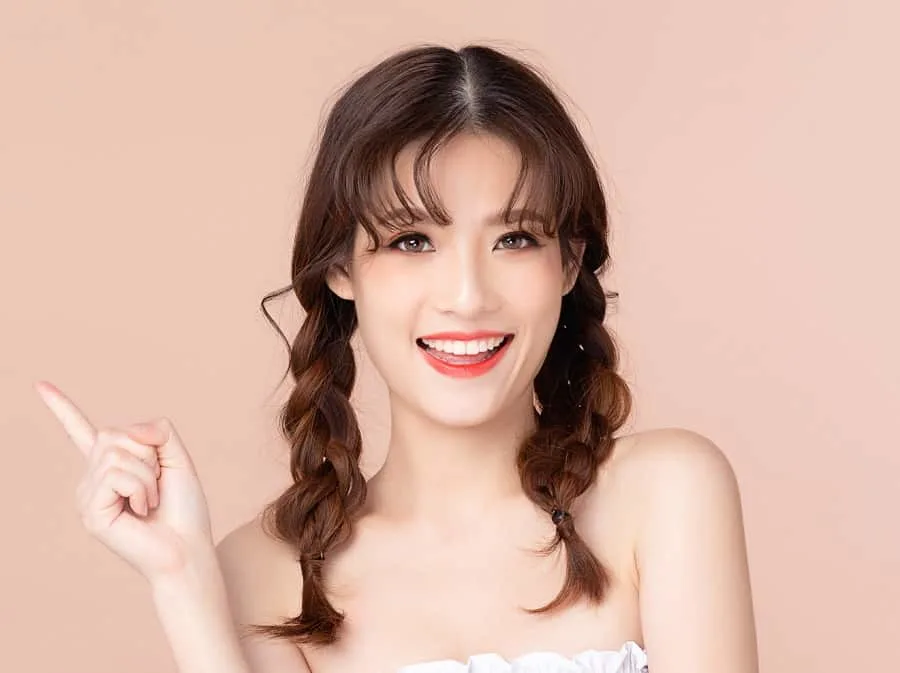 Two braids look fabulous on Asian women. To recreate this hairstyle, you need to part your hair into two pieces and loosely braid each section. Use a rounded brush to style the bangs. This will give them bounce and a lot of volume.
6. Boho Braids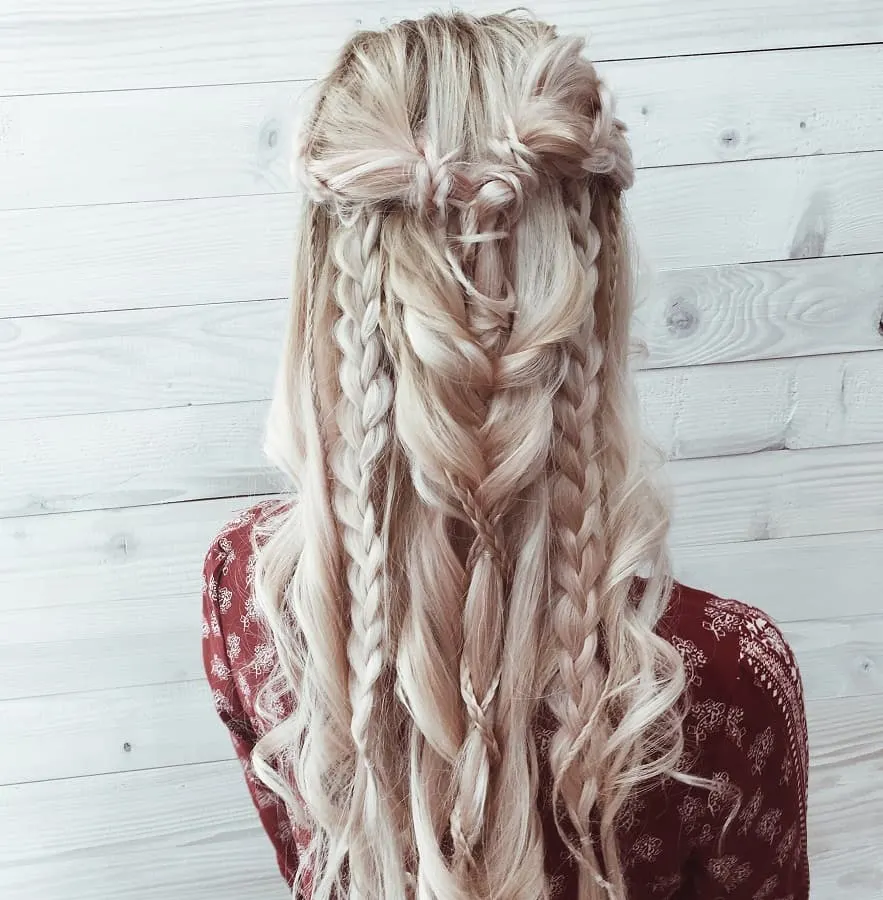 Boho hairstyles involve braids, curls, and different mixes. For this hairdo, you will need a central piece. Around it, you will style several braids and create ringlets using a wand. Also, create ultra-thin knits and blend them into the hairstyle.
7. French Braid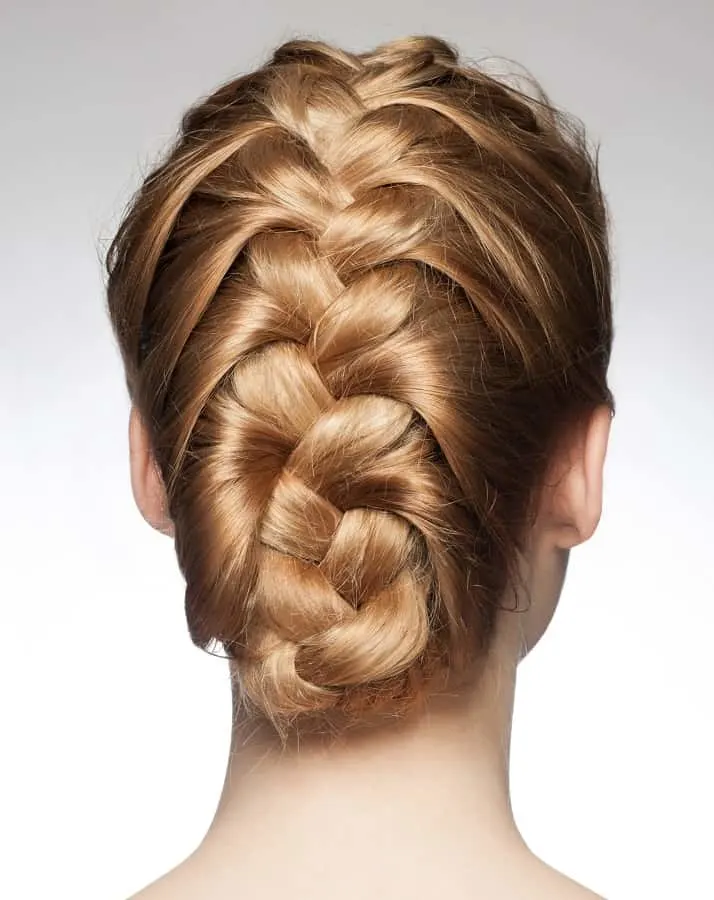 Use chunky pieces of hair and style a French braid, starting from the forehead. If the hair is long, braid the whole mane and tuck the knit in the nape area, creating a masked bun.
8. Loose Rope Braids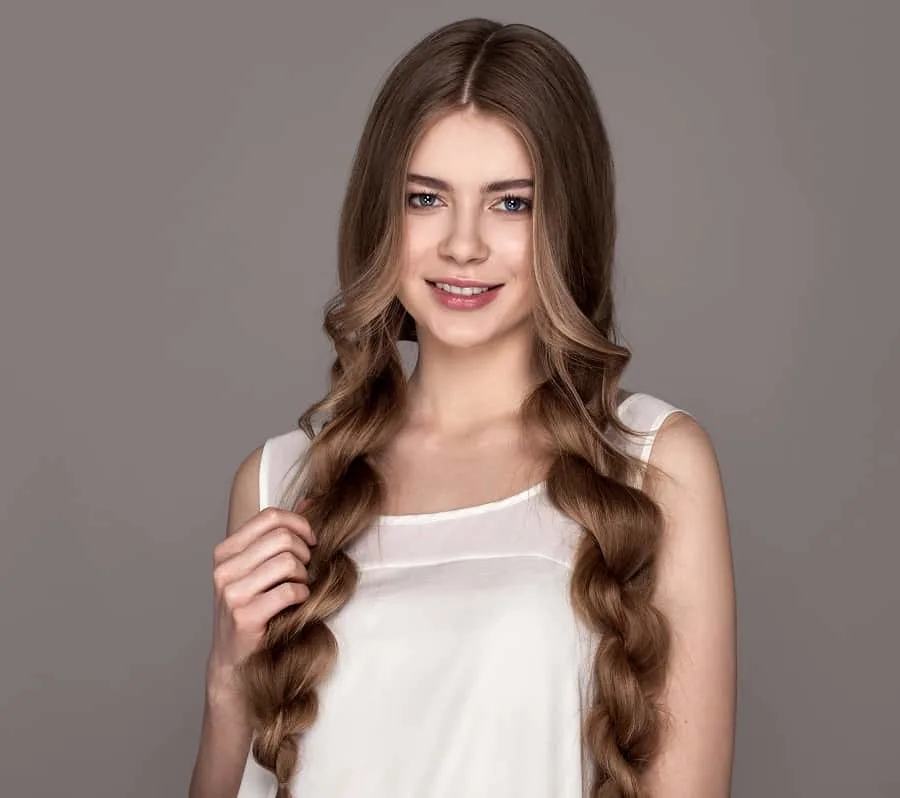 You need very long hair to create these stunning rope brads for white women. Don't make the knit tight, by the contrary, style it as loose as possible. This way, you will obtain more volume, and the shape will be more pronounced.
9. Chunky Braids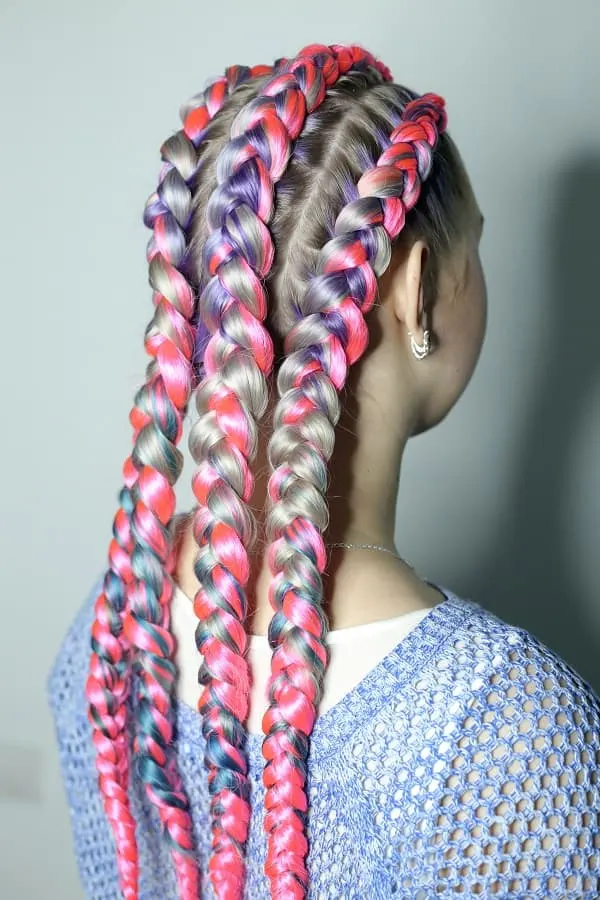 When you want chunky braids, the best option is to blend some Jumbo hair smoothly. This will give your knits a lot of thickness. If you also want color, buy several bundles and mix them to obtain the preferred color blend.
10. Wedding Hairstyle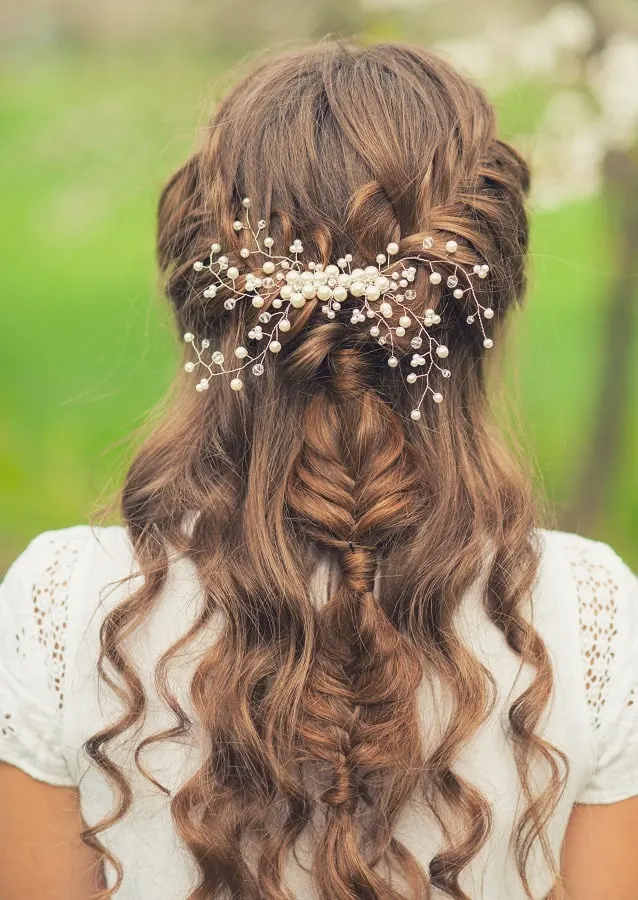 This astonishing wedding hairstyle involves braids and can be easily done at home, with a little practice. Use the fishtail braids to create a crown of hair. Secure it and braid again. Place a white decoration to highlight the braid and curl the unbraided strands.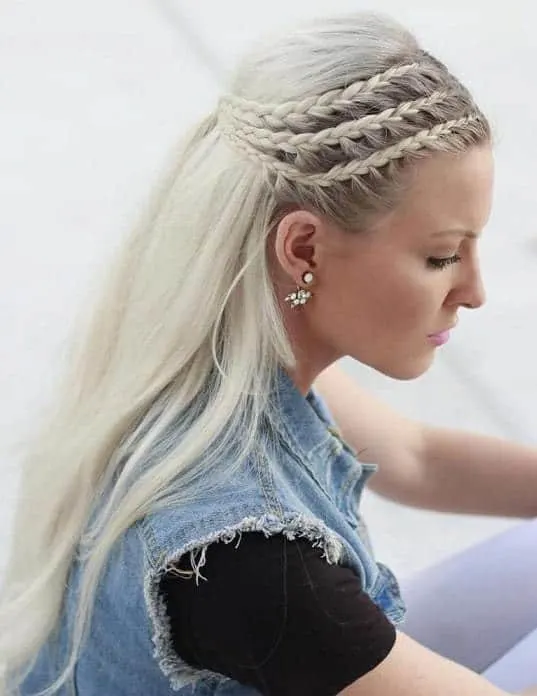 When you have a little time, you should try making this on yourself or your white girl. Either way, you will be mesmerized by the result.
Ideal for: Round and square-shaped faces.
How to style: These triple French headband braids for white girls are not that complicated to make, but they do require some patience and precision. Once they are done, just tie them together at the back. Wear the rest of your hair straight or wavy.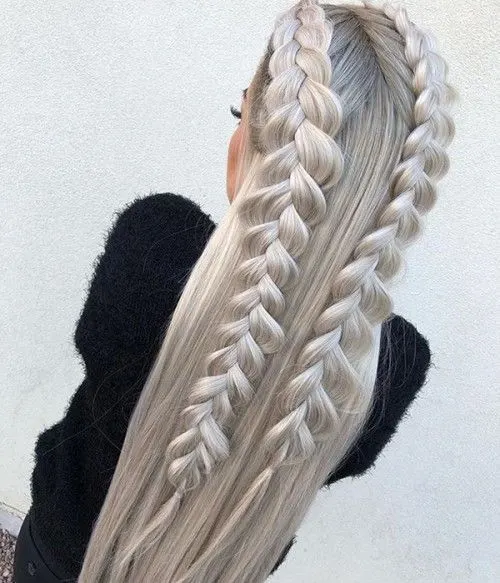 This type of braids works great on white girls with blonde or even white blonde hair. We are digging the Daenerys Targaryen vibe!
Ideal for: Square and oval-shaped faces.
How to style: Grab as many hair extensions as you can find and braid these two beautiful thick braids with a part right in the middle and the rest of the hair completely straightened.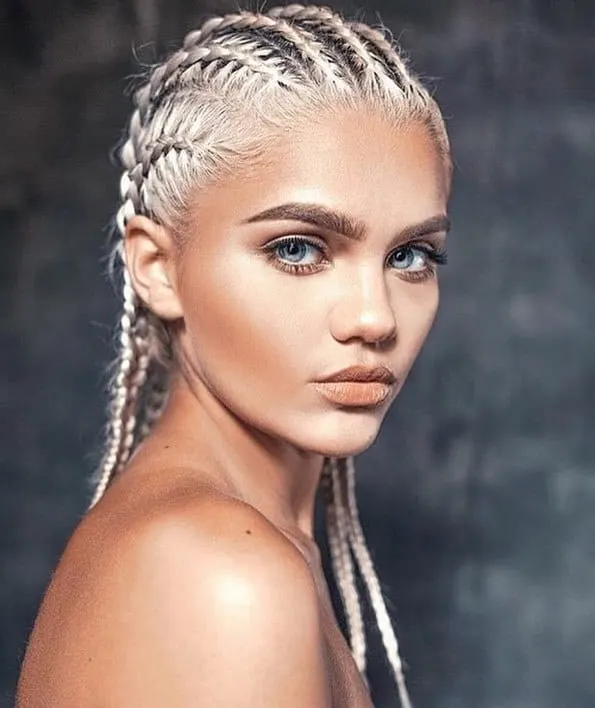 This one is a typical hairstyle for many black girls, but it shows how mesmerizing white girls with braids look. Especially if you have white or gray hair, they will look amazing.
Ideal for: Oval and heart-shaped faces.
How to style: Braid your hair in exactly seven braids, denser on the top of your head and less dense towards the sides. Make sure they are as neat as possible. Use a little wax to calm those electrified hairs down and a little hairspray to hold the braids tight.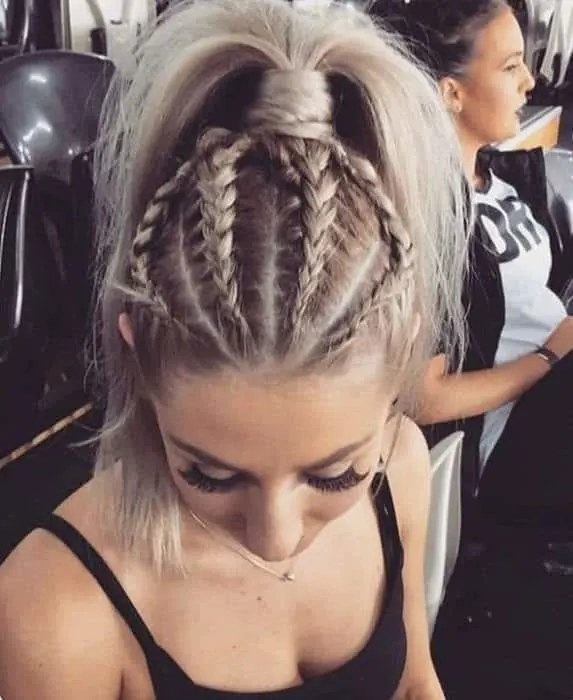 If you want to try a fun, urban and modern hairstyle but you don't want it to be too crazy, these braids that white girls love is a fun idea to play with. Plus it's great if your hair is darker near the roots and lighter near the ends.
Ideal for: Oval and square-shaped faces.
How to style: Part your hair triangularly and braid the braids carefully as you see it on the picture. Make nice elegant waves in the rest of your hair and tie it in an invisible ponytail together with the braids. Take a strand from underneath and wrap it around the hairband.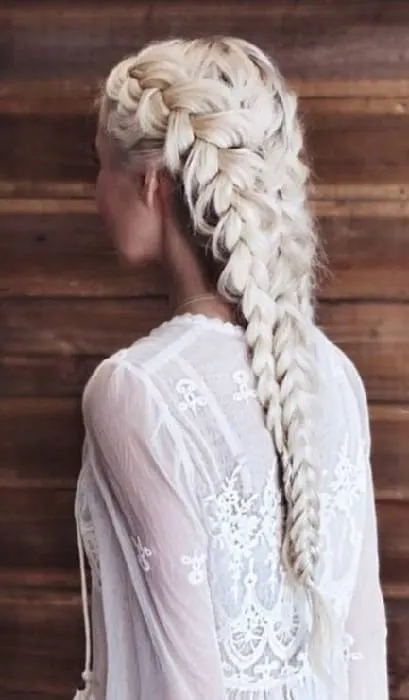 A true white girl braids style. This kind of braids is excellent for girls who want to look effortlessly and naturally pretty and romantic.
Ideal for: Square and round-shaped faces.
How to style: If your hair is not thick in enough to achieve the desired volume, you can always use some hair extensions.
Bored with your everyday routine and ready to try something new but not overly complicated? Here's an idea for you.
Ideal for: Round and square-shaped faces.
How to style: Braid two braids in the triangular shape, ending right on top of your head. Tie them and a few additional strands of hair into a simple half bun. Curl very natural and gentle waves from the rest of the hair.
17. Zoe Kravitz Braids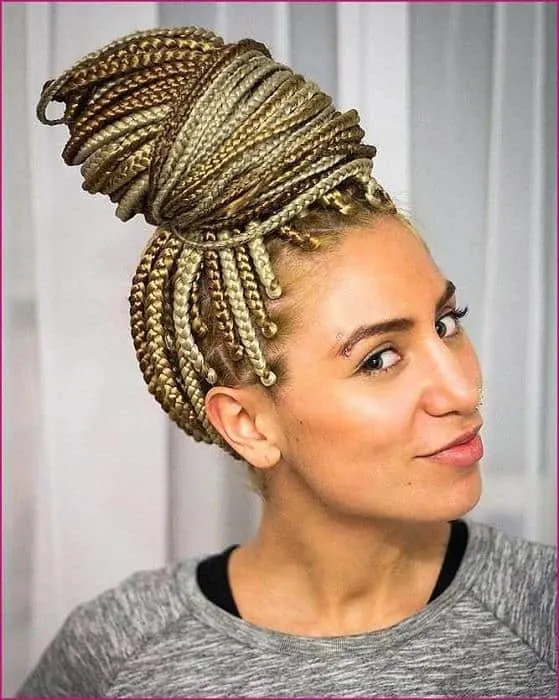 If you're afraid that if you have your hair braided it would soon become boring and that it offers no variety at all? Many women are, but the truth is, there are still a lot of things that you can do with them, and we are all for this gorgeous, extra huge bun.
Ideal for: Round and square-shaped faces.
How to style: Take all those braids and wrap them on the top of your head in a huge bun and tie it with a hairband.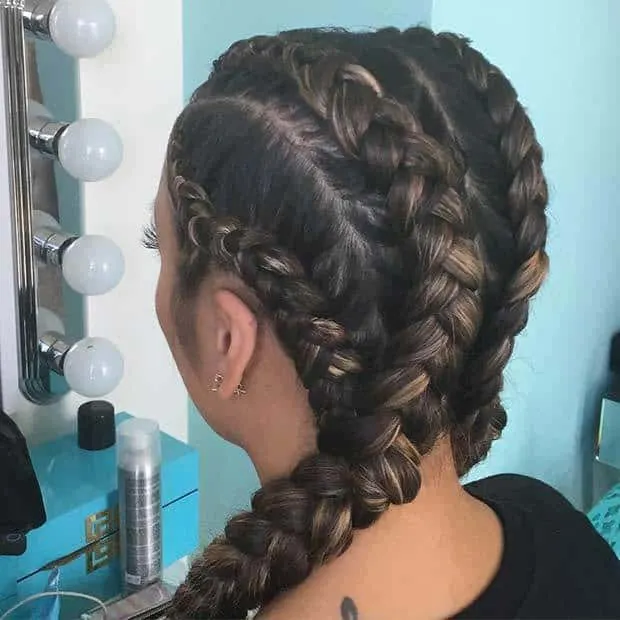 Highlights on long hair are a magical thing. They enhance the texture of your hair no matter what kind of a hairstyle you're wearing. In this article, we've presented a fair share of ideal braided hairstyles for white girls with blonde hair, but we think light highlights look great on brunettes too.
Ideal for: Heart and square-shaped faces.
How to style: Dark hair can look great with highlights too. The hairstyle itself is similar to the triangular double braid that we have described above, but the hair color is out of this world. If you have or are planning to get highlights of different colors and shades, this braided hairstyle is a great way to show them off.
19. Messy Boho Braids and a Bun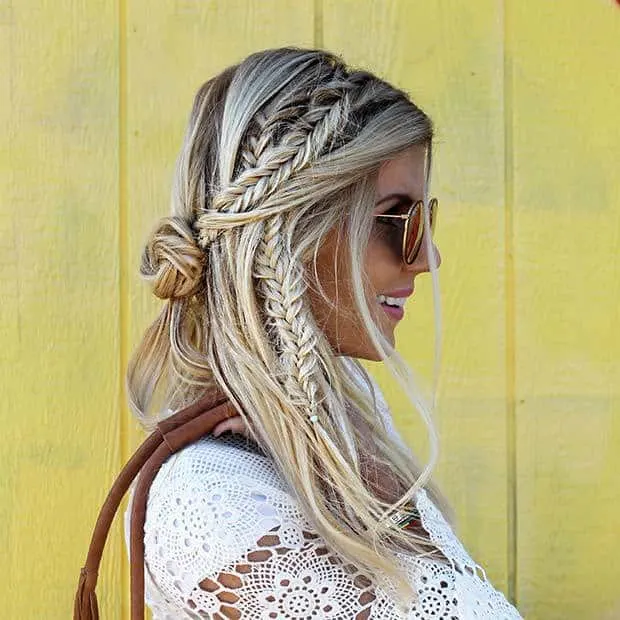 If you are a free-spirited white girl who likes to chill on the beach the whole summer and your style are screaming boho, you are going to love these relaxed, crossed fishtail braids additionally enhanced with a cute, mini bun.
Ideal for: All face shapes.
How to style: Braid four side fishtail braids – two starting from where you've parted your hair, and two starting anywhere on the sides. Take the first two and, along with your bangs, tie them in the back. Then twist the half ponytail into a nice little bun. Again it works best if you are a blonde.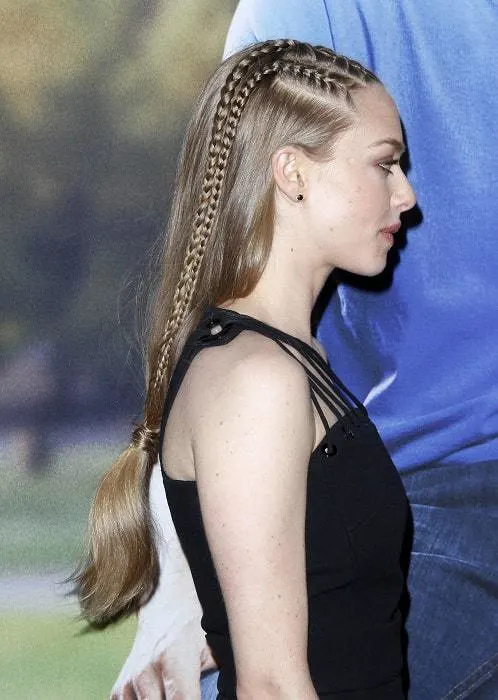 Moms and daughters might have a disagreement here and there, but this white girl braids hairstyle will most certainly not be the topic of one. These adorable braids look angelic on little or big girls, and that's why we're head over heels in love with them.
Ideal for: Oval and heart-shaped faces.
How to style: We suggest braiding four thinner braids, although you can do more if you like. Straighten the rest of your hair and then wear all of your hair pulled back so that the features of your face are completely revealed.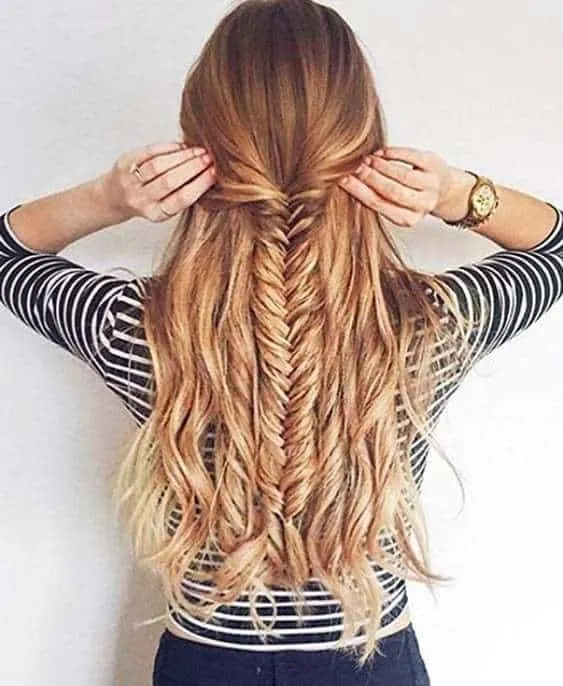 White girls are often blessed with nice soft hair that they easily braid and curl a few waves and they are ready to start the day.
Ideal for: All face shapes.
How to style: Take a few strands from the side of your head along with the bangs and braid them in a wheat braid in the back. Make sure the rest is natural and wavy and the half updo is not too tight.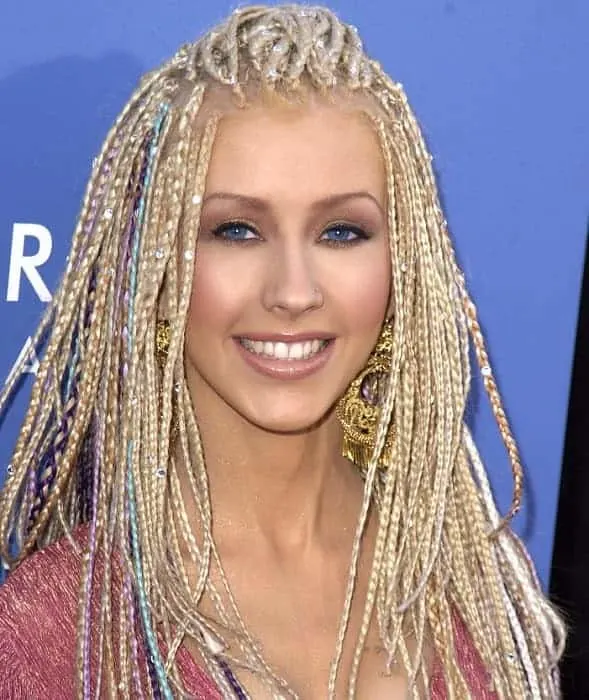 Thin braids are a signature hairstyle of a lot of beautiful black girls. Many people think that white girls can't pull them off. Back in 2001 proved the contrary. A lovely white girl micro braids style!
Ideal for: Oval and round-shaped faces.
How to style: If for some occasions your braids seem to wild, you can always style them in a simple half updo as Christina Aguilera did.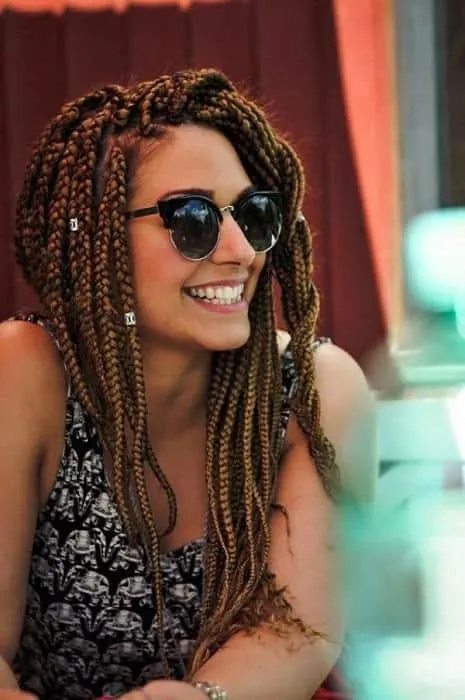 Thin braids look really great on white girls. Don't be afraid to free your spirit and rock your personal style.
Ideal for: Oval and heart-shaped faces.
How to style: You can always twist them, move them from one side to another and see what shape and form suit you best. Updos work great too if your hair is long enough for them.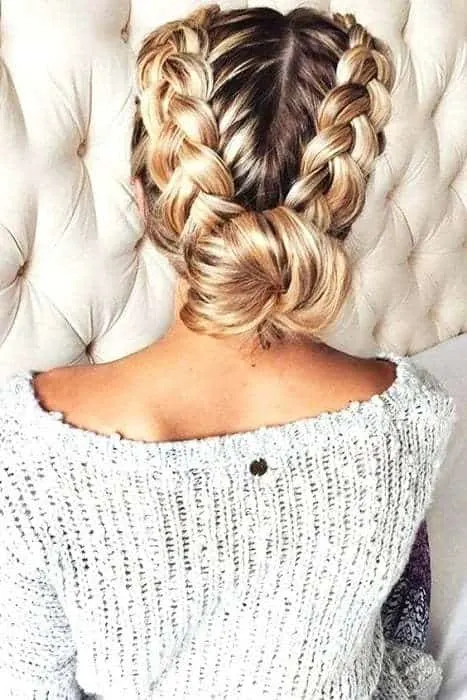 White girls look sensual and adorable with braids. This hairstyle is a true example of versatility. This white girl's braid hairstyle is ideal for an urban outfit, but also for your special day.
Ideal for: Round and square-shaped faces.
How to style: Starting from your hairline braid two thick braids with a part exactly in the middle. Once they've reached to the crown of your head, make a nice, big low French bun.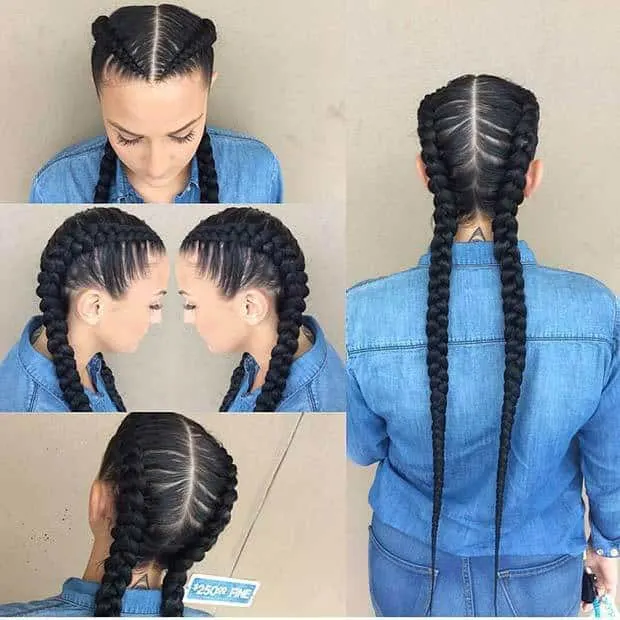 This one screams modern. During the past few years braids similar to this one were very popular and we think they are truly adorable.
Ideal for: Heart and square-shaped faces.
How to style: Part your hair exactly in the middle. From the part and the hairline start braiding two tight braids in the 45 degrees direction and then all the way to the crown and below till the ends.
This hairstyle looks so simple yet completely unreal. It is a great braid for white girls who have long straight hair and are skillful when it comes to braiding.
Ideal for: All face shapes.
How to style: These two braids becoming one big beautiful braid look truly awesome. We suggest completely straightening the rest of the hair so that the texture of the braids isn't lost in big waves or curls.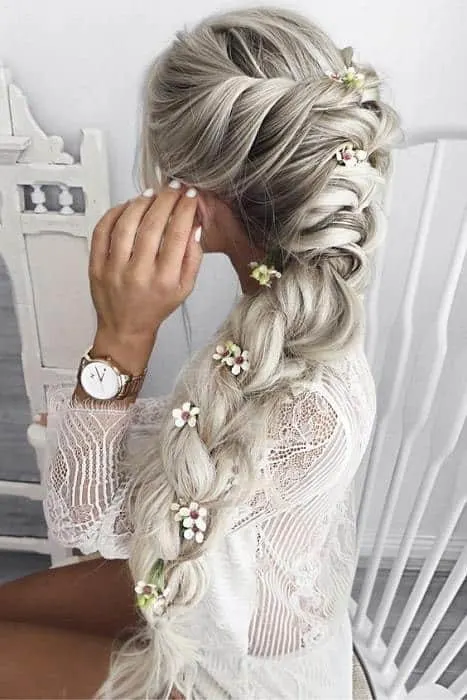 Always imagined that cute little boho wedding? Have you chosen your hairstyle? We might have a nice wedding braid for you to try.
Ideal for: Square and round-shaped faces.
How to style: Make great use of those super long extensions. The more the better. After braiding this big, voluminous, romantic white girl braid, decorate it with some small flowers.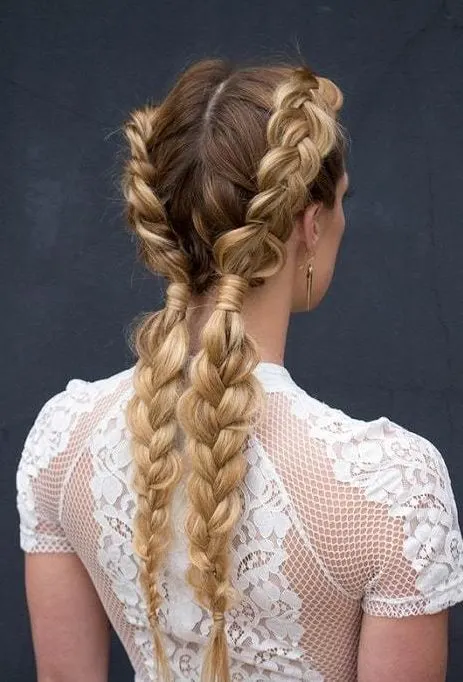 This type of braiding looks beautiful on white young girls who have ombre or balayage. You will also look like a gentle little girl without looking childish.
Ideal for: Heart and round-shaped faces.
How to style: Braid two thick braids all the way to the crown, with your hair parted exactly in the middle, and then tie them with hair bands. Then take a strand from underneath each ponytail and wrap them around the hair bands. Braid the pigtails as well.
One of the classic looks for white girls with braids. We're all about messy hairstyles. Life is about being natural and relaxed. Adding a lot of texture through braids and highlights has also been a major thing during the last few years.
Ideal for: All face shapes.
How to style: Hairstyle with this much texture works best for light blonde hair with highlights. Braid a thick mermaid braid leaving the bangs out of the braid to fall loosely. Then tie a low ponytail. take one strand and wrap it around the hairband to hide it. Braid a thick wheat braid within the ponytail and tease the rest to achieve complete volume.
30. Kim Kardashian Inspired Braids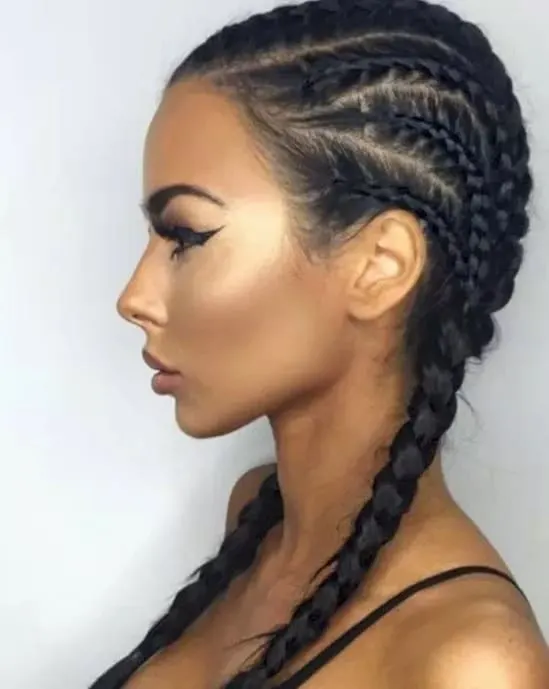 Kim Kardashian is a great example of how a white girl can look beautiful with braids. She loves them and wears them proudly on many occasions. This one is inspired by one of our favorite braided hairdos that she has worn.
Ideal for: Square and oval-shaped faces.
How to style: Start braiding your hair from your hairline into eight thin braids. when you reach the crown of your hair, make two big braids.
31. White Girl with Box Braids
Blonde box braids blend perfectly with naturally blonde hair. It is a great style for the summer when it gets really hot. The blonde braids are easy to swim with and very low maintenance.
32. Micro Braids for White Girl
Micro braids have been trending because of their size and how light they are. You can hold the braids in different styles depending on the occasion. These white girl braids compliment all skin tones.
33. French Braid Hairstyle
If you want a style to keep your hair away from the face try a French braid. It takes only a few minutes and is the best for bringing out your facial features.
34. Braid with Weave for White Girl
Getting braids with weaves plaited in gives an edgy look while staying simple. If the weave and braid are the same color it blends well. Consider this next time you want to braid your hair.
35. White Girl with Double Braids
This double braid look is perfect if you want braids but don't want to sit for hours at the hair salon. It is simple and elegant which is perfect for any occasion.
36. Ombre Box Braids
One of the go-to white girl braids is Ombre box braids, which come with a lighter shade at the bottom. If one color seems too boring try braids with this ombre effect.
37. Crochet Braid for White Girl
If you want a style that doesn't pull at your roots, try getting crochet braids. The curls give the hair a fuller look at the ends. It helps if you want low-maintenance braids.
38. Braided Ponytail
A braided ponytail is great for brunettes who want a blonde look. Dark natural hair blends well with blonde braids and compliments any face shape. It's great for the summertime.
39. Cornrow for White Girl
Cornrows are a cute way to style your hair. It can be held in a high ponytail and blends well with dark roots. We advise you to avoid this style if your scalp is sensitive.
40. Jumbo Box Braid
Jumbo braids are bigger than your normal braids. This is a good look if you have a small face — plus you can accessorize the hair with metal beads, rings, and colored thread.
41. White Woman with Small Braid
If you want simple braids try plaiting two to three lines at the side of your head. This small addition can change your entire hairstyle. Braid on your good side for a gorgeous look.
42. Braided Dread
Bright bleached dreads on your hair are a cool style when traveling or going to the beach. To switch them up you can plait them like most white girl braids.
43. Individual Braids for White Girl
Get yourself a unique braid look with individual braids. They are neat and easy to maintain over a number of weeks. Keep this in mind next time you want to braid your hair!
44. Long Braid
If you're going for an elegant look one long braid is the style to try. You can place it on either side or at the back. Taking it down takes only a few minutes.
45. Braid for White Girl with Short Hair
Getting a braid can be an easy way to spice up a short hair look. If you want to try something different plait half braids from the front of your hair.
46. Braided Mohawk
This centered hairdo is great if you have a full head of hair. Braiding a mohawk is good for a slim face, but it becomes messy quickly if not maintained well.
47. White Girl with Feed In Braids
These feed-in braids start small then become bigger towards the end. A bright pink color is playful and great for the beach during summertime. It complements those with fair skin.
48. Blonde Box Braids on White Girl
These bright blonde braids are perfect for natural blondes. Curls at the bottom give your hair a beautiful and full look. We love this hairstyle because it is very low maintenance.
49. Braid for Little White Girl
If you want little white girl braids try plaiting two cornrows. Crossing them at the back makes a unique style for any occasion. The braids are easy to style with colorful hair bands.
50. Twist Braid Hairstyle for White Girl
Spice up your hair with twist braids, they give a clean but messy look. Adding metal accessories to the individual twists gives it an edge we would recommend to everyone!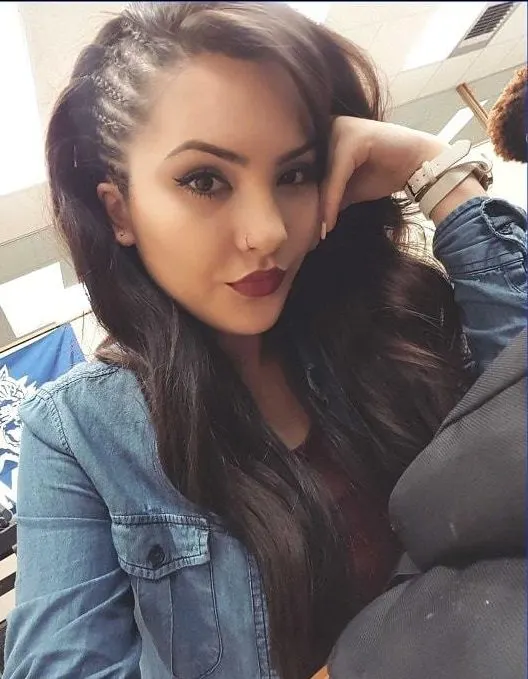 White girl's micro braids can look as sassy as black girls. And that's the beauty of things. We're all about asymmetric hairstyles. They emphasize the features of the face in such a nice way and are fun and interesting to try.
Ideal for: Round and oval-shaped faces.
How to style: If you want to rock a sassy and funky hairstyle like this, make gentle, relaxed waves and braid six really thin braids on one side of your hair. Then pull your bangs to the opposite side and you're good to go.
We are all about breaking the stereotypes. If you are a white girl who always admired those girls with all those different types of braids but never thought she could wear them herself, we are here to prove you wrong with these white girl braid ideas.
Hopefully, these glamorous braided hairstyle ideas for white girls will change your mind and push you towards trying something that you've never tried before and not settling for something basic and boring.