Messy short hairstyles are playful, voluminous, and they can be incredibly chic as well. And they are famous for their low maintenance and untamed look in the recent era!
So if you're thinking about cutting your hair short! Or maybe you already have an elegant short cut that you simply adore?
Regardless of the answer, you've probably thought about messy styles from time to time. After all, who didn't?
Read on to learn how to get short messy hair and to get inspired by 25 amazing styles you can rock with ease.
How to Do Messy Short Hairstyles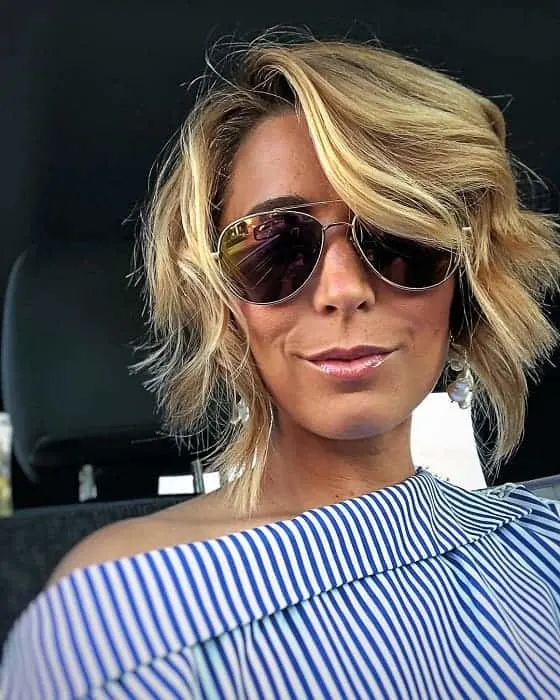 Getting a messy hairstyle for short hair isn't that difficult, and you can easily do it on your own. There are many ways to make your hair appear messy but chic. For example, short hair can be cut in layers and choppy style.
Another way is to use a hair styling product that you'll apply on your hair and tousle strands with fingers a little bit to create a bedhead look.
Asymmetrical cuts can also appear messy but cute. Options are truly endless when you use your imagination as a guide to creating a great style.
Watch The Following Video to Learn How to Do a Quick and Easy Messy Hairstyle for Short Hair
Best Short Messy Hairstyles
These messy short haircuts are cute, edgy, yet romantic and elegant despite the bed head vibe. They show that you can look chic and elegant even if your hair isn't sleek. These 25 suggestions will definitely inspire you to emulate this style as much as you can.
1. Long Messy Pixie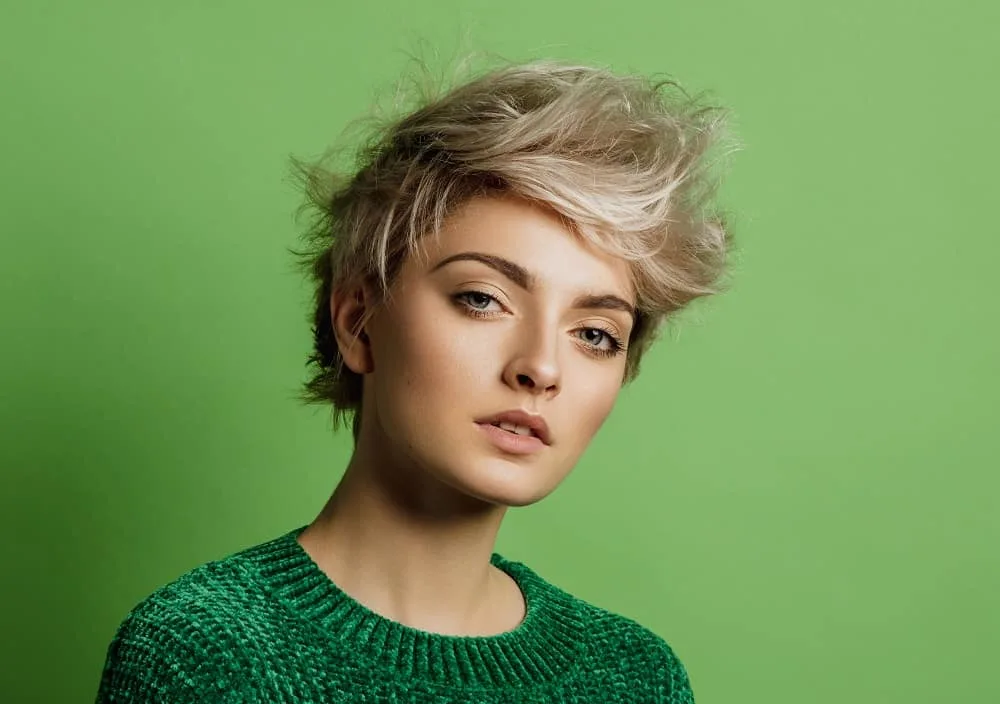 A sexy long pixie with a short undercut and gorgeous blonde coloring deserves fabulous styling to go with it!
Create a messy look by working in hair product with a blow dryer, directing it toward just one side. You can shape the final touches with your fingers.
2. Straight Platinum Bob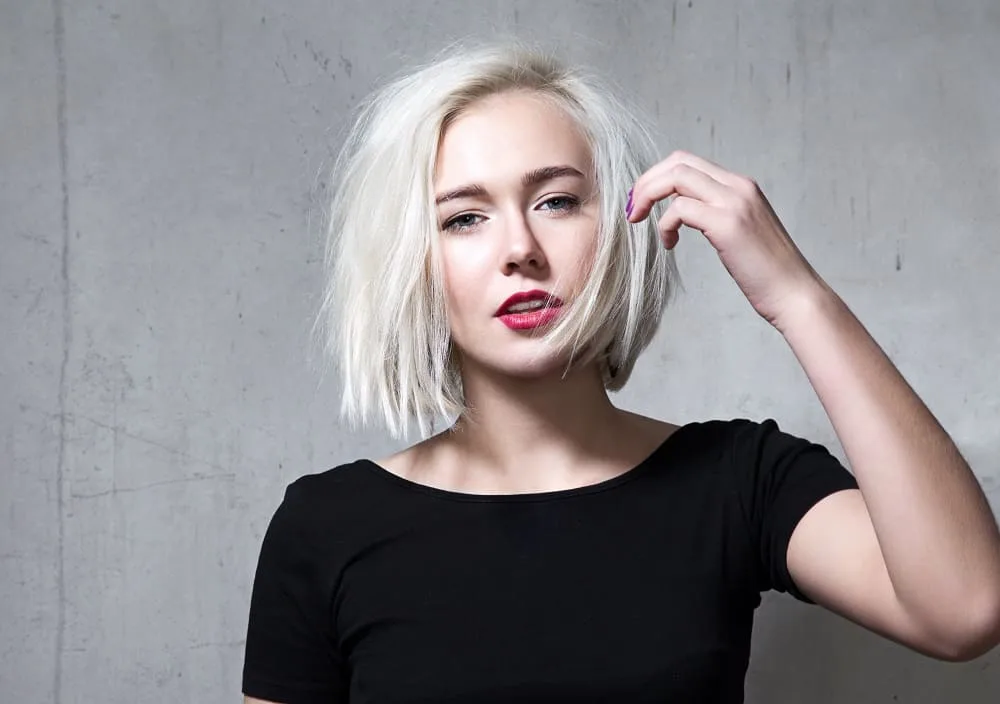 Platinum blonde is a beautiful color for women with light skin complexions. While polished looks are pretty, a short messy hairstyle can give your look a whole new twist.
Get the windblown look by straightening the hair and then tossing your hair and styling it with wax and hairspray to keep it in place.
3. Wavy Pixie with Bald Fade
If you're a woman who loves fierce hairstyles, you'll love this thick, wavy, long pixie with a bald undercut. The bright hair color is one everyone's eye will be drawn to. Short sides that are bluntly cut complement the bald undercut, while the top is long with a messy texture.
4. Short Curly Hair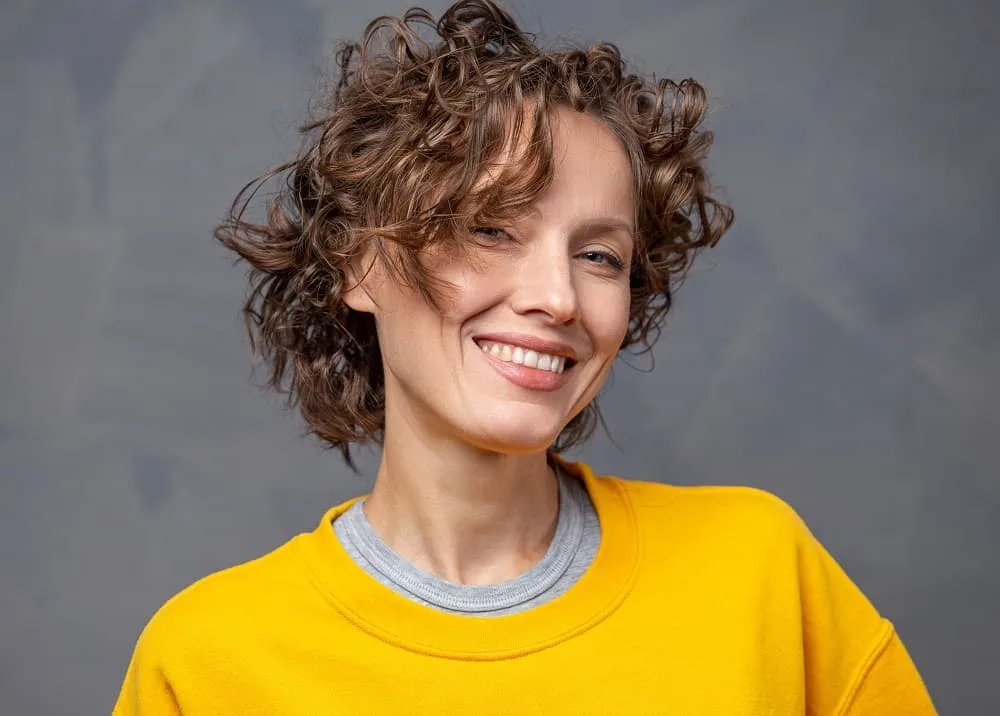 Trying to thicken up your short, thin hair? If it has a naturally curly or wavy texture, working in a hair mousse or creme can enhance their shape to create a fuller look. Avoid perfect symmetrical styling to get that messy hairstyle.
5. Short Curly Pixie
Don't let your age prevent you from flaunting a short messy hairstyle! The buzzed sides on this short curly pixie give it an edgy touch that is unexpected on older women. You'll confidently rock those grey hairs!
6. Kinky Curly Bob with Bangs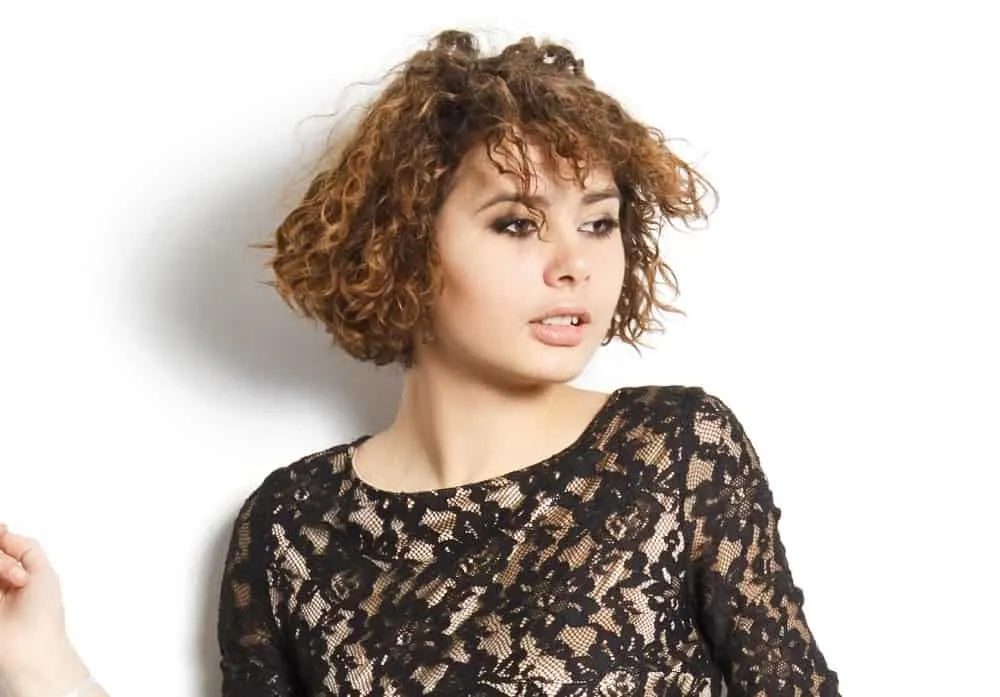 If you have thick hair with tight curls, don't let it just lie there! Short bobs with messy styling are not only sexy, they take the bulk out of your hair and shape it into a masterpiece. It's best to style long bangs with fingers to avoid frizz and fluff.
7. Messy Spiked Pixie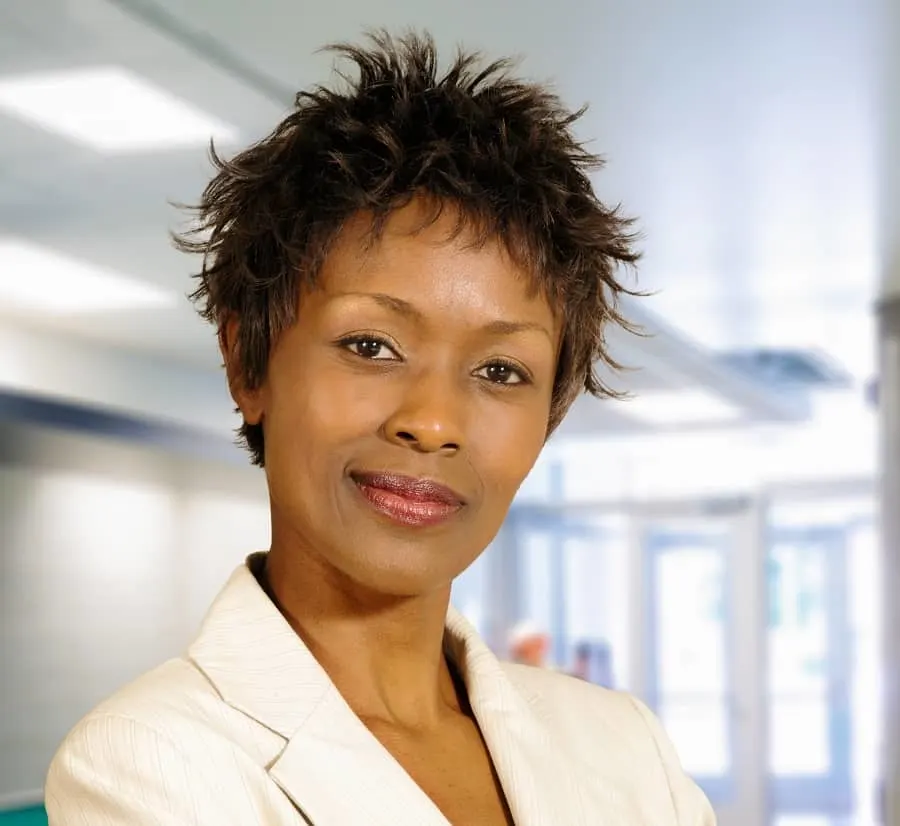 Sophistication has no age limit! If you're determined to rock short hair, a messy hairstyle like this pixie can still be sophisticated and work-appropriate.
Just use hair cream on fingers to shape the spiky texture. It's a great look for women with round or small faces.
8. Short Hair with Bangs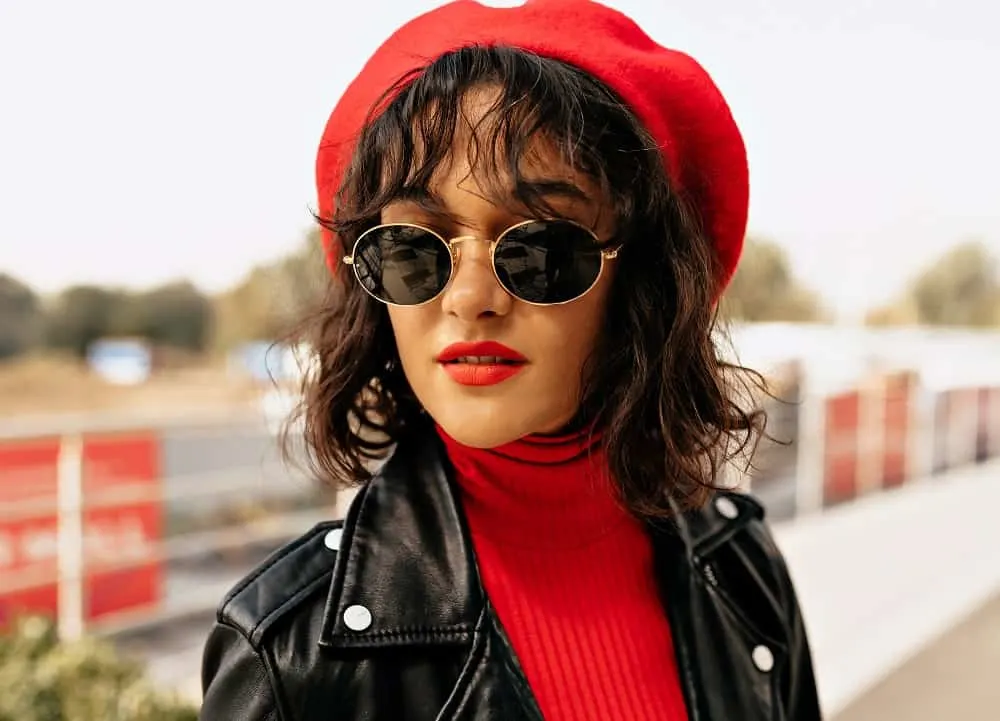 We love how the layers in this short messy hairstyle make it super easy to style! You can either use your fingers and hair product or a curling iron to get the thick texture. For the bangs, cut them long and again style with fingers and hair product.
9. Bleach Blonde Short Hair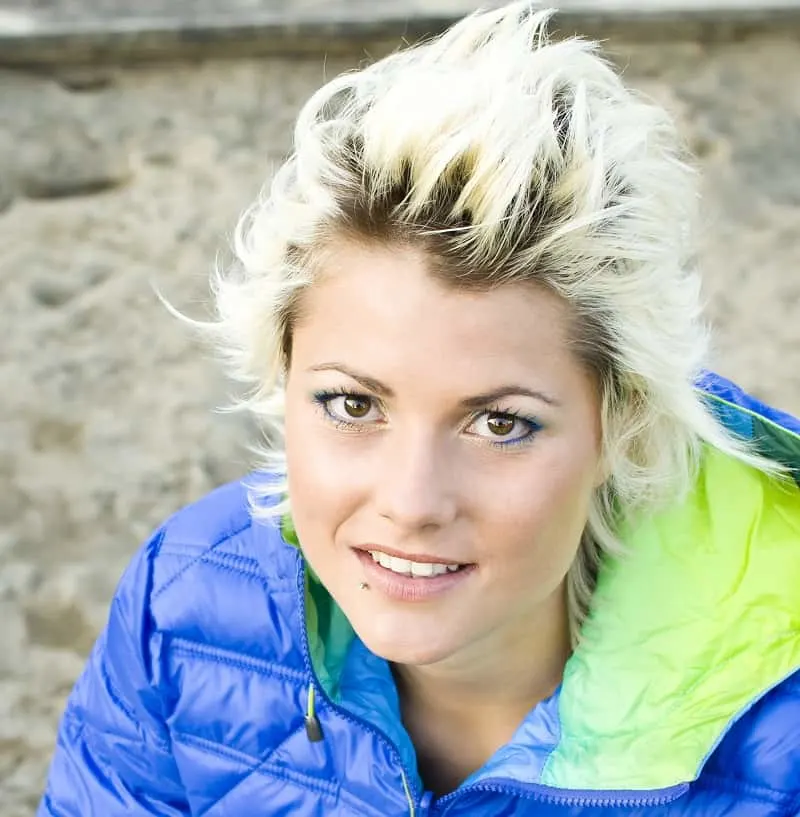 Everyone will think you've just been at the beach by the way this short pixie boasts messy texture. While the hair is all one length, the key is in combing hair on the sides straight back, and styling the top hair up for spikiness.
10. Side Swept Messy Bob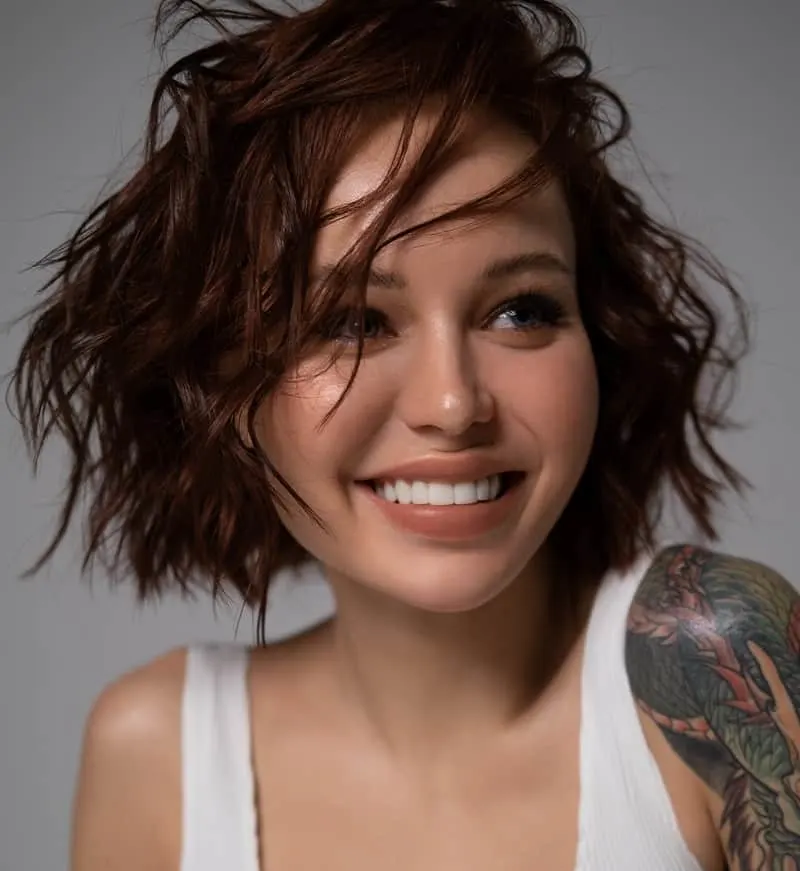 The windblown look on this short wavy bob makes the messy style look natural. Use your hair dryer to encourage the hair to fall toward one side, then use a curling tong and twist curl your hair around it, leaving the bottom part straight.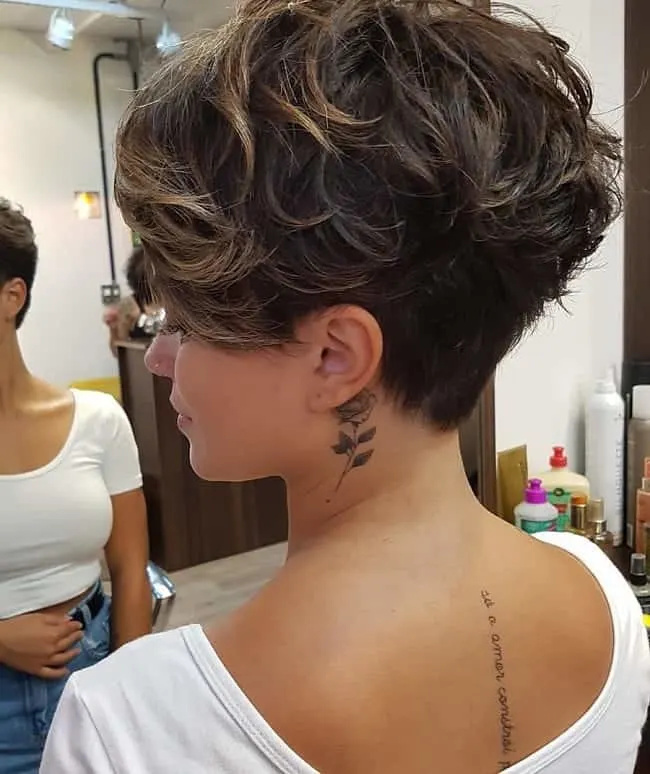 Pixie cuts are beyond cute and adorable. They give us that chic vibe, but at the same time, they can be edgy.
If you're looking for a hairstyle that can fit into all sorts of moods, then this is it. Besides sleek and straight pixie, you can also go for a messy and wavy 'do that gives you more freedom and playfulness.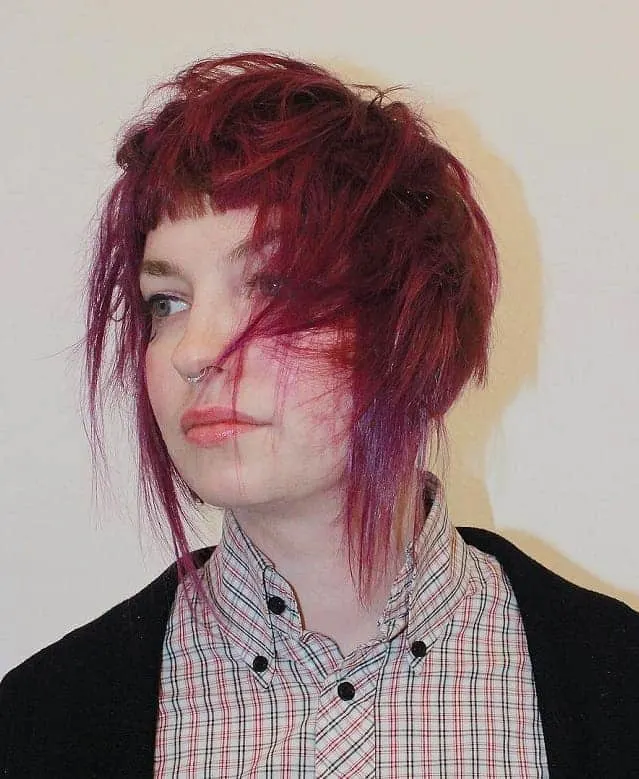 Baby bangs are usually paired with a sleek cut, and they give us the chic vibe that many other styles struggle to achieve. This particular style goes in a different direction.
One of the cutest messy short hairstyles involves a choppy bob combined with messy baby bangs. Consider getting a few highlights to add a whole new dimension to your hair.
Girls with thick hair usually want it to appear thinner, but there's no need to strive and make it happen. In fact, one of the easiest short messy hairdos to create is a messy thick bob. Just tousle your hair a bit, and voila, your hairdo is ready.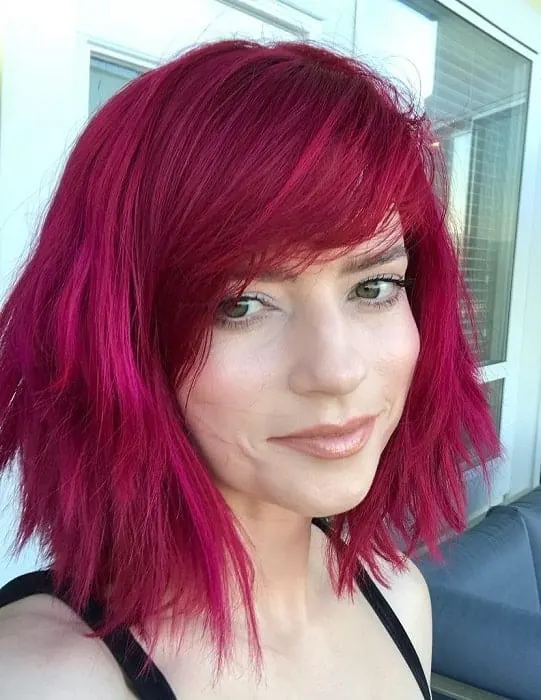 Some women don't want to try bob haircut because they think it's a limited style and they can't do a lot with it. Wrong! Actually, you can style your bob in many ways, and this is just one example.
Layered bob with messy hair strands gives you more volume and fullness. For an extra twist, opt for some unusual hair color such as pink.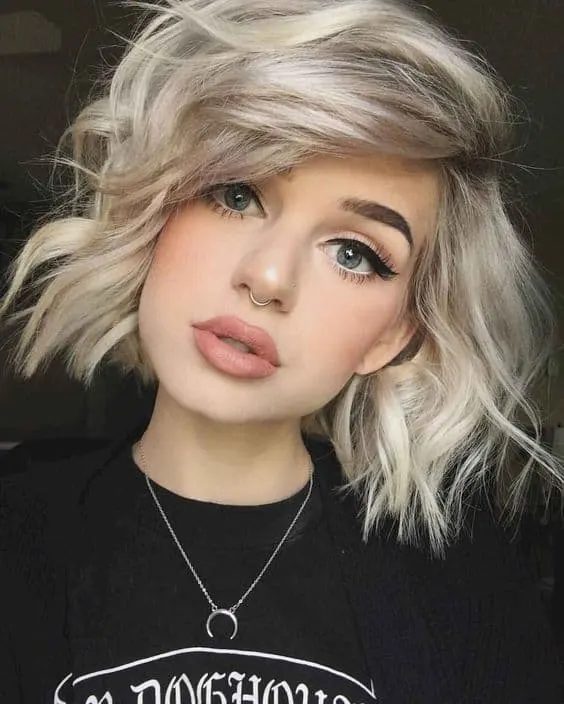 Got short thick wavy hair that you find difficult to control? No need to control it, you just need to style it in a way that your hair gets more playfulness and structure while preserving its gorgeous fullness.
This choppy and messy look is ideal for girls with thick and voluminous hair. Just let your cute locks remain free and bounce as you move.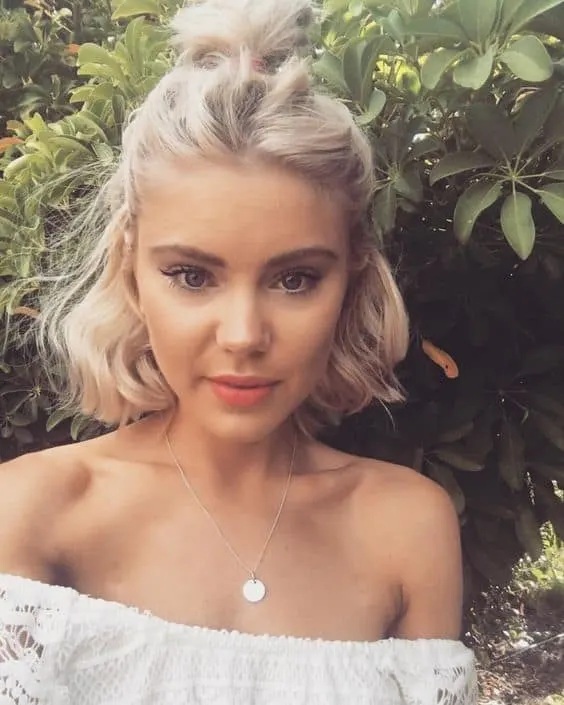 While your hair may be short, it still leaves a lot of room for experimentation. For example, one way to achieve the messy look is to section your hair on the scalp and create a cute updo.
Make sure the remainder of your hair is let loose and free. This way you get a two-dimensional look and that short messy hair vibe.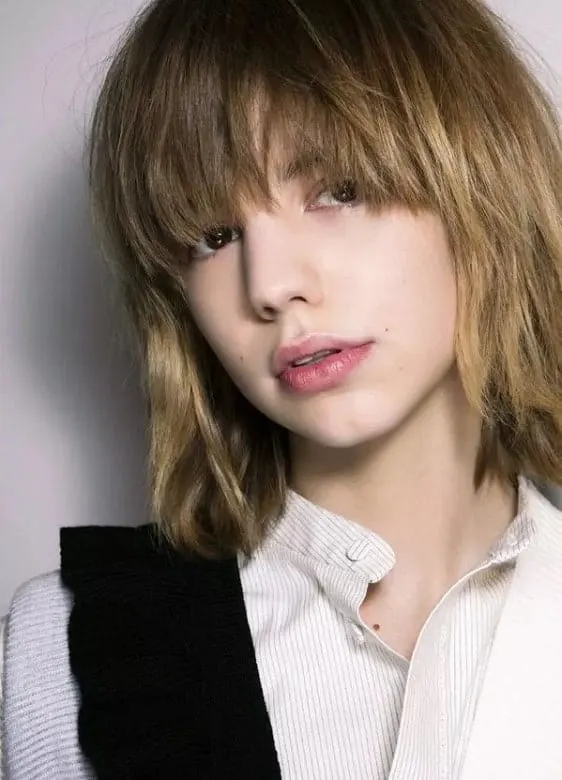 Bangs don't always have to be sleek and blunt. They can be very cute when you style them in a messy manner.
What's more; one of the most adorable short messy hairstyles is a lovely medium bob paired with bangs, but make sure you tousle both using your fingers.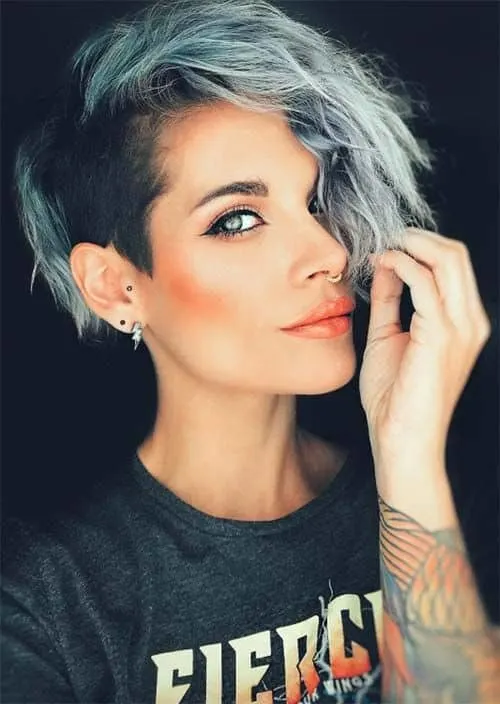 Some women love edgy haircuts that perfectly showcase their unique personality. If you're looking for one such hairstyle, then you may definitely want to try this one.
A cute pixie bob is combined with undercut while messy style adds extra spice in your style. The whole look is completed with unusual hair color. Absolutely awesome!
19. Undone Halfsie
Don't you hate it when you're writing something and hair keeps going in your way? The same thing happens pretty much whatever you're doing.
Here's a hairstyle that will address that problem and look great at the same time. Use bobby pins to create this lovely messy hairstyle for short hair that will not only accentuate the messiness but make it practical as well.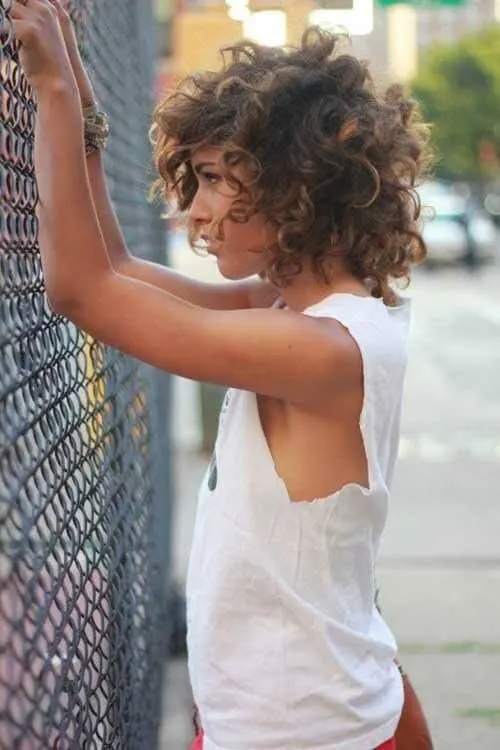 When curling your hair instead of following a certain strategy for a structured look, just let your curls free and do what they do best in order to achieve this cute messy hair look on short hair.
Wild curls are bouncy and also showcase liberation, which is exactly how we feel like when we rock them anyway.
21. Scarf with Short Messy Hair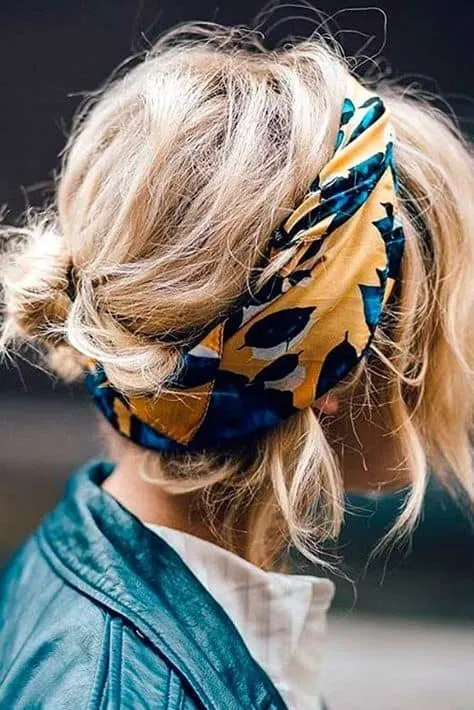 In order to achieve the desired look, we can use various accessories including bandana, scarf, and others. Use elastic bands to pick your hair up, then gently place a scarf or bandana with short hair that will give your messy style a retro and fashionable feel.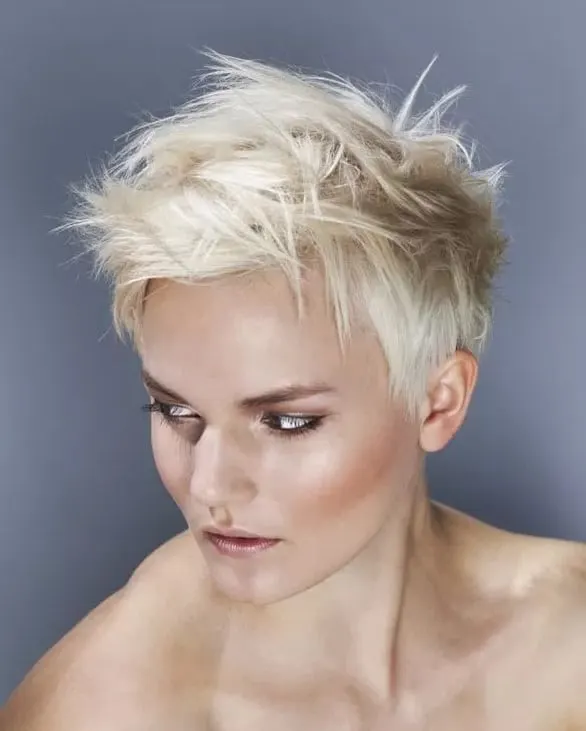 Spiky hair is not just for guys only, and women can easily rock this hairstyle and look absolutely awesome while doing so. One way to pull off messy short haircuts is to transform your short pixie into a spiky look.
You'll need mousse, gel, or some other styling product that you'll apply with your fingers and create spikes that are both gentle and messy.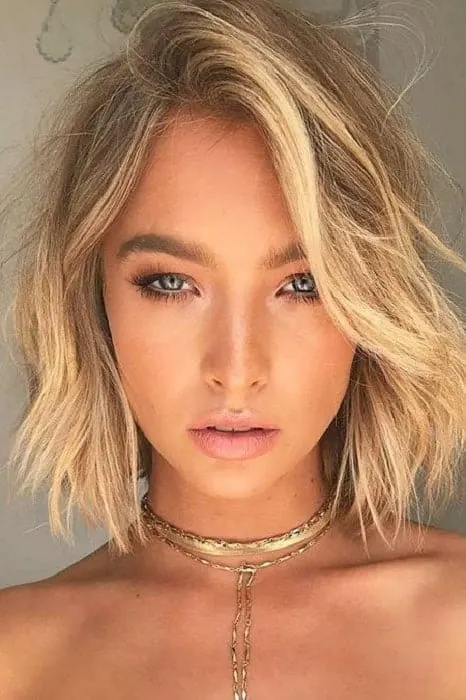 If you have fine hair and want to add more fullness to it, then this short style is the look you may want to consider. The reason is simple, short, choppy layered cut boost volume of your hair. You can also part it asymmetrically for the "I woke up like this" vibe.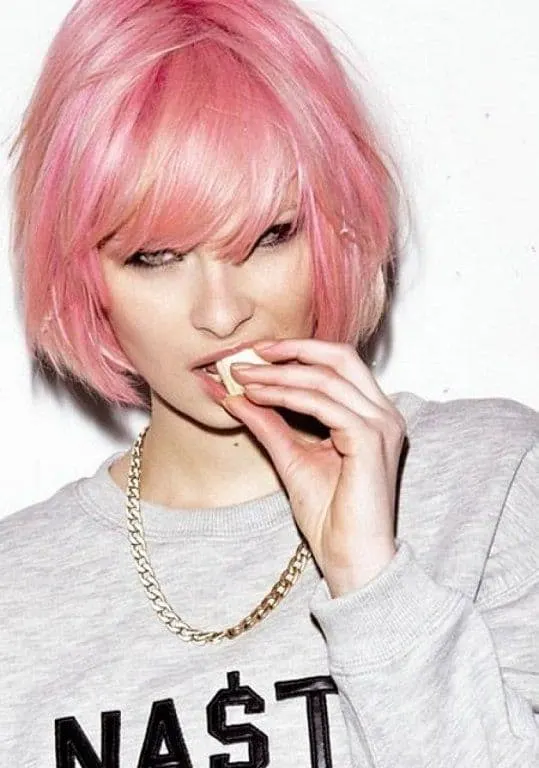 Bangs and short hair are a perfect match. Besides shorter bangs, you may also want to consider longer bangs that you'll combine with short messy hair.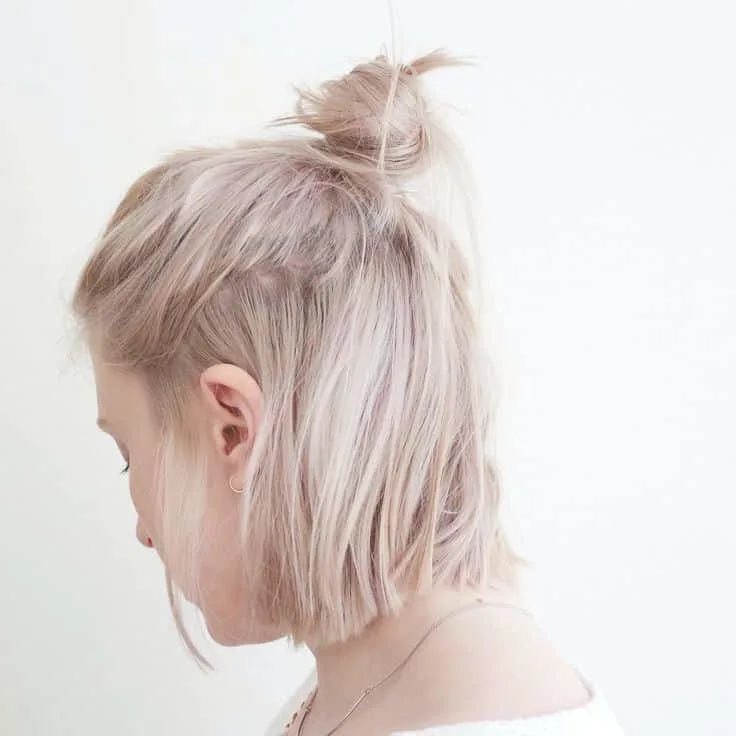 Top knots fit easily into messy hairstyles regardless of whether it's short or long. That's why you should definitely give them a try when looking for messy short hairstyles to experiment with.
Short messy hairstyles are trendy right now thanks to their chic playfulness. Since it's easy to create these looks, it's not such a surprise that women absolutely adore them. Now you have the opportunity to try them out yourself.