Kenyan braids hairstyles are creative and versatile. Are you looking to try one all these days? The hairstyle you wear affects your appearances; making the best choice on the type of hairstyle enhances your general look.
So, that's the reason why we are here to help you out with some of the best braided hairstyles for Kenyan women that will help you rock a Kenyan way, according to the type of your hair.
Kenyan Braids
Do not forget that braids are an easy and glamorous way to keep your hair looking good for several months, giving your hair some break, and securing it from severe environmental factors. Take a quick look at the popular Kenyan braids hairstyles that will inspire your next new look.
1. Dynamic Side-Swept Cornrows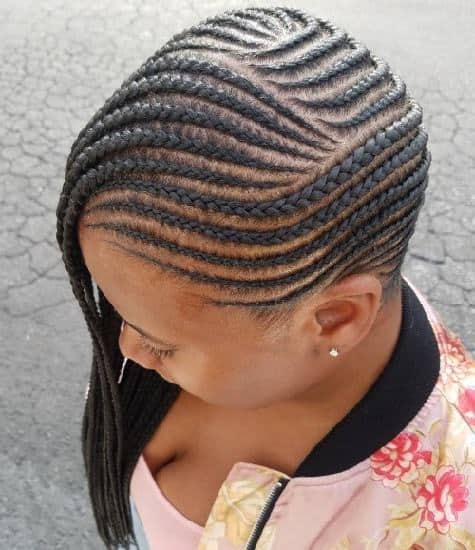 This is one of the trending Kenyan braids hairstyles. It offers excellent protection of your hair against the heat and any other weather effects. There are different styles that you can choose to look gorgeous.
2. Look Chunky Black Braids
If you want to turn heads whenever you pass, give a shot to this glamorous Kenyan braided hairstyle. It is styled by alternating thin twists.
3. Cornrows with High Twisted Bun
Well, this Kenyan haircut is for those Kenyan ladies who want to enjoy some comfort as well as class. It is effortless to maintain and therefore very suitable for professionals with busy schedules.
4. Half Cornrows Half Individual Braids
This is a pretty creative Kenyan braids hairstyle which is ideal for most events. It is a mixture of loose box braids and cornrows. This type of Kenyan braid looks excellent when wooden beads are styled at the trimmings.
5. Braid with Curves
If you love some simple looking Kenyan haircut, then you can opt for this Kenyan braided curve. It can be styled for regular days.
If you have long tresses, it will be effortless to rock on this beautiful Kenyan braided hairstyle. It is a hairstyle that can be styled easily in one sitting in just a few minutes. In case you need different styling, you can ask your stylist to design a wavy appearance.
This beautiful Kenyan braid hairstyle gives any woman a stunning and chic look. This hairstyle starts with a cornrow which is eventually held as a bun giving it a braided bun look.
8. Afro Kinky Braids
When it comes to styling, women want something new and sophisticated. Looking gorgeous it is an integral part of our daily life since the style we choose dictates where we come from, and it shows part of us. This is what kinky afro braids helps you to achieve.
In 2023, this braided hairstyle for Kenyan ladies made a big comeback, it's still trendy in 2023 and it is like it will never go out of style. Rarely a new style in Kenyan fashion, the revival in popularity of crocket braids-also called latch hook braids-is partly as a result of 90's resurgence in fashion and hair trends.
10. Dreads
Few women dare to try dreads. This is because most women consider dreads as dirty, which is not the case. Dreadlocks are excellent and clean, great care should be taken upon them by keeping them moisturized so that they remain healthy.
11. Box Braids
Put aside your ordinary braids, box braids are trending now, since each part of the hair plaited is shaped like a box. When your stylist is done styling your hair, you will be looking beautiful. Most of the box braids are extended and thick, in a way that you can even let them hang freely. The box portions stand out on your head uniquely.
12. Mohawk
For the ladies who love fixed braids, because they are tired of letting them hanging, Mohawk is your best pick. You can wear them in various colors, and the good news is that you can let them loose whenever you want.
Best Medium Box Braids to Spice Up Your Fashion
13. Fancy Line Braids
This Kenyan braided haircut usually starts with simple pencil clear lines, and finish as braids in the halfway, such that the front is styled with pencil and back is braid-plaited. It is one of the dopiest hairstyles right now and being tried out by most celebrities.
14. Fishbone Braids
For the women who like protective hairstyles that are intricate and beautiful, fishbone braids are the right hairstyle for you. It is a style that gives maximum protection for your hair. Also, it is ready to go haircut.
15. Criss-Cross Goddess Braids
This gorgeous goddess braids are ideal for days when you want to give your tresses some rest or when you want to go swimming, and you don't want to keep styling it every day. The styling for these braids is simple and takes less time.
16. Asymmetrical Goddess Braids
This style is created by mixing plaits of varying sizes in to braid to come up with a defined dimension and texture. Incorporating thin and chunky braids makes the style even more appealing than the ordinary plaits. Can be personalized by including some beads in the final touch.
17. Long Chunky Black Braids
The chunky Kenyan braids hairstyle is a chic style. The alternation of the thin braids makes this hairstyle hot. It gives you an extraordinary way to experiment with length and volume giving you different ways to style it; ways impossible with natural locks.
One admired thing about feed-in braids is how they make the cornrow hairstyles look bulky and even more natural by giving them a flat and a narrow point at the hairline. This also reduces the pressure and protects the edges.
As beautiful as Kenyan braids to come up with gorgeous protective styles, styling hair can feel heavy sometimes when you are braiding hairstyles with individual plaits. A cornrow ponytail is ideal for the casual updo that will not stress on your edges.
20. Snake Braids
Extended and twisted braids are not your standard cornrows, but the idea is not quite different. Try the snake braids if you like to have a new look on the hair, closely braided to the scalp. You can throw on some beads for extra bling!
Jumbo Box Braids: Ways to Style
As you can see, there are numerous stimulating ideas on how you can transform your look with Kenyan braids hairstyles. Besides, your naturally thick wavy hair is an added advantage to prove to the world how beautiful you can be.