Cornrow braids have been a popular hairstyle for years, and with feed in braids, you're literally feeding your hair with more hair through extensions.
This hairstyle is always in, and it's great for both kids and adults, especially when you want to keep your hair out of your face. Feed-in braids can be done to fit any hairstyle of your choosing.
Read on to see the different braid hairstyles you'll fall in love with.
Why Feed In Braids?
The feed in braids gets their name from the style itself. Because you are actually feeding in your head with more hair because the hair length you already have ( or don't have at all) is not enough to complete the whole cornrow braids you want to end up with.
Moreover, they make a great hair styling plan for summertime because they can keep your hair away from your sweaty face while maintaining its length.
In addition to that, they are low maintenance so you don't need to worry about styling your hair for another two to three months! And let's not forget that this design is age free, so it looks good for both kids and adults.
Plus, it is a protective hairstyle so it gives you the chance to grow out your hair without having to go through the ugly mid-length phase. You can browse our favorite cornrow braids here.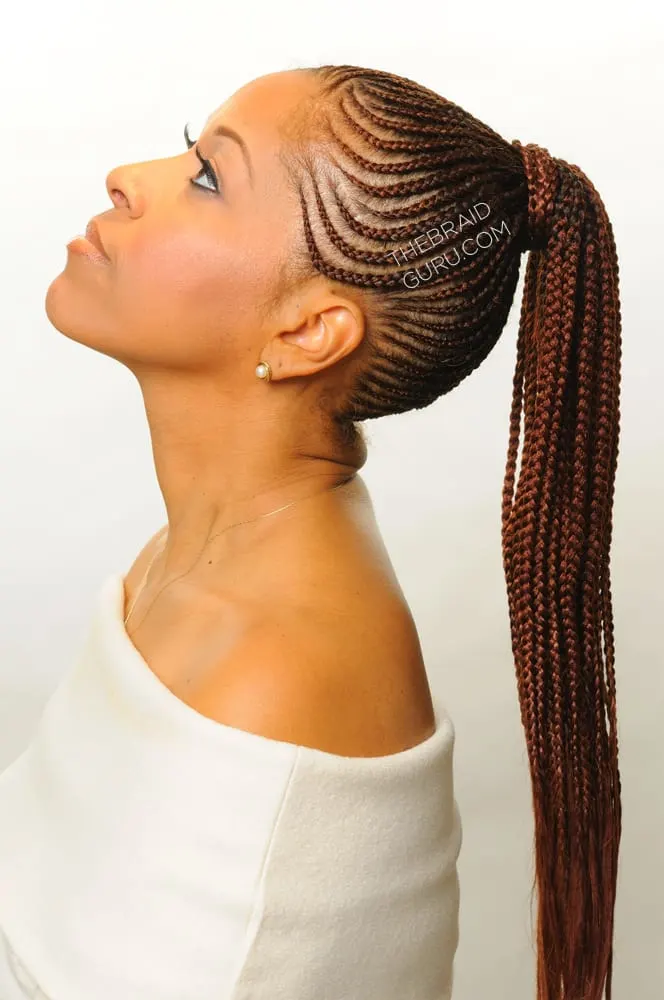 How To Feed In Braids (For Beginners)
With every new style at hand comes the first time you go through it. And since first-timers get lost and confused here is a detailed step by step procedure to guide you throughout the whole braiding process. So, let us start off with the things you need for it.
Tools And Items Required:
Three to four pegs of Kane-kalon braiding hair extensions.
Hair wax
Hairspray.
Hair clips.
Scissors.
Boiled water.
Elastic Bands
Now that you have everything you need, let us start with the hairstyling!
Difference Between Senegalese Twists and Box Braids
Step-By-Step Procedure:
Wash your hair.
Brush your hair until it is tangle-free.
Blow-dry your hair for more volume.
Section your hair into several sections ( in this tutorial we will go with 4 sections but you can go with the number you want) using the edge of a hair comb. Tip: Make sure the subsections are divided equally and neatly. Otherwise, the design will look sloppy and unprofessional.
Flat iron your hair if you have thick and kinky hair.
Mark the edge of each section with a really thin braid.
Apply some wax to the roots of the hair if you have got a soft hair to give it more hold, a nice glossy shine, and keep it from flying out.
Braid just like shown in the youtube tutorial video linked below.
Make sure you always add more hair to even the thickness as you are braiding.
Spritz every once in a while or apply some edge wax to blend in the faux hair with the natural hair.
Avoid using gel because it is too wet and slippery. In addition to that, when gel dries it can be flakey. However, if you want an edgy look with harder edges gel will be exactly what you need.
Make sure to trim out your nails before starting the braiding process because it can be impossible to go through that kind of braids with tall nails.
The key to perfection in this hairstyle is to wrap the hair as tightly as you can. That way, it will last a longer life span.
Go over the braids with a flat iron in order to get the tiny flyouts out of the way.
Even out the tips of the braids with a brush.
Dip the tips in boiled water.
Cut them off because you do not need them anymore.
Secure the ends with elastic bands.
Adorn your braids with some hair clips or accessories to make it stand out even more.
Watch the below video tutorial
Here is another youtube tutorial video that is proven to be really informative and helpful for beginners who want to become pros at this hairstyle:
Best Medium Box Braids Women Love
Feed In Braids Styles
What a lot of people do not realize is that feed in braids is just another name for cornrow braids that use up hair extensions for more volume and length. So, for all cornrow braid lovers, you will definitely fall in love with the digital catalog below we arranged just for you.
1. Platinum Ponytail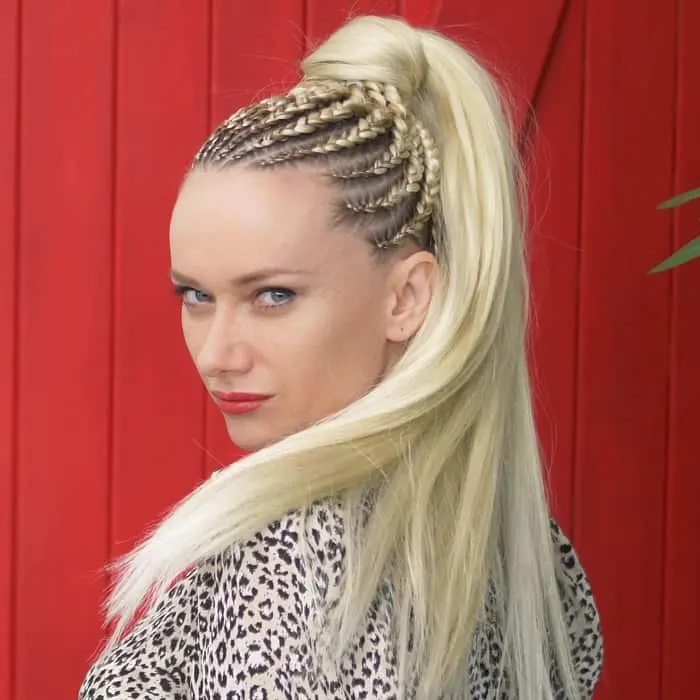 Mix up Ariana Grande's classic ponytail look by beginning feed-in braids at the hairline. Braided in a curved shape and paired with platinum hair, it's the dramatic look you need.
2. Four Low Braids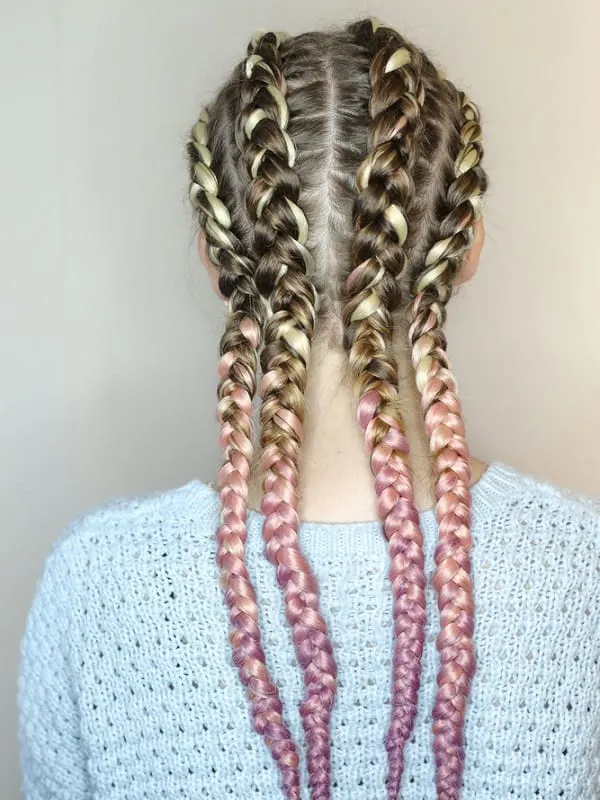 Dutch braids are kicked to the curb when you sport four feed-in braids instead of just two. A soft lavender pairs beautifully with blonde color.
3. Blonde Ponytail Bun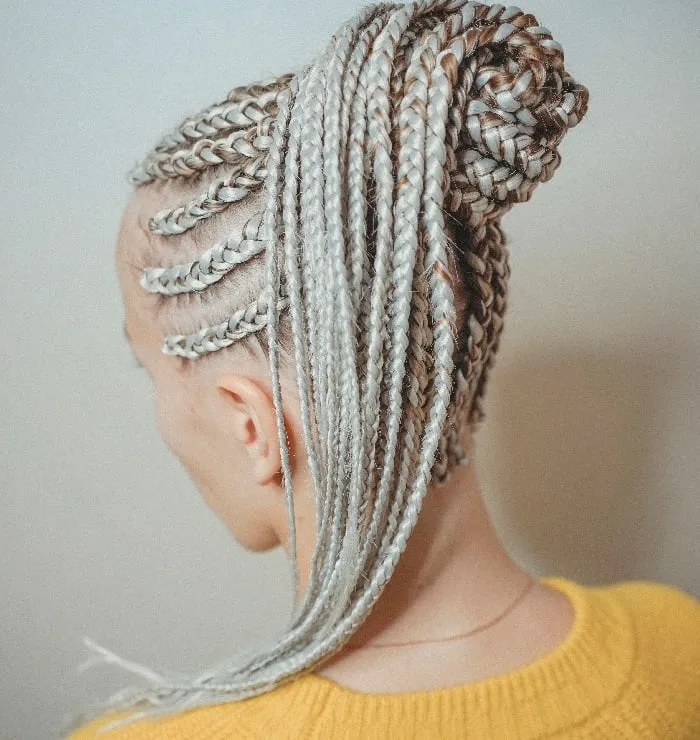 Going out on the town this weekend? You'll love this braided ponytail bun. Instead of simply securing a ponytail, drape the braids over halfway to get a bun-like look.
4. Tiny Braided Fade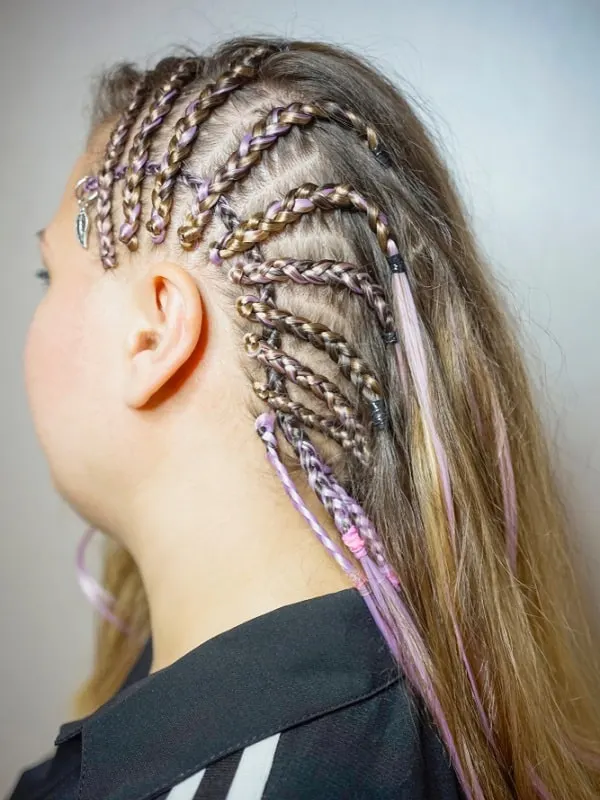 Tiny braids with just a little bit of color, like a light purple, add a fun section of detail to a loose hairdo. Use neutral hair bands or secure with rainbow-colored ones.
5. Six Braids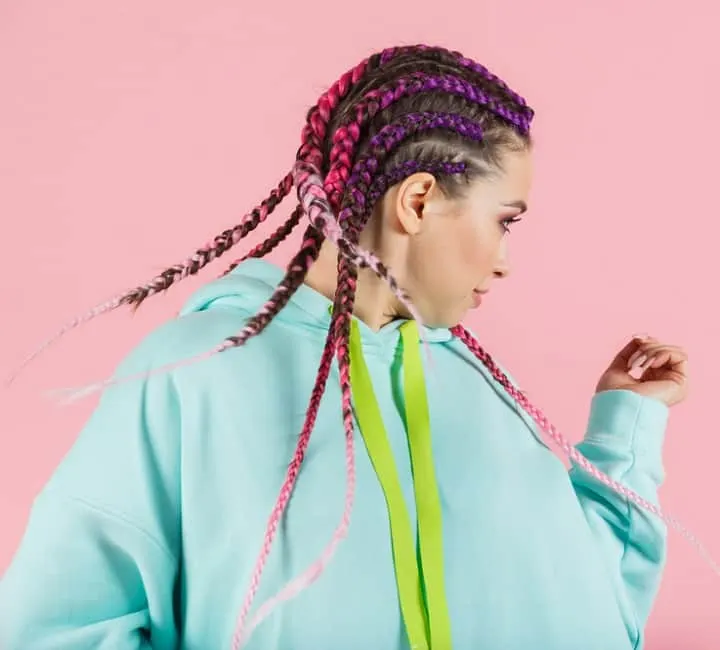 Six feed-in braids might look like a big job, but the result is worth it. While they'll look gorgeous with hair that is just one color, they'll look even prettier with pinks and purples.
6. Jumbo Feed-In Braids
Thicken up your usual look by going with jumbo feed-in braids. Create a side part first for a trendy switch in dimension, then wind a contrasting colorful hair string around a few of the braids.
7. Ridge Braids and Curls
Two feed-in braids create that ridge-like look that's becoming more and more popular. They continue to ears, then secure in ponytails, leaving the hair loose and curly.
8. Tribal Braids
These tribal feed-in braids feature a unique design right on top of the head. The rest of the braids are worn loose to emphasize their length.
9. Dutch Braids
Get the Dutch braid look with two feed-in braids. It may not be all that detailed, but it's a beautiful and classic protective hairstyle for natural black hair.
10. Braided Bun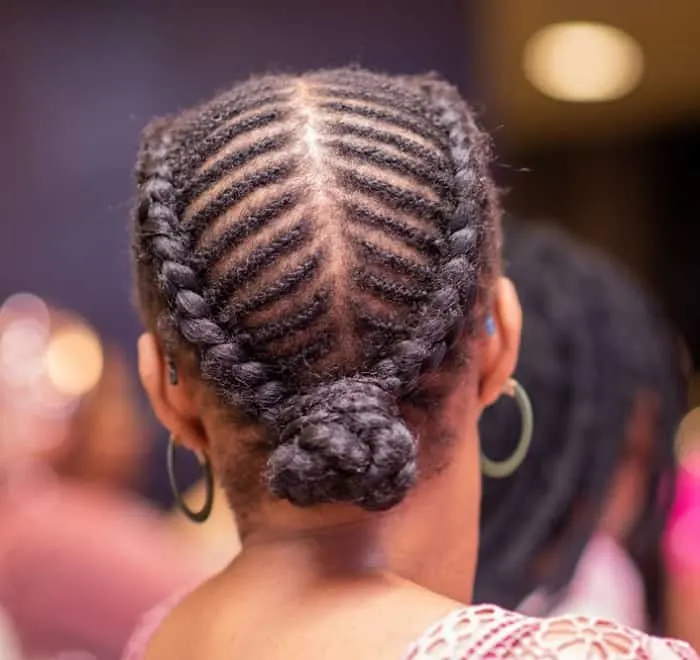 Whether you're at the gym or at the beach for the day, a low bun is a classy choice for those feed-in braids.
11. There's More To The Story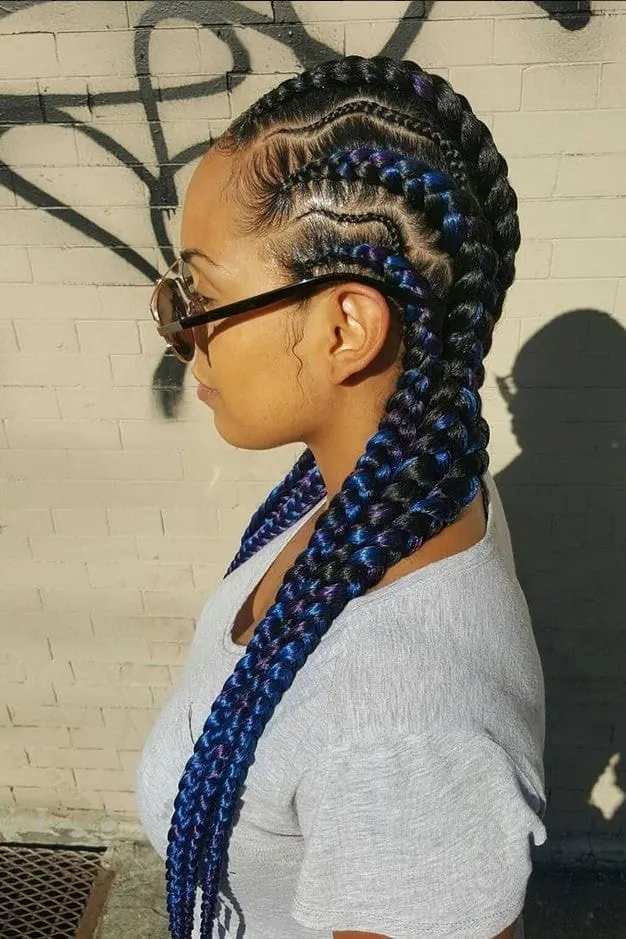 In addition to the many usages of feed in braids like:
Add length.
Add thickness.
Add volume.
Add protection to your natural hair locks.
30 Cheerful Poetic Justice Braids Styles
There is more to that list! It extends to reach the point where it can allow you to add color to brighten up your design and give it a sense of flare. But how does it do that you may ask?
Simply replace some of the hair extensions you are using with pre-dyed extensions with the color that you desire. However, if you are short on the extra fee, you can always have a little extra fun of your own and dye them at home!
So, whether you are rich enough to afford a professional salon stylist or on a home budget basis this design will definitely work both ways. In the end, either way, this will end up with neat natural looking braids.
Best Medium Box Braids Women Love
12. Noteworthy Yet Effortless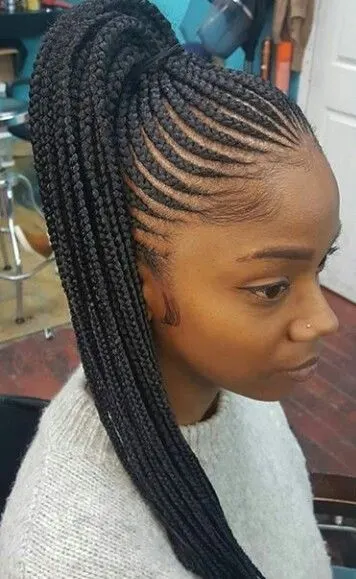 Whoever says that you need to go extravagant and way over the top to end up with a noteworthy hairstyle is wrong. Because as simple as the design in the photo above is, it is picturesque.
It has everything you need from the really thin feed in braids (check the tutorial video linked up for some DIY fun) to a cool everything hairstyle. So, after braiding simply holster up your hair into a classic high ponytail. And Voilà!
13. The Feed In Mohawk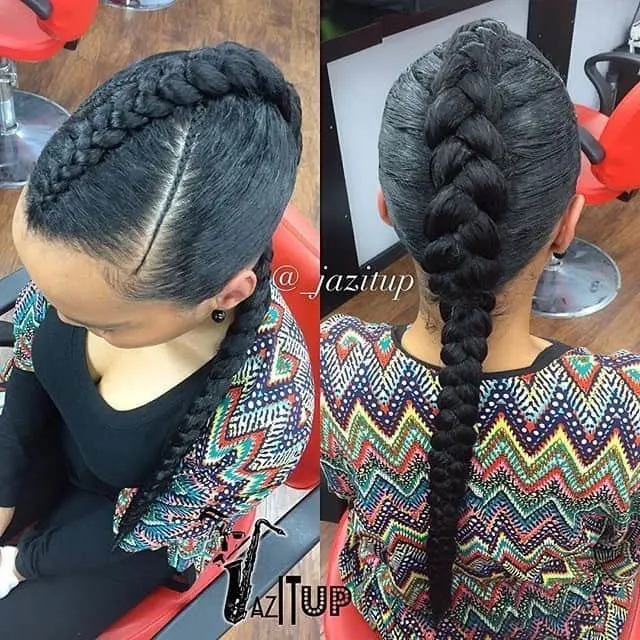 Brilliance and success can never be measured by quantity. It has to be measured by quality. So instead of wasting your time and energy in God knows how many infinite braids, this single braid will do. Because of its position at the central axis of the head, it gives off the trendy mohawk style.
14. Varying Sizes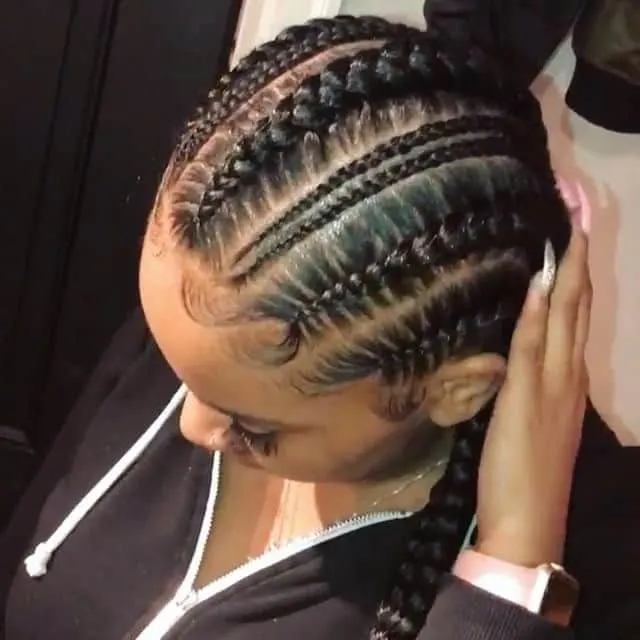 When out of ideas for shining as the star of the event, you can try out this scaling technique. It all relies on varying the sizes of your braids and arranging them in an order you can freestyle or copy online.
Tip: Go with a dramatic arrangement that goes directly from extremely thick to really thin braids. This way guarantees you to make the first impression as a daring and bold lady who is not afraid to try out something new.
15. In Whatever Direction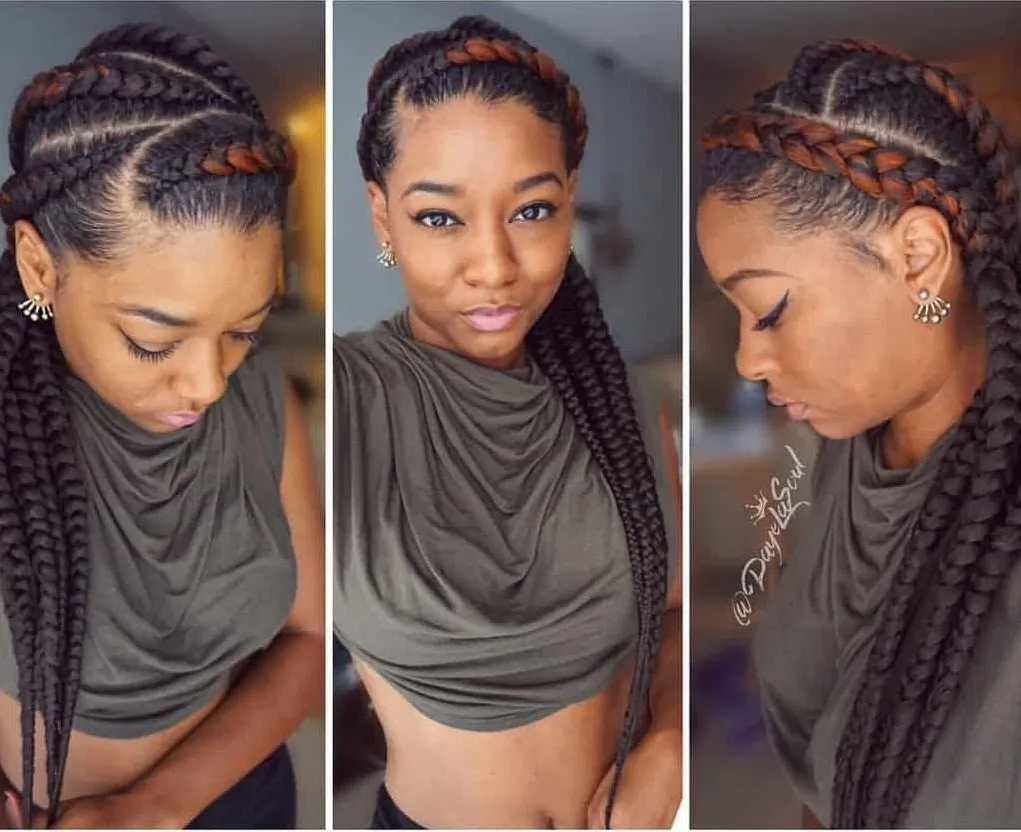 On the contrary to other designs, feed in braids are considered flexible and eclectic. Because unlike other hairstyles, they do not possess one silhouette.
They can be done across, at the back of your head, from the tips of your forehead, or just in whatever angle and whatever direction you desire. So, it offers us a variety of styles and a whole lot of space to show off our creative skills.
16. Shorter Feed In Braids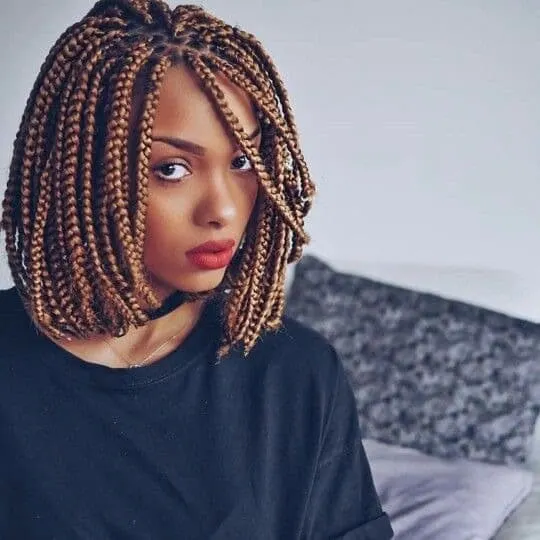 As for girls who want to pull off short braids, you can tether those feed in braids into whatever length you need.
So, if you need to get yourself this cute bob hairstyle, simply cut off the extensions in half with scissors before you use them into the length you want. And let us not forget that choosing those bright colors can give you the perfect sun – kissed summer color to go along with your tan skin.
17. The " Notice Me Please " Design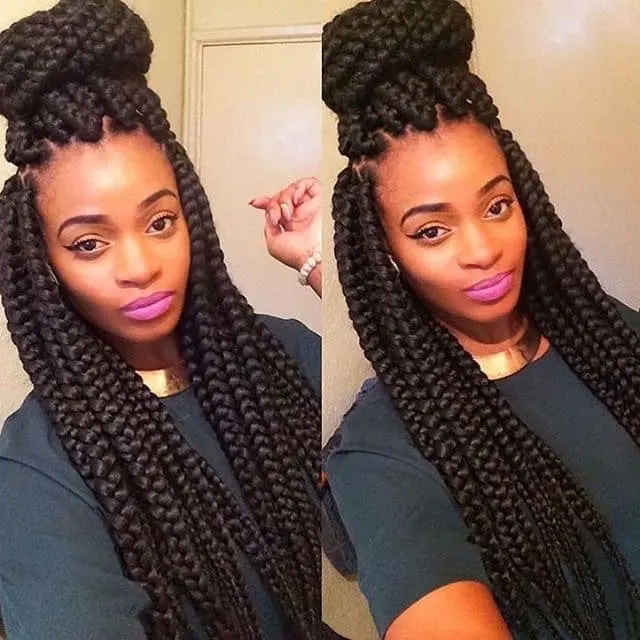 Some of us girls would do just ANYTHING to get noticed. Well, here is a simple way that will guarantee that you can never set foot in a room without being the center of attention. So, all you have to do is go with braids that are bigger than the normal scale.
And as long as you do that, you can pick out whatever style you like. For instance, in the example above the girl goes with a half up half down hairstyle that gives her the best of both worlds and never gets old.
18. Double Trouble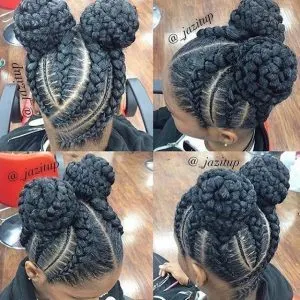 Combining braids of different thicknesses is a step up towards the hall of fame in the hairstyle world. Because it definitely gives you that wow factor and makes you stand out in the crowd. However, this is not every surprising factor this design to offer.
Because it goes way beyond just braiding and goes through double the trouble ( totally worth it though!) and twists the ends of the braids to form two cutesy buns.
Tip: This design works best for little girls or as a sporty hairstyle for girls with older age.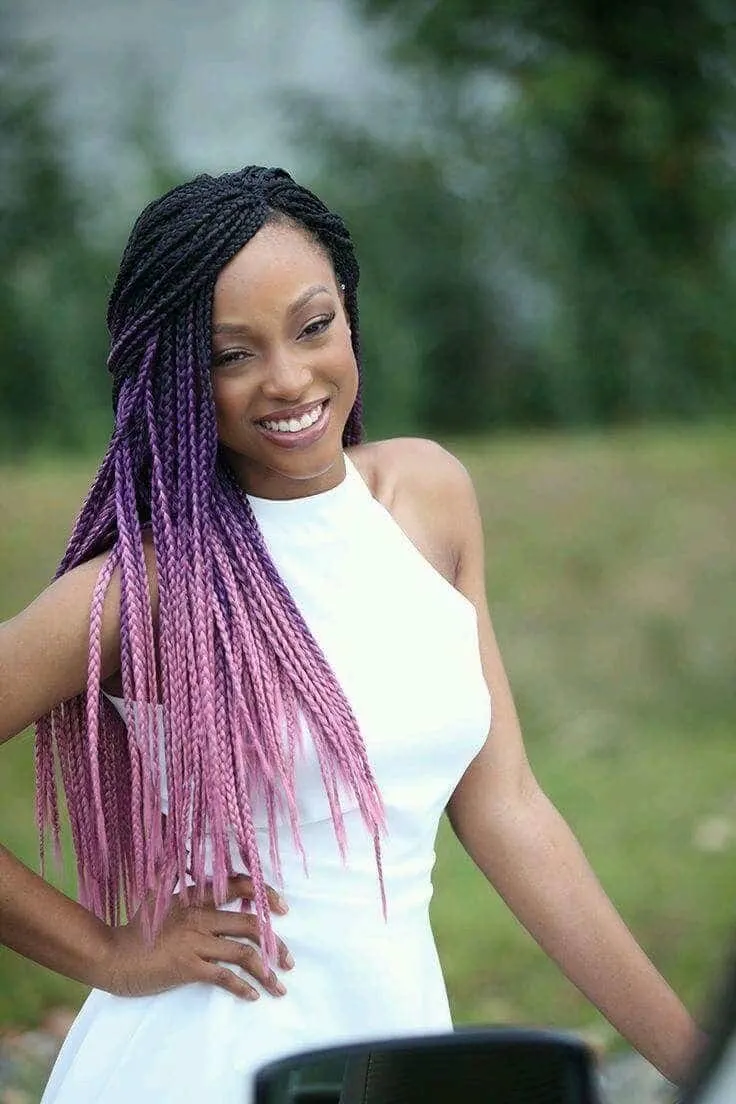 As for the bride who wishes for a hairstyle that is " out of this world ", here is something that you will definitely fall in love with. So, we present to you the Ombre effect. For those who are not familiar with the general concept of ombre designs: it's the gradual blending of color from one shade to another.
So, as an exotic idea for your feed in wedding braids, you can pick out your favorite color (purple is chosen in the example above) and use the ombre effect as a flashy focal point of your pure white outfit.
That way you would be able to add some color to your wedding look without actually breaking the sacred law of the white dress bridal code.
20. Creative Contrast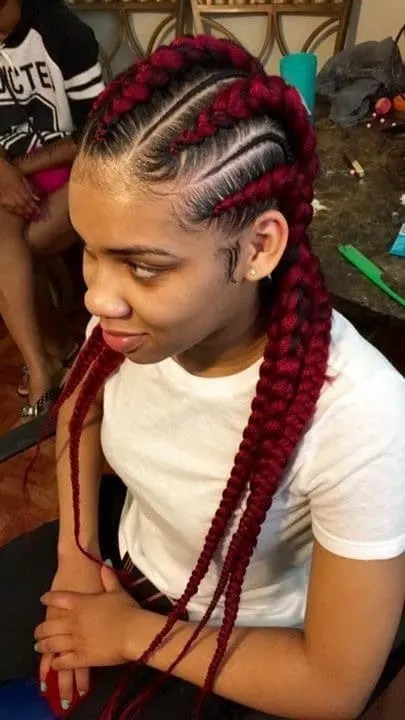 While a lot of you may not believe that simple touches can have the biggest effects on a design, the contrast in the example above takes these feed in braids to a whole new level of brilliance. You can try two feed in braids instead of many as shown in the above photo.
Because the stylist plays the role of an artist by picking out two attractive and contrasting colors like the smokey red and charcoal black to paint the perfect picture that nobody can keep their eyes off!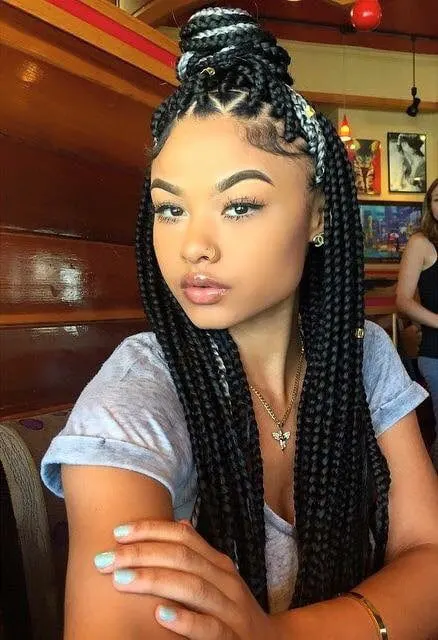 Give yourself some extra style with a high bun. Pull your braids up onto the top of your head and then twist them around. Secure with a firm hair elastic.
22. Pig Tails
The Pigtails are a classic braided hairstyle with just one chunky braid on either side of your head. It can be done with every different long hair type.
23. Side Swept Style with Cornrows
Change the shape of your hairstyle by pulling all of your hair over to one side of your head. Distinct cornrows will look great on the other side of your scalp.
24. Braided Cornrow Art
An amazing feed in braids design. Create pretty patterns in your hair with your feed in braids. Stylised cornrows act as an artform themselves, so you can be super creative with your look.
25. Widow's Peak Style
Create a sharp look by angling your cornrows around your widow's peak hairstyle. Dual braids can be pulled forward into a sharp point on your forehead.
26. Braids with Chignon
A chignon at the nape of your neck is a classically beautiful hairstyle. Pull your hair up into a loose bun with feed in braids for a really gorgeous updo.
27. Thin Cornrows
If you are looking for a braided style that offers up some delicate beauty, you might want to try thin cornrows. Thin cornrows appear as a delicate art form.
28. Nappy Hair
A unique feed in braids style for African American women. Show off your nappy natural hair by braiding the lower sections but allowing the tips to remain free. This is a great way to exhibit controlled nappy volume.
29. Simple Side Plait
A simple side feed in braid blends classic beauty with simplicity. It is a really easy look which has a huge effect on a party or a red carpet event.
30. Brilliant Braiding with Side Parting
A popular feed in braids hairstyle commonly seen around. Side parting your hair will allow you to easily change the shape and volume of your look. An extreme side parting looks brilliant with long braiding.
31. Extra Long Braids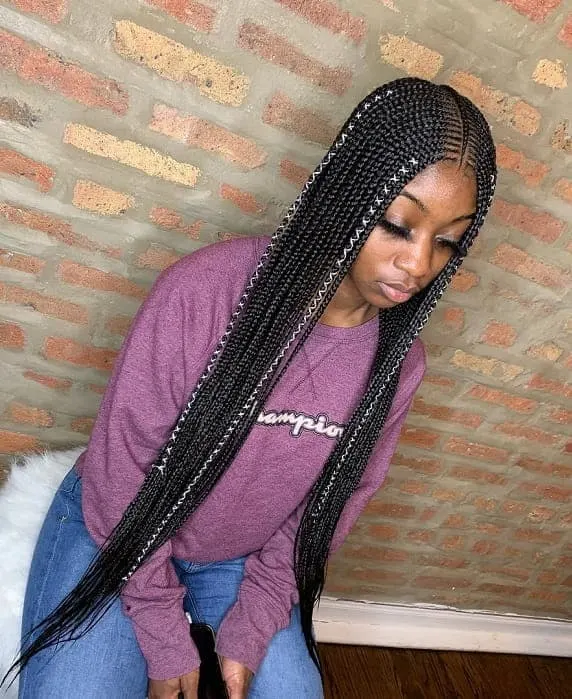 Searching for that perfect dramatic hairstyle you can wear everywhere? Extra long feed-in braids will do the trick when featuring white criss-cross hair string.
32. Curved Feed-In Braids
Why go with simple straight feed-in braids when you can look amazing with curved braids? These ones swoop up into a high ponytail with a streak of purple color.
33. Curly Pony and Braids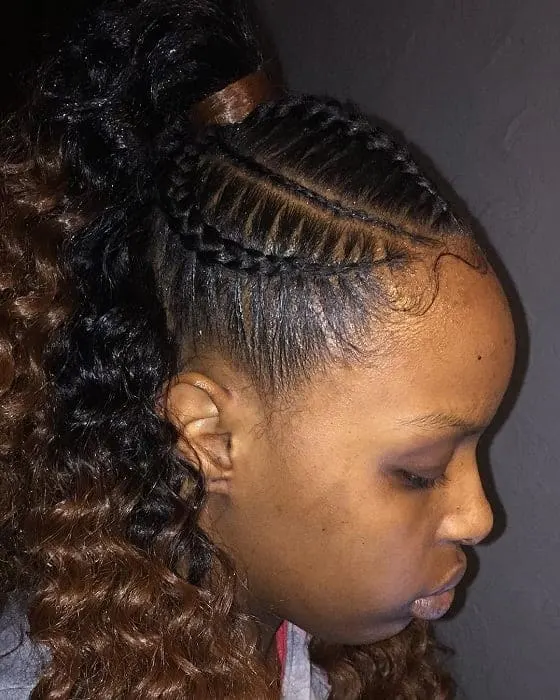 Another dramatic look you have to try is this long loose and wavy ponytail. The feed-in braids simply decorate the top of the head.
34. Thick Beaded Braids
A mixture of thick feed-in braids and loose wavy texture is the perfect combination for serving up looks.
35. Side Braids
Start your thin and thick feed-in braids on one side of the head, then curve them around to the other where they will drape over the shoulder.
36. Shaved Fade
Is edgy your middle name? Then you need to see how a shaved fade looks with curved side micro feed-in braids. A dash of burgundy looks beautiful against black hair.
37. Backwards Braids
Half of these feed-in braids face backward, but the other half is braided toward the front with a peek of yellow and pink.
38. High Bun Updo
By gathering the top half of your feed-in braids into a high bun, you can get this stunning half updo that shows off a gorgeous curly bottom half.
39. Small to Large Feed-Ins
Start your feed-in braids super tiny at the scalp, then thicken them up as you near the ends. This way you'll get the best of both large and small sizes.
40. Classic Pony
Whether it's you or your little girl, a classy pony is sometimes all you need for your daily style. Leave a couple braids loose by the ears for softness.
41. Wavy Part with Braids
Giving a wavy part to your traditional style is the detail you didn't know you needed. Separate each feed-in braid with a wavy part to serve up a whole new look.
42. Thick High Pony
While those thick feed-in braids look great worn down, they look equally gorgeous in a high ponytail. Secure it with a hair tie but try wrapping some braids around it also for detail.
43. Wedding Hairstyle
For weddings and other special occasions, a hairstyle featuring mostly medium to thick feed-in braids and a couple thin ones will be perfect.
44. Parted Bob
The subtle side part isn't what makes this short braided bob, but it definitely helps. Light pink blends beautifully with black hair.
45. Black and Brown Braids
Sure you could rock only black feed-in braids, but alternating black and brown color is a great way to liven up your look.
46. Bun Updo
Mixing chunky and thin feed-in braids livens up a bun updo. Pile the braids high for a gorgeous ballerina bun and wear with your favorite dress for a night out.
47. Blue Ombre
You typically see black feed-in braids, but why not try something out of the norm? A light or dark blue works really well as an ombre and means you won't have to spend extra time styling in the morning.
48. Braided Buns
You typically see space buns without braids, so when people see your feed-in braids wound up in two high buns, they and you will love the unexpected detail.
49. Super Long Pony
Are you all about the glam hairstyles? Take those extra long feed-in braids and gather them in an extra long ponytail.
50. Space Bun Updo
Who says all the hair has to be gathered in space buns? Switch it up by leaving a couple of those braids loose to hang over the shoulders.
51. Small Braids with Beads
Take one half of your feed-in braids and bring them diagonally down across the scalp. The other half of your braids will face the opposite direction.
52. Ridged Side Braids
Large ridged feed-in braids alternate with thin ones in this feminine hairstyle. The extra long braids drape over the shoulder for softness.
53. Bright Red Braids
Under color is a classy way of playing with color that also keeps your look appropriate for professional places like work.
54. Feed-In Braids with Designs
A Dutch braid hairstyle gets an amazing lift of detail when smaller braids form an interesting design at the crown. Make the shapes zig-zagged or curved to stand out.
55. Spiral Braids
Create a spiral shape with your feed-in braids by starting them next to the ear at one side and winding them around the head so they all fall over one shoulder.
56. Baby Hair Braid
Tiny feed-in braids are a gorgeous addition of detail to a long loose curly ponytail. Take a second to brush your baby hairs smooth to complete the look.
57. Jumbo Braided Bun
Your thin and thick feed-in braids deserve a regal hairstyle. The next time you head out on the town, wind up your braids into a jumbo ballerina bun.
58. Thin Feed-In Braids
For hair that is on the thin side, these braids are delicate enough that they look beautiful worn down or pulled back in a low bun.
59. Sectioned Side Ponytail
One beautiful way to emphasize a long hairstyle is with a side ponytail. Starting from the top, use hair string to wind around two feed-in braids, then secure them in one ponytail.
60. Burgundy Microbraids
A lot of feed-in braids that are micro size do wonders for making hair look fuller. Stack some of the ends with colorful wooden beads for personality.
61. Rainbow Braids
Black is the traditional color for feed-in braids, but these ones will catch anyone's eye with their bright hues. These shades work together for a one of a kind look.
62. Sleek Side Pony
For gorgeous sleekness, go for super tiny feed-in braids worn down or as a side ponytail with beads.
63. Twisty Braid Updo
These tiny feed-in braids ripple away from one ear and end up in an updo similar to a mohawk.
64. Six Thick Braids
Six feed-in braids create beautiful symmetry on this hairstyle. Braids are thick and fall over shoulders.
65. The Half Updo for Work
For the girl next door hairstyle, gather half the feed-in braids and secure them in a ponytail. This is a simple yet stylish that takes seconds to pull together.
More Ideas For Feed In Braids In Cornrow Styles
Frequently Asked Questions
Here are some answers to questions that are frequently asked about feed in braids:
Is there any difference between feed in braids and regular cornrows?
The difference comes from how your hair is braided. With regular cornrows, hair extensions are added at the beginning by your scalp and get braided to the tip of your hair.

Feed in braids are different because hair extension pieces are counted multiple times throughout the same braid.
How much will it cost to get feed in braids?
Based on how many braids you want and how many extensions are needed for your hairstyle, that's the defining factor of how much feed in braids will cost.

The average price range goes from $50 for 2 feed-ins to $120-$150 for 10 feed in braids. Depending on your hair texture and the volume of braids you desire, there might be a slight price change.
How long can feed in braids last?
On average, feed-in braids can last up to 2 weeks before needing touch-ups.
Can I wash feed in braids?
Yes. However, don't drench your feed in braids with water when washing. The proper way to wash your feed-ins is by using a damp washcloth with water and shampoo.

You must wash your scalp carefully by rubbing the washcloth between each braid to avoid having them come undone. Once washed, rinse your braids with a plain washcloth damped in water.
Are feed in braids a protective hairstyle?
Yes. Feed-ins protect your natural hair by adding extensions to give the braids more volume.

However, you must remember that feed in braids are a protective hairstyle when the braids aren't too tight and do not pull your scalp.
Can I swim with feed in braids?
Swimming in chlorinated pools or salt water is rough for any hair type. However, if your hair is braided, you're enclosing your natural hair from the chemicals in the water.

Braiding your hair before swimming also makes your hair less knotted when you come out. Having a variety of oils and conditioners that are suitable for your hair gives short-term protection when you swim.
Do feed in braids help hair grow?
Feed in braids can help your hair grow because they protect your hair from friction. The friction of brushing your hair can break the ends and give a frizzy and brittle look to your hair.

You give your hair time to relax and grow with feed-in braids since there is no need for daily styling.
Are feed in braids good for hair and scalp?
If you have coarse-textured hair, the feed-in extensions for the braids will have a better grip on your scalp. However, if your braids are too tight and your hair is a more fine texture, it could lead to unnecessary breakage and pain in your scalp.

The process of feeding your hair with extensions can lead to tension if you have a more sensitive scalp. The neatness of the braids comes from the tightness and the added extensions, so it's essential to keep in mind your scalp's sensitivity before continuing with feed-in braids.
Feed in braids looks great as part of a longer hairstyle. You can choose from a wide range of different extensions, with different thicknesses. This will allow you to choose a braided style which completely expresses how fabulous you really are.
Finally, you can't go wrong with feed in braids. They're one of the most trendy and popular hairstyles for summer 2023. So grab your brushes and elastic bands and start braiding!