Africa is considered the cradle of plaits. Historians say that this is the place where astonishing and intricate Nigerian braided hairstyles were born. These mesmerizing hairstyles, which are now known worldwide, appeared around 5000 years ago and they are part of the African heritage.
Even if Nigerian braids win the popularity contest, Namibia is considered to be the first country where women began to braid their hair.
This tradition evolved and spread all over African countries and for centuries, people braided their hair and transformed this practice into an art. It was also a way to recognize their tribes, ages, statuses, or religions, and even marital statuses.
Best Nigerian Braid Hairstyles
Nigerian women have over 1000 braided hairstyles and they inspire nowadays coiffures and stylists every single day. In their culture, the woman's head is considered to be the crown of a woman's beauty. Therefore, they use their hair to express themselves and create spectacular plaits.
To build them, you can use threads, wool, or jumbo braids. Check out the fabulous examples listed below and let us know which Nigerian braided hairstyle you'd love to try next.
1. Colorful Crown Braid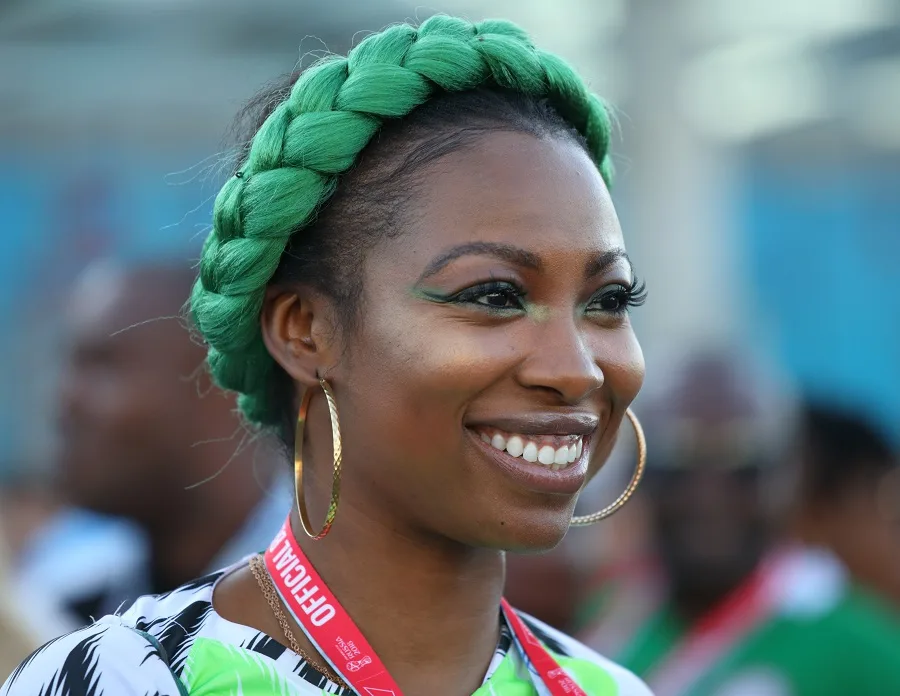 No need to color your entire head of hair to rock a little color. With this regal Nigerian crown braid hairstyle, all that matters is that the braid gets the color treatment!
2. Long Box Braids with Beads
Make long box braids come to life by adding in gold or silver hair cuffs near the top of the braids. You can also play with color by opting for ombre braids, like these light purple ones above that are gorgeous against a dark skin tone.
3. Tri-Colored Swirl Braid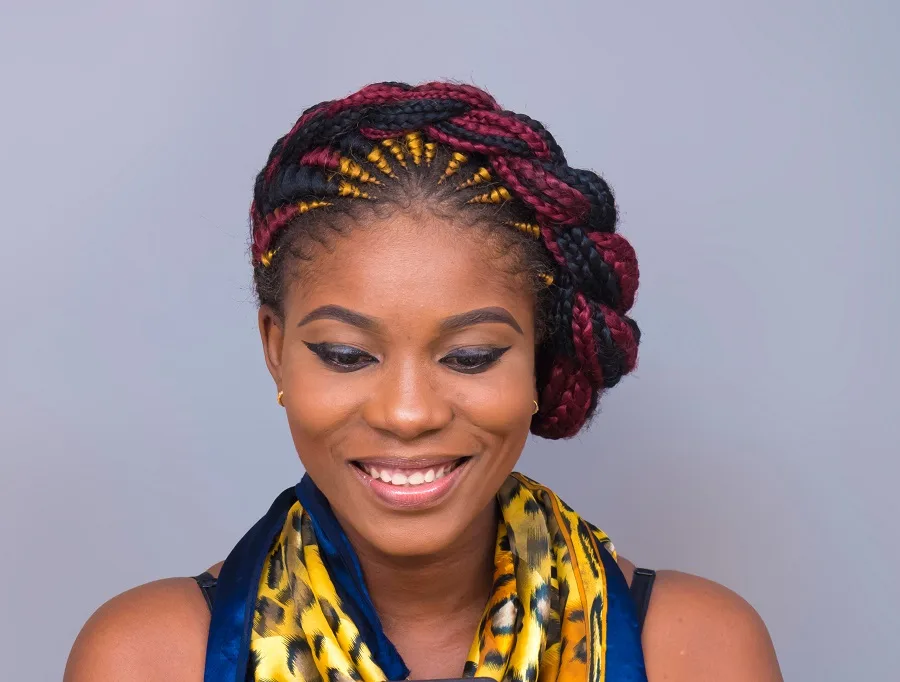 A fancy event or occasion calls for an equally fancy hairdo! Try these Nigerian braided hairstyle featuring maroon and yellow color on varying sizes of braids that are then woven into one larger braid and shaped into a large round swirl bun.
4. Cornrow Braids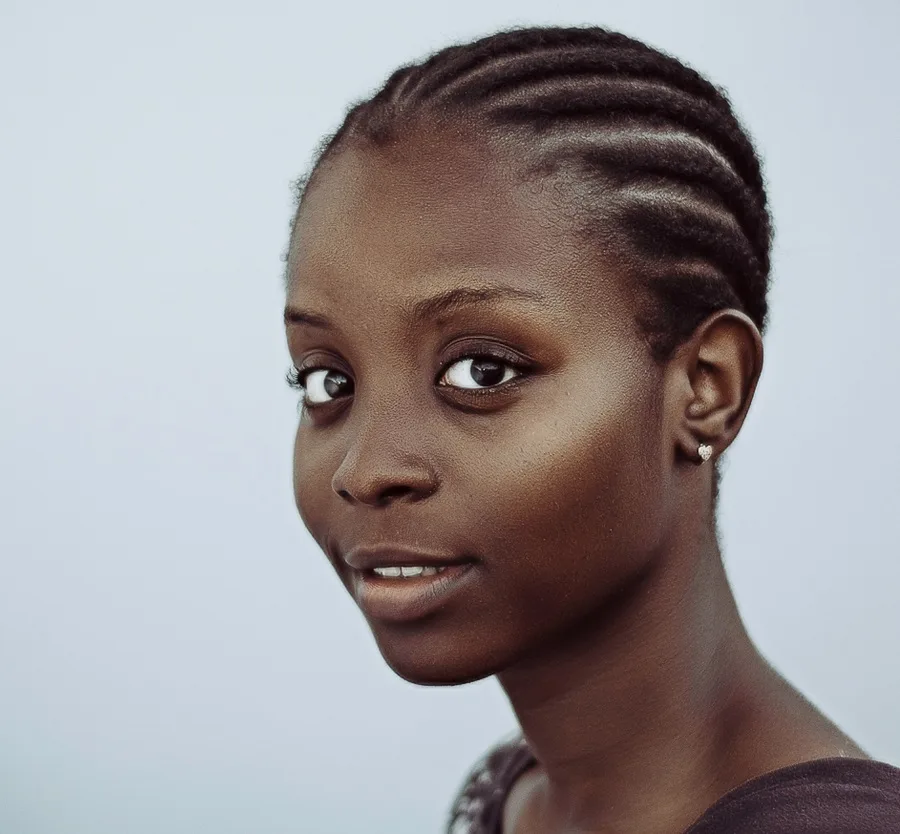 If you wear your hair short or you're just waiting to grow it out, a Nigerian cornrow braid hairstyle is beautifully protective. Leave it like this for simple style or add a few hair cuffs for accent.
5. Jumbo Braid Half Updo
Thick hair will always give you a regal feel to a hairstyle, so go with jumbo Nigerian braids! Gather just the top half into a high twist bun for quick style that will make you feel like a queen.
6. Half Braids with Curls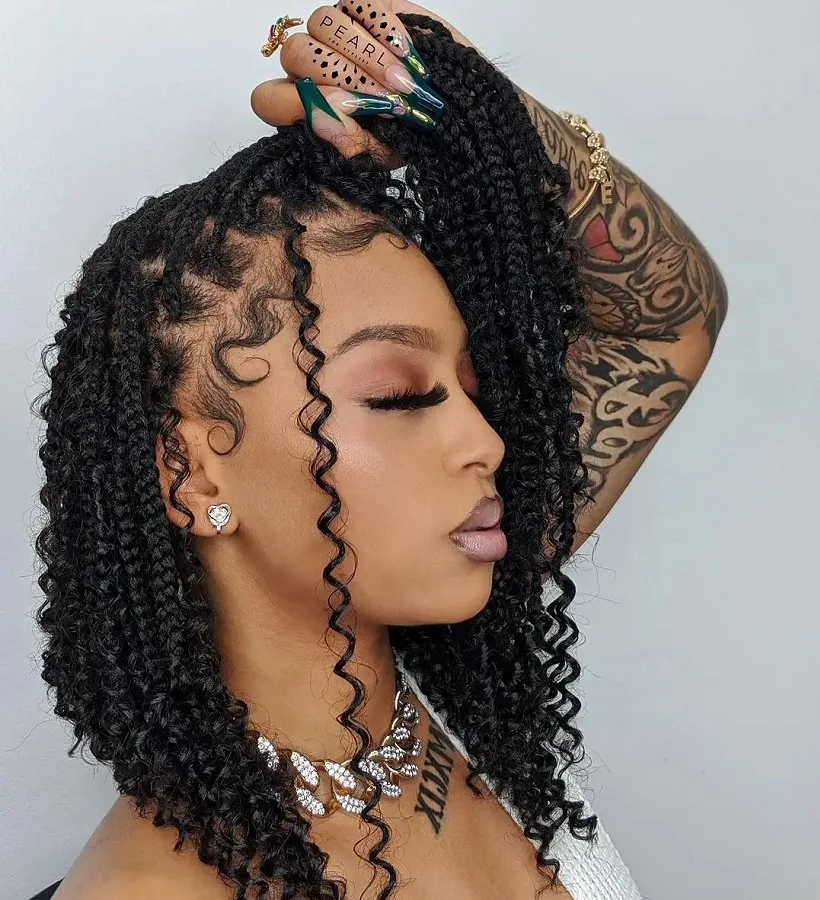 One of the most popular Nigerian braid hairstyles features hair that is only half braided, leaving the bottom natural. It's great for flaunting tight kinky curls, so wear it down or just partially up in a ponytail!
7. Ponytail with Braid Extensions
If you or your little girl desire long Nigerian braids, you can try extensions to get your desired look. This high ponytail is a youthful, trendy hairstyle and you can't even tell it was made possible with extensions! Leave two face-framing pieces loose and wrap with string or thread for another style element.
8. Tiny Twist Braids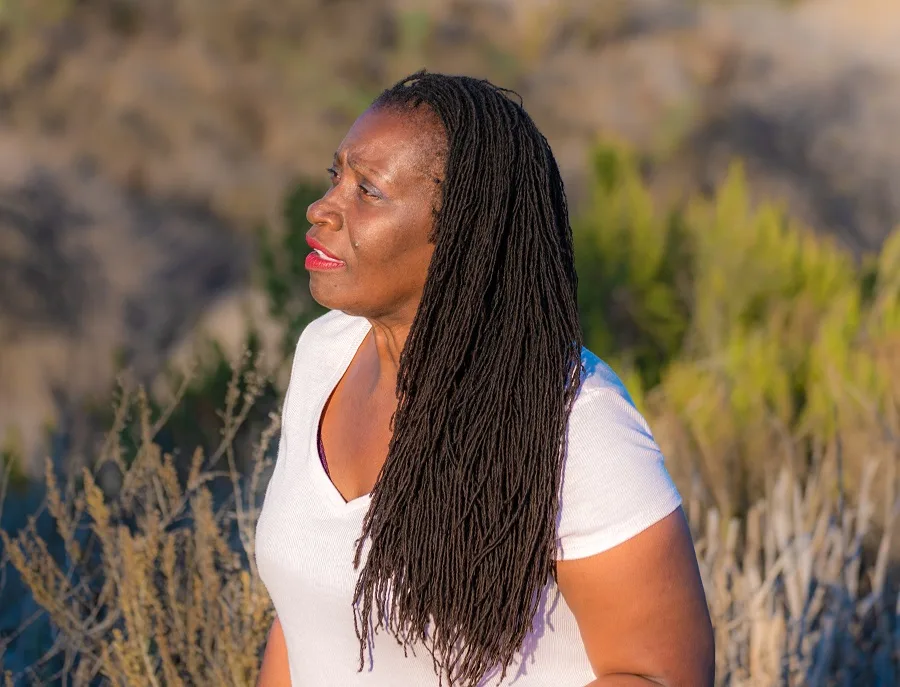 One way to get a fuller-looking hairstyle is by opting for lots of tiny twists. This Nigerian braid hairstyle is a little more time consuming to achieve, but the glamorous result is conveniently versatile for both casual and formal settings.
9. Purple Box Braids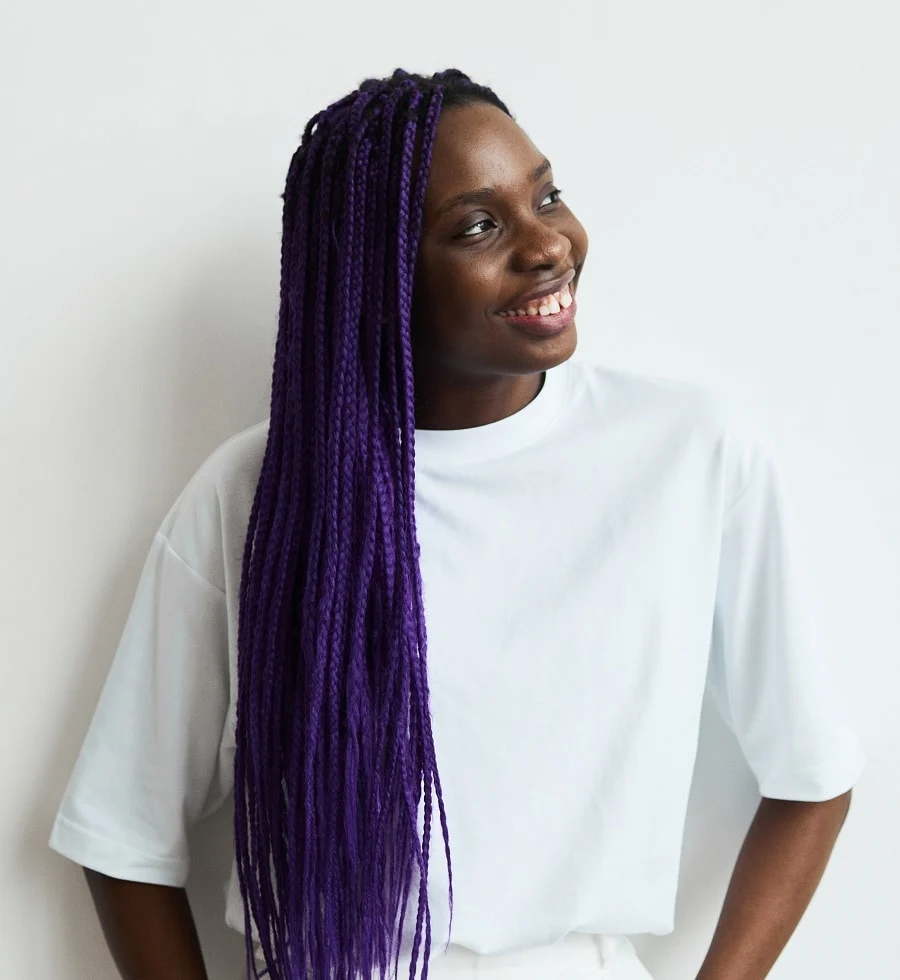 We're huge fans of any colorful Nigerian braid hairstyle, like these long bright purple braids. A vibrant color is highly flattering against dark skin tones, so why wouldn't you try it?
10. Long Feed-In Braids
Feed-in braids are another option for ladies who desire a longer Nigerian braided hairstyle. This look features medium-sized braids and a gorgeous detailed design near the hairline.
11. Beaded Braids
Cornrows have a rich history and they come from countries in Africa. They were commonly used to deliver messages but also to preserve their heritage.
Nowadays, these Nigerian plaits have only a beautifying purpose and are very popular and used as protective hairstyles for women with natural hair. Also, for more spectacular decoration, Nigerian women use translucent beads.
12. Twisted Braids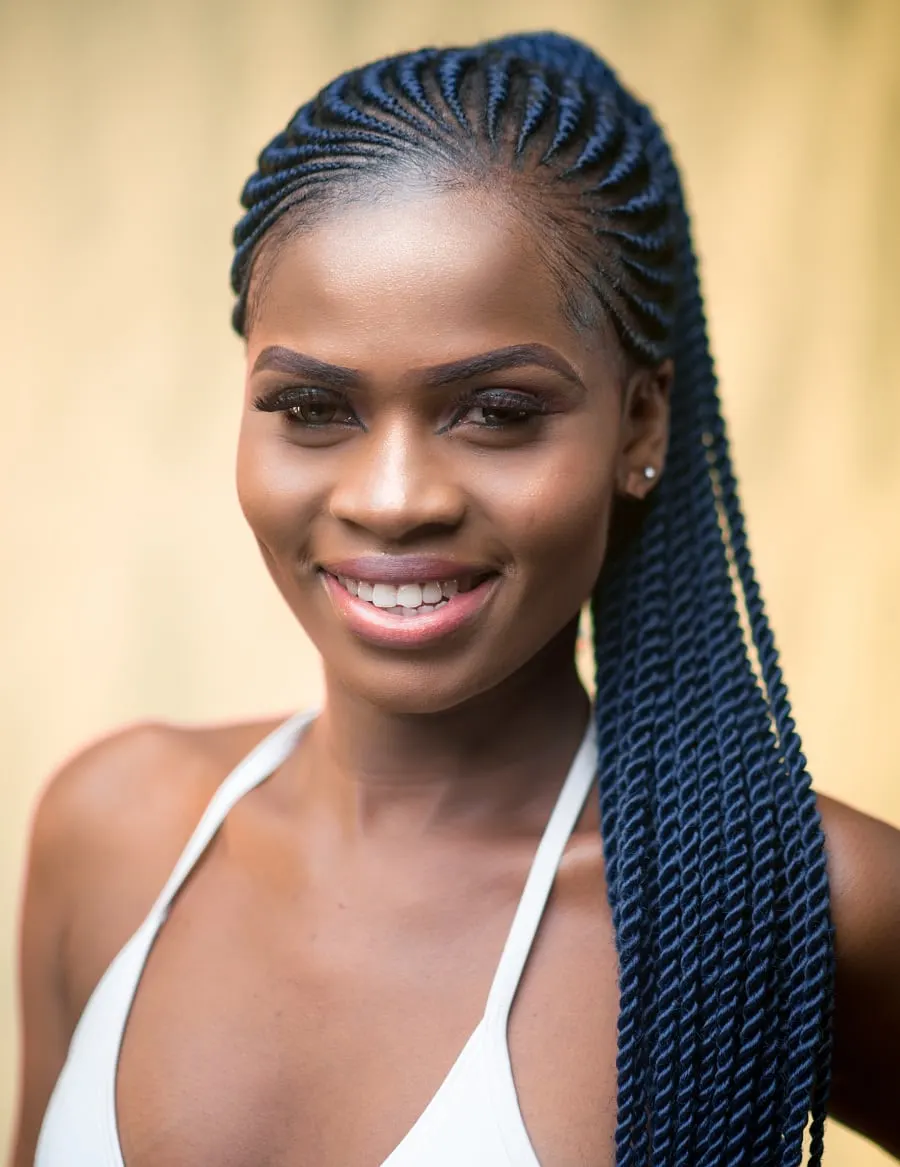 Create thin cornrow braids that start from the corner of your forehead and pin them all in a ponytail. You can use a faux pony, made out of twisted braids.
Wear it on one side and take a few plaits and wrap them around the base to hide the attachment and make it look more elegant.
13. Middle Part Braid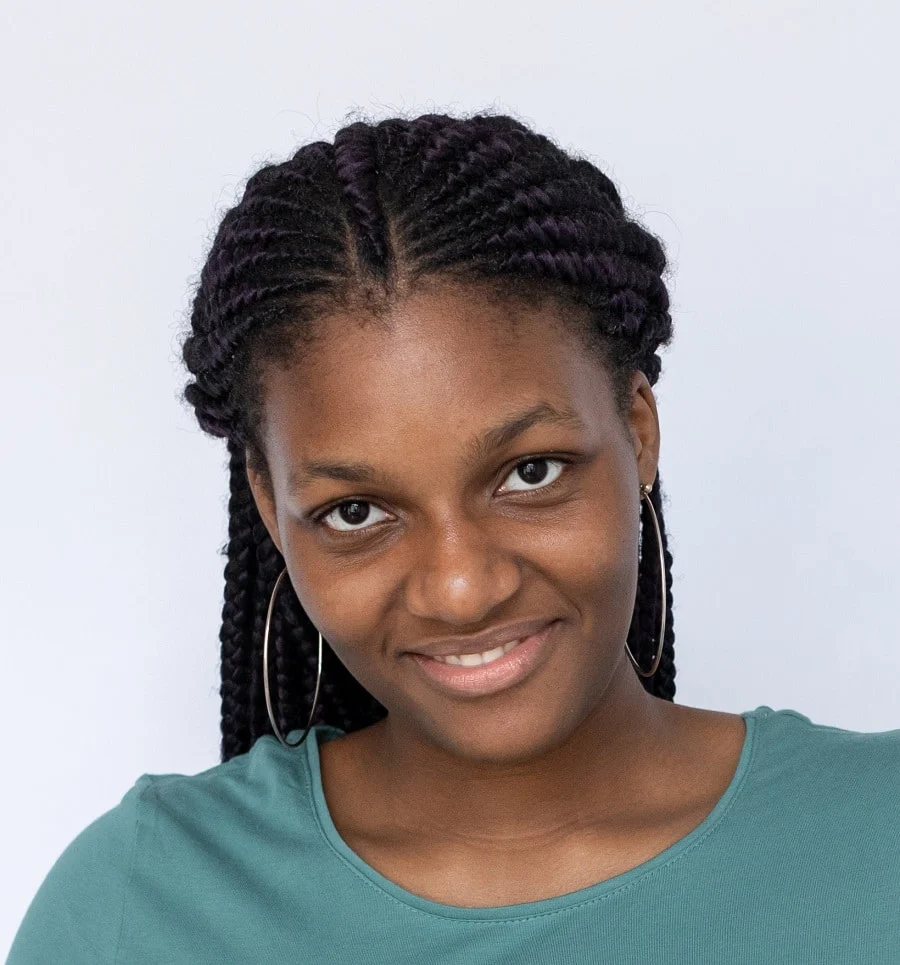 Irun didi means knitting your plaits without using a thread. To recreate this stunning hairstyle, you will first determine your middle part and build a thick cornrow that will act as a delimitation between sides.
Now, on each part, you will knit the hair to the side and back. Create a half-up half-down hairstyle.
14. Platinum Blonde Braids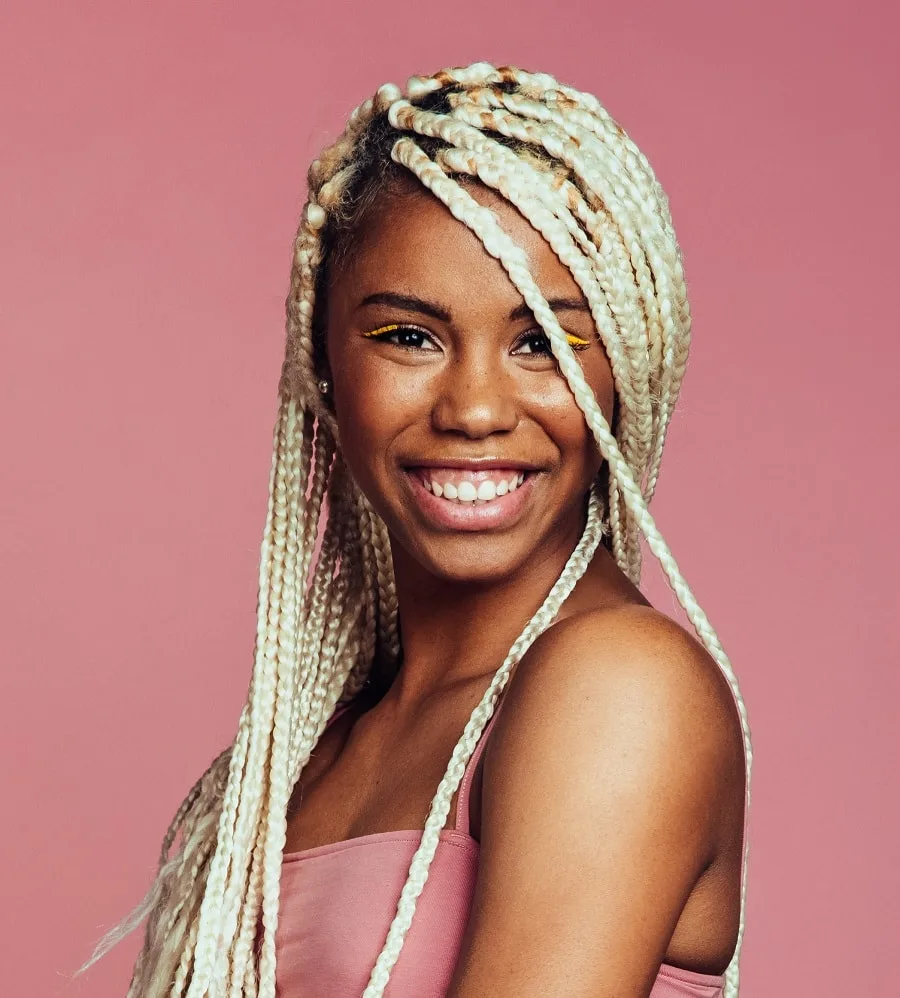 Box braids used to be a way to communicate escape ways during slavery. They are deeply integrated into Nigerian and African heritage. These braids are now as fashionable as always and adapted to our times.
Recreate these platinum blonde box braids by knotting the hair extensions close to the roots. Don't dye your hair, just blend it with the faux tresses.
15. Triangle Parting
Great parting is essential when talking about Nigerian braided hairstyles. Go for triangle sections and use brown burgundy hair extensions to style your plaits.
Give them the shape of a long bob and decorate the tips with three translucent beads.
16. Magento Braids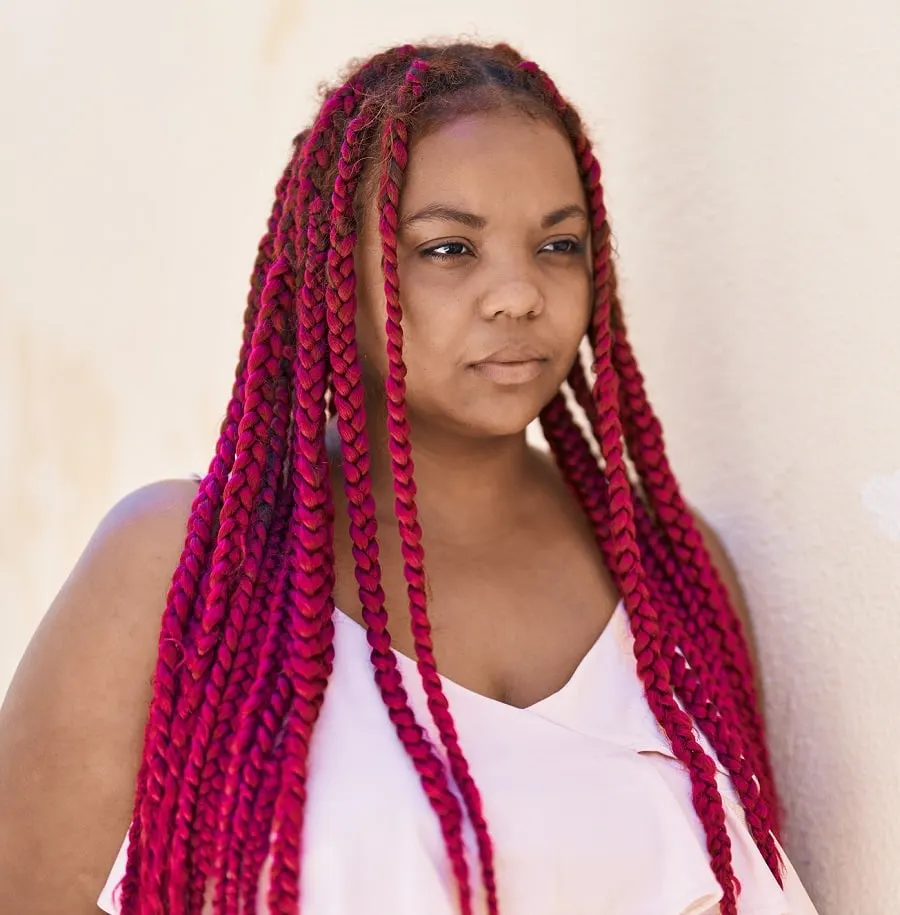 Magento braids can be made out of kanekalon hair. Your natural hair must be a few inches long so you can easily braid the hair and give it a great grip.
Maintain the color of your hair lighter so that it better blends with the pink long braids. Keep them unsecured and dip them in boiling water to keep the plaits from unbraiding.
17. Nigerian Ponytail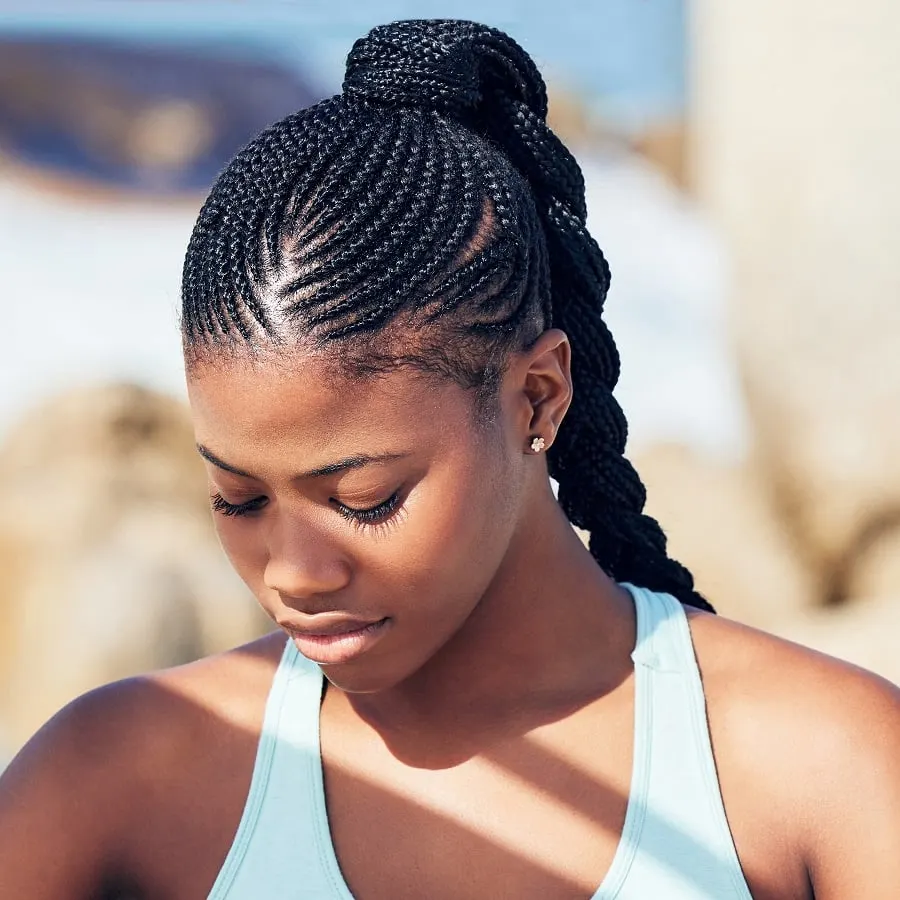 It might seem complicated to create this hairstyle but here's what you need make this process easier. In the top center of the head, create a braid that reaches the lower top.
Create braids around it, going towards the center of the forehead. Pin all these thick plaits in a ponytail which you will also braid at the end.
18. Square Braided Buns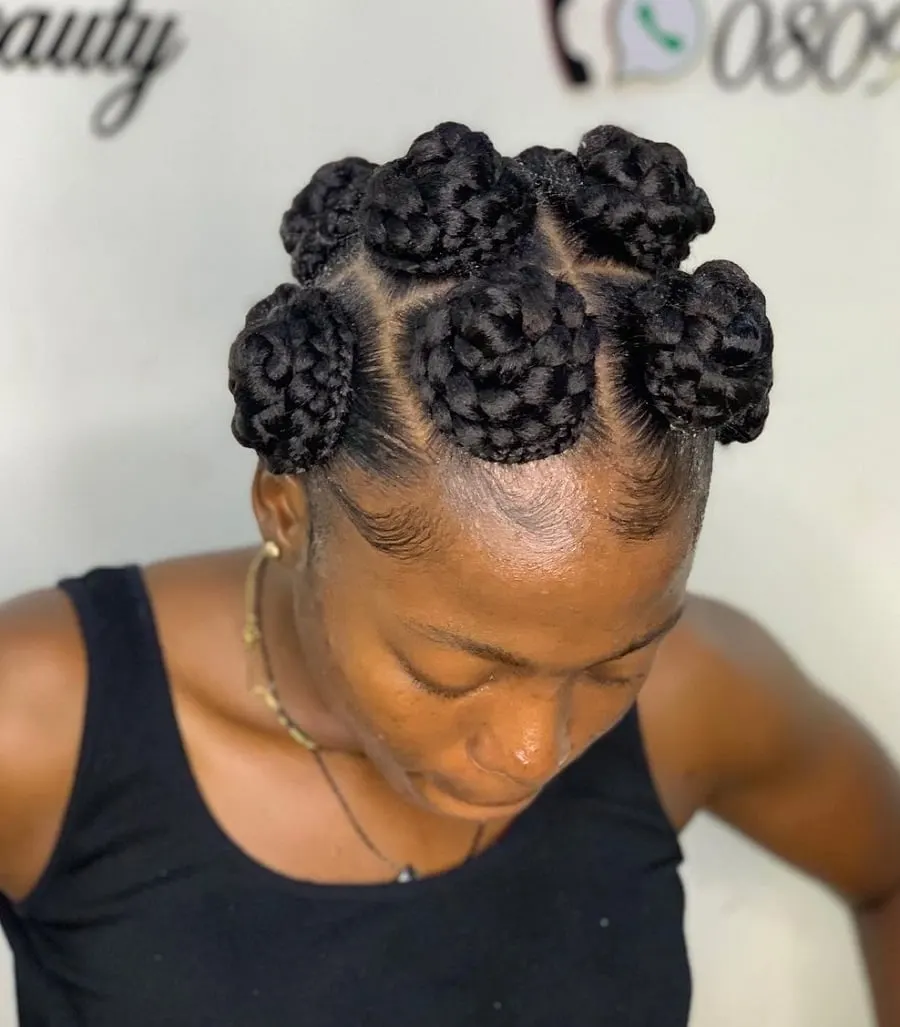 To make this hairstyle look flawless, you need to create a great square parting. Once you delimited each section, braid each part.
Roll the braid and get amazing rolled buns. With a toothbrush and some hair gel, style those baby hairs.
19. Nigerian Braided Space Bun
First of all, do a middle part, splitting the hair into two sections. Each section will be then divided into two other parts that you will feed in to create thick cornrows.
Remember to prep your hair, especially if it's frizzy and textured. Apply jam to tame it and make it easier to manage.
20. Braids with Hair Rings
Combining braided Nigerian hairstyles with curls will certainly give you all the volume you crave for. Create a section that uses only the front forehead hair. Divide it into multiple sections, which you will braid.
Decorate each braid with a silver hair ring. To gain that stunning texture and volume, use great-quality hair extensions. Apply some curling mousse to better define each ringlet.
21. Double Braids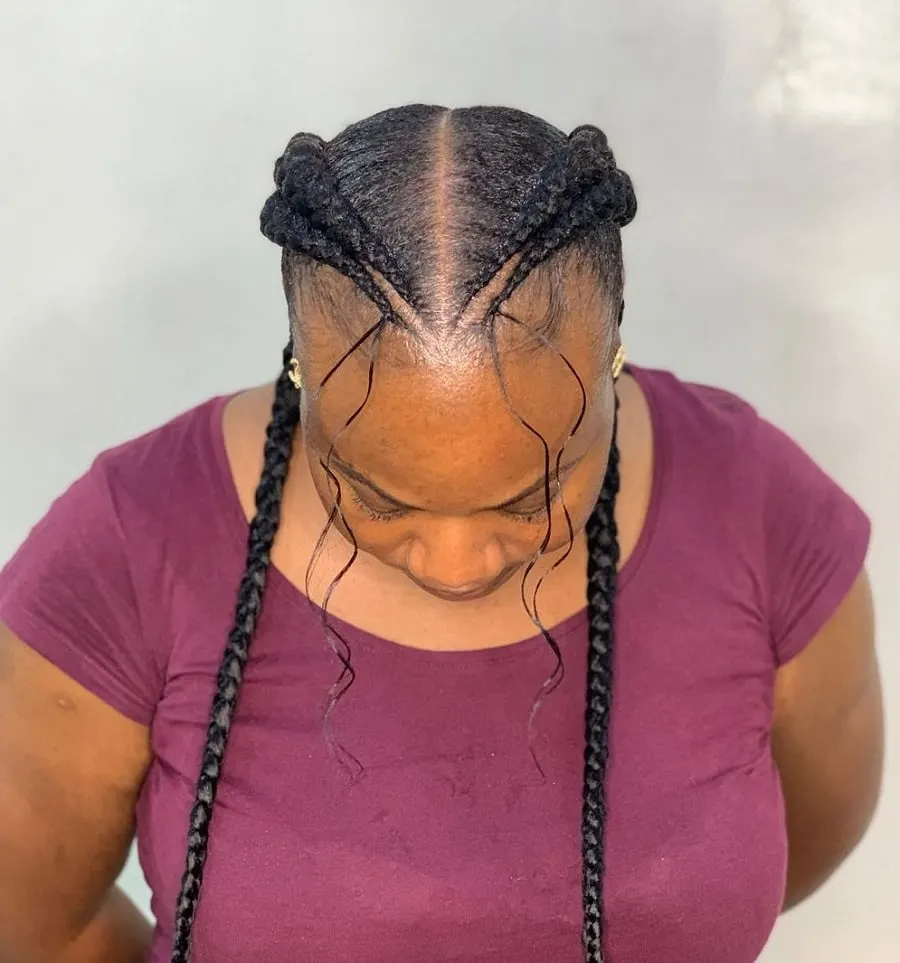 Double cornrows are always better than one, right? Split your hair in the middle, as you do for regular French pigtails. For each part, you will prep your strands with gel and as you knit, feed in each braid with jumbo hair.
You will achieve all the thickness you craved for. When starting to braid, make sure you spare two small strands from the brands and let them fall on your face.
22. Four Twisted Braids
Part your hair in large triangle parts and use edge control cream if you want to tame your roots and avoid frizz. You should use a dense comb or brush to be sure the hair looks sleek.
You can also insert a light brown faux hair extension to give your braids more color.
23. Crisscrossed Braids
Crisscrossed plaits are a modern twist of Nigerian braided hairstyles. Divide the apex sections into square parts and get small twisted braids that you will use to create X shapes. Once you are done with the top, you will get to the longer thicker plaits.
These hairstyles require hair extensions that are pre-made. You will attach them by doing a knot, close to the root. Sleep on a silk pillow or use a silk cap overnight.
24. All Back Cornrows
Cornrows are a classic braided hairstyle. They can be made with extensions or without extensions. The simple 'all-back" cornrow is a hairstyle that suits all faces and is convenient for keeping your hair away from your face.
25. Shuku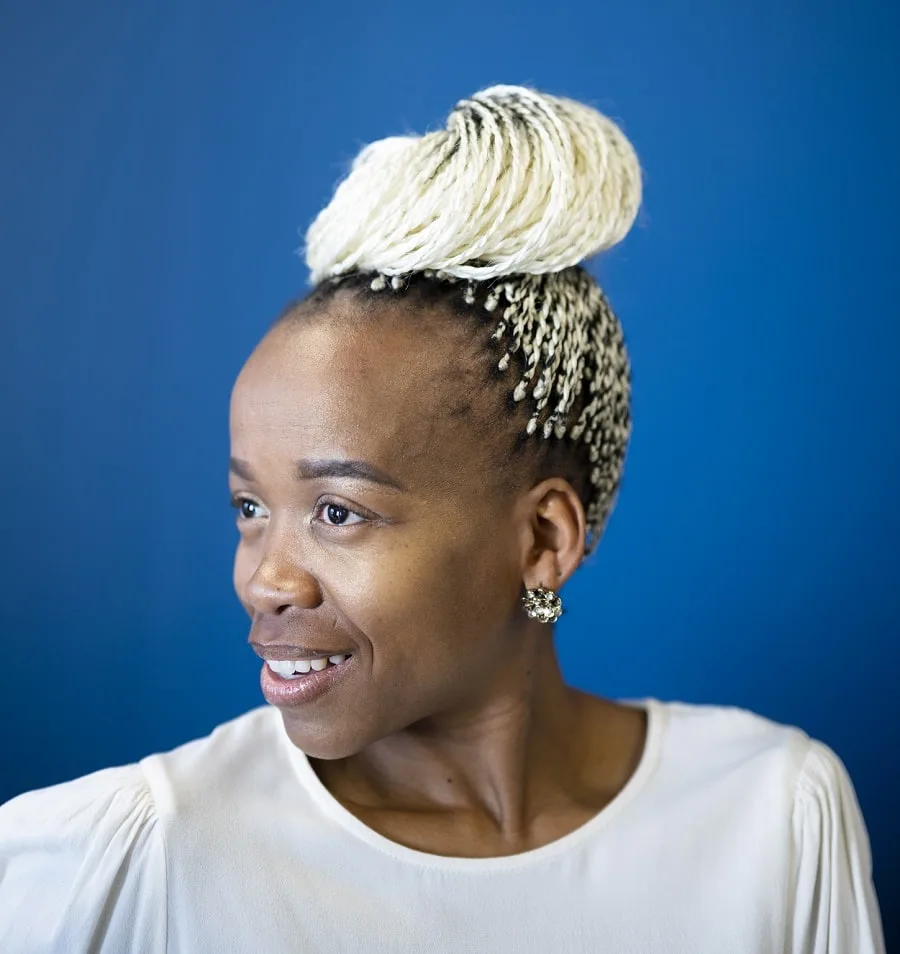 The 'shuku' is a braided ponytail that has been around for ages in Nigeria, long before it became popular in mainstream America. It is done by braiding the hair upwards into a bun.
26. Single Braids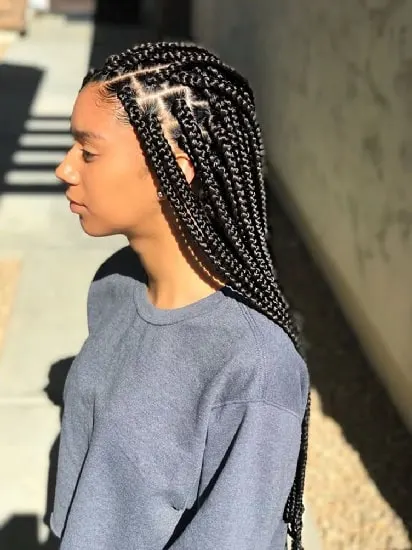 Single box braids like most braid hairstyles in Nigeria are a classic. You can wear them with extensions or without extensions. With extensions, they can take up to 7 hours depending on their sizes but without extensions, they can be done under an hour or two, once again depending on the sizes and the density of your hair.
27. Goddess Braids
Goddess braids also known as crown braids involve braiding the hair at the front of the head. They are regal looking hence the name, 'goddess braids'. They are not time-consuming as they can be completed under minutes.
For bigger braids and the best look, you can add some extensions, but if your hair volume is just right, you may not need that.
Twin braid pigtails are laid-back styles that are convenient and casual. This is the Nigerian braided hairstyle you wear when you have errands to run on a weekend, or when you have other activities that require a no-fuss hairstyle. You can add some extensions if you want it bigger and longer. On shorter hair, you can tuck in the ends.
29. Inverted Cornrows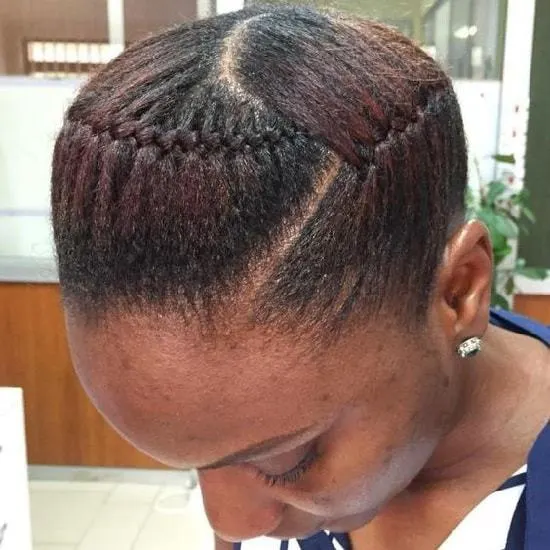 This braided hairstyle is popularly called French braids. They are like normal cornrows but inside out, this gives the cornrows a flat finish and zip like pattern.
On its own, it can be used to create other styles such as the pompadour and other updo styles, but it can also be braided in rows as is common among Nigerian women.
30. Differently Sized Cornrows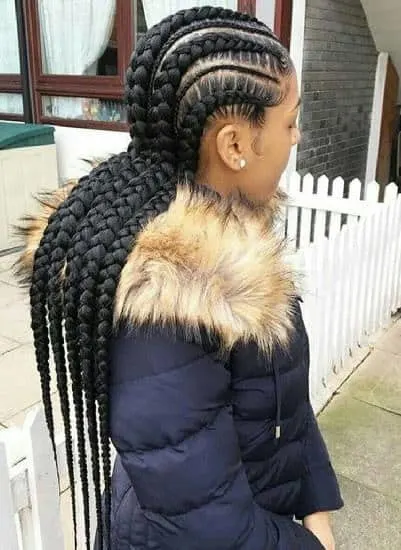 Having all cornrows in one size is a look, but the combination of big sized braids and tiny sized braids looks even better. This style can be done with extensions for a bolder finish, but without extensions, they would look equally good.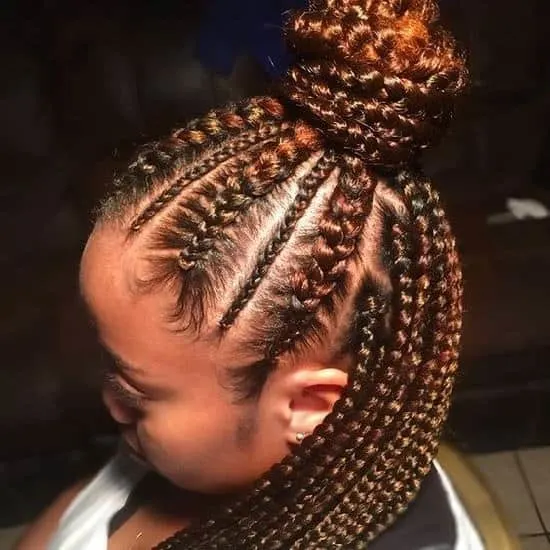 The half updo has been a popular braid style among Nigerian women for some time now. It involves braiding one half of the hair to form a ponytail while braiding the second half down and flat. It's a chic way to change your look if you think the full-on updo is too basic for you.
32. Braided Ninja Buns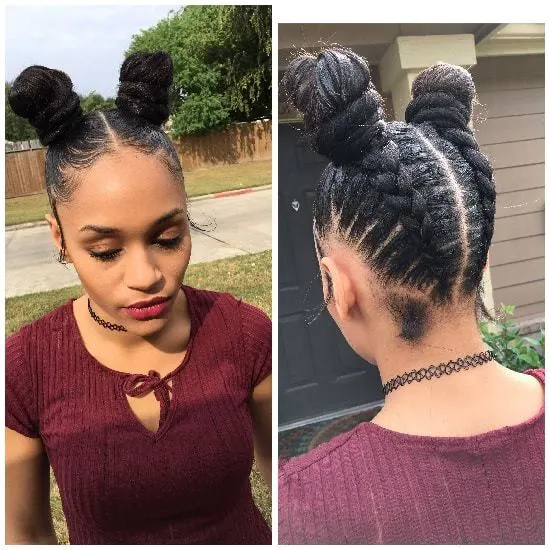 Ninja buns are an edgy take on the lazy bun and we are loving it. To create ninja braided buns, section your hair in two parts. Braid one part from the crown of your head till about midway, then braid the same section from the nape of your neck upwards until the middle section.
Use an elastic to secure the ends of both braids into one, then create a knot for the bun. Repeat the same thing on the second section and you're good to go.
33. Braided Pompadour
When you think of the pompadour, it is common to picture loose hair that has been rolled and tucked.
But a pompadour doesn't have to be loose, it can be done with a combination of cornrows on the sides and single braids in the middle, rolled up and tucked in at the crown of your head. This braid style can be worn for formal events like balls, dinners and even church.
Check These Amazing Weaveon Hairstyles in Nigeria
34. Half Cornrow and Single Braids
This is just as versatile as having only single braids all over your head. With your hair cornrowed half way and braided individually the rest of the way, you can have an all-back laidback look, switch up to a high bun or low bun. But the most important thing is that you would have your hair away from your face.
Feed-in braids are a convenient hairstyle for Nigerian women. It's like cornrow 2.0. It is neat and involves cutting the hair into sections within sections and braiding it down.
FAQs
Nigerian braided hairstyles are facing a great comeback and are receiving a great new fresh vibe. Not only Nigerian women feel the urge to show their love for plaits, but also African women all over the globe.
Why do Nigerians braid their hair?
Nigerian braids are part of their heritage. They are used to celebrating their ancestors, but also because Nigerians take a lot of pride in their hair. They always love to sport unique and intricate braids that match their style and personality.
What are the most popular braids in Nigeria?
Shuku hairstyle is one of the most popular braided hairstyling in Nigeria, and it consists in braiding a bump on top of the head.